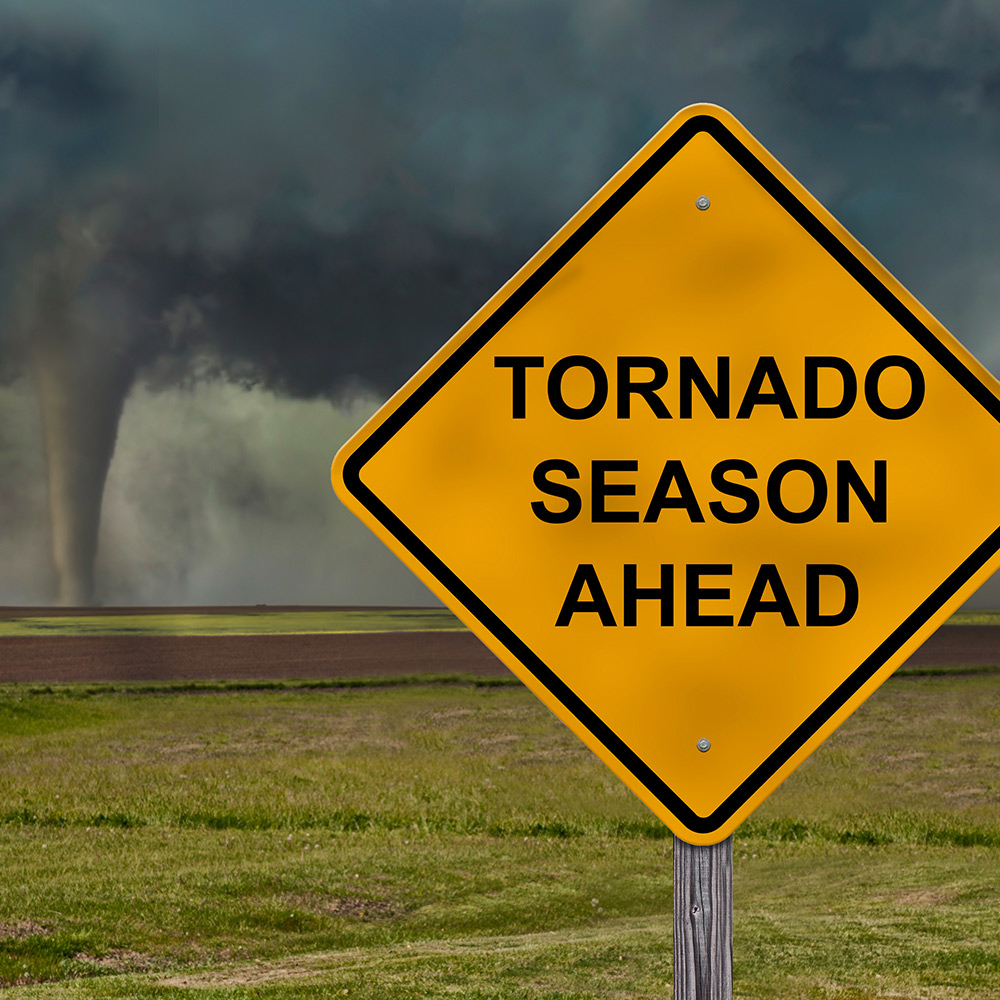 Knowing how to prepare for a tornado well beforehand will help keep you and your property safer. Tornados are dangerous, destructive funnel-shaped winds that can top over 200 miles per hour.  Use this guide to develop a plan and know how to prepare for a tornado before it strikes. Always follow evacuation orders from local authorities to avoid the risk of serious injury or death.
Stay Alert to Weather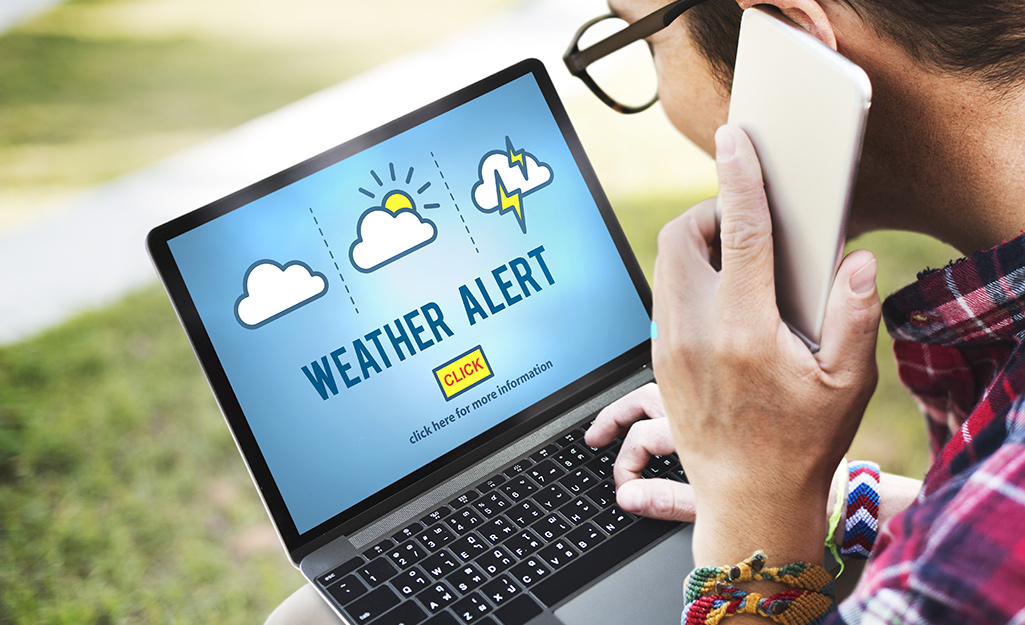 Tornados are a part of severe, fast-moving thunderstorms. They are likely to occur between March and August. It is important to stay on top of weather reports before, during and after the storm so you can react well. Tune into your local news channel or go online. Consider signing up for text alerts if your community officials have them. 
Get a weather radio and tune to the NOAA (The National Oceanic and Atmospheric Administration) channel. It continually broadcasts the official Weather Service information for the FCC's Emergency Alert System.
Tip: If you see a tornado funnel forming or touching the ground, find shelter immediately. Never try to outdrive a tornado.
Tornado Watch vs. Tornado Warning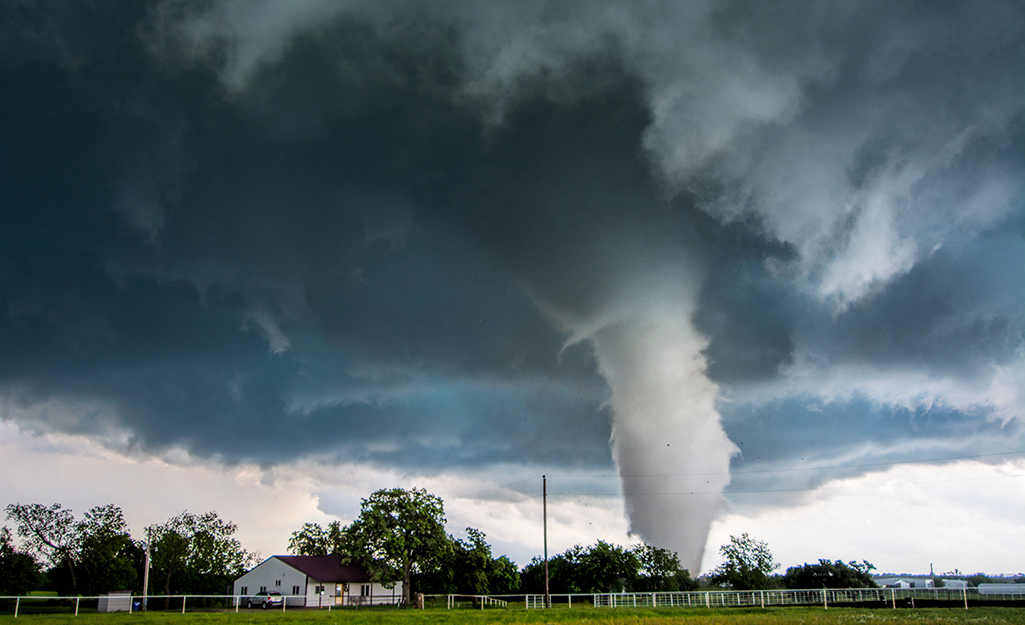 Properly preparing for a tornado means learning the sights and sounds. Some communities have a siren system. If you hear a siren, check your local news for information about the storm. If you are told your area is under a tornado watch, it means that you may experience a tornado. A tornado warning, however, means that a tornado has formed and has already been sighted and you are in a life-threatening situation. Seek shelter immediately. 
Tip: A tornado makes a roaring sound that many compare to that of a fast-moving train. 
Plan Ahead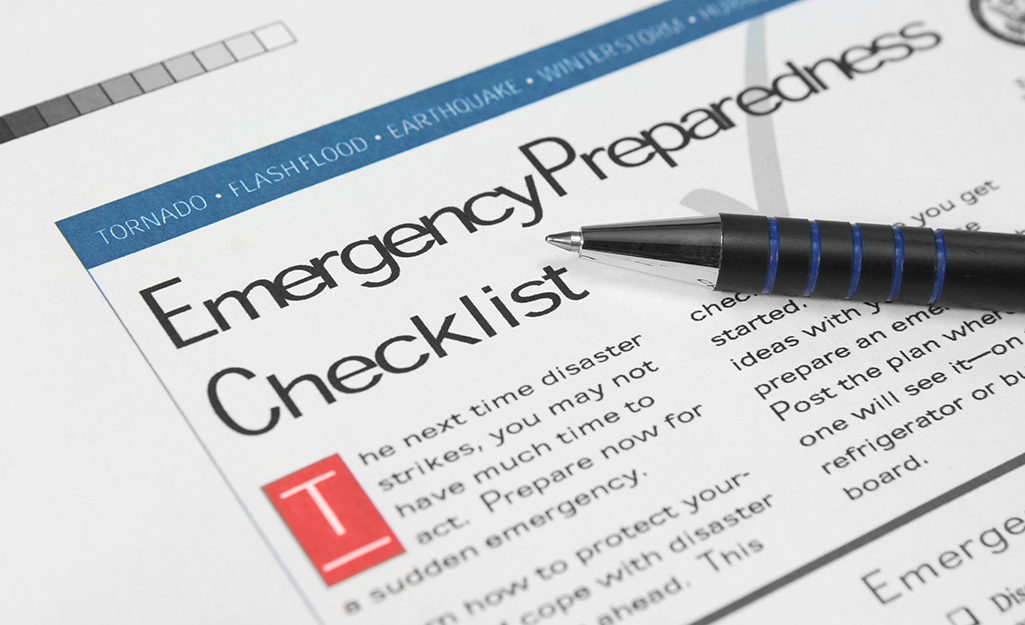 Preparing for a tornado in advance is one way to keep safe in case one occurs. Write out a plan and practice it. Buy enough emergency food and supplies. Find out where local area shelters are in case you have to leave home, are at work or at school when the storm hits. Determine a good meeting place so everyone knows where to be if a tornado happens. Consider buying a small safe for valuables or store them in a bank deposit box. Check your insurance policy. Include a flooding rider if possible. Get extra prescription medications. ATM's and credit card machines may be down after the storm. Determine where you'll gas up vehicles and get cash. 
Tip: Let family and friends know about your plan in advance.
Store Emergency Supplies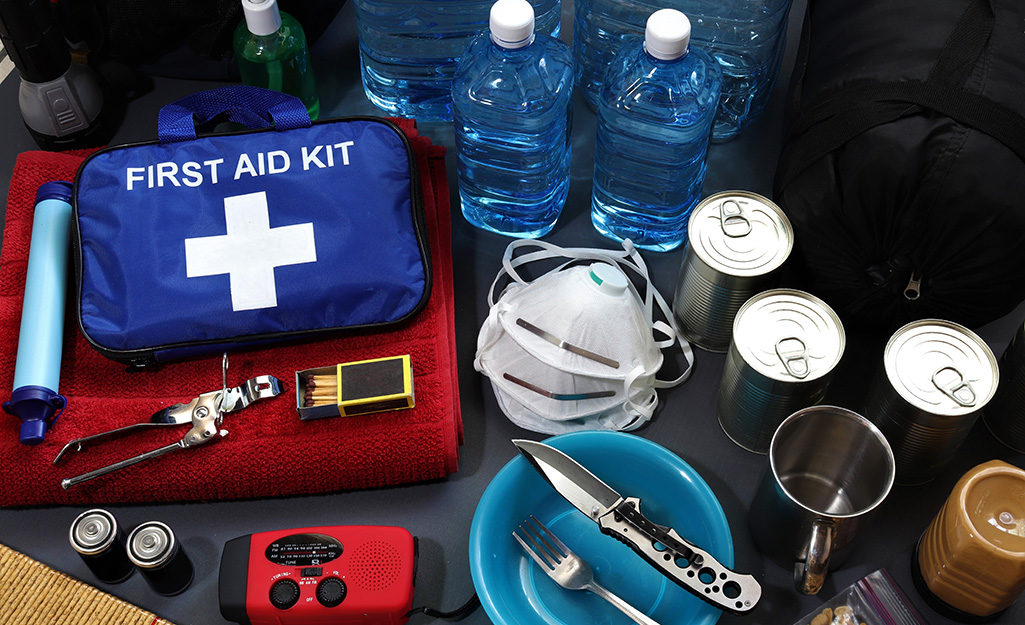 Pack up emergency items before hurricane season begins and store them in your safest space. Have extra flashlights and stock up on batteries. Emergency preparedness kits are a good choice. Include basic tools such as a screwdriver, hammer and nails. Get enough non-perishable food for each person for three days. You may not be able to cook, so canned or ready-to-eat foods work best. Don't forget a can opener and a knife. Stock a gallon of water per person for at least five days. If you have a pet, include food and extra water. Prepack a small suitcase with a change of clothes such as work boots, long sleeve shirts and a jacket.   
Tip: Add extra first aid kits in case you need to help others after the storm.
Cover Windows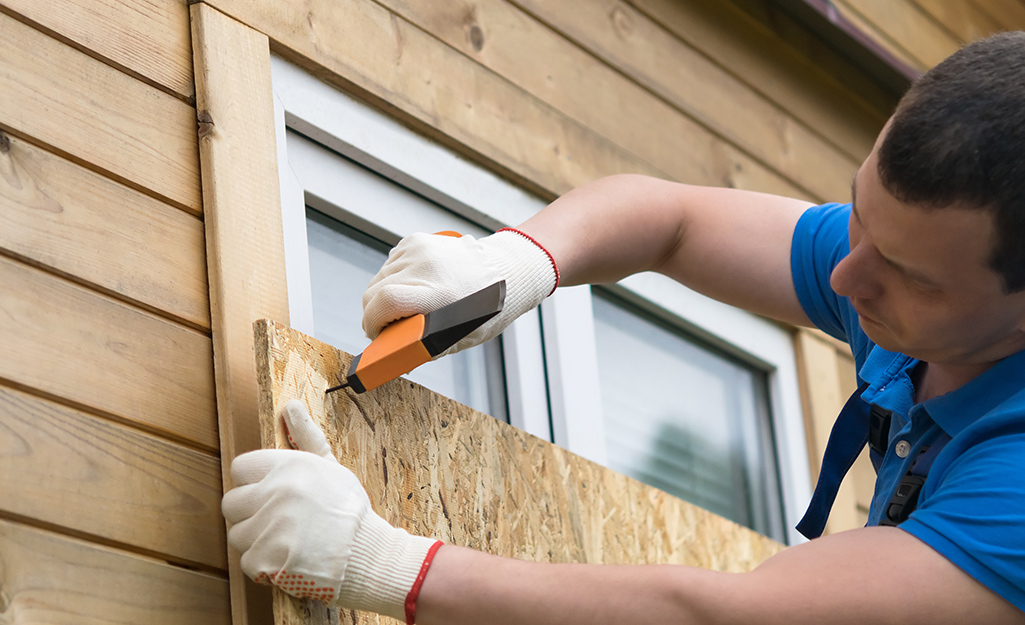 If you come under a tornado watch, exercise every caution. Close windows and cover them with plywood. Make sure to get the right type of plywood for your needs. Marine-grade plywood offers superior protection in wet environments. Store or secure any outdoor furniture. Bring in potted plants to prevent them from flying away. Drive vehicles into the garage, if possible. Move furniture away from glass doors or windows. Make sure your fire extinguisher is working properly. 
If you live in an area that is susceptible to tornados, there are several things you can do before the season starts. Consider adding a storm door to each exterior exit. Think about installing hurricane shutters. Keep trees near your house trimmed and make sure they are healthy. 
Tip: Do not open windows during a tornado. It can cause more damage to the inside of the property.
Take Shelter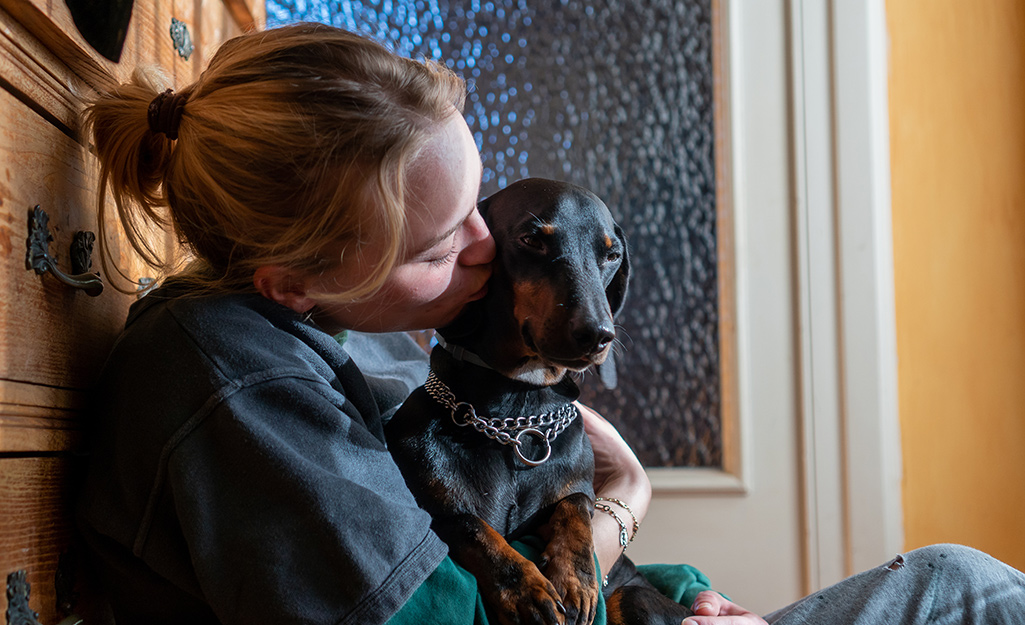 Staying safe in a tornado means going to your secure place as soon as a tornado warning is announced. FEMA recommends a basement, cellar or a lower level interior room with no windows. Stay away from outside walls and corners. 
Make sure all your emergency supplies are within easy reach. Keep valuable items such as special jewelry, photos and important documents in a waterproof container near you.
Tip: Have a flashlight with extra batteries, a cell phone or radio in hand as you wait out the storm.  
Tips for After a Tornado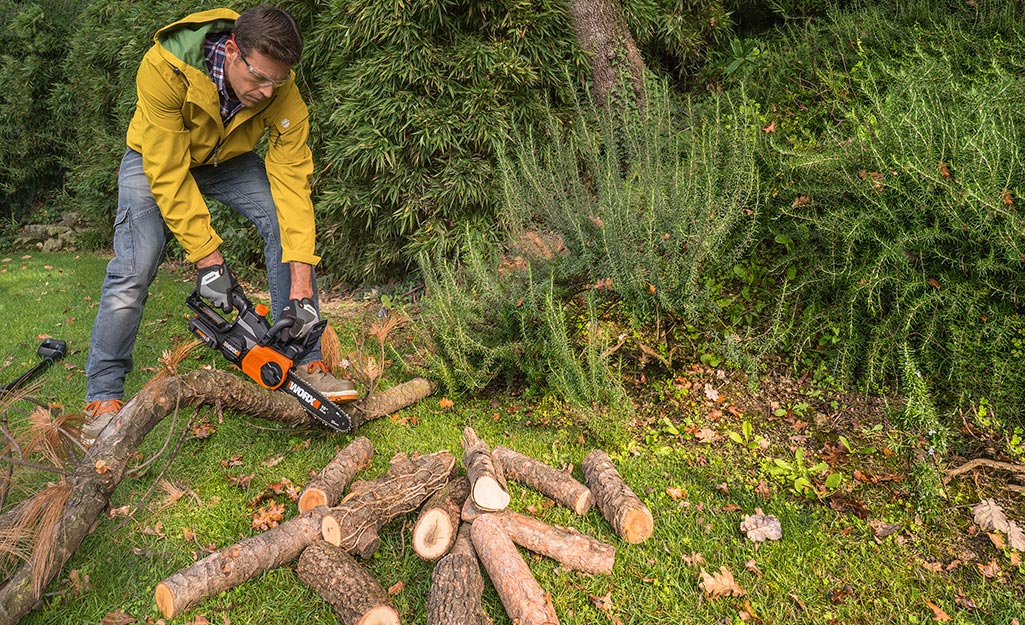 Part of knowing how to prepare for a tornado is having a plan for what to do after the storm has passed. 
Stay clear of fallen power lines, broken glass and other hazards.
Safely clear away any fallen limbs or debris.
Check on neighbors. Call 911 if someone is injured or trapped.
By the time you see or hear a tornado, you are already in a life-threatening situation. Knowing how to prepare for a tornado in advance is crucial. Make a plan, stock up on emergency supplies, protect your home and take shelter. Take every precaution to stay safe before, during and after the storm. Rent the tools you need. Get the emergency supplies you need. The Home Depot delivers online orders when and where you need them.
Explore More on homedepot.com