When you're ready for a kitchen renovation, start small and determine what works best for you and your space. An upgrade of your kitchen island or the installation of a new one can make your kitchen more functional and enhance your home's decor. Think of the colors, themes and the needs of your kitchen when deciding on the island style you've been dreaming of. 
Read this guide for a few inspiring kitchen island ideas to maximize your space. 
Small Kitchen Islands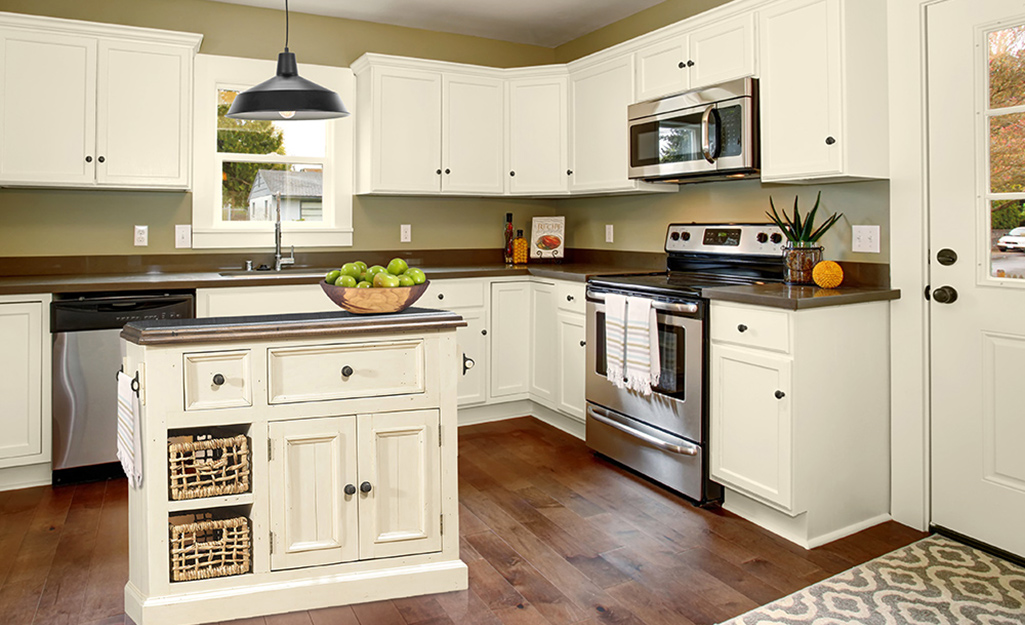 Small kitchens deserve attention too! The perfect kitchen island size can improve the space available in your apartment or bungalow and give you a reason to visit your kitchen more often. 
Use a small kitchen island to store appliances or pots and pans. Add lighting above the island to brighten the area when cooking or entertaining friends and family.
Make your prep area or serving station mobile with akitchen island cart. This can be used for food preparation or to get your food and drinks out of the kitchen and into the living space or outdoor area.
Modular Kitchen Islands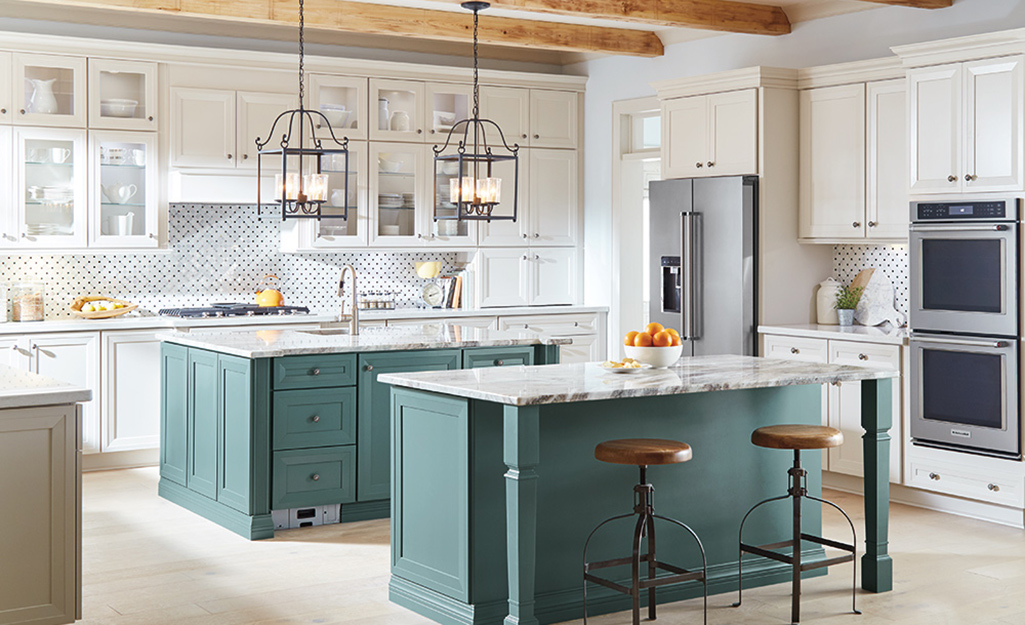 A kitchen with two islands gives you more opportunity to prep, serve, entertain and clean properly. More countertop space with two islands is a creative and efficient way to manage countertop kitchen appliances. This adds lots of extra counter and storage space to complement your wall cabinets and drawers.  
Kitchen Islands with a Place for Dining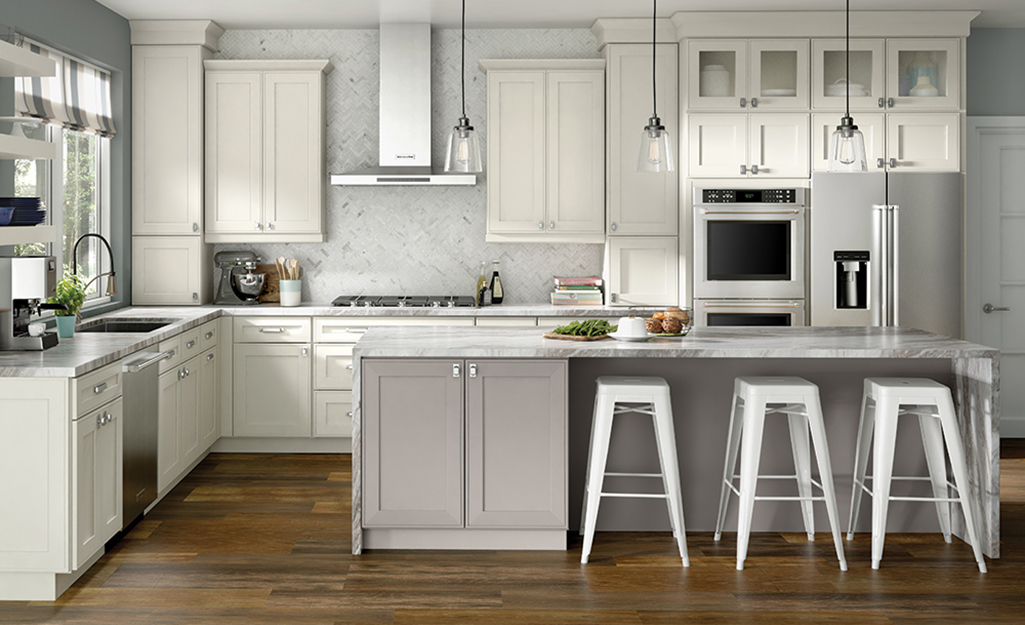 Kitchen design is all about comfort and entertaining. Add a dining table to your kitchen island for serving breakfast, lunch or dinner. A table can be installed to your kitchen island or a high countertop breakfast bar can be slid into place when necessary. 
Be sure to add color and texture with the seating you select for your kitchen island. A stainless-steel kitchen island pairs well with metal or leather dining chairs to keep the space feeling luxurious. A more modern kitchen island with an added table or bar can be paired with stylish counter stools or wooden dining chairs. 
Integrated Kitchen Islands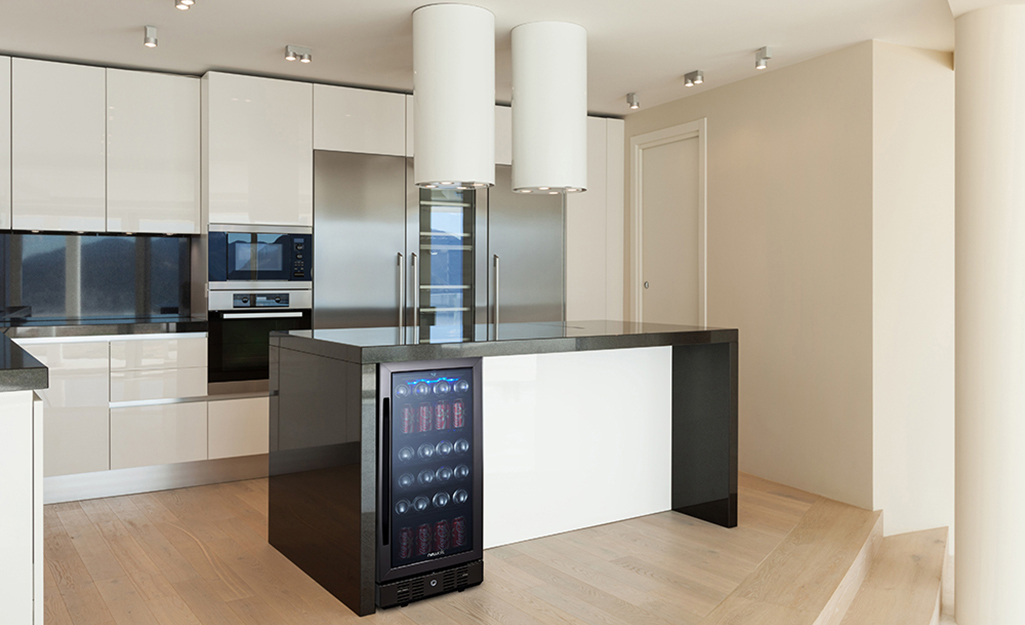 These are often considered the most functional types of kitchen islands. A great way to enhance how you use your kitchen and transform how it looks is to integrate appliances and coolers. These additions make it easy to create a modern, well-coordinated space that complements your countertops. 
Installing the DIY kitchen island is the first step. Add a power source before adding a cooler, microwave or oven. This customized island is sure to accommodate all of your cooking or food storage needs. 
Round and Curved Kitchen Islands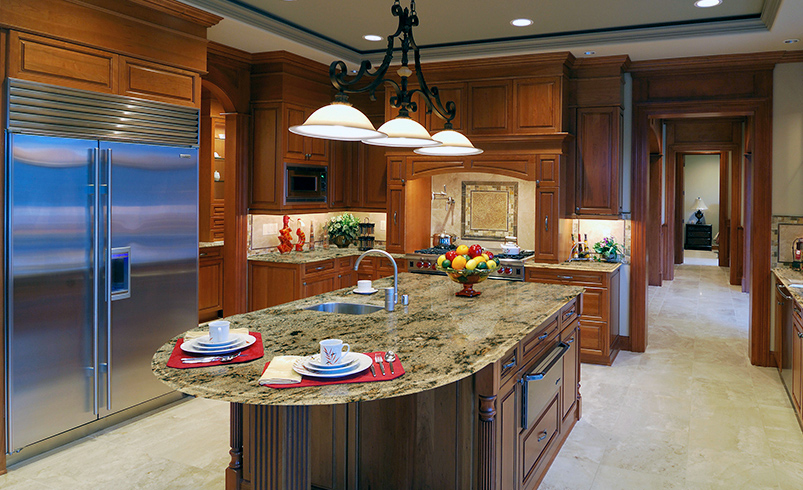 Shake up your kitchen space with a kitchen island that has an entirely different shape. A round or curved kitchen island has no corners and does not disrupt your kitchen design or layout. It adds to the flow and leaves plenty of space around perimeter for foot traffic. 
Whether it is a full 360 degrees or a half circle, this type of kitchen island is a true space saver that is sure to command attention and transform the way you experience your kitchen. 
Shelf and Cabinet Kitchen Island Combos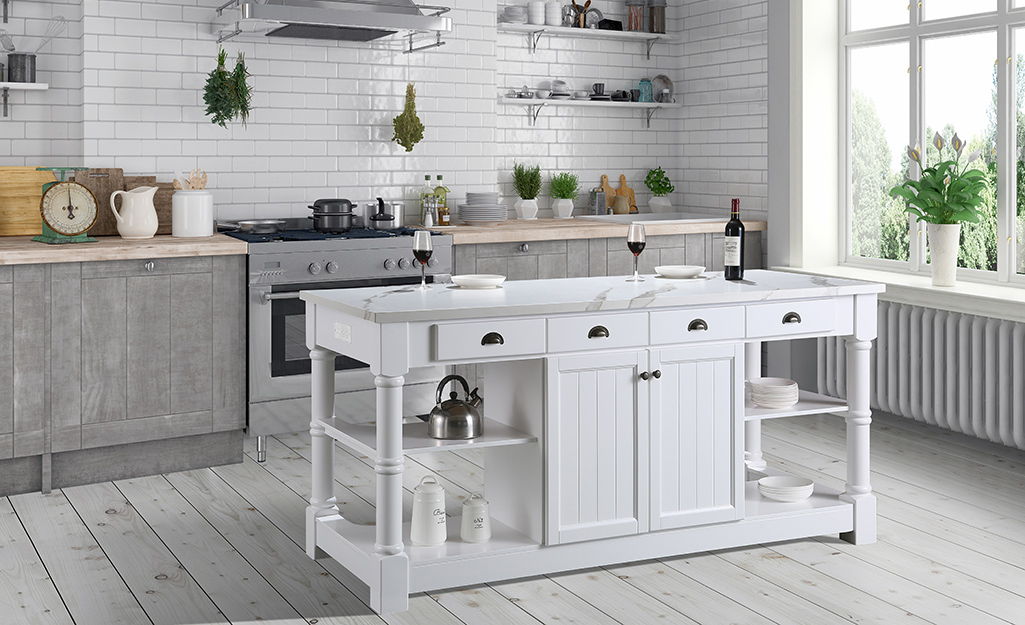 Open shelves add versatility to your kitchen island storage space. Use the shelves to display glassware or small dishes and keep them within easy reach. The shelves also open cabinet space for items that need the storage out of sight.  
Rustic Kitchen Islands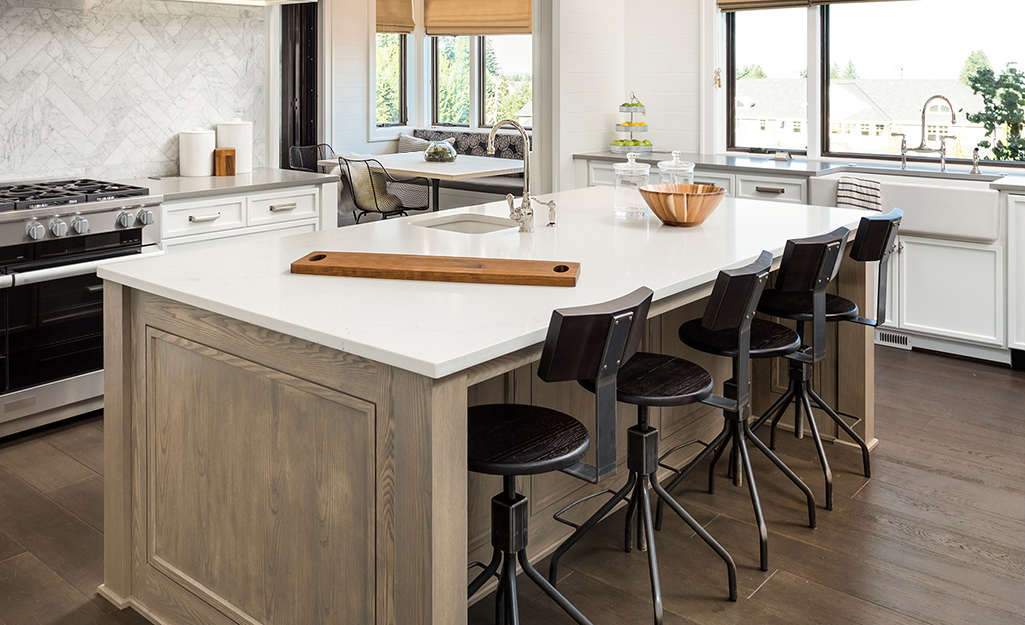 A kitchen island designed with a farmhouse theme is a warm and comforting upgrade that adds rustic style to your kitchen. Choose a kitchen island that projects classic country-inspired lines. A mix of reclaimed wood fixtures make a perfectly imperfect finish for your kitchen island. 
Install an overhead pot rack and hooks from the ceiling to complete the rustic theme for the kitchen island. Adding above storage to any type of kitchen island can ease your ability to cook, serve, and stay organized.  
Raised Kitchen Islands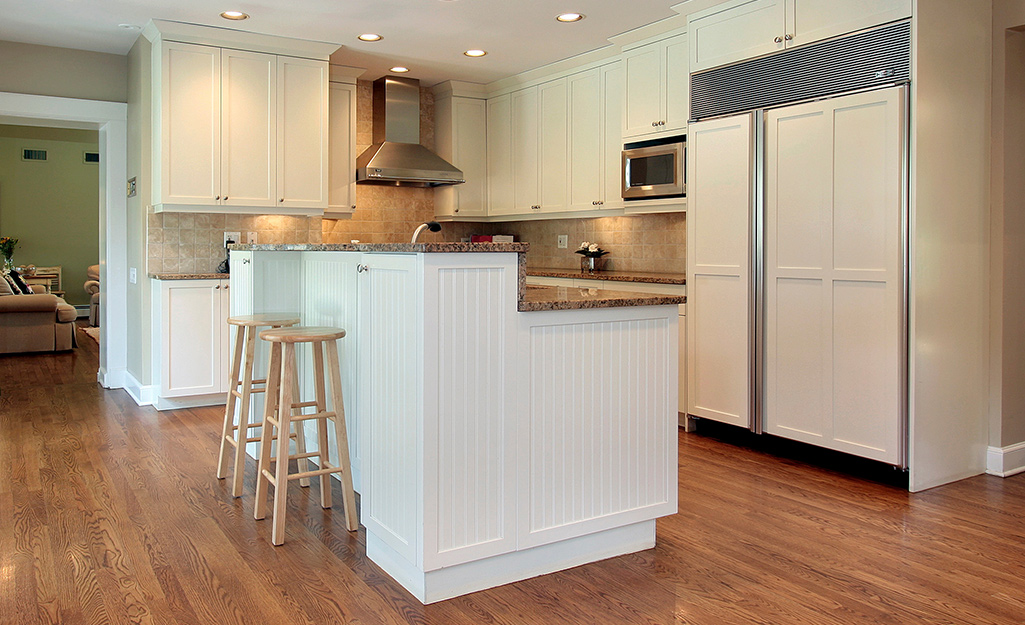 This kitchen island design is suitable for open concept floor plans and ideal for entertaining. The long, slim upper tier of the kitchen island offers extra space for seating. It also doubles as a long counter for serving meals while food preparation is done on the lower level.   
The different sizes and shapes of kitchen islands offer opportunities to add to the look and functionality of this space. Download The Home Depot Mobile App to check out the inspiring kitchen island ideas and buy the one that suits your needs. The Home Depot delivers online orders when and where you need them. 
Explore More on homedepot.com