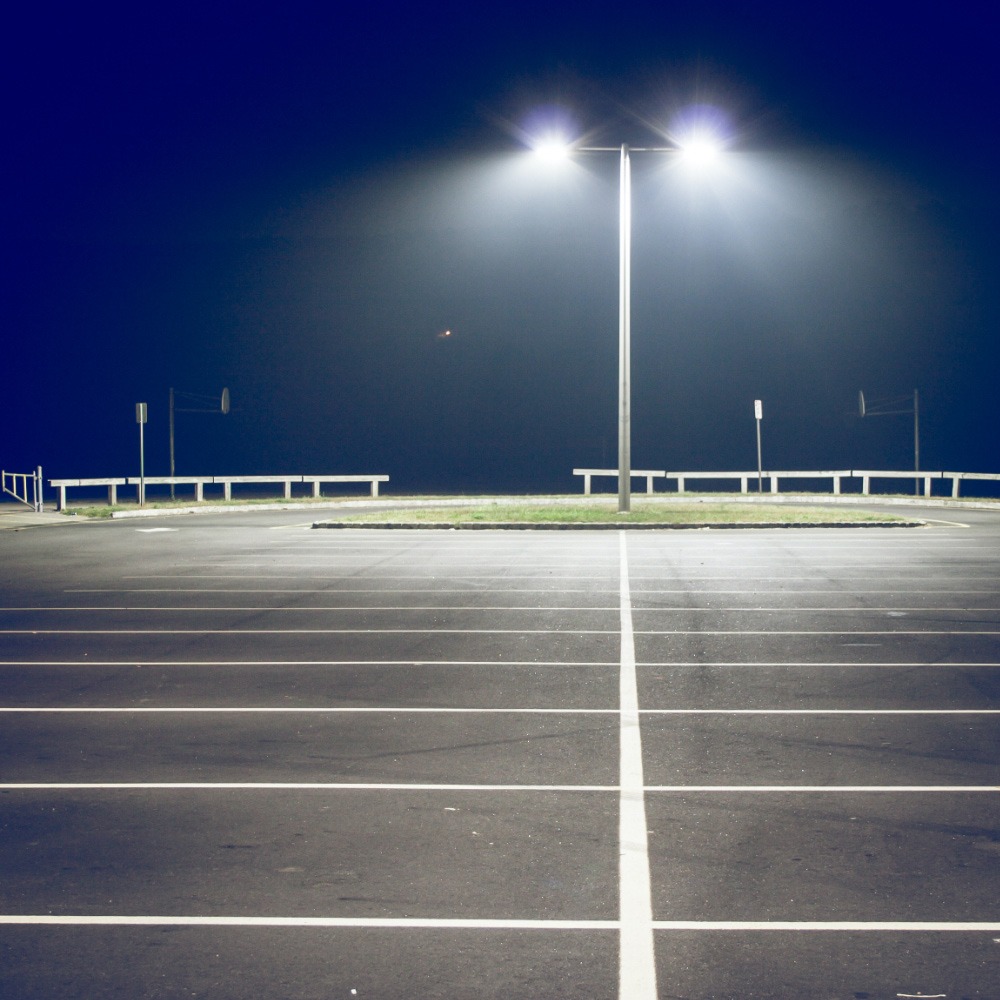 The best outdoor lighting for parking lots provides ample illumination for people and their vehicles. Parking lot lighting ensures that people can walk safely to and from parking spaces without tripping, while discouraging criminal activity.
This guide reviews parking lot lighting standards and tips for design and placement of outdoor area lights.
Parking Lot Lighting Standards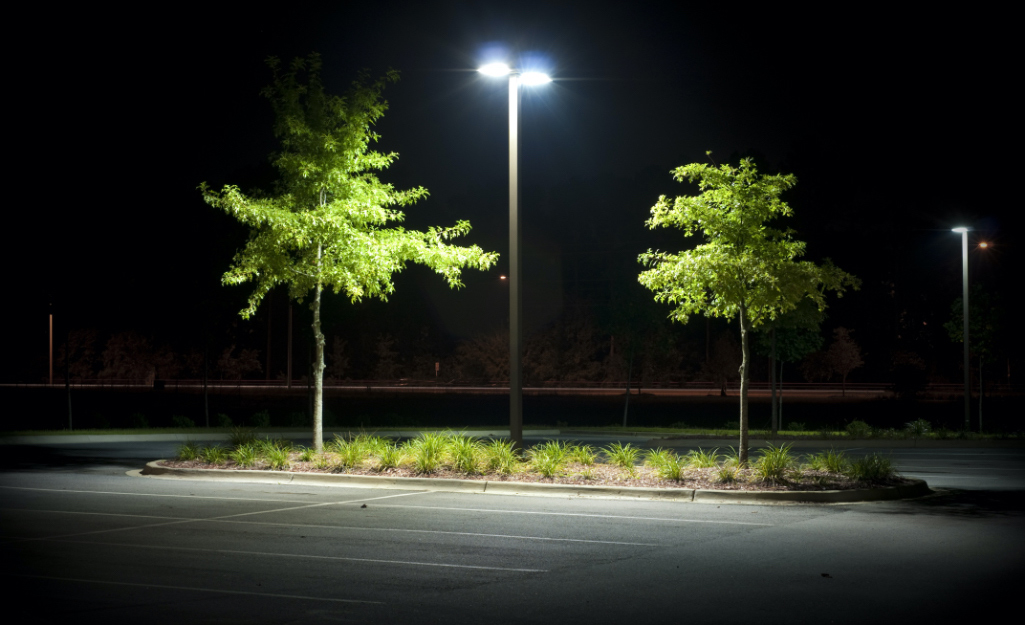 Most parking lots are lit for 13 or more hours a day on average. The Illuminating Engineering Society (IES) of North America make these recommendations for the safest and most effective parking lot lights:
For parking lots in typical conditions, the IES recommends minimum horizontal illuminance of 0.2 foot-candles, minimum vertical illuminance of 0.1 foot-candles and a uniformity ratio of 20:1 maximum to minimum. 
For enhanced security conditions, IES recommends minimum horizontal illuminance of 0.5 foot-candles, minimum vertical illuminance of 0.25 foot-candles and a uniformity ratio of 15:1 maximum to minimum.
One foot-candle is defined as enough light to saturate a one-foot square surface with one lumen of light. Horizontal illuminance falls on surfaces such as sidewalks, while vertical illuminance falls on surfaces such as the sides of buildings. 
You can find lumens, power consumption and other specific product details when you shop on homedepot.com.
Designing Lighting for Parking Lots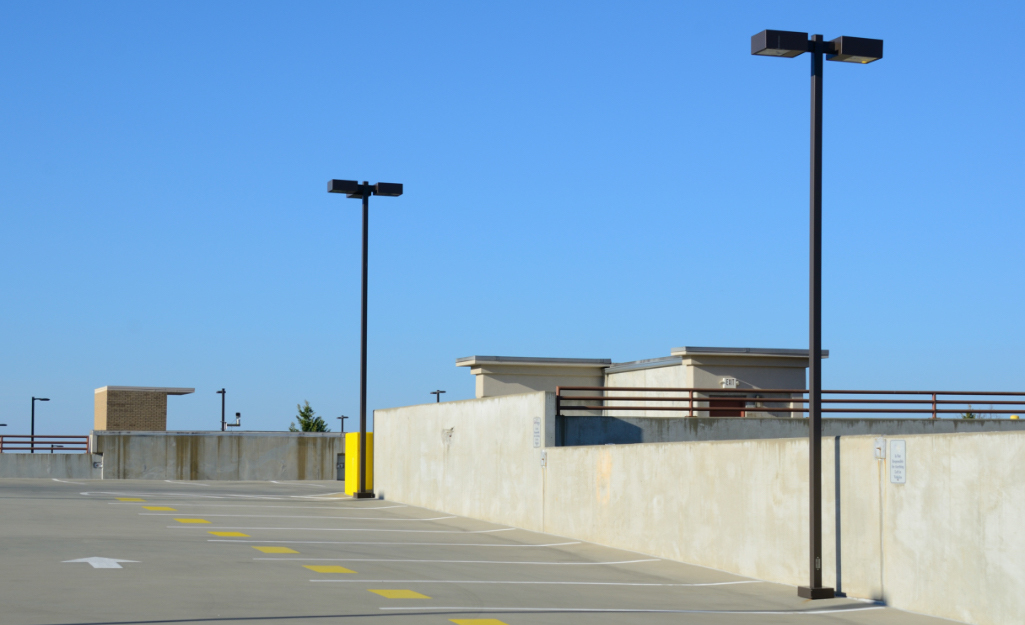 Many owners of parking lots and parking garages have traditionally used metal halide lights but are increasingly switching to LED outdoor area lights. LED lights have high energy efficiency, a range of color options and none of the warm-up time required by halide lights.
In addition, LED bulbs can emit white or blue light, which can show fine details more effectively. Lights with a blue/white color temperature are better suited for high-security properties such as car dealerships or banks. 
High-intensity discharge (HID) bulbs such as metal halide and high-pressure sodium bulbs have warmer colors effective at highlighting landscaping or architecture. This makes them better suited for parks and other low-security parking lots. 
In general, retail and sporting lots can see a high volume of visitors at peak hours. To prevent tripping and ensure safety, they require brighter lighting and more of it.
Consistent, uniform light can reduce the amount of contrast between bright and darker areas on the pavement surface. This makes it easier to see people, vehicles and potential tripping or slipping hazards in parking lots.
Choose the right light pole height for your parking lots to ensure the most effective illumination and greater safety. Two lights per pole is standard.
15-20-foot light poles (for small parking lots and residential uses): bulbs of 12,000-18,000 lumens, with 20-30 feet of spacing between poles
20-25-foot light poles: bulbs of 20,000-30,000 lumens and 30-40 feet of spacing between poles
25-35 foot "high mast" poles: bulbs of 30,000-70,000 lumens and 40-50 feet of spacing between poles
What Is Strategic Outdoor Security Lighting?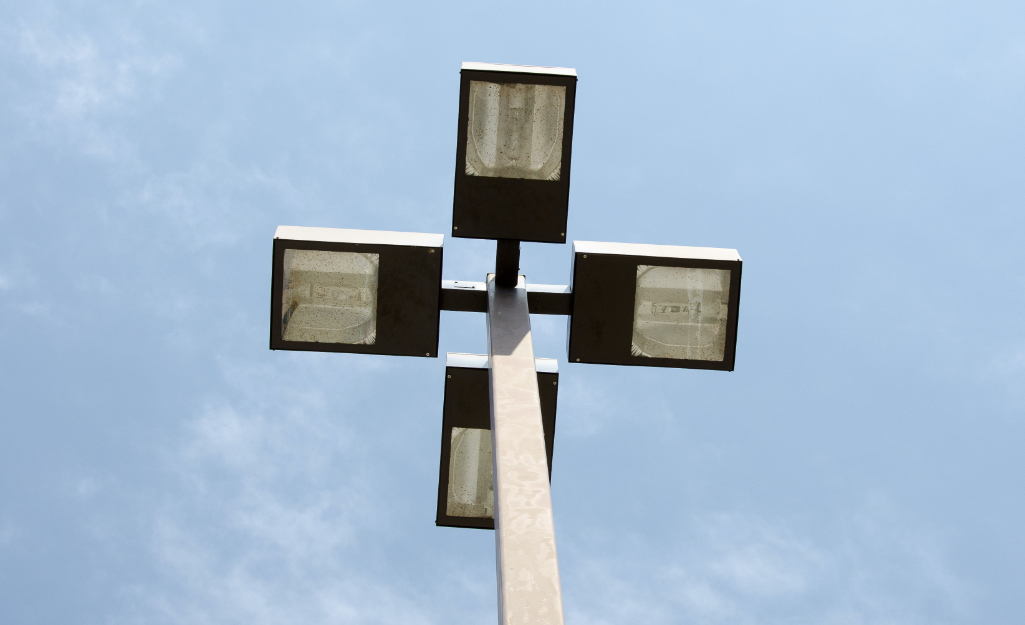 Effective outdoor security lighting in parking lots and other spaces can conserve electricity while improving safety. Motion sensor lighting, which activates upon detection of movement, can be more effective than continuous lighting. It saves energy, reduces light pollution and can draw attention to potential trespassers. 
The most effective outdoor area lights can accomplish the following:
Light walkways
Reduce shadows
Reveal tripping hazards
Integrate motion sensor lighting
Deter trespassers
Limit light pollution
Optimize energy use
Pro Tip: Position security lights out of reach to prevent tampering. Select light fixtures with protective screens or acrylic sheeting.
Parking Lot Lighting Tips
When planning outdoor lighting for a parking lot, make these considerations.
Check for local light pollution ordinances, which can set limits on the type and amount of parking lot lighting.
Set a schedule for parking lot lighting maintenance. Clean fixtures on a regular basis, as dirt can reduce the quantity and quality of illumination.
Order replacement bulbs and swap them out before the old ones burn out.
Have trees and landscaping regularly maintained to ensure the lighting is not obstructed.
Check light level requirements for security cameras and make sure they receive no glare, which can distort the image.
Make sure that light shines on potential hiding places and other security weak spots.
Parking lots for apartment buildings will need reliable security light throughout the night, as residents may come and go at all hours.
More Tools. More Products. More Perks.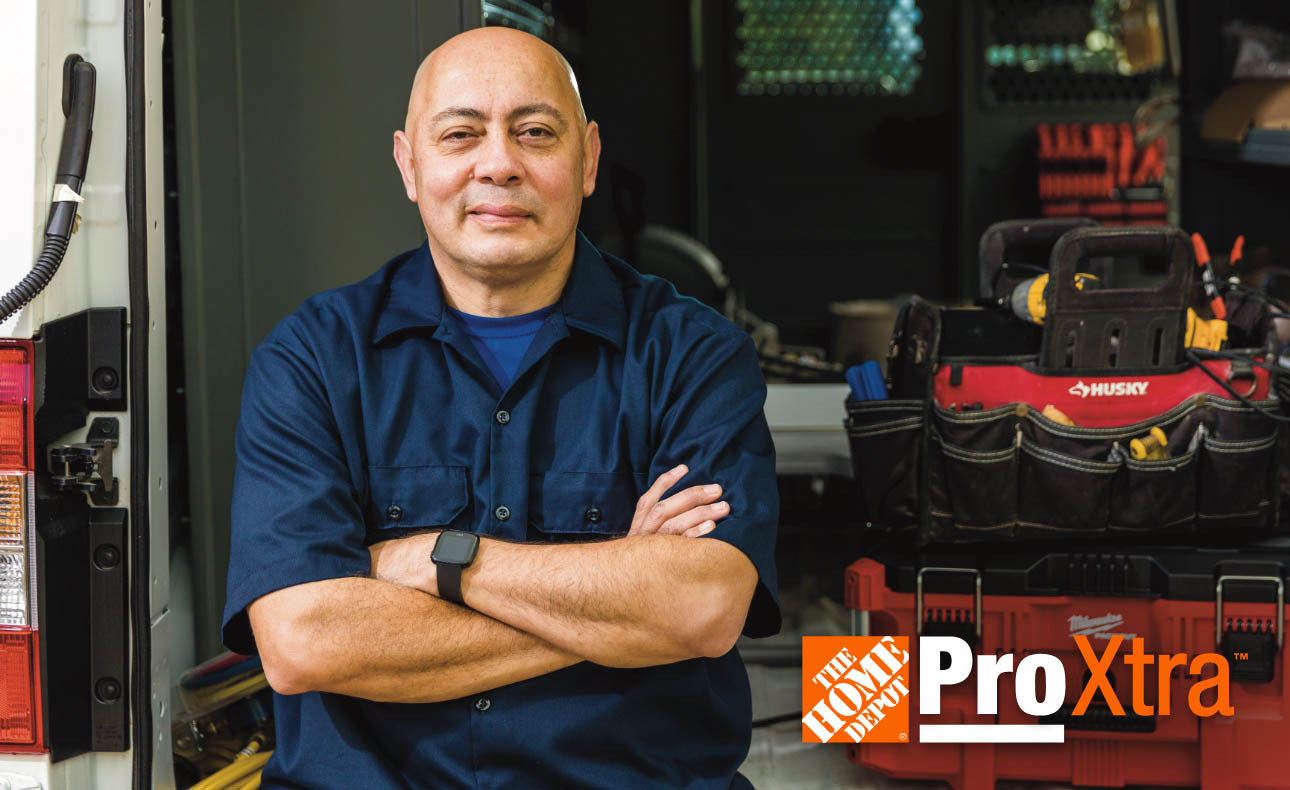 Be more competitive and boost your bottom line with Pro Xtra, The Home Depot's loyalty program built for Pros. Sign up today to access the enhanced Pro Online Experience, built with the online business tools and time-saving features Pros need. 
With a free Pro Xtra account, your lighting purchases are saved for up to six months so you can quickly Buy It Again in a few clicks and get back to the job.
Explore More on homedepot.com