Waffle makers are the perfect kitchen tools for cooking up a satisfying breakfast or delightful late-night snack. Pancakes and waffles share similar ingredients such as eggs, milk and flour. It's the key addition of extra sugar in the batter for caramelization, yeast and fat that makes waffles wonderfully crispy on the outside and fluffier than pancakes on the inside.
Waffles are made and served in a variety of ways. Three of the most popular varieties are classic waffles, Belgian waffles and liege waffles. Knowing what makes these waffles unique will help decide on which appliance best suits your needs. 
Whether you prefer classic and Belgian waffles or dense liege waffles, it's easy to appreciate the hot and fresh results cooked up by a waffle maker. Useful small kitchen appliances are offered in many shapes and sizes. Keep reading to discover the difference between different waffle makers.
Waffle Maker Features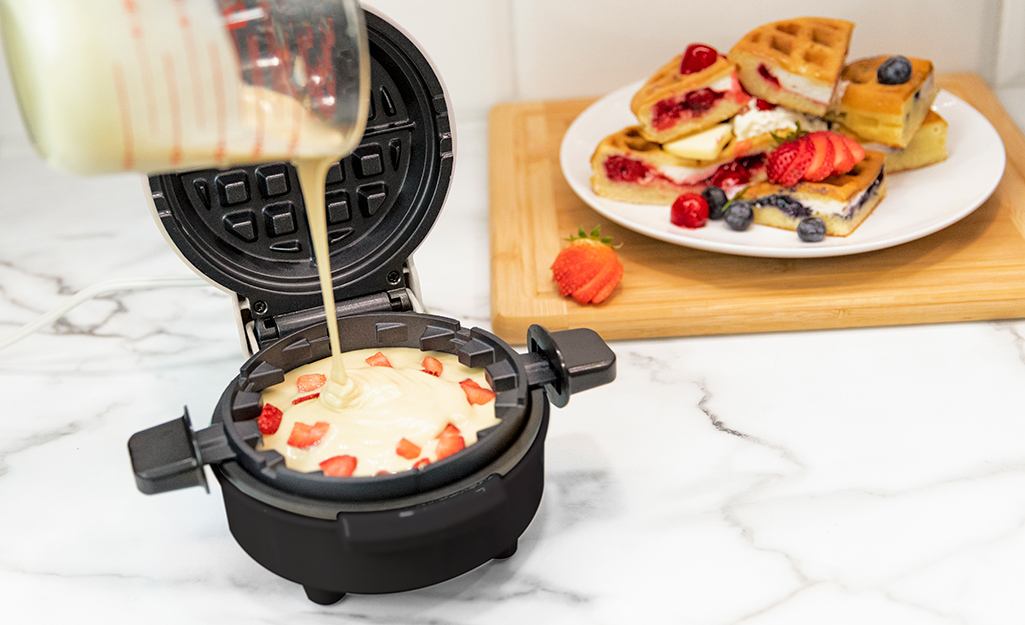 Making waffles is easier when the right appliance is on your countertop. One important detail to consider is a nonstick surface. Otherwise, the nooks and crannies of the waffle plate make it hard to extract all of the dough. A waffle maker with indicators in the form of a light or beep will let you know when it's hot enough to pour batter in and when the waffle is ready. 
Removable plates are another important feature for ease of cleaning, especially if they are dishwasher safe.
Tip: Lightly brush cooking oil over the plates, including nonstick plates, to speed up the waffle's release. Avoid spraying oil on the plates for it will result in a tacky, rancid-smelling build-up.
Classic Waffle Makers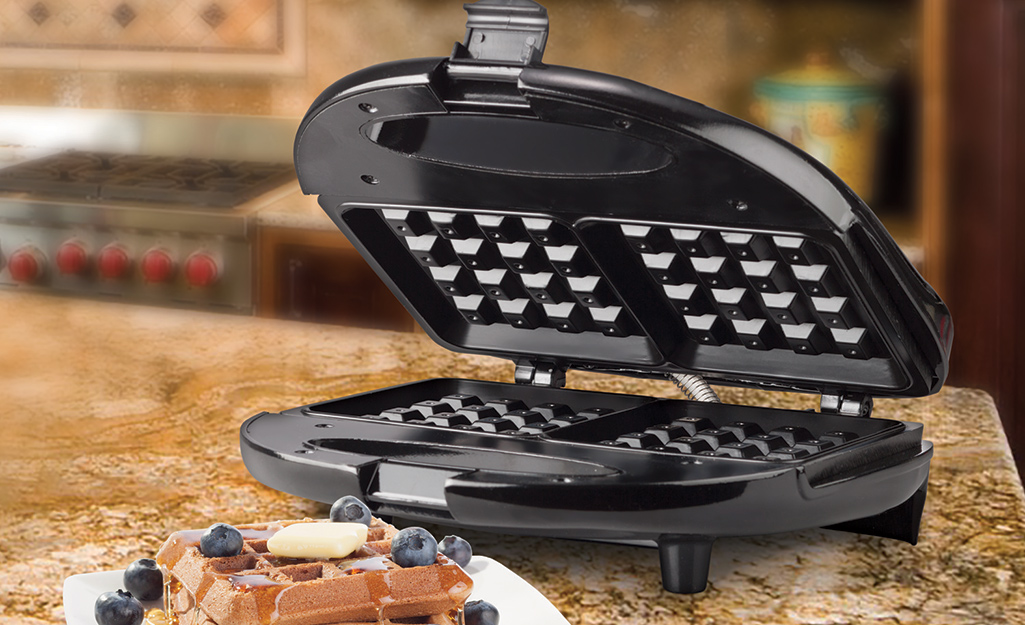 A classic waffle maker is designed to make traditional waffles like those found in grocery store freezers. Also known as a waffle iron, these units take only minutes to create thin, fluffy waffles. In terms of cost, classic waffle makers tend to be much more affordable than other options on the market. If you just want a waffle maker with no bells and whistles, look no further. 
Because of their simplicity, classic waffle makers are easy to use and easy to clean. Also known as "regular waffle makers," many designs boast a durable nonstick coating and a temperature-control option to adjust the temperature to your level of doneness. Just pour, close and cook for a delicious waffle in no time.
You'll also find classic waffle makers designed to produce waffles in the shape of hearts, movie characters and favorite cartoons.
Belgian Waffle Makers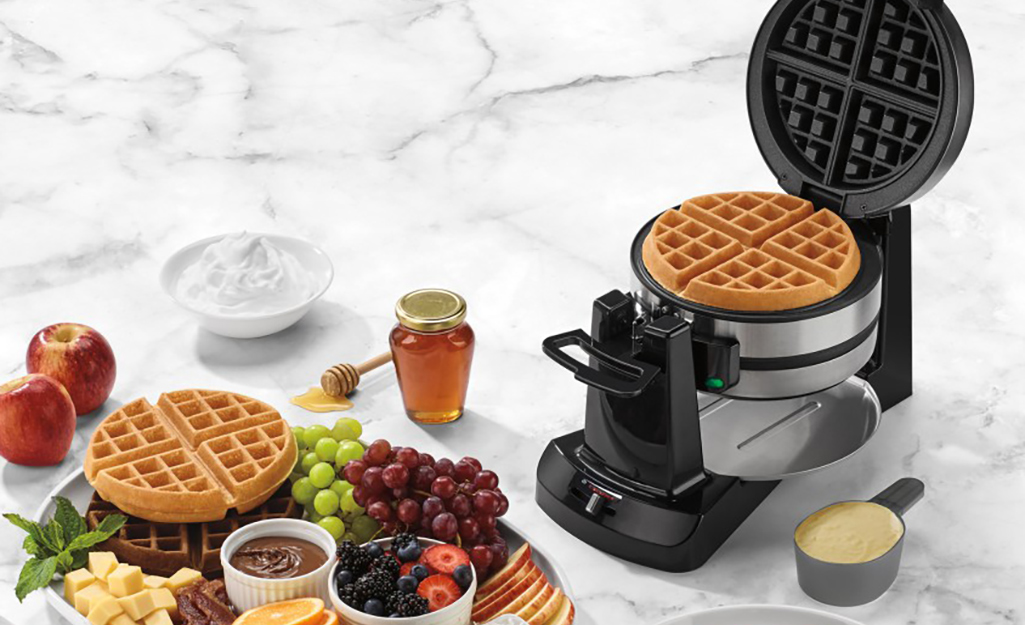 To make the perfect Belgian or liege waffle, it's best you stick with a dedicated Belgian waffle maker. Technically, you can make Belgian waffles in a classic waffle maker. However, the waffles will be flatter and have thinner grooves. Belgian waffle makers are specially designed with deep grooves to accommodate the rise of the butter-rich batter.
In most cases, the best Belgian waffle maker for your home can make one to two waffles at a time, though one is most common. The single Belgian waffle this type produces are thick, fluffy and golden.
Tip: For liege waffles, spoon two tablespoons of dough onto the plate, close the lid and bake.
Nonstick Waffle Makers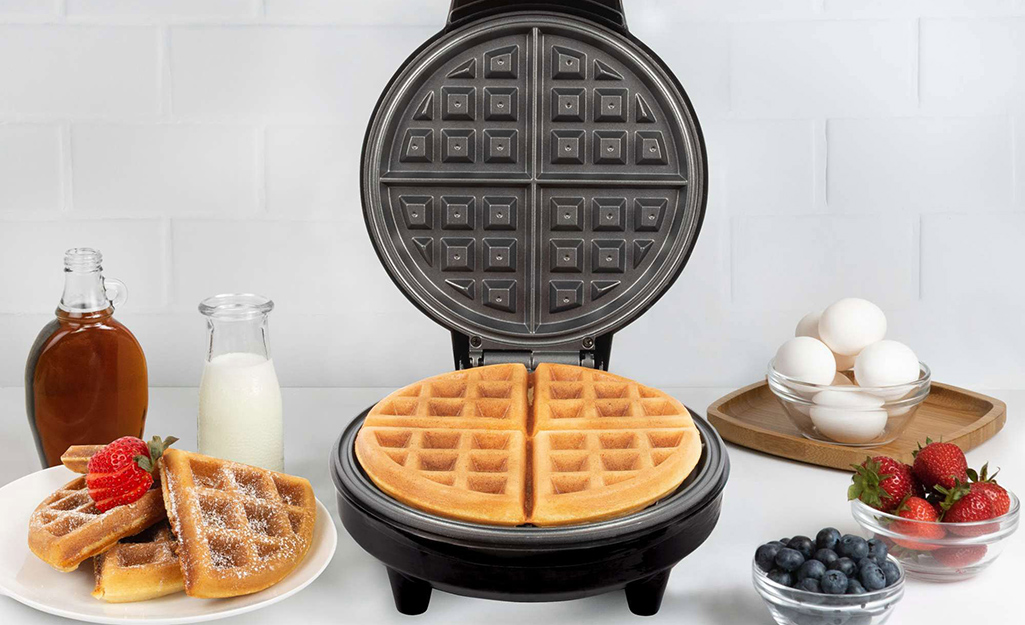 Waffle makers can be hard to clean, especially if you overfill the plates with batter and it spills over the edges. A waffle maker with high-quality nonstick plates minimizes cleanup time, even more so if they have removable plates that stack in a dishwasher rack. Some nonstick waffle makers are surrounded by wrap-around moats or have a drip tray to contain the spillage. 
Tip: Since nonstick coatings are prone to scratch and chip, it is best to hand wash the plates even if they can be removed.
Single Waffle Makers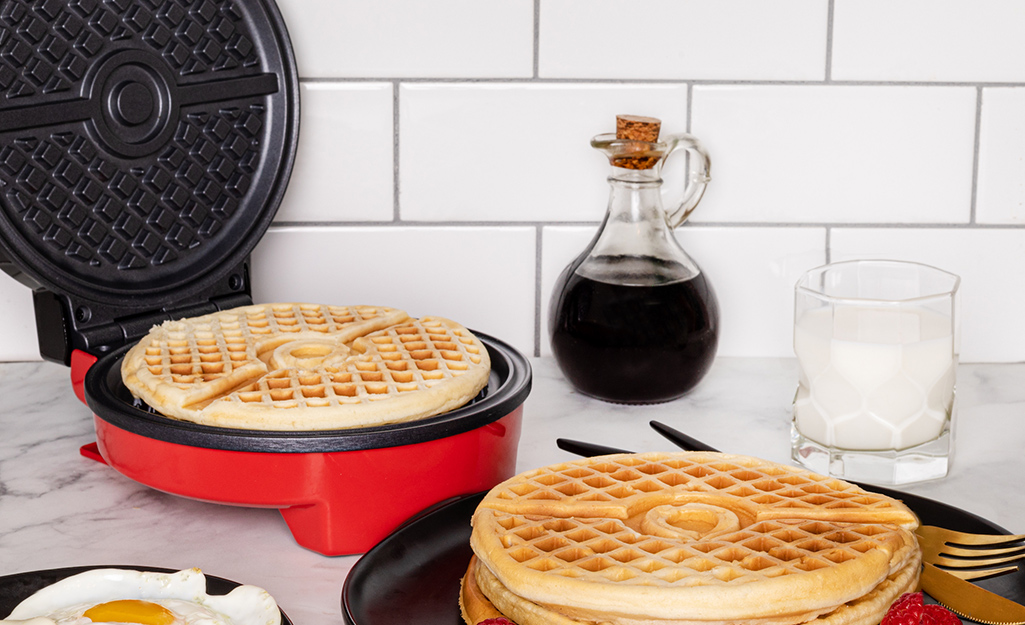 Many classic waffle makers fall under the single waffle maker category. Although they can only cook one waffle at a time, these units make up in quality for what they lack in quantity. If you prefer one large, crispy waffle all to yourself, a single waffle maker is the best choice.
Tip: This style of waffle maker tends to be more compact, making it a great space-saving option and easier to store in small kitchens.
Double Waffle Makers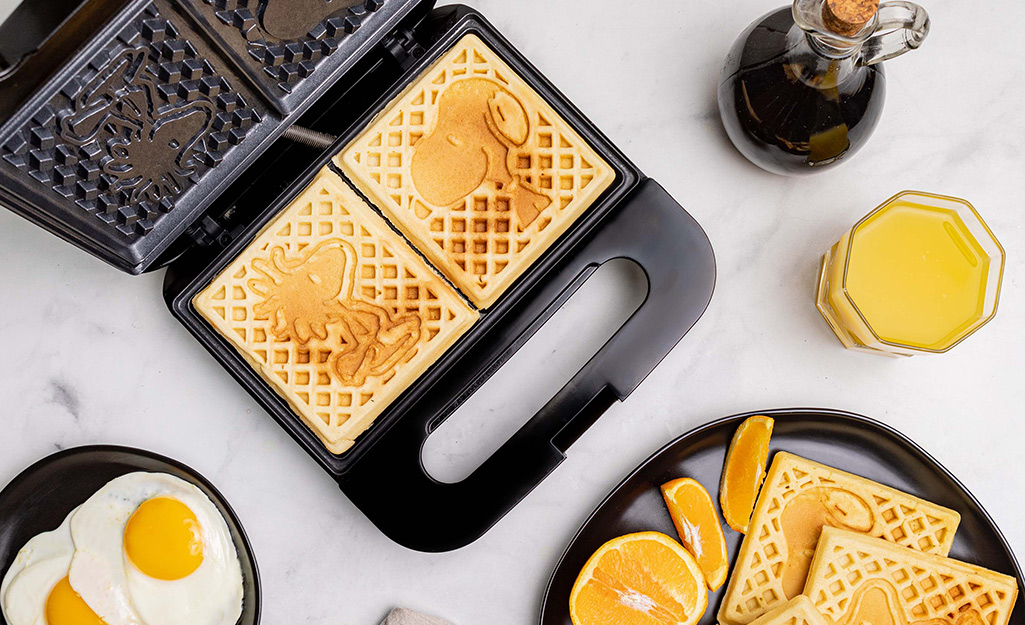 With the ability to make two perfect waffles at once, this electric waffle maker makes quick work of your signature waffle recipes. The dual plate system ensures consistent, even baking, and indicator lights identify when it's ready to use. 
A double waffle maker is a great option for smaller kitchens and households with one or two occupants. They usually feature an easy-to-clean nonstick coating that makes after-breakfast cleanup a breeze.
4-Slice Waffle Makers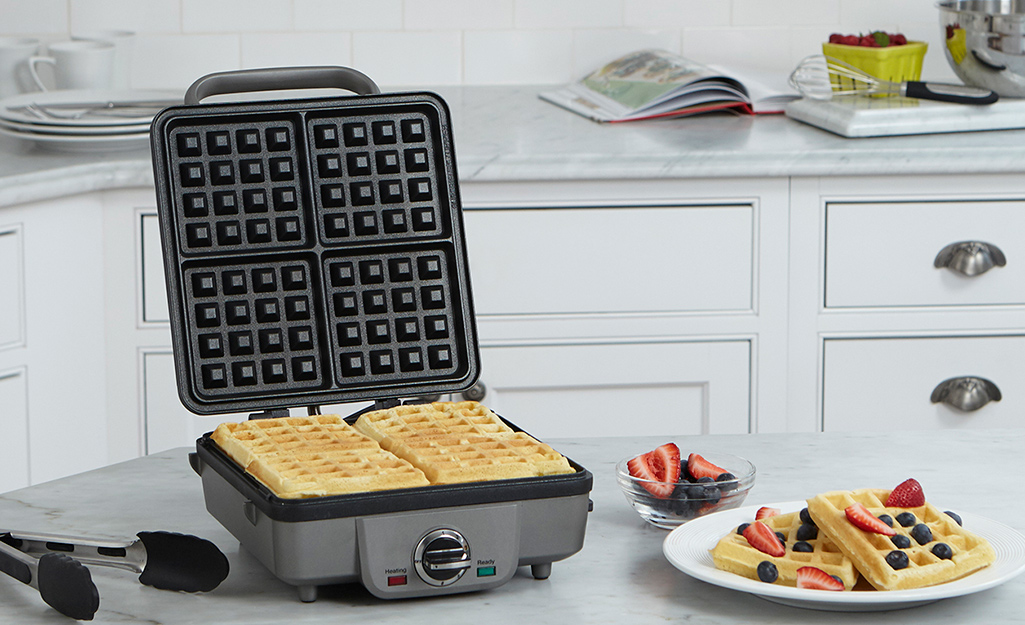 This waffle iron is for those who love devouring big, delicious waffles with very little wait. The high-performance waffle makers include ready-to-bake and ready-to-eat indicator lights. Some also have multi-setting browning controls that puts you in control of how to cook the waffles. 
With 4-slice waffle makers, the heat is evenly distributed in the plates and the waffles are always uniform in size and shape. If you have a big family or love hosting a large brunch, these waffle makers are ideal for feeding everyone perfectly shaped waffles every time.
Flip Waffle Makers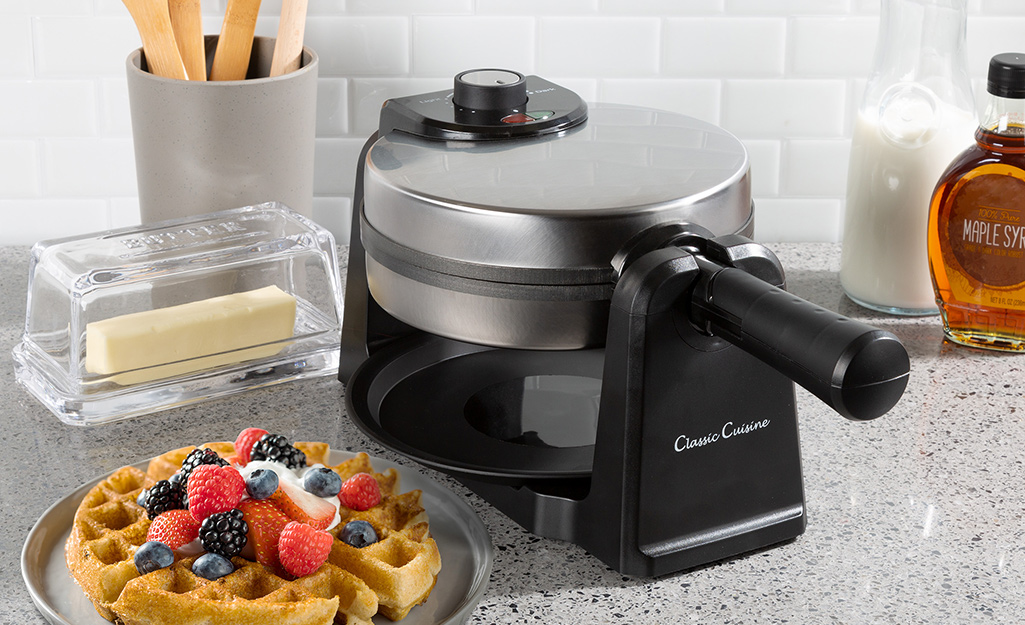 The flip waffle maker is exactly what you need for perfectly large, golden-brown waffles. Seen at many hotels and restaurants, flipping waffle makers are famous for producing all the batter evenly and with less spillage. Flipping the unit while the waffle batter cooks allows the waffles to heat up much faster with nice and crisp golden edges and fluffy-soft interiors.
Flip or rotating waffle makers are easy to work with and don't require a lot of clean up. Their cool-touch handles offer a more hands-on approach to waffle preparation. Just rotate the flip waffle maker and cook to create perfectly fluffy, evenly cooked waffles like a restaurateur.
Vertical Waffle Makers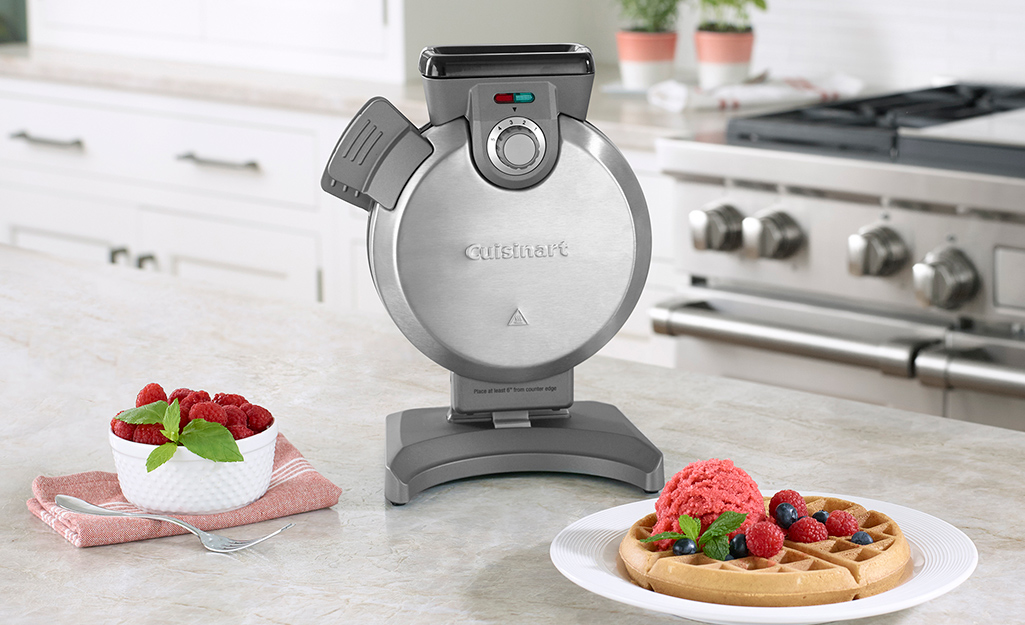 A vertical waffle maker has several benefits that outweigh its traditional, flat countertop models. For starters, this waffle iron takes up less counter or cabinet space, so you can store it close-at-hand and ready for immediate use. 
The waffle maker's unique, user-friendly design prevents batter overflow. This type of maker uses gravity to fill the mold, resulting in consistently perfect shapes. A designated batter pour spout at the top ensures even filling of the batter. You can check to see how full the unit is by checking if the batter is about to peak at the top.
In addition to saving space and easy filling, the waffle thickness is always consistent, and different browning level options mean you'll have a tasty waffle every time. Nonstick plates assist with quick and easy cleanup.
Novelty Waffle Makers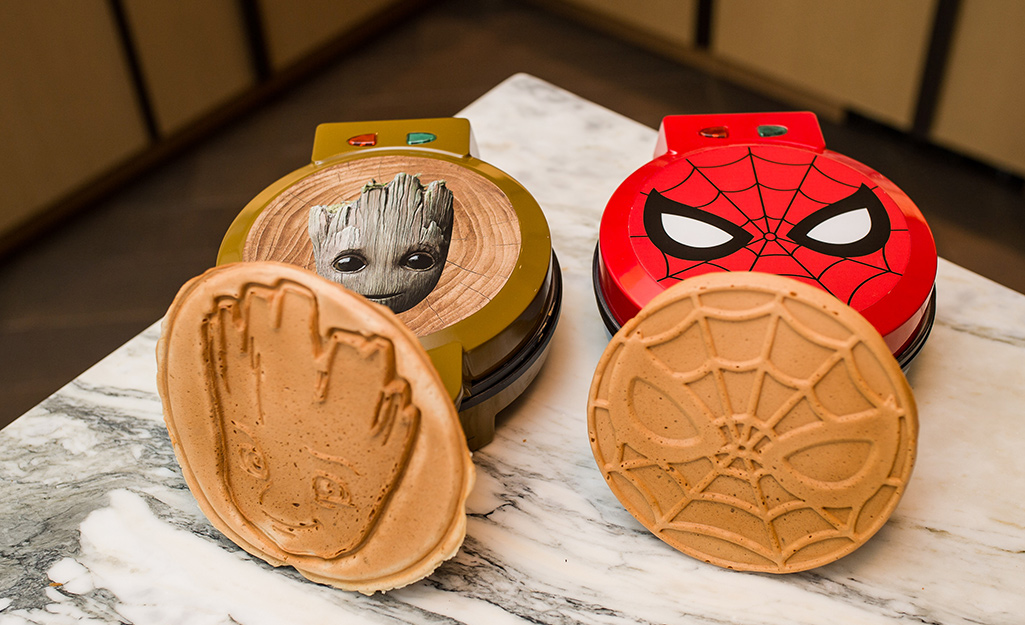 If you love movies, cartoon characters and holidays, novelty shapes are guaranteed to make eating waffles more fun. These waffle makers are not just for children or picky eaters. Adult fans of Disney, Star Wars and Marvel Comics will gobble up the contents as soon as they're done cooking.
Most novelty waffle makers only make one waffle at a time. Like classic waffle makers, the final results will be tasty, and the time you take to make them much appreciated.
Mini Waffle Makers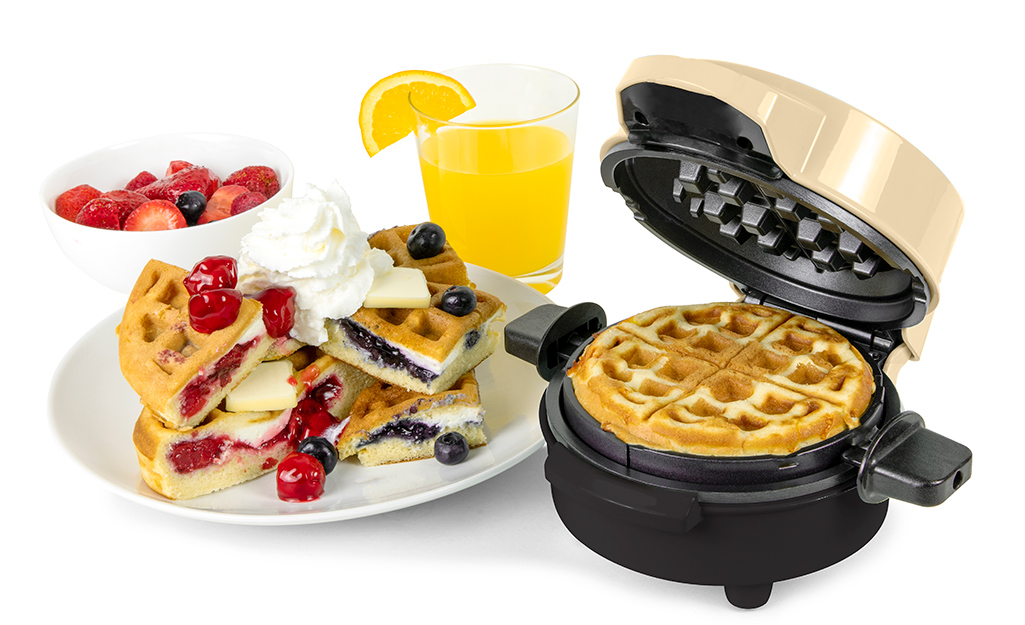 Mini waffle makers are the best waffle makers for smaller kitchens where space is at a premium. 
Most mini waffle makers are convenient and as easy to clean as they are to leave out on a countertop. Also, they are more affordable than their full-size counterparts. Due to their decreased size, mini waffle makers also produce smaller than average waffles.
Ceramic Waffle Makers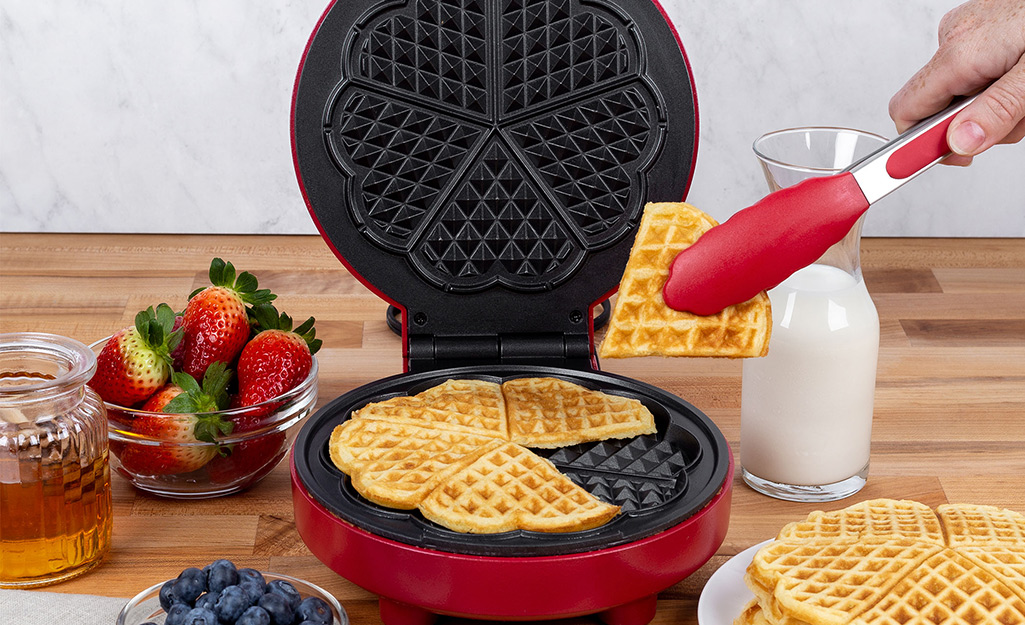 Most waffle makers contain a nonstick Teflon coating, but ceramic waffle makers, as the name suggests, use ceramic instead. These waffle irons are nonstick like their Teflon counterparts, but last four times longer than Teflon waffle makers and cook waffles faster, too.
Removable Grid Waffle Makers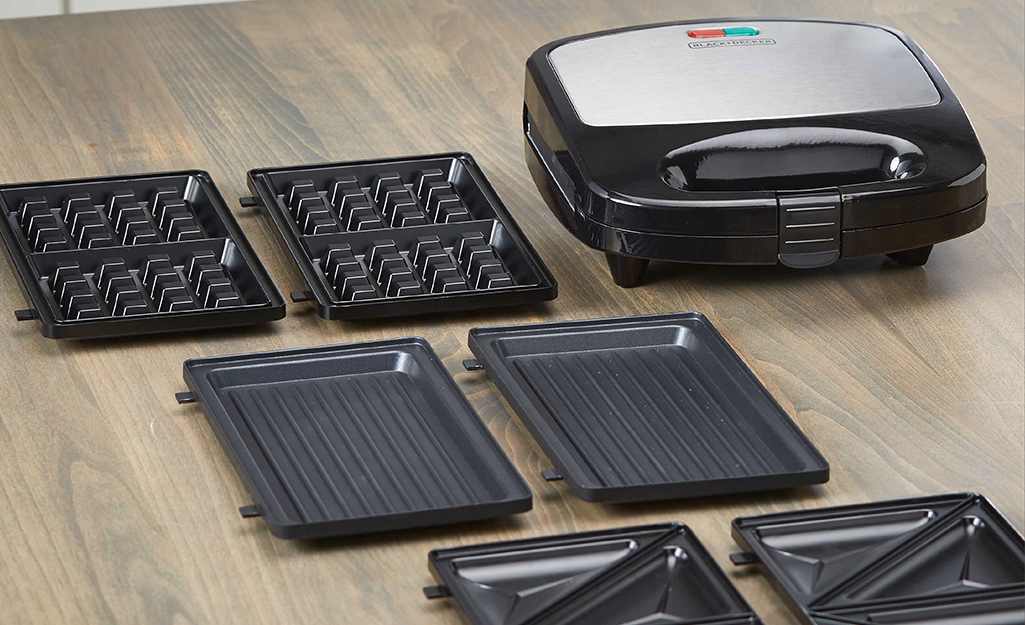 Removable grid waffle makers are affordable, nonstick and easy to clean. You can take the plates out and pop them into the dishwasher to make cleanup even simpler.
Whether you prefer classic waffles or Belgian waffles, we have the best waffle makers for your kitchen. Looking for ways to make perfectly cooked waffles? The Home Depot delivers online orders where and when you need them.
Explore More on homedepot.com