Buying Guide
Tips for Selecting Shower Doors
A new shower door is a practical and economical way to refresh your bathroom.
While a simple shower curtain may be sufficient to keep water off your bathroom floor, shower doors provide an elegant solution for water-tight seals, privacy and easy access to your shower.
This guide will walk you through the factors to consider in making your decision so you can select the shower door that works best for you.
Showers generally fall into three types of designs: Bathtub showers, alcove stand-alone showers and corner standalone showers. The shower door you choose largely depends on the design.
The type of door that will work best for your shower depends on the design of your shower, the size of the opening and how far out you want to open the door.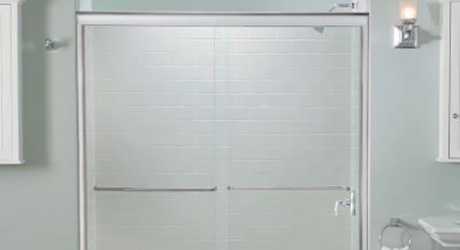 Take up the least amount of space
Consist of 2 or 3 panels that slide past each other on top and bottom tracks
Ideal for wide openings, with a typical opening of 60 inches wide
Commonly used in alcove and corner standalone showers or bathtub showers with stationary panels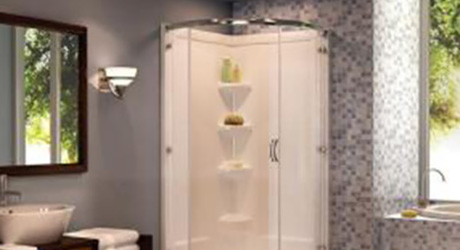 Open inward
Ideal for corner standalone showers
Attached to the top and bottom of the frame for stability and smooth operation
Curved glass design creates a more spacious bathing area
Often reversible for right or left access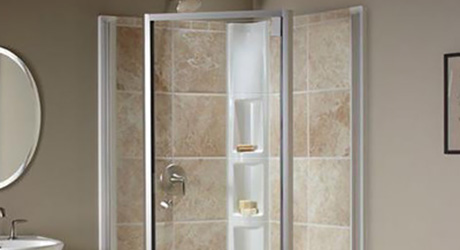 Neo-angle doors
Designed to fit neo-angle shower enclosures for corner installations
Take up little space
Can be installed to swing open left or right
Commonly used with corner standalone showers
Pivot / one-panel swing / swing-open doors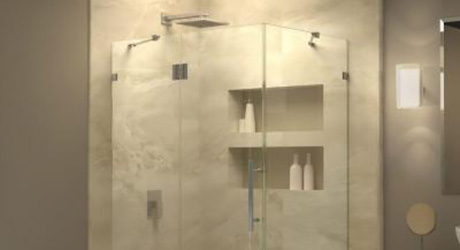 Pivot / one-panel swing / swing-open doors
Open outward from a single side
Installed in standalone shower space
Ideal for openings that are too small to accommodate a bypass door
Typically 36 inches wide but may be as wide as 48 inches
May be installed with one or two fixed panels and can be single or double-hinged mounted to swing both in and out; right or left
Most commonly used in alcove and corner standalone showers
Barrier-free doors eliminate the need for a bottom track and are often wider than conventional doors, providing easy access to the shower for family members who may need it.
Accurate measuring is essential to ensure a proper fit for your shower door —always measure twice for accuracy.
The door you select should match the height and width of your shower's opening. If the enclosure area is new, do not take any measurements until the enclosure is complete and the walls are finished. Material on the wall, such as backerboard with fiberglass, acrylic or tile, can reduce the wall-to-wall width by as much as 1 inch on each side.
Follow these steps for accurate measuring:
Measure the opening width: Determine the distance from wall to wall at the top and bottom of the opening. The measurement should be to the nearest 1/16th of an inch. If these differ, select a door using the larger width for a bypass door, or the smaller width for a pivot door.
Measure the opening height: Determine the distance from the top of the tub edge or shower base to the top of the wall unit or tile wall where you want the door to be located. Measure vertically at both sides. The measurement should be to the nearest 1/16th of an inch. Select a door with a height less than or equal to the smallest of these measurements.
Follow these general guidelines for types of doors compatible with common openings:
Enclosure - Standard size bathtub shower (5 ft.)
Opening width - 60 inches
Door type - Bypass
Enclosure - Standalone shower
Opening width - 48 to 60 inches
Door type - Bypass
Enclosure - Smaller shower
Opening width - Less than 48 inches
Door type - Pivot door or pivot door with panel
A single panel door can only be up to 36 ½ inches wide, due to the flexibility of the glass or its weight. When the finished wall opening is larger than 36 ½ inches, you should pair a door with a stationary panel.
If you're selecting a swinging door, make sure the door has room to swing open without hitting any obstructions. Hold one end of your tape measure where the door hinge will be located and swing it open.
Shower doors are framed or frameless. The glass in the door can be as beautiful as it is functional with designs and effects like frosted, tinted and textured glass.
Have aluminum or composite material framing the glass panel
Include a track that collects and traps water, requiring periodic cleaning
Framed pivot shower doors only open outward
A variety of finishes are available to complement your decor
Newer design style with through-the-glass mounted towel bars or handles and different thicknesses of glass
Easier to keep clean
Create a feeling of spaciousness
Frameless pivot doors can open in and out
Glass thicknesses ranges from ¼ to ¾ inch
The thickness of the glass in your door is dependent on structural and design factors such as whether the door is framed or frameless. Glass thickness isn't an issue for framed doors because the glass is secured in a frame. Generally, the thicker and heavier the glass is, the more stable and smoother gliding the door will be.
Clear glass showcases tile and stonework in the shower and can make the small space of your bathroom feel larger.
Frosted or opaque glass offers the most privacy. Textured and patterned glass provides privacy as well as a stylish element.