Shower stalls and kits combine convenience with value. The best shower kits for your bathroom will provide all the parts you need to install a new shower. They're quick and easy to install and can save you time and money when building or renovating your bathroom. This guide will walk you through the types of shower kits available, as well as shower designs, door types and other important considerations when choosing the best shower kits for you. 
Types of Shower Kits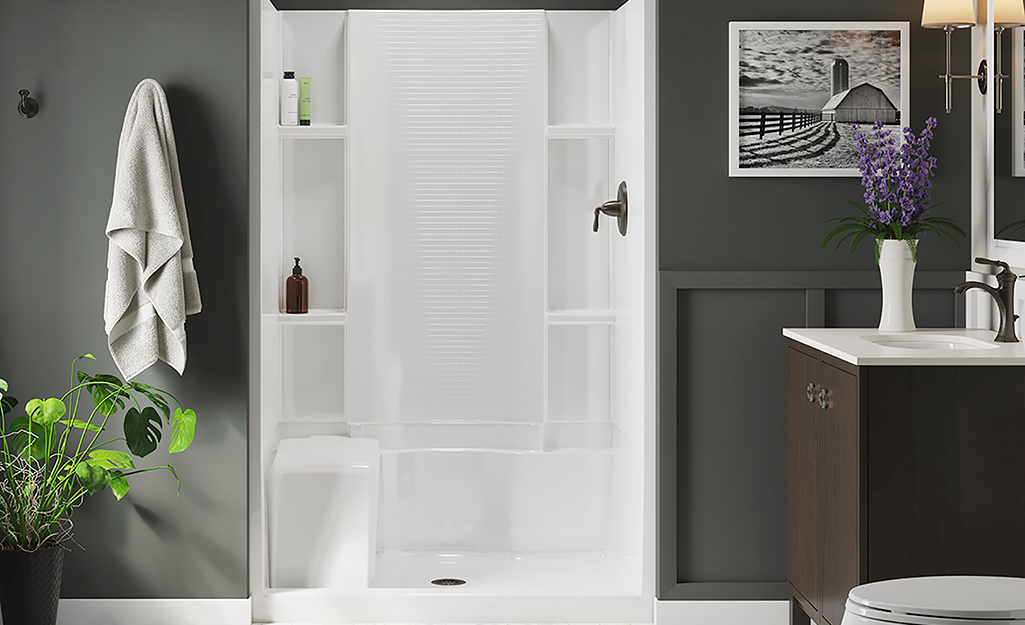 A shower kit is a prefabricated shower cubicle that is ready to be installed the moment it's delivered to your home. Shower kits will include a shower base with a door, wall or both. Choose your type of shower kit based on the layout of your bathroom.
Base and door shower kits include the base, a door and glass enclosure. They must be installed against two tiled walls or in a tiled alcove. This type of shower kit is popularly used to create corner showers.
Base and wall shower kits include the base and walls, so that the shower can fit into a corner or alcove without needing tiled walls. The base and walls are a single piece. These kits don't include a door, allowing you to install a custom door or to use a shower curtain.
Base, wall and door shower kits include a single-piece shower base and walls and a door. Corner shower configurations are also available.
Shower Design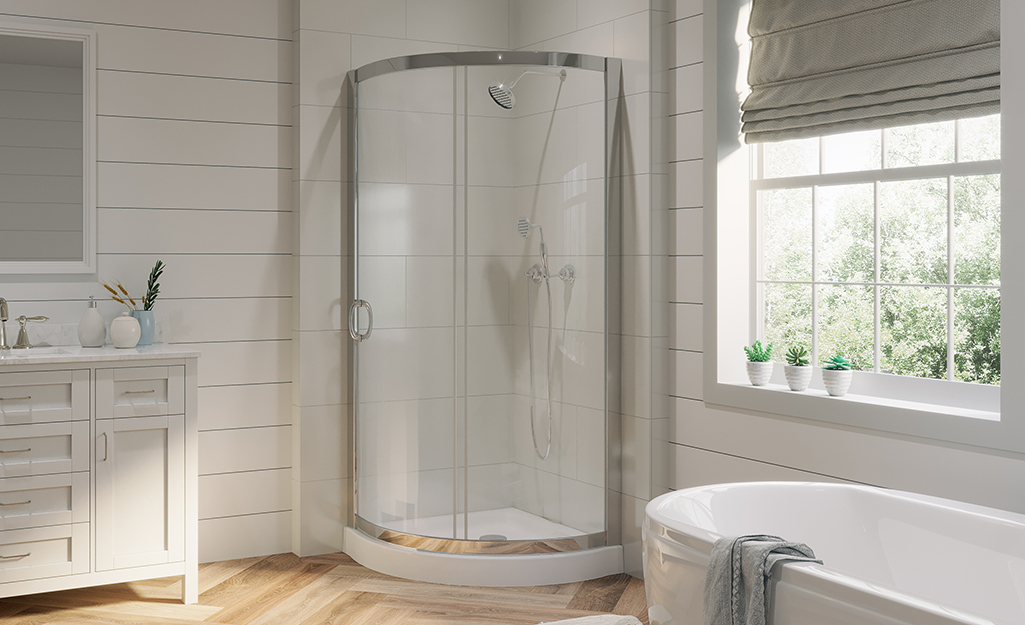 While choosing your type of shower kit, you should also consider the shower design. Shower kits come in three main designs: alcove, corner and free standing.
Alcove shower kits are the most common shower design. They need to be supported by three walls. They're available in either a square or rectangular shape.
Corner shower kits fit into a corner of your bathroom and only need two walls. They can be square, rectangular or neo-angle with a door on the diagonal. They can also have a rounded sliding door. Their space-saving design makes them one of the best shower stalls for small bathrooms.
Free standing shower kits are less common than the other two shower kit designs. A free standing shower only needs to attach to one wall for plumbing. They are structured enough to be placed virtually anywhere in the bathroom.
Types of Shower Kit Doors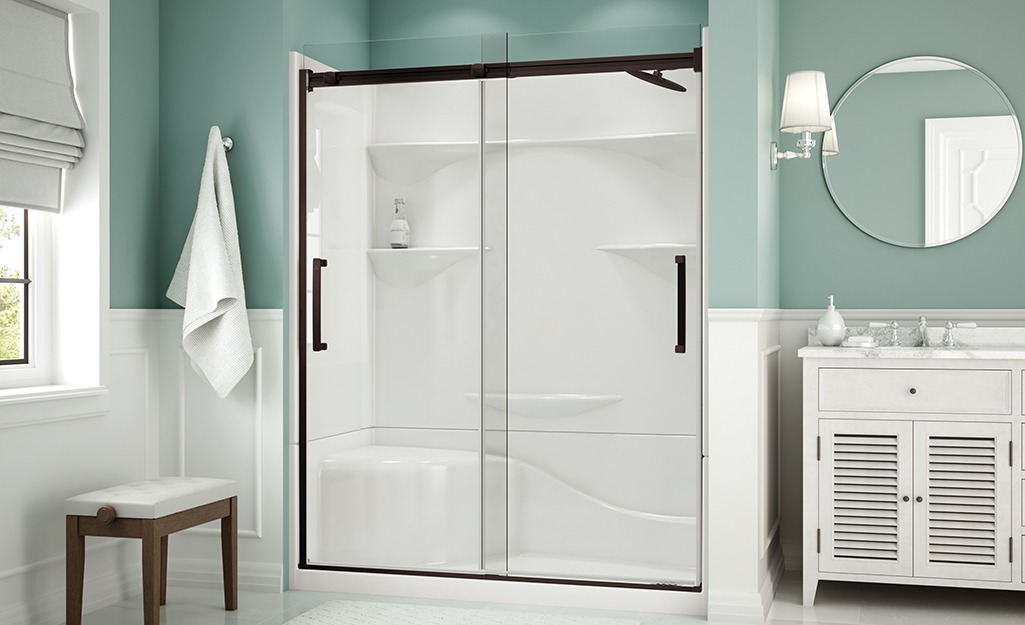 If you choose a shower kit with a door, the door will be a bifold, pivot or sliding door. Each type of shower door opens differently and works best in different spaces.
Bifold shower doors are made from two panels that fold together to open. These doors are great when you don't have much clearance space in front of the shower for the door to open.
Pivot shower doors, or hinged doors, swing open from one side. They usually open outward from the shower, so you need space in front of the shower for them to open properly. Some pivot doors can open into the shower if the shower is large enough. Pivot doors work best for narrow shower entryways that can't accommodate a sliding or bifold door.
Sliding shower doors, also known as bypass doors, consist of two or three panels that slide beside each other on tracks. Since they don't need any floor space to open, shower kits with sliding doors are usually the best option for small spaces.
If you choose a shower kit without a door, you have the option to buy a shower door separately or to leave the door off entirely. You can install a fixed shower door panel near the showerhead to create a barrier-free entrance. An even more cost-effective solution is to use a shower curtain instead.  
Shower Kit Measurements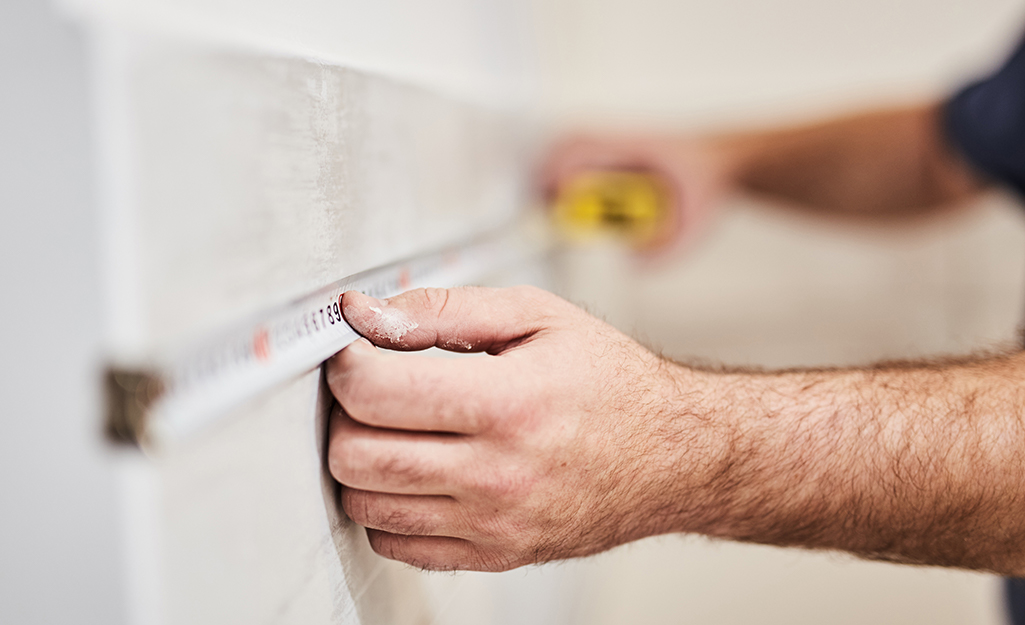 Now that you have the general sense of the best shower stall kits for your bathroom, make sure you take accurate measurements of your bathroom space. Below are the standard shower kit measurements:
Most shower kits will have a width between 32 and 60 inches and a length between 32 and 72 inches. The most popular widths are 36-inch shower kits, 42-inch shower kits and 60-inch shower kits.
The walls are usually as tall as 50 to 100 inches, with most being over 80 inches tall.
Most single panel doors (including pivot doors) are under 36 inches wide. Wider entryways need a bifold or sliding door.
When measuring for a shower kit, keep these tips in mind:
Measure the space where your shower will be installed before making your selection.
Measure the height in two places from the base to the top of the wall unit or tile wall.
Measure the depth from back wall to the front of the enclosure area along both side walls. If the measurements differ slightly, use the larger of the two.
To measure for a corner shower, measure from the corner outward along both walls where the base will be installed.
Drain Location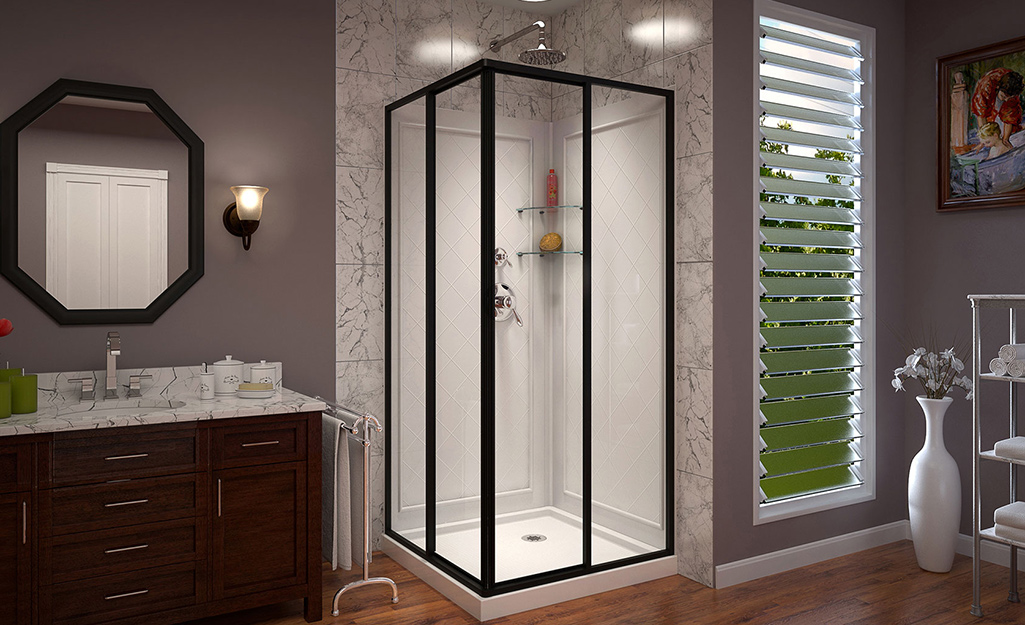 The drain is typically centrally located in newer shower units. If you're replacing your shower, the drain configuration of your new shower should match the existing plumbing. If you're installing a shower in new construction, you may have more flexibility to arrange the plumbing to match the configuration you prefer.
Shower Kit Materials and Colors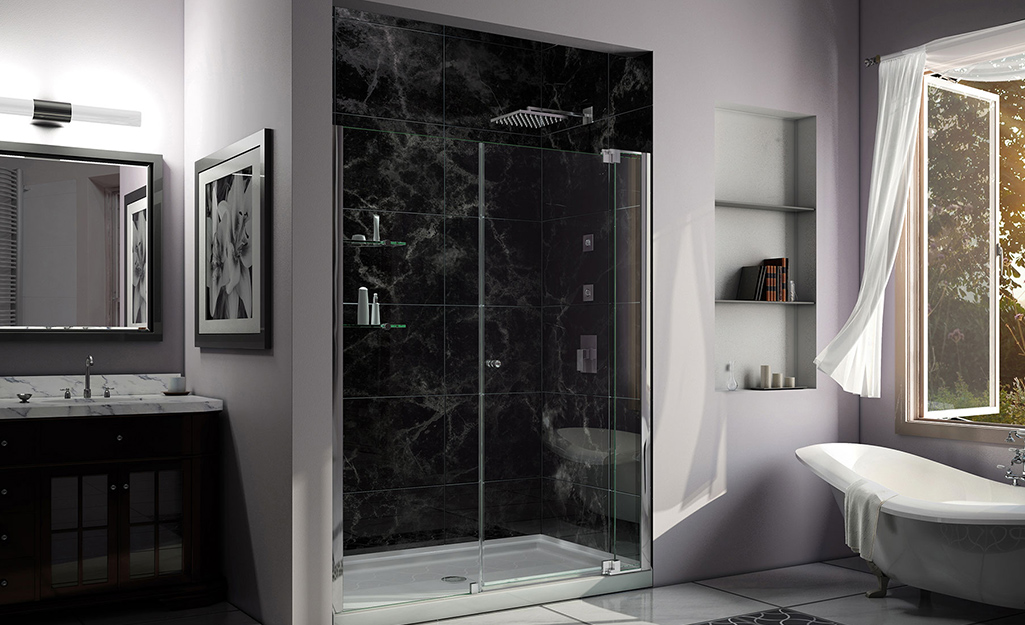 A shower kit is typically made of composite materials. Composite shower kits have an acrylic finish that is resistant to chipping, cracking and peeling. Shower kits with walls consist of pre-formed wall panels that reduce mold and mildew growth. Other popular materials include fiberglass, engineered stone and full acrylic. Some shower kits will come with glass doors or walls.  
When it comes to colors, most shower kits are white or off-white, so they match any style of decor. They may include black, chrome, brushed nickel or stainless steel hardware. More unique shower kits come in black, blue or brown.  
Shower Kit Features to Consider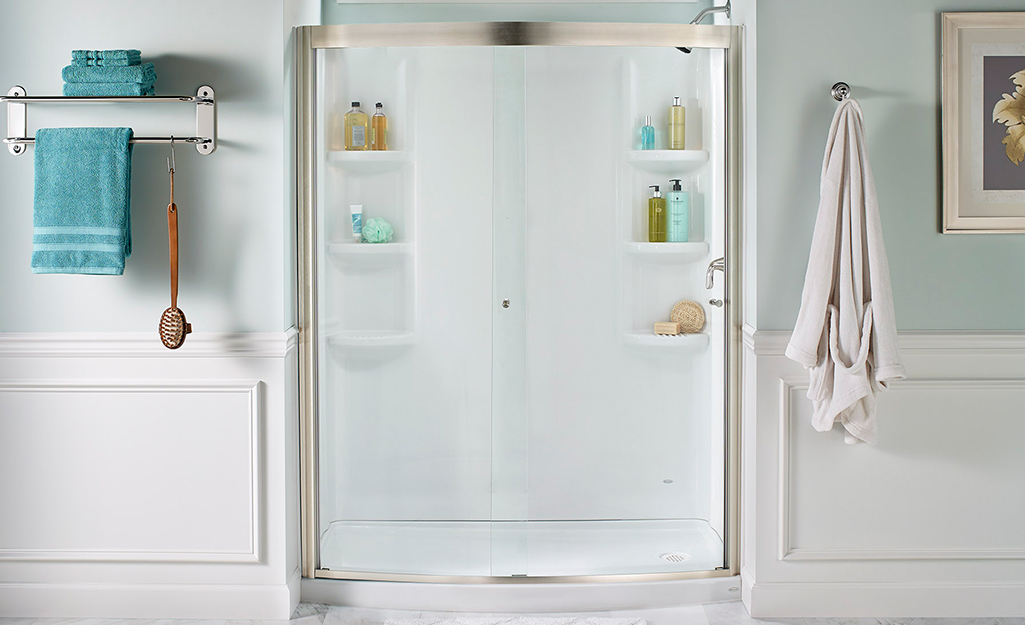 The best shower kits for your bathroom will have features that make your showers comfortable, accessible and easy to clean. Think about finding a shower stall with some of these additional features:
Framed vs frameless: Framed showers have aluminum, stainless steel or composite material framing the glass door panels. Frameless showers have just the glass door panel that is secured by through-the-glass mounted hardware. Frameless designs are generally easier to clean than framed designs. They also offer a simpler, more open look, while framed showers offer a more structured look.
Frosted or clear glass: Frosted glass offers more privacy, while clear glass shows off any interior tilework and can make small bathrooms feel larger.
Steam shower kits: Steam shower kits combine a regular shower and a spa. They have a steam generator and usually offer multiple showerheads and spray patterns.
Built-in shower seat: Shower seats are great for older adults or those with limited mobility. They're also a helpful addition for typical shower tasks like shaving.
Built-in soap tray and adjustable shelves: Built-in and adjustable shelving helps you store all your shower essentials within reach.
Grab bar: Grab bars are another great accessibility feature that make it easier to get in and out of the shower safely.
Slip resistant floor: Shower kits with slip resistant floors make showering safer, especially for older adults.
Caulkless: For easy assembly, look for caulkless shower kits. These kits will either have pre-formed walls that require no assembly or have tongue-and-groove walls that click together.
Shower Kit Installation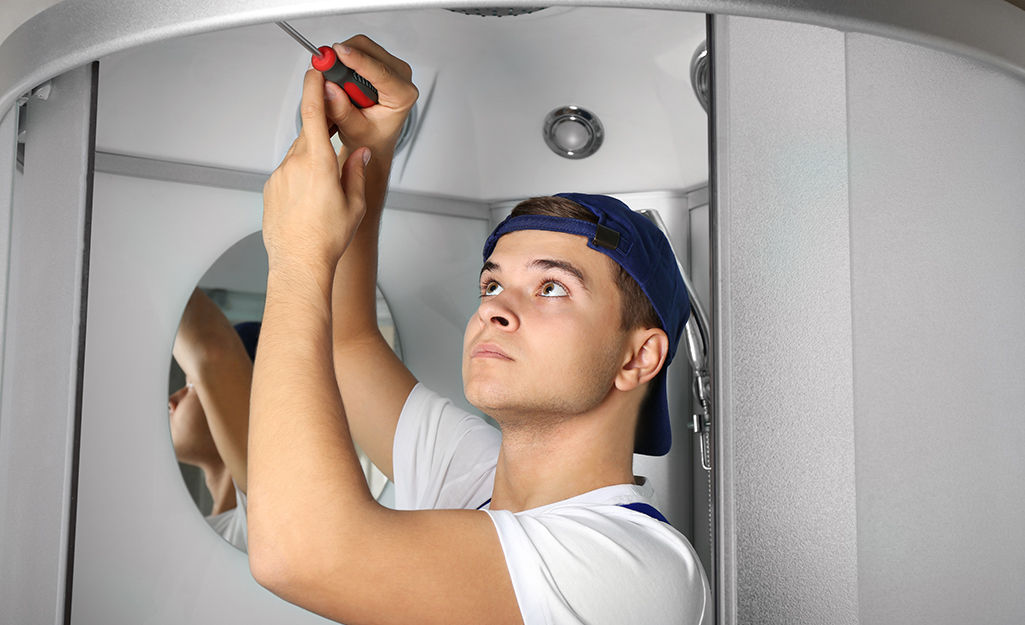 When installing, choose between direct-to-stud showers or glue-up showers.
Direct-to-stud shower kits are attached directly to studs in the wall with nails or screws. Installations in existing bathrooms require removing any wall cover in the area where the enclosure is installed. Experienced DIYers can install direct-to-stud showers themselves.
Also known as easy-up or adhesive-applied, glue-up shower kits attach securely to the wall with a strong adhesive. Installation may require replacing any drywall in the area with water-repellant green board. Beginner DIYers should have little trouble installing glue-up shower walls in new construction.
Shower kits are easy to install and cost-effective, making them a great option for DIYers when replacing an old, leaky shower or installing a new shower. The best shower kits for your bathroom will fit into your space comfortably and have features that make showering and cleaning more convenient.  
Shop The Home Depot Mobile App for shower kits and everything you need for a DIY bathroom remodel. Or, let us take care of your bathroom remodel for you with our bathroom installation services. 
Explore More on homedepot.com