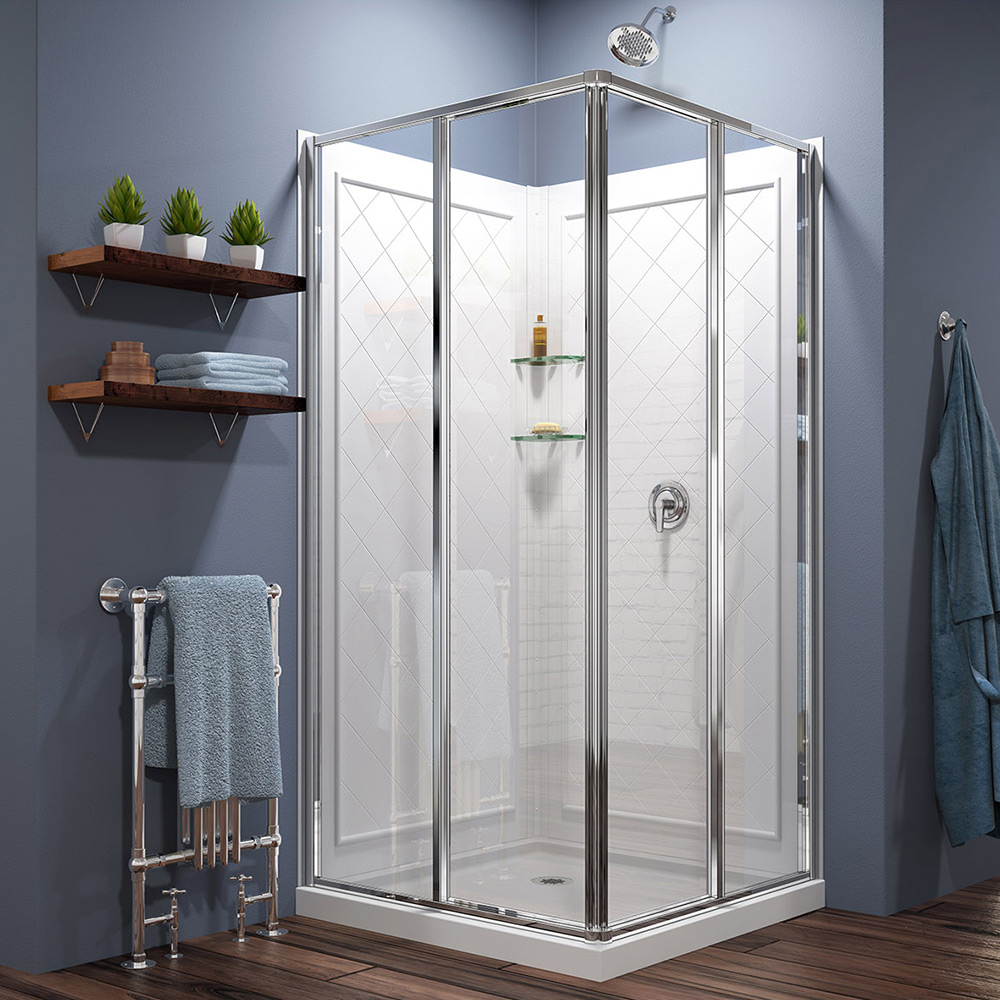 Walk-in showers are designed without curbs or with very low curbs to step over, so you can practically walk right into them. They're helpful for people with mobility issues, as well as families with children, pets or elderly household members, and they can be used by anyone who simply prefers them over regular showers and tubs.  
Walk-in showers without doors are also easy to clean and give bathrooms an airy, spacious look. Use this guide to find inspiring walk-in shower ideas.
Choosing a Walk-In Shower for Your Bathroom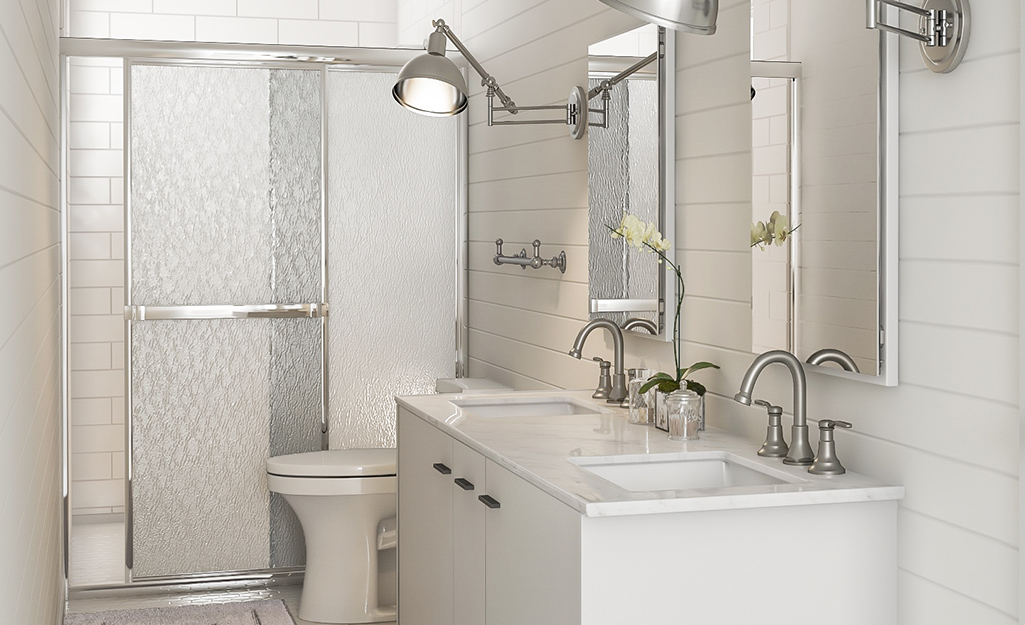 Here a few things to consider when you're remodeling a bathroom to add a walk-in shower or installing one for the first time:
Local building and plumbing code requirements vary from state to state. Consult with a local building official or bath designer when planning the size of your walk-in shower.
Most walk-in showers are 48- to 60-inches wide and 32-inches deep. Some can be built larger. Larger walk-in showers typically prevent water from getting out into the bathroom better than smaller ones.  
A variety of walk-in shower designs are available. Choose a square, angled, rectangular or round shape. Take your bathroom's size, style and materials into consideration when you're shopping. Also, consider any existing drain or plumbing if you'll be using what is already there.
Before you buy a shower stall or kit, measure your shower opening from the top of the shower to the bottom. Measure the depth and width of the opening in several places. See The Home Depot's guide on the best shower kits for your bathroom for more information, or ask your local Home Depot bath department associate for help. 
Shower kits typically come with a shower pan, walls and doors. If you buy a one-piece model, be sure you can get it through your front door and up any stairs. 
Decide what kinds of options you want to use in a walk-in shower, such as tile, one or more shower heads, faucets and glass doors versus no doors or partial doors. 
For a wheelchair user, choose a walk-in shower without a curb, so the wheelchair can roll directly in and out. Choose a curb no more than 1/2-inch higher for someone who can walk into the shower but needs to hold onto grab bars. 
The ADA suggests the minimum size for a walk-in shower with a bench on one wall should be 36- x 36-inches. Opt for a folding bench for more interior room. For a shower that allows a wheelchair to easily roll in and out, the ADA recommends a minimum size of 36- x 60-inches. Consider a larger walk-in shower if the user will need to enter and exit with help from an aide. 
Allow enough clearance in front of the walk-in shower for a wheelchair or other differently-abled user. 
Without a bench, 36- x 36-inches is still a  good minimum size for a walk-in shower. The amount of floor space available in your bathroom, and the shape of the walk-shower you choose, will also help determine the size it should be. 
If your walk-in shower has even partial doors that open into the bathroom, make sure they can swing open without hitting anything.
Walk-In Shower Designs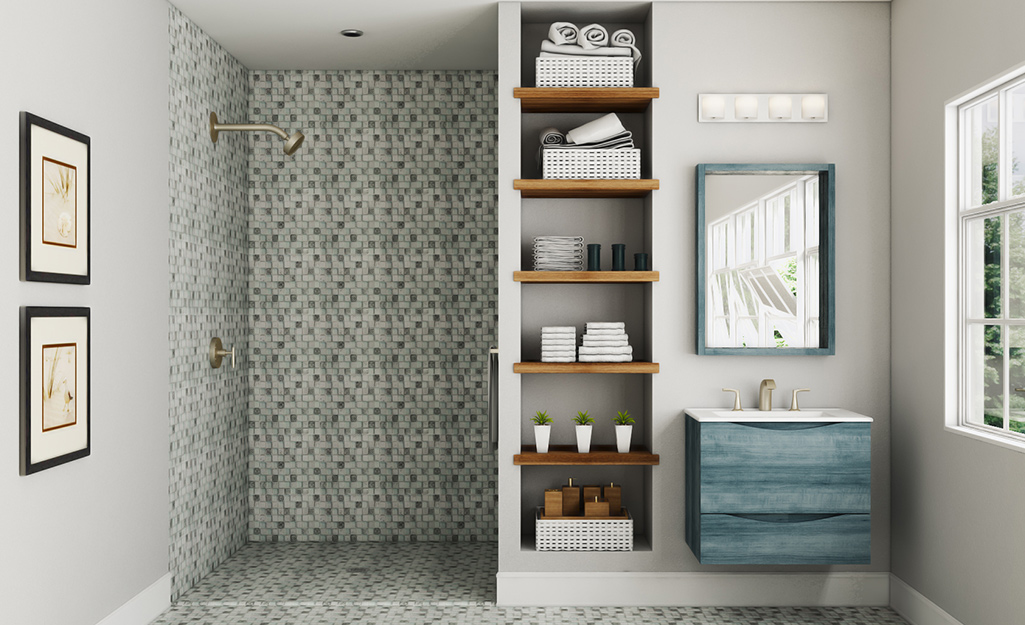 Not all walk-in showers are completely open. Some have curtains, glass shower doors or partial walls made of tile, glass or other materials. These can add privacy and help keep water from getting out of the shower. 
If your bathroom is dark, consider a completely open shower or a walk-in shower with glass doors to make it appear brighter. As an added bonus, an open walk-in shower design with good ventilation is less likely to have mold problems. 
For a seamless, unified look, consider applying the same shower tiles used on the shower walls and floor to the floor in the rest of the bathroom
More Walk-In Shower Design Ideas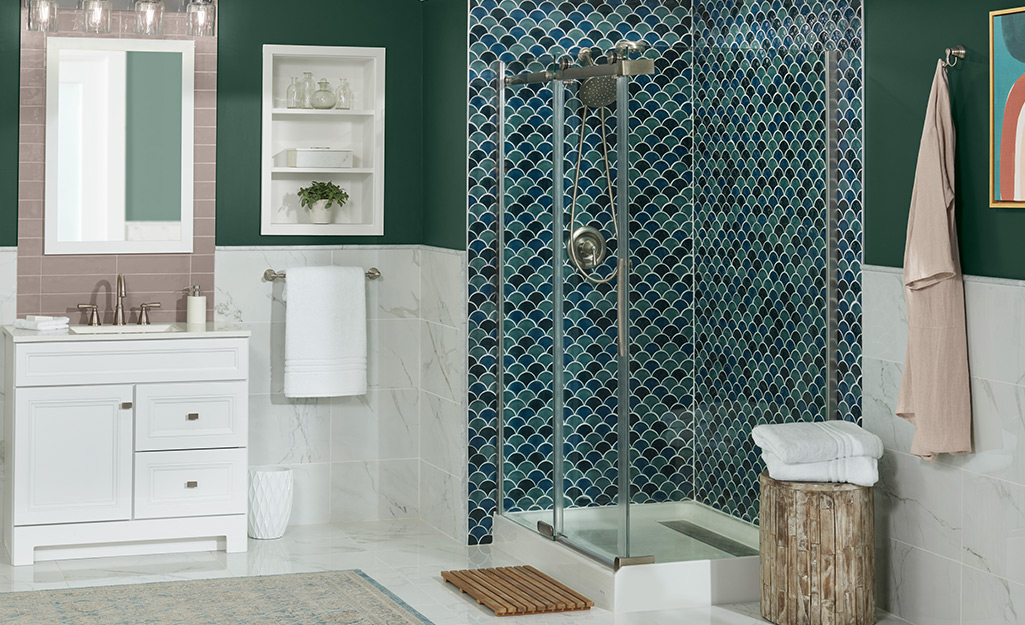 Since you'll be able to see into a walk-in shower, even if it's partially enclosed, aim for a visually pleasing interior design. Try using shower tiles in different shapes, sizes, patterns or colors to complement the rest of the bathroom. Chevron, herringbone, hexagon and many other tile patterns are available for shower walls and floors.
If your bathroom and shower area features modern or contemporary décor, a walk-in shower with a minimalist look may be ideal. You can even browse matching shower caddies in your shower style.
Walk-In Showers with Benches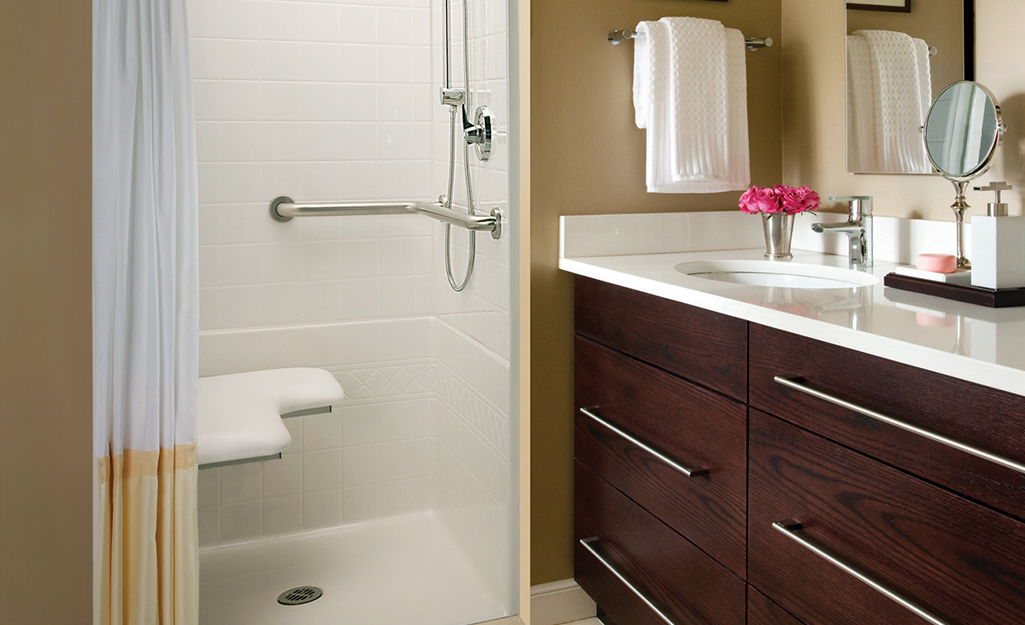 If your shower has enough room, a bench or shower chair is a great option for someone who is unable to stand to bathe or who simply likes to sit and relax under the warm water for a while. A roll-in shower with a bench can help wheelchair users transfer from their wheelchairs into the shower. For wheelchair users, a shower with a curtain is usually preferably to any kind of walk-in shower with a door or enclosure. 
Shower chairs and benches can be built in or added as acccessories. Some fold up to make it easier to enter and exit the shower and can be folded for storage when not in use. 
Walk-In Showers without Doors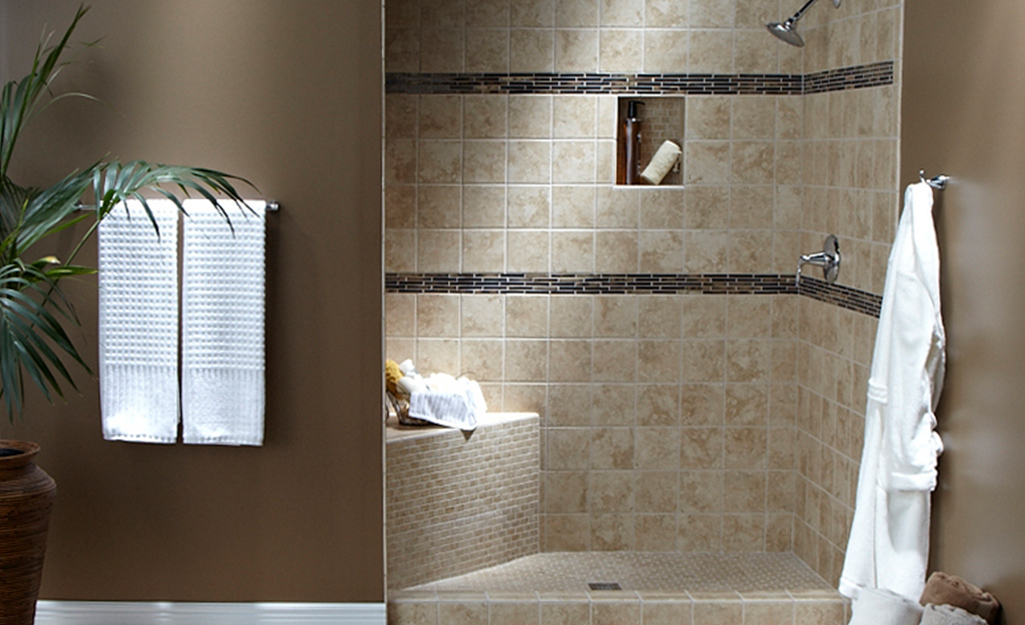 Walk-in showers without shower doors or glass enclosures are accessible and stylish. They should be large enough to keep the water from splashing out and escaping. 
If you don't want doors, but you're concerned about water escaping into the rest of the bathroom, consider a curved wall with an opening big enough to walk through. 
Some walk-in showers with or without doors can include built-in benches and/or wall niches to keep shampoo and other toiletries at hand. Consider benches and wall niches on opposite sides if you have a very large shower.
Walk-In Shower Designs With Multiple Shower Heads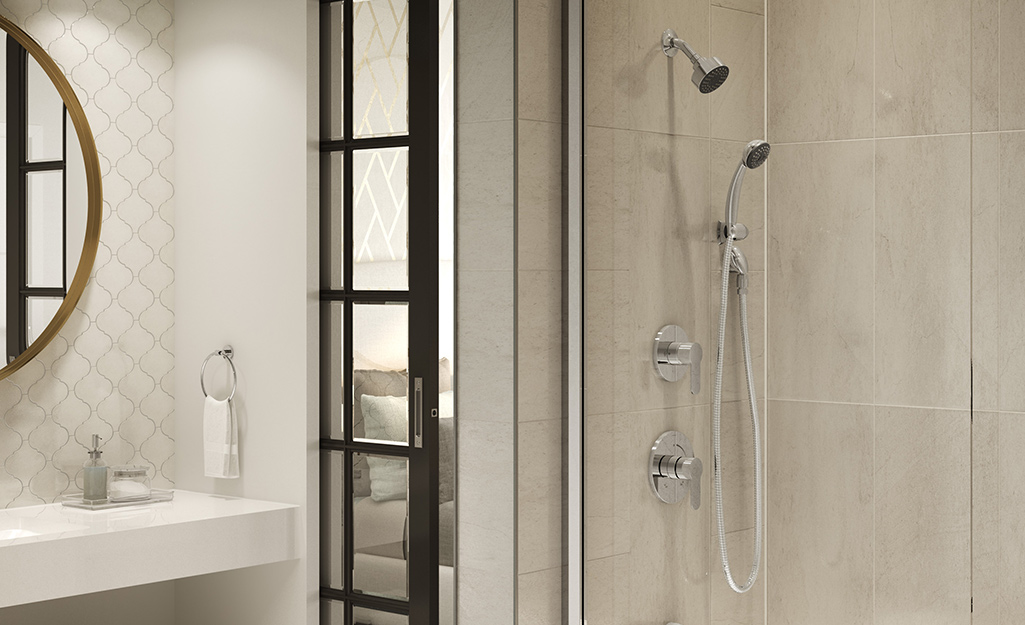 Multiple shower heads can deliver streams of water in different ways. A variety of shower heads are available, ranging from gentle rainfall shower heads to those that massage your muscles with invigorating pulses or sprays of water. 
Showerheads with flexible hoses and separate showerheads make it easy to direct the water anywhere you need it. They're also helpful when you're cleaning the shower walls.
Shower heads that work with multiple jets let you direct the water to stream over you from different directions and angles. You may want at least a partial shower enclosure or glass panels to help contain the water.
Dual wall-mounted showerheads allow bathers of different heights to shower at the same time. They can be combined with a centrally located showerhead. 
If you'd like to have your own steam room for a spa-like experience, choose a walk-in shower that includes or can include a steam generator. Materials like natural stone also create a spa-like feeling.
Walk-In Shower Ideas for Small Bathrooms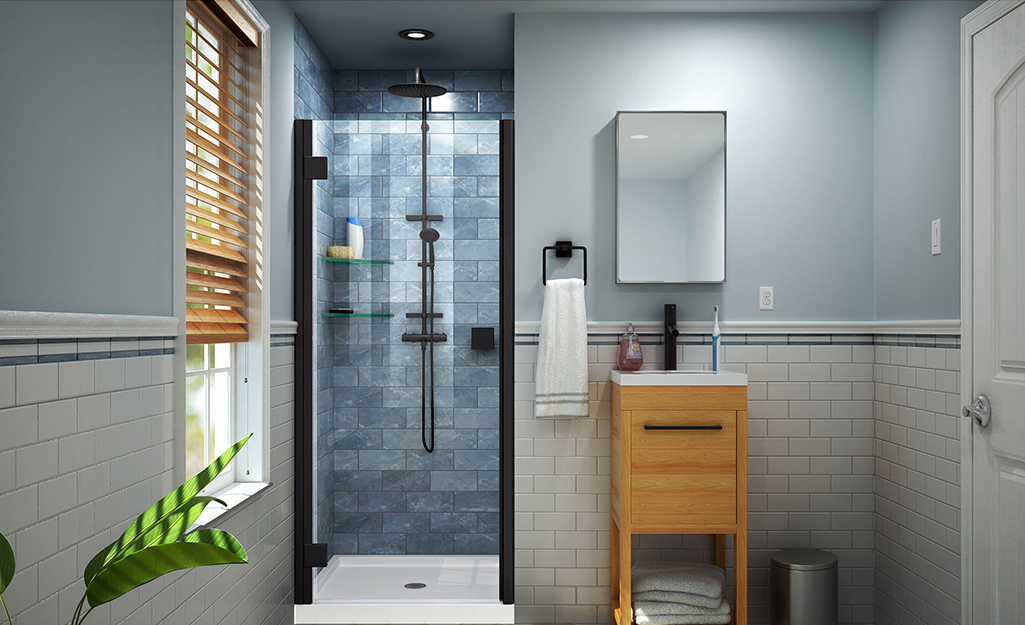 Try a doorless or glass-enclosed walk-in shower if you have a small bathroom. Light-colored or white tiles can make a small space loom bigger, and white subway tiles are especially popular. Consider adding a skylight, window or additional lighting fixtures to visually enlarge a small bathroom.
Bathrooms with a Tub and Walk-In Shower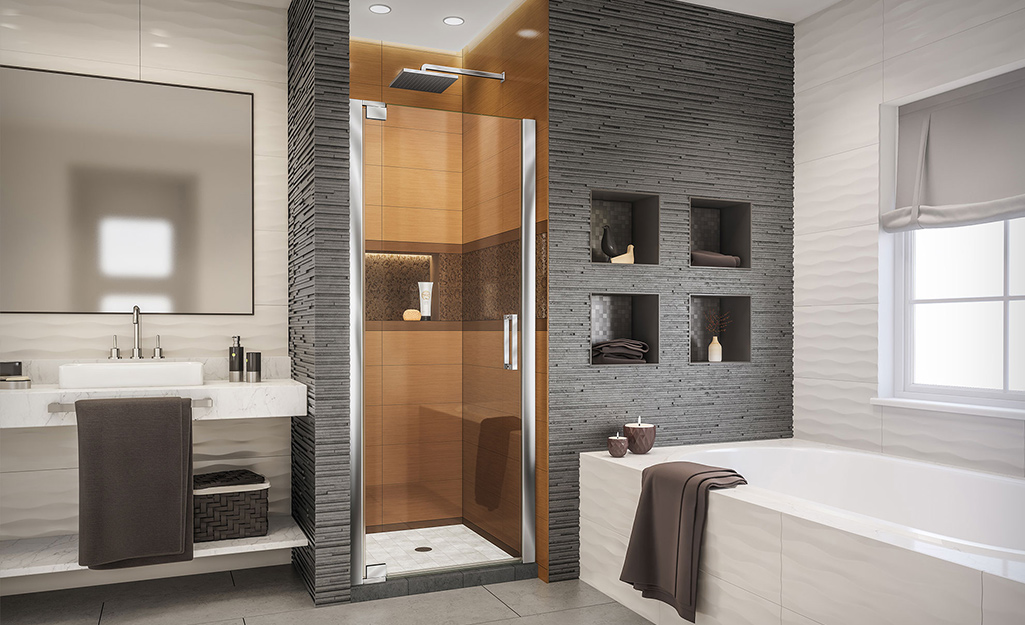 If you have enough space in your bathroom, add a walk-in shower and a separate tub, so household members can use the one they prefer. 
This walk-in shower with glass doors has framing only on two sides, so natural or artificial light can enter. A minimal amount of framing makes the shower look spacious.
Walk-In Shower Ideas for Corners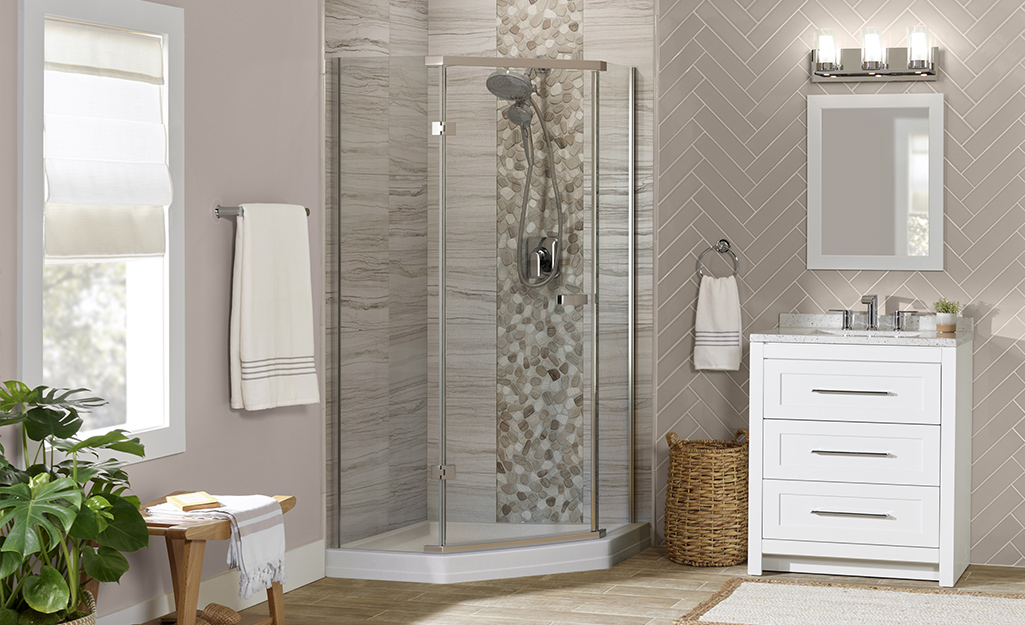 Walk-in showers designed to fit into corners can save space both visually and literally, since they don't extend out into the bathroom. If the shower has doors, make sure they have room to open without hitting anything.
Walk-in showers can be space savers for bathrooms, and roll-in showers are ideal for those with mobility concerns who can't use standard showers and tubs. In addition to being easy to clean, they're less likely to form mold than showers without good ventilation. Consider a walk-in shower if your bathroom is small or you'd simply like to give your space a modern or open, airy feel. With so many options available, we can help you find the right walk-in shower idea for your bathroom based on your lifestyle, budget and needs. Ready to start your bathroom project? We have options to deliver online orders when and where you need them.
Explore More on homedepot.com