Drafts, bugs and runoff water can enter your home in gaps as small as 1/64-inch, about the size of a straight pin. Caulk can be used anywhere to seal gaps or form a bond between different types of building materials. It can save money on energy bills by blocking drafts. Plus, it can keep out water and pests.
This guide will answer questions like "what is caulk?" and help you decide what type of caulk or sealant to use for various projects inside and outside your home.  
What is Caulk?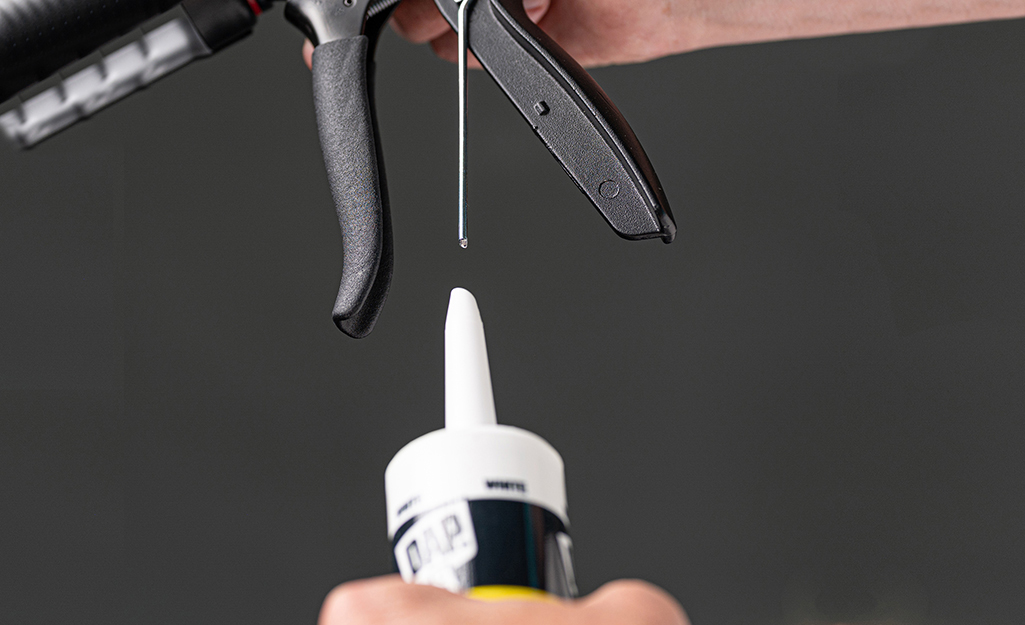 Generally, caulk describes any waterproof material that fills and seals joints between building materials. It is used for both new construction and repairs. 
Caulks are typically made from a flexible polymer such as latex, silicone, rubber or any combination of the polymers. These materials are used because they are fully waterproof, can expand with temperature changes and absorb vibrations well. 
Unlike mortar or grout, caulk usually won't crack and can connect materials on two different surfaces. For example, grout can only connect tiles sitting flat next to each other, while caulk can connect tiles at a right angle.
When selecting the right caulk or sealant for your project, pay attention to adhesion, durability, flexibility, drying time and ease of clean up. Color choices and paintability may be important, too. 
Caulk vs Sealant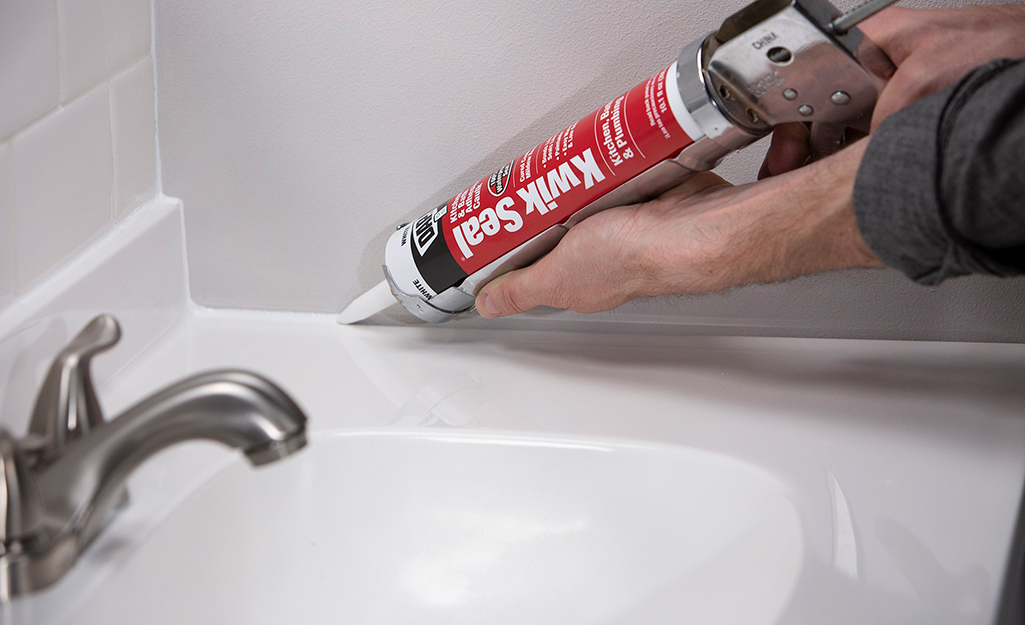 Caulk and sealants come in cartridges or squeeze tubes. Cartridges are loaded into caulk guns for application. There are several types of caulk and sealants you can use inside and outside your home: latex caulk, silicone sealant, vinyl latex, acrylic latex, adhesive caulk, fireproof caulk, polyurethane foam and specialty caulks like butyl-rubber caulk, for use on roofs, flashing and gutters. 
"What is the difference between caulk and sealant?" is a question commonly asked. In fact, the terms "caulk" and "sealant" are often used interchangeably, since both are used to fill joints and seams. However, the biggest difference between caulk and sealant is elasticity. 
Caulk is more rigid than sealants when dry. Sealants hold up better in spaces that are prone to a lot of expansion and contraction. For example, the best caulk for windows is usually a "sealant" instead of a true "caulk." When choosing caulk vs. sealant for your project, decide based on how much stress there might be on the sealed area.
Properties of Caulks and Sealants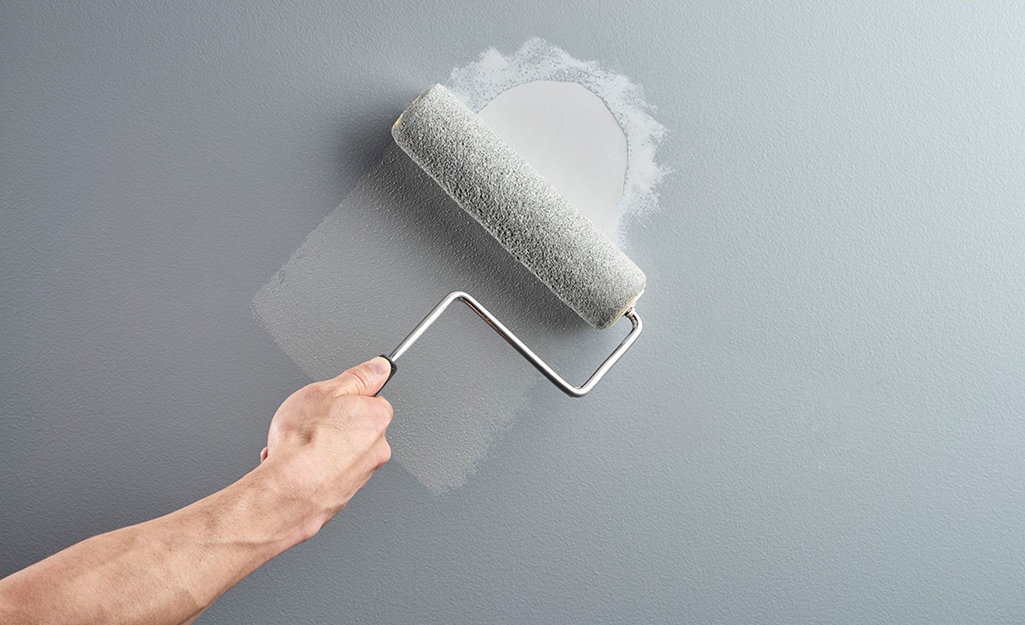 Color: 
Caulks and sealants come in a variety of colors, as well as neutral white and clear. Find a color that matches the tile or other materials you are working with, or find a white paintable caulk that you can color-match later. Select clear caulk or sealant for a subtle look that blends in wherever you use it.
Sanded Caulk vs. Unsanded Caulk: 
Caulk can be either sanded or unsanded. Sanded caulk has particles in it that help it adhere to wet surfaces and expand in larger gaps without cracking. It has a grainy texture and appearance. Use sanded caulk any time you use sanded grout and in joints 1/8-inch or wider.
Unsanded caulk has a smooth appearance and texture. It's most often used to caulk countertops and backsplash, since it creates a clean finish. Since sanded caulk can crack tile and other materials when it expands in too small of a space, unsanded caulk should be used to fill tight joints that are smaller than 1/8-inch wide. Unsanded caulk may not adhere as well as sanded caulk to wet surfaces and sanded grout.
Regular Caulk vs. Fast-Drying Caulk: 
Latex caulk and silicone sealant are typically dry to the touch within 30 minutes, but they can take up to 24 hours to completely cure and be fully waterproof. Fast-drying formulas can cure in under 24 hours, depending on the temperature and humidity. Typically, the best advantage with fast-drying formulas is that they can be painted after an hour of drying time, speeding up the entire installation process. Regular caulk and sealants need to fully cure before being painted. Note that while latex caulk and silicone sealants dry and cure relatively quickly, polyurethane foam usually requires 10 days to cure.
Silicone Sealants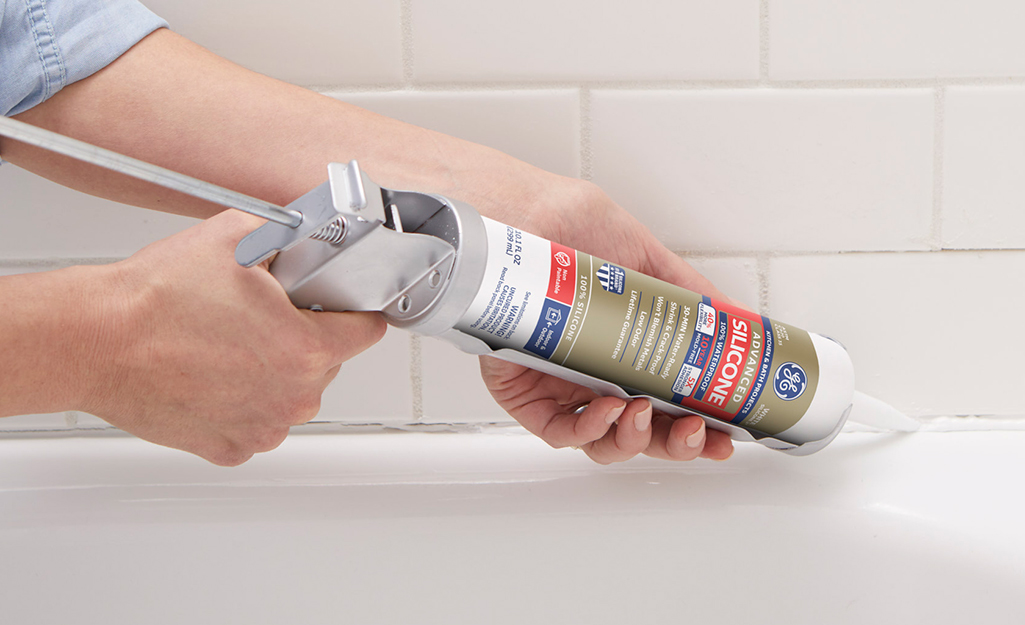 Silicone is very flexible and acts as a water and moisture repellant, making it among the best caulks for both windows and bathrooms. Pure silicone is more expensive than latex caulk, but it is highly durable. Silicone caulk stands up to extremes in temperature changes and can last up to 20 years when properly applied. Cleanup for silicone caulk requires solvents instead of water. Used outdoors in areas exposed to direct sunlight or rain, silicone helps the seal last longer. 
Latex Caulk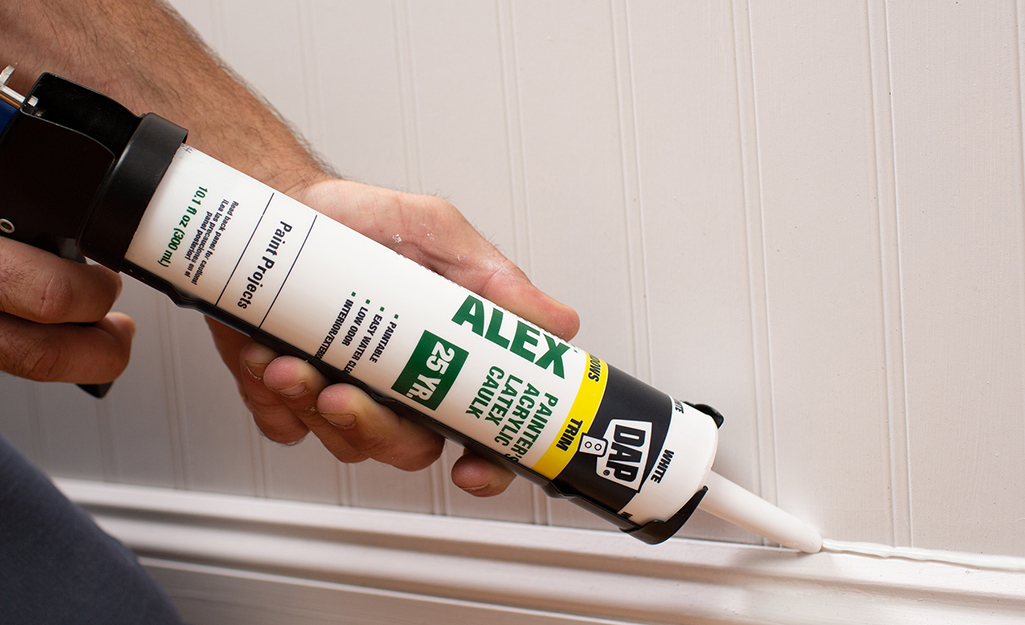 Sometimes known as acrylic latex caulk, this type is best for use with drywall, wood and masonry. It's often called "painter's caulk." This caulk is inexpensive, easy to use, seals well without odors and cleans up easily with water. On average, latex caulk can last anywhere from 10 to 15 years, but this durability can be affected by exposure to moisture and sudden temperature changes. 
Look for special moulding and trim caulk formulas for interior trim.
For increased durability, look for acrylic latex caulks with silicone for improved adhesion, greater flexibility and reduced shrinking.
For outdoor applications, look for vinyl latex caulk. It's designed for added durability in all kinds of weather.
Adhesive caulks, sometimes called by the brand name Liquid Nails, combine latex and silicone. These products combine the advantages of glue and sealant.
Tip: Tub and tile caulk is a specialty performance latex caulk with added mildewcide to protect against mildew growth. For small-scale temporary repairs, use an acrylic tile sealant.
Expandable Foam Caulk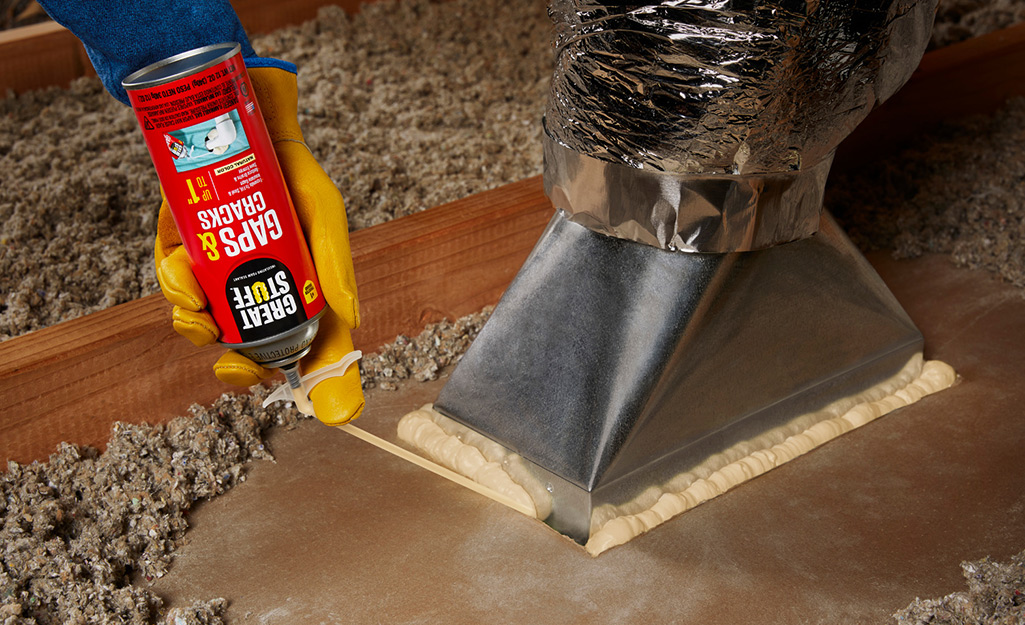 This polyurethane spray foam sealantt is extruded in a narrow band through a straw. The foam then expands to fill larger gaps and holes. It has great sealing and insulation properties that can be used to help dampen sound. This type of sealant is sometimes used to temporarily repair minor cracks in foundations of older homes. 
Pest-resistant foam sealants are good for exterior gaps and holes to deter rodents and roaches.
Often used in soundproofing builds to boost efficacy of noise-dampening panels.
Pros use fireproof foam sealants to close wall openings for electrical and plumbing lines.
Tip: Pay attention to expiration dates on expandable foam caulk. Using product past the expiration date can produce poor results. The contents will often not expand to size or the texture may have changed making it unsuitable to use.
Butyl-Rubber Caulk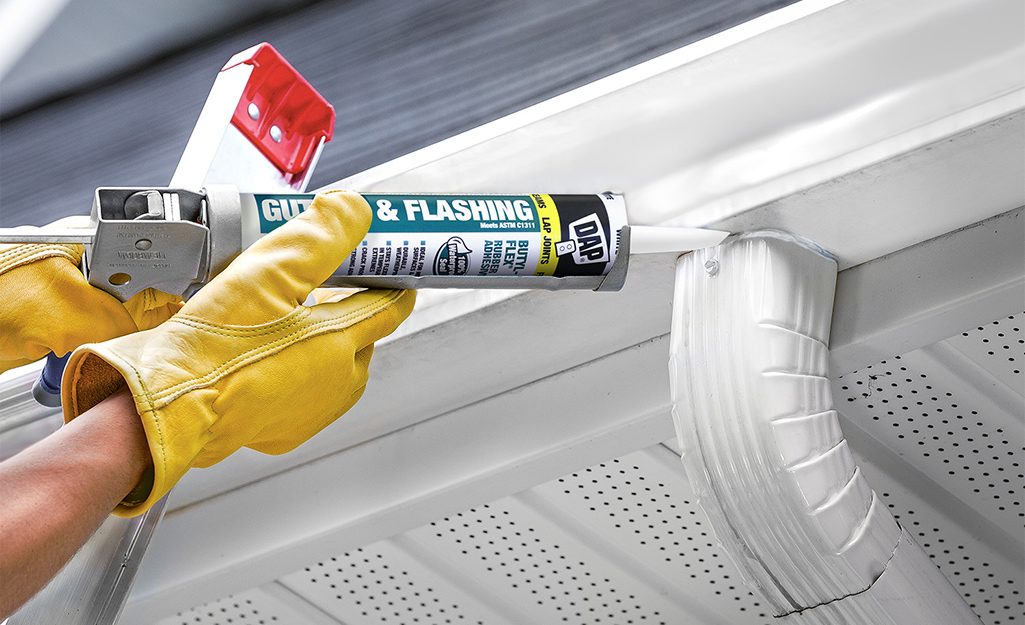 Butyl-rubber caulk is a specialty caulk for outdoor use only. It is the best exterior caulk for roofing construction and repairs, since it can withstand extreme temperatures and creates a strong, insulating and water-tight seal. 
Best for use with aluminum, metal, concrete, mortar, plastics, rubber, stone, vinyl and exterior wood.
Good for gutters, flashing, siding and concrete.
Pros use a specialty product, asphalt caulk, to seal roof shingles.
Tip: Be sure to wear the proper protective equipment (PPE), especially gloves and eye protection when using butyl-rubber or roof caulk. The product can be irritating, and cleanup can be difficult if you get this caulk on clothing, gloves, shoes or skin.
Caulk for Kitchen and Bath Projects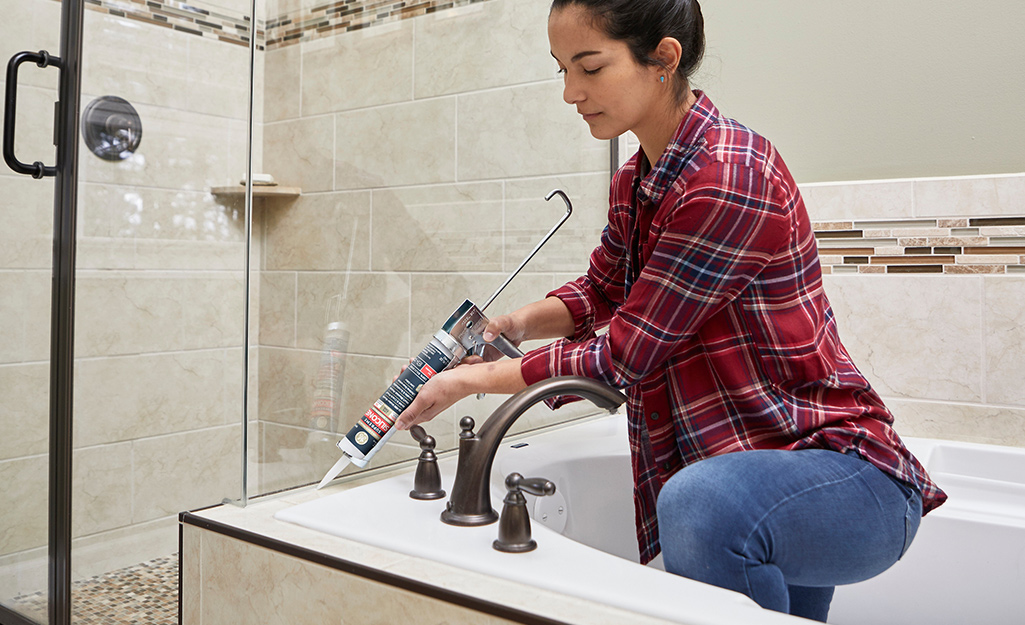 Damp areas like kitchens and baths are best served by caulk that is less affected by moisture and temperature changes. Many caulks designed for kitchen and bath have additives included to make them mold- and mildew-resistant.
Silicone and silicone-blend caulks are most commonly used for kitchen and bath caulk projects. They are the best kind of caulk for showers, bathtubs and sinks. This type of caulk is also good for installing bath fixtures, sealing gaps between shower tiles, between sinks and counters and around the base of the toilet if caulking is called for.
Latex caulks designed for kitchen and bath use are formulated to be 100 percent waterproof.
Window, Door, Siding and Trim Caulk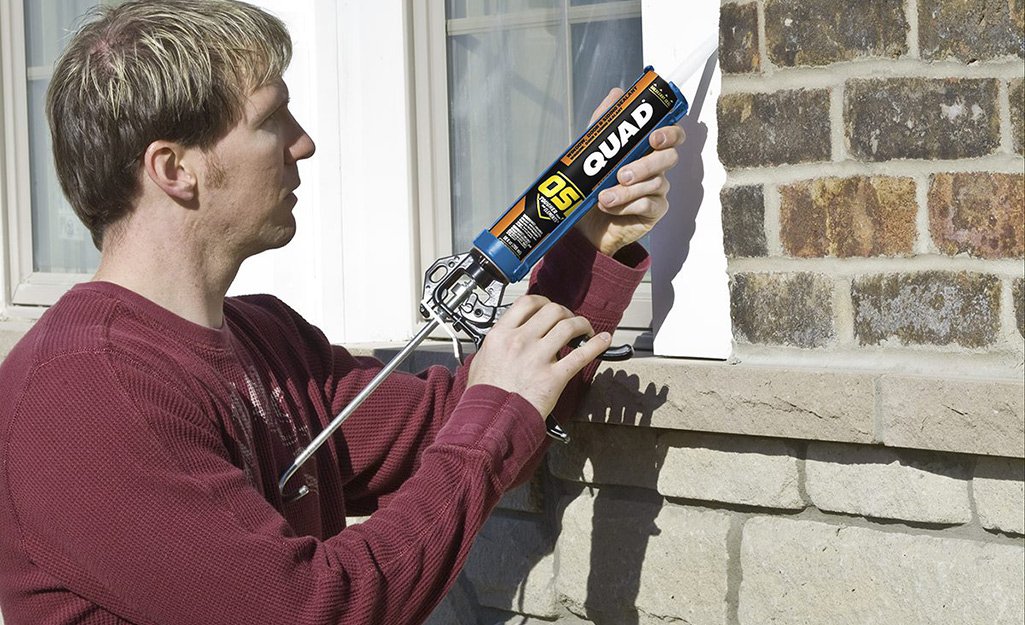 The best exterior caulks are silicone or silicone-latex. These products are excellent for caulking windows and doors. They can be used on trim and siding, as well. In the past, the one downside was that silicone could not be painted over, but now there are paintable silicone and silicone blend caulks that make them easier to use in a wider array of projects. Paintable silicone caulk can be used around the outside of window units to properly seal the window and the siding edge. Around the perimeter of windows, it can help seal the window to the header, sill, jack stud and jamb.  
For interior door, window and trim projects, acrylic latex caulk is usually a good bet. Use it for multiple projects, from installing wood paneling without nails to quickly filling in small drywall holes and cracks. Experts advise acrylic latex caulk is the best choice for baseboards.
Caulk for Insulation Projects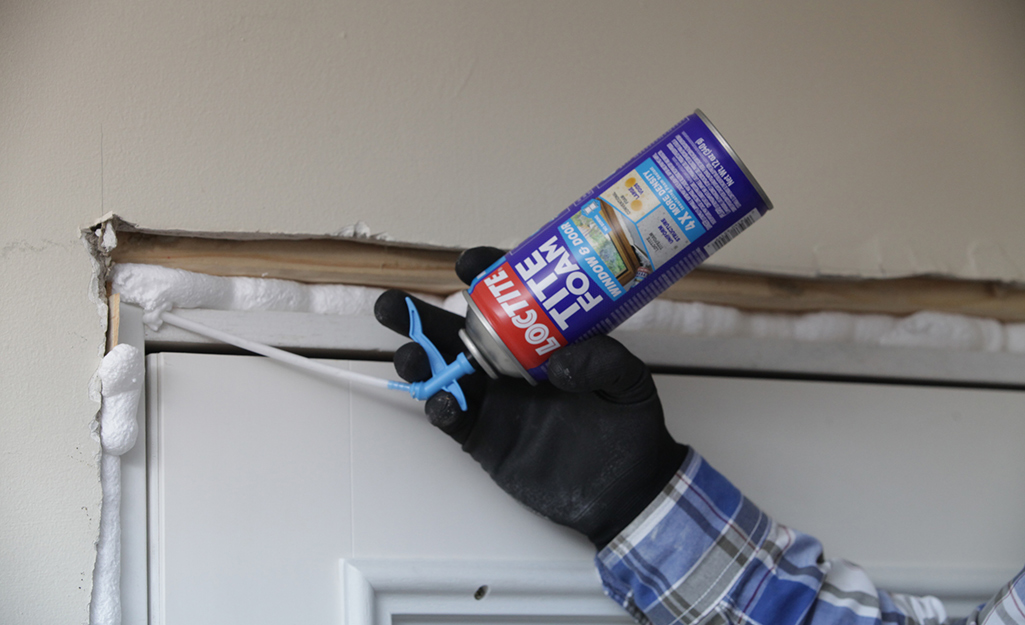 Insulation projects around the home vary based on the surfaces you are trying to air seal. Latex caulk works well to quickly fill in narrow gaps around doors and windows and even base boards and crown moulding. Expandable foam caulk is a better choice for sealing larger gaps and holes. Use it to insulate areas around pipes and electrical outlets and between window jambs. 
Caulk Tools and Accessories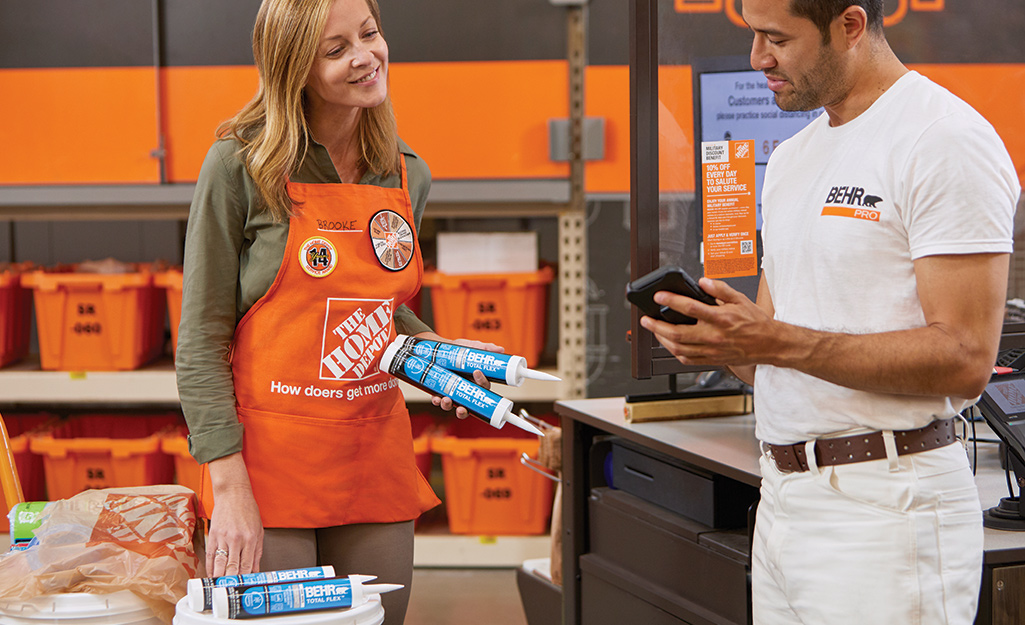 While most jobs involving caulks and sealants don't require extra gear, there are certain tools and accessories that can make caulk jobs easier. 
Caulk gun: Using a caulk gun helps make sure you have an even application of caulk. It also prevents dripping and arm fatigue during big projects.
Caulk strips: Similar to weatherstripping, caulk strips are pre-shaped rolls of sealant that have a peel-and-stick installation. Apply these strips in place of traditional caulk or over already-caulked joints for a finished appearance.
Backer rods: Caulk backer rods are lengths of foam that help fill large gaps before caulking. Backer rods can add extra insulation around windows and doors and help limit the amount of caulk/sealant you need to use.
Caulking spatula: This long, specialty spatula helps remove old caulk/sealant without scratching tile or other surfaces. It also helps smooth just-applied caulk/sealant for a clean finish.
The right caulk or sealant for your interior and exterior projects will create long-lasting, durable seals. Prevent leaks in kitchens and bathrooms and keep the weather and pests outside. Ready to find the caulks and sealants you need? The Home Depot delivers online orders when and where you need them. 
Explore More on homedepot.com