Kitchen countertops must be functional, but they can also add style to your kitchen. Butcherblock, stone and countertops that are man-made are a few types of custom countertop materials to choose from. This guide highlights the visual characteristics, durability and pros and cons of several common countertop options.
Countertop Comparison Chart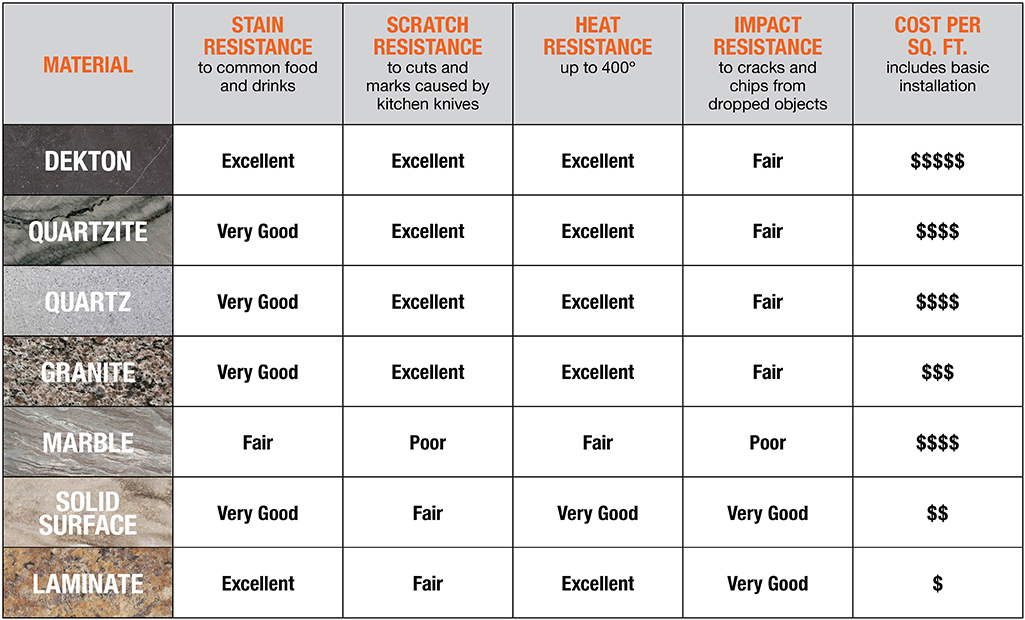 Before making a decision on the type of countertop material that works best for your kitchen, check out this countertop comparison chart to see the characteristics of each type of material. 
Quartz Countertops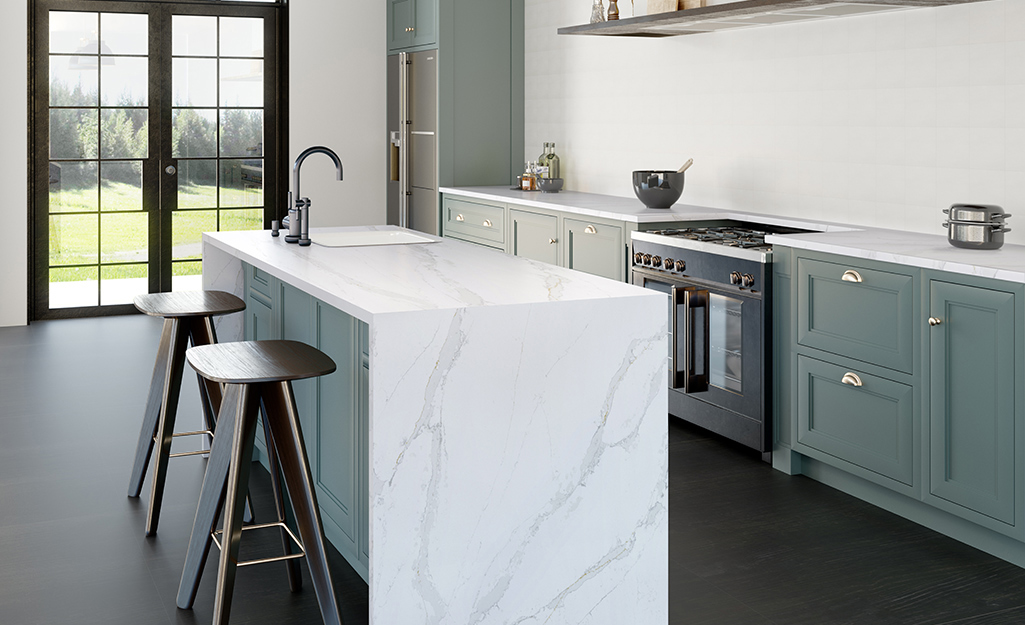 Quartz countertops are a mixture of natural quartz – one of earth's hardest natural minerals – and resin. It is also nonporous, which means that it's almost impossible for stains and bacteria to penetrate the surface. Quartz is an extremely durable choice, but because of its resin, heat can cause permanent discoloration, white spots and damage to quartz surfaces.  
Quartz is available in a variety of colors and features subtle veins and patterns throughout the surface to mimic natural stone. This material has a shiny, polished finish, making it a beautiful but expensive option for countertops. You can install your own quartz countertops, but it would be best to ask a friend for help given the heaviness of the material. Cleaning should be done with a mild soap and soft cloth or glass cleaner for tougher stains. Although stain resistant, quarts countertops are not stain proof.
Tip: Quartz and quartzite countertops are not the same. For a countertop that's harder than granite but has a glassy, marble-like finish, choose quartzite.
Granite Countertops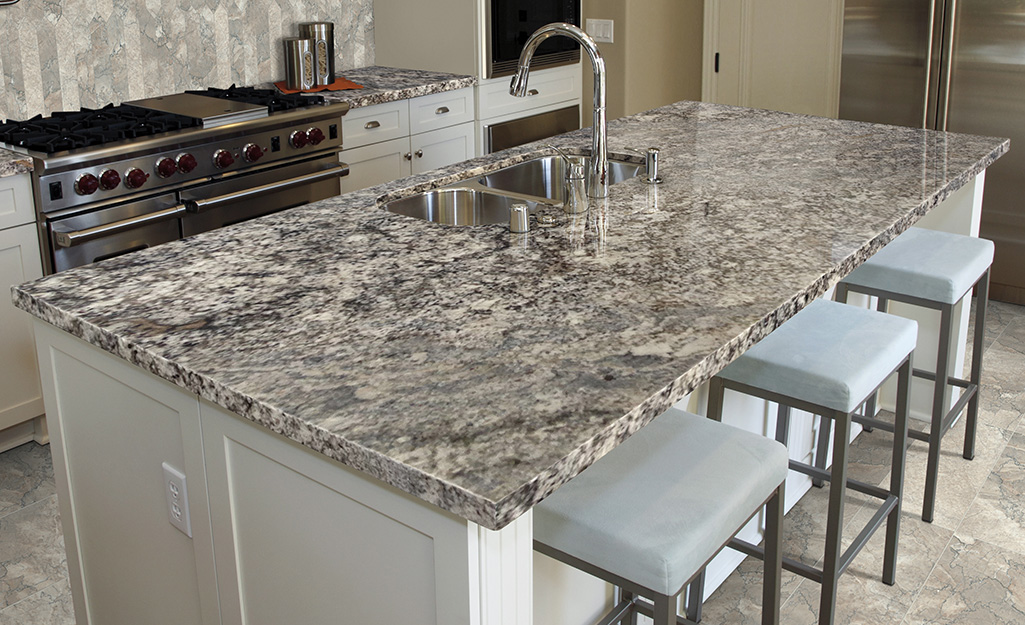 Known for their natural beauty and durability, granite countertops are a top choice among homeowners. This material is available in a variety of colors. Since it's naturally sourced, each rock slab features a unique design, granting you a one-of-a-kind finish. The surface can be honed or polished. If you're an ambitious DIYer, you can install your own granite countertops, but there is some cutting and seaming involved.
Granite has a porous surface, so it's recommended to seal this type of kitchen countertop every 10 to 15 years to prevent bacteria from penetrating the surface. Granite is one of the more affordable types of natural stone countertops, and is stain resistant. Avoid using harsh chemicals and opt for a mild detergent and a soft cloth for cleaning your countertops.
Marble Countertops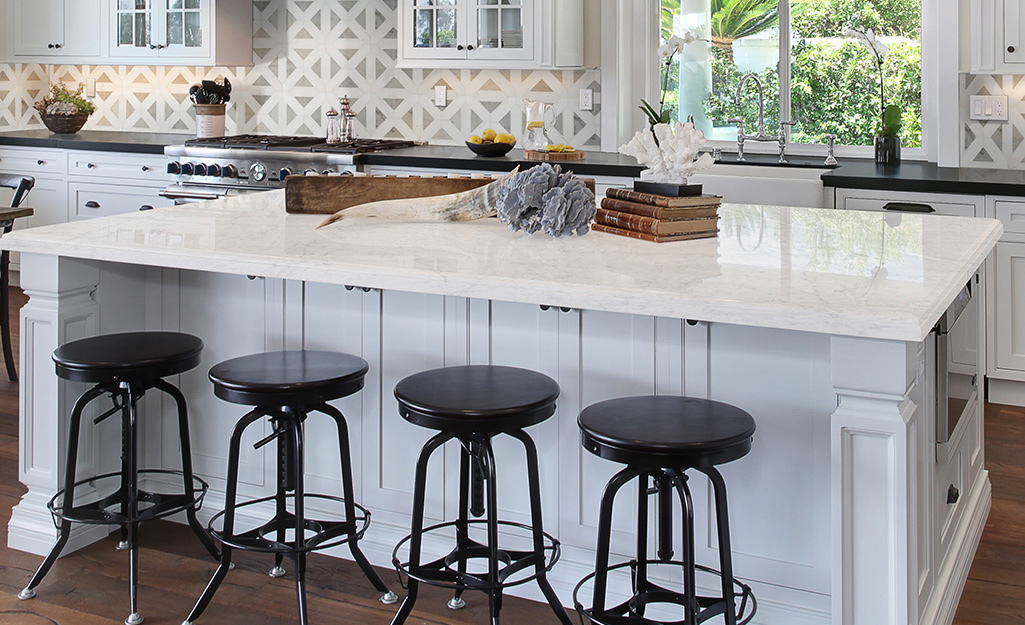 Marble countertops add timeless elegance to a kitchen. No two slabs are alike, which makes marble a unique choice. As a natural stone, marble is durable and heat-resistant, but it etches and stains easily. Its polished finish can be compromised by common kitchen staples like lemon juice or tomatoes. Chips and cracks are also common, but they can be repaired with an epoxy or polyester resin. Use a sealer annually to help protect the surface. Like granite, marble comes in a honed or polished finish. To clean your marble countertops, use a mild detergent and a soft cloth or sponge.
Marble countertops are a more expensive option than granite. However, marble's timeless style is sure to keep your kitchen on trend year after year. If you choose to install your own marble countertops, it can be done with basic tools.
Solid Surface Countertops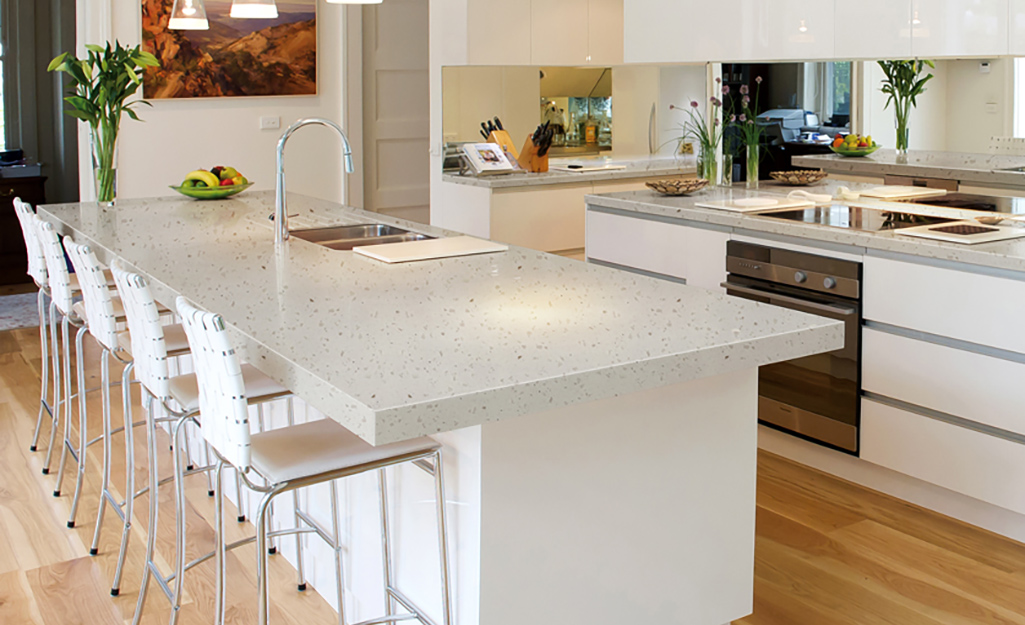 Solid surface countertops have a sleek, contemporary appearance that modernizes a kitchen. Available in countless colors, these types of counters are synthetically made from mineral derivatives. One of the best countertops for a high-traffic kitchen, they can be molded to accommodate larger sinks. 
Solid surface countertops are exceptionally heat resistant and easy to repair. If any scratches occur, they can be easily buffed away. A solid surface countertop's non-porous finish also requires very little maintenance. This is an affordable material for kitchen countertops.
Butcher Block Countertops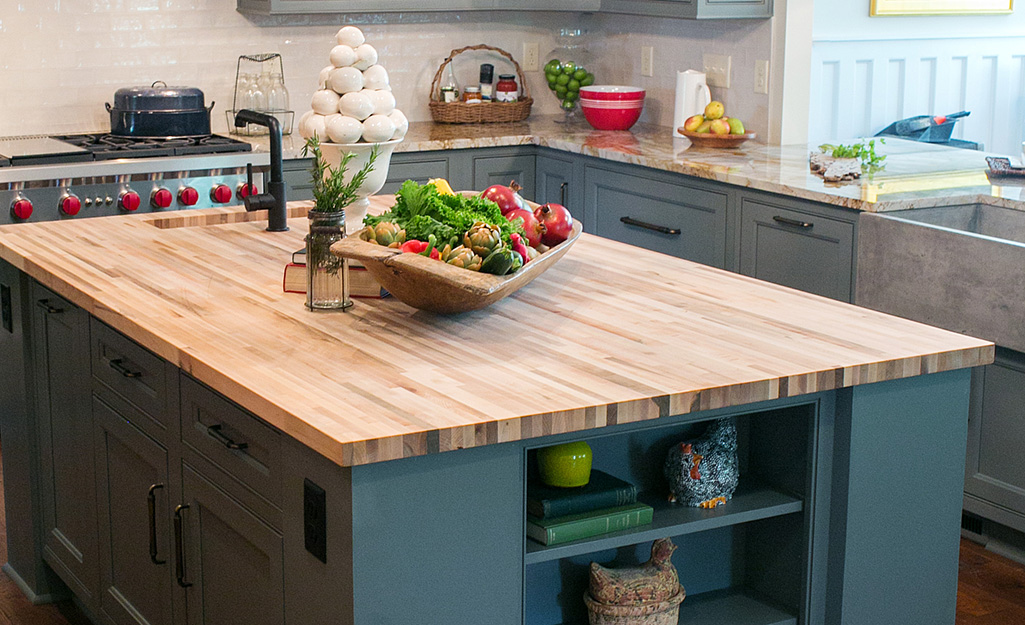 Naturally beautiful and durable, butcher block countertops bring a rustic, homey feel to a kitchen. Butcher block countertops are usually made from strips of wood glued together. The wood can come from a variety of sources such as cherry, maple, oak and walnut. Although it's considered by some as the best material for countertops, butcher block can warp and hold stains. Seal it as soon as it is installed and reseal it regularly. 
Butcher block can be cleaned with soap and water. Or try vinegar to clean and disinfect.
Laminate Countertops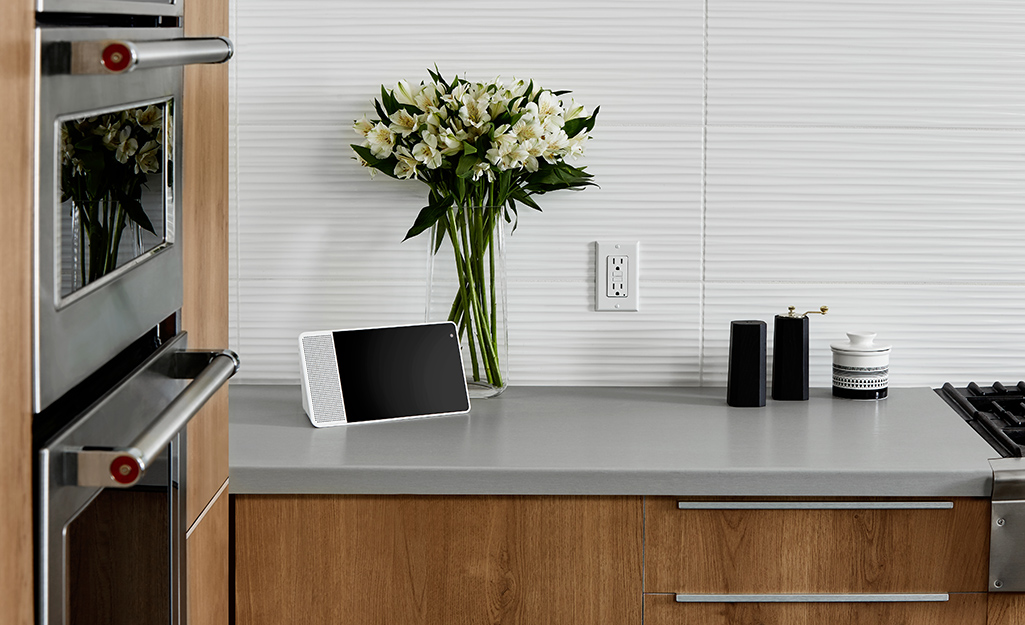 Laminate countertops are one of the most budget-friendly countertop options. It is known for its versatility and stain-resistant surface. Since laminate is synthetically manufactured, it's available in any color, pattern or style. Finish options vary from matte to high gloss and everything in between. Laminate countertops are low-maintenance and easy to clean. It's an excellent option for high-traffic homes, since it's designed to withstand damage and rarely scratches, dents or stains.
Soapstone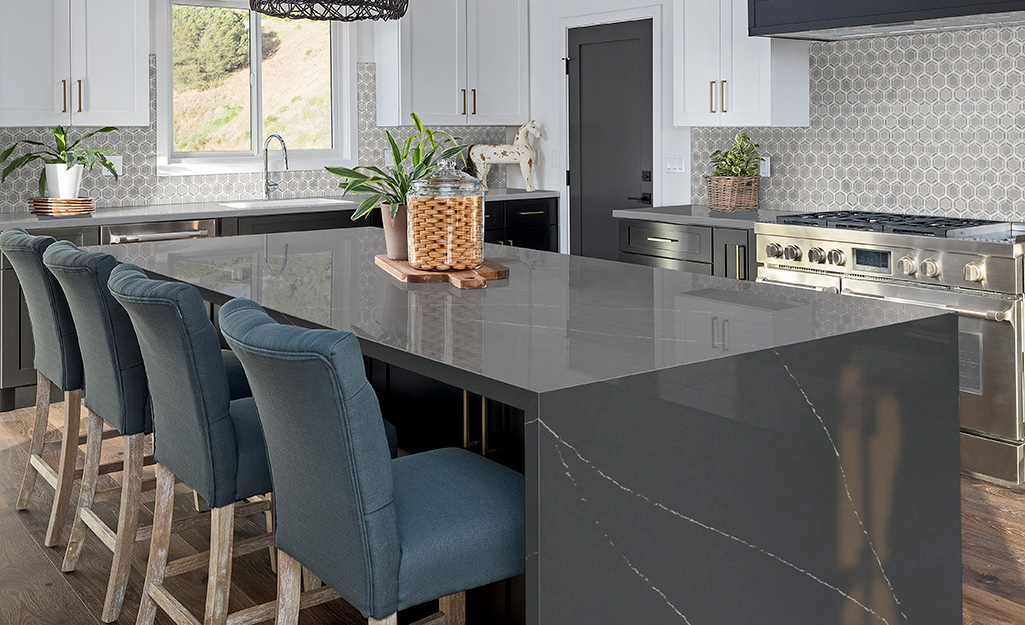 Soapstoneis made from quarried stone. Its milky appearance is because of the amount of talc within the stone. Talc also makes soap stone a softer material than granite, but makes it more pliable. By being less brittle, it reduces the chance of it cracking from stress or weight. If you're looking for a classic appearance that blends with a wide variety of decor and styles, this is the one. Soap stone is a fairly expensive countertop choice, but its classic looks and charm can make it worth the splurge.
Because the material is not porous, clean up is a breeze with mild soap and a sponge. It's a great choice for cooks because the stone does not absorb liquids. If you're planning to DIY your soap stone countertops, you may be fairly surprised at how easy it is to cut the stone. As mentioned earlier, talc makes the stone more pliable.
Ceramic Tile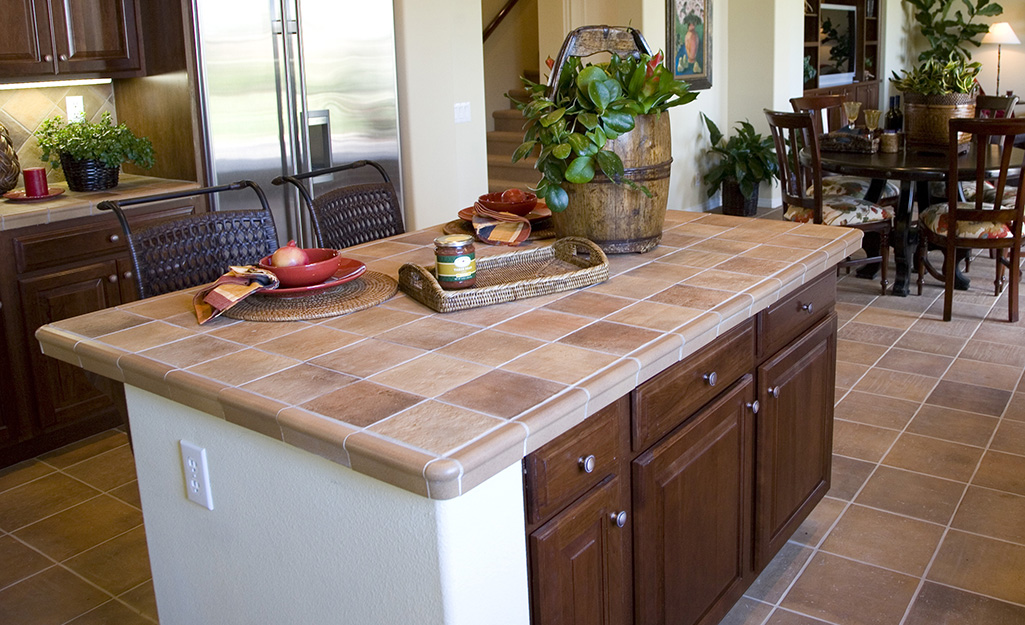 While ceramic tile is usually reserved for flooring, it's a beautiful and affordable option for countertops. It stands up to heat and water and when properly glazed, it won't stain. Ceramic tile was hugely popular in the 70's and 80's, and now it's making a comeback with more minimalistic styles.
Tiles are more labor intensive to clean because of the dirt and debris that can accumulate within the grout. It may require bleach to clean the grout, so be sure to use gloves and open a window for proper ventilation. If you're planning to DIY your ceramic countertops, make sure you know your way around a wet-cut tile saw and use safety gloves and goggles.
Stainless Steel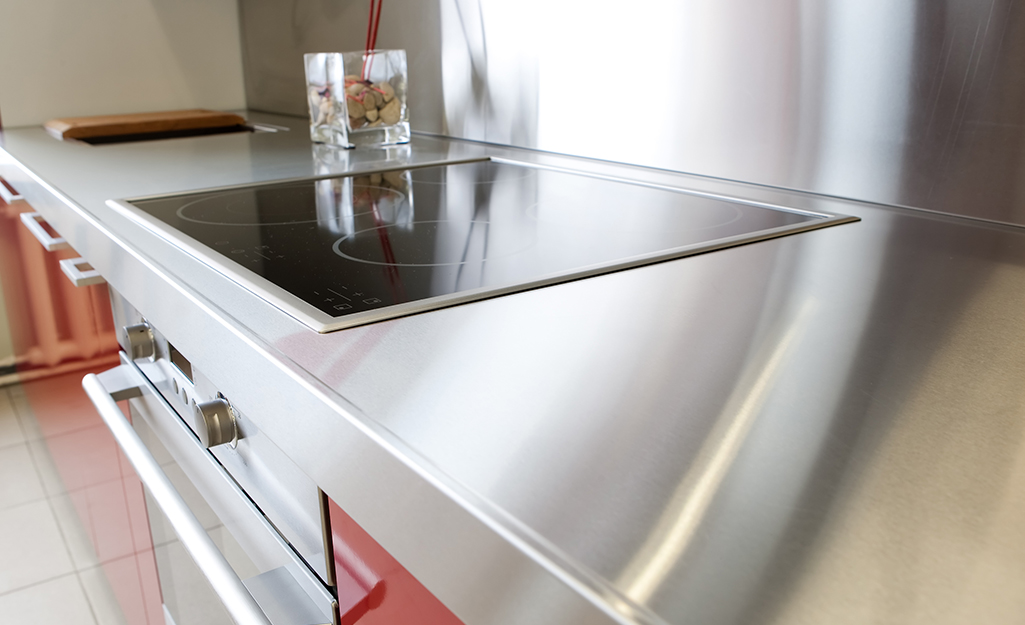 If you look at any restaurant kitchen, you'll see stainless steel countertops. While these countertops are usually reserved for serious cooks, they have made their way into the everyday person's kitchen design. Heat resistant and virtually indestructible, stainless steel is also a sanitary choice. It can be cleaned with mild soap and a sponge or stand up to even harsher detergents. Stainless steel countertops would be best installed by a pro or someone who has experience in these type of installations. 
Concrete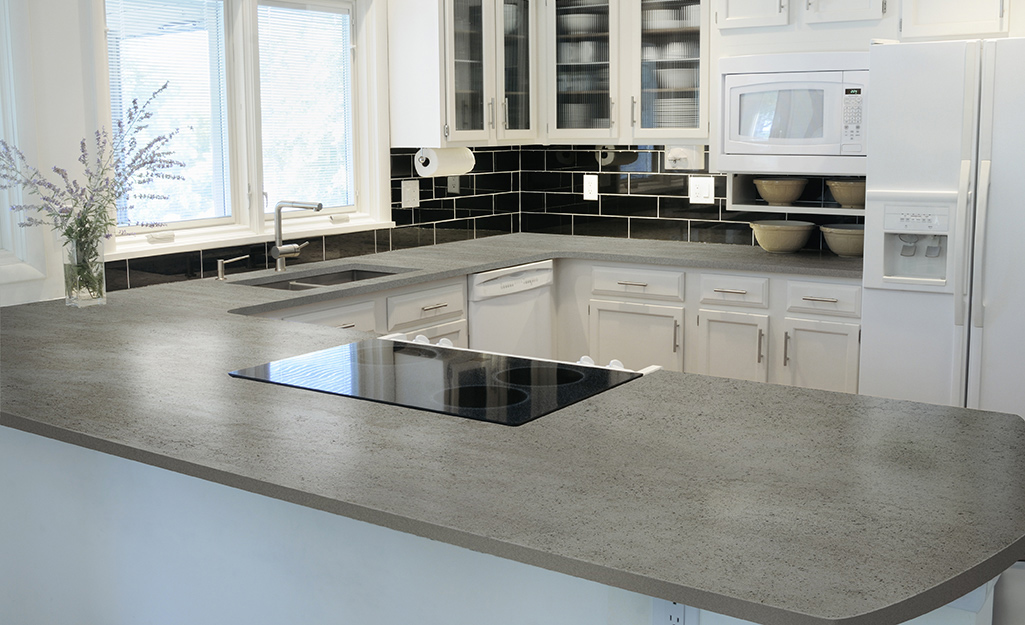 If you're looking to inject an industrial look into your kitchen, then a concrete slab is the answer. A moderately expensive option, they have a distinct look that will make your kitchen stand out. Make sure to clean your countertops with a pH neutral, non-abrasive product. Also, rubbing alcohol diluted with water can be used for disinfecting. DIY concrete countertops are labor intensive and require a mold to be created, and many other steps. This would be a job fit for a professional or an experienced DIYer.
Explore More on homedepot.com