A fireplacecan bring an added element of warmth to your home, in more ways than one. Because they can be fueled by wood, gas or electricity, you have a wide range of models to consider.
This buying guide will review the types of fireplaces, based on fuel. It also will answer the question "What is a mantel?" and includes information on fireplace and mantel safety.
Wood-Burning Fireplaces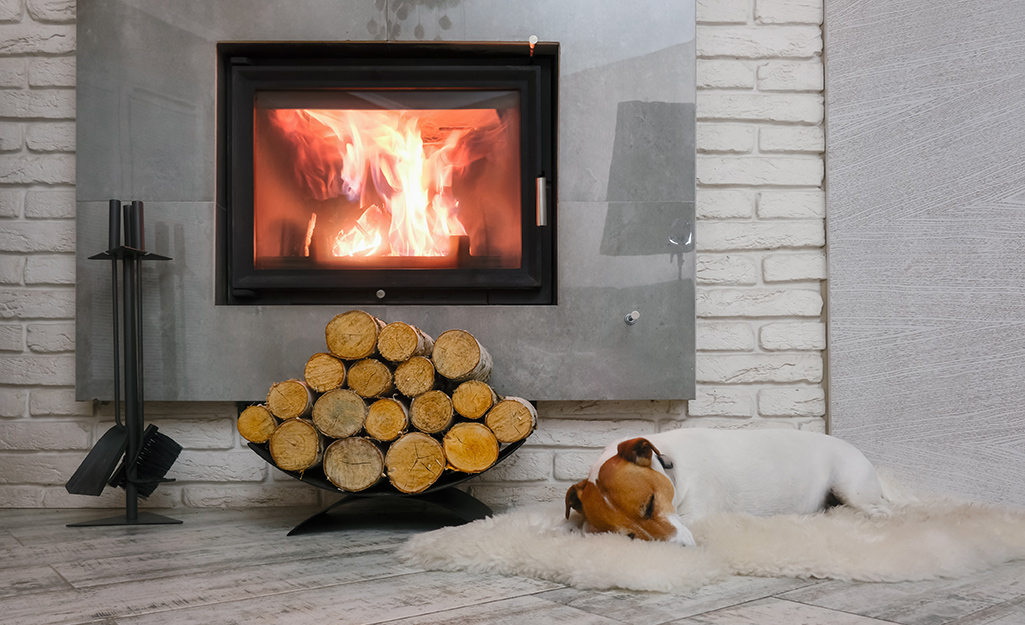 Wood-burning fireplaces generate enough heat for an average size room, and they fill the house with pleasant aromas. Wood burning fireplaces require a constant supply of firewood, as well as ongoing maintenance. Plan to clean out the ashes regularly, have your chimney inspected and cleaned annually to keep it free of soot and creosote.
If your house doesn't have an existing chimney and fireplace, having them custom built can be quite costly. Pre-fabricated fireplaces, which have metal parts, cost less to install. However, pre-fabricated fireplaces may not be as durable as traditional brick or stone fireplaces. 
Natural Gas Fireplaces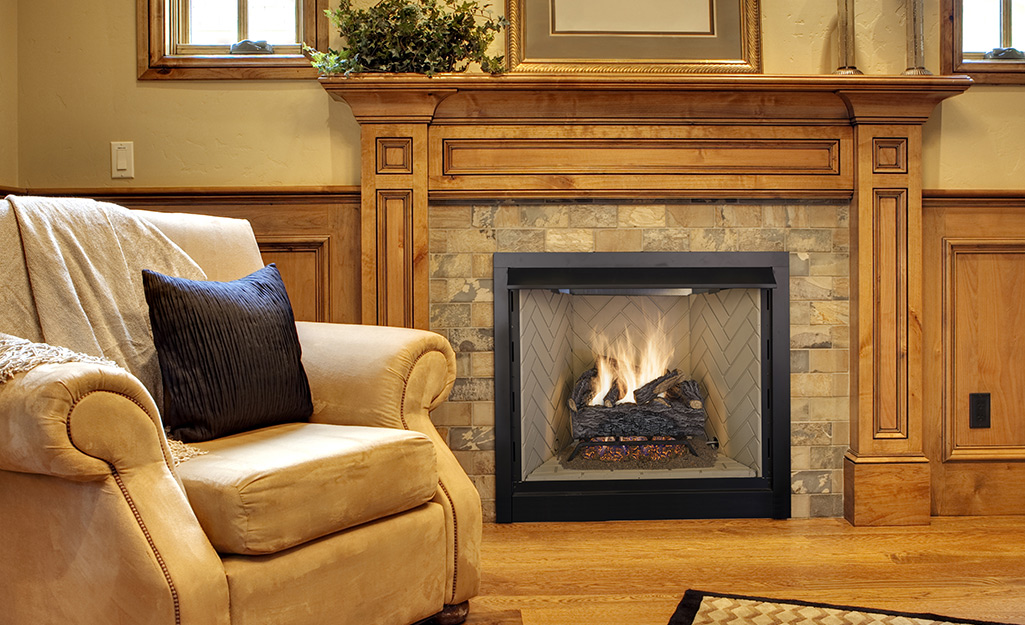 If a fireplace and chimney aren't part of your existing home, thinking about gas fireplaces vs. electric may be your best bet. Both types of fireplaces can be added to a room without much effort. 
A gas fireplace is much more budget friendly than having a fireplace custom built. If you already have a fireplace, you still might want to add a gas fireplace insert to it to improve heating efficiency.
A freestanding natural gas fireplace looks like a traditional fireplace, complete with a mantel. A range of wood styles is available. Gas log sets offer a more realistic wood-fire look. Gas fireplaces can be turned on with a simple switch or even a remote control. 
Gas fireplaces need to be connected to a gas line by a qualified service technician. Some gas fireplaces work only with natural gas. Others can use either natural gas or propane. Never use a gas fireplace with a fuel other than what's listed on its rating plate. 
The amount of heat a gas fireplace produces will vary depending on its size. Smaller fireplaces may heat around 600 square feet, while a larger one can heat as much as 1100 square feet. While you can't exceed a fireplace's maximum capacity, you can adjust the heat output. Gas fireplaces should not be used as the primary heat source for a home. They are intended to be used in addition to central heat. 
A gas fireplace system can be placed along a wall. If you'd prefer to put your fireplace in the corner, many of them come with a corner conversion kit. Some gas fireplaces don't even need a vent or flue, though the room must have an adequate fresh air flow for safe use. Others do require ventilation. Make sure the room is properly ventilated before using the fireplace. Always read and follow the manufacturer's instructions.
Natural gas fireplaces require much less ongoing maintenance than wood fireplaces. Still, you should have your gas fireplace inspected, cleaned and serviced by a professional at least once a year. 
If you smell gas, do not turn on your gas fireplace or touch a light switch or even try to use your phone. Leave the house and from a safe distance, use your cell phone or a neighbor's phone to call the gas company. If your gas company is not available, call the fire department. 
Electric Fireplaces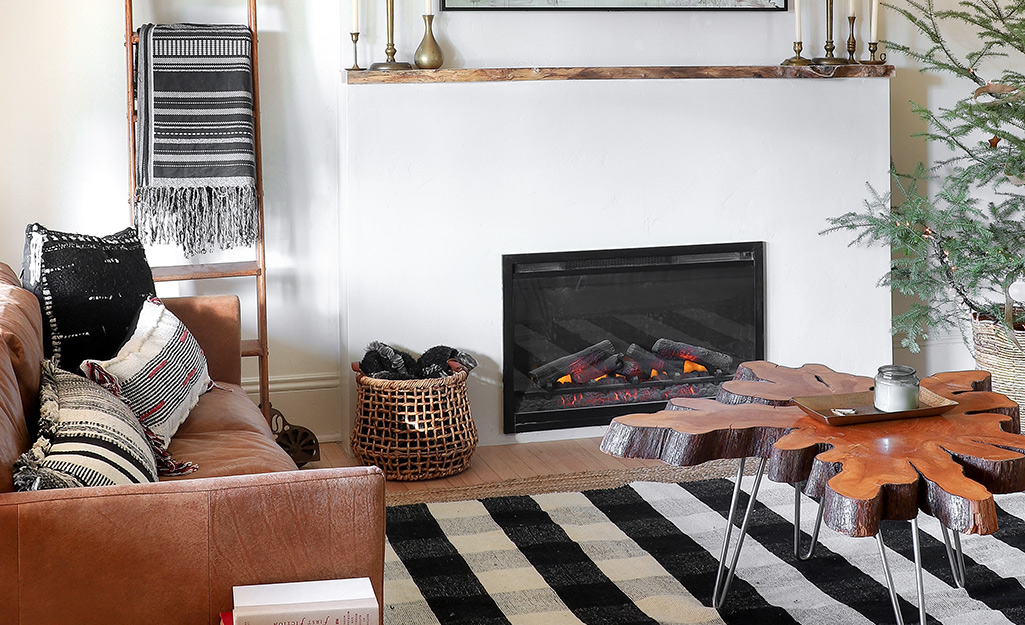 If you're thinking about a gas fireplace vs. electric, your decision may come down to whether or not your house is equipped to use gas. Electric fireplaces are great for rooms for houses that aren't connected to gas. Electric heaters plug into the wall and don't need to be vented.
Electric fireplaces styles range from classic to contemporary. Freestanding electric fireplaces may look like a wood-burning fireplace with a mantel and a stone or brick surround panel. Some electric fireplaces are designed to hang on the wall. Others double as TV stands. Newer electric fireplaces feature LED lights, which need less electricity to operate. 
The features on electric fireplaces can include adjustable flame height, brightness and flame colors. The fireplace be operated with heat or without. An electric fireplace may have a timer, so that it turns off automatically after a certain amount of time. Smart fireplaces can be operated via voice control if they are connected to a smart home app, like Amazon's Alexa. 
Compared to the other types of fireplaces, electric fireplaces are easier to maintain, with fewer safety concerns. Still, electric fireplaces can get very hot. Children and pets should be kept away from them. Curtains, bedding, pillows, paper, clothing and all other combustible materials should be kept at least three feet away from all sides of an electric fireplace to help prevent fires. When an electric heater isn't being used, it should be unplugged. 
Like gas fireplaces, electric fireplaces should not be the main source of heat in your home. They should be operated in addition to central heat, not in place of it. 
Types of Mantels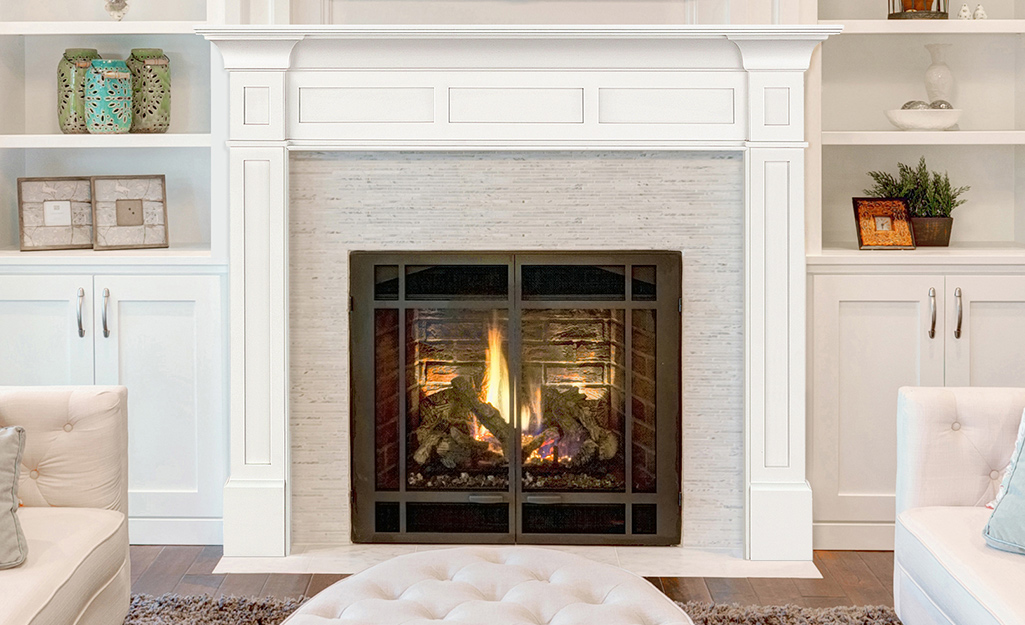 Even if you're familiar with fireplaces, you may still have wondered, "What is a mantel?" Typically, the word is used to refer to the shelf above a fireplace. Some gas and electric versions come as a single unit that includes a fireplace mantel. If your house has a built-in wood burning or gas fireplace, the mantle may be a separate piece.
Mantel styles can be as plain or as extravagant as you'd like. Whether you prefer a classic, modern, Victorian or Colonial look, you're sure to find a mantel to match your decorating tastes.
Mantels are typically made from wood, stone, concrete or other composites.
Mantels are decorative and functional. You can use them to display pictures, books or decorative items. You may even use a mantel as a the place to put a flat-screen TV.
Some mantels are available as kits that come partially assembled, making them easy to install.
Mantels and Fireplace Safety
Whether you decide to build and install a mantel yourself or hire a professional to do it, you need to ensure it meets or exceeds your local building codes for fire safety.
Most regulations require at least 12 inches of clearing space between the mantel and the top of the fireplace.
The hearth size should extend at least 6 inches beyond the width of the fireplace on both sides.
Mantel dimensions start outside the surround, not the firebox.
To ensure you have the proper height and width of your mantel, consult the diagram:
A - Width of stone facing
B - Depth of stone facing
C - Height of stone facing above hearth
D - Hearth width beyond stone facing
E - Hearth height above floor
F - Distance(s) to nearby obstructions
G- Width of firebox opening
Combine measurements C and E to obtain total height.
Add a cushion to your measurements to avoid overlapping corners, windows, gas valves and more.
Full surround mantels: Add 19 inches to A, 6 inches to B and 12 inches to C.
Shelf mantels: Add 8 inches to A, 4 inches to B and 4 inches to C.
Whether you want to heat a room or set a mood, there's fireplace that's right for you. As you decide between the types of fireplaces, consider fuel and the maintenance needs. Once you have a fireplace, you may want fireplace accessories, such as tools or a log holder.
A mantel accents the fireplace and can create a focal point for a space. Choose a mantel to match your style, from traditional to minimalist. 
Ready to add a fireplace to your space? The Home Depot delivers online orders when and where you need them.
Explore More on homedepot.com