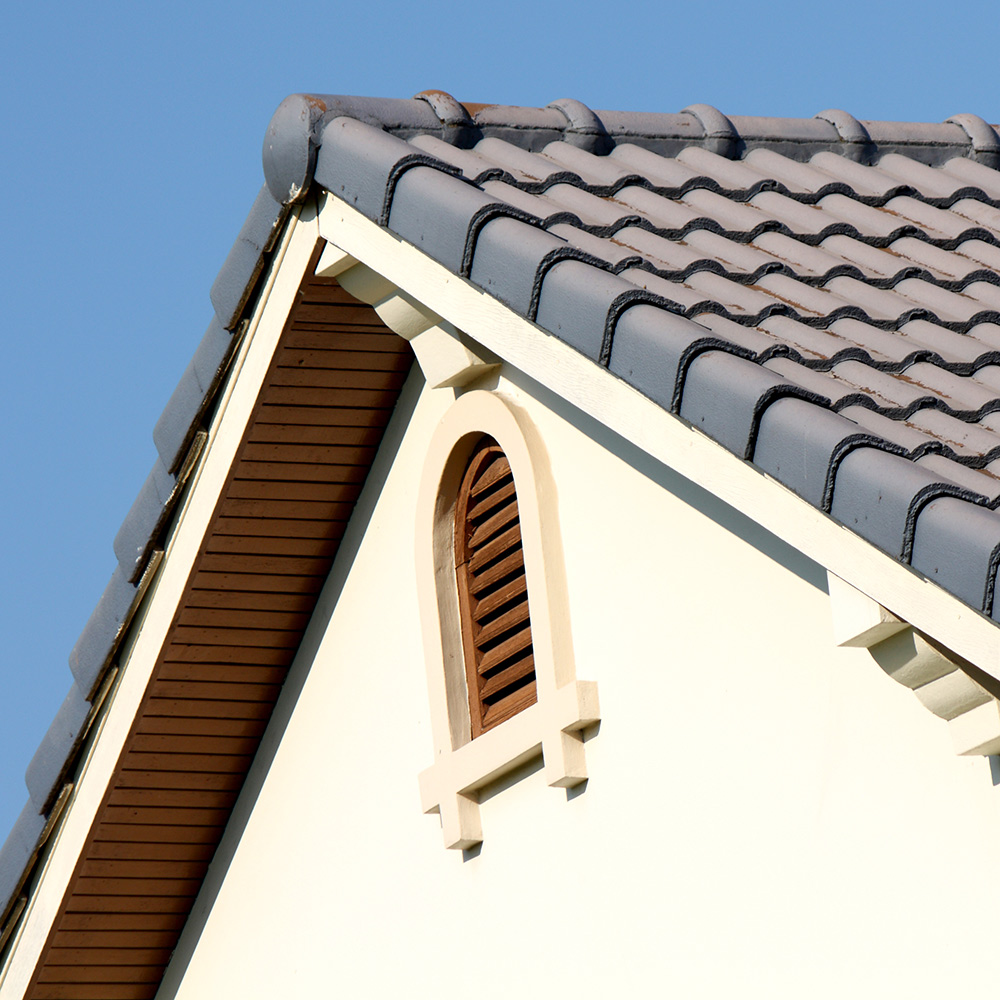 A home's ventilation system consists of everything from roof vents to the best attic fans. Without the right roofing and attic ventilation system, your home can become uncomfortable and cost more to cool or heat. Plus, roofing and attic ventilation systems can protect homes from the expensive roof and structural damage caused by trapped heat, ice dams, moisture and mold. This guide answers questions such as "What is ventilation?" and "What is a soffit?" It also explains the difference between intake and exhaust vents and relays the benefits of a balanced roofing and attic ventilation system.
What is Roofing and Attic Ventilation?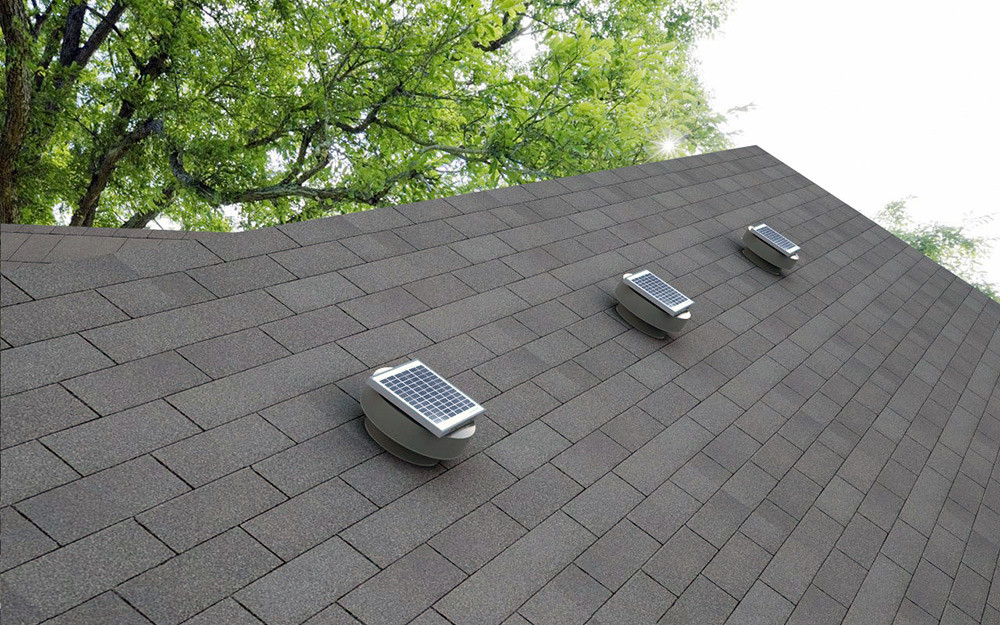 Roofing and attic ventilation refers to the way air and moisture enter or leave a home. One of the natural types of ventilation systems is where air flows through windows and cracks and around door frames. The other is a home's mechanical ventilation system. These feature carefully placed vents, fans and ducts that provide consistent, controlled air movement.
Roofing and attic ventilation systems are designed to work year-round to balance the intake of cool air and the outflow of warm air in the home. No matter what month it is, hot air will accumulate in the attic at the peak of the roof. 
In summer and warmer months, outside temperatures intensify the effects of this heated air. Without proper venting, this can lead to overloaded air conditioners, poor indoor air quality and can eventually cause shingles to fail, resulting in roof leaks. 
In winter and cooler months, heated air mixes with water vapor from everyday activities such as bathing. This warm, moist air can linger in the attic, causing mold, mildew, damage to roofing studs and even ice dams when outside temperatures drop.
Intake Vents vs. Exhaust Vents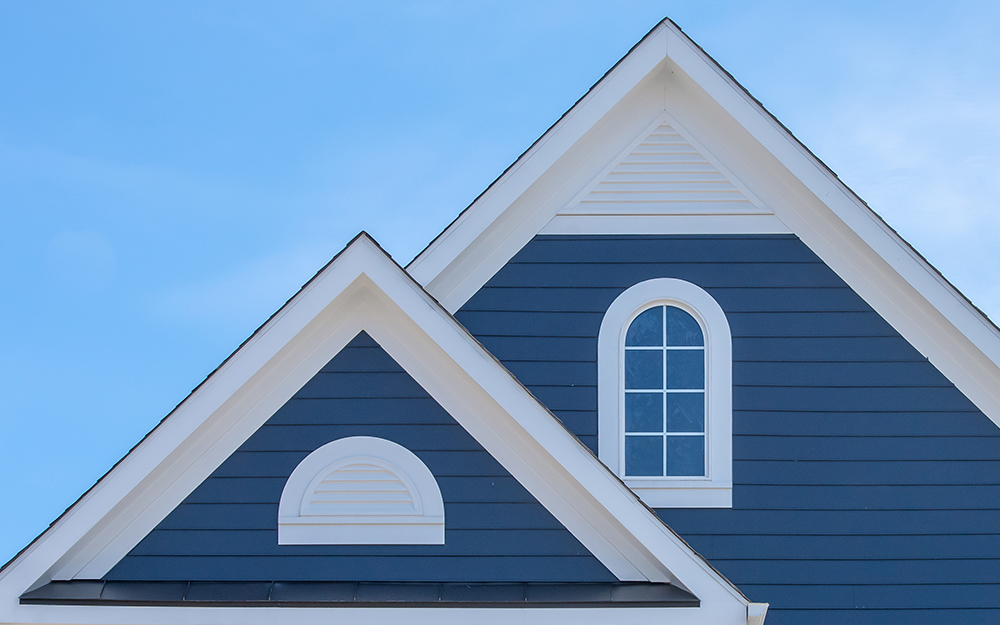 Correctly balanced ventilation systems use the right combination and placement of intake and exhaust vents. They continually transform the hot and sometimes moist air in an attic into a uniform layer of drier, cooler air all year round. The two roof ventilation options, intake vents and exhaust vents, should be placed to take advantage of the natural increased speed of air circulation. This occurs through the rising of warm air and the falling of cooler air.
Intake vents, such as soffits, are placed lower on the roof, usually under the eaves.
Exhaust vents like attic fans, ridge vents are primarily placed at the very top of the roof or the highest pitch where hot air gathers.
Multiple types of vents can work together to create an equal inflow of cool air and outflow of hot air in your house. For example, ridge vents and gable vents function as both intake and exhaust vents. Make sure your home has a balanced roof venting system to increase your home's livability, reduce your energy costs, make your roof last longer and cut down on costly repairs.
Tip: For proper roof ventilation, roughly every 300-feet of attic space should be vented. 
Intake Vents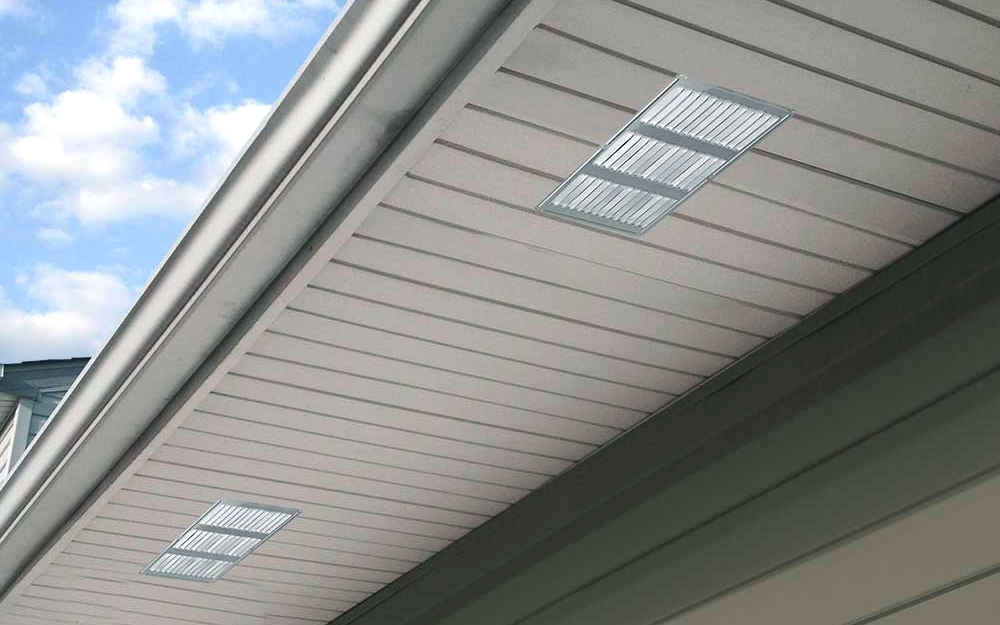 Intake vents help exhaust vents reduce attic heat more effectively. They also control energy costs and extend the life of your roof by preventing ice dams. Intake vents draw cooler outside air into the home. As cooler air comes in, it forces the warmer air to keep rising up and out. Intake vents should be equally distributed around the house to keep low and high-pressure areas in balance. These are the most common intake vents:
Soffit vents run the full length of a soffit (the material underneath your eaves) or are placed between the joists.
Ridge vents and gable vents serve dual purposes and operate as both intake and exahust vents.
Exhaust Vents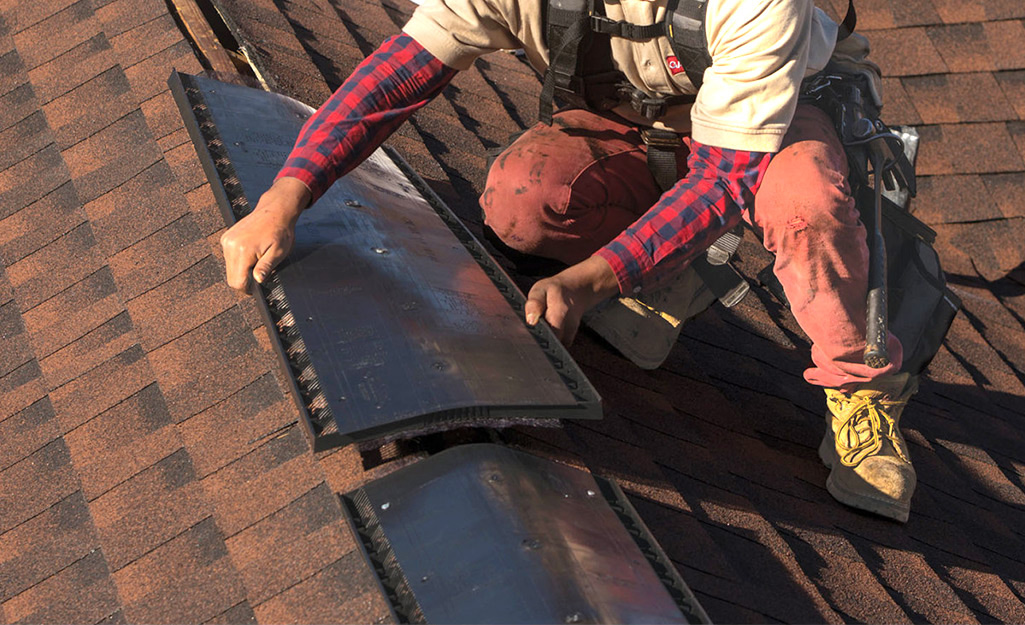 Exhaust vents are installed at the top of the roof. Their primary job is to provide an unobstructed exit for the heat, hot air, odors and moisture trapped in your attic. Without exhaust vents, this hot air and water vapor can lead to inferior indoor air quality and cause all kinds of problems, from peeling paint to roof damage. These are the common types of exhaust vents:
Ridge vents run along the top length of the roof. Some ridge vents have a baffled ridge. Wind blows over the ridge and pulls heated air and moisture from the attic, creating a uniform air movement that eliminates hot spots.
Roof turbines have blades that spin in the wind, pulling air up through the intake vents into the attic and out of the house. When spaced evenly across the roof, roof turbines can provide passive exhaust on windless days.
Static roof vents, also known as roof louvers, are designed to fit into the highest peaks of a roof and rely on wind to function. Gable vents are a type of louvered vent that can act as an intake or exhaust vent, depending on which way the wind is blowing.
Gable mount attic fans quickly remove a larger volume of hot and/or humid air from your attic, compared to static ventilation, which helps save money on your heating and cooling costs. 
Powered roof vents such as powered gable vents use electric or solar power to pull air up from the lower intake vents and out through the roof. Powered roof venting adds more control and consistency to a roof ventilation system.
Trying to find a specific item for your roofing and attic ventilation system? Find products fast with image search in The Home Depot Mobile App. Snap a picture of an item you like and we'll show you similar products.
Explore More on homedepot.com