Project Guide
How to Install Roof Shingles
Time Required:

Over 1 day

Difficulty:

Beginner
---
Renewing your roof cannot only help with energy efficiency but it can provide a sense of safety for your family and improve your home's curb appeal. Learning how to install roof shingles is a relatively easy process and one that can save you time and money in the long run. This guide will teach you how to shingle a roof safely in just a few steps.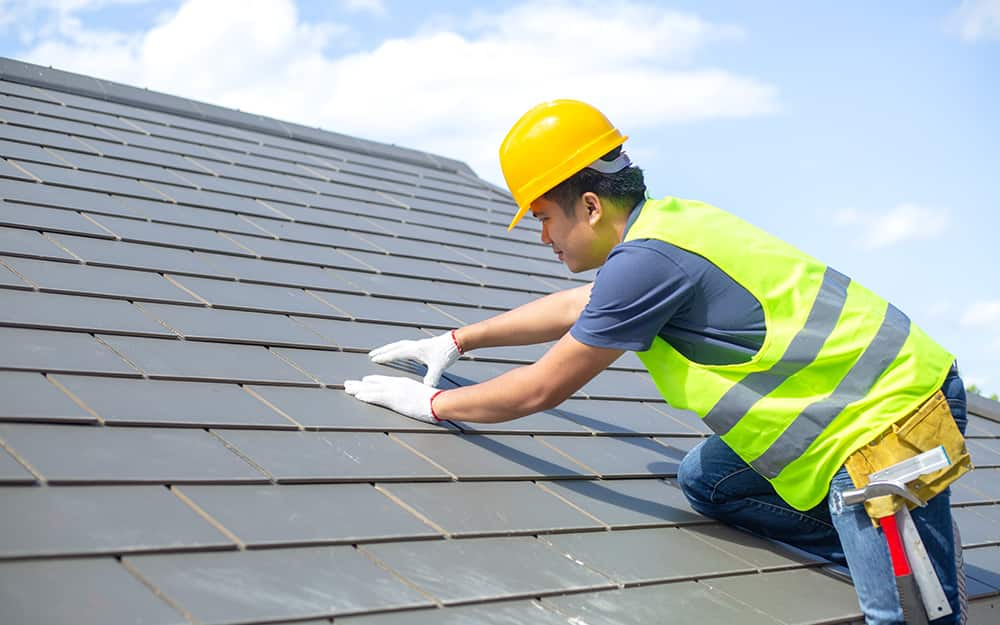 Before you begin, be sure to stock up on safety gear. Items like a hard hat, work gloves and a tool belt can help keep you safe while you're up on the roof. Consider other items such as safety glasses, a vest and work boots when you are gathering your roofing supplies.
If possible, have a partner work with you when laying shingles.
Always follow the manufacturer's instructions included with your shingles.
The first thing you need to do when figuring out how to put shingles on a roof is to determine which type of roofing shingles you need. 3-tab shingles are the most common type of shingle. They are typically 36 inches long in total. Architectural shingles are another option, and are installed the same way as 3-tab shingles, but give your roof more of a 3-D effect due to their varied shapes.
Measure your roof so you can be sure you buy the right amount of shingles. It generally takes three packs of shingles to cover 100 square feet (9.29 square meters).
How to measure for roof shingles:
Measure the width and length of each section of your roof.
Multiply the width and length measurements together to determine the area.
Add the areas of each section together.
Divide that number by 100 to get the correct number of squares.
Lastly, multiply this number by 3 and you will know how many packs you need to buy.
Next, remove old shingles and flashing:
Bring a trash can up on the roof so you have a place to throw old shingles and flashing.
Begin by removing the shingles using a roofing shovel.
Use caution so you don't damage any windows or siding in the process.
Using your hammer, pry up the nails.
Remove the metal flashing. You can keep any flashing that is in good shape, but we recommend replacing it all with new flashing.
Sweep the roof clean, removing any nails and debris left behind.
Tip: It usually takes three batches of asphalt shingles to cover 100 sq. ft.
Now it's time to install the underlayment and flashing. These pieces act as a weather-proofing and protective barrier between your house and the elements, helping keep water and cold temperatures out.
Start by laying asphalt, felt or other underlayment, over the roof.
Using your staple gun, secure the felt to the roof.
Overlap each row at least 3 to 4 inches.
If you live in an area with inclement weather, you should consider using a special ice and water protector.
Install new flashing (metal flashing is often called "drip edge" along the bottom of the roof near your gutters).
Nail the drip edge in place using your hammer and roofing nails.
Always install flashing around a chimney and other valleys where two roof planes meet as these areas are more prone to leaks if not protected.
Tip: When laying shingles, work from the bottom to the top of the roof.
It's important to make sure you are working on a straight course and pre-planned layout.
Starting at the bottom of the roof, map out a guideline with chalk.
Continue to chalk additional guidelines based on the width of the shingle through at least four courses (rows) across the roof.
Use your chalk and tape measure to mark about 12 inches up on the roof for the first set of shingles. Every 5 inches, make a new mark until you get to the rop of the roof. Repeat this on both sides of the roof.
Use the chalk line to snap a straight line vertically every 6 inches.
Starter shingles are available, but if you prefer to make them on your own, cut your first shingle about 6 inches shorter so the spaces between the tabs won't line up and the underlayment will stay protected.
Place the glue strip along the rake edge and drip edge.
Nail your shingle into place.
Install Your Roof Shingles
Now that you've conquered the underlayment and drip edge and plotted your course, it's time to truly learn how to install roof shingles.
Working your way up and across, begin laying your courses.
Be mindful of the proper nailing technique so that your nails always hold the top edge of the course beneath it.
For example: Hammer one nail about 2 inches from each end of a shingle. Then secure another nail an inch above each cutout. So, your next course of shingles should cover the nails by 1 inch vertically.
As you continue, follow the pattern of lining a full shingle up against the next and nailing it into place. Follow the guideline you created to keep the shingles straight.
Cut your last shingle on each row to size, repeating all the way to the ridge.
Once you've reached the ridge, bend the shingle over the ridge so that each side is equal and nail it into place with a single nail on each side.
Do the same with the next shingle, continuing this step until you get to the far edge of the ridge.
Cut the last ridge shingle to the length you need, but be sure that no part of the roof is exposed.
Tip: Be careful to drive nails straight rather than angled. Each shingle should be held by four nails. Six nails are preferred for areas that experience wind.