While a simple shower curtain will keep water off your bathroom floor, shower doors can be a much more elegant solution. The right types of shower doors will improve the lookof your bathrooms while offering water-tight seals, privacy and easy shower access. This guide covers what to consider when choosing between shower door styles, various types of glass shower doors and more. Read on to find the best shower doors for your bathrooms, plus tips on how to measure for a shower door.
Shopping for a Shower Door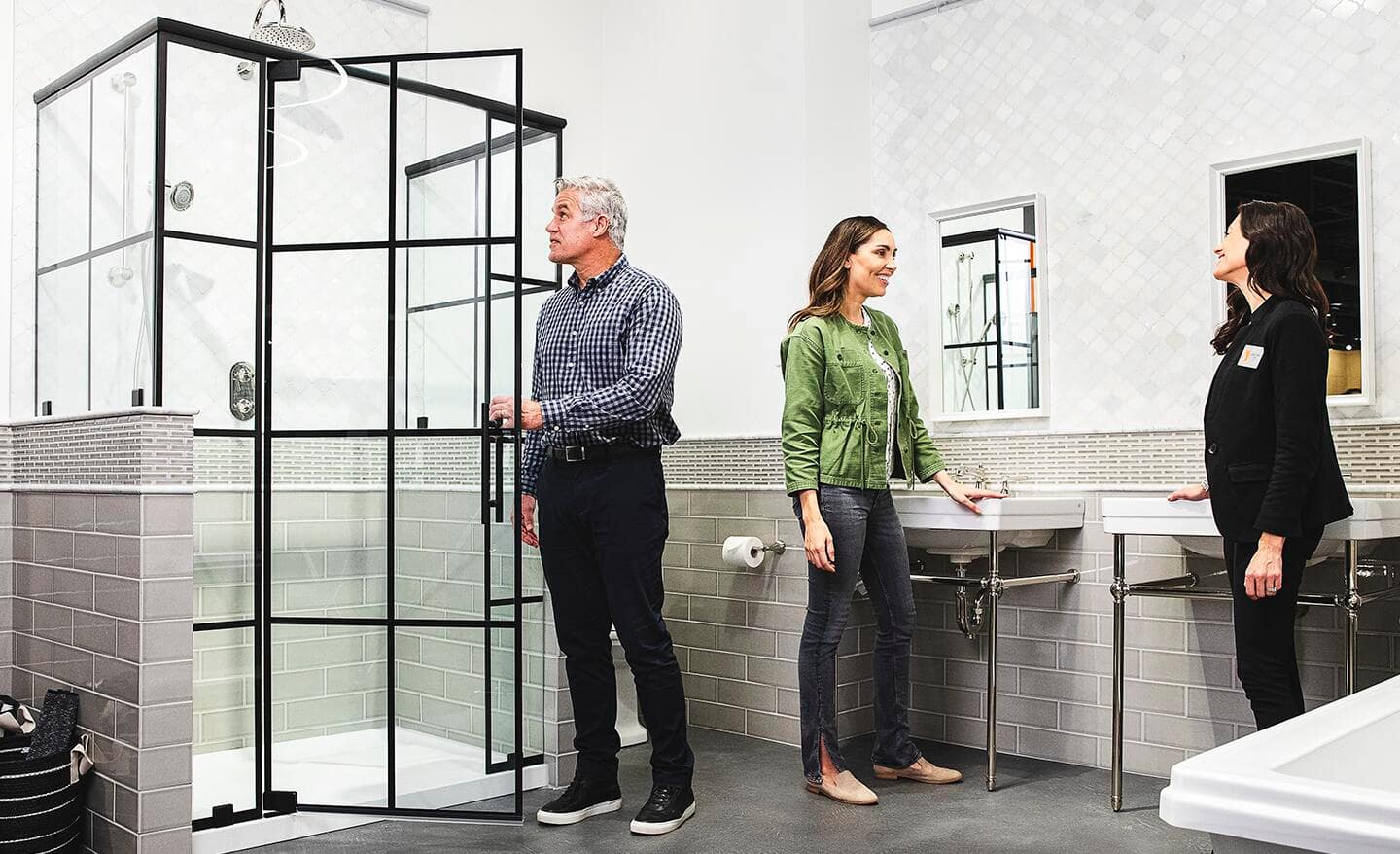 Shower doors range from corner models to those that are barrier free. When deciding between all the shower door styles available, here are a few other things to consider.
Size and shape of the shower opening: The size and shape of the shower opening will determine the type of shower door you can install. For example, if you have a small shower opening, you will need a sliding shower door. The amount of space you have around the shower will also determine which direction the door opens.
Determine door wing or "handedness." Simply open the door. Stand in the doorframe with your back along the hinges. If the hand by the doorknob is your right, it's a right-handed door. If it's by your left, you have a left-handed door."
Style of your bathroom: The style of your bathroom will also influence the type of shower door you choose. For example, if you have a traditional bathroom, you might want a hinged shower door.
Privacy: If you are concerned about privacy, you might want to choose a frosted or tinted glass shower door.
Maintenance: Some shower doors are easier to maintain than others. For example, frameless shower doors are more difficult to clean than hinged shower doors.
Budget: The price of shower doors can vary depending on several factors such as material, size, brand, and installation costs. For example, materials like glass requires a higher upfront investment than acrylic.
Sliding Shower Doors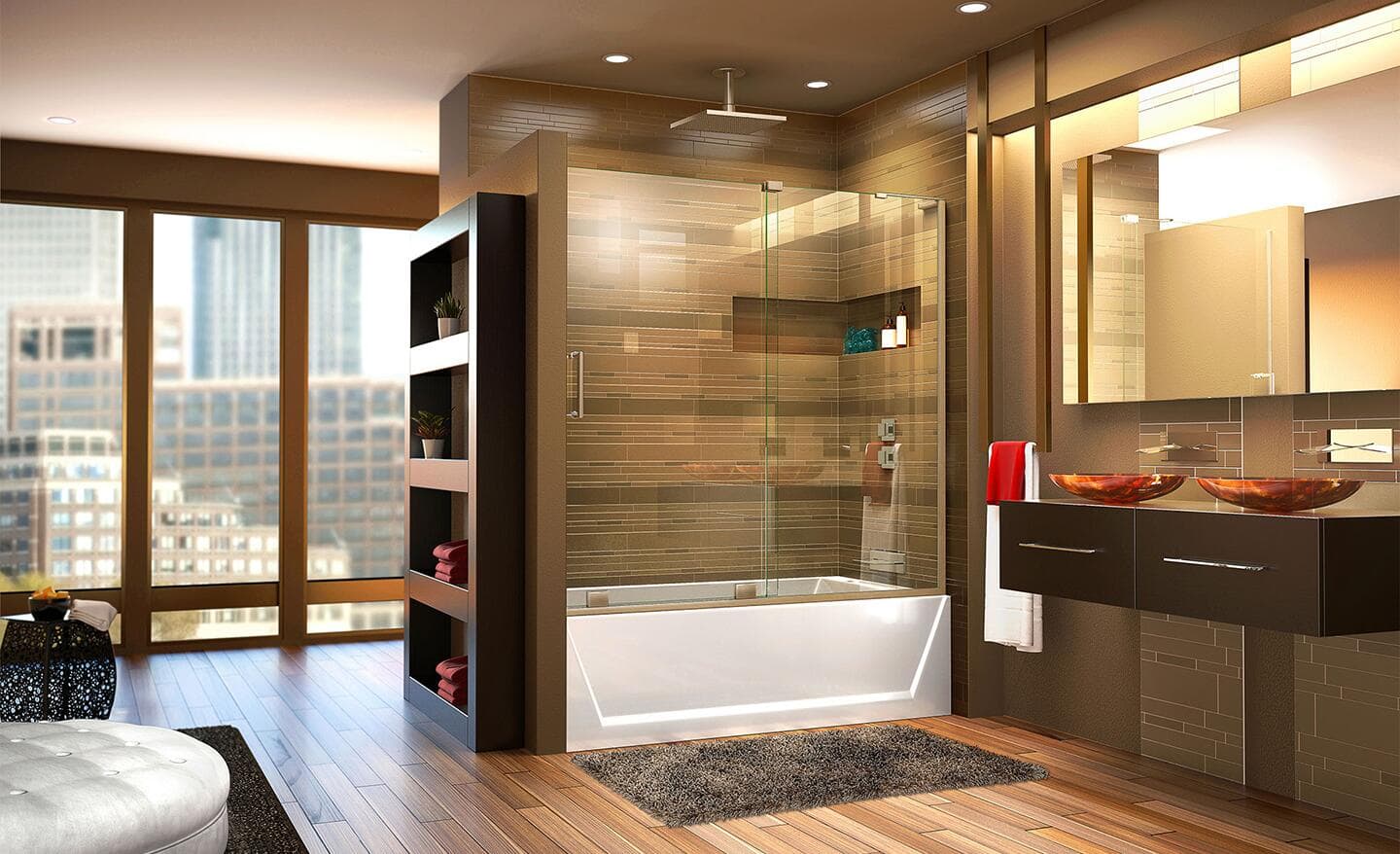 Sliding shower doors also known as bypass doors, are one of the best shower doors for small bathrooms or bathtub showers.
Consist of two or three panels that slide along on tracks
Requires no floor space for opening door
Ideal for wide shower openings
Some models are designed as alcove shower doors
Hinged Shower Doors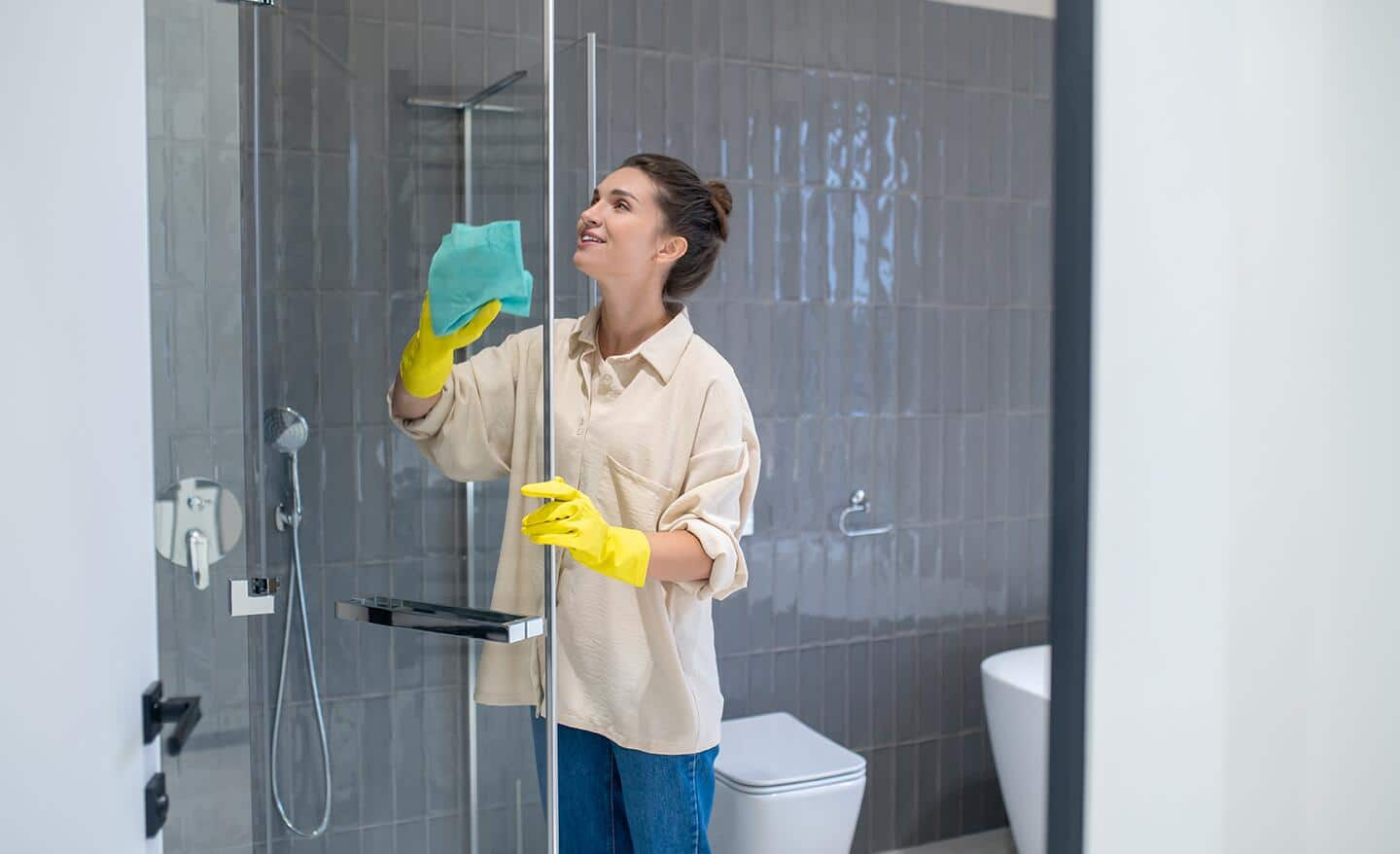 Hinged shower doors have a sleek and modern look. Functional and easy to use, these types of shower doors swing outward from one side with the help of hinges attached to the wall.
Can be installed in various types of showers
Few moving parts and no tracks make it low maintenance
Different finishes available
Good option for mobility issues
Can require a large space
Pivot Shower Doors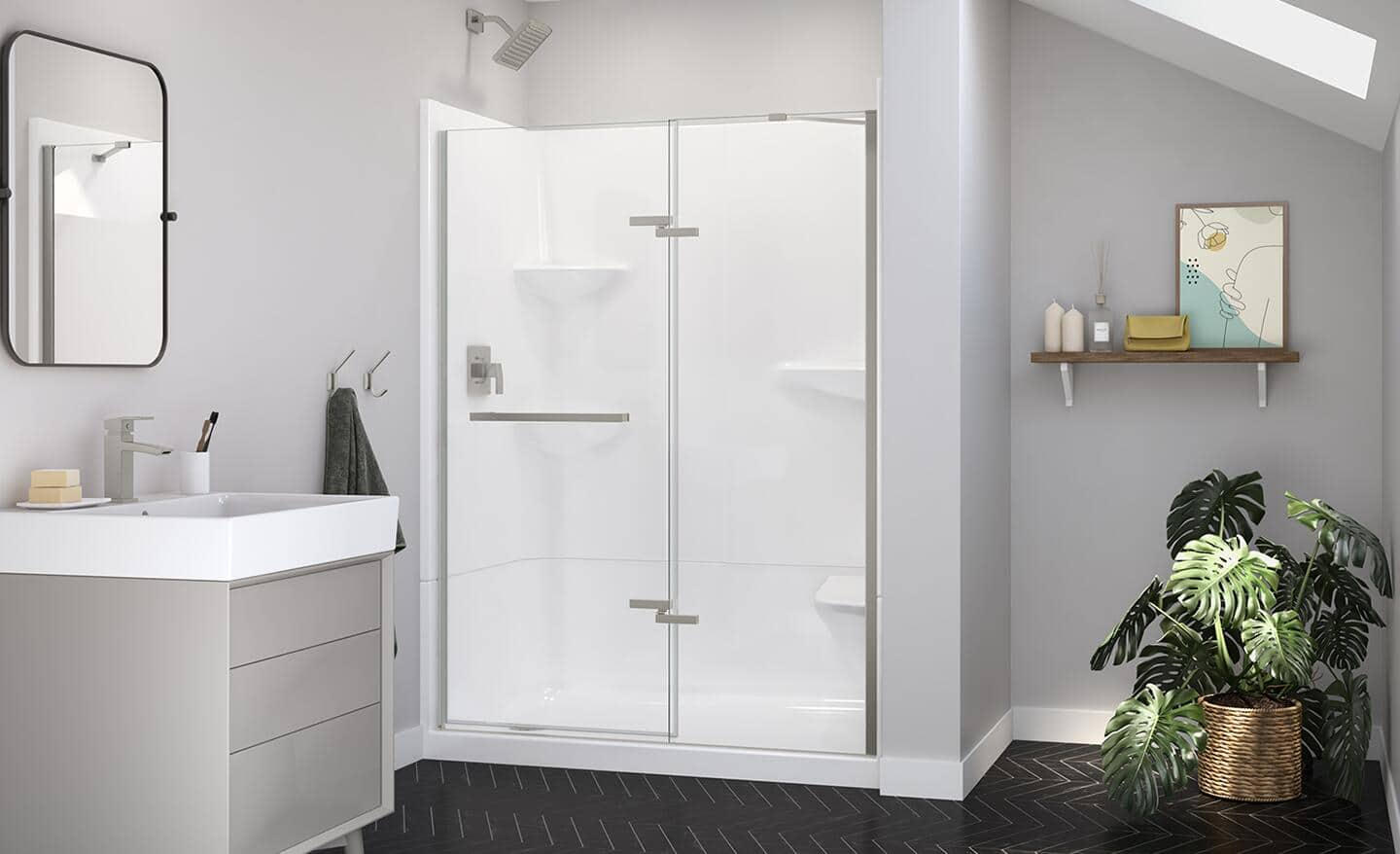 Pivot shower doors, swing open from a hinge at the top to bottom. This lets the spin but stay in place.
Good for openings that are too narrow for a sliding door
Can work with corner showers
Some models allow the door to swing both in and out
Round Shower Doors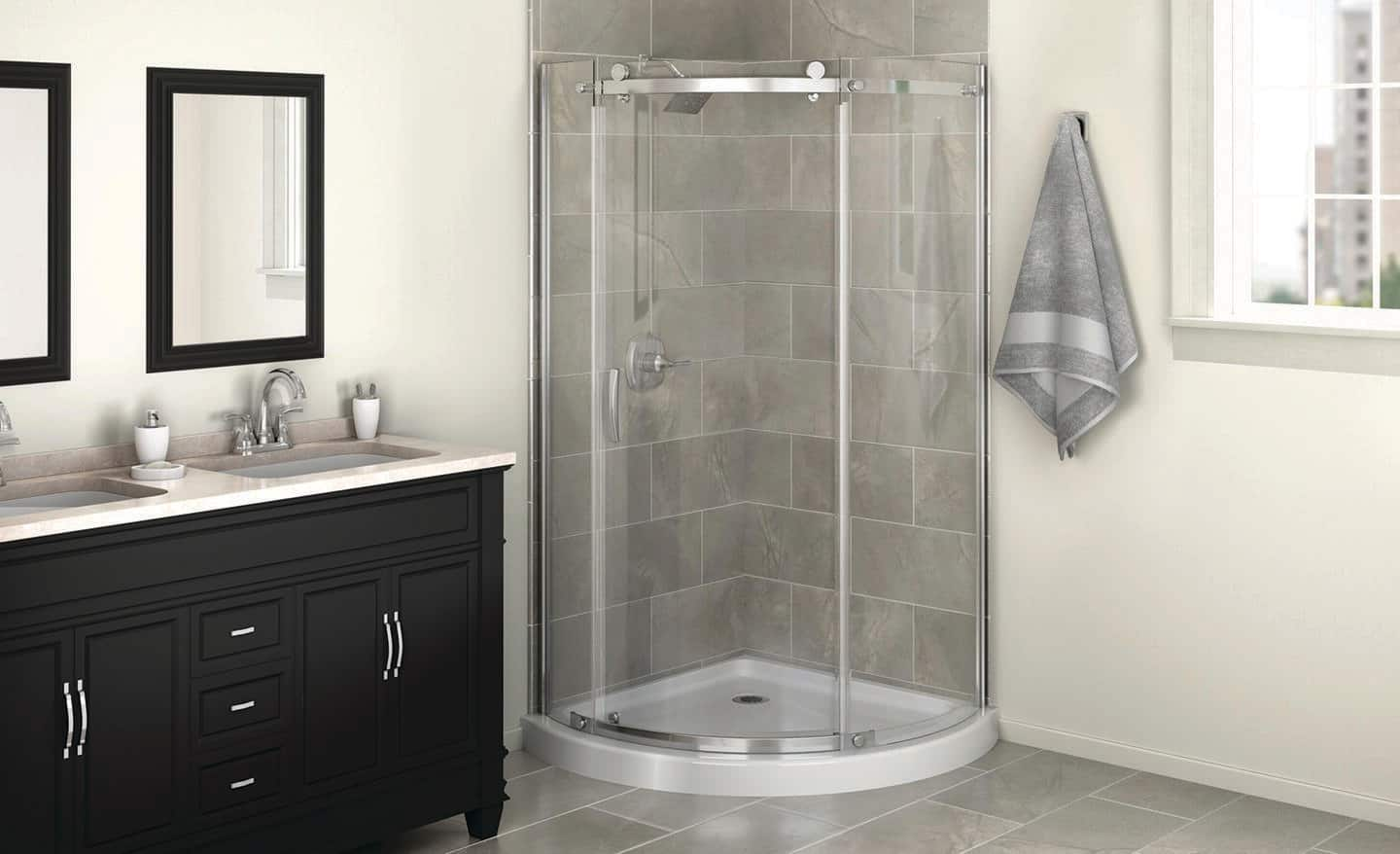 Round shower doors are a space-saving option for corner walk-in shower stalls.
Ideal for corner standalone showers
Often reversible for right or left access
Open by sliding bypass operation or have hinged opening
Curved glass design
Attached to the top and bottom of the frame for stability and smooth operation
Neo-Angle Shower Doors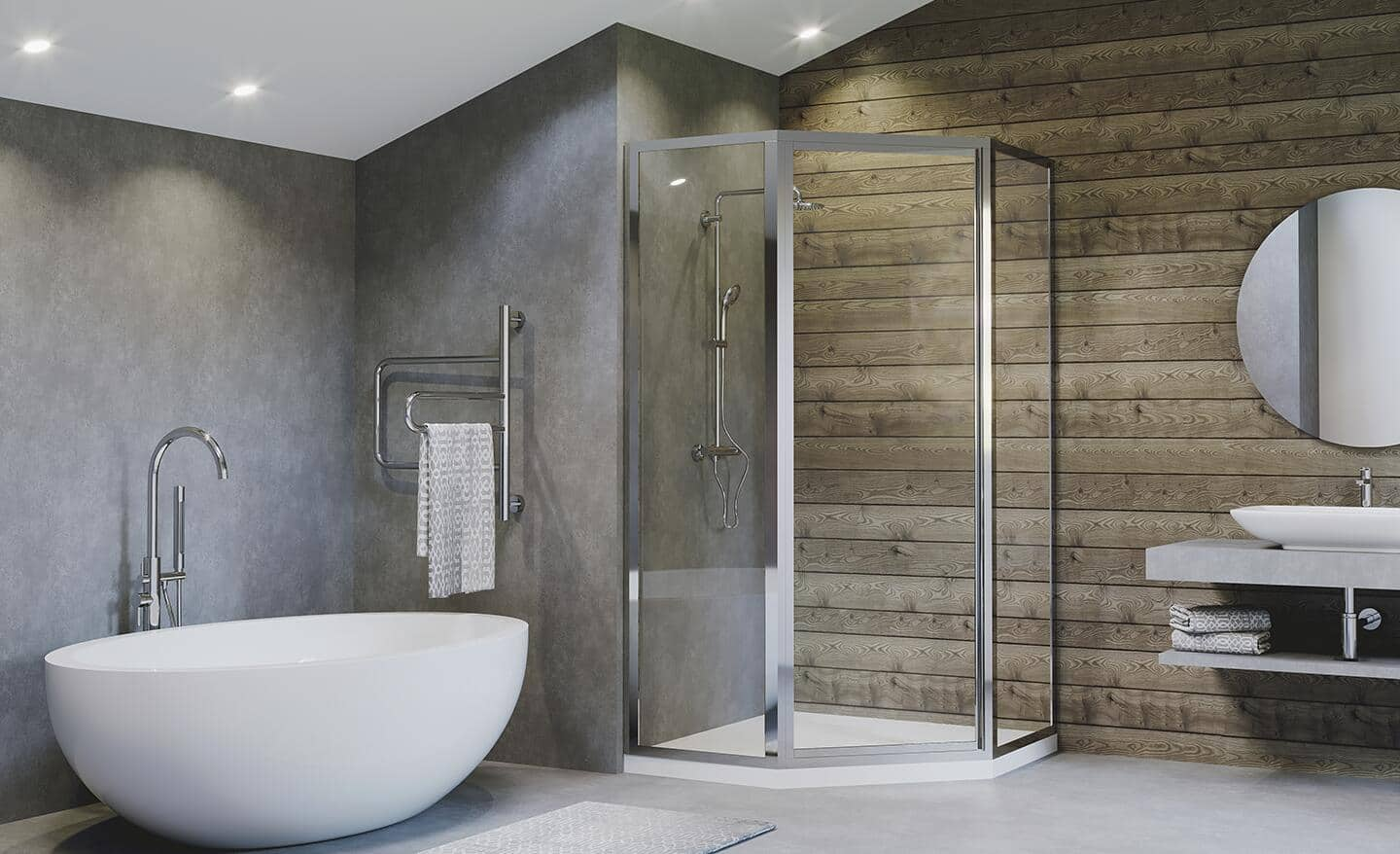 Neo-angle shower doors are designed to fit neo-angle shower enclosures for corner installations.
Space-saving design and modern look
Take up less floor space than a rectangular design.
Some models have reversible doors for left or right entry
May require a higher upfront investment
Barrier-Free Shower Doors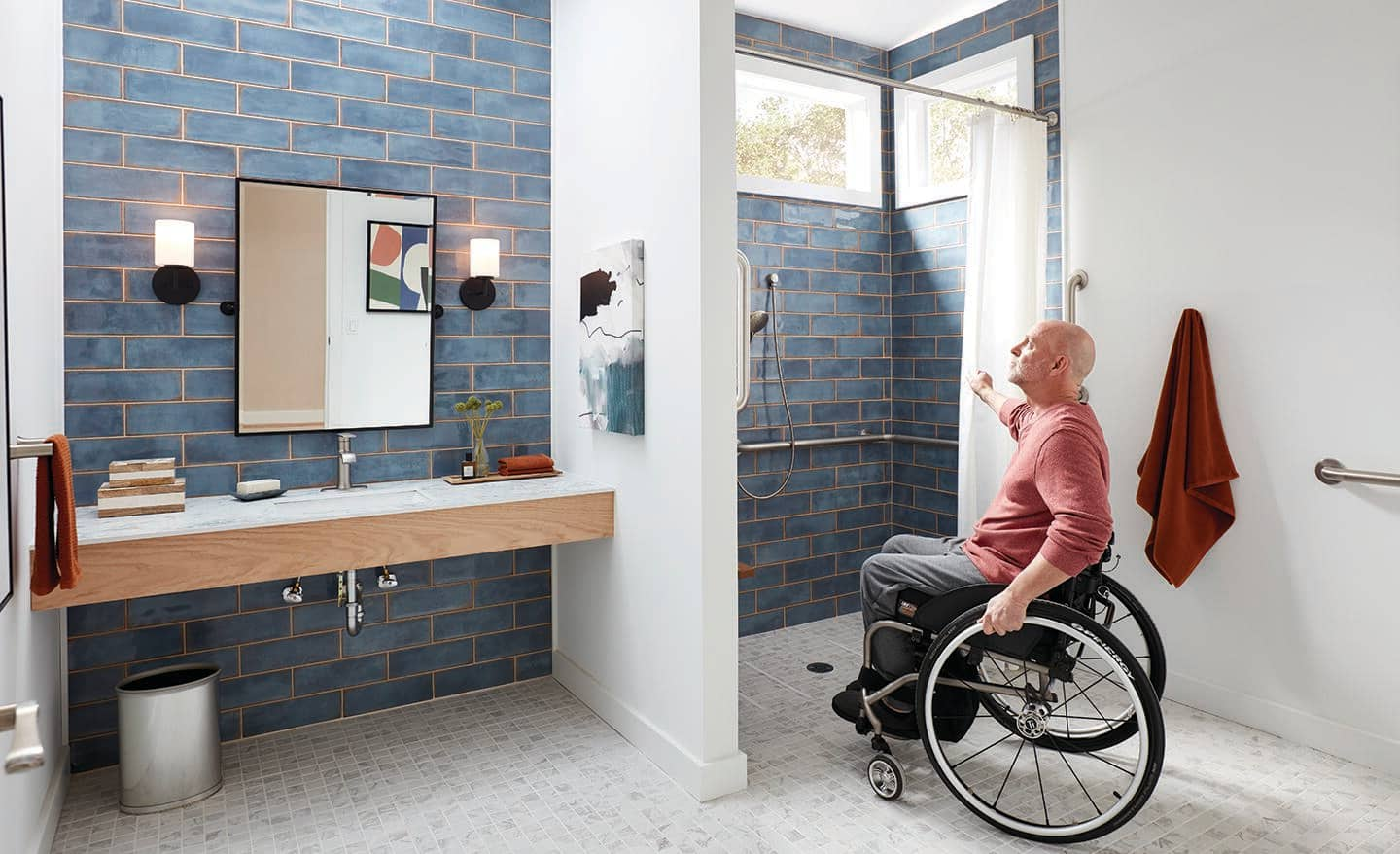 Barrier-free showers have a fixed shower door panel near the shower head.
Contemporary, streamline design
No step or lip at the entrance
Perfect for individuals with mobility limitations
Installation can require additional materials and labor
Doorless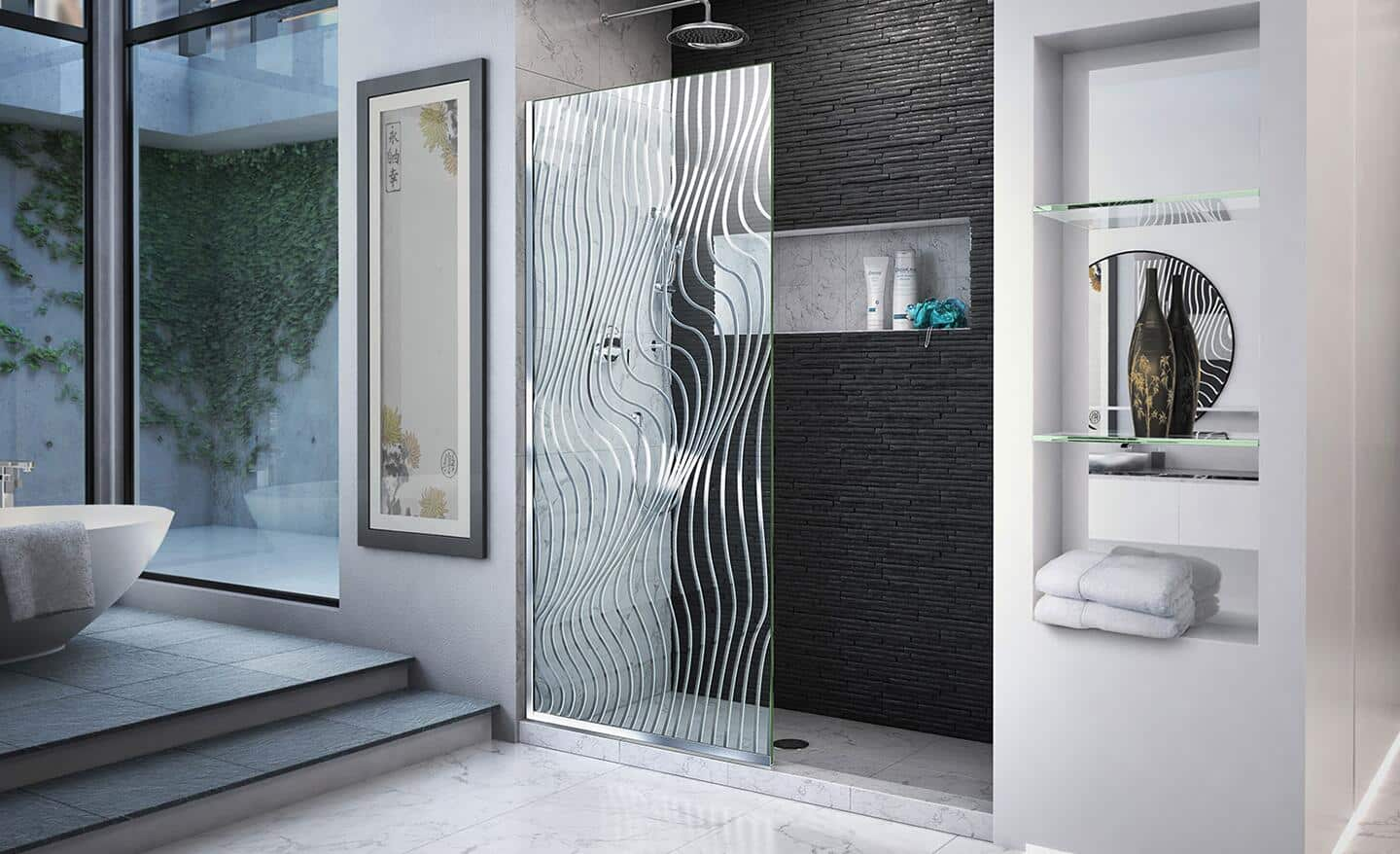 A doorless shower has a singular, fixed door panel. It is attached near the shower head to stop spray from getting on the bathroom floor.
Spacious, sleek design
Makes bath feel bigger and more modern
Opening is often wider than conventional shower doors
Good for accessibility
Bi-Fold Shower Doors
Bi-fold shower doors consist of two panels that fold inwards. They are one of the more popular shower door types for small baths.
Easy access to the shower
Space-saving
Can be used for straight or curved shower enclosures
Come in different sizes and can be customized
Steam Shower Doors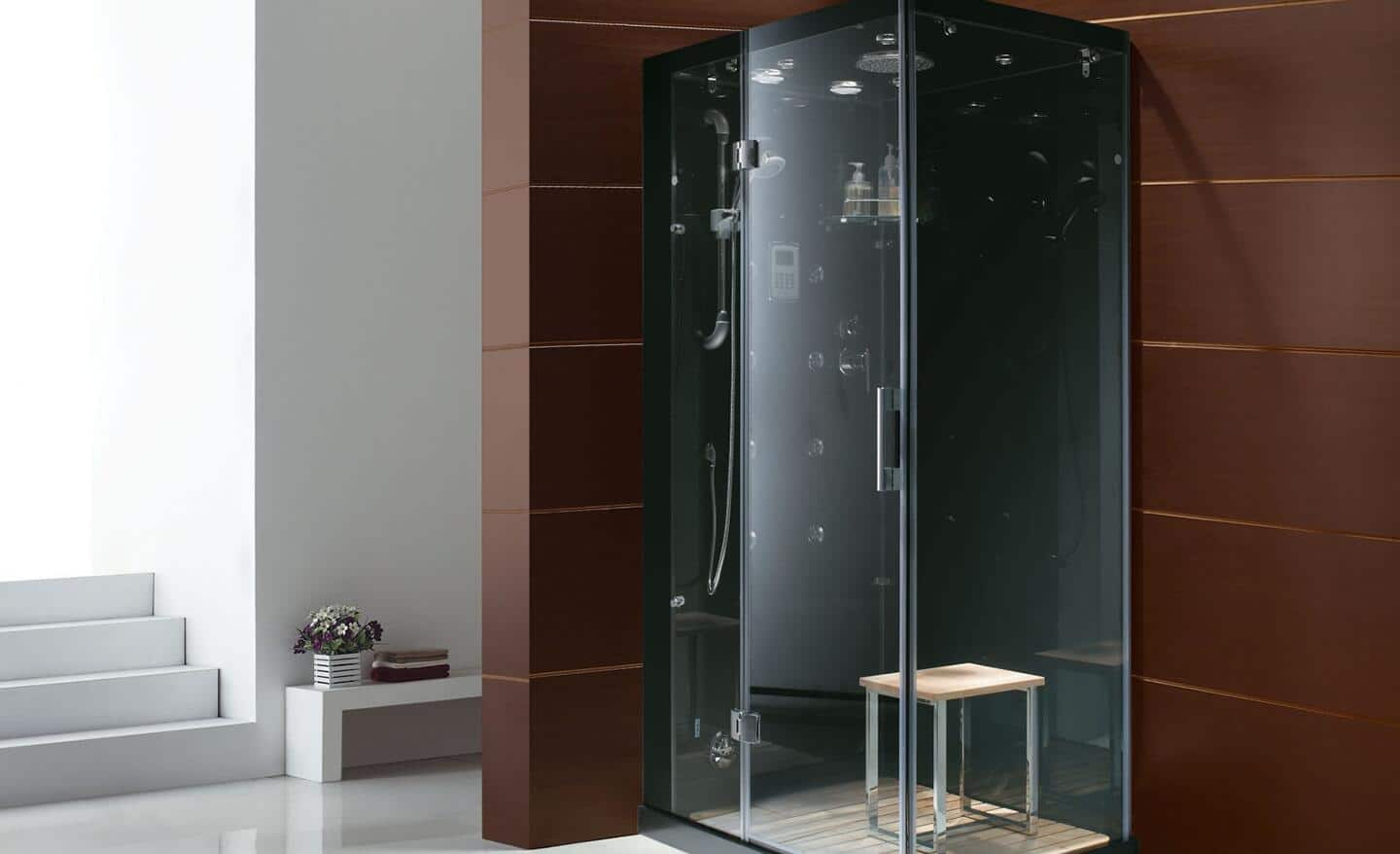 Steam shower doors have tightly sealed doors that are designed hold steam in.
Luxurious, sauna experience
Come in various shower door styles
Often made with thicker glass than other shower doors
Standard Sizes & Measuring Tips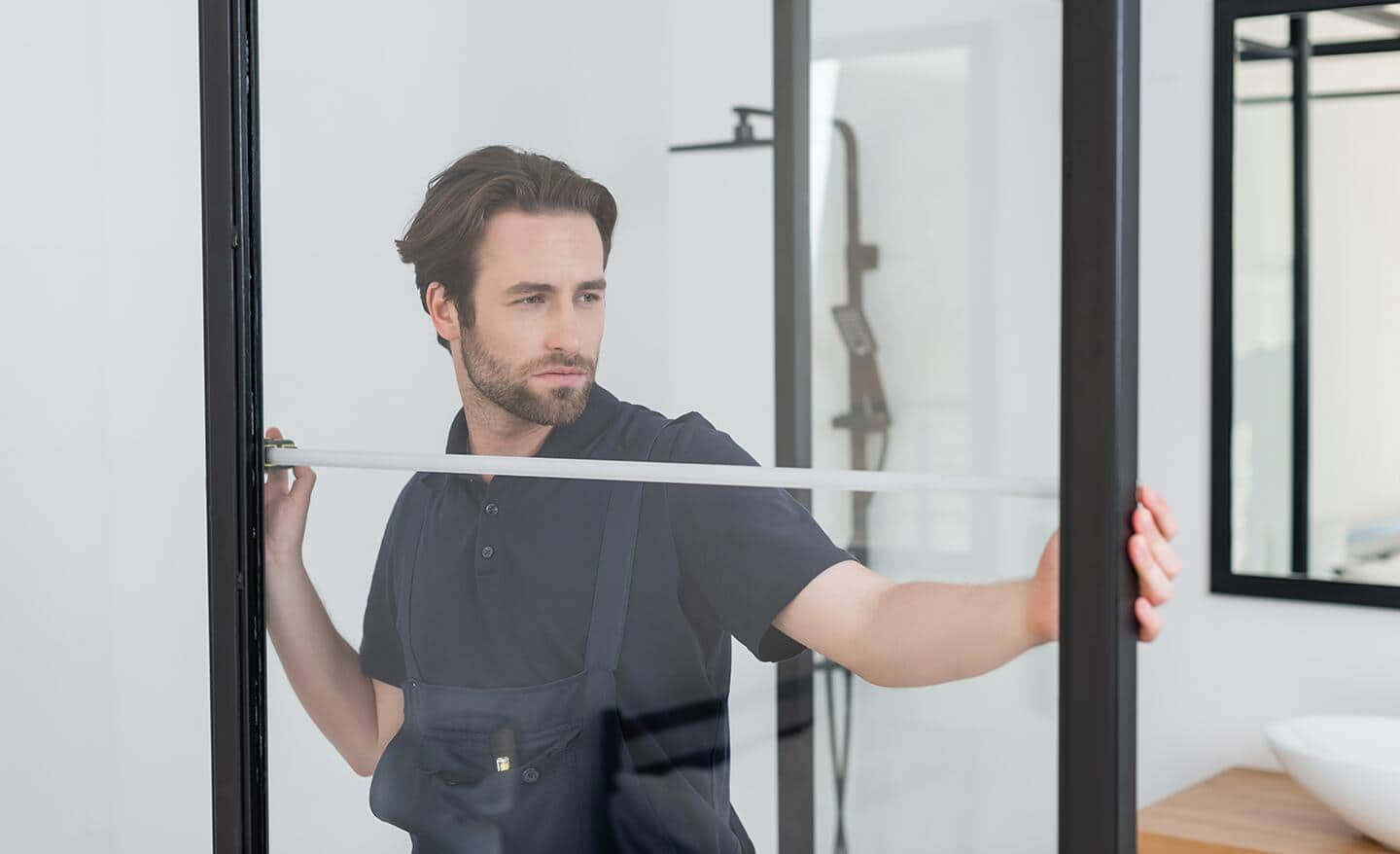 The standard shower door sizes range from 22-inches to 36-inches wide. Single panel doors are rarely wider than 36-inches. For openings larger than 36 inches, add an additional door panel or one made for wide openings.
To determine which shower door sizes you'll need, here's how to measure for a shower door:
Measure the opening width. Determine the distance from wall to wall at the top and bottom of the opening. The measurements should be to the nearest 1/16-inch. If these measurements differ, select a door using the larger width for a bypass door or the smaller width for a pivot door.
Measure the opening height. Determine the distance from the top of the tub edge or shower base to the top of the wall unit or tile wall where you want the door to be located. Measure vertically at both sides. The measurement should be to the nearest 1/16-inch. Select a door with a height less than or equal to the smallest of these measurements.
If installing a pivot door, extend a tape measure to the width of the door. Hold one end of the tape where the door hinge will be. Pivot the other end to see the clearance you'll need.
Tip: Some shower doors can be adjusted slightly to fit or accommodate walls that aren't perfectly square.
Framed Vs. Frameless Shower Doors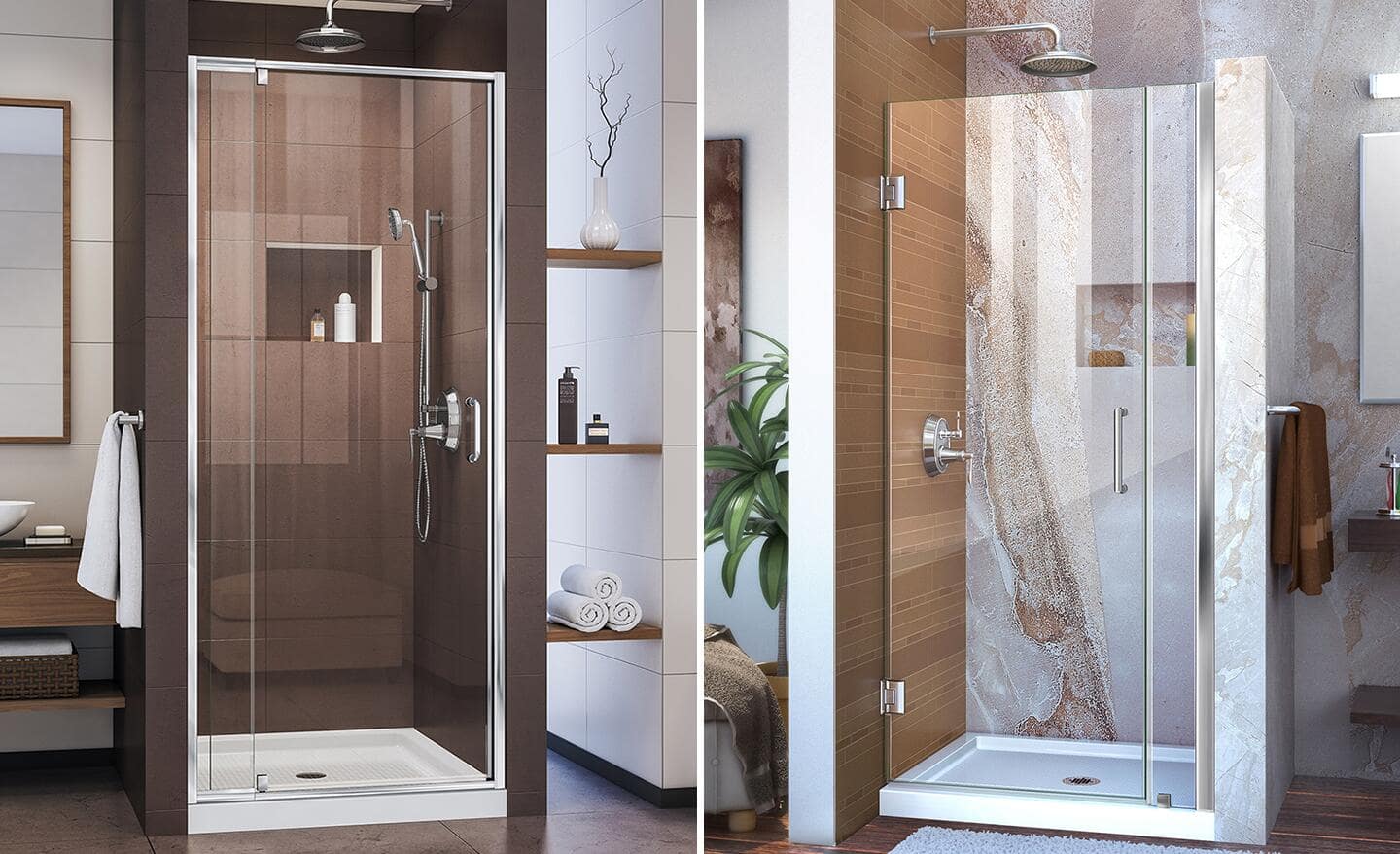 All types of glass shower doors are either frameless or framed. Here's what to consider when deciding on frameless vs. framed shower doors:
Frameless shower doors are designed with through-the-glass mounted hardware and very thick clear glass.
Easier to clean than framed doors
Create a feeling of spaciousness
Installation best left to pros
Materials can require higher investment
[Framed shower doors] have aluminum, stainless steel or other material framing its glass panel.
Come in a variety of shower door sizes and shower door types
Have several finishes to choose from
Budget-friendly, durable and easy to install
May require higher maintenance
Types of Shower Door Glass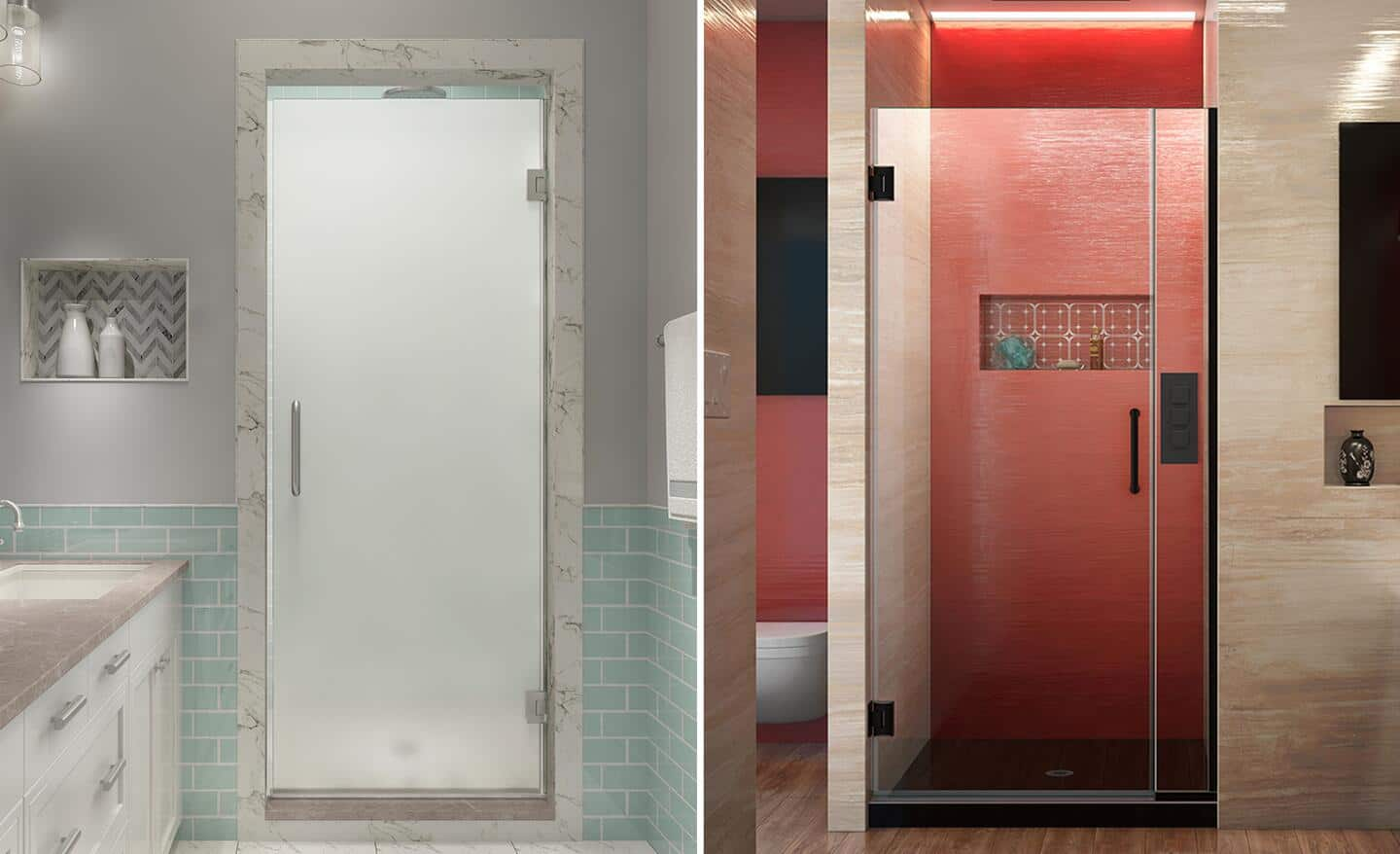 The best type of glass door for your shower depends on your privacy, natural light, maintenance and durability needs. Glass thickness makes a difference too. A thicker, heavier makes for an easier slide and more luxe look, especially with a framed door. Frameless doors require glass that's at least 3/8- to 1/2-inch thick. Glass shower doors can be clear, frosted, textured or patterned types.
Clear shower doors make a bathroom feel larger and brighter.
Frosted glass shower doors provide both privacy and natural light.
Textured glass has a variety of stylish patterns and designs.
Tempered glass is a stronger, safer option. If shattered, it breaks into round pieces instead of sharp shards.
Tinted glass offers great privacy, and a dark tint can make an oversized space feel cozier.
Rain glass has a texture that looks like raindrops for a unique, modern look.
Patterned glass adds character and flair.
Tip: Textured and patterned glass may require more maintenance than other types.
The best shower door for your bath adds both style and function. Sliding, hinge and pivot ar the three types of shower doors that are the most popular. However, there are over 12 types of shower door styles to choose from. Select from clear to patterned glass and create a unique look for your bath. Ready to get the best shower door for your home? Use The Home Depot Mobile App to locate products and check inventory. We'll take you to the exact aisle and bay. Or if you prefer to have it done for you, get expert design consultation for your showers and more from our professional shower door installation services.