Utility trailers are great for hauling large items that won't fit in most other vehicles. Whether you need it for towing landscaping equipment, motorcycles or ATVs, trailers can handle the load for business needs or recreation. This buying guide highlights the different types of trailers, along with operational and safety tips. 
If you're planning to use a trailer for a one-time project, consider truck rental. Rent tools and trucks for any project at The Home Depot.
Utility Trailer Types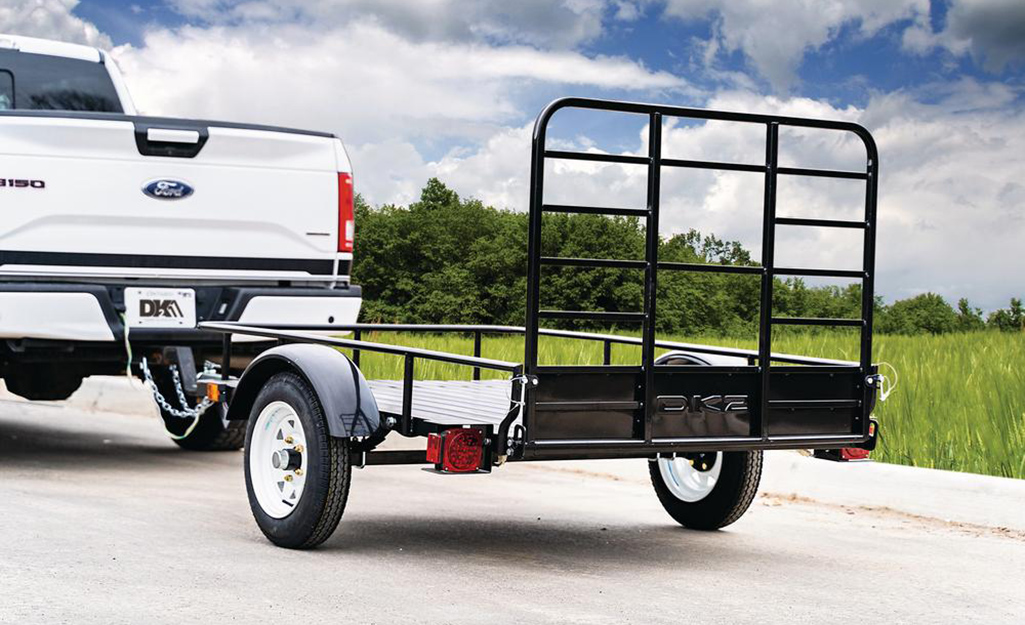 When it comes to large pieces of equipment, many people have some basic questions: What is a utility trailer and why would I need to use one? The answer is that there are a few different types of trailers designed for everything from moving building materials to landscaping tools and heavy equipment.
There are two main types of utility trailers: enclosed and open-air. Both share characteristics such as a sturdy, welded all-steel frame, the ability to withstand an extra load carry capacity and 12-volt exterior lighting. Different types of trailers for trucks also exist, giving you more towing power than you'd have with even the most capable pickups. 
Below, you'll find some of the most common types of trailers you can use to tackle an assortment of tasks and jobs. Be aware, these are will differ from commercial semi trailer types.
Enclosed Trailers:
Enclosed trailers have a secure, watertight and durable cargo box design.
They come with a prefinished aluminum exterior skin, Amscot-coated fasteners and premium multi-step paint process on all exposed frame components.
Many models include a painted plywood floor.
These trailers are designed to endure harsh weather and offer maximum protection. For that reason, they are usually more expensive.
Open-Air Trailers:
Open-air trailers feature durable and premium paint on all metal surfaces.
Most types of trailers for open-air use have a heavy-duty mesh ramp door.
Many come standard with a 2 x 8-inch plank floor and steel tie-down areas.
These trailers are more affordable, but they offer very little protection from the weather and natural elements.
Flatbed Trailers:
Flatbed trailersare versatile open-air trailers that can be used in multiple applications.
They feature a flat deck for easy loading and welded steel construction for enhanced durability.
Different types of flatbed trailers are available in multiple sizes and widths to suit a variety of tasks.
Landscape Trailers:
Landscape trailer designs are open-air trailers that are specifically designed to carry landscaping materials. These are the right types of trailers for items like shovels, lawnmowers and sod, for example.
These usually feature tailgates that can double as ramps for easy loading of equipment onto the trailer.
Tool racks and cabinets are also usually built into the frame. These can turn basic styles into the best types of trailers for hauling small items like hand tools, along with larger equipment.
Trailer Accessories
Trailer accessories are designed to make hauling easier. Others are used to help make your trailer more efficient. They give you a place to store essentials like a spare utility tire. Here are some of the top trailer accessories available today:
Electric trailer jacks raise, lower or level your trailer quickly and easily. These electric hydraulic jacks are made to be weather-resistant. Many models are fitted with night lights and can be used via hand crank if necessary. Look for models that can jack 3,5000 pounds or more for heavy-duty trailers.
Spare tire carriers make it so a flat tire won't slow you down. These carriers quickly mount to your trailer, giving you easy access to a replacement tire when you need it.
Storage racks are essential for many utility trailers. Keep tools handy and safe with specialty options. Popular styles include trimmer, blower and cooler racks that help keep you organized. Lockable styles are available for extra protection.
Gates and lift ramps are designed to help you lift heavy items onto your trailer and secure them in place. They are a popular accessory for many working trailers. Look for models that provide up to six feet of height clearance. This will help conceal valuable tools and materials.
Trailer tongue boxes and battery cases ensure you have all the hand tools and rechargeable batteries readily available. There are many specialty toolboxes and battery cases for your trailer. They are designed to be weather-resistant. Mountable and lockable styles provide protection from damage and theft.
Utility Trailer Operational Tips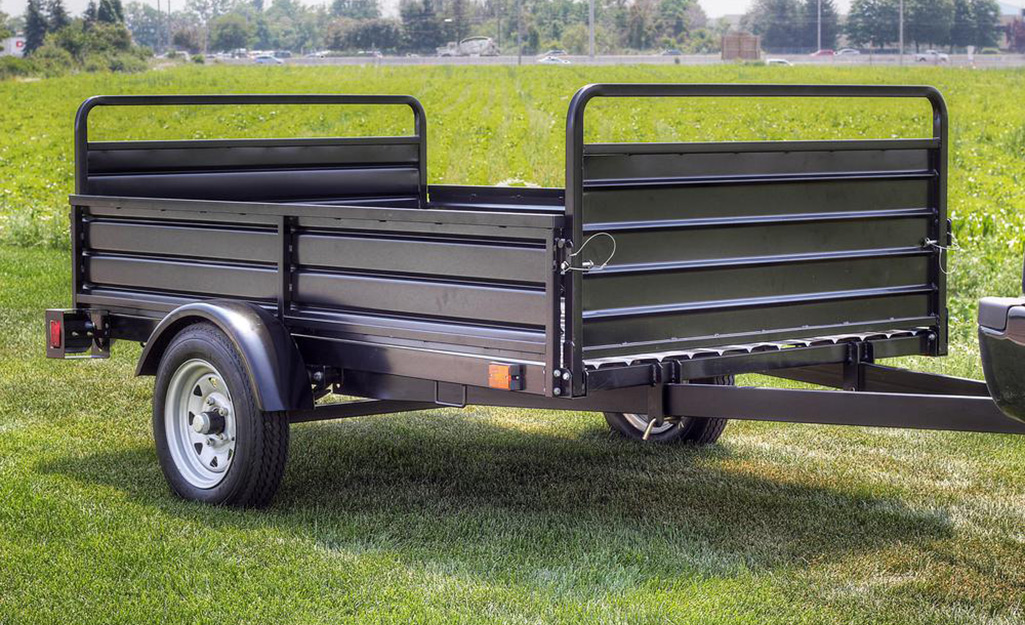 Most states require proper registration when using utility trailers, so consult your local Department of Motor Vehicles before hooking up your trailer.
To obtain proper registration, you'll need to present a Worksport Certificate of Origin and sales receipt.
Make sure you have the right type of towing package and trailer hitch on your vehicle, as well as the proper electrical wiring to illuminate the lights.
Always carry an extra wheel on your trailer in case a tire blows out.
Always carry the proper safety equipment, including flares and safety cones, in case of a breakdown.
Not everybody needs to purchase a trailer for personal or business use. Consider our tool and truck rental options for trailers, towing equipment and more. Need help identifying a piece of towing equipment? Find products fast with image search in The Home Depot Mobile App. Snap a picture of an item and we'll show you similar products.
Explore More on homedepot.com