Being organized gets rid of clutter and makes the most of your closet space. Closet organization helps you streamline your morning routine. A closet system can also help you store items like bedding with ease. Making your own closet organizer can be a budget-friendly alternative to a pre-assembled unit. Use this guide to learn more about building a DIY closet organizer to your exact needs and specifications. 
1
Measure the Closet Space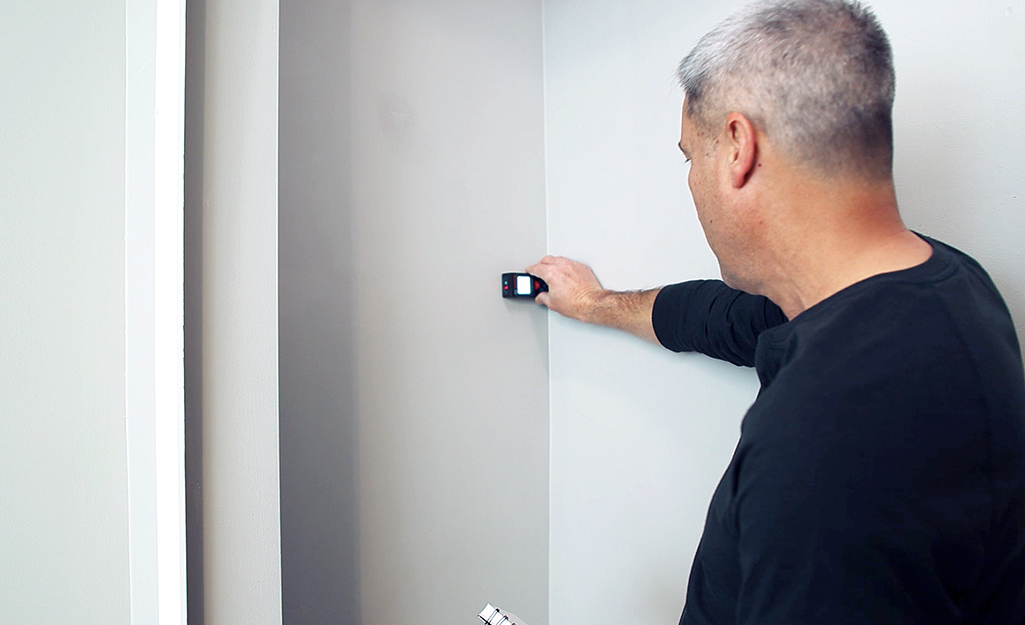 Crafting your own DIY closet organizer is simple. You just need enough time and a little know-how. Start by measuring accurately. Accurate measurements are the secret to making any size closet more functional. 
You will install your finished DIY closet system on shelf supports. 
Measure the back wall and two side walls of your closet space.
Use these measurements to determine the length of the shelf supports.
Tip: Deduct 1 1/2 inches from the length of the back wall shelf support measurement to account for the 3/4-inch thickness of each side wall support.
2
Measure Pieces for Closet Organizer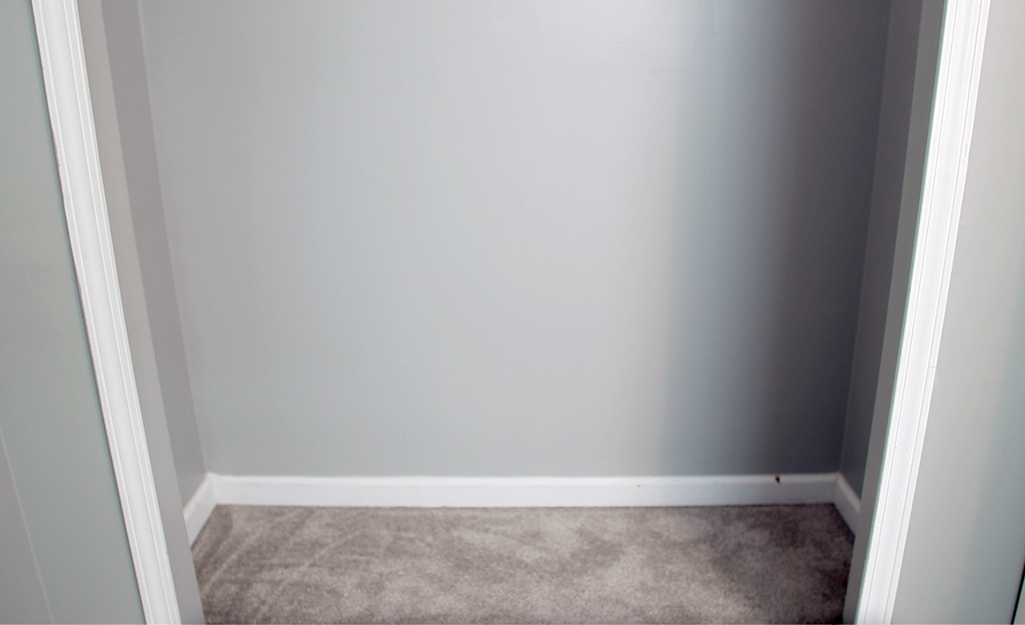 You'll use 3/4-inch plywood to make this closet organizer. Measure out:
Six 1-inch x 3-inch boards. The lengths will be based on the back and side wall measurements in Step 1.
Two 11 7/8-inch wide long closet shelves. Use the length that fits the width of your closet in Step 1.
Six 11 7 /8-inch square shelves for the central unit.
Two 11 7 /8-inch side pieces for the central shelf unit.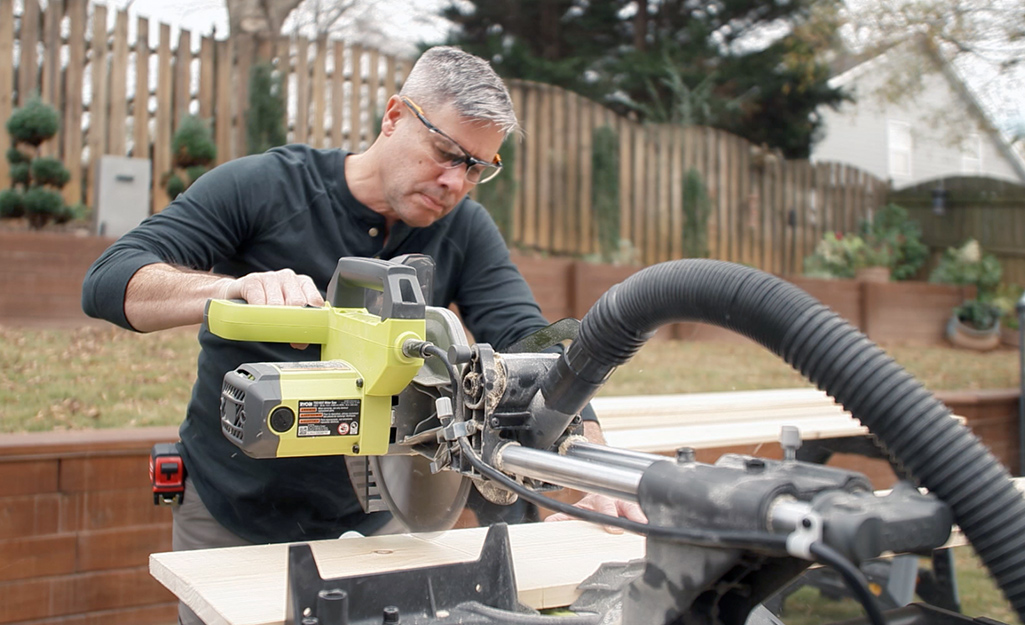 Cut the six 1-inch x 3-inch shelf supports you measured out in Step 2. Cut these pieces for the top and bottom of the closet walls.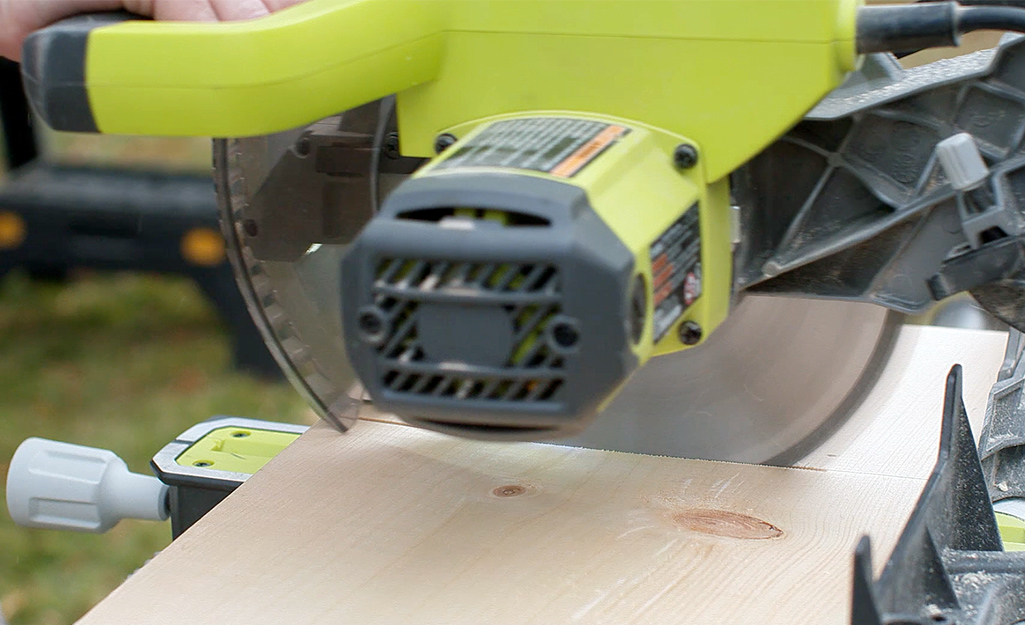 Use a circular saw to cut the following pieces you measured out in Step 2. 
Six 11 7/ 8-inch square shelves for the central unit.
Six 1-inch x 3-inch boards with lengths based on the back and side wall measurements in Step 1.
Two 11 7 /8-inch wide closet shelves with lengths based on the closet width measurement in Step 1.
5
Attach Shelf Support to Wall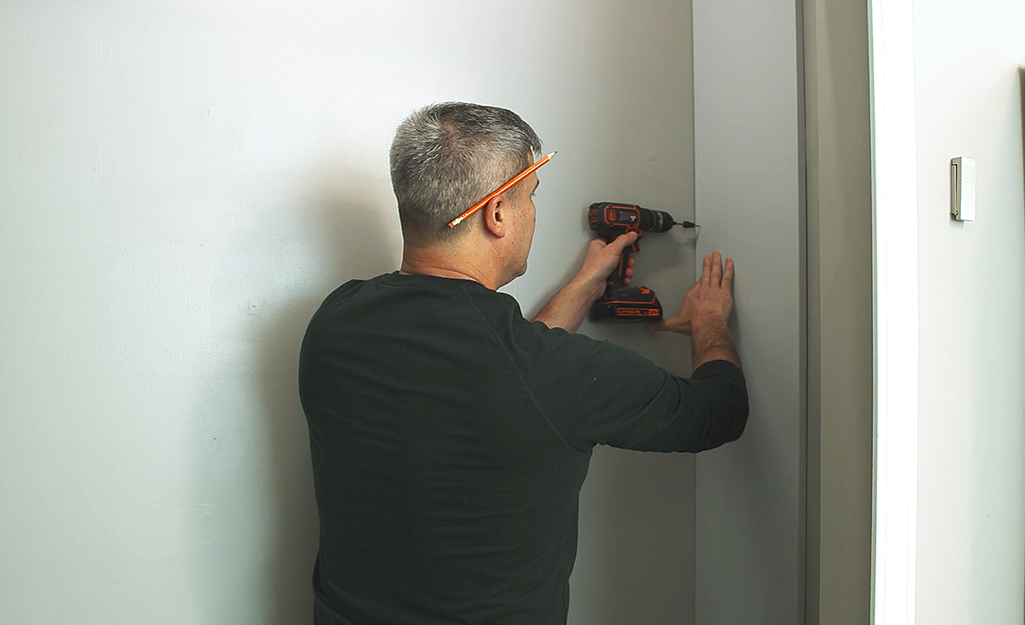 Your shelf support pieces will bear most of the weight of the central shelf unit. It's important to attach them to the studs. Use a stud finder to find the studs in the back wall and the two side walls of your closet space.
Attach the supports for the top shelf to the walls with their top edges 84 inches above the floor using wood screws.
Attach the supports for the bottom shelf to the wall with their top edges 76 inches above the floor using wood screws.
6
Assemble the Central Unit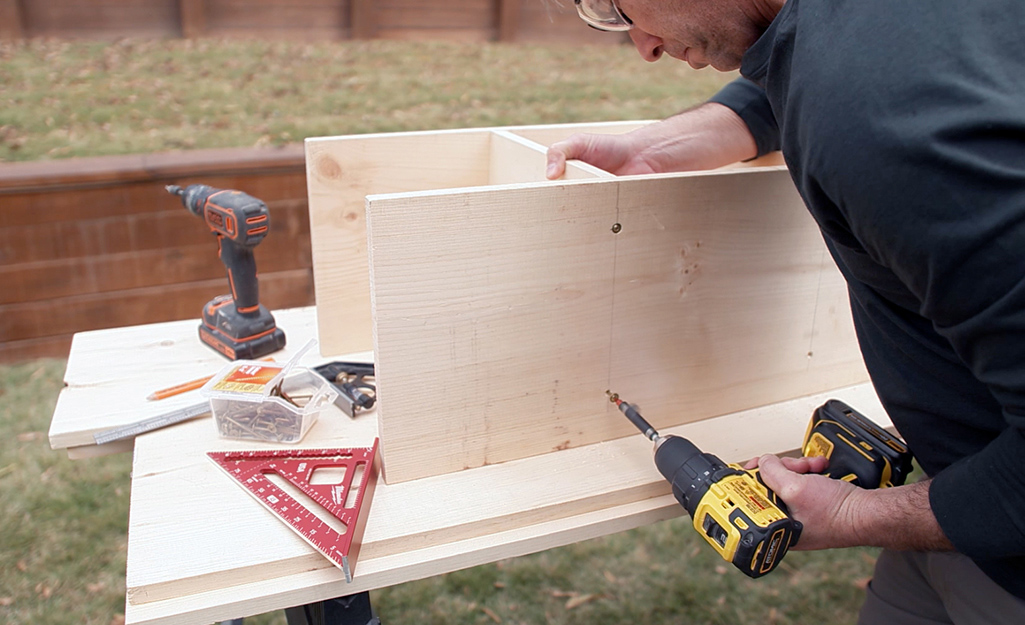 Use wood screws or finishing nails to put the center of the organizer together.
Space the shelves evenly. Or choose spacing based on the height of the items you plan to store.
Leave the top and bottom of the unit open.
7
Position the Central Unit in the Closet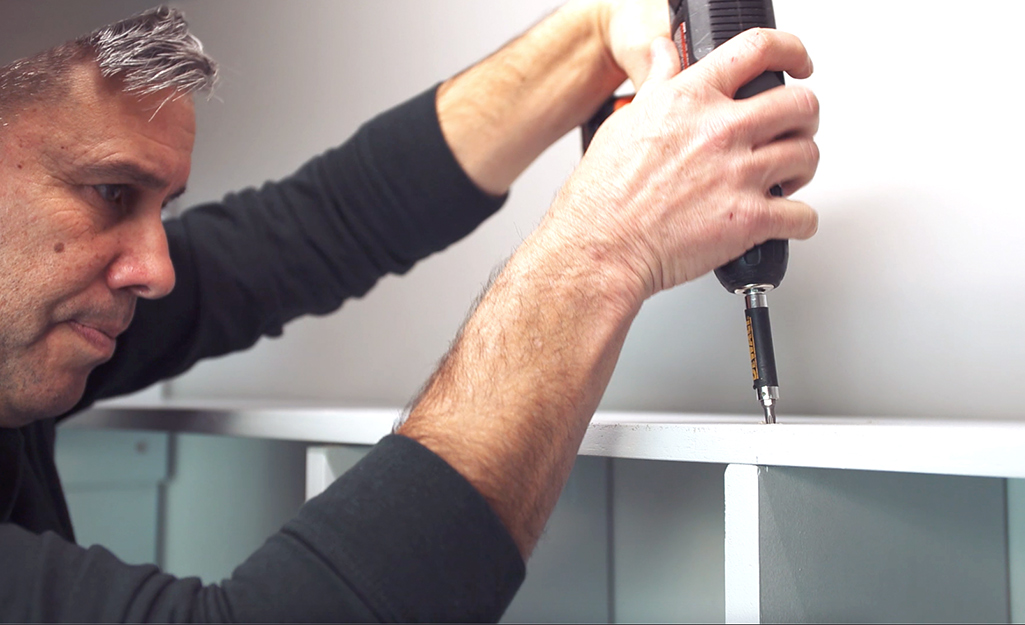 Position the central shelf unit to be the middle of the DIY closet system.
Cut excess wood out with a hand saw so the unit fits into the support board. Take your time here and avoid removing too much wood.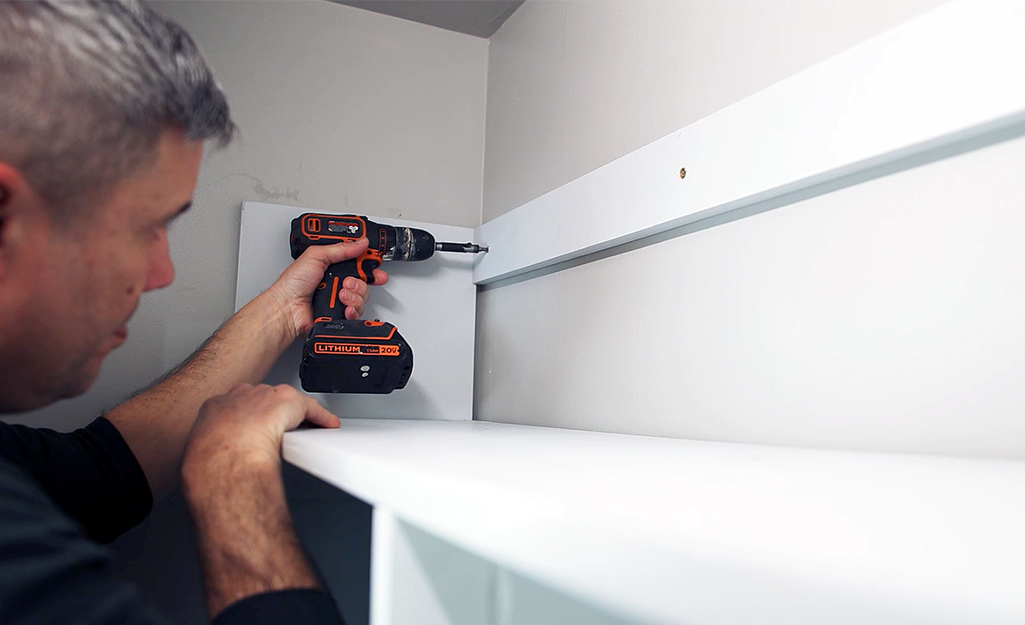 Lay one of the long shelves on the lower shelf supports. It will be on top of the central shelf unit.
Attach each long shelf with wood screws or 6d finishing nails.
Tip: Add metal shelving brackets in the corners of the long shelves for extra support.
9
Alternatives to Screw-In Closet Shelving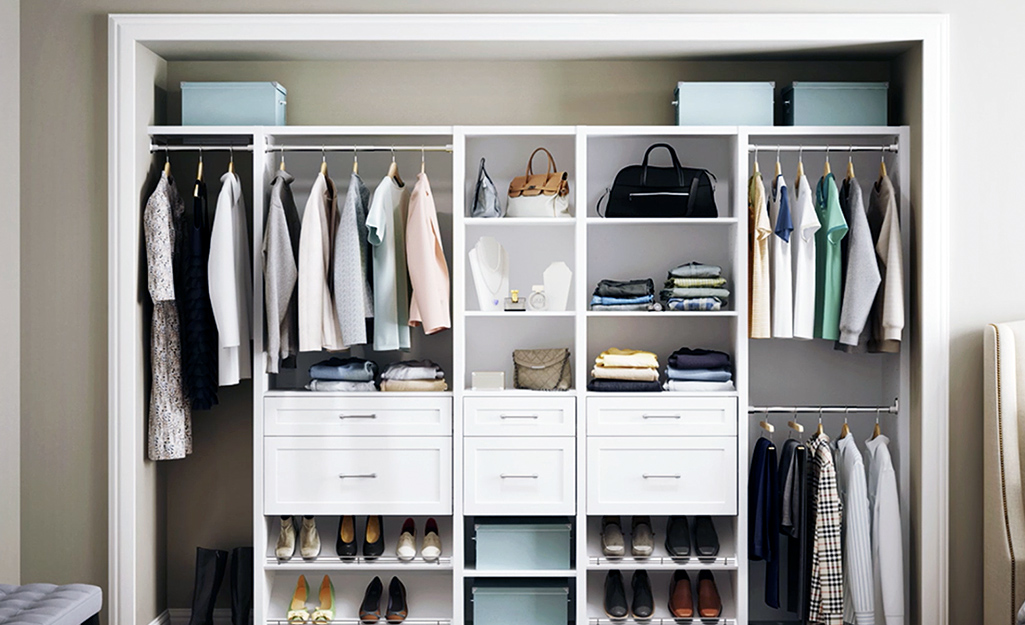 Freestanding closet shelving comes in a wide range of designs and styles. Simply measure your available space and look for a unit that will fit. Choose from basic wire storage systems to high-end wood organizers perfect for upscale master bedrooms. Ready-made and ready-to-assemble closet organizers are also available. 
Freestanding wire organizers come with one or more shelves.
Freestanding organizers in wood looks come with shelves. They can also have a combination of shelves and drawers.
Freestanding plastic closet systems may have a hanging rod and shelves and storage baskets.
Wire storage organizers can have drawers and baskets. Some are freestanding. Others hang over a door.
Tip: Large organizers may need to be assembled. Make sure they are anchored to a wall for safety and stability. Read the instructions that come with your unit for details.
Having a DIY closet organizer will make you wonder how you ever got by without a beautifully functioning closet. Building a closet organizer doesn't have to be difficult. Just take it step by step. Keep in mind that your organizer isn't just for bedroom closets. A properly built organizer can work wonders in a coat closet or pantry. It's also great option for uniquely-shaped closets where readymade organizers won't fit. 
You can also choose closet systems that are ready to install. It's a smart choice for those who'd rather not take on a DIY project. Readymade organizers come in range of different looks to match your decor. Organize your closet and optimize space with a wood closet system. These customizable closet systems are designed to fit your needs. They're durable and have the look of built-in luxury. Budget-friendly wire closet systems are easy to install. They also include all the necessary hardware for installation.
Ready to get tools for building a closet organizer at your local store? Shop over one million products and search by voice or image on The Home Depot Mobile app.