Small closet organization can seem difficult, but with a few tips and tricks, you can maximize even the smallest storage space. Learn how to organize a small closet efficiently with an assortment of organizers, racks, shelving and some DIY small closet ideas. This guide will offer small closet organization ideas so you can make the space work for your needs.  
Add a Closet Organizer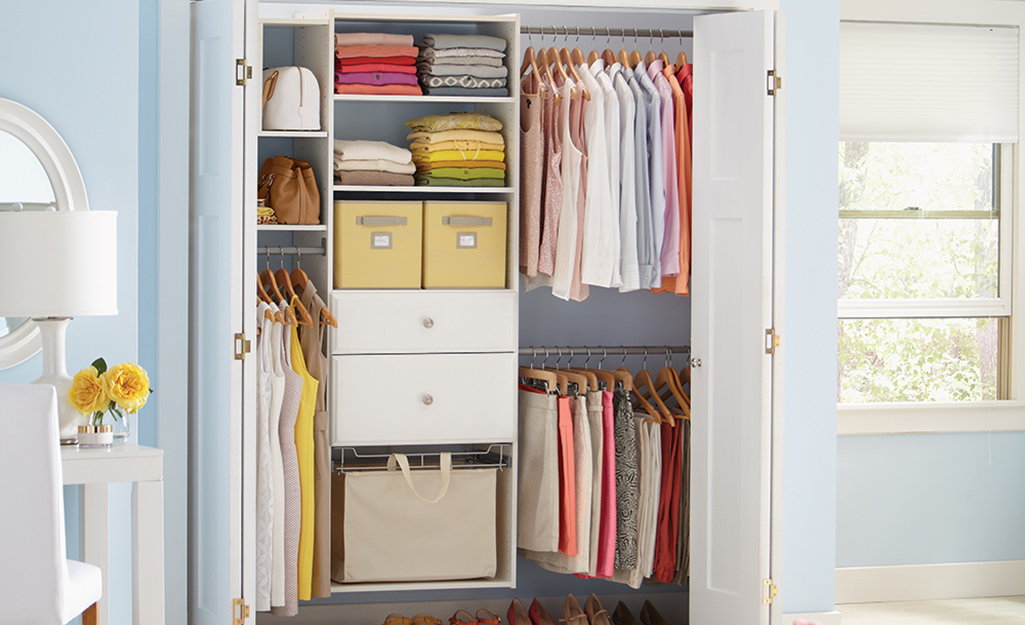 A small closet can make organizing your clothes, shoes and accessories more difficult. A closet organizer can help ensure you're making the best use of all the space. Organizers come in a variety of styles and typically feature hanging storage, shelves, drawers and dividers. They're also available in multiple materials like wood, wire and plastic to fit your unique design preferences. Here are a few popular options:
Whole closet systems: Large and in charge, these systems help keep your wardrobe neat and tidy. A variety of sizes are available, and many are created specifically for small closet solutions. 
Modular organizers: Offering shelving, drawers and hanging bars, modular options can be used for small closet organization or fitted together for a large closet. They can also be used alongside other closet organizers. Wire organizers are also a great addition if you need easy-to-install shelving or space for shoe boxes and accessories. 
Shoe storage: Hanging shoe organizers get your shoes off the floor and make it easy to find the right pair. Vertical shoe storage also helps maximize the flow of your closet. 
Look for hanging organizers that fit right into your existing configuration. You can find a variety of styles with hanging bars, shoe storage and shelving that will fit your closet perfectly.  
Update the Shelves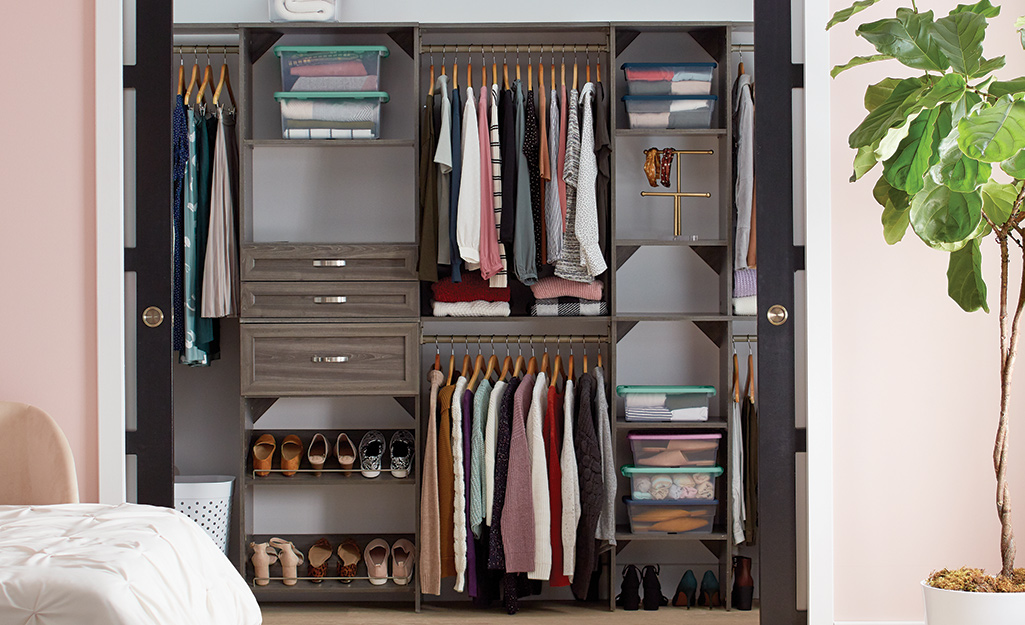 Small walk-in closets require extra creativity, especially if you have a large wardrobe. Wall shelves can help you make the most of the space. Here are a few small closet storage ideas that incorporate shelving:
Install shelving above your hanging storage and make sure to use all the vertical space available.  
Wire closet shelves are an inexpensive option, but they can make storing high-heeled shoes and other small accessories difficult. Wood closet shelves are more expensive, but they provide a flat surface for storing all kinds of items and have a custom look. 
For folded t-shirts, sweaters and accessories, use shelf dividers to keep items separated and neat. 
Accessories like ties or bigger items like purses and bags can go in storage bins or be arranged neatly in a row. 
Shoe shelves will keep your favorite footwear items handy so you can get dressed in a hurry. Look for single shelves or two and three-tier racks to keep your shoes off the ground and make the most of your space. 
Double your shelf space with undershelf baskets. 
Install More Hanging Storage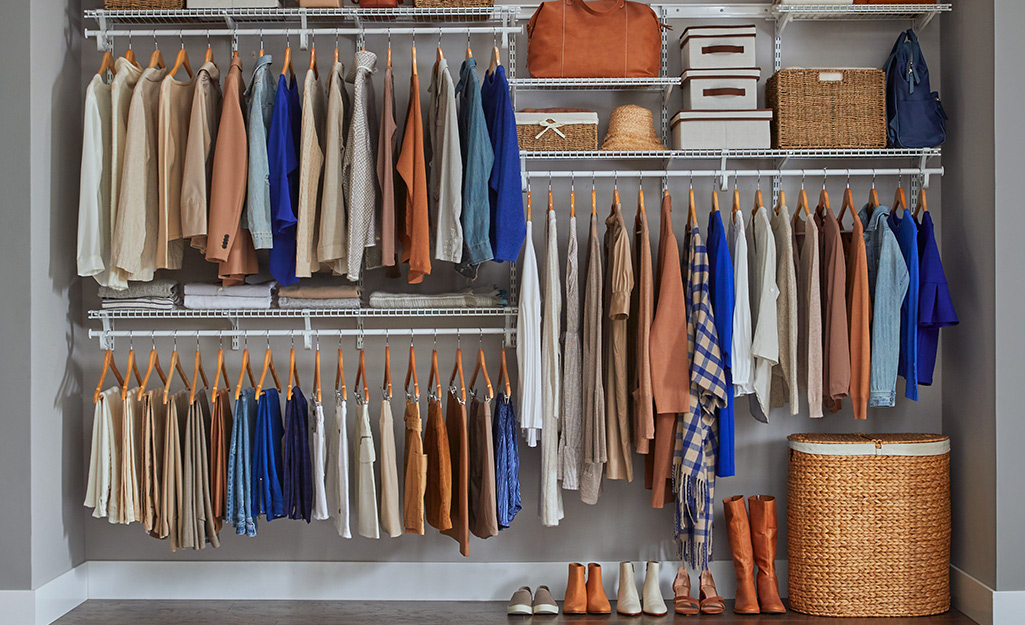 One of the best ways to organize a small closet is to make use of as much vertical space as possible. Hanging storage keeps your clothes organized, easy to find and unwrinkled, while also giving you the room to install shelves above, drawers below and make use of floor space.
Organize your hanging clothes by length. Dresses need 60 inches of vertical hanging space. Suits need 42 inches. Shirts, skirts and pants that are folded over once need 36 inches. 
Install hooks on any free wall space or on the back of the closet door for hanging jewelry, ties, scarves or other accessories. 
A hanging closet organizer is a great way to store folded clothes without adding more shelves. 
Install two tiers of hanging rods so you can hang shirts on the top rod and pants and skirts on the bottom rod. 
Use the floor space below your hanging clothes. Put out-of-season clothes in bins or line up your shoes on the floor. 
Tension rods are a quick and temporary fix when you need more hanging rods. 
Tip: Fit a dresser underneath your hanging storage so you have plenty of drawer space. 
Add Over the Door Storage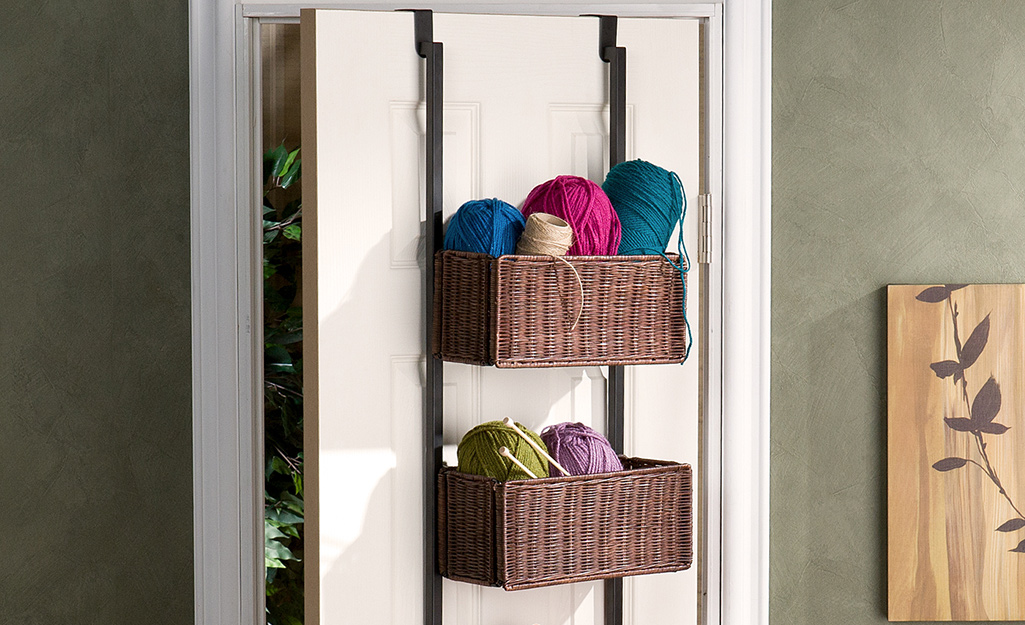 Over the door storage organizers are ideal for extra shoes, accessories and miscellaneous items that won't fit anywhere else.
Over the door shoe organizer bags are great not just for storing shoes, but also for storing rolled socks, t-shirts, gloves, hats and more. 
Use over the door hooks for hanging jackets or planning tomorrow's outfit. 
Hang a pantry organizer on the back of your closet door for storing small accessories. 
Use Rolling Clothes Racks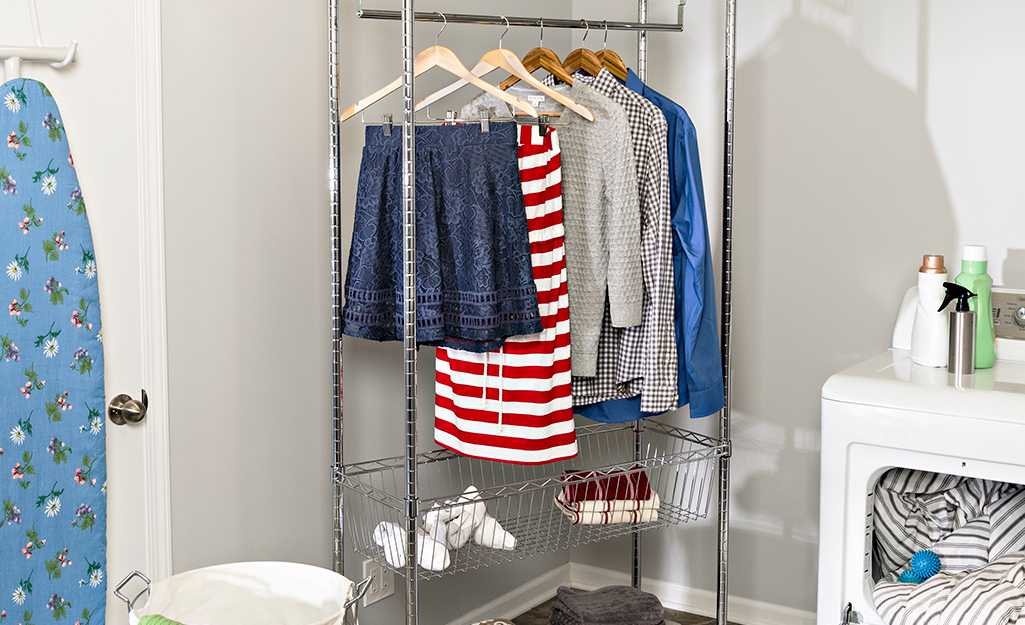 Rolling clothes racks create more space to hang pieces for work and weekend wear.
Store clothes you wear often, such as jackets, on the rack. 
If you have the space, roll the rack into your closet to tuck it away when it's not needed. 
A rolling clothes rack allows you to move it out of the way as needed, but you can also consider a stationary clothes rack. Either way, a clothes rack will expand your closet space. 
Purge Your Closet
Sometimes the only way to organize a small closet is to remove items and make more space.
Assess the items in your closet from time to time and donate clothes you don't wear anymore. 
Keep only in-season clothes in your closet. Remove out-of-season clothes and fold them into under bed storage containers so that your closet isn't cluttered. Alternatively, store out-of-season clothes in unused luggage. 
Use vacuum storage bags to make your wardrobe pieces compact and easy to put away. These storage bags keep clothes safe from dust, dirt and bugs. 
Store small purses in larger purses and bags to save shelf space. 
Display your favorite items instead of storing them away. Put your favorite accessories on shelves or hooks in your room rather than in your closet. 
DIY Small Closet Organization Ideas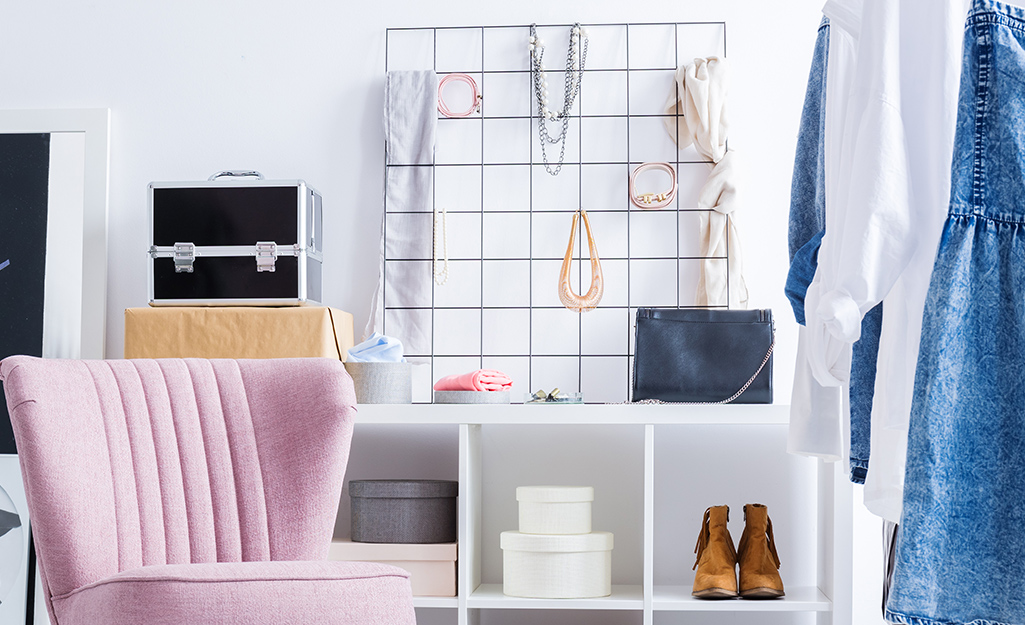 When standard shelves and organizers aren't enough, try some DIY small closet ideas. Here's how to organize a small closet using simple tools and supplies around your home:
Pop the tab off a soda can and thread it through a hanger to allow multiple garments to be hung on the same hanger. This will save a surprising amount of space on the hanging rod. 
Hang a plastic chain from an S-hook for a DIY hanger hack. You'll be able to hang things vertically instead of horizontally. Optionally, spray paint the chain so it blends in with the rest of your organizers and decor. 
Instead of buying an over the door organizer, install inexpensive towel racks to the back of the closet door to loop ties and scarves around.  
Use a square of sturdy wire mesh for hanging your most frequently used accessories and high heels.  
Fill up free wall space with a pegboard for hanging accessories. Move the pegs and hooks as needed to store all sorts of different items. 
Use these small closet organization ideas to make your closet feel spacious. A combination of closet organizers, shelves, hanging storage and DIY solutions will make sure every piece of your wardrobe is neat and easy to find.  
Ready to find the supplies you need to organize your closet? Find products fast using image search in The Home Depot Mobile App. Snap a photo of an item you like, and we'll show you similar products. 
Explore More on homedepot.com