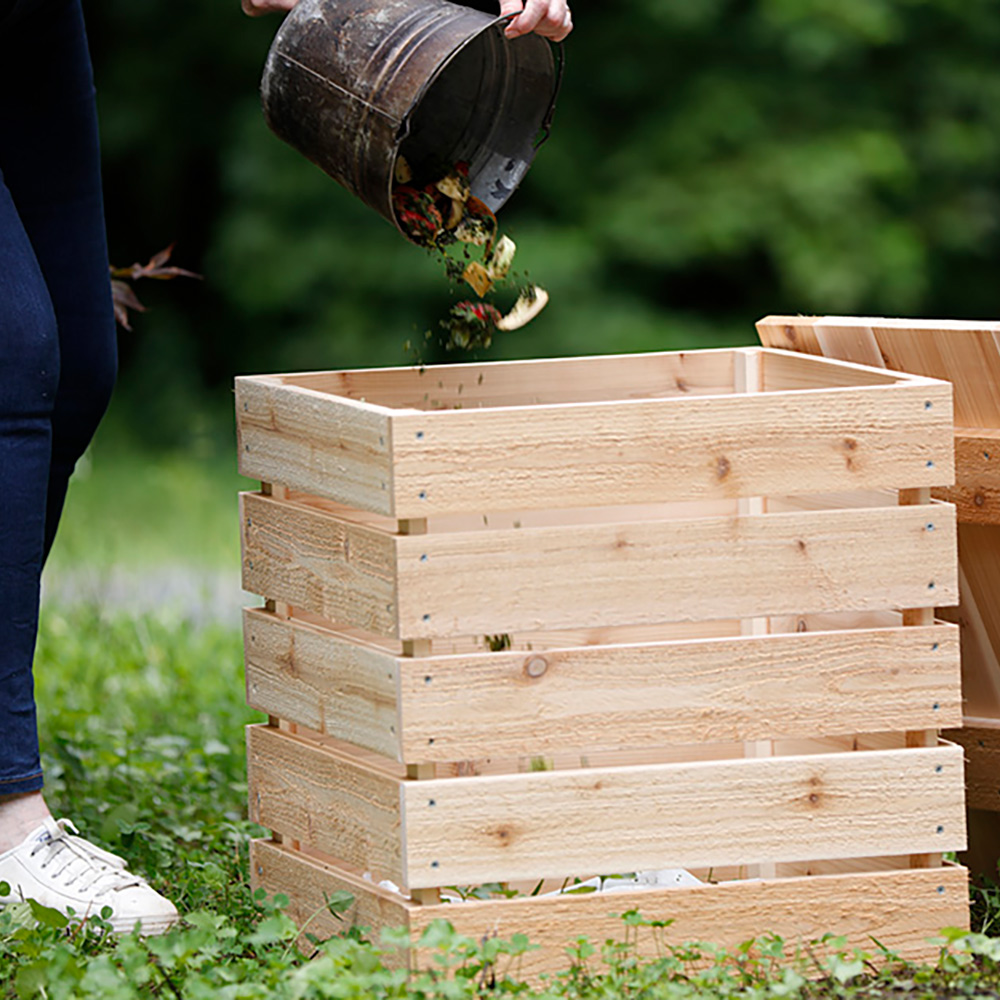 Whether your garden is large or small, compost can make all the difference. Making your own nutrient-rich compost is simple. You basically need a bin or container you can fill with a mix of vegetable scraps, shredded carboard and other organic waste. Store-bought compost bins are great options, but you can also make your own. Read on for directions on building a DIY wood compost bin from scratch, plus a few other simple compost bins you can make yourself.
1
How to Make a Wood Compost Bin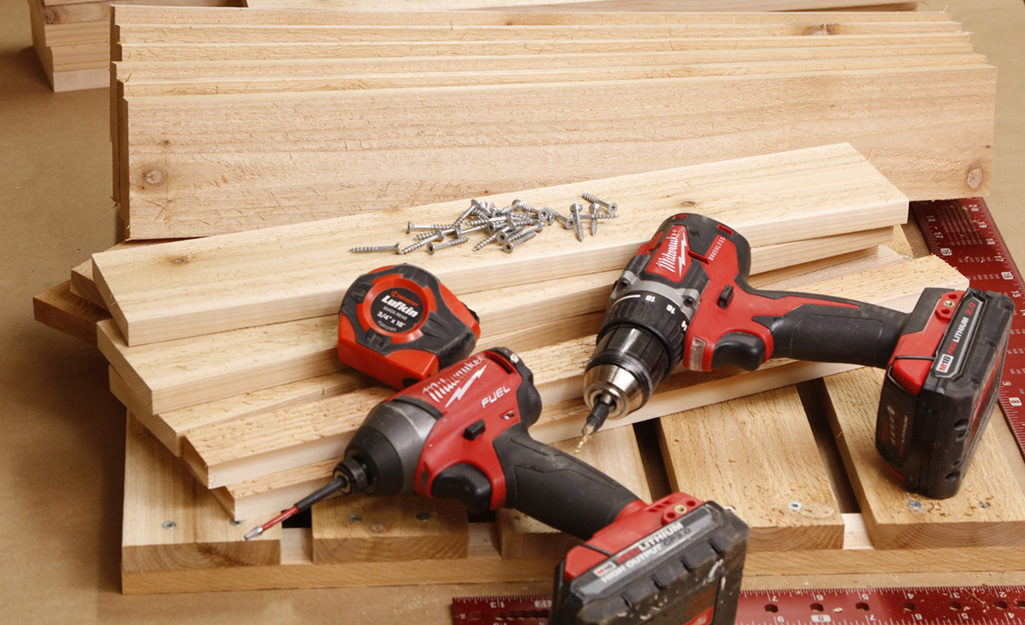 You can build a compost bin from wood boards using basic woodworking skills. You'll need a shovel, a clamp, a Phillips-head screwdriver, miter saw, power drill, exterior screws and a tape measure. 
Since your compost bin will be outdoors, use weather-resistant wood. The bin shown here was made of cedar. Cedar is a great wood for outside projects because it naturally resists rot and insects. Composite decking boards are also a good choice.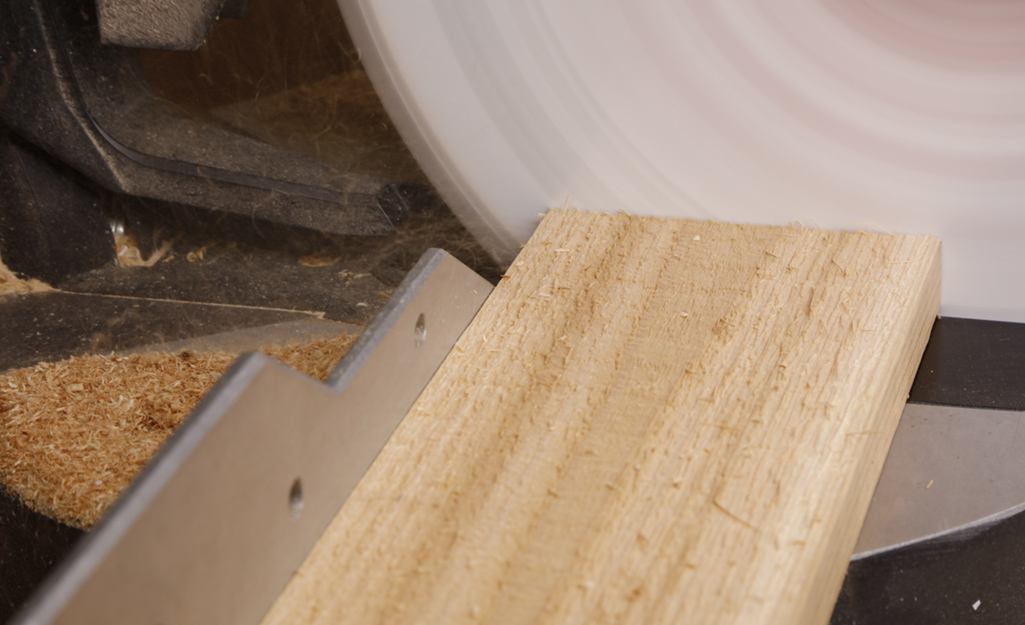 Using a miter or table saw, cut your wood boards into the following lengths:
Twenty 1- x 4- x 20-inch boards
Six 1- x 4- x 23-1/2-inch boards
Two 1- x 4- x 18-inch boards  
Four 2- x 2- x 20-1/2-inch boards
Tip: Always measure twice and cut once.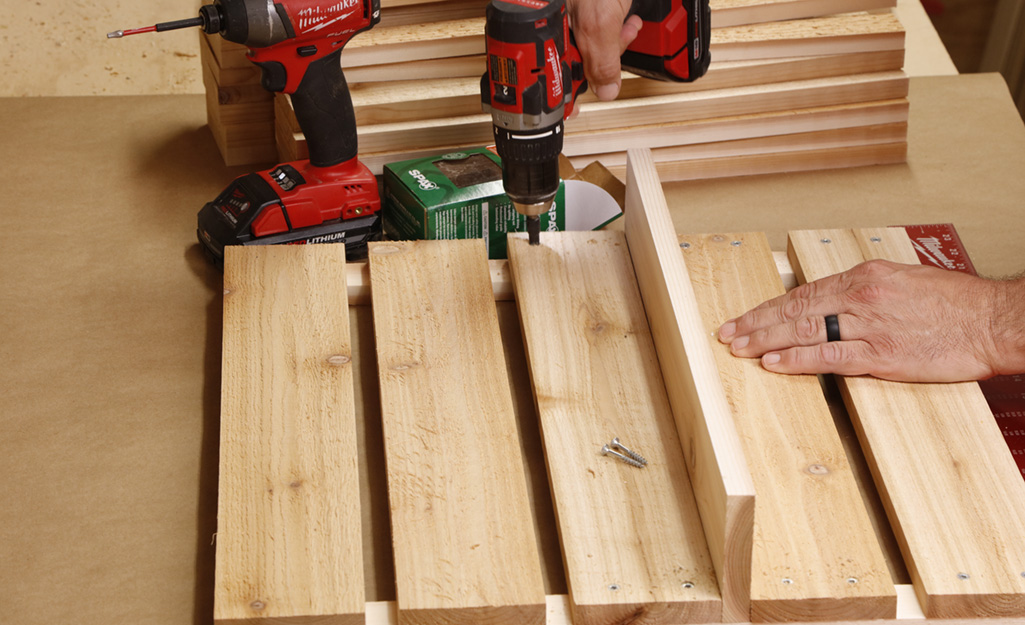 Lay two 2- x 2- x 20 1/2-inch pieces 17 inches apart from each other. 
Lay five 1- x 4- x 20-inch boards on top of them, spaced 3/4 inches apart. The 3/4-inch gaps allow the bin to get proper circulation. 
Drill pilot holes on each end of the 1  x 4's and into the two 2 x 2's. Secure the 1 x 4's to the 2 x 2's with ten 1-1/4-inch exterior screws. 
Repeat this step to create the opposite side of the bin.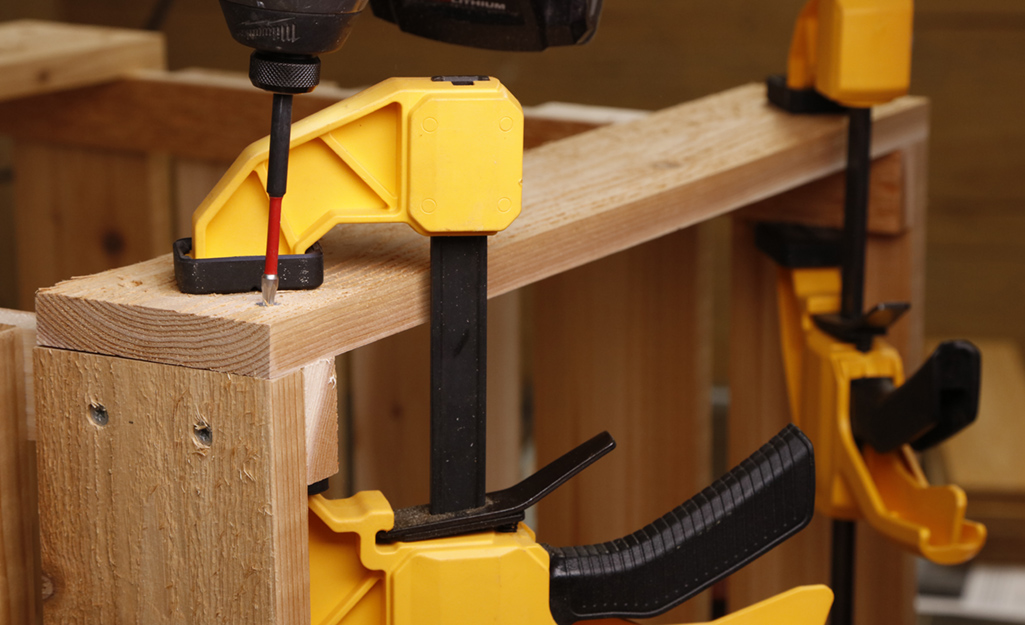 Place the two sides you built in an upright position spaced 17 inches apart with the cross boards facing outwardly. 
Place one 1- x 4- x 20-inch board flush with the top 1 x 4 side pieces. Clamp in place. Drill a pilot hole on each end of the 1- x 4- x 20-inch board. 
Secure it with screws to the 2- x 2-inch pieces. Remove the clamps and drill one more pilot hole on each end and secure it with screws. 
Secure four more 1- x 4- x 20-inch boards spaced 3/4 inches apart going down the side. This will give you a third side. 
Repeat on the other side to create a box.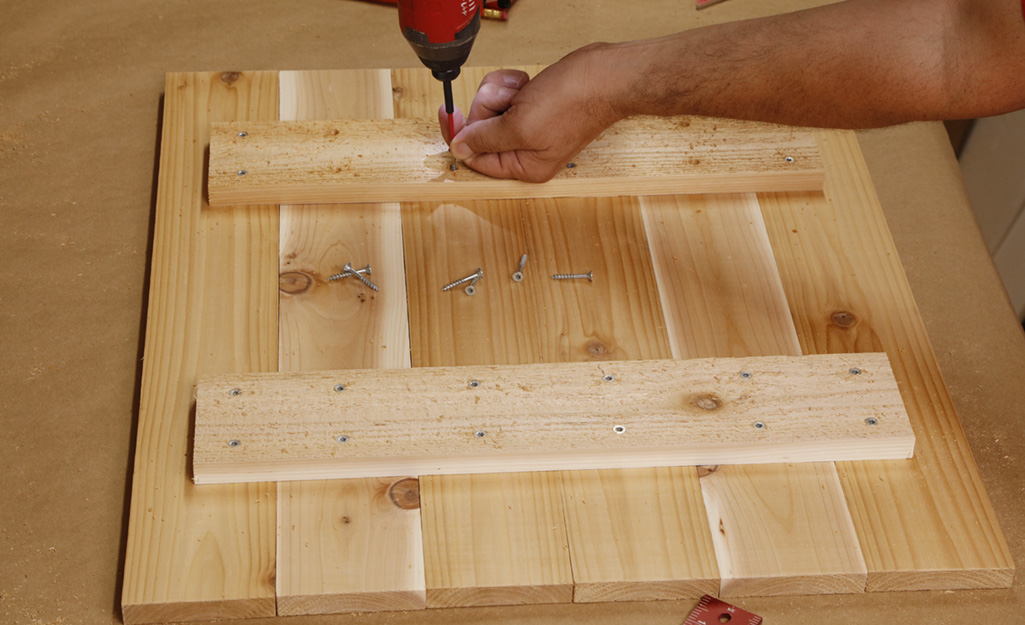 Lay six 1- x 4- x 23-1/2-inch pieces side-by-side with no gaps. 
Place two 1- x 4- x 18-inch boards across these boards, each 4 inches from the edge of opposite sides. 
Drill a pilot hole through the layer of boards. Secure them in place with screws.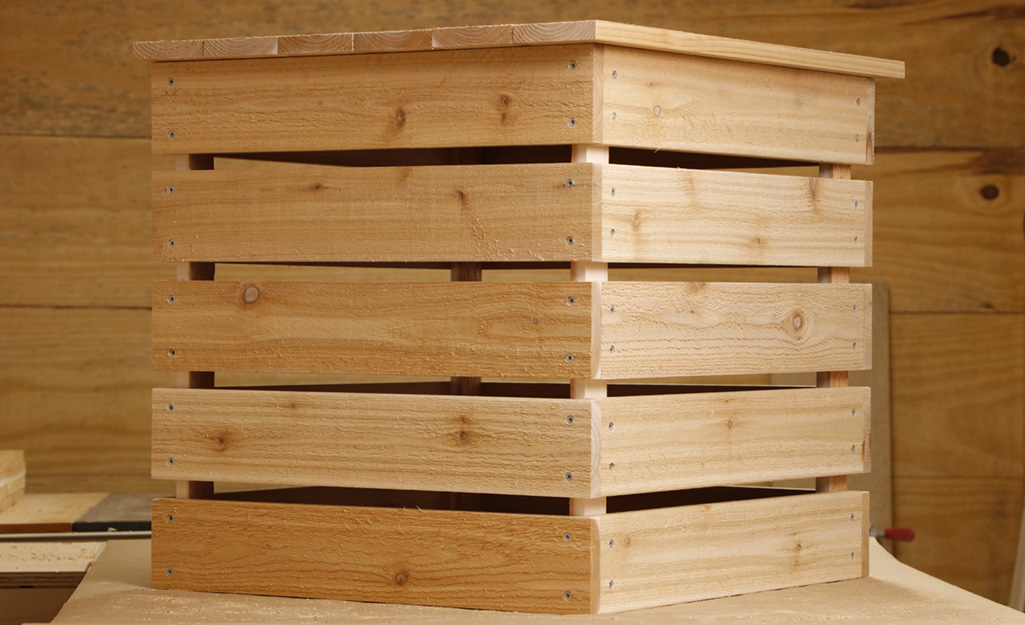 Place your finished bin in a convenient area but not too close to your home. A sunny spot is ideal but not necessary. Consider placing your bin on grass or dirt rather than a wood or concrete surface. This will allow worms and other beneficial organisms to get in and speed up the composting process. Fill your bin with kitchen and yard waste and start composting. 
7
Make a Compost Bin with Plastic Totes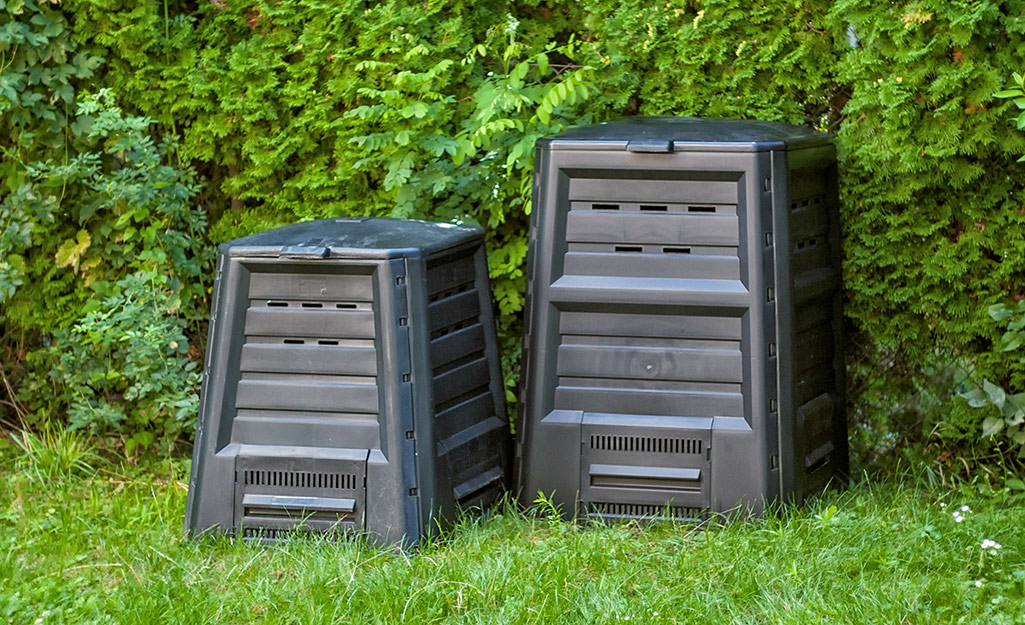 Only need a small amount of compost for vegetables and flowers? Transform a plastic tote or two into a DIY compost bin that doesn't require a lot of space. You'll need a power drill or utility knife and an 18-gallon plastic storage container with a top.  
Drill Holes in the Bin:
Drill holes in the sides of the bin and in the lid. Make the holes 1 1/2 to 2 inches apart. Smaller holes work best to provide air flow and keep the compost in. 
Find a Location: 
Put your new plastic compost bin somewhere that's easily accessible all year round. Choose a space that's close but far enough from the house to keep pests away.
8
How to Make a Bin from Pallets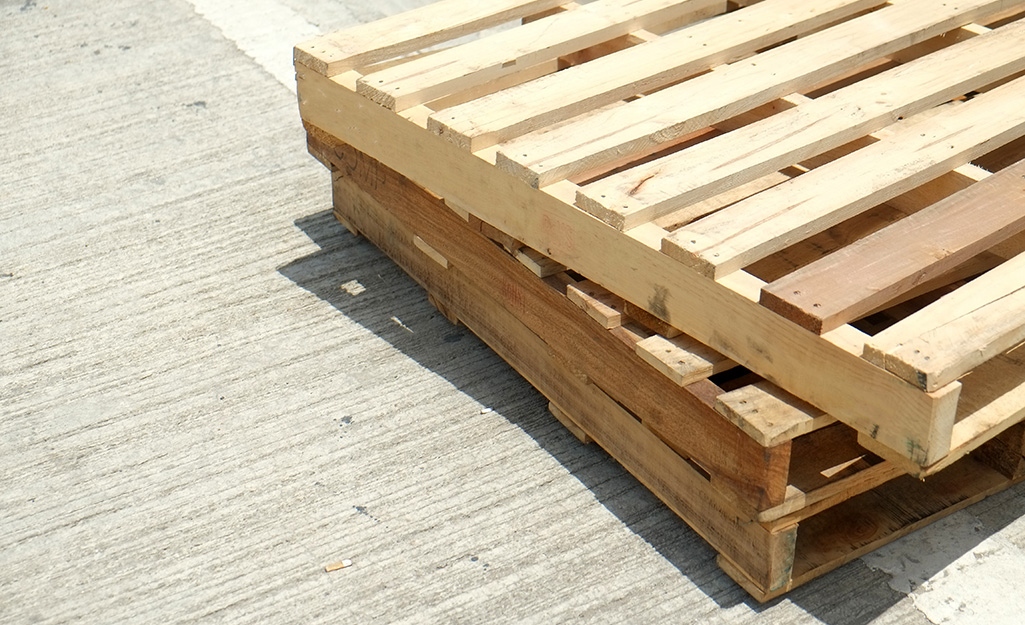 If you're pressed for time, you can build this open DIY compost bin without power tools or nails. All you'll need are four pallets and eighteen 12-inch heavy-duty zip ties.

Assemble the Pallets:
Attach two pallets together at a 90-degree angle. Thread the end of one zip tie through the second zip tie. You want to make them long enough to wrap around both pallets. Repeat with the other two pallets. Attach the two finished pieces together with the ties to create a box.
Create a Door:
On the front pallet, only attach the zip ties to one side so that it's able to swing open. This allows you to turn the pile or collect finished compost for use in the garden. 
Find a Level Location:
Choose a level location to build your pallet compost bin on. It should be a spot on the ground that's convenient enough to use regularly.
9
How to Make a Kitchen Composter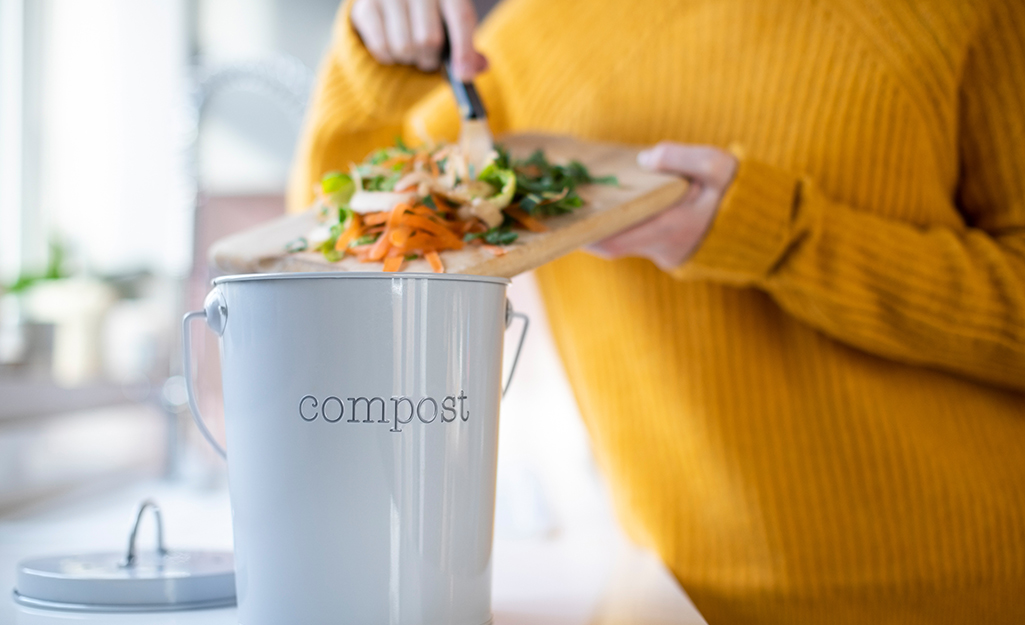 Recycle kitchen scraps even if you don't have the space for an outdoor compost bin. Get a small metal bin or make a compost bin that can fit under your sink. Here are the tools and materials you'll need: power drill or utility knife, a 2-gallon plastic bucket with a lid, drip tray, newspaper or a paper bag.

Drill or Cut holes in the Bucket:
Start by drilling holes in the lid, sides and bottom of your bucket. Make them around 1 1/2 to 2 inches apart. Use a smaller drill bit if possible. Smaller holes work best for a kitchen compost bin.
Line the Bucket:
Line the inside of the bucket with a newspaper or a paper bag. 
Create a Drip Tray: 
Place the drip tray under your compost bin to catch any spills or oozing juices. You can use an extra bucket lid, an old plastic serving tray, or another saucer-shaped item you have laying around.
Place Under Sink:
Compost decomposes best in a dark, warm area, like under your sink. However, storing your compost bin on top of the counter is fine if that's your only option.
Tip: After your compost has decomposed and you've rinsed out the container, start over with another layer of newspaper before adding more scraps. 
Layer your compost bin with browns (shredded leaves and cardboard) and greens (vegetable scraps and untreated grass clippings). Use a ratio of about 30 parts browns (by weight, not volume) to one part green.  
Alternate compost materials with moist and dry layers, add compost starter and keep moist. 
Use a compost starter product to speed up the composting process. 
Turn the compost every few weeks using a garden trowel, pitchfork or shovel to help with aeration.
Avoid adding meat, grease or dairy products to your compost. They can take too long to decompose and will attract animals.
Sit back and watch nature turn your scraps into productive fertilizer instead of ending up in a landfill. DIY compost bins are easy to build, maintain and customize to the space you live in. Your garden or plants will reap the rewards of this sustainable practice. Find everything you need to build your DIY compost bin today with the Home Depot Mobile App. Use it to make shopping lists, locate items in-store and more.
Explore More on homedepot.com