Time Required:

Over 1 day

Difficulty:

Intermediate
---
A well-designed walkway is a beautiful upgrade and helps prevent erosion in the most popular areas of your yard. When planning your paver walkway, consider the distance, elevation, amount of use it will receive, and the overall design and décor of your property. Remember to build your walkway in sections so that you can easily handle changes in elevation.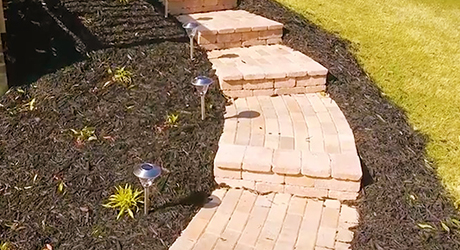 Lay out the course of your walkway with two long pieces of rope.
Use a tape measure to check the width of your path and adjust accordingly.
Once you've got the correct dimensions, mark along the entire perimeter with a shovel.
Tip: To build a walkway that will allow two people to walk comfortably side by side, a width of 35 to 40 inches is recommended.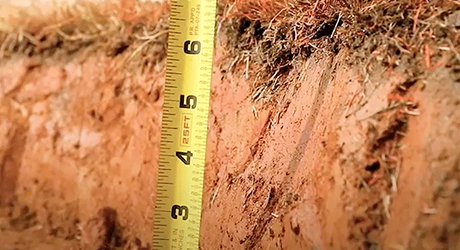 Tackle building your walkway in sections in order to account for changes in elevation.
Remove all of the sod, rocks and dirt down to a depth of about 7 inches.
Using a hand tamper, compact the soil throughout the section.
Your goal is a firm, even surface.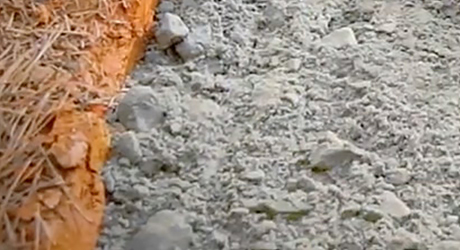 A layer of crushed gravel provides a stable base on which to build your walkway.
Pour at least 2 to 3 inches of crushed over the compacted ground.
Use a metal rake to spread it around evenly.
Wet down the gravel with a hose and compress it thoroughly using the hand tamper.
Add more crushed gravel as needed and tamp it down until the gravel base is slightly below grade.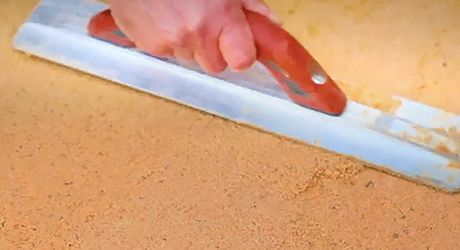 Add a layer of paver sand approximately ½-inch thick across the entire section.
Use a finishing trowel to smooth out the surface.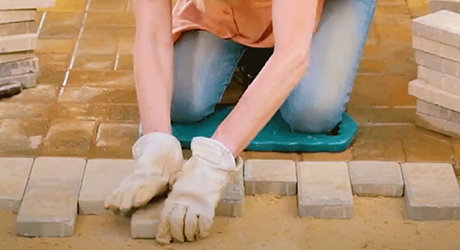 Spray the sand with a fine mist of water.
For a simple running bond pattern, use half blocks to begin each alternating row.
Tip: A running bond pattern staggers the joints and allows you to make slight adjustments when needed to create a nice gentle curve.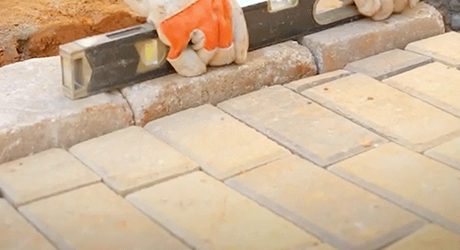 As a general rule, steps should be built approximately 7 inches high and installed at regular intervals to minimize tripping.
When building a step, dig back into the slope about 10 inches.
Fill with crushed gravel up to the level of your base.
Wet and use a wall block to tamp down.
Lay 10 ½- x 7-inch wall blocks side by side in the trench up against the walkway.
Check with a level and add sand if needed to keep everything in line.
Dry fit a second row of blocks using different sizes to stagger the joints.
Once you get the pattern worked out, go back and add a bead of construction adhesive between the rows.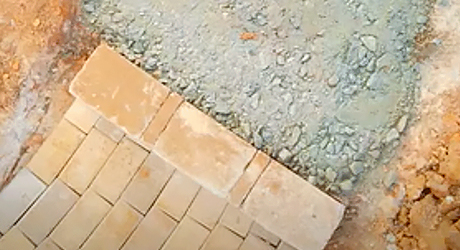 Repeat steps three through six for the remaining sections of your paver walkway.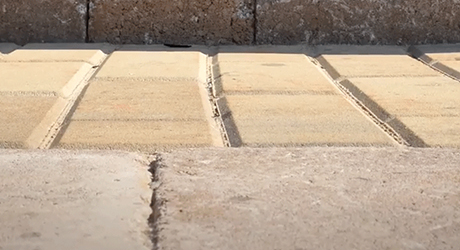 When adding step treads, use the same thickness as your pavers so everything remains on an even plane.
Attach these directly to the top of the wall block using construction adhesive
Continue laying the pattern in the next section over a smooth layer of paver sand.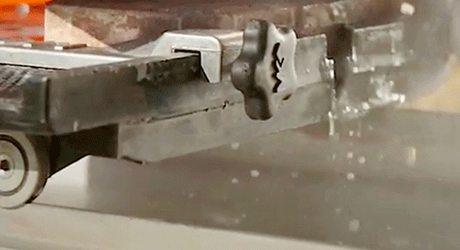 When you need to cut pavers to fit into your desired pathway pattern, measure, mark and use a concrete saw or a wet saw outfitted with a concrete blade.
Safety: Wear safety googles and work gloves when cutting pavers.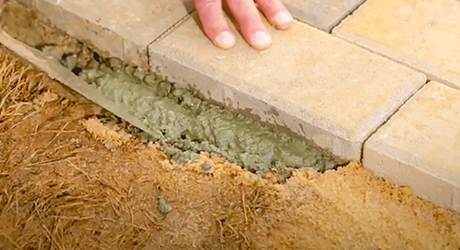 Once all the pavers are laid, add paver edging to keep from shifting, or use a brick trowel to trench along the outside.
Fill it with cement to keep the pavers from shifting over time.
Cover with mulch or soil.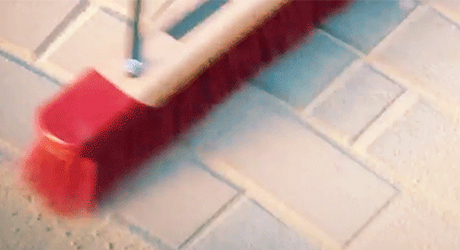 Tip: Before adding polymeric sand, check the weather forecast to ensure no rain is coming in the next few days.
Pour a liberal amount of polymeric sand onto the walkway and sweep into the cracks. The sand works as a binding agent helping hold all of the pavers in place.
Carefully blow off any excess sand with a leaf blower.
Spray the walkway with a fine mist. The moisture activates the polymeric sand and binds the pavers.
As a finishing touch, adding some landscaping and creative lighting will help turn your new walkway into a beautiful addition to your home.
Don't worry if you don't own all of the tools needed to build a walkway. Rent tools and trucks for any project at The Home Depot.