Project Guide
How to Build an Outdoor Kitchen
Time Required:

2-4 hours

Difficulty:

Intermediate
---
Outdoor entertaining is a fun way to reconnect with friends and family while spending time outside. Whether you're planning a big celebration this season or want to spend time enjoying some fresh air, an outdoor kitchen will keep things running smoothly. This guide will show you how to create a thoughtfully arranged cooking space in your own backyard.
Tip: To build your space from scratch, follow the steps in our Outdoor Grill Station guide.
OUTDOOR KITCHEN DESIGN PLANS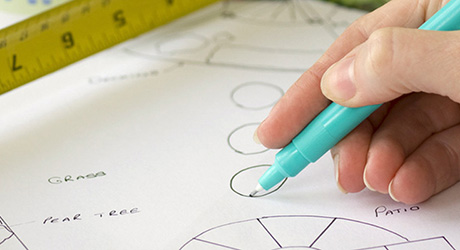 The first step to building an outdoor kitchen is confirming a design. Measure your patio and asses your square footage, then decide how much space you'll use for the kitchen and how much will be left for outdoor seating and hosting. From there, you can determine the best way to structure your layout.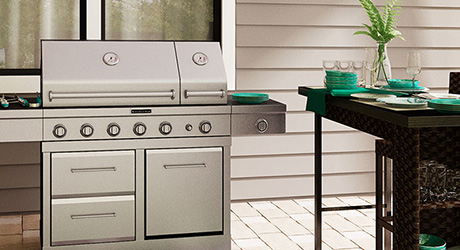 When deciding how to frame your outdoor kitchen, it's important to build around the essentials components. Many choose to structure their space around the grill, but if a wood-burning or smoker oven is more important to you, make that the focal point and assemble from there.
Whichever way you frame it, make sure to arrange your design atop a finished deck or patio. A solid foundation is key to supporting your layout. Once you have installed and positioned the main components, fill in the gaps with your desired additions. Take your time and thoughtfully incorporate new cabinets, appliances and accessories as needed.
OUTDOOR KITCHEN ESSENTIALS & COOKING APPLIANCES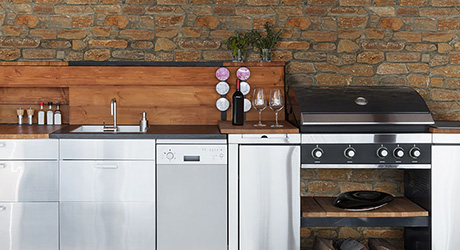 Just like the heart of an indoor kitchen is the stove, the most important part of any outdoor kitchen is the grill. However, there are various other cooking appliances to consider. Choose the one that best fits your needs:
Storage and Cleanup
Outdoor kitchen islands come in a variety of sizes to fit virtually any deck or patio. If you have room, consider adding any of the following to make food prep and cleanup quick and easy:
OUTDOOR SEATING AND DECOR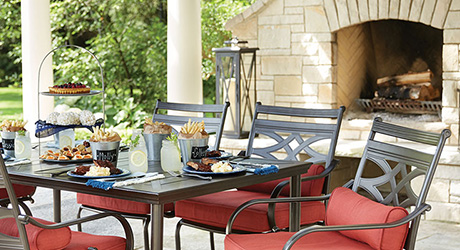 No outdoor kitchen is complete without a place to sit and enjoy your meals. Add some finishing touches to your space with a patio set and complementary outdoor lighting and accessories.
For outdoor kitchen design examples and inspiration, see our ideas guide.