What every outdoor kitchen needs is often very different from the standard layouts found inside your home kitchen. When thinking of a great concept for your outdoor cooking space, there are many factors to consider. The amount of space, your personal style, entertaining self or others as well as how everything works together should be carefully evaluated to create an efficient kitchen that meets your needs.
This guide will show you how to choose items for your outdoor kitchen and some of our favorite outdoor kitchen design ideas.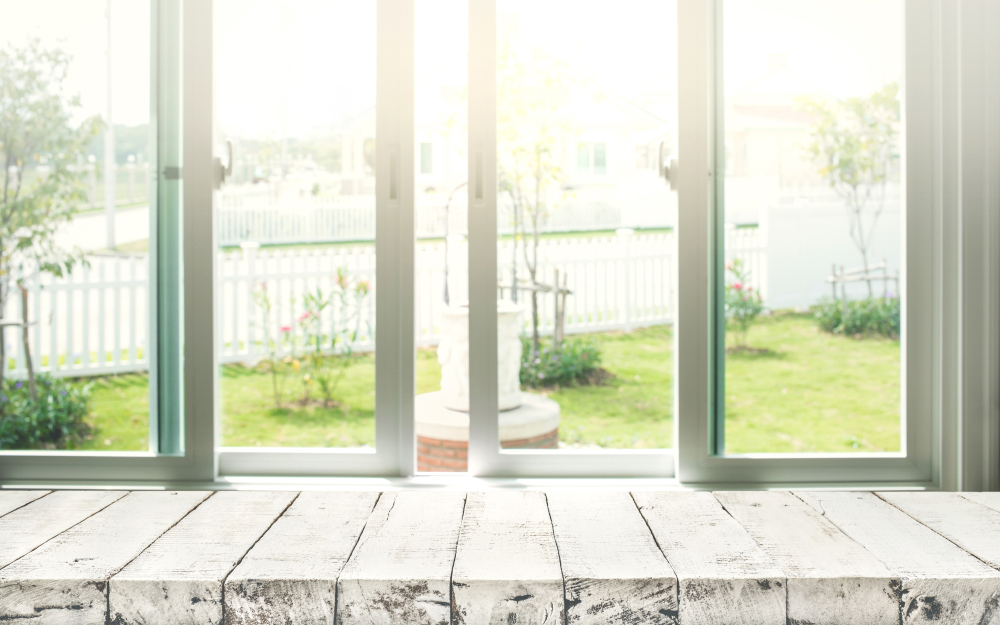 You can turn your backyard space into an outdoor kitchen space instantly with extended counter. If your kitchen has a window viewing the backyard, patio, or deck – adding to or extending the counter from your indoor kitchen will help cooking for outdoor activities just a little bit easier.
Get creative with quality counter grills and appliances. Add counter height chairs for seating and a window awning for shield from sun and rain.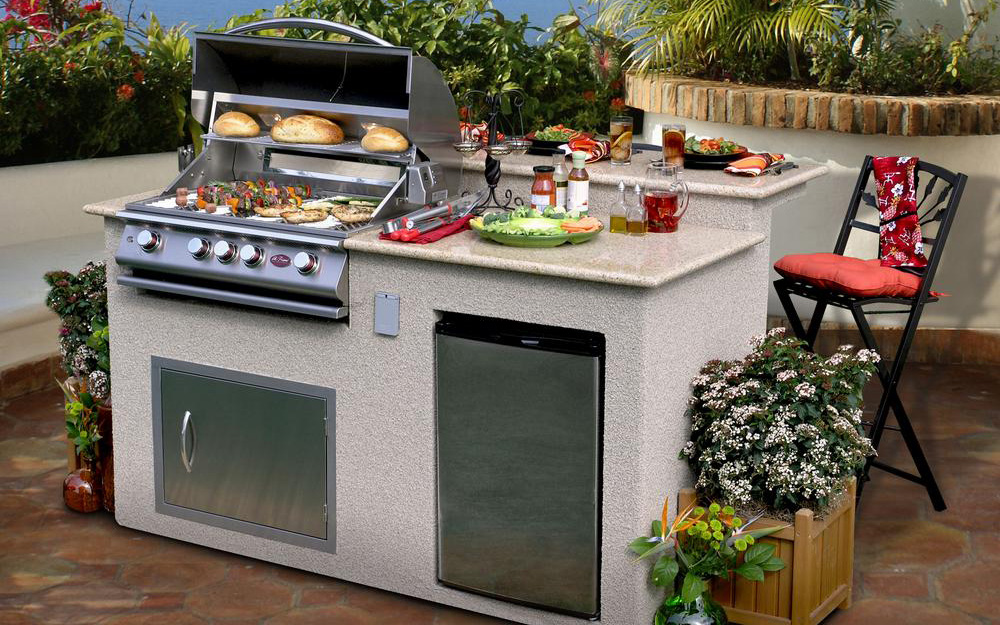 You don't need a large layout to create a functional space. The most efficient backyard kitchen designs are built around the basics. A quality grill is key to preparing your favorite warm-weather meals, and a simple seating area is great for hosting friends and family.
Use space-saving cabinets to store cooking utensils and accessories. Consider adding a few small accents like outdoor rugs to carve out structure and can make your patio feel more inviting or an umbrella offering shade and comfort on those hot summer days.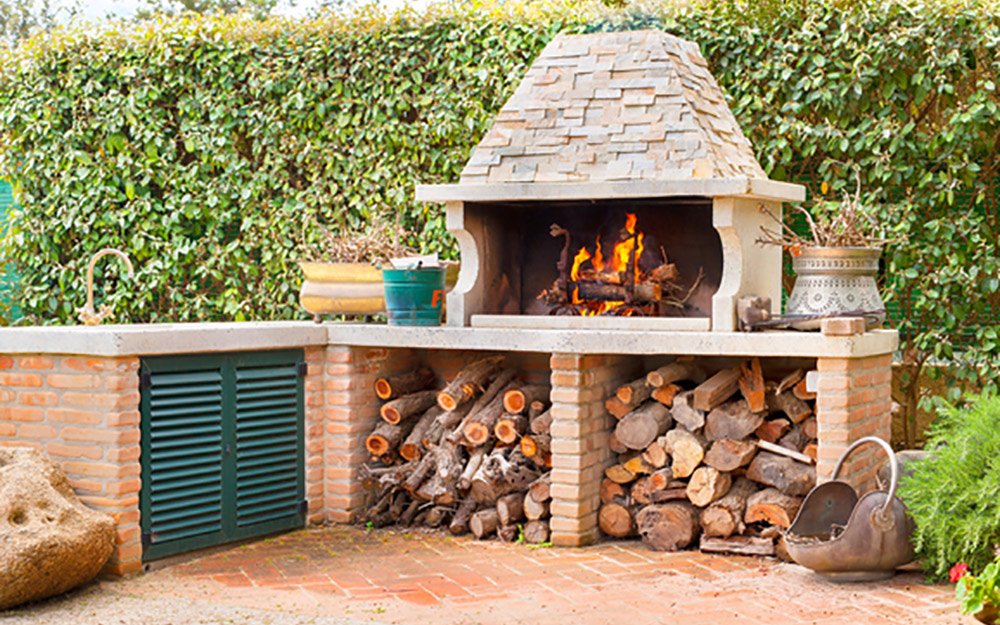 Rustic outdoor kitchens ideas feature wooden fixtures and a variety of stone and rock accents. Piece things together from salvaged parts or choose new pieces made from materials like copper and iron with distressed, imperfect finishes.
A bench-style concrete dining table, wood burning oven or wood burning fire pit all complement rustic outdoor kitchen designs. Pergolas are also great for shading your patio, and many come with retractable a canopy for bright afternoons.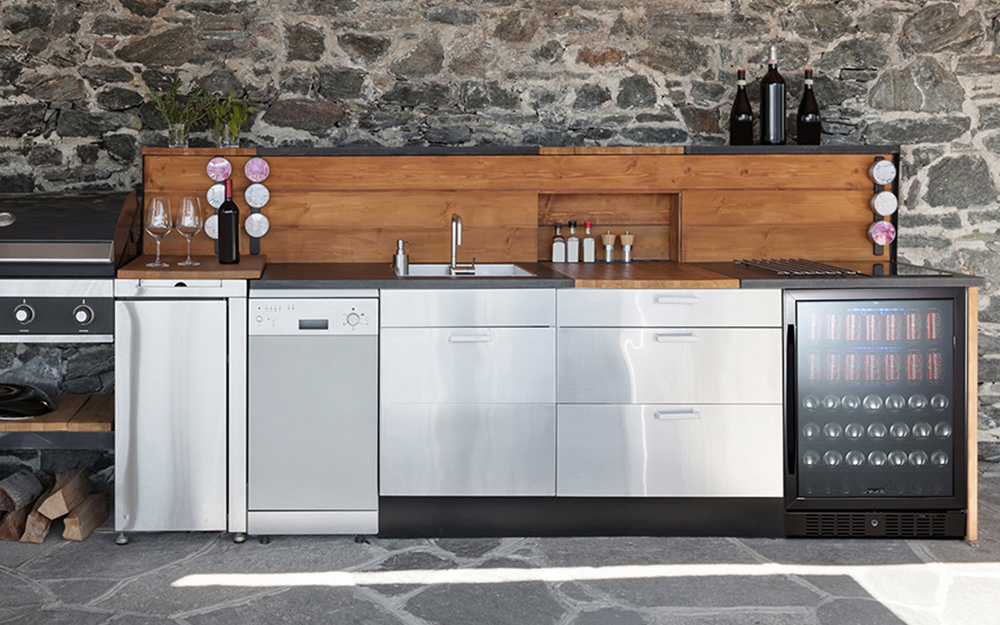 Sleek outdoor kitchen appliances, contemporary lighting and storage accessories with sleek finishes are signature elements of a modern backyard kitchen space. Look for marble countertops in a neutral color scheme and add contrast with bar stools, benches and other seating options.
Outdoor kitchen sets with built-in grills, refrigerators and sinks are an easy way to create a modern, well-coordinated space. Choose to install a kitchen island with ample countertop space to prep and serve your meals that can be built to the specifications of your unique space.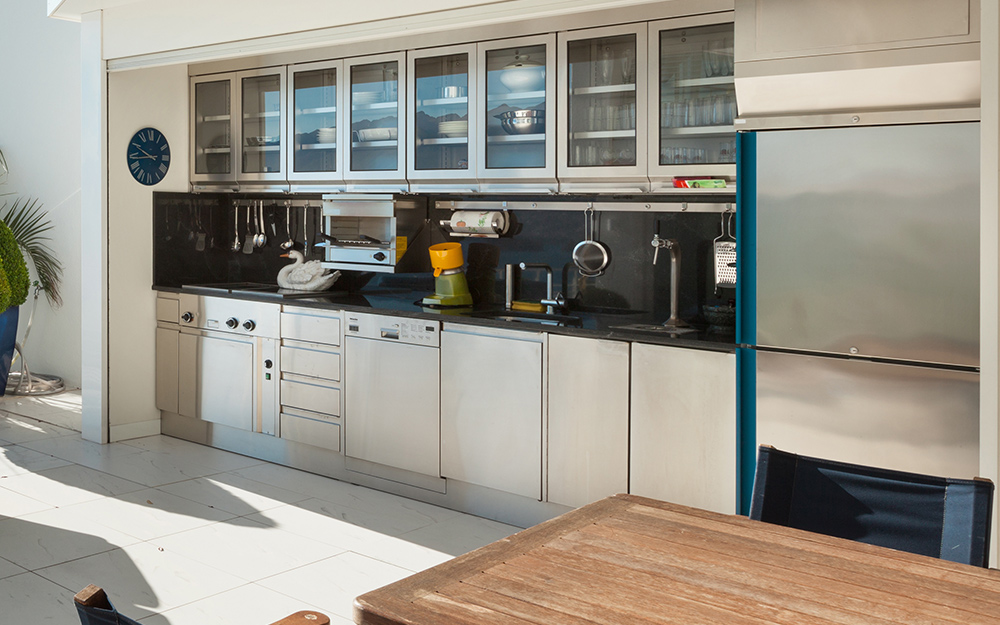 Quality appliances and fixtures are important for any luxurious outdoor kitchen to shine. Opt for high-end appliances and customized cabinetry for a space that works with you and your style. Small details like fixtures and plush outdoor seating are great finishing touches.
Smart tech additions combined with heating and lighting fixtures like outdoor flush mount lights, concrete fire pits and propane patio heaters, offer polished functionality.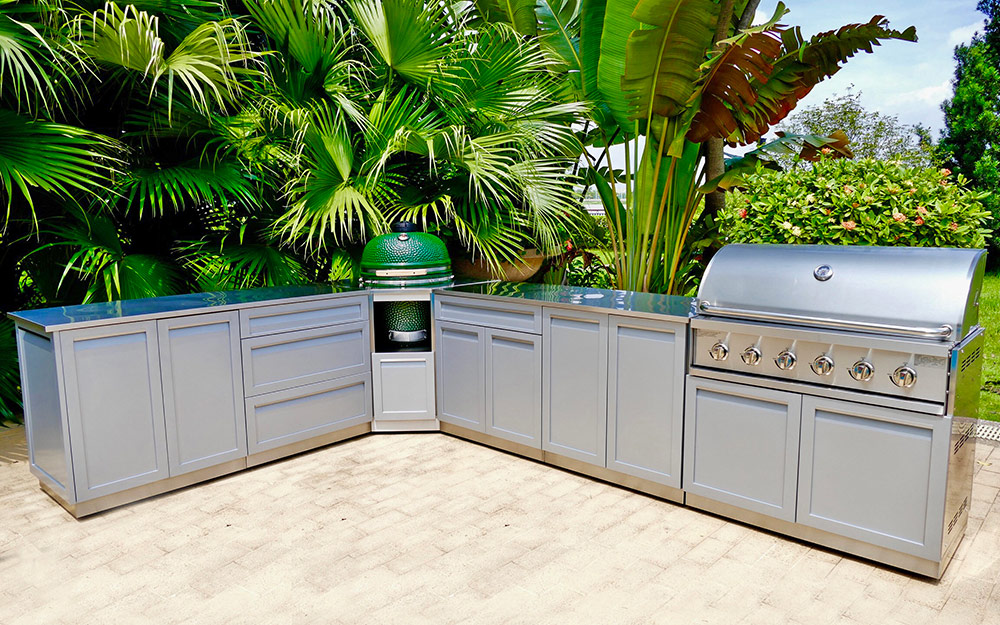 L-shaped kitchens offer the ideal layout for those who prefer designs that improve efficiency and entertainment.
To make your space more practical, use the longer side for built-in grills and appliances. Countertops along the shorter part can carry accessories and be used for food prep or as a serving station.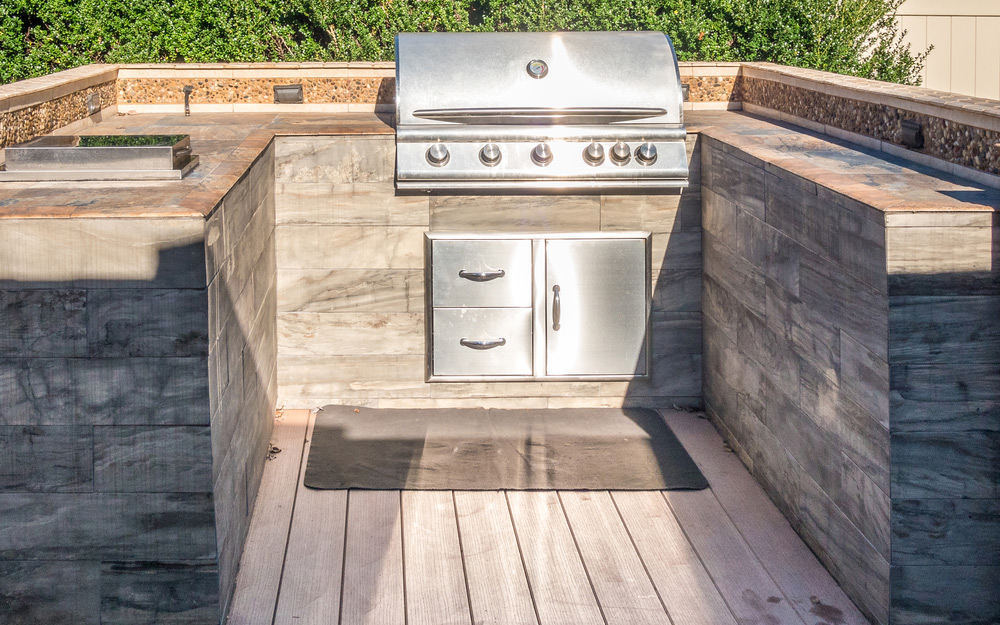 U-shaped kitchens provide size flexibility and usefulness for your outdoor needs. No matter small or large, this outdoor kitchen style is enclosed for quick movement and sufficient cooking space.
Adding an outdoor rug can complement the L-shaped design and accent the outdoor scenery.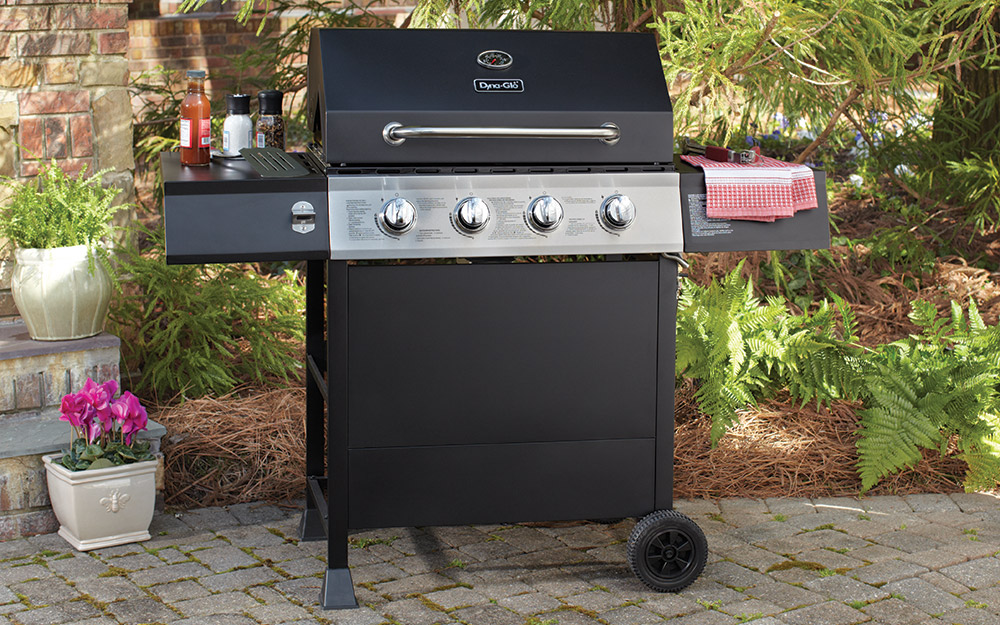 A modular setup is great for anyone who wants to assemble their outdoor kitchen idea little by little or make it mobile. Start with the essentials, like a gas grill or a built-in option with side shelves and interior storage. Both grill options can have wheels that makes your outdoor patio more functional if it needs to shift.
For a simple modular outdoor kitchen made for serving and dining, start with a mobile kitchen island or bar cart. Many can be custom-built to fit your backyard and come equipped with multiple burners, refrigerators and generous counter space.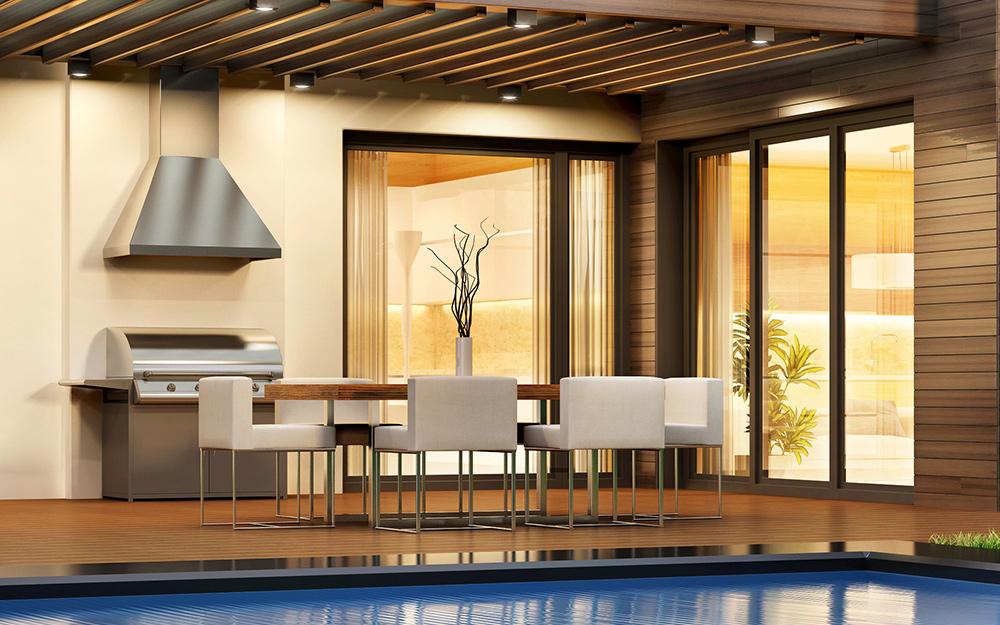 Vented outdoor kitchens are all about providing ventilation and fresh air while grilling. Installing a vent does not have to be an eyesore.
Adding one of our range hoods with a finish of your choice will help keep your outdoor kitchen looking coordinated and beautiful.
These outdoor kitchens are marked by stainless steel appliances. They often include streamlined metal countertops and matching cabinet hardware. Stainless steel kitchens are extremely durable and resistant to heat damage and weather-related corrosion, making them a great choice for any backyard.
Look for outdoor refrigerators and upright freezers in this sleek finish, and pair them with classic steel or aluminum slate accessories for a cohesive finish.