Outdoor kitchens make it simple and fun to entertain, but are also an alternative space for family meals. The layouts and equipment are similar to what you would use in your indoor kitchen, but you'll want to consider a few other factors to maximize use of this space. This guide features a variety of outdoor kitchen designs and backyard kitchen ideas to make cooking outside fun and efficient.
Outdoor Kitchen Counters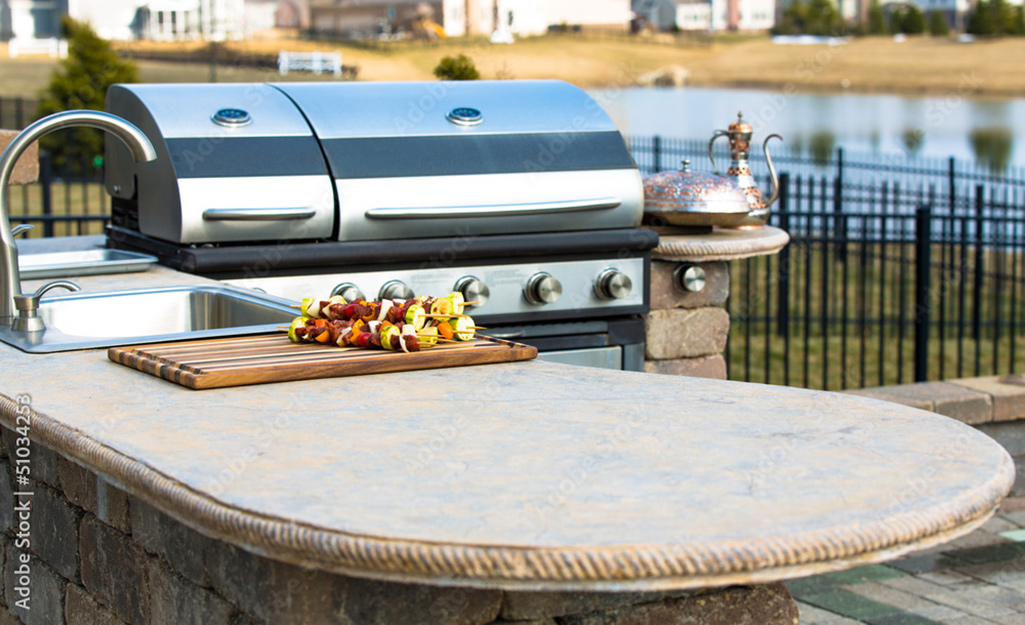 One of the best outdoor kitchen ideas is to add an extended counter. If your kitchen has a window viewing the backyard, patio or deck, adding to or extending the counter from your indoor kitchen makes cooking for outdoor activities a little easier. 
Get creative with quality counter grills and appliances. Add counter-height chairs for seating and a window awning to shield from sun and rain. 
Small Outdoor Kitchen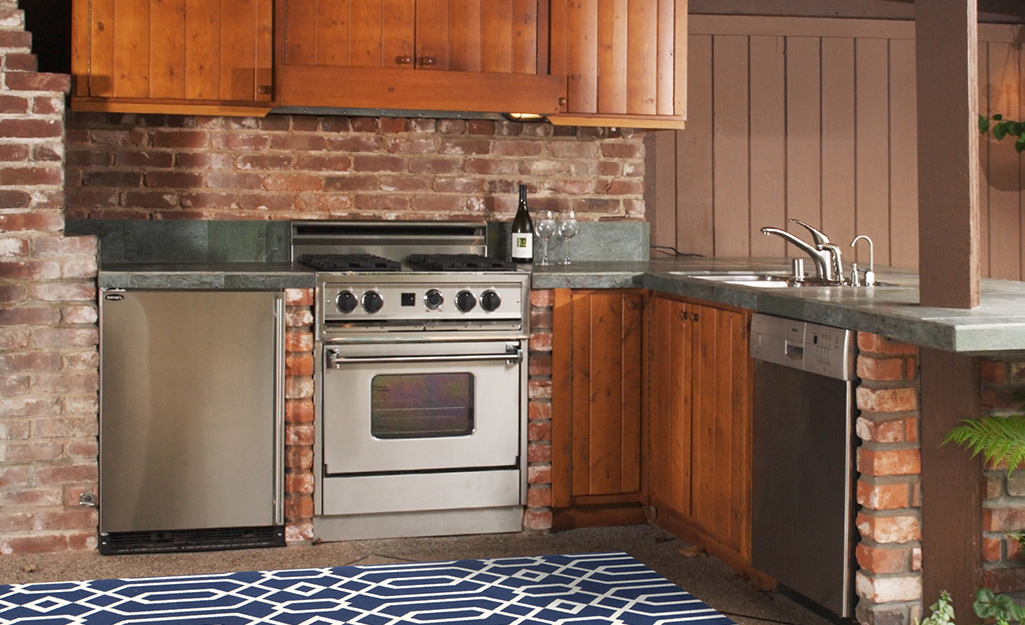 You don't need a large work space to transform your backyard into party central. The most efficient outdoor kitchen designs are built around the basics. A quality grill is key to preparing warm-weather meals, and a simple seating area is great for hosting friends and family. 
Use space-saving cabinets as outdoor kitchen storage to store cooking utensils and accessories. Consider adding a few small accents like outdoor rugs to define the space and make your patio feel more inviting. An umbrella is a good addition to provide shade and comfort on hot summer days.
Rustic Outdoor Kitchen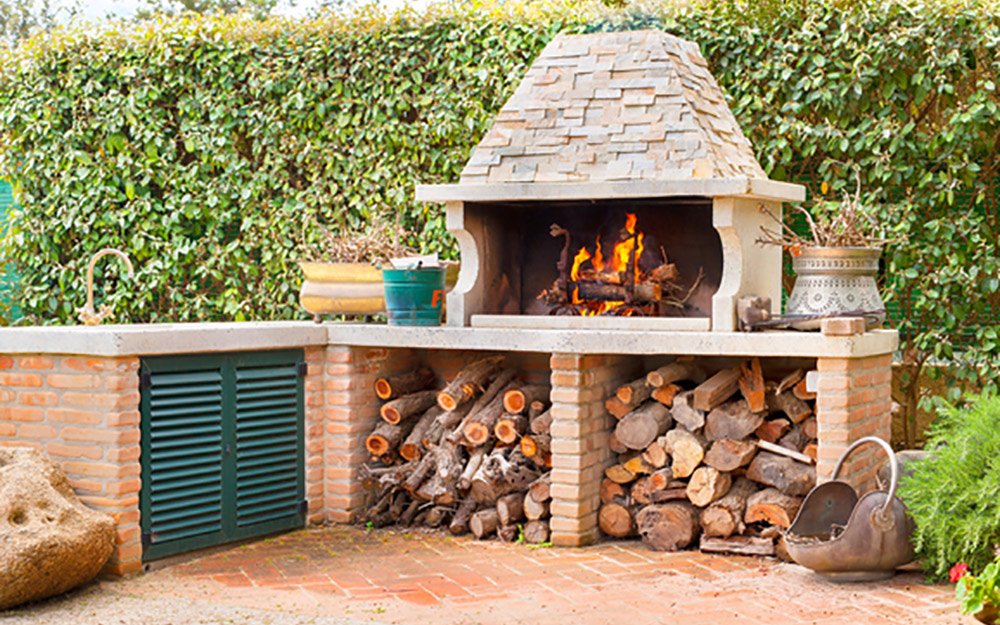 Rustic outdoor kitchen ideas feature wood, stone and rock accents. Tie the look together with repurposed architectural elements or choose new pieces made from materials like copper and iron with distressed, imperfect finishes. 
A bench-style concrete dining table, wood burning oven or wood burning fire pit all complement rustic outdoor kitchen designs. Pergolas are great for shading your patio, and many come with a retractable canopy for bright afternoons.
Modern Outdoor Kitchen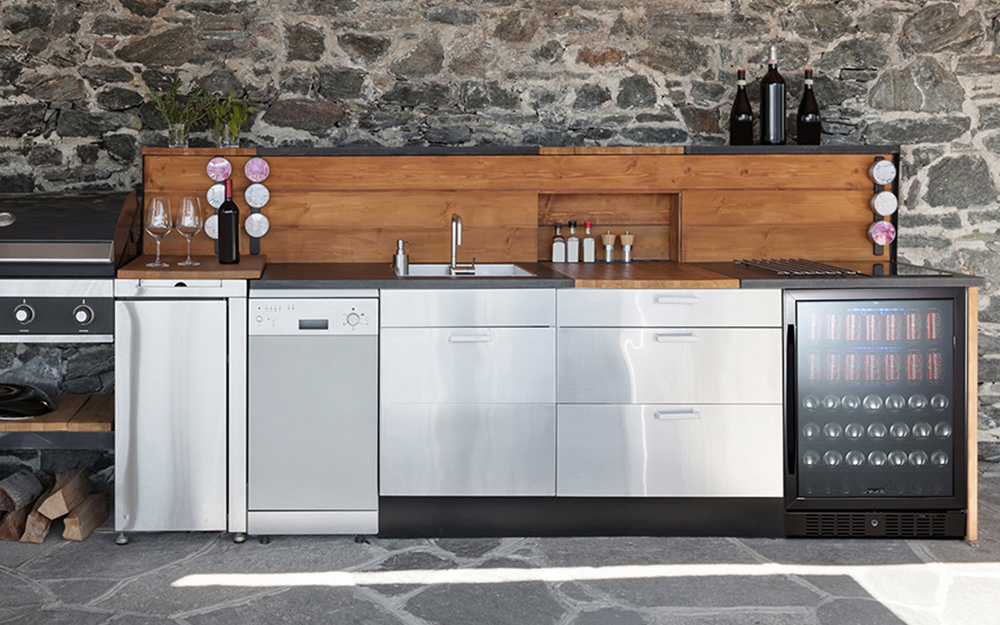 Stainless steel kitchen appliances, contemporary lighting and storage accessories with sleek finishes are signature elements of a modern backyard kitchen space. Look for marble countertops in a neutral color and add contrast with bar stools, benches and other seating options. 
Outdoor kitchen sets with built-in grills, refrigerators and sinks are an easy way to create a modern, well-coordinated space. Install a kitchen island with ample countertop space to prep and serve meals. If needed, you can have the island built to the specifications of your unique space.
Luxury Outdoor Kitchen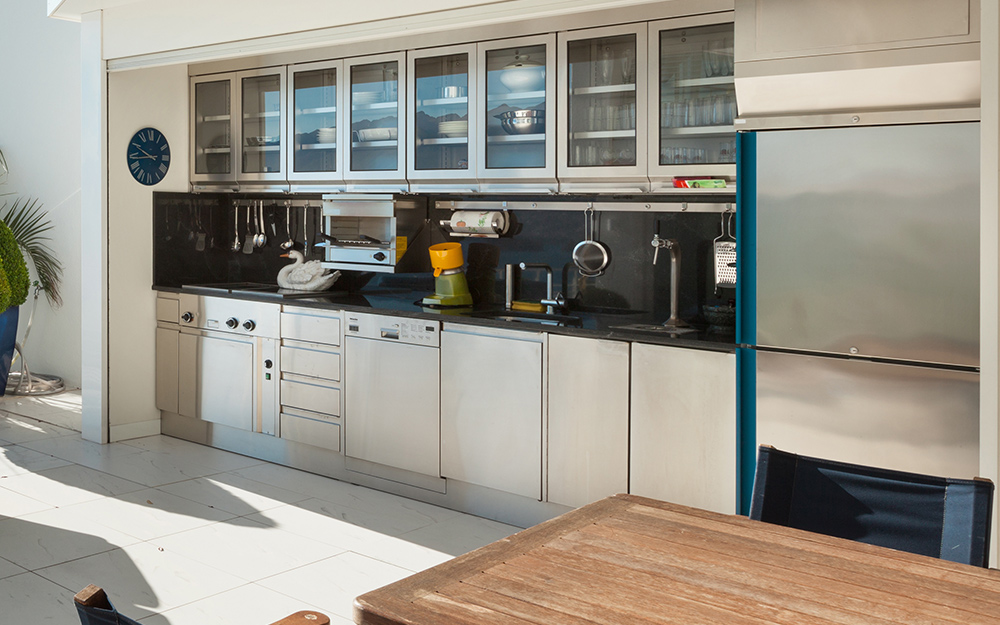 Quality appliances and fixtures are important for any luxurious outdoor kitchen to shine. Opt for high-end appliances and customized cabinetry for a space that works with you and your style. Small details like fixtures and plush outdoor seating are great finishing touches. 
Smart tech additions combined with heating and lighting fixtures like outdoor flush mount lights, concrete fire pits and propane patio heaters, offer polished functionality.
L-Shaped Outdoor Kitchen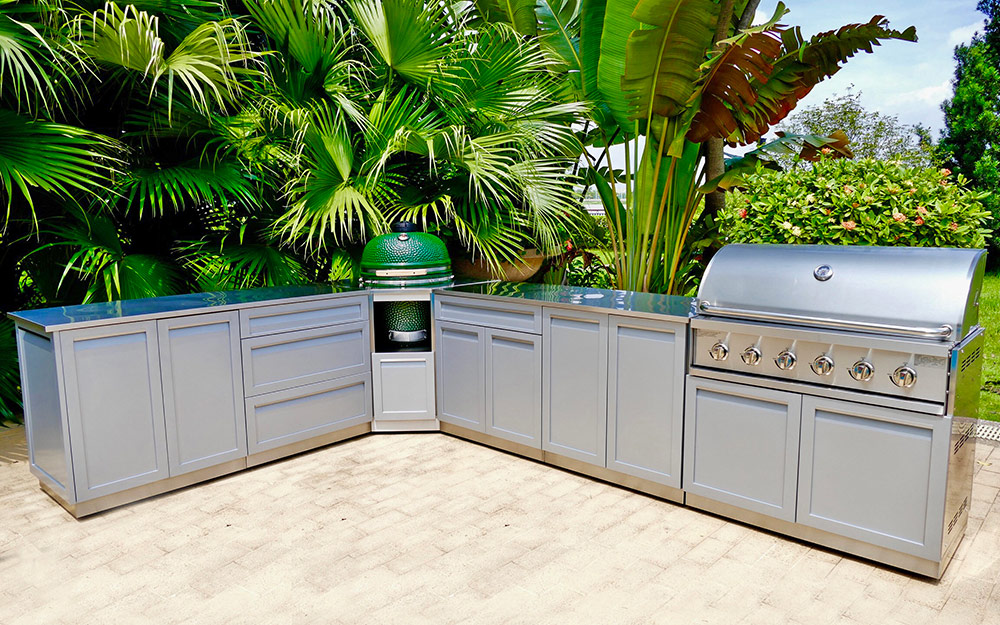 L-shaped kitchens offer the ideal layout for efficiency and entertaining. 
Make your space practical by using the longer side for built-in grills and appliances. Countertops along the shorter part can carry accessories and be used for food prep or as a serving station. 
U-Shaped Outdoor Kitchen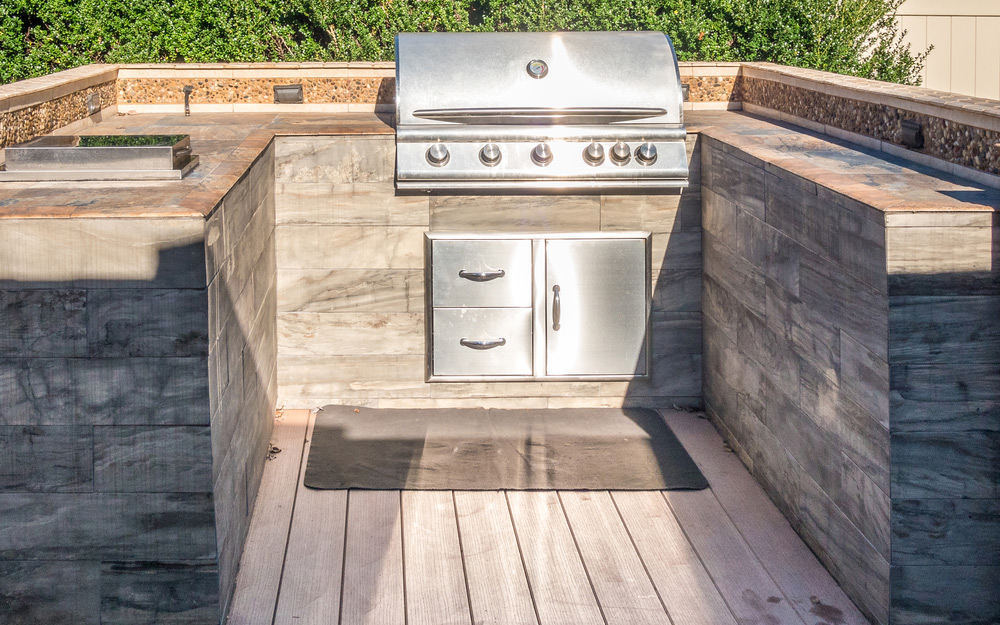 U-shaped kitchens provide size flexibility and usefulness for your outdoor needs. No matter how small or large, this outdoor kitchen style is enclosed for quick movement and sufficient cooking space.  
Add an outdoor rug in the center to complement the U-shaped design and accent your outdoor space.
Modular Outdoor Kitchen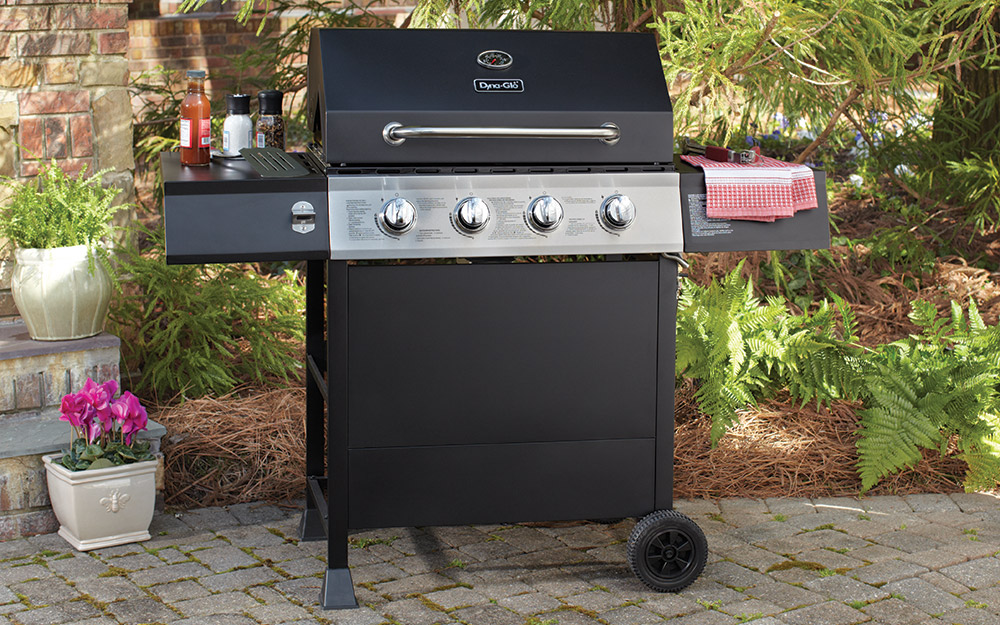 A modular or mobile outdoor kitchen is ideal when you don't want to build an outdoor kitchen or don't have a lot of outdoor cooking space. Start with the essentials, like a gas grill or a built-in option with side shelves and interior storage. Portable grills have wheels that make it easy to move the grill around your outdoor patio space. 
For a simple modular outdoor kitchen made for serving and dining, start with a mobile kitchen island or bar cart. Many can be custom-built to fit your backyard and come equipped with multiple burners, refrigerators and generous counter space.
Vented Outdoor Kitchen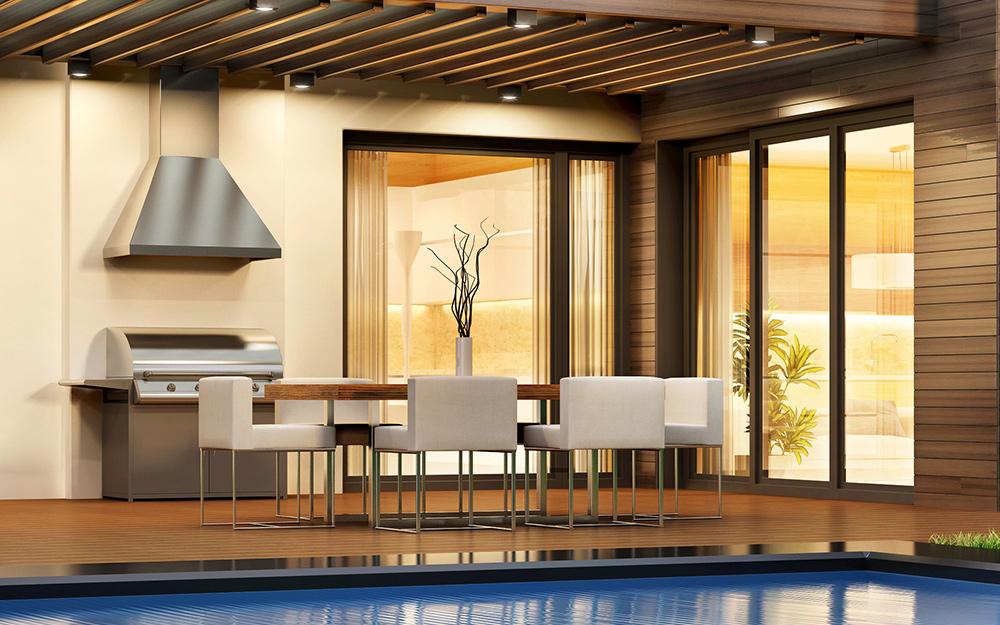 Vented outdoor kitchens feature ventilation and fresh air for both protection and keeping smoke from filling your yard. There are many varieties of stylish vents to choose from. 
Add a range hood with the finish of your choice to keep your outdoor kitchen looking coordinated and beautiful. 
Stainless Outdoor Kitchen
A stainless steel outdoor kitchen often includes streamlined metal countertops and matching cabinet hardware. Stainless steel kitchens are extremely durable and resistant to heat damage and weather-related corrosion, making them a great choice for any backyard.
Look for outdoor refrigerators and upright freezers in this sleek finish, and pair them with classic steel or aluminum slate accessories for a cohesive finish.
Outdoor DIY Kitchen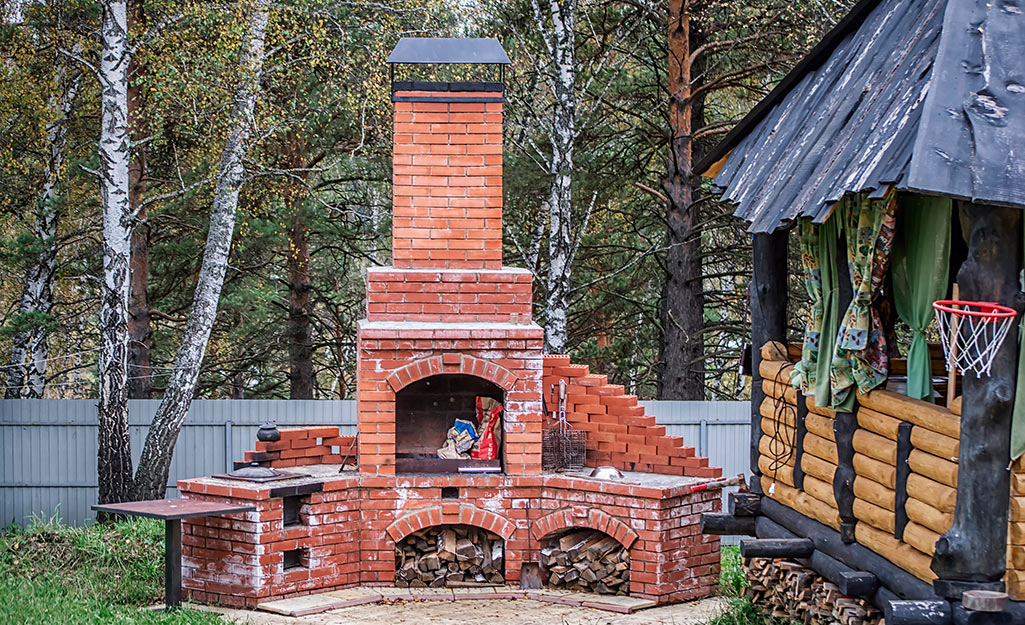 Installing an outdoor kitchen is a manageable DIY project, especially if you mix and match equipment and furniture designed for outdoor use. Grills and smokers can be housed in tables that come with countertops and storage space. You can purchase outdoor islands with built-in sinks and refrigerators. If you have carpentry skills, you can build your own cabinets and islands around purchased cooking equipment. For your outdoor DIY kitchen project to be successful, measure the space carefully before diving into your project, and be sure the layout is efficient and suitable for your needs.
Outdoor Kitchen with a Straight Island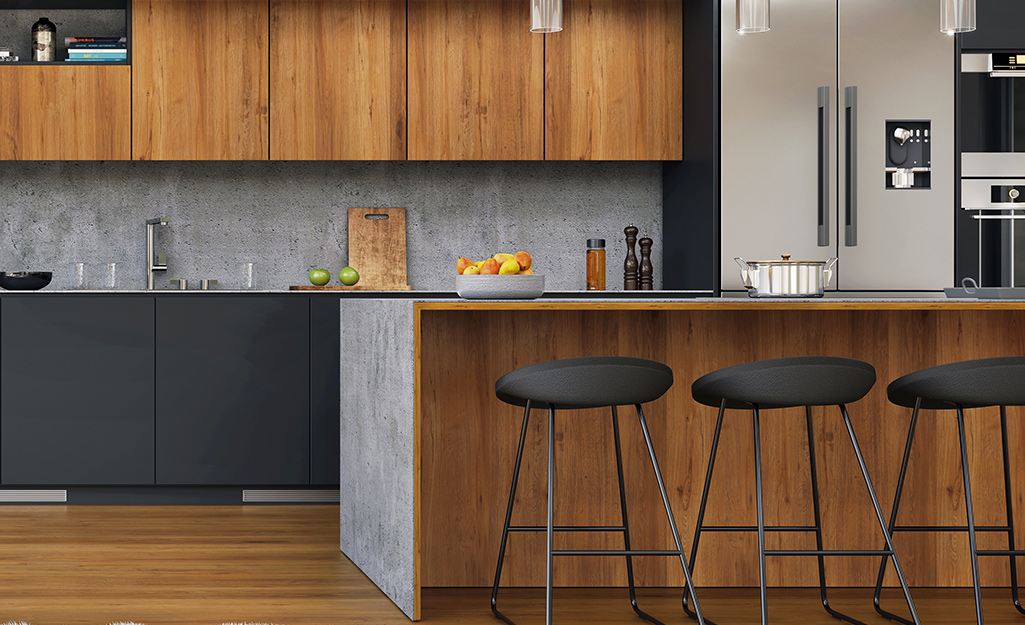 An outside kitchen with a straight island creates additional work and sitting space, since one side can function as a bar. This type of island can be custom built or purchased in one piece. Many islands built for outside are portable and contain wheels, so that you can move them around as needed.
Outside Kitchen with Concrete Countertops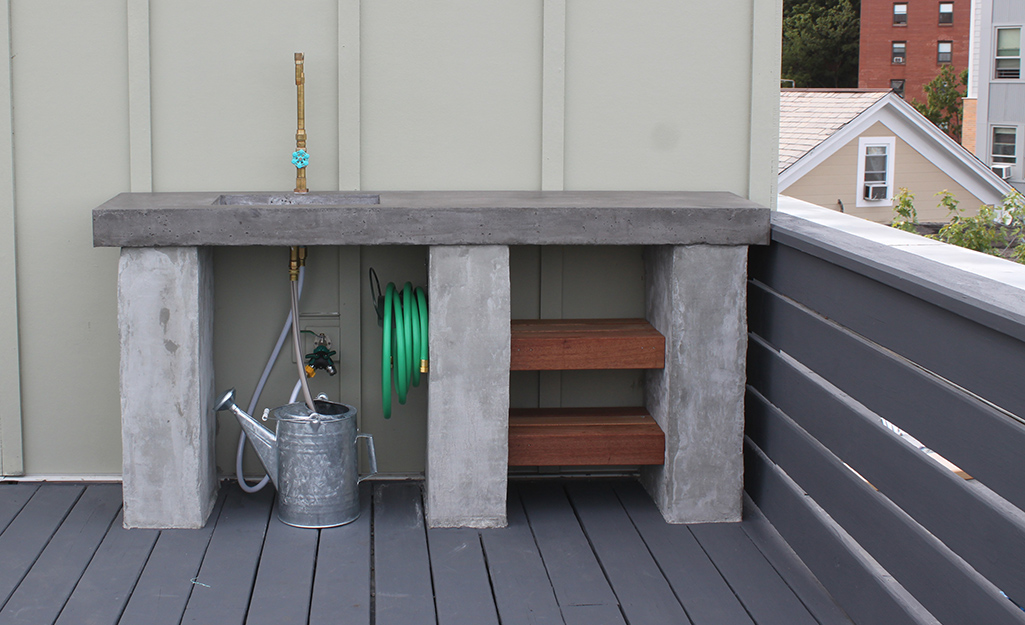 Concrete countertops in an outdoor kitchen can withstand the most extreme weather and temperature fluctuations. They're durable, easy to clean and provide timeless style. Some concrete can be custom colored. One drawback to this type of countertop is its weight, so make sure your cabinets can support concrete countertops before embarking on this project. 
Outside Kitchen with Stacked Stone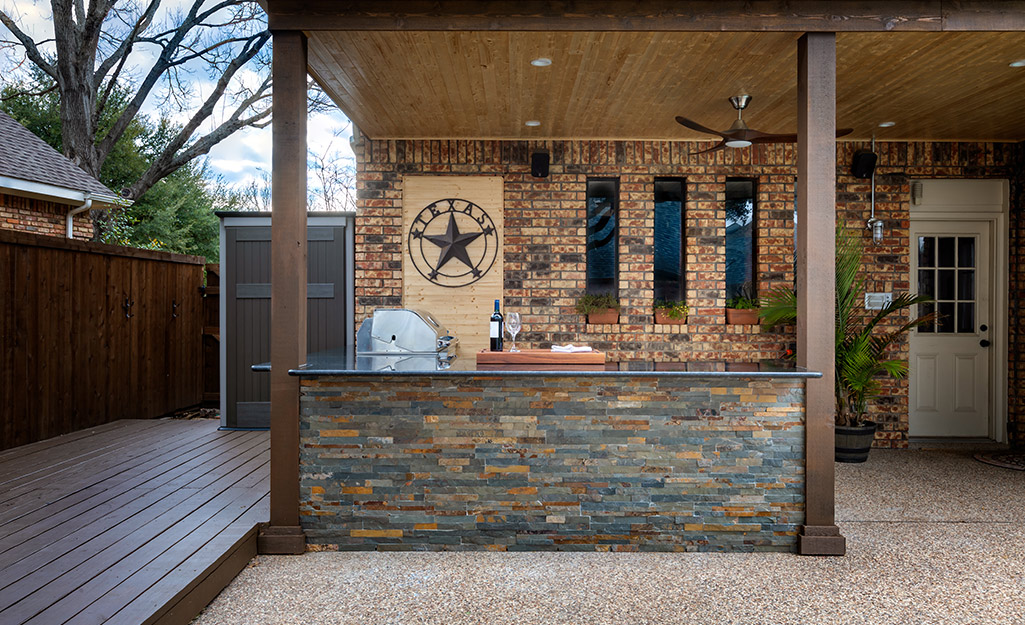 An outside kitchen with stacked stone features ties together the living space into your surrounding landscape, especially if you're using the same stacked stone for outside walls and fireplaces. Stone is a natural material and therefore one of the best options for outside kitchens. 
Outdoor Kitchen with Pizza Oven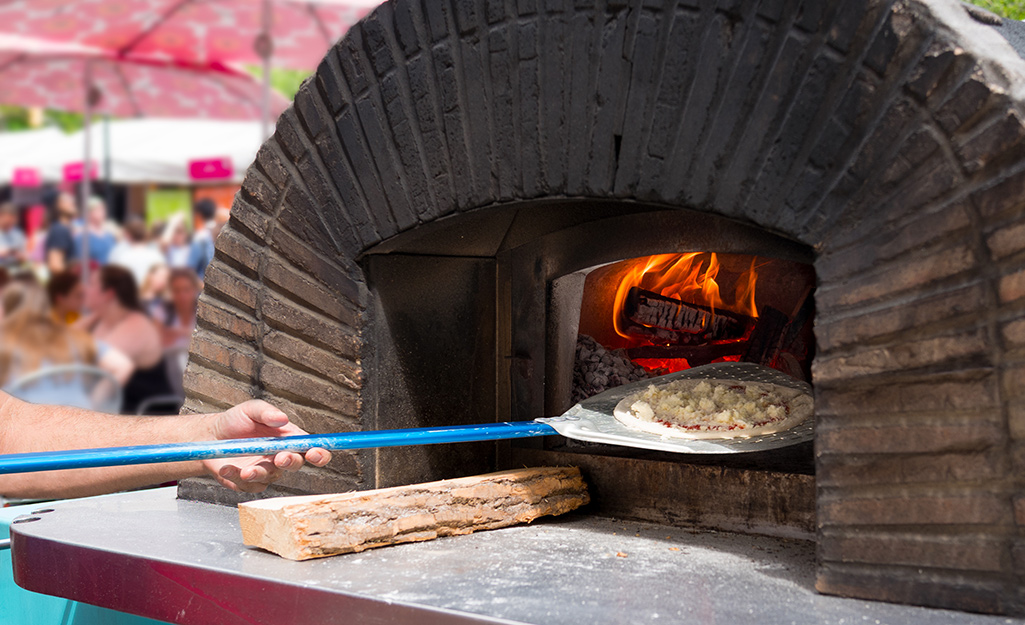 There's pizza, and then there's pizza that's been cooked in a pizza oven. There are several varieties of pizza ovens for outdoor kitchens. Choose a freestanding pizza oven or build one into your cooking space. There are portable electric pizza ovens that sit on your countertop, propane pizza ovens, and wood-fired pizza ovens. You can also purchase tile and clay pizza ovens if you're after true Italian-style pizza.  
Outside Kitchen with Built-In Grill and Smoker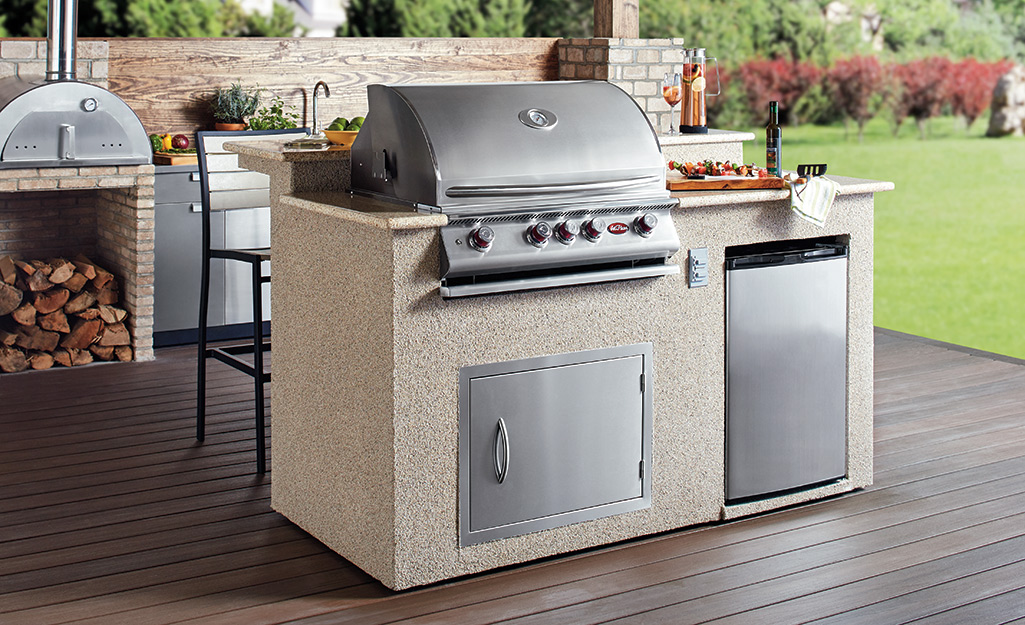 If you like to barbecue, having your grill and smoker built into an outside kitchen makes the project all the more enjoyable. Many grills and smokers have accessory tables that can be purchased separately. You can also work with a contractor to design an outside kitchen around the measurements of your grill and smoker.
Backyard Kitchen with Extra Storage for Accessories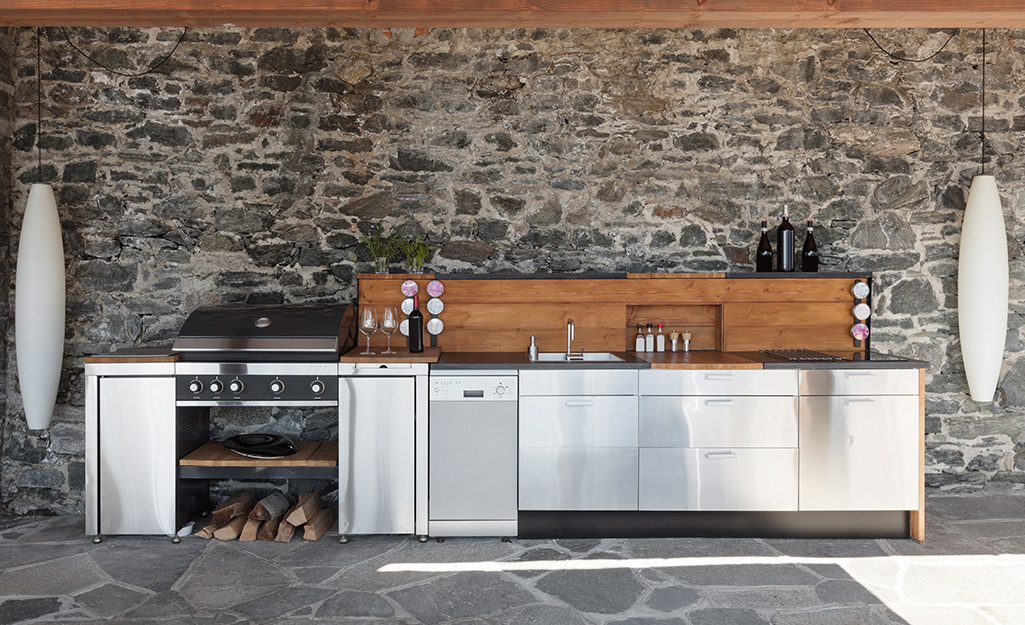 Having the right tools at hand takes the work out of cooking outside. When you design your backyard kitchen, keep storage in mind. You'll want a place for utensils, pot holders, grill accessories, pans, charcoal and wood or storage for your propane tanks. Another consideration is whether you want to have separate dinnerware for your outside space.
Outdoor Kitchen with Mini Fridge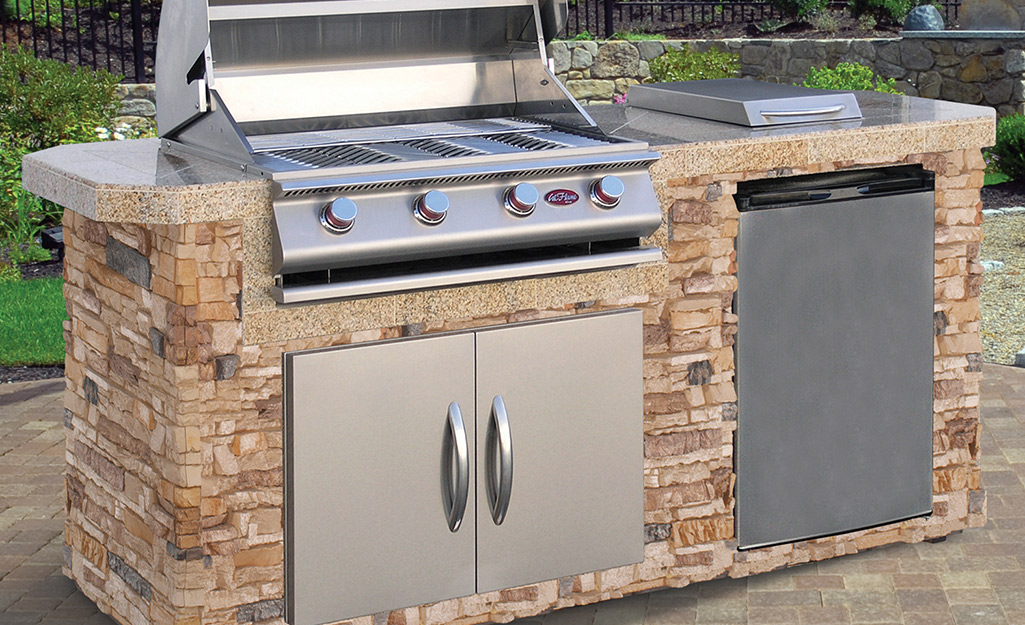 An outdoor kitchen with a mini refrigerator keeps you from making soda and beer runs back to the kitchen. There are many styles to choose from. Most are designed to fit under your countertops. Just make sure that the fridge you choose is built for varying temperatures and outdoor conditions.
Backyard Kitchen with Kegerator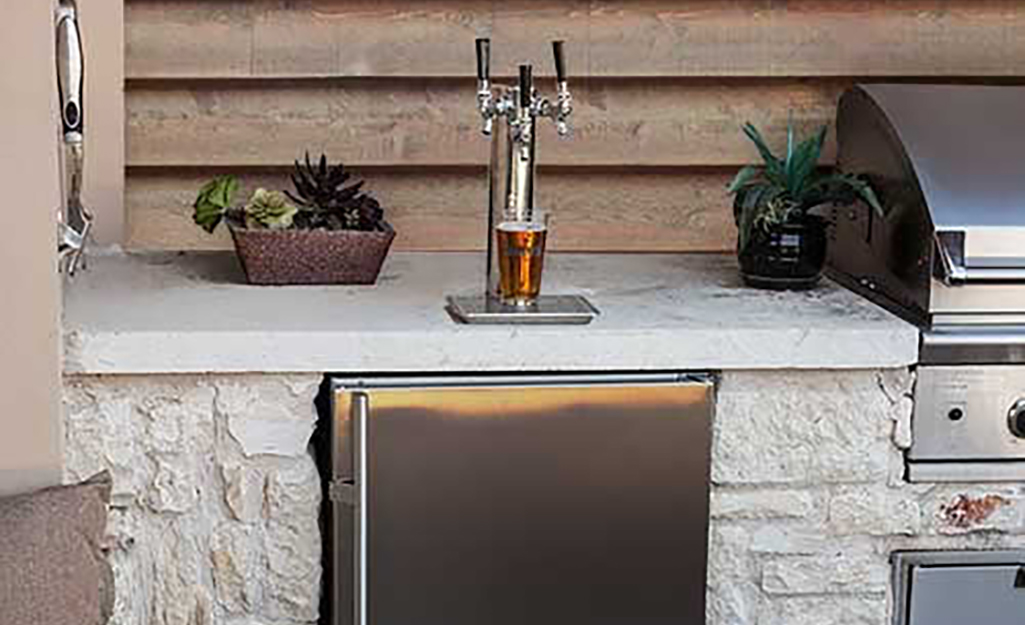 Outdoor kegerators transform a backyard kitchen into party central. Some are portable with rollers, while others work best built directly into your cabinets. Available in single or dual taps, look for a kegerator made from materials to withstand outdoor conditions.
Backyard Kitchen for Sports and Tailgating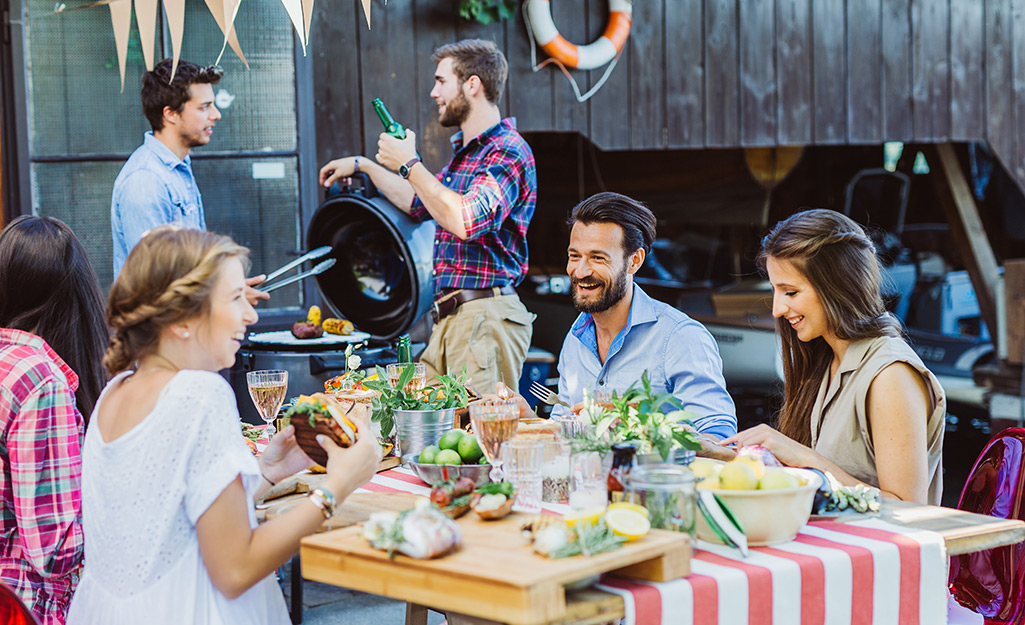 There are three considerations for a backyard kitchen for sports and tailgating. The first is seating. You want guests to be comfortable, so include several different seating areas in your plan. The second is countertop space. Not only are you cooking outside, but you're also serving. You'll need a place for food and also surface space so that people can eat. Finally, maybe your backyard kitchen needs a television and sound system, to ensure no one misses the game while eating.
Outdoor Kitchen with Bar Seating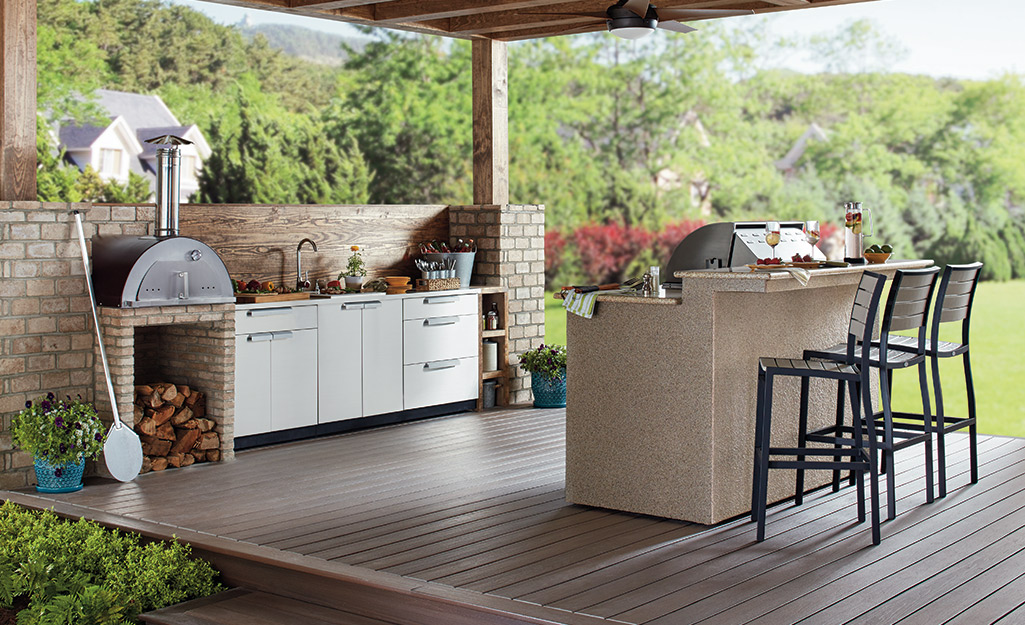 Bar seating transforms an outdoor kitchen into a conversation space. Guests can hang out and even help with meal prep while you're cooking. Some bars double as countertops. Look for one with an overhang so that you can push stools underneath for protection when not in use.
Outdoor Kitchen with Sink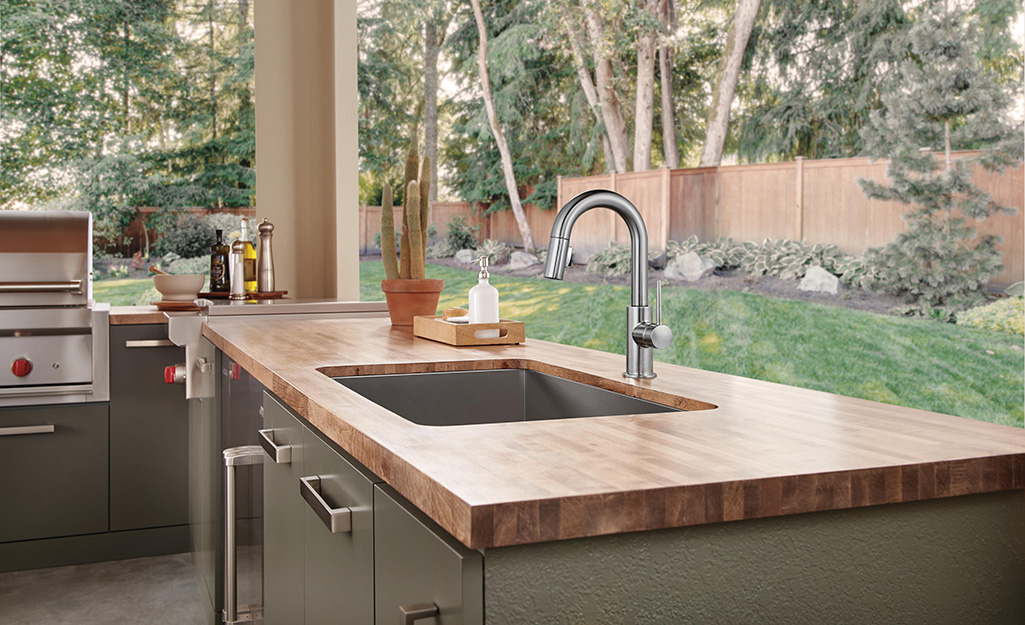 An outdoor kitchen with a sink simplifies meal prep and cleanup. Premade kitchen cabinetry may have sinks already built in. You can also add a custom sink to a kitchen layout. There are even freestanding kitchen sink workstations. Be sure that the area you want to place your outdoor sink has access to water.
Outside Pergola Kitchen Design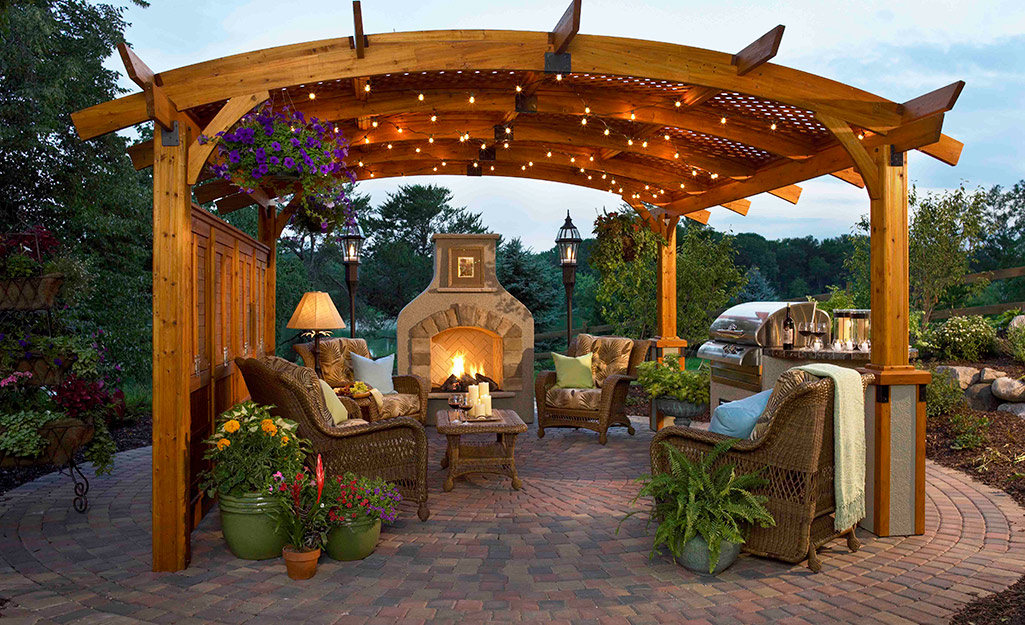 A pergola is a great way to shade an outside kitchen. You can purchase a freestanding pergola that can be moved as needed, or construct a prefabricated pergola from a kit. And then there's the custom pergola that can be designed to meet your unique needs. Choose a pergola made from natural materials that resists decay and insects. Rafters on a pergola are usually spaced 12 to 24 inches apart. The closer the rafters, the more shade they will provide. 
Outside Hidden Kitchen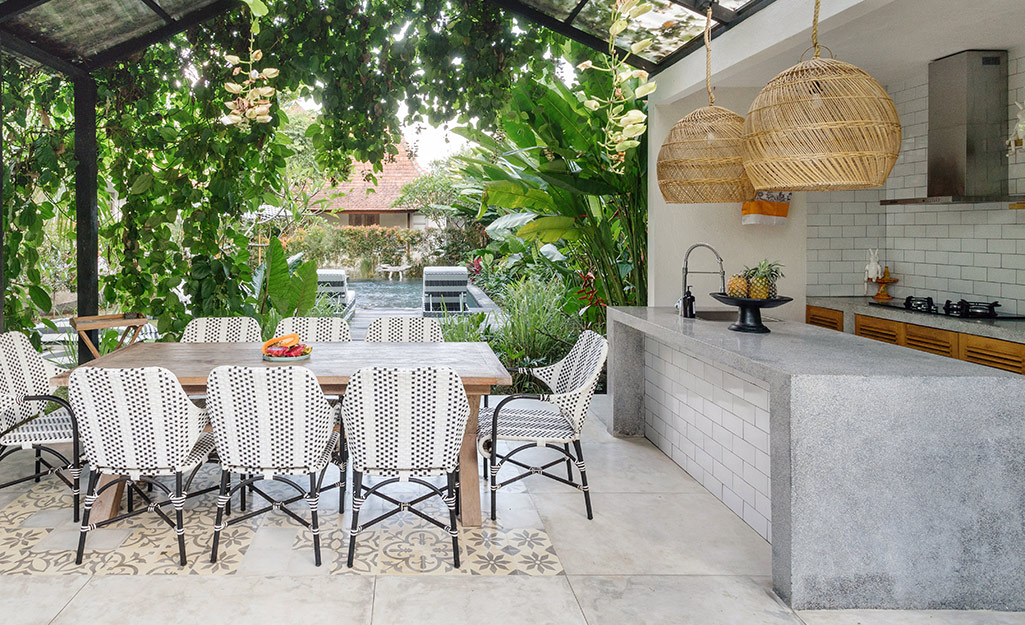 While you might appreciate the convenience of an outdoor kitchen, you may not want it to be the focal point of your outdoor living space. One of the easiest ways to hide an outside kitchen is to build your kitchen along one wall and then box it in, so that a garage-style door will fold down or barn doors will slide together to hide the space. Another way is through the purchase of an outdoor kitchen cabinet set that is enclosed. When not in use, the cabinet looks like a piece of furniture instead of kitchen space. 
Outdoor Brick Kitchen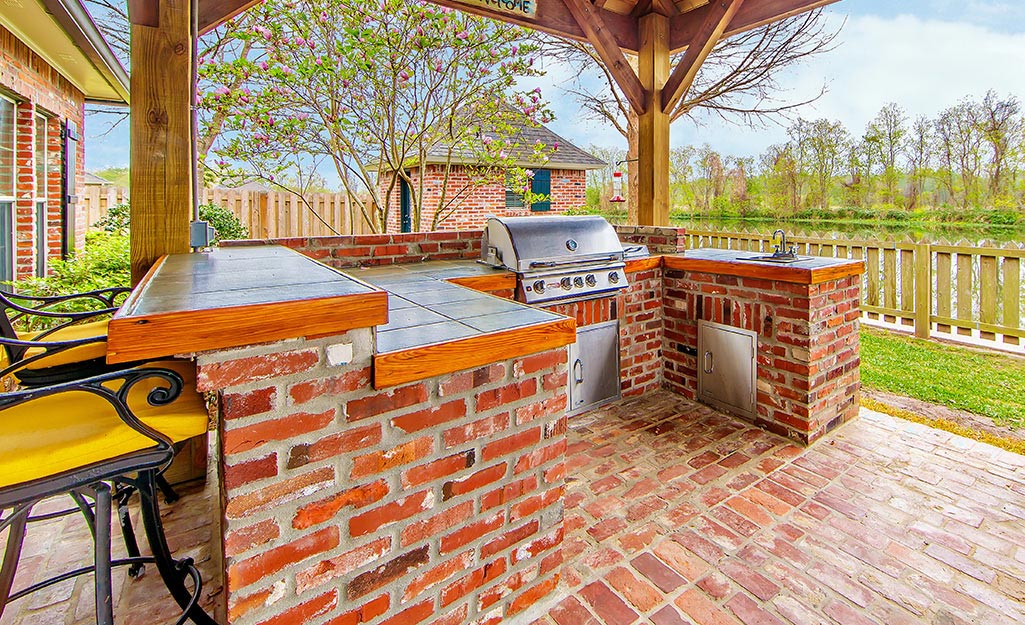 Outdoor kitchens made of brick are popular because brick not only withstands fluctuating temperatures, but it's an easy way to complement your brick home or patio. Some brick kitchens feature a brick base built around kitchen equipment such as grills, sinks and smokers. Others include kitchens built adjacent to a brick fireplace or wood storage. Think about the ways you plan to use your outdoor kitchen before diving into a brick project.
Outdoor Kitchen and Living Room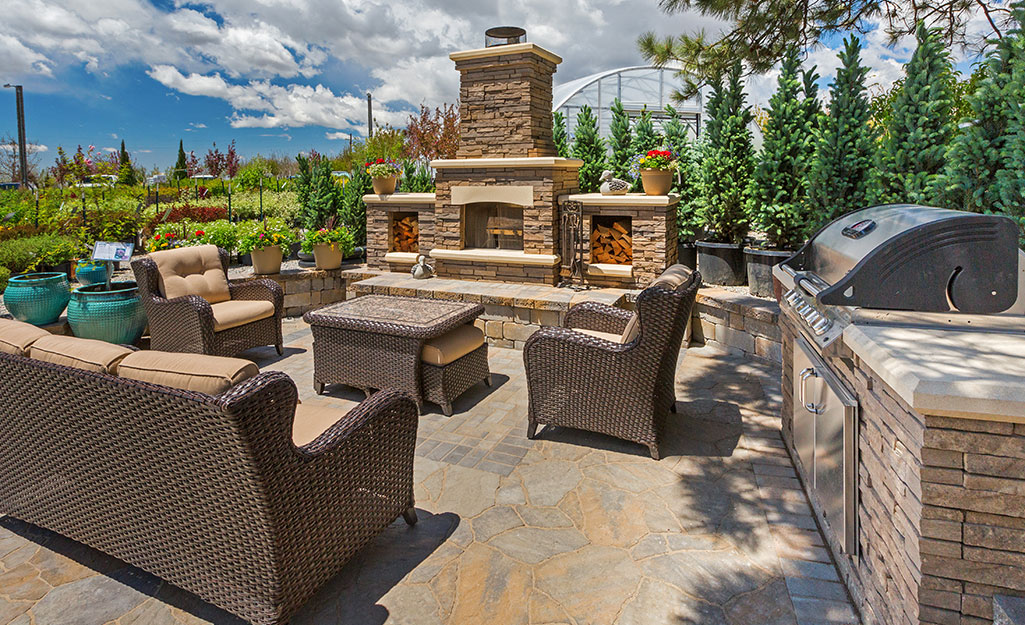 An outdoor kitchen and living room create a completely different space for you and your family to hang out with guests, watch movies and cook. These spaces are usually open, and combined floor plans provide a natural transition from inside your home to your yard. If your family does a lot of entertaining, you'll get a lot of use from this transitional outdoor space.
Outside Kitchen with Fireplace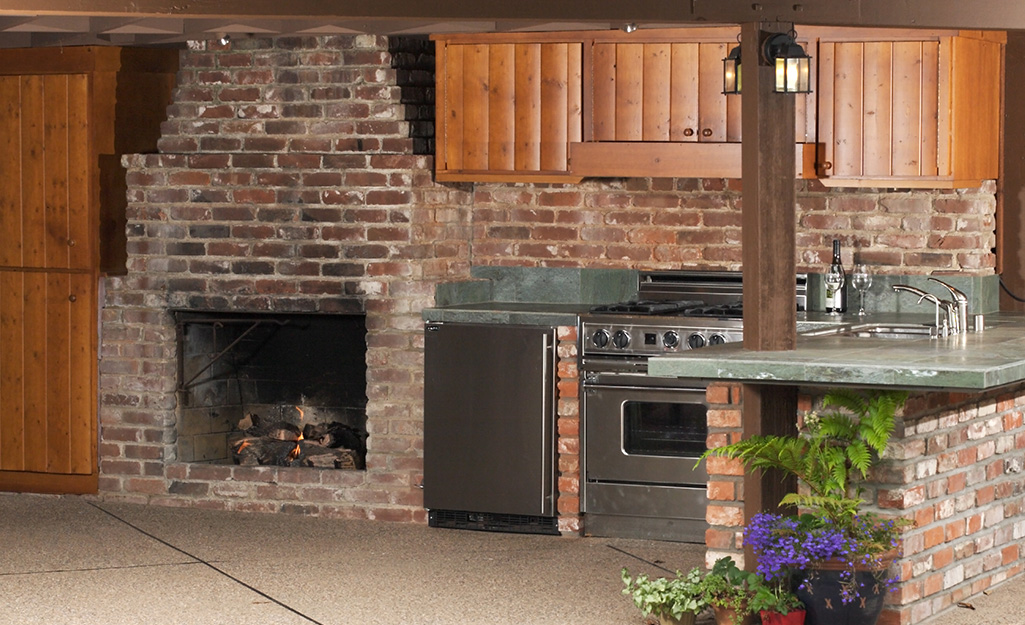 Nothing could be cozier than cooking a great meal in your outside kitchen and then eating by the firelight of your outdoor fireplace. If you are designing an outside space, remember to add features like a fireplace for interest. You can also purchase freestanding fireplaces and chimineas for the same effect.
Backyard Pavilion Kitchen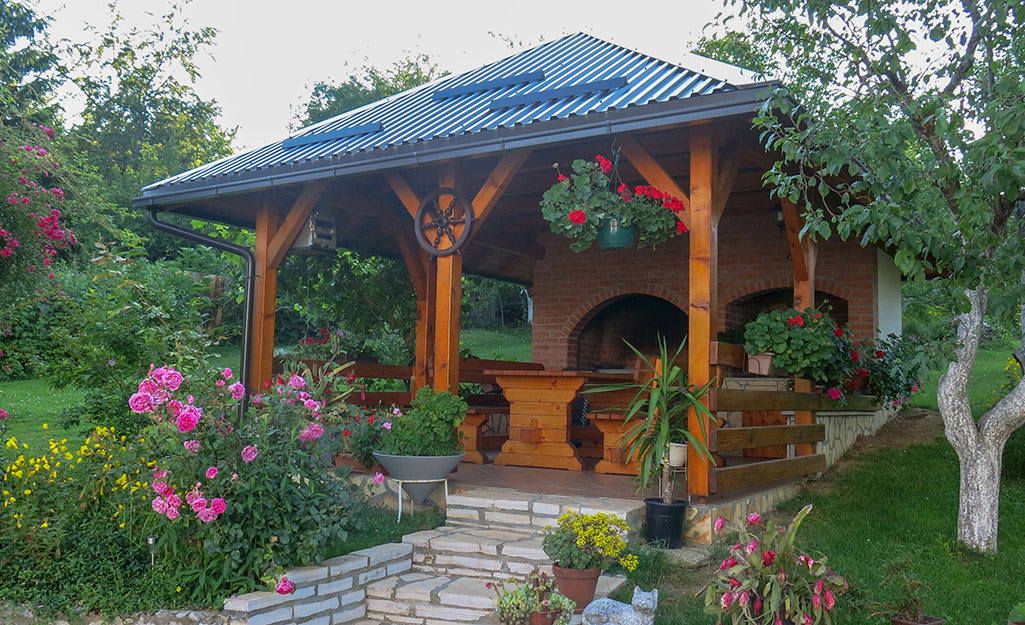 A pavilion covers your backyard kitchen and protects it from the elements. It also provides great shade. Prefabricated, or prebuilt and ready-to-assemble pavilions are available in several styles and materials, and they are usually less expensive than custom pavilions. 
Outdoor Kitchen with Dining Space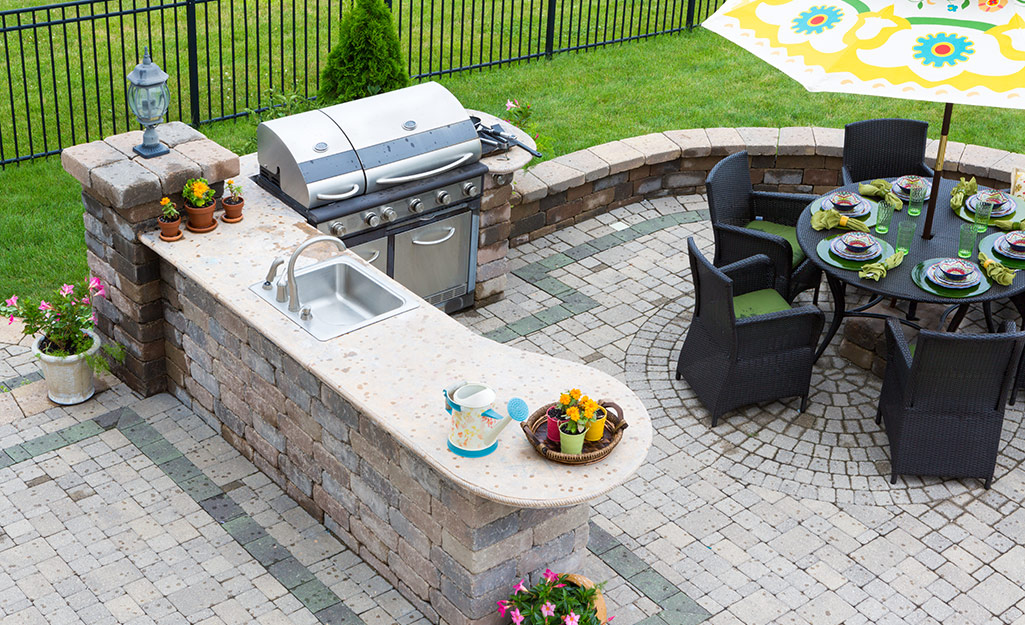 Rather than only cook outdoors, why not sit and enjoy your meal there, too? An outdoor kitchen with dining space can be as easy as adding a dining set to your patio. Poolside, a patio table with an umbrella is also another option. Just be sure that the dining set you choose is made to withstand outdoor living conditions. 
Outdoor Kitchen with Wet Bar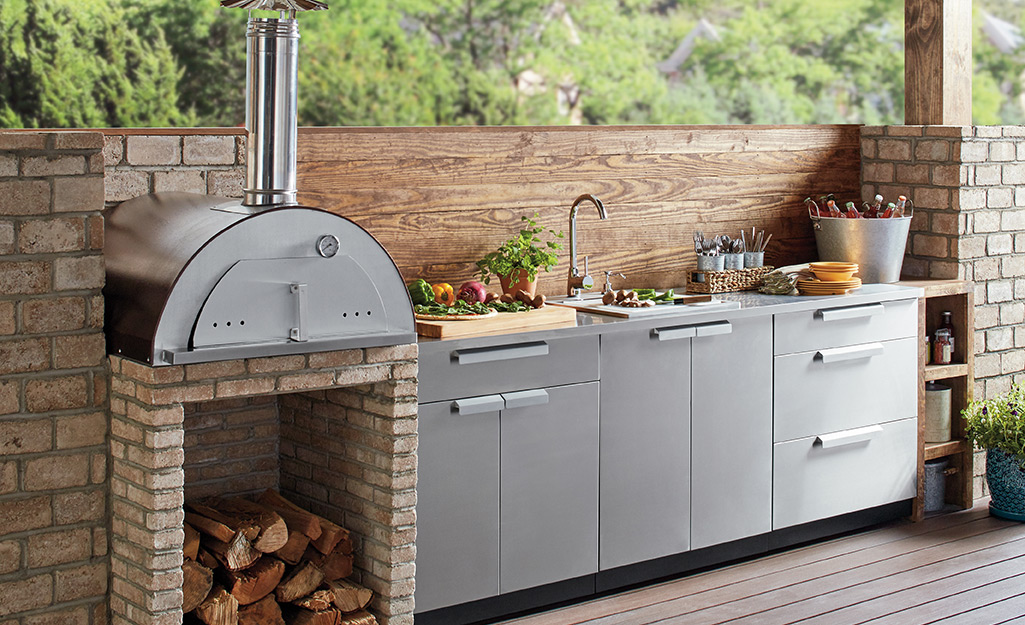 You don't always have to cook to enjoy your outdoor kitchen, especially when you have a wet bar. A wet bar means that you have access to running water to mix drinks. Adding a wet bar to an outdoor kitchen adds a new layer for entertaining. 
Outdoor kitchens add living space to your home and make it enjoyable to sit outside in pleasant weather. These outdoor kitchen ideas should help you identify what type of outdoor kitchen you want to create. The Home Depot has a large variety of elements for outside kitchen areas. Take advantage of shopping on The Home Depot Mobile App as well as using The Home Depot Installation Services and Delivery Services. 
Explore More on homedepot.com