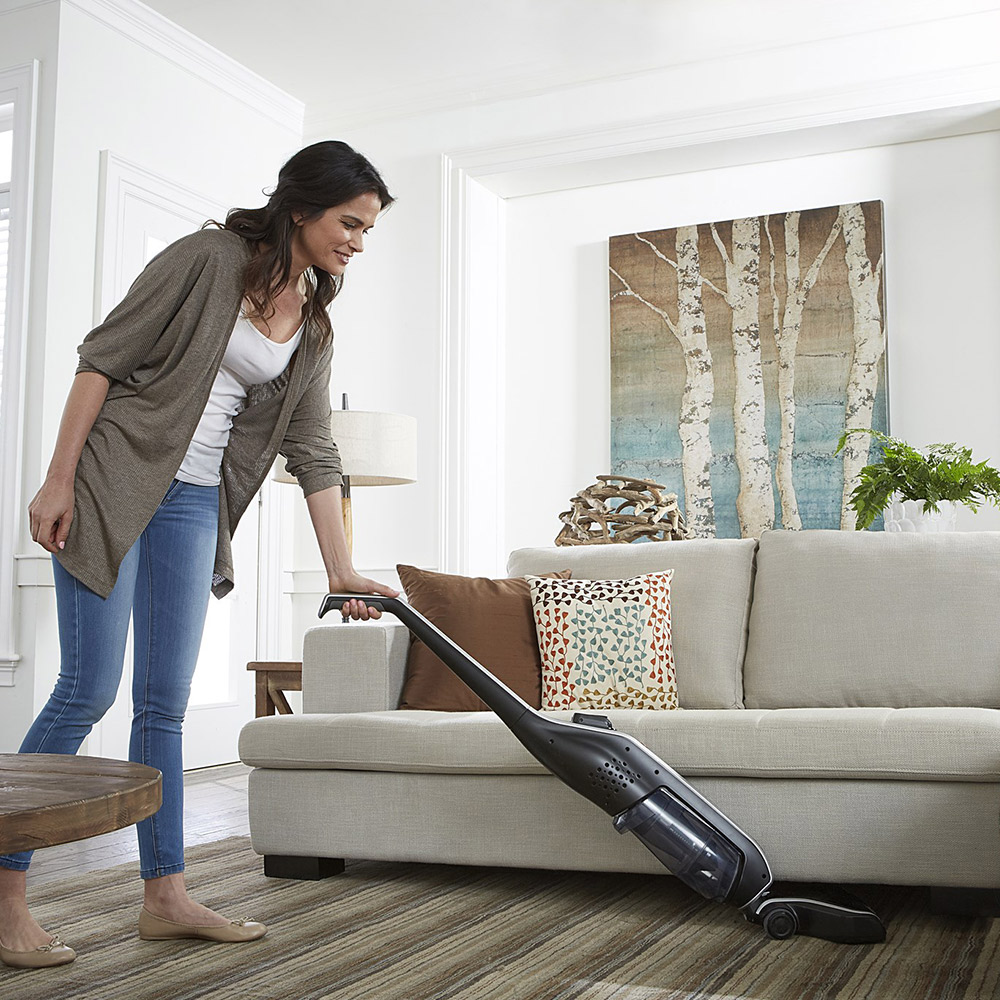 The vacuum cleaner you use to clean your home also needs a regular cleaning. Keeping the filters, hose, attachments, canister and other vacuum parts free of dust and dirt can help your vacuum run more efficiently, so it lasts longer and picks up more debris with every pass over the floor. 
Use this guide to learn how to clean a vacuum inside and out.
1
Tips for Cleaning a Vacuum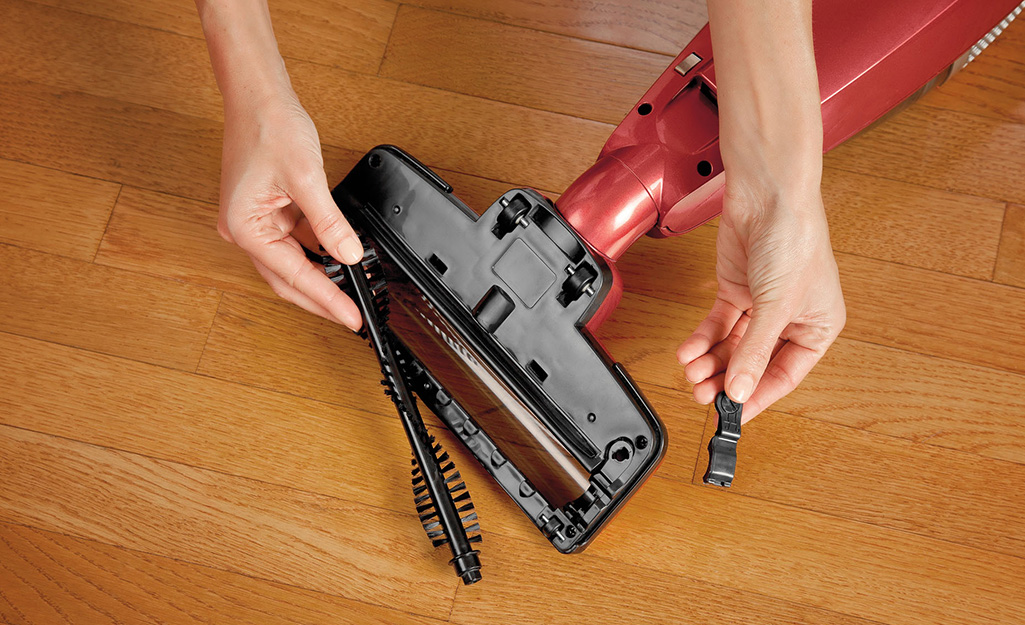 Clean your vacuum outdoors or in a well-ventilated area. You'll be exposed to a lot of dirt, so you may want to wear a mask over your nose and mouth and rubber gloves to protect your hands. 
Be safe, and start by turning off the vacuum and unplugging it. 
Read your owner's manual, in case the manufacturer's instructions differ from the overview provided in this guide.
If the filter in your vacuum isn't washable, replace it with a new one. Be sure to get the right size and type. If you wash a flat filter, lay it flat to dry, so it won't curl up and become difficult to re-install.
Let filters dry thoroughly before you put them back in the vacuum. 
Wipe off the wheels of your vacuum regularly so you don't grind dirt into your carpet or mark up your hard floors.
If you have trouble removing strings or hairs that have wrapped around your brush roller, try using one of your vacuum attachments to suction them off. 
2
How to Clean a Vacuum Without a Bag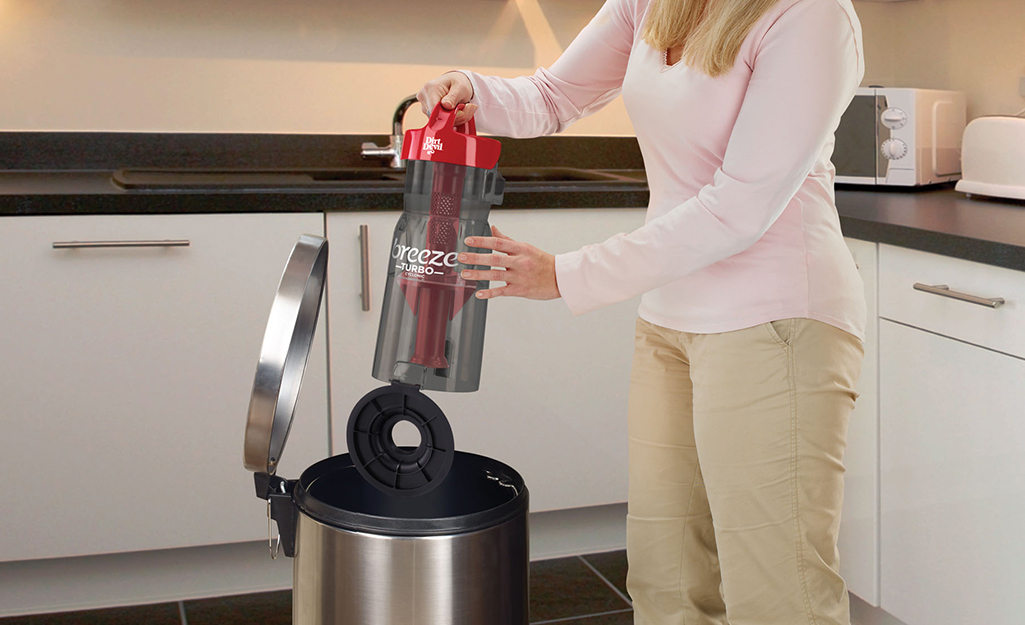 Give your bagless vacuum cleaner a thorough cleaning at least once every six months or anytime it stops working effectively.
Most bagless canister vacuums have a dust bin, a filter positioned above the dust bin, one or more attachments, a filter positioned after the motor and a replaceable HEPA filter.
Remove the canister and dump the contents into the trash. Read your manufacturer's instructions to see if the canister can be washed in warm, soapy water, rinsed clean and allowed to air dry. If not, wipe it out with a microfiber cloth and use a can of compressed air to blow out dirt or dust you can't reach. 
Next, check for dust and other debris in the attachments and hose. Again, wipe clean any parts you can't wash. Replace the HEPA filter every 6 months or as often as the manufacturer recommends. Other vacuum filters may need to be replaced more often, depending on your manufacturer's instructions.
Let all washed parts dry thoroughly before you put them back in place.
Use a screwdriver to remove the rotating floor brush on your machine. Notice how it goes on, so you can replace it properly. If hairs, strings and other fibers are wrapped around it, use scissors to cut them loose or pull them off with your fingers. Take the brush outside and tap or shake it to get rid of lint, dust and other debris.
Check the belt while your vacuum is disassembled and replace it if it's worn or damaged. Some manufacturers recommend lubricating the roller brush bearings. Wipe out the area where the brush is housed.
Look behind the vacuum brush for a small hole that leads to a passageway to the canister. Dirt and debris go through the hole and passage when you're cleaning, so be sure free they are clear of obstructions. 
Finish by wiping the exterior of the vacuum cleaner and its parts. Reassemble the vacuum and run for 30 seconds or so to loosen any clogs.
3
How to Clean a Vacuum With a Bag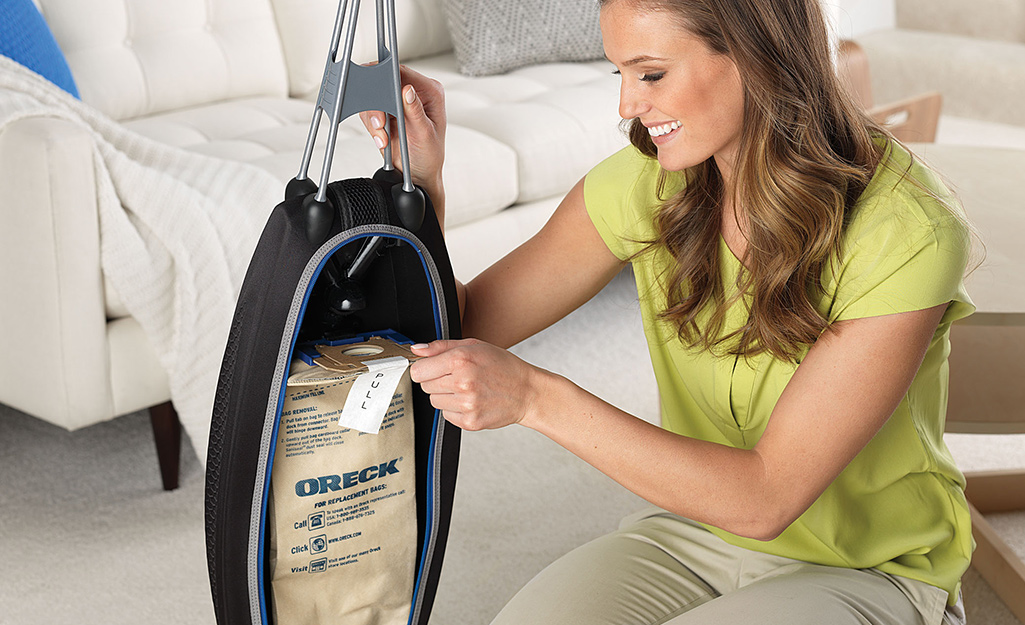 A bagged vacuum also benefits from a deep cleaning at least once every six months or as needed.
First, check to see if the vacuum bag is full. Some vacuums have an indicator light that comes on to signal when it's time to change it. If the light is on, look for a latch or button that releases the bag, press it and lift it out.
If your machine doesn't have an indicator light, replace the bag when it's half-full. Be sure to use a replacement bag made for your model. Secure it in place with the latch or button you used to release it.
Next, remove the rotating floor brush. Notice how it goes on, so you can replace it properly after cleaning it. As with a bagless vacuum cleaner, check the belt for signs of wear or damage while the brush is off. If  needed, replace it. 
As with a bagless machine, use your fingers or scissors to remove any strings, hairs or other materials wrapped around the vacuum brush. Shake it outside to dislodge any remaining debris. 
If the manufacturer recommends it, lubricate the brush bearings. Wipe out the area where the brush is housed. 
Clean the filter or filters by shaking them outside, washing them or replacing them as the owner's manual indicates. Put all the parts back in place.
4
How to Clean a Cordless Vacuum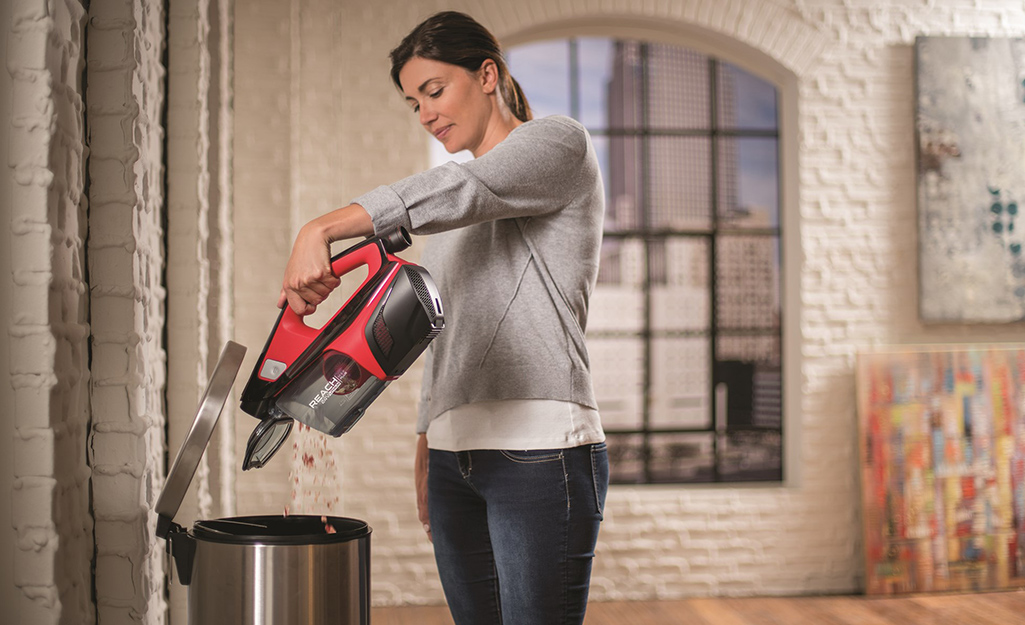 To clean a cordless or stick vacuum, first disconnect it from its charger. 
Remove the dust bin and dump the contents into the trash.
Use a screwdriver to unlock the floor tool and take off the roller brush. Pull or cut off any debris, strings and hair wrapped around the roller. Wipe out the area that houses the roller and put it back in place.
Unscrew or remove the filter from the top of the vacuum. Your manual may tell you to rinse it with cool water and let it air dry thoroughly before replacing it, or you may need to replace it with a new one.
Wipe down the dust bin with a damp paper towel or cloth. After it dries, use a small paint brush or a can of compressed air to reach and clean tight spaces. 
Finish by wiping down the exterior of the vacuum and reassembling the parts after they're dry.
5
How to Clean a Vacuum Hose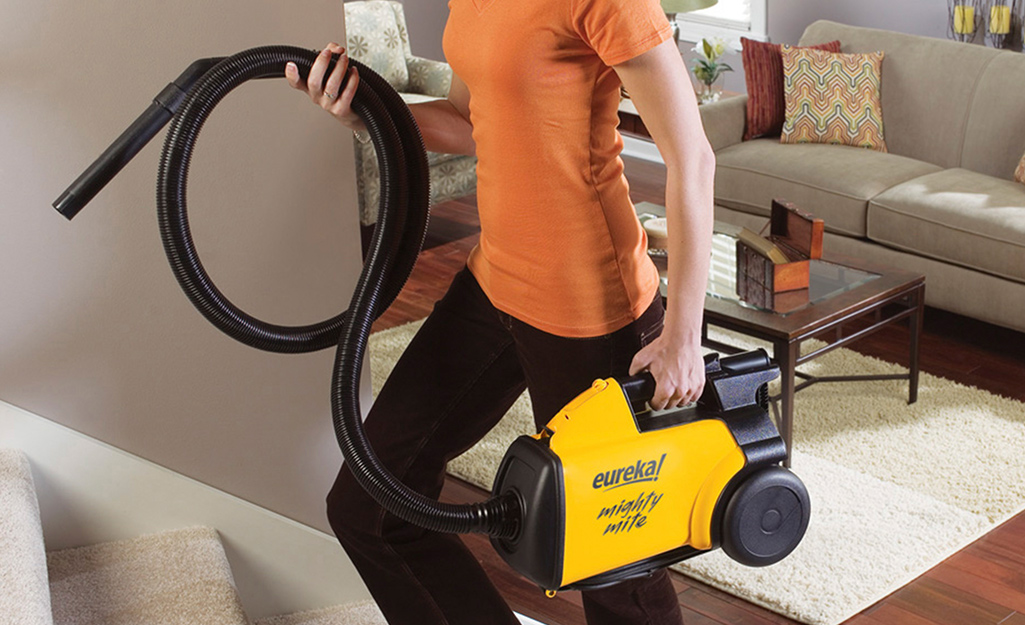 The most important thing to know about how to clean a vacuum hose is that you must avoid puncturing it. Simply remove the hose from the vacuum and insert a dryer vent brush or the handle of a broom into it. 
Gently push the brush or handle along to push out any debris, being careful not to damage the hose. When the vacuum hose is empty, reattach it. Wipe off the outside of the hose with a microfiber cloth. 
6
How to Clean a Vacuum Cleaner That Smells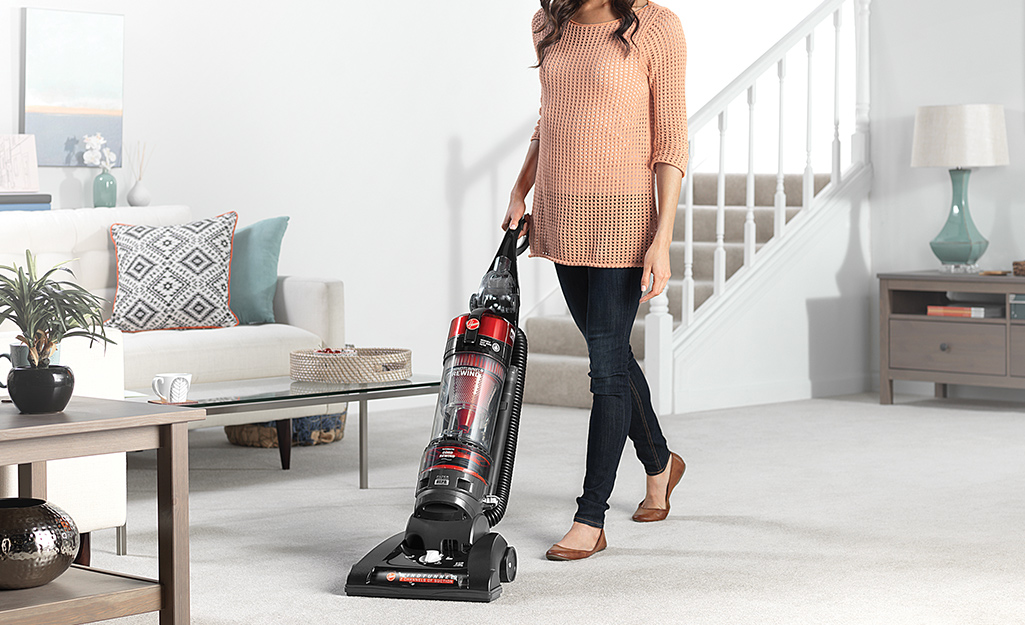 Sometimes you need to know how to clean a vacuum cleaner that smells. Bad odors can happen when you don't empty the vacuum often enough or it sucks up something that smells bad. Empty the vacuum cleaner, discard the contents in the outside trash and use an anti-bacterial wipe to clean the vacuum. Let it dry thoroughly. If your manufacturer says your vacuum cannister is washable, wash it out with warm, soapy water and then rinse it and let it dry.
Also, be sure your vacuum's hose and intake valves are clear and open.
Sometimes the belt in your vacuum can start to smell from friction when a rotating floor brush encounters resistance of some kind. Replace the belt if it's damaged or worn.
If you smell a hot, mechanical odor, the vacuum's electrical cord may be damaged or worn. Be safe and get a professional to replace it, as a faulty cord can cause a fire or electrical shock. 
If you have a bagged vacuum cleaner, freshen it by putting a new dryer sheet through the hole in a new bag or sprinkle a little vanilla extract on a paper towel. Then tear the paper towel into small pieces and vacuum them up. Carpet freshners are also available. They can be sprinkled over your carpet and then vacuumed up to make a room smell fresh and clean.
Follow the manufacturer's instructions to clean a robot vacuum, smart home enabled vaccum or backpack vacuum, as the steps can vary by brand and model.
If you want your vacuum to perform at maximum capacity, you need to take time to clean and maintain it. Methods for cleaning a vacuum will differ, depending on whether or not it has a bag and if it is cordless or not. As you learn how to clean a vacuum, refer to the owner's manual for specific instructions.
Ready to find a vacuum cleaner, vacuum cleaner parts or other supplies you need in your local store? Use The Home Depot Mobile App to locate products and check inventory. We'll take you to the exact aisle and bay.
Explore More on homedepot.com