Cleaning an iron can be one of those household tasks that you might often forget to do. That is, until you notice that your iron is sticking to fabric, spraying dirty water or leaving black spots on your clothing. Over time, dirt, dust, spray starch and fabric fibers build-up on the bottom soleplate of your iron. In addition, old water inside your iron's water reservoir can begin to cause rust spots. 
While you may be inclined to toss your iron for a newer, cleaner model, regular cleaning is relatively easy. Learning how to clean an iron can make it work like new again. This guide will teach you a few different methods to clean your iron, inside and out.
Tip: Always use an ironing board or sturdy surface when cleaning your iron.
1
Things to Consider Before Cleaning an Iron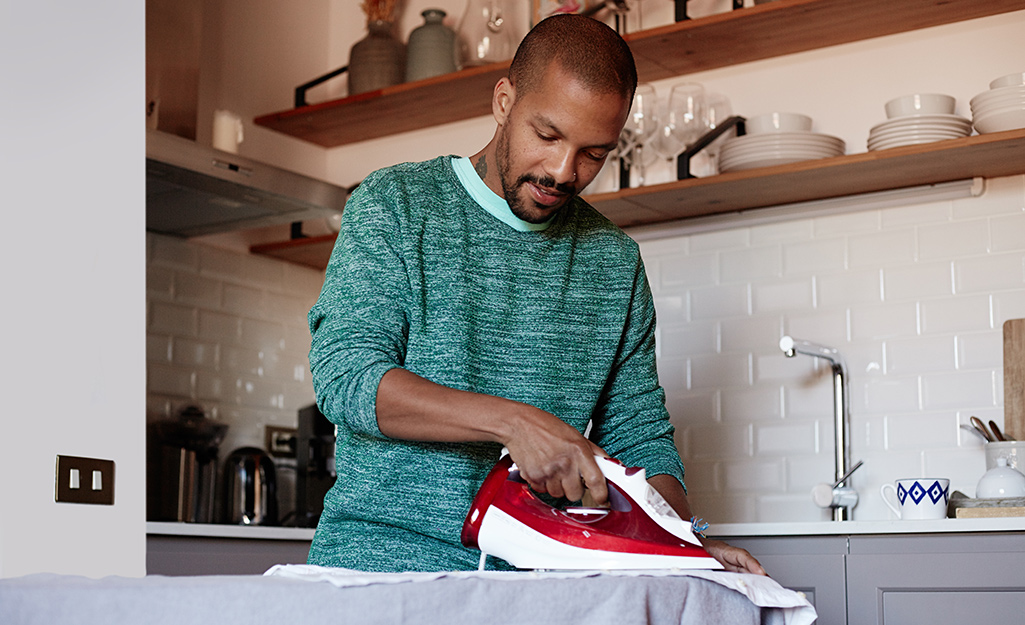 Always use distilled water to clean your iron. Tap water may contain minerals that will clog vents and cause more damage.
Everyday tools like pipe cleaners, cotton swabs and toothbrushes can be helpful when it comes to cleaning your soleplate and steam vents. While cotton swabs and pipe cleaners can really get inside steam vent crevices and holes, toothbrushes can help loosen up residue on the soleplate. 
Before you begin cleaning an iron, be sure it is unplugged and cool.
2
Clean the Inside of the Iron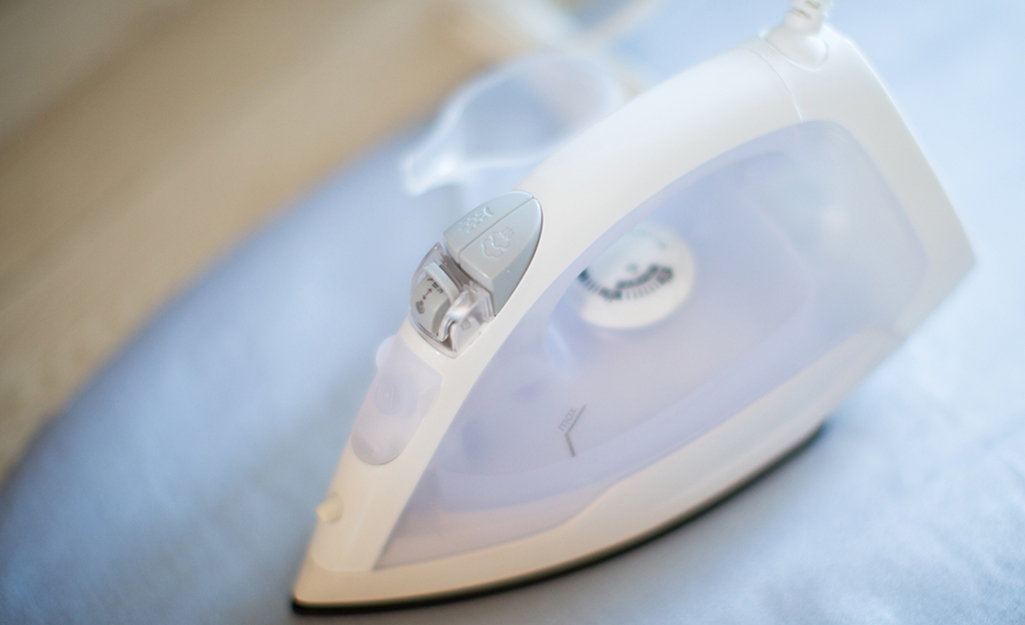 Steam irons need to be cleaned out pretty often to ensure that they don't leave rusty water marks on your clothes. While you can buy commercial-grade iron cleaners, they tend to be harsher, so a simple homemade iron cleaner will do the trick. Here's how to clean a steam iron easily and inexpensively with a mixture of vinegar and water.

Mix 1/4 cup white vinegar with 3/4 cup distilled water. Pour mixture into the iron. Make sure the iron is cool and unplugged before adding the mixture to the steam vents.
Plug in the iron and turn the steam feature on. 
Let the iron heat up for approximately 3 to 5 minutes.
Press the steam button and hold until steam comes out.
Repeat 4 to 6 times before turning off the iron.
Using a clean cotton swab, clean the iron's steam vents to remove any deposits or buildup.
Unplug iron and let it cool.
Empty out the mixture of vinegar and water.
This mixture can also be used to clean the iron's soleplate.
3
Cleaning the Soleplate of the Iron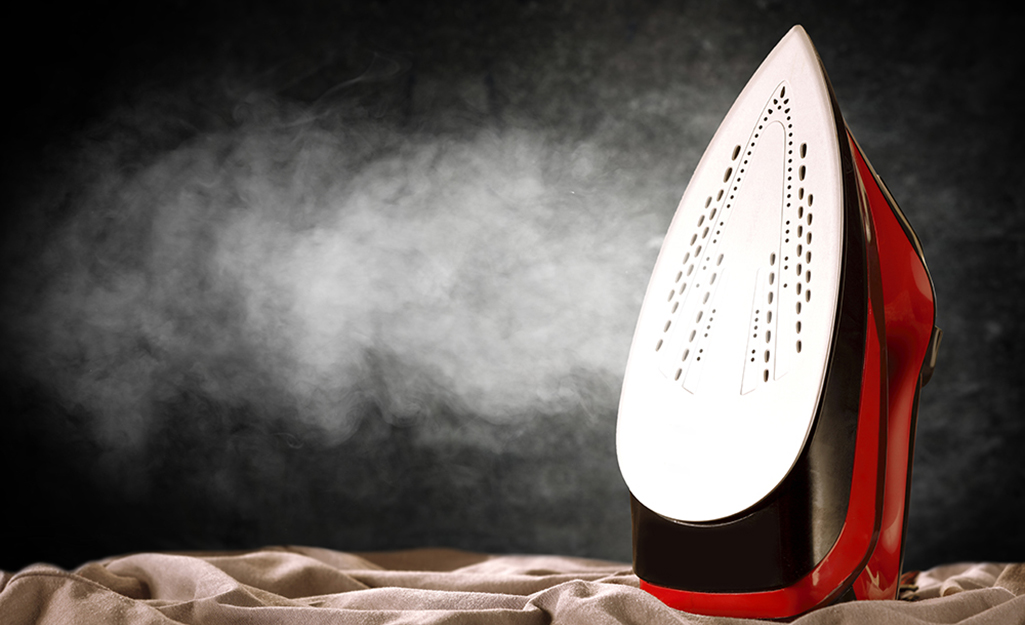 When it comes to how to clean the bottom of an iron, which is known as the soleplate, there are a variety of methods using everyday cleaning supplies and tools. Never scrub the soleplate with harsh cleaners, which can cause scratches and lead to rust.
 
Depending on what type of build-up you have, you may want to try a few different ways before you find the one that works. Here are a few cleaning mixtures and methods:
Baking Soda & Water:
Mix 1 tablespoon of water with 2 tablespoons of baking soda until it forms a paste.
Using a rubber spatula or a clean towel, apply the paste to the iron soleplate.
Wipe the iron clean with a damp cloth. 
Fill your iron with clean water and turn on the steam setting. 
Run the iron over a thick blanket or towel, pressing the steam button, to ensure no paste was left inside vent holes or on the soleplate.
 
Cleaning Sponges & Scouring Pads:
You can opt to take on your iron's buildup with a kitchen sponge or scouring pad, but it will take a bit more elbow grease. 
Always be sure that you use the non-scratch type of sponge or scouring pad, as well as a no-scratch all-purpose cleaner. 
Clean until you can no longer see residue on the soleplate.
Dish Detergent:
A few drops of dish detergent mixed with water is a simple strategy for cleaning a soleplate that has non-stick coating. 
Dip a paper towel or cloth into sudsy water and gently wipe away buildup. 
Iron Cleaning Products:
Commercial grade iron cleaner can work wonders in cases when the iron was accidently placed down on a fabric that melted. 
Typically, you will spray the cleaner onto a folded cloth and press down on it with a hot iron; moving the iron along the entire cloth surface. 
There will be a bit of a sizzle and a strong scent, so it's best to do this in a well-ventilated area. 
Always follow the instructions on the container of the product you've chosen.
4
Remove Melted-On Residue
For harder issues, such as melted-on plastic, ice can remove it without causing scratching or damage to the metal. 

Fill a pan with ice cubes and place the part of the iron with the plastic residue on ice for about 10 minutes (or until it hardens). 
Use a blunt plastic knife to scrape away the hardened plastic. Never use a metal knife to clean an iron.
Follow up with one of the above cleaning mixture methods.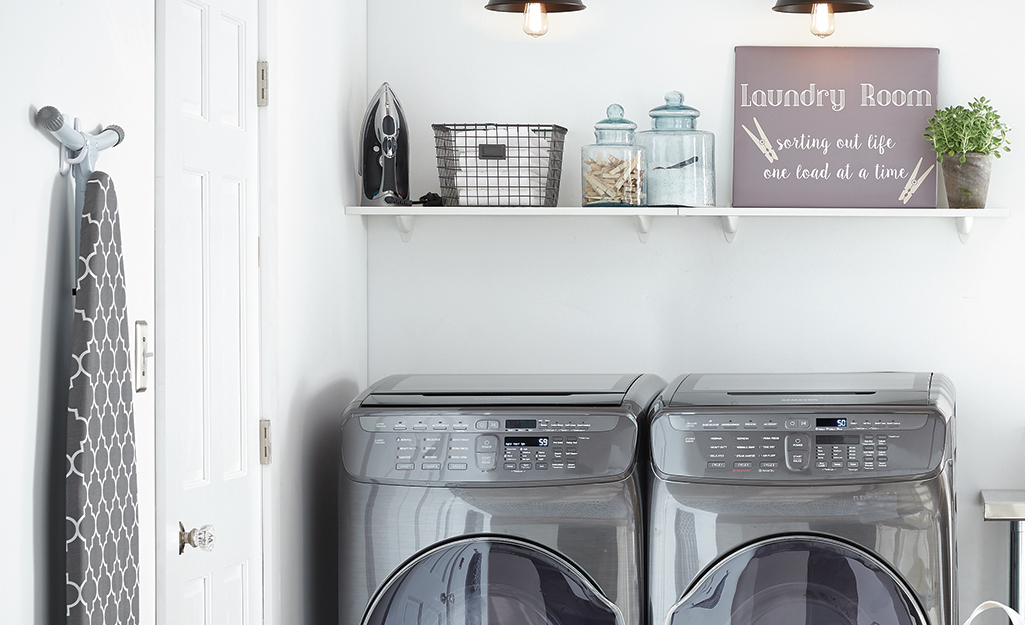 Now that you know how to clean an iron, it's important to understand how to take care of it. Maintaining your iron can help it stay in good working order for a longer period of time.  

If you iron often, it's best to clean your iron once a month to avoid damaging dress shirts and other important clothing. 
When you can, be sure to use distilled water in your iron's steam vent. Tap water can leave behind minerals that will clog your iron, damage the reservoir and cause rust stains on clothing. 
Always empty the reservoir when done ironing. Even distilled water will cause build-up if it's left inside the iron.
Store your iron in an upright position to prevent water leaks and to keep the soleplate from leaning against anything that could damage or scratch it. 
Dirty irons can damage the fabric you press with it. When you know how to clean an iron, you can keep it and your clothes in top shape. Create a regular cleaning schedule to make sure you remember to clean your iron often.  
Ready to get supplies for cleaning an iron? The Home Depot delivers online orders when and where you need them.
Explore More on homedepot.com