A clothes steamer is an effective household appliance that removes wrinkles from just about any fabric. Irons are useful for handling sturdy fabrics like cotton or denim, and can be used to press creases into pants, collars and other such clothing. However, garment steaming works on a larger variety of fabrics and is less likely to cause damage. Garments that need extra care, curtains that are large and awkward to handle and outfits pulled straight from the suitcase can all benefit from a steamer. Learn how to use a  clothes steamer and you'll be happily de-wrinkling day in and out. 
How Clothes Steamers Work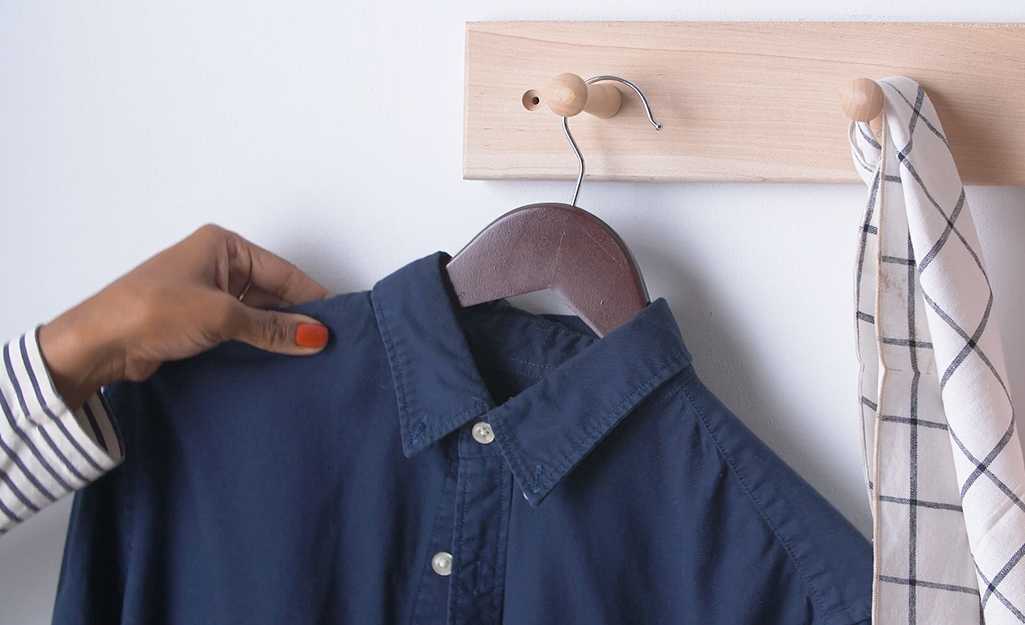 Understanding how to use a clothes steamer and which steamer is best for you could be the key to incorporating this useful tool into your home-care lineup. When you understand how to use a steamer, they are actually easier to handle. Since they do not need a board to work on, they are more portable than irons and are useful when surface space is limited. 
Steamers work by heating water until it becomes steam and then channeling that steam toward a wrinkled fabric to relax its fibers and eliminate wrinkles. To use a steamer, fill its water tank with cool water. Then, check to make sure all parts of the machine are connected and in place. Plug the machine in and simply wait for it to heat. Once it's hot, you're all set to get steaming. Check that your steamer is ready by pressing its activation button. If steam issues out of the nozzle, it's good to go. 
Common features you'll find on steamers include:
An adjustable thermostat: Allows you to control the temperature. This feature is good for fine fabrics that require lower heat.
An anti-scale filter: Helps prevent build up of minerals found in hard water.
Ceramic soleplate: Offers good heat-conduction and distribution. It can help prevent or eliminate static.
An auto shut-off feature: Helps prevent accidents and prolongs the life of your steamer.
How to Use a Clothes Steamer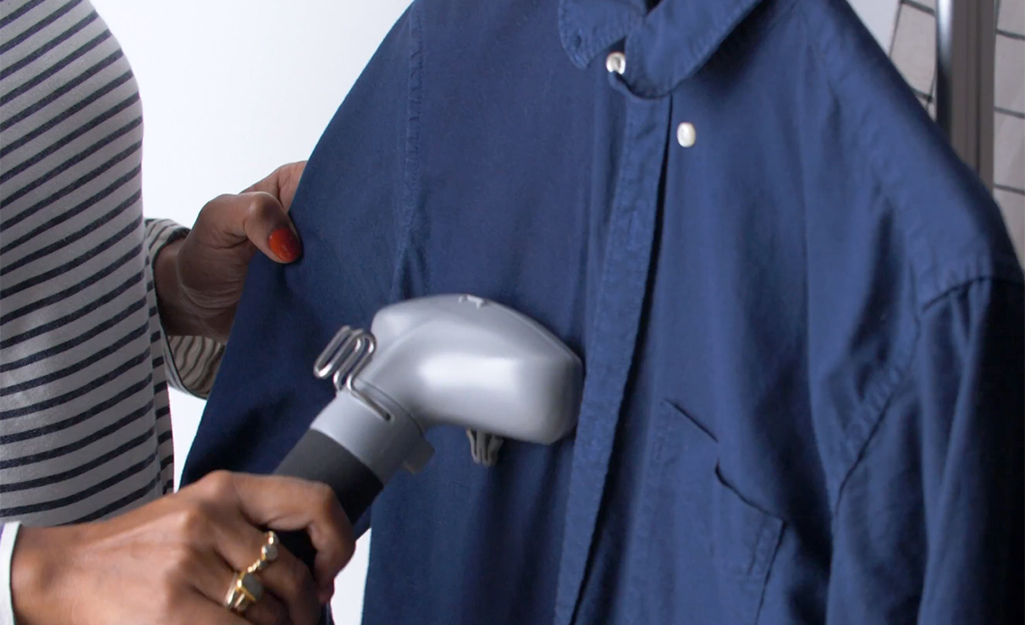 To get started, lightly touch your garment with the steamer's nozzle. Wrinkles should vanish. The tool's steam loosens the fabric it comes in contact with, which then releases its wrinkles. There is no need to press hard on the material. Given that prep time and usage can vary based on the machine's size and shape, having a keen understanding of your needs is important before you start garment steaming. 
Steaming at Home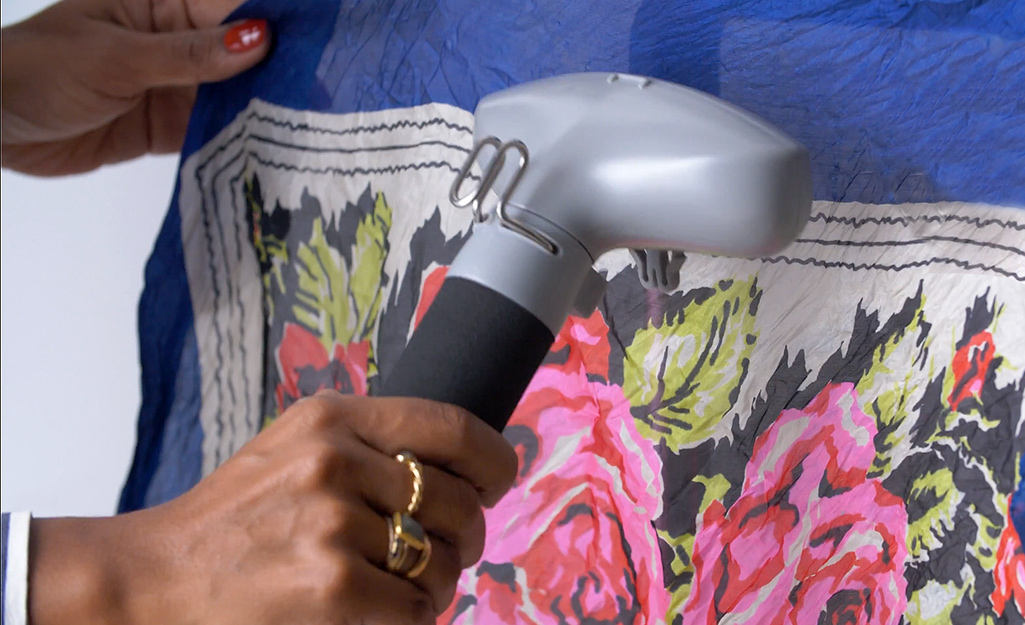 If you're planning on mostly using your steamer at home, your best bet is to acquire a standing steamer. This type of steamer is large enough to tackle a vast pile of wrinkled clothes at one time. It will likely come with helpful features and accessories. 
If you're steaming clothes at home, fill the tank and insert it into the machine's base before you begin the steaming process. Typically, a standing machine requires about five to 10 minutes of heating time. 
Gather clothes and hang them while the water heats, so you're all set to get to work once the steam is ready. Often, a large standing steamer will come with a rack for hanging the clothes you're steaming. A rack is useful for staying organized. It offers 360-degree access to the clothes you are handling. Plus, a rack offers a great temporary storage for the clothes you've finished steaming. 
When steaming, you should have your fabrics in a hanging position. This will allow the wrinkles to easily release. In a hanging position, the fabrics will remain smooth and won't return to a crumpled state. A standing steamer's accompanying rack is a great tool to use for hanging your clothes while you steam. When working on curtains, you can steam directly on the fabric where it hangs in a window. 
A standing steamer will have a long neck through which steam is issued. This flexible tube makes it easy to access each and every wrinkle. Keeping the garment in a vertical position, start at the bottom and work your way up until all of the wrinkles have disappeared. 
Look for standing steamers with wheels. Wheels will help you move the steamer from its storage spot to an area that allows you to spread out or approach something already hanging, like curtains.
Steaming on the Go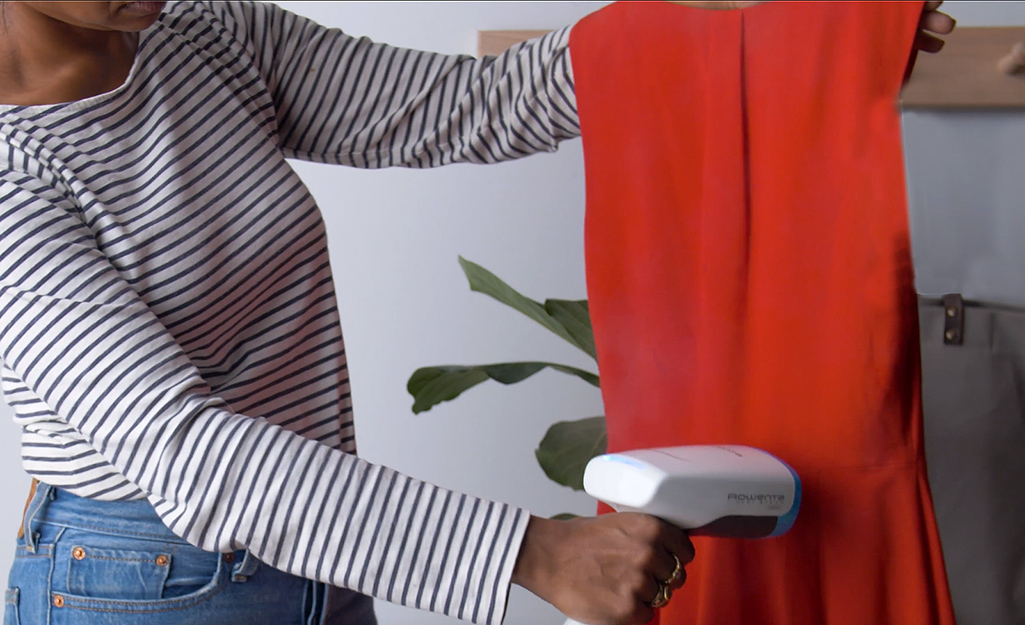 A handheld steamer uses the same method as a standing steamer, but on a much smaller scale. Portable steamers typically weigh a couple pounds and combine a small water container and nozzle all in the body of one device. The tool will have a mouth that emits steam when a button is pressed, so you can easily direct steam wherever it is needed.
These small and easy-to-handle tools are extremely useful for travel or if you have an afternoon meeting for which your outfit must be wrinkle-free. They aren't ideal for taking on great volume. If you're often on the go, however, a handheld steamer may be perfect. 
A handheld steamer won't necessarily come with a rod for hanging clothing, so you may have to find an alternative. Steaming can be done simply by using just your hands. Use one hand for holding the garment and the other for the steamer. Once you're done steaming, you should hang the garment on a shower rod or back of a chair to fully dry. This trick can also be used with standing steamers that don't come with a rack. 
Thanks to their size, travel steamers also heat up quite fast. Once they're plugged in, they'll be ready for use in two to three minutes. Another upside of a handheld steamer is its price. They are often less costly, given that they have fewer bells and whistles and a smaller body.
Keeping Your Clothes Steamer Clean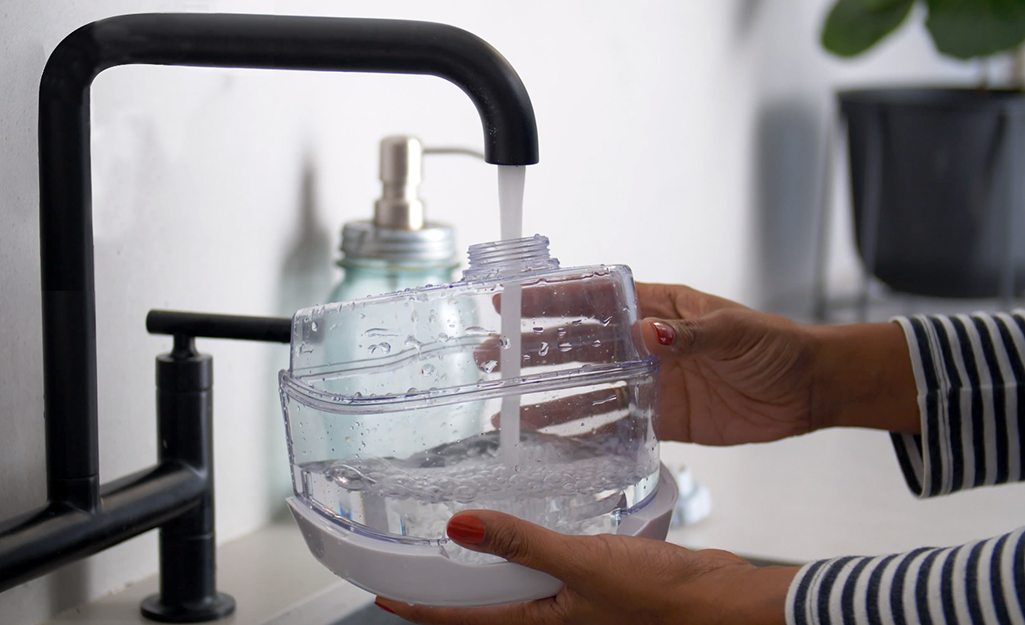 Once you understand how to steam clothes, you need to make sure you understand how to keep the steamer you're using clean. 
The best way to keep your steamer in tip-top shape is to exclusively use distilled water. Taking this measure will ensure no harmful minerals or bacteria find their way into the machine's tank or steam outlets. If you are using tap water, you will need to clean the steamer more often to keep the machine free of those minerals and bacteria that can be found in tap water.
To clean the steamer, pour white distilled vinegar into the water canister and allow it to heat up. Expel the hot vinegar into a sink until the tank is empty. Doing this will cleanse the machine's interior of all mineral buildup. Follow this vinegar treatment with a round of water. Fill the tank with distilled water and release that round of steam into a sink until it is all gone.
Always make sure to empty the water canister after use to avoid mildew buildup.
Clothes Steamer Tips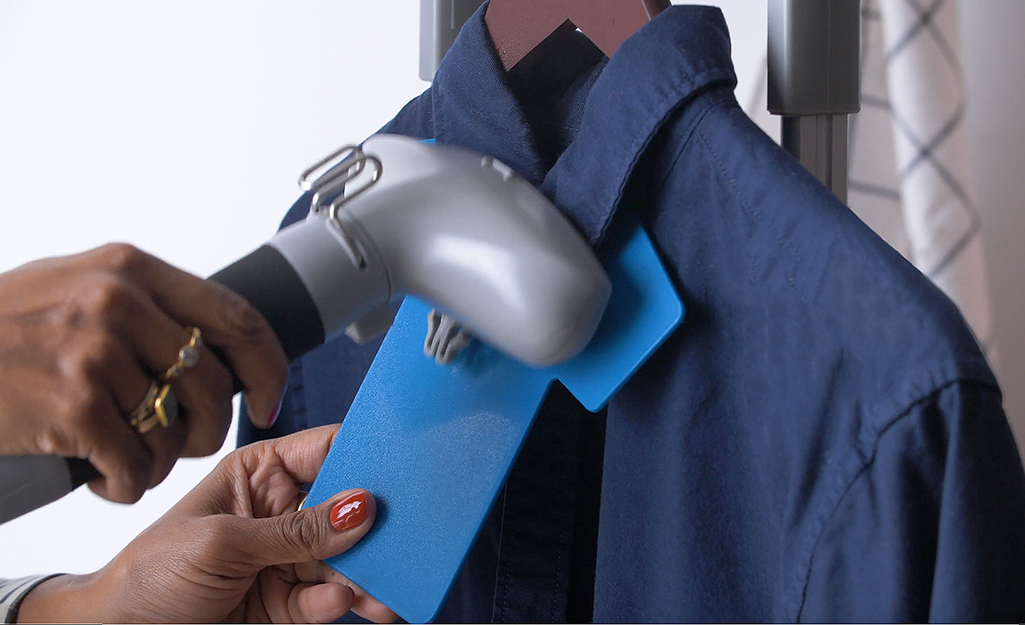 Here are a few important tips to bear in mind when learning how to use a steamer:
Make sure the water level within the tank is just right. If it is too low, you will damage the steamer. If it is too full, you will have trouble heating it well enough to produce steam.
Know which fabrics you can steam. Most cottons, silks, wools and polyesters can be steamed. Waxed jackets, suede and materials that could possibly melt, like plastic, should not be steamed.
If you are unsure about a material, check fabric care labels for advice. You can also test out by steaming a small corner of the fabric.
Handle delicate fabrics with care. Silk, chiffon and velvet can be steamed, but need to be treated carefully. To avoid damaging, keep the steam nozzle from touching the fabric. You can also steam the garment inside out.
Allow your steamed clothing time to dry after it is de-wrinkled. Since steaming works by shooting water vapor at a garment, you will be left with something that is slightly damp. It should only take about ten minutes to fully dry.
To tackle extremely wrinkled clothes, steam from the inside out. The weight of the garment will help remove the wrinkles more quickly.
Place pads behind clothing to help with dense fabrics.
Get additional nozzles and rollers that are designed to handle specific fabrics.
Use clips that allow you to press a fabric while applying steam.
Prevent burns with handle covers.
A clothes steamer can remove wrinkles from almost any fabric. When you know how to use a clothes steamer, you can refresh curtains, upholstered furniture and outfits pulled from your closet or a suitcase. 
Ready to shop for a clothes steamer? The Home Depot delivers online orders when and where you need them.
Explore More on homedepot.com