A swimming pool with clear water is an inviting backyard feature. When pool water is cloudy, the pool is much less appealing. Cloudy pool water is common, but it's is easy to correct. Clear water is essential for safe swimming and to keep your pool working correctly. 
This guide will teach you how to clear a cloudy pool. It includes some of the most common causes of cloudiness and several ways to return the sparkle to your pool water.
1
What Causes Cloudy Pool Water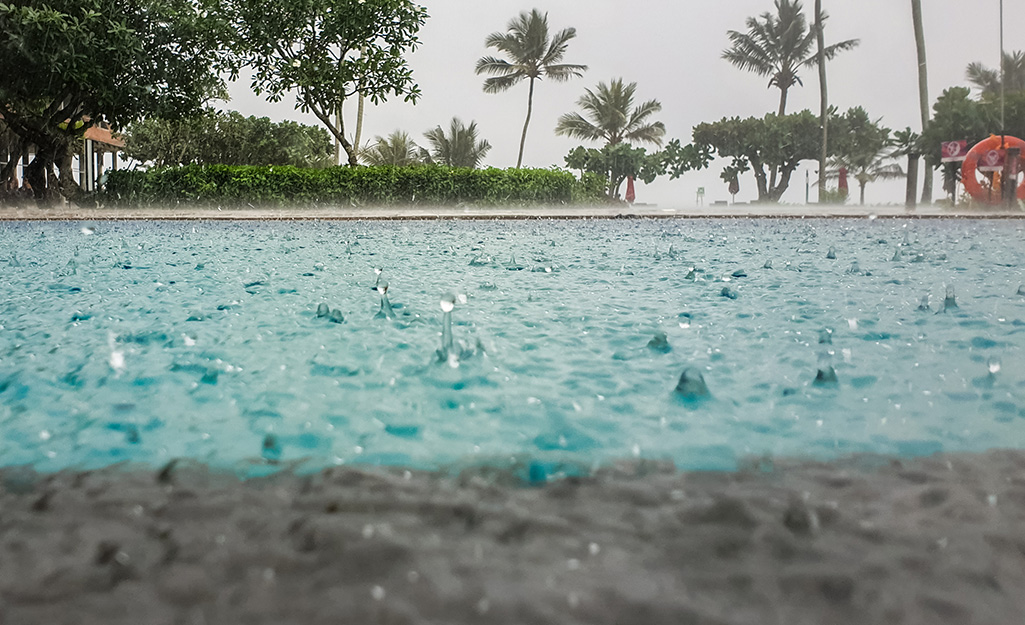 When pool water is cloudy, you may wonder why. Pool chemicals could be out of balance or the pH might be off. Chlorine levels and the right pH are key to keeping a pool clear. 
If a pool's pump or the filter isn't working right, the water may look murkier than usual. Storms or increased rainfall can affect your pool. So can too much sunlight, which can heat up the pool, allowing more bacteria to grow. The sun's ultraviolet rays can break down a pool's chlorine, resulting in lower levels of this chemical. Even having a lot of people over to swim might lead to a cloudy pool.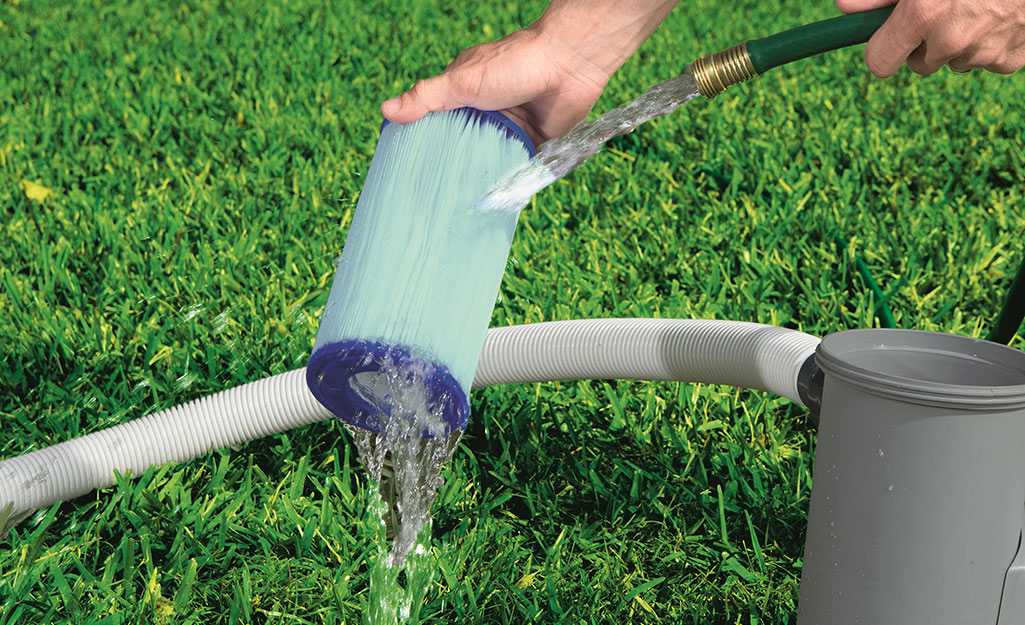 When pool water is cloudy, start by looking at the pool filter. It's designed to clear excess dirt and debris from the water. Dirty filters can leave trace amounts of particles in your water, leading to a foggy pool.
Use a pool brush to sweep the area near your filter. 
Then inspect the filter to make sure it is both clean and functioning properly.  
Clean your filter at least twice a year to help it perform at its best. 
Faulty or failing filters may have issues with their valves. It's possible that the filter cartridge may need to be replaced. If this is your first time using the pool, check to see if the filter is correctly installed. 
To treat cloudy water due to poor filtration: 
Check your filter for worn or broken parts. Replace parts if necessary. 
Run the pump for at least 8 hours a day. Angle pool returns away from the water's surface. 
Backwash the filter until a clear stream of water flows. 
Chemically clean your filter media with a filter cleaner. 
Empty any debris in the skimmer basket that may clog water flow.
Tip: Replace the cartridge in your pool filter at least once each season for the best performance.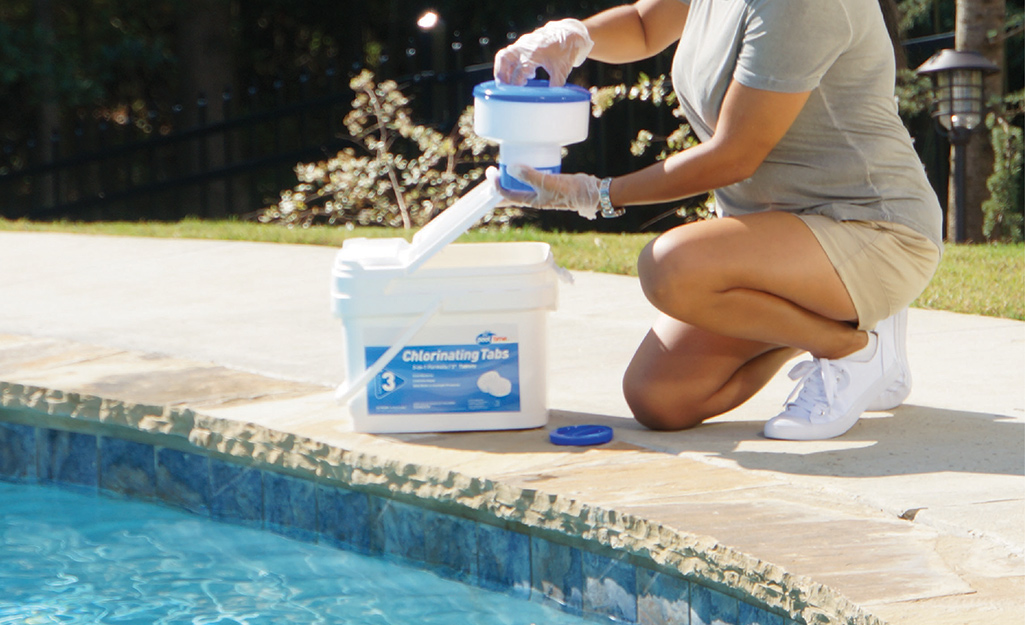 If your filter is clean and working properly, the next step is to measure the chemical levels of the water. Pool test kits are designed to evaluate the total chlorine in the pool, its alkalinity, the water hardness and more. The test results can help you determine how to clear cloudy pool water.
Chlorine levels should stay between 1 to 3 parts per million (ppm). Sunlight, rain and regular usage can deplete the amount of chlorine in your pool, leading to cloudy water. If your test strip or test kit shows the amount is less than 1.0 ppm, more chlorine is needed.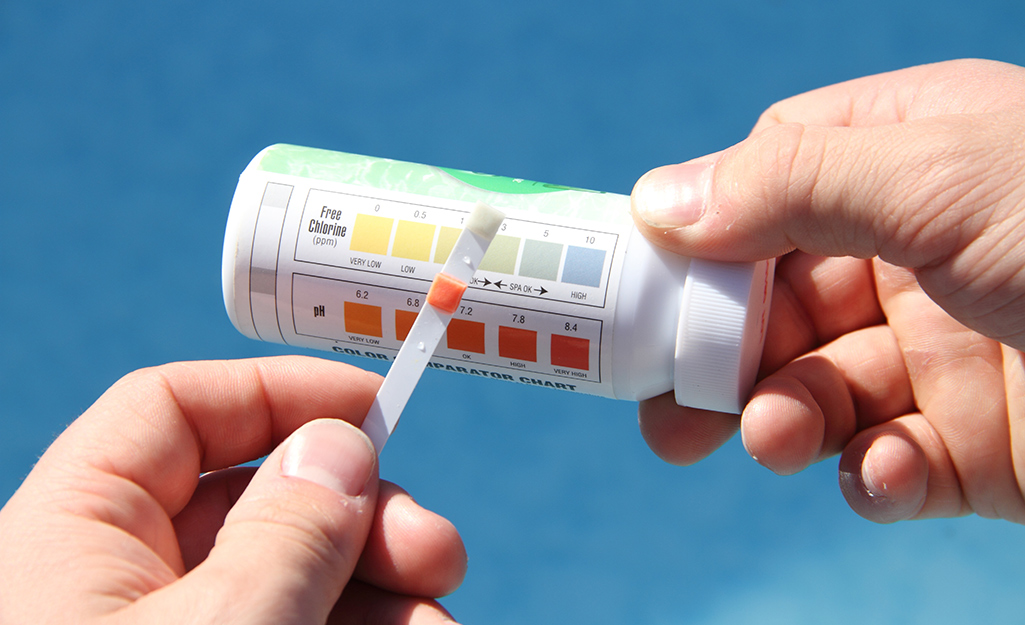 Pool test kits also measure the potential hydrogen (pH) of your pool, which refers to how acidic or alkaline the water is on a scale of 0-14. 
Pure water has a pH of 7.0, which is neutral. The pH of a pool should be between 7.2 and 7.8, with 7.6 being the ideal balance. Levels below 7.0 indicate acidic water. Levels above 7.8 mean that the water is too alkaline or basic. Both instances can lead to a cloudy pool. A pH adjuster can increase or decrease the pool's pH as needed.
5
Raise a Pool's Alkalinity with Baking Soda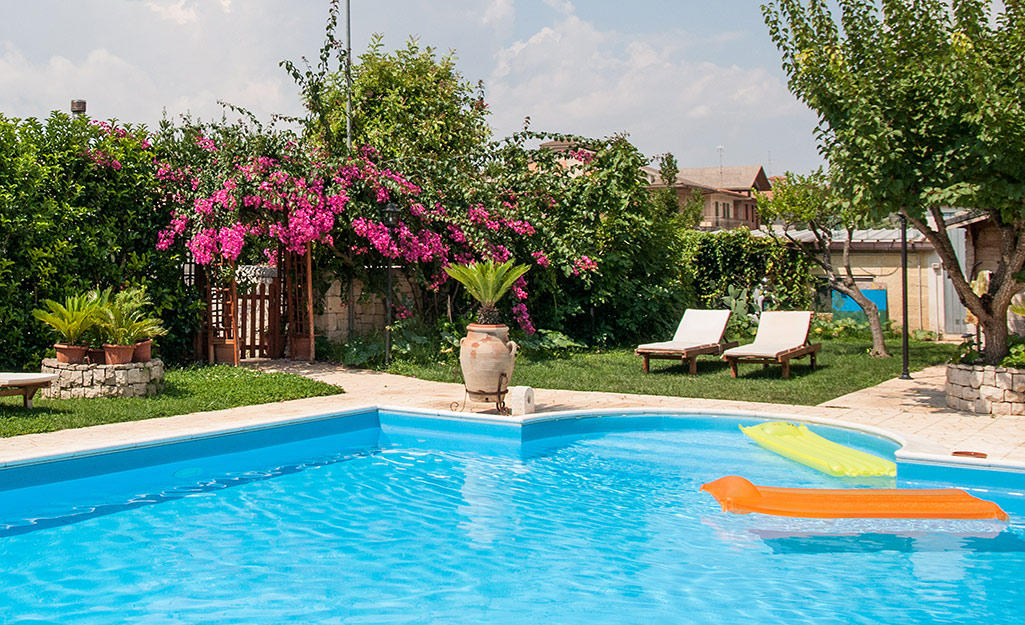 Adding chlorine to a pool can lower the pH of the water. When you test your pool's pH, you may find that it is lower than the ideal of between 7.2 and 7.8. A pool with low pH will also have low alkalinity. 
To increase the pH, you can amend the pool water with a product to raise its alkalinity or by adding sodium bicarbonate, also known as baking soda. The pH of baking soda is 8, which means it is alkaline.
How to clear a cloudy pool with baking soda:
Test your pool's alkalinity. It should be between 110 and 115 parts per million (ppm). If the test shows it is less than 80 ppm, you need to raise the level.
You'll need pounds of baking soda, which is a lot more than the small box you might have in a kitchen cabinet. The amount of baking soda you add will depend on the size of your pool and how low the alkalinity is.
Calculate how much baking soda to add. For 10,000 gallons of water, 1.5 pounds of baking soda will raise the alkalinity by 10 ppm. 
For a 10,000-gallon pool that has a pH of lower than 7.2, between 3 to 4 pounds of baking soda should be enough to raise the levels.  
Start by using about half of the amount of baking soda that you think you should use. Test the water afterward to see if you need to put in more baking soda. If you add too much, you may end up needing to make your pool water more acidic.
Baking soda is a powder than you can shake directly into the water. Move around to scatter the baking soda across the pool. Don't drop all of it in one place. The best time to add baking soda to a pool is on a calm day. If it's windy, the baking soda will blow away before it hits the water.
Use your pool's circulation system to help move the powder through the water for at least an hour.
After adding the baking soda, let at least six hours pass. Your pool water may look even more cloudy for a while. Allow time for the baking soda to dissolve.
Test your pool water again between six and 24 hours after you put the baking soda into your pool. You can use test strips or a test kit.
You may need to drop in additional baking soda if the pool pH is still under 7.2 and the alkalinity is less than 110 ppm.
Pool tablets that can be added to your pool to keep the pH and alkalinity levels in the right place are also available.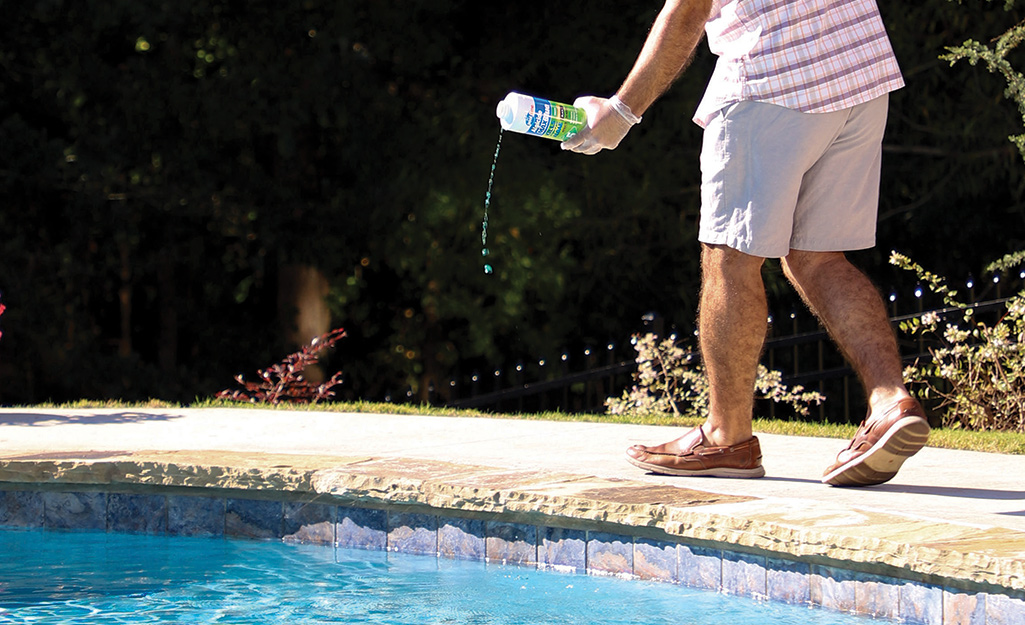 As you learn how to clear cloudy pool water, cleaning the filter and adjusting the chemical levels may not solve the problem. You may need to clarify the pool. 
Clarifying tablets and solvents can get rid of micro particles and excess debris. Algaecides are designed to remove trace amounts of algae from the water. 
Choose a pool clarifier that requires minimal mixing or measuring. Many are designed to work within 24 hours and are compatible with universal filters. The best options don't contain fragrances or dyes.
7
Preventing Cloudy Pool Water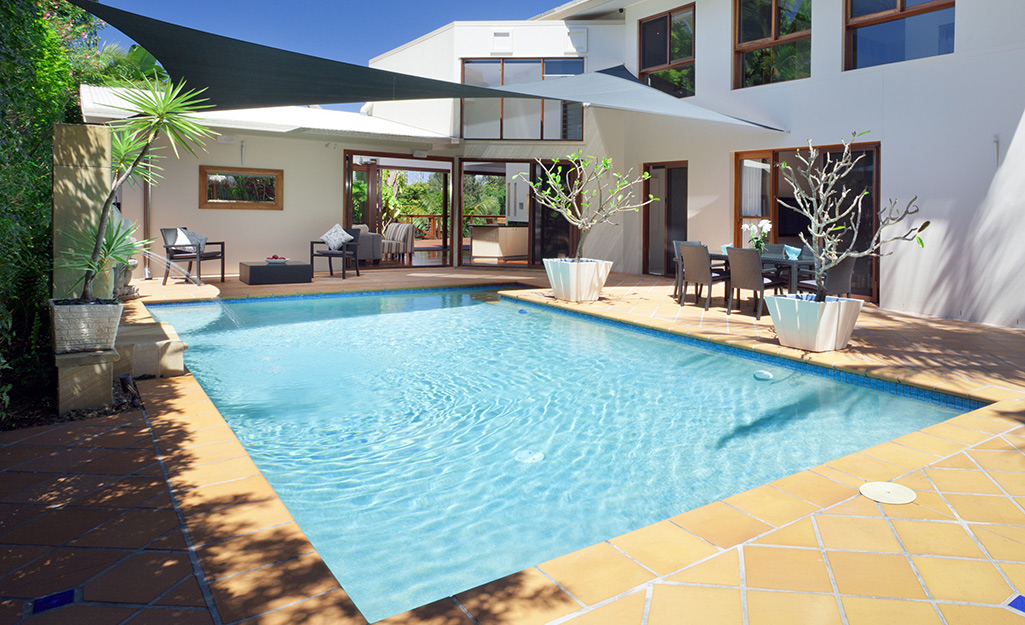 To prevent cloudy pool water: 
Run the pump for at least 8 hours daily. 
Maintain a pH within the ideal range of 7.2 to 7.6. 
Maintain chlorine within the ideal range of 1 to 3 ppm. 
Use pool shock weekly. Your pool may need to be shocked more often after lots of rain, high heat or heavy use.
Chemically clean the filter or backwash when you open the pool and during mid-season. 
Position jets downward so water circulates properly.
Cloudy pool water can be caused by several factors, like a broken filter or unbalanced chemicals. Testing the pool water will help you figure out how to clear a cloudy pool.
During swimming season, keep pool supplies, such as pool test kits and pool chemicals, on hand. The Home Depot delivers online orders when and where you need them.
Explore More on homedepot.com