Project Guide
How to Clear a Cloudy Pool
Time Required:

2-4 hours

Difficulty:

Intermediate
---
Get your pool ready for warm weather with a few simple steps. Cloudy pool water is a common occurrence but is easy to fix with the right tools. This Home Depot project guide explains how to get rid of cloudy pool water for Clear water is essential to maintaining the longevity and safety of any chlorinated pool. Poor filtration, trace amounts of algae, too many chemicals, heavy rainfall and even too much sunlight can all lead to a cloudy or hazy pool. Read on for a guided explanation of how to clear cloudy pool water.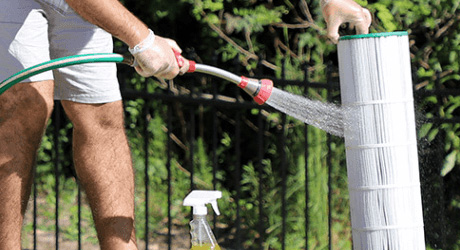 A pool filter is designed to clear your water of excess dirt or debris. Use a pool brush to sweep the area near your filter, then inspect to make sure it is both clean and functioning properly. Dirty filters can leave trace amounts of particles in your water, leading to a foggy pool. We recommend cleaning your filter at least twice a year to keep it performing at its best.
Faulty or failing filters may have issues with their valves, or the filter cartridge may need to be replaced. If this is your first time using the pool, it's also important to make sure the filter is correctly installed.
Follow these steps to treat cloudy water due to poor filtration:
Check your filter for worn or broken parts and replace if necessary.
Run the pump for at least 8 hours a day and angle pool returns away from the water surface.
Backwash the filter until a clear stream of water flows.
Chemically clean your filter media with a filter cleaner.
Empty any debris in the skimmer basket that may clog water flow.
Tip: Replace the cartridge in your pool filter at least once each season for optimal performance.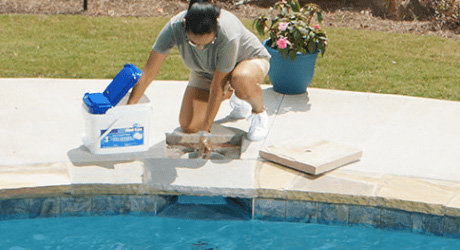 If your filter is clean and working properly, the next step is to test the water and measure the chemical levels. Use a pool test kit to see if the water is poorly balanced. These kits are designed to evaluate the total chlorine, alkalinity, hardness and more, which help you determine the best cloudy pool water remedy.
Chlorine levels should stay between 1.0 – 3.0 parts per million (PPM). Sunlight, rain and regular usage can deplete the amount of chlorine in your pool, leading to cloudy water. If your test strip kit shows the amount is less than 1.0 ppm, more chlorine is needed.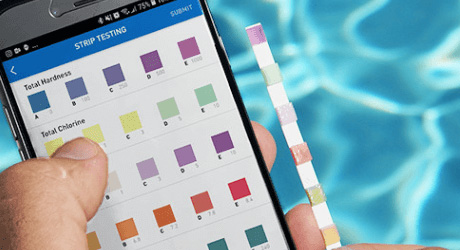 Pool test kits also measure the potential hydrogen (pH) of your pool, which refers to how acidic or alkaline the water is on a scale of 0-14.
Pure water has a pH of 7.0, which is neutral. The pH of a pool should be between 7.2 and 7.8, with 7.6 being the ideal balance. Levels below 7.0 indicate acidic water; levels above 7.8 mean it is too alkaline or basic. Both instances can lead to a cloudy pool. Adjust the pH by adding a pH increaser or reducer accordingly.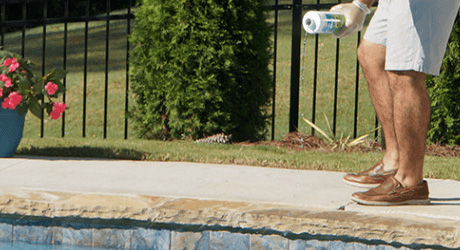 If your water is still cloudy after checking the filter and chemical levels, you may need to clarify the pool. Algaecides are designed to purify the water of trace amounts of algae, while clarifying tablets and solvents refine the pool of micro particles and excess debris.
Choose a pool clarifier that requires minimal mixing or measuring. Many are designed to work within 24 hours and are compatible with universal filters. The best options do not contain fragrances or dyes.
PREVENTING CLOUDY POOL WATER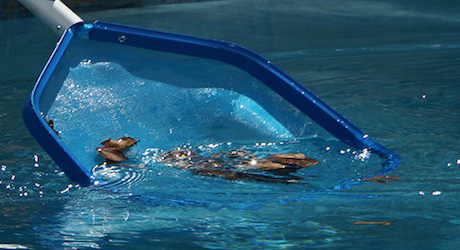 Follow these simple steps to prevent cloudy pool water in the future:
Run the pump for at least 8 hours daily.
Maintain a pH within the ideal range of 7.2-7.6.
Maintain chlorine within the ideal range of 1-4 ppm.
Shock your water with a pool shock weekly and more frequently after heavy rain, high heat or heavy use.
Chemically clean the filter or backwash at pool opening and mid-season.
Position jets downward so water circulates properly.