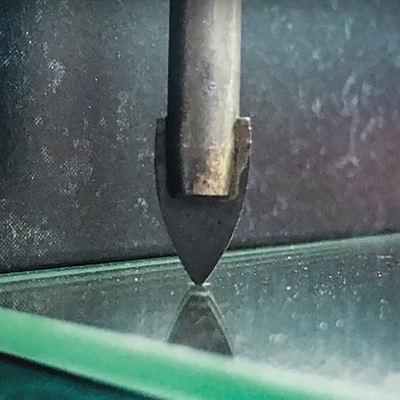 Learning how to drill through glass can expand your crafting and home repair repertoire in interesting new ways. However, some otherwise eager DIY-ers avoid projects that require them to cut a hole in glass out of safety concerns or sometimes a simple lack of knowledge about proper tools and techniques.
Lay the glass on a flat surface and place a scrap of plywood slightly larger than the piece to be drilled underneath. Line the plywood with a rubber pad, sheets of newsprint or some type of cushioning material 
Measure and mark the spot on the glass where you want to place the hole. To prevent glass damage, do not drill within ¾ of an inch from any edge 
Using masking tape, tape a large X over the marked spot for the drill point. This will provide traction for the drill bit and prevent it from slipping
TIP: Do not attempt to drill safety or tempered glass.
Fit a variable-speed power drill with a 1/8-inch or 3/32-inch carbide-tipped glass-cutting drill bit
Don safety goggles, cut-resistant gloves and a mask for protection
To prevent glass damage, you must drill a starter hole at the marked point.
Place the point of the drill at the center of the marked point on the glass
Pour a few drops of lubricating oil on the area around the drill tip and glass
Beginning at low speed with medium pressure, drill a small starter hole into the glass
4
DRILL UP TO DESIRED HOLE SIZE
Once the starter hole is begun, remove the masking tape
Continue to drill at the marked point at low speed (about 400 rpm)
Periodically stop the drill and gently clear the glass dust from the hole with compressed air. Add more lubricating oil as needed to keep the drill point cool
Stop and replace the drill bit with the next size larger carbide-tipped bit, then continue drilling, lightening up the pressure on the drill with each bit change. Repeat until you have created the hole with the diameter you intend
Once you have drilled about ¾ of the way through the glass thickness, stop and turn the glass over to the reverse side
Beginning with the smallest drill bit, repeat the drilling process on the opposite side on low speed with slightly lighter pressure
A round file will be make smoothing out the edges of the hole easier. As an alternate, cut a small strip of sand paper, wrap it around an awl and tape it securely.
Use a 600-grit file to gently smooth any jagged edges in and around the hole
Rinse the glass piece to remove any dust
Explore More on homedepot.com