Project Guide
How to Make Hypertufa Pots
Time Required:

2-4 hours

Difficulty:

Intermediate
---
Learn how to make a rustic planter from hypertufa, a lightweight cement mixture. Fill them with succulents to make gifts, especially for Mother's Day, or for decorating inside and outside.
This project comes together quickly, especially if you have helping hands. Be sure to choose a well-ventilated area to work, and wear safety glasses and gloves.
Assemble Materials and Tools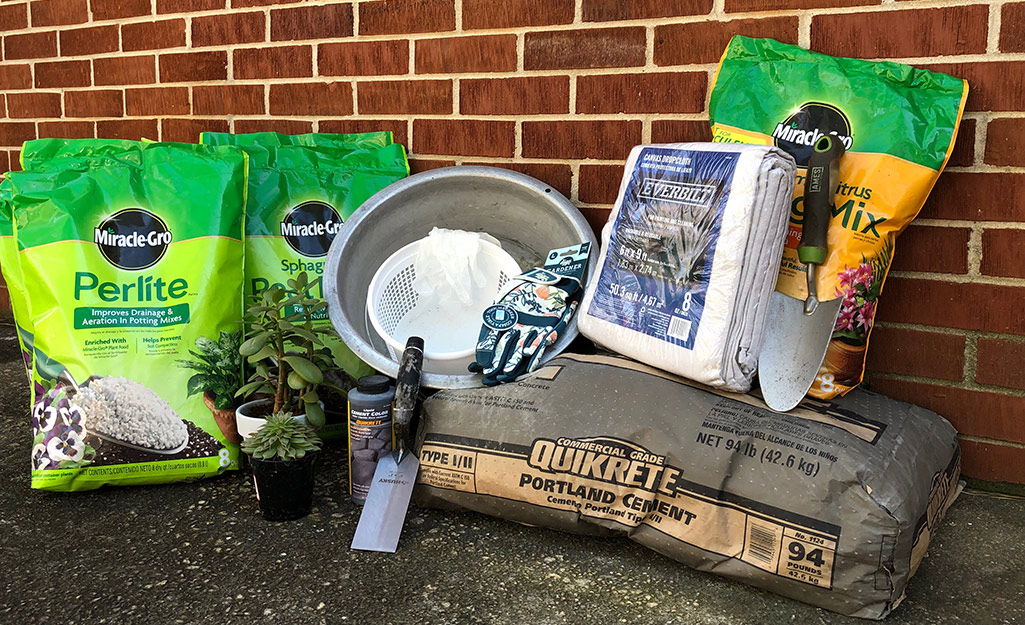 Using this recipe, measure your ingredients to create the hypertufa mixture for your rustic planter. Don't worry if you don't get the recipe exactly right; cement is forgiving. Start by using small 8-quart bags of perlite and sphagnum peat moss. Then add your Portland cement.

This mixture filled two planter molds. Any extra mixture can be used to make extra hypertufa containers.

1 1/2 parts Perlite
1 1/2 parts Sphagnum peat moss
1 part Portland Cement
Optional: 1 part water mixed with cement tint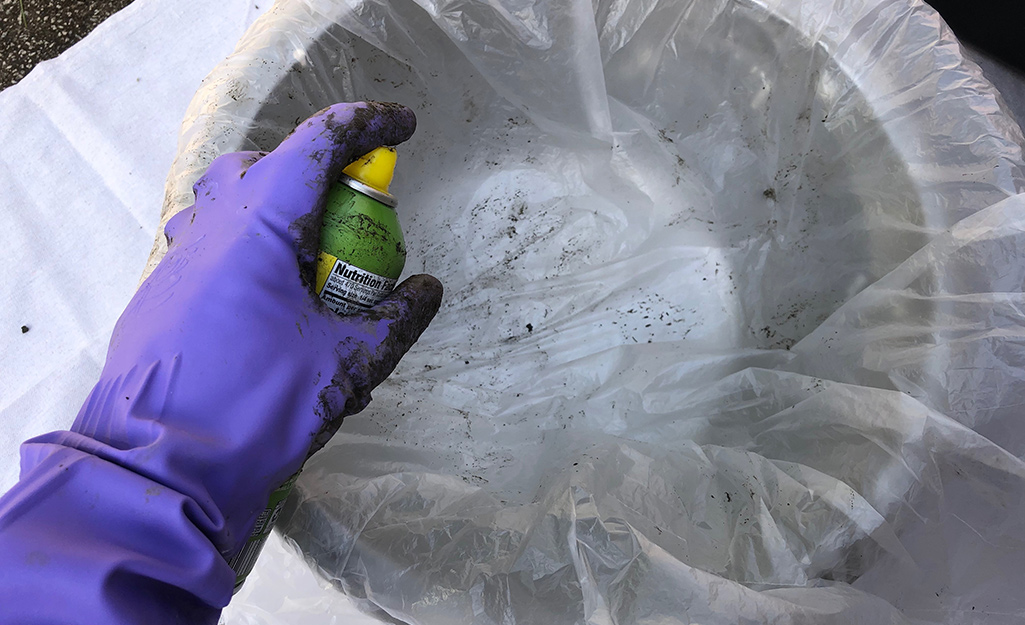 Place a drop cloth or brown builder's paper underneath your workspace. Set out your plastic molds for your rustic planter. Using no-stick cooking spray, completely cover the inside of the trough mold and the outside of the plastic insert. Repeat this step if you're making more than one.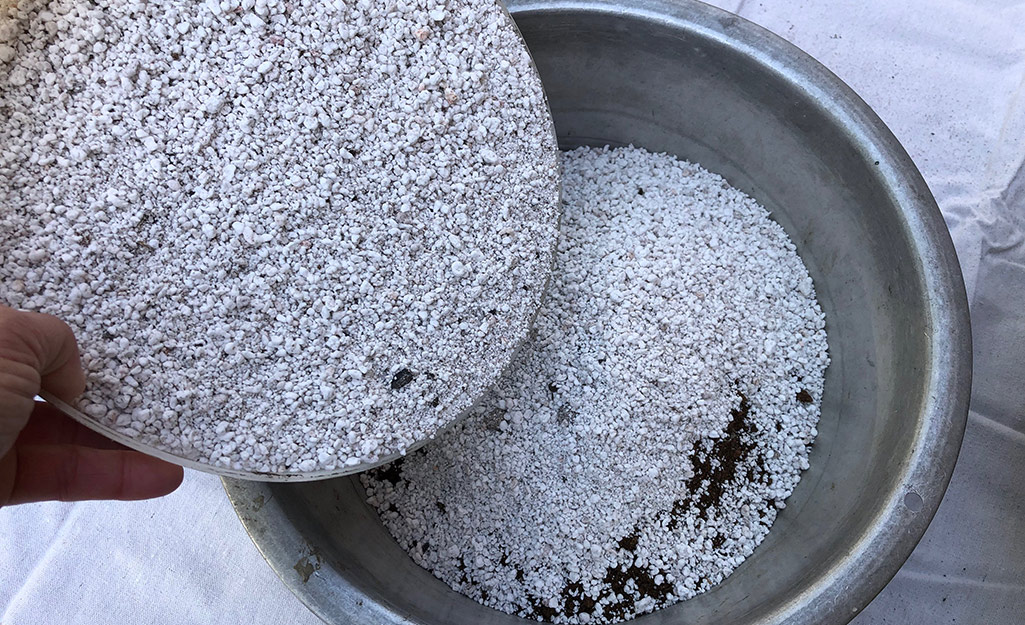 Put on your gloves then measure and moisten your Sphagnum peat moss. Next, add in Perlite and mix by hand.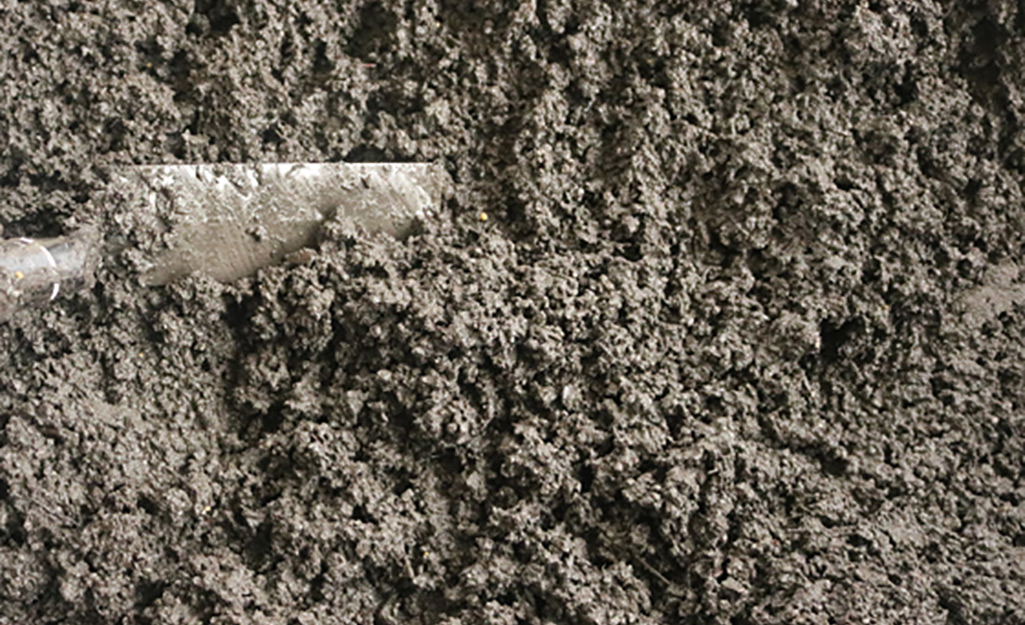 Now, put on your safety glasses and a mask. In a well-ventilated area, add dry Portland cement to the moss and perlite mixture to create the hypertufa. Blend these dry ingredients by hand.
If using concrete tint, add it to a jug of water and cover. Shake it up. Pour the tinted water slowly into the hypertufa mixture. Using a concrete trowel, work in all the ingredients. To get the right consistency, pick up a handful and squeeze it. It's the right texture when very little water seeps out.
Fill Containers and Cover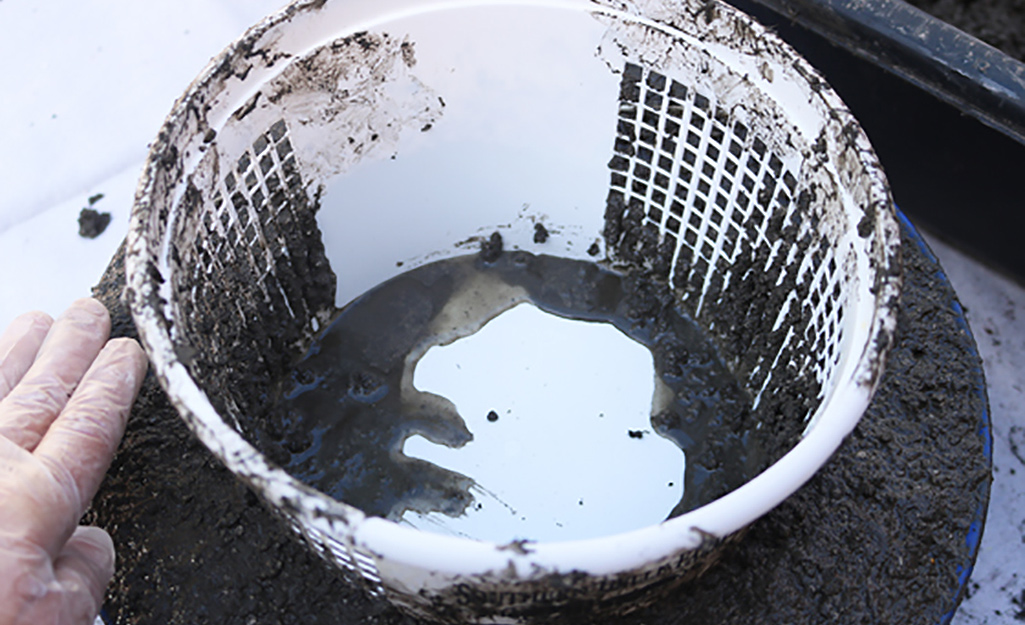 Take handfuls of the hypertufa mixture and fill the containers halfway to the top. Pack down as you go. Now take the insert and push it down inside, making sure to leave about an inch of thickness on the bottom. Continue filling with extra hypertufa mixture to fill in the top.
Place the containers inside a plastic garbage bag for hardening in the shade. After 24 hours, remove the plastic inserts. If you can dig a fingernail into the inside of the planter, cover it back up with plastic and let it continue to harden in the shade for another 24 hours.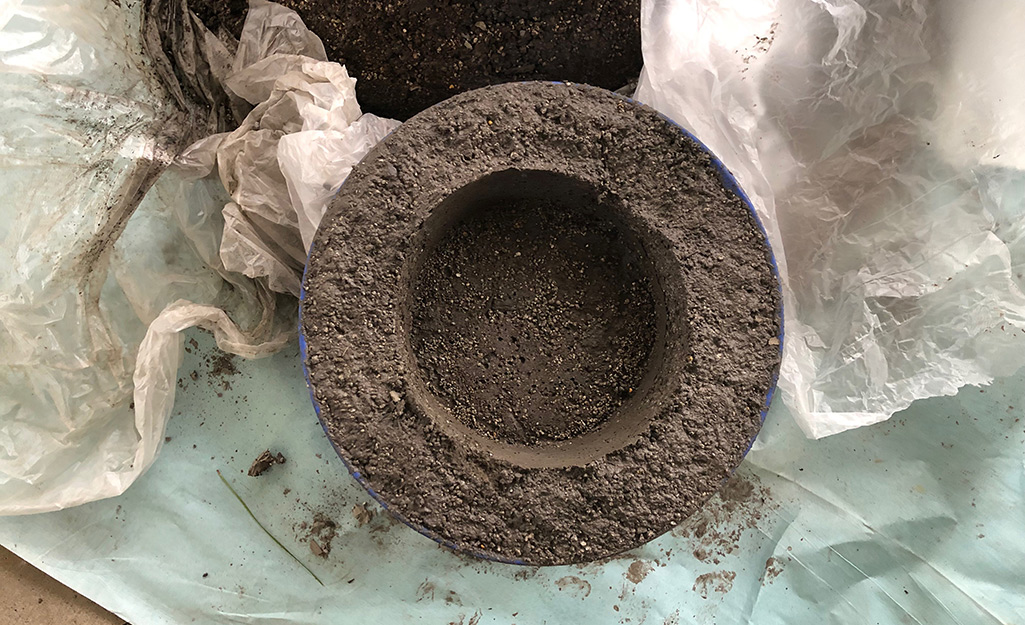 The next step of the hypertufa curing process takes three weeks. Remove the rustic planter from the plastic bag and let it sit in the shade. It's okay if it gets rained on. At this point, it's important to soak the container with water once a week to remove residual lime from the cement so it will not harm plants.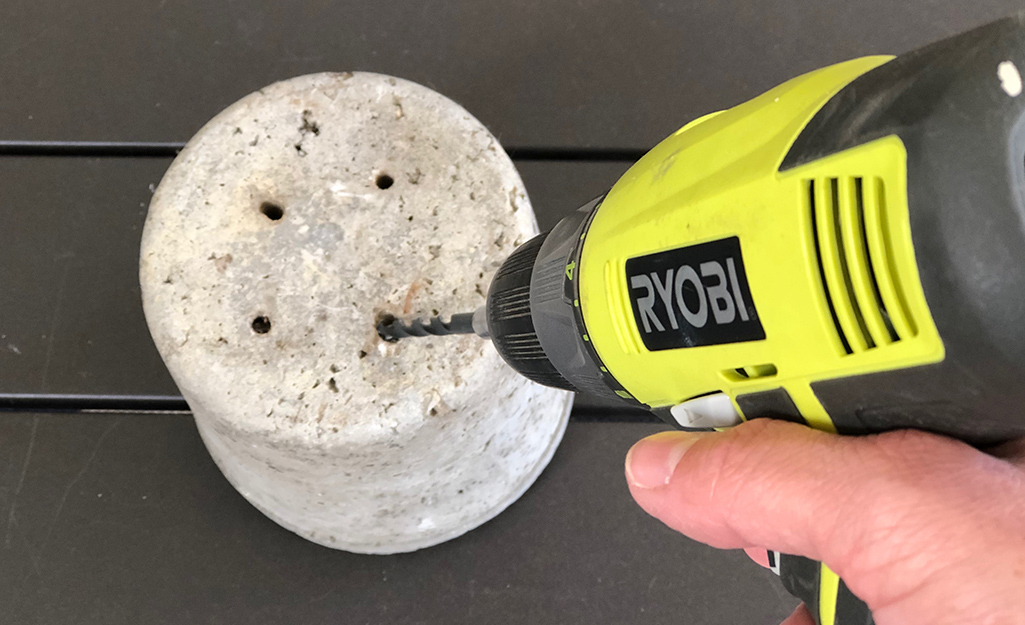 Carefully drill drainage holes in the bottom of the rustic planter. The size of the planter dictates the size of the drill bit. Just use an appropriate size so the planter gets ample drainage.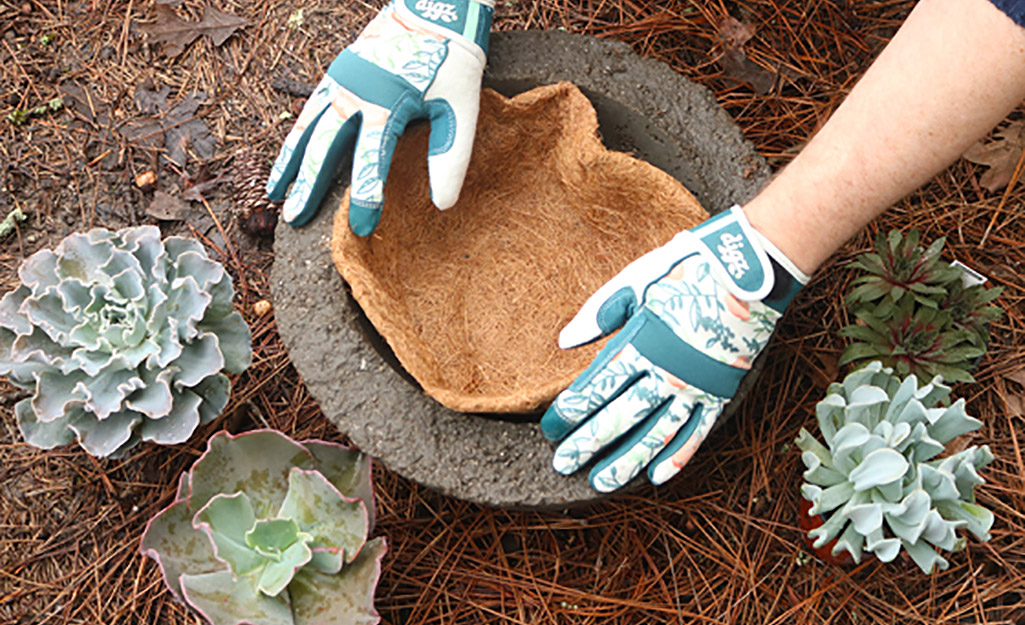 Optional: A coco liner adds a protective layer between the soil and the new hypertufa container. Using a coco liner will prevent any residual lime in the new container from harming your plants. Plus, it makes switching out plants between seasons easier.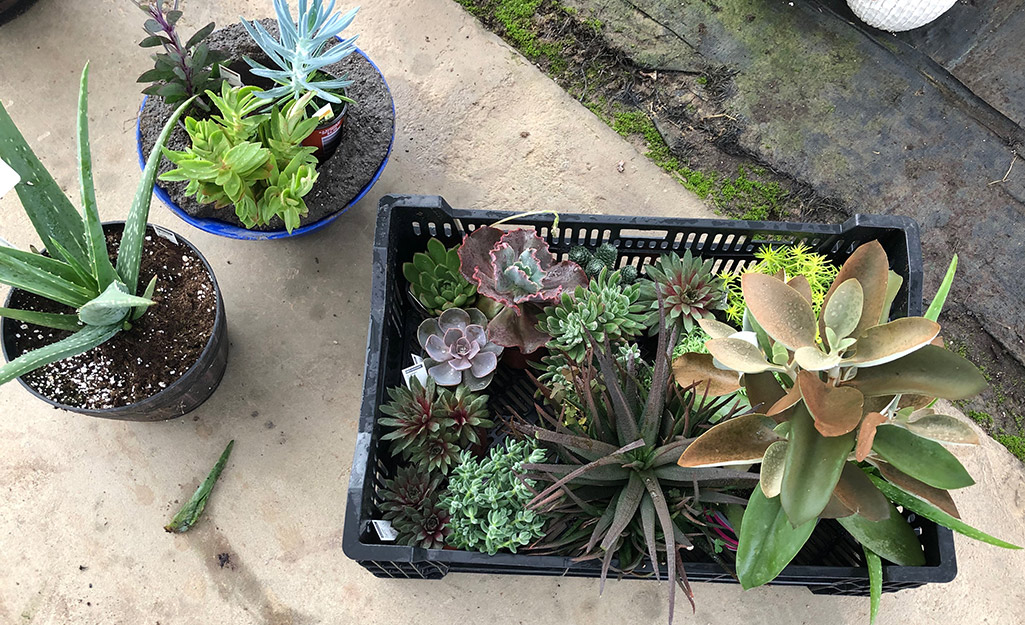 It's time to decorate your rustic planter with succulents. Arrange plants to see how they will look in your rustic planter. Be sure to look for plants that thrill, those that fill and some to spill when selecting succulents.
Look for a variety of colors and textures in succulents at the Garden Center.
Tip: For an added touch, soak decorative sheet moss and tuck it in around your planter.
Enjoy Your Hypertufa Container with Succulents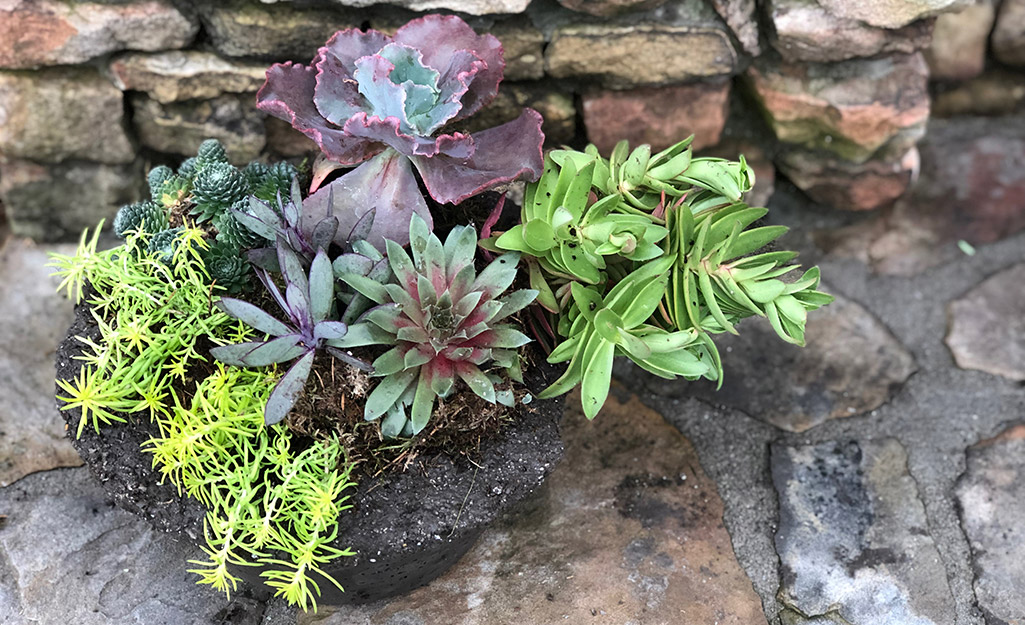 No matter where you place your rustic planter, whether on your porch, balcony, by your entryway or on a console table, these decorative rustic planters bring a unique style to your space. When decorating with your planters, don't forget outdoor lanterns and other outdoor accessories in your vignettes.
Also, if you enjoy this project but you're not into getting your hands dirty, select a ready-made planter of succulents available at your local The Home Depot Garden Center. You can also fill a whiskey barrel or other planter with succulents of your choice.
Special thanks to Rambo Nursery for providing the succulents and location.
Tips for Hypertufa Success:
1. Wet the Sphagnum peat moss and squeeze out water before adding to mixture.
2. Recipe makes about 4 to 6 small containers.
3. Prevent discoloration of your hypertufa containers by spraying no-stick cooking spray on paper towels before wiping the containers.
4. Be patient because dry times vary according to climate and humidity.
5. Use a mallet to release stubborn containers. If they're plastic, you can always poke holes in the bottom using a screwdriver.
6. Make extra containers for plant stands and follow the same instructions but without inserts so you have a solid piece.
Photos by Renee Valdes.