There are many things that can impact the health of your lawn, including drought, standing water, pets, foot traffic and a variety of accidents. When it comes to lawn care, even the healthiest lawns need a little help now and then.
Once you determined the cause of your lawn's bald spots, it's time to fix the problem areas. This guide will show you how to patch a lawn using grass seeds and sod to help you choose the best grass patch repair method for you and your yard.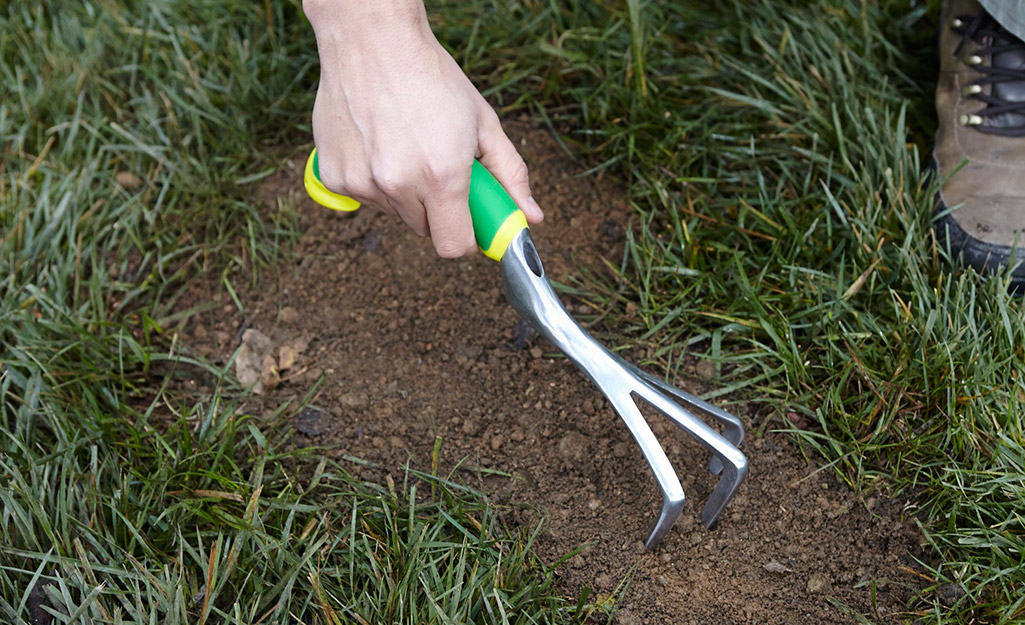 A common question is will grass spread to bare spots on it's own? Depending on the type of grass you have, it may, however, once grass has been damaged by drought or sun, it may need patching to come back to life. 
You'll want to remove any dead grass from the area prior to patching the lawn.  
Prepare the soil by removing weeds and damaged grass as thoroughly as you would if you were replanting a new lawn.
Using a garden rake or cultivator, turn the soil over to a depth of 6 inches and remove any roots or rocks.
Add some compost or well-rotted manure and mix well into the soil.
Smooth over with a ground rake and lightly tamp the soil with your hands.
Now it's time to decide the best grass patch repair for your lawn. Let's take a look at two methods.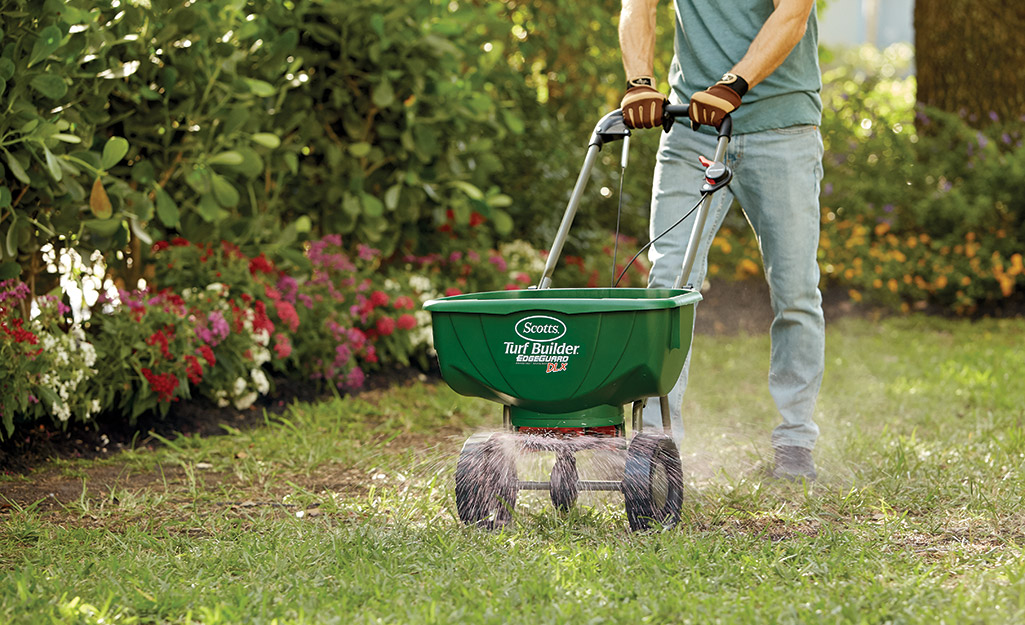 If you prefer to learn how to patch a lawn with seed, you can to do this by hand or using a spreader. 
Sow seed at the rate recommended on the package and scatter by hand or with a spreader. Be sure to cover the area with the seed, but don't use so much that you create a pile. 
Rake in the seed to cover with a thin layer of soil, about 1/2-inch.
Use a roller, or your feet, to compact the seed to the soil. Cover the seed with a light layer of wheat straw.
Tip: Water the area lightly but often, allowing it to grow a little longer than the rest of the lawn around it for a few days. New lawn usually sprouts around 10 days.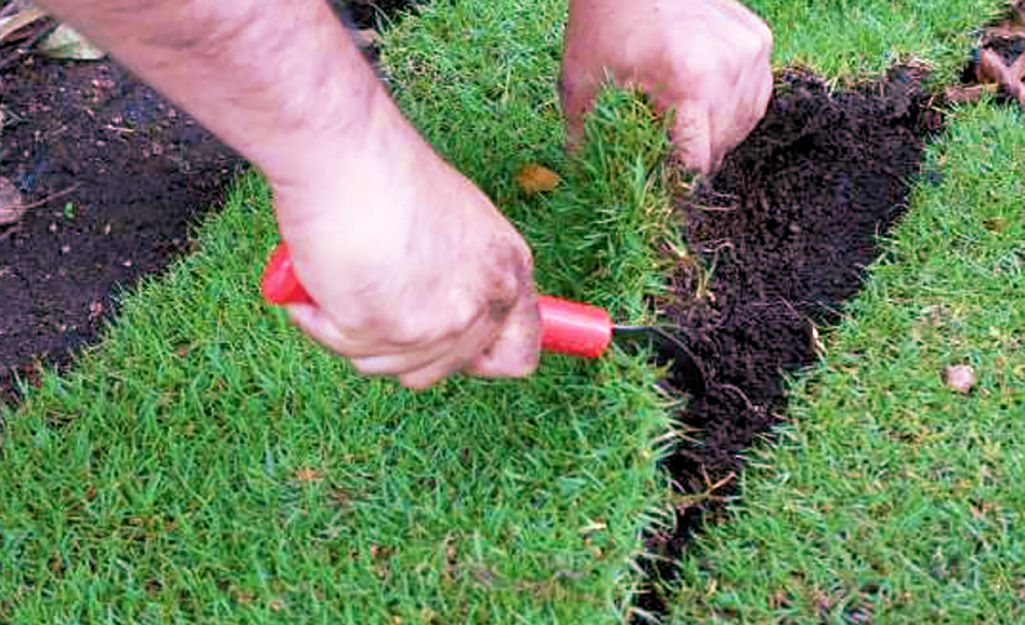 For a quicker way to update your lawn's look, patch it with sod. Here's how to patch a lawn with turf: 
Using a shovel, cut a patch of the sod to fit the bald spot in your lawn. Place it over the problem area. Merge the edges of the sod with the surrounding grass by pressing it with your hands. 
If the sod seems higher than the surrounding lawn, remove a little soil out of the patch, smooth and try again.
Walk gently on top of the area to make sure that the sod roots have good contact with the soil.
Tip: Your sod should look uniform, although a little brighter in color than the rest of your lawn, in about one to two weeks.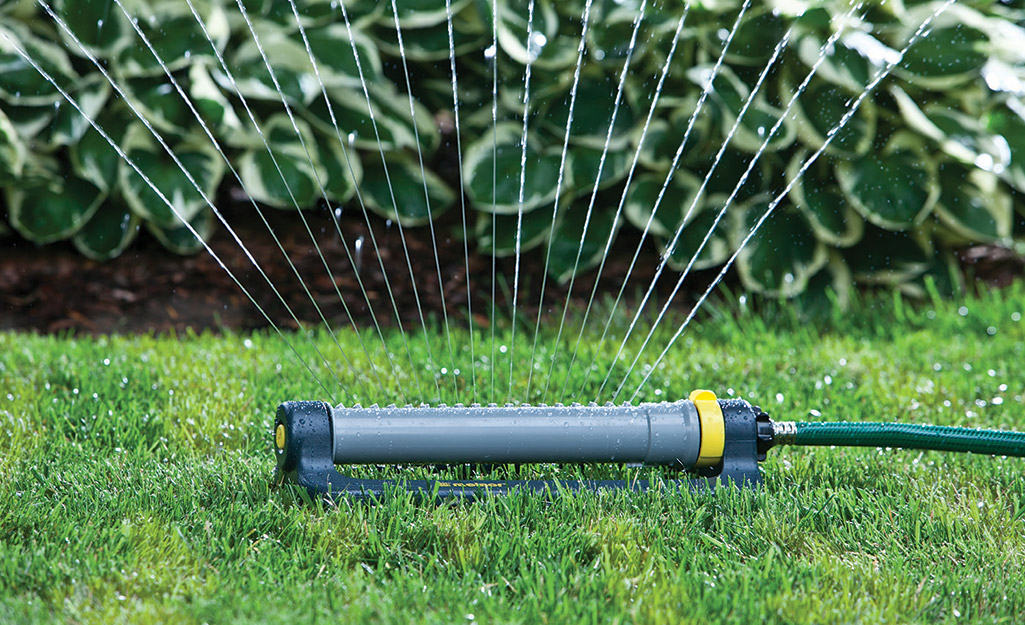 When it comes to caring for your patched lawn, water is essential.
Gently water new seeds with the mist attachment of a sprayer or a gentle sprinkler.
Water sod with a more powerful spray.
Both seeds and sod need to be soaked to a depth of 4 inches the first day, followed by daily, or even twice daily, watering until well-established.
Follow up with lawn fertilizer to make sure your lawn's not just well-watered but also well-nourished.
Tip: While fall is often considered to be the best time to patch a lawn, waiting until spring makes sense. Winter may have taken a bit of a toll on your lawn but the weather will help nurse the patched lawn back to health. 
When learning how to patch a lawn, it's important to keep in mind that the best way is what works for your yard, lifestyle and climate. From lawn fertilizer to spreaders, we have everything you need to revitalize your lawn. Free delivery on over one million online items.
Explore More on homedepot.com