Window screens are an effective, simple way to keep bugs and pests out of the home while inviting fresh air indoors. Plus, screens can help filter sun and dampen outside noise. Unfortunately, the screens or their frames can be damaged easily. Wood window frames can shrink, while vinyl or aluminum window frames can warp, causing the screen joints to loosen and the screen mesh to sag.  
Minor holes and tears in the window screen mesh are also common problems. Use screen repair tools like adhesive, spline rollers and pre-manufactured patches to patch a window screen in three easy steps. This guide will teach you how to replace and repair your window screens. 
Tip: Retain the bent, old screen spline if it's flexible and can be shifted back into place. If not, purchase a new window screen spline for a longer-lasting window frame repair. 
1
How to Replace a Window Screen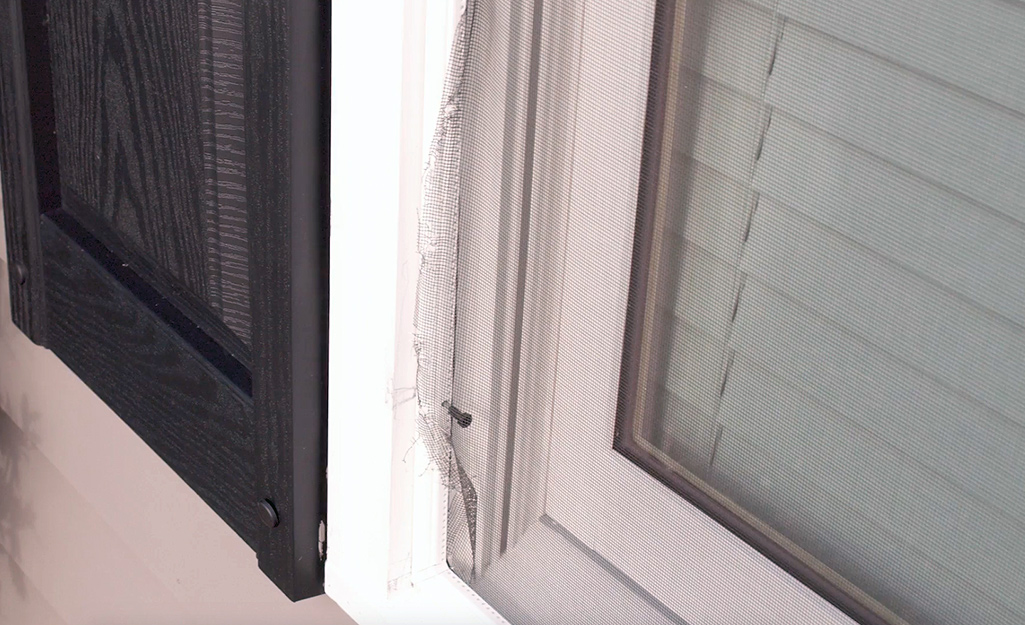 Severe damage to your window screen is a clear sign that you need to replace them. Screens with large holes and rips should be replaced, not patched. If your screen mesh is shiny, rather than dark and matte, or you're noticing more outside noise than usual, these are also signs that the mesh is old and worn and should be replaced.  
Replacing window screens will improve both the look and security of your home. The steps to learn how to replace window screen mesh are similar for both wood windows and aluminum windows. 
Tip: If the window is difficult to open and close, the window screen's frame may be bent out of place. In this case, you may need to replace the frame as well as the screen mesh with a pre-framed window screen.  
2
Remove Damaged Screen Mesh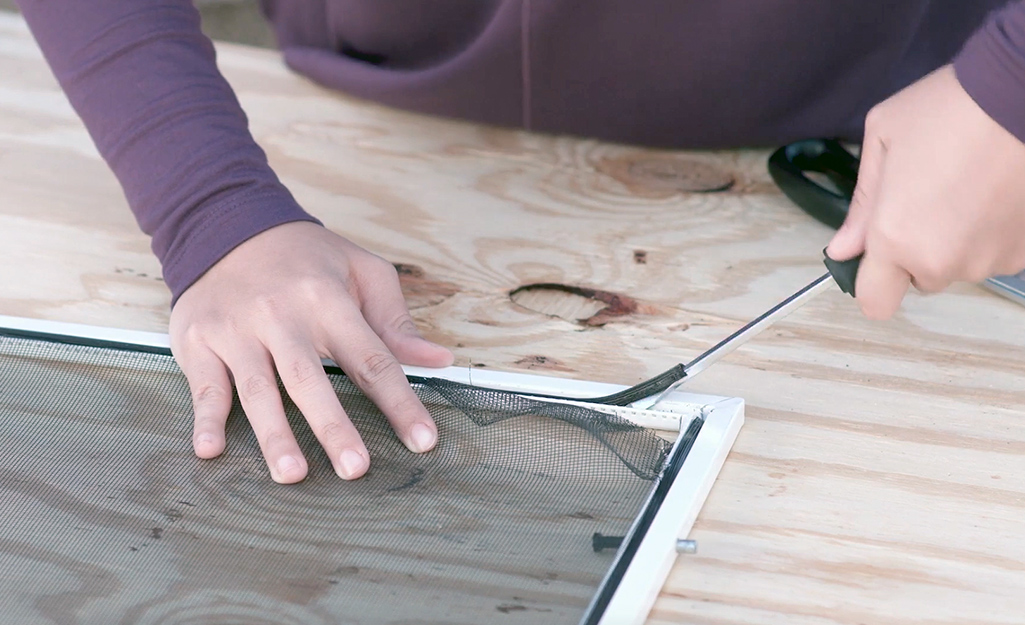 Remove the screen from the window and lay it on a flat work surface.
Using a slotted or flathead screwdriver, pry the window screen spline from the grooves around the edge of the frame.
Wooden screen frames may use staples or nails to hold the mesh in place. Pry out the staples using a staple remover or your screwdriver. Use a claw hammer to remove nails.
Remove and dispose of the damaged screen mesh.
3
Stretch and Cut New Screen Mesh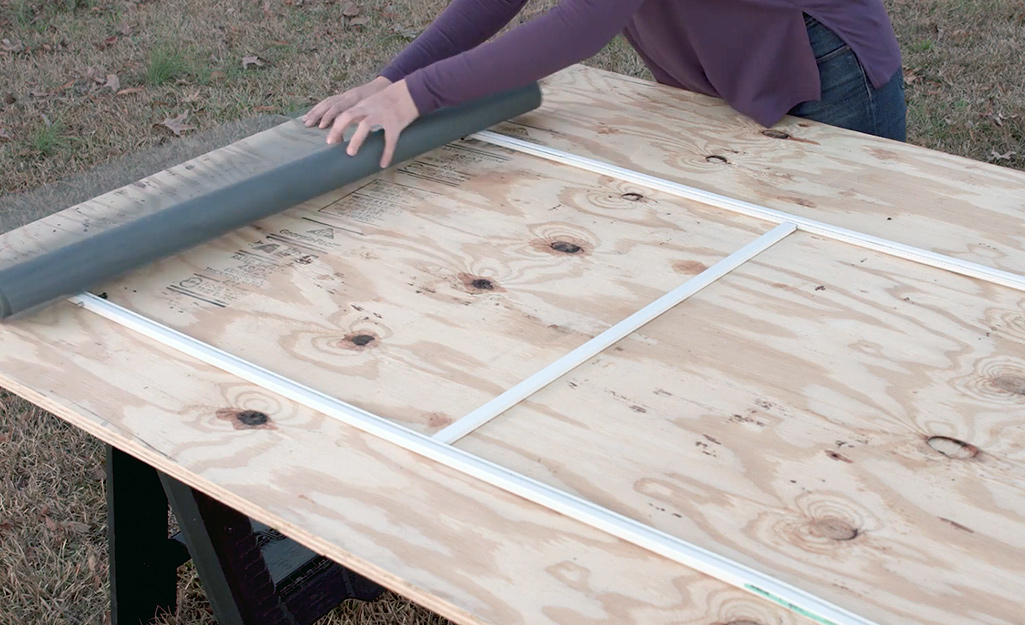 Roll out and stretch a new roll of screen over the window frame, pulling it so that it overlaps the frame's retaining grooves.
Leave extra screen overhanging the frame so you can secure it tightly in the next step.
Cut the screen using scissors.
Tip: You may need another person to help you hold the screen mesh in place while you cut.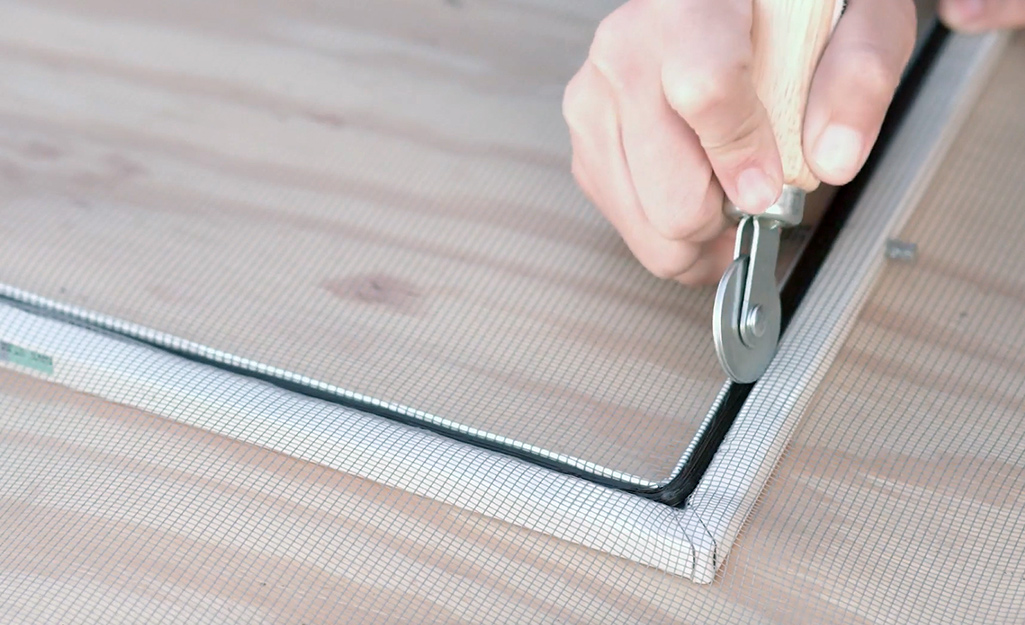 Use a spline roller to press the spline and screen into the frame's retaining grooves.
For a wooden screen frame, staple the mesh into place or nail it into place with wire brads.
Once secured, the mesh should be taut, but not over-stretched, across the frame.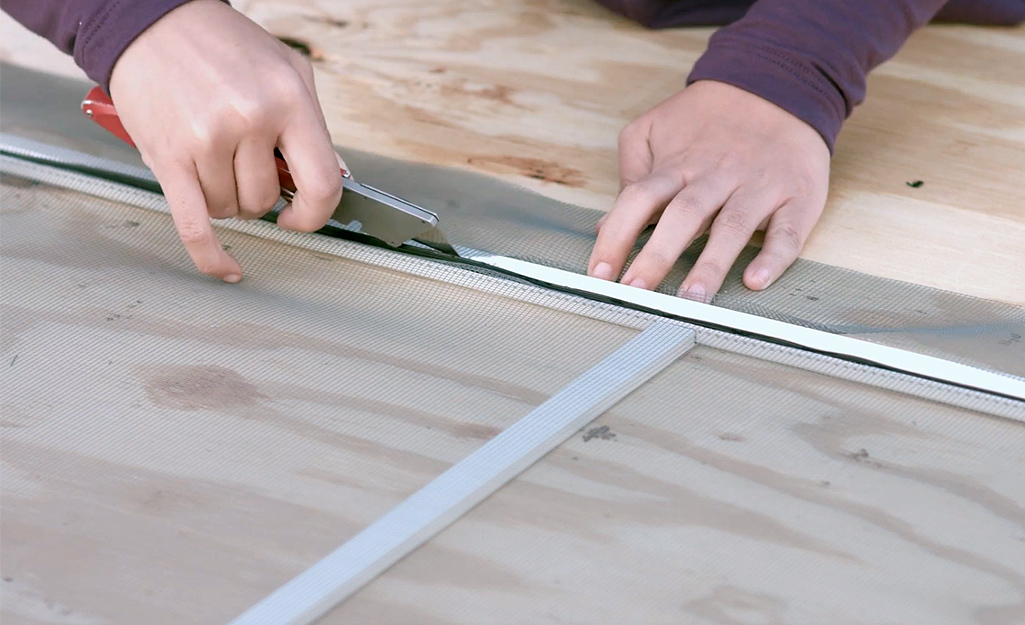 After securing all four sides of the mesh, trim away the extra material using a utility knife or scissors.
Take care not to cut into the spline.
Tip: Now's a good time to reinforce any loose joints on wooden frames with fasteners, angle plates or screws.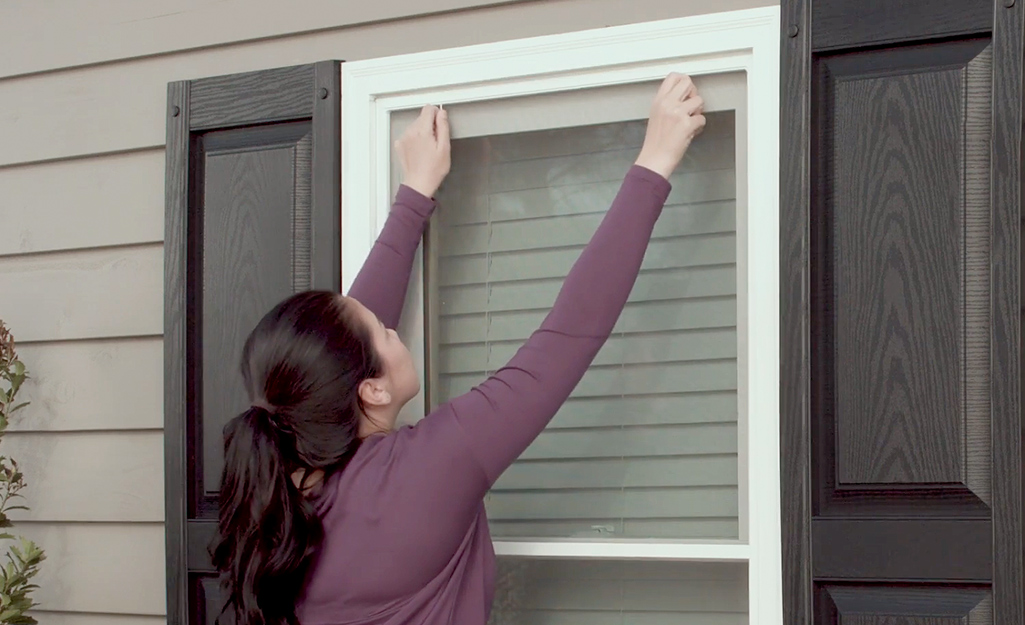 Reinstall the completed window screen to your window.  
7
How to Repair a Window Screen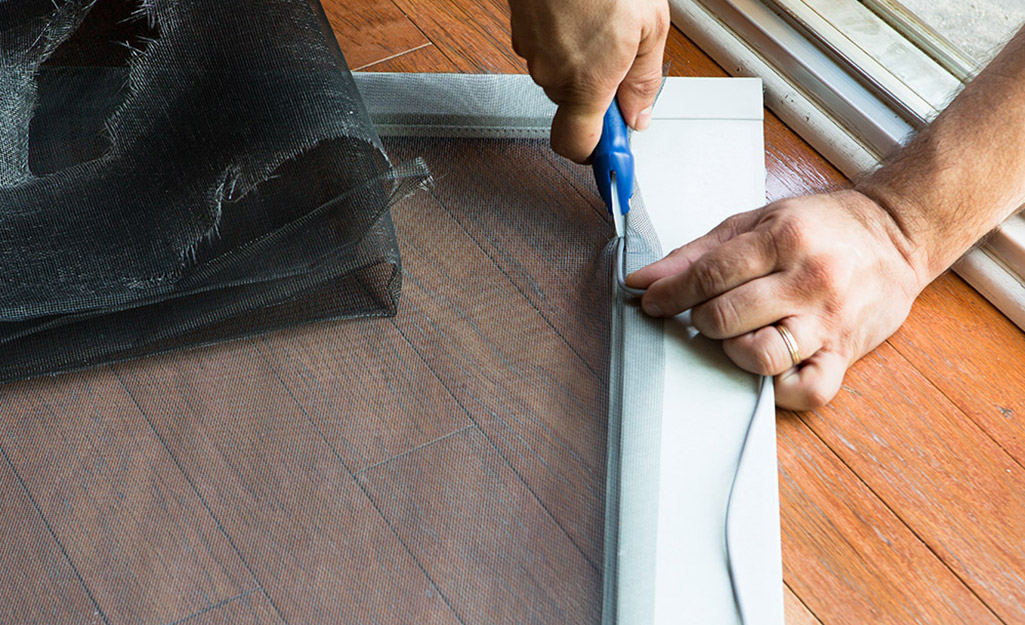 Minor holes and tears in window screening are easily fixed with glue and pre-manufactured patches. You usually won't have to remove the window screen unit to make the repair.
Measure: Big holes in window screens are much harder to repair. Measure your patch to ensure it can be repaired effectively and will not affect the functionality or appearance of the window screen.
Cut the hole: Cut the screen's hole into a neat square. Bend the edges of the hole so that the cut ends of the mesh will penetrate the patch.
Cut a patch from screening mesh: Using your measurements, cut a mesh patch that is about 1/2-inch bigger than the hole on every side. If you're using a patch kit, use one of the pre-cut patches or cut it to size as needed.
Affix patch over hole: Place the screen patch over the hole in the plastic or fiberglass screen. The hole needs to be completely covered. While wearing work gloves, press the bent edges of the screen hole flat, so it holds the patch in place.
Secure patch: The edges of the patch should be secured with waterproof glue used sparingly. Wipe away any drips before the glue hardens. A fiberglass screen can also be fixed by sewing a patch over the hole and then securing with glue.
Tip: Tiny holes in window screens can be fixed without a patch. Use waterproof instant adhesive to close a hole in nylon or fiberglass screens. Use epoxy to repair a small hole in metal screens. 
Repair or replace your window screens to enjoy the fresh air again without the intrusion of pests. When an adhesive or patch won't suffice, replacing a window screen completely is the most cost-effective and attractive solution. For more complex problems, use The Home Depot to find a professional in your area that can provide window and door screen repair solutions. 
Explore More on homedepot.com