It's important to take your time when replacing the hinges on cabinet doors because each door needs to be removed during the process. Place a soft cloth on a nearby countertop to use as a work surface. Also, be sure not to drop any tools on your countertop. Ready to find the supplies you need in your local store? Use The Home Depot app to locate products and check inventory. We'll take you to the exact aisle and bay.
1
REMOVE OLD DOORS AND HARDWARE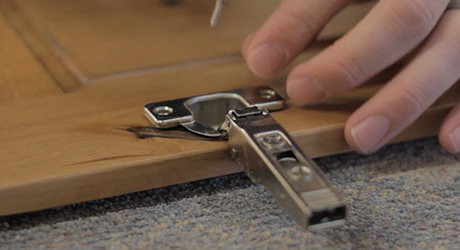 Use a screwdriver or power screwdriver to remove the old doors, hinges, catches and other hardware.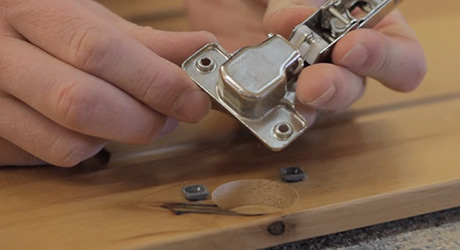 Set a combination square at the 2-inch mark. 
Position the new hinges an equal distance from the top and bottom of the door. 
Use a finish nail or an awl to mark the screw locations. 
Use a cabinet and drawer installation template to ensure that all of the knobs and/or handles are in the exact location on all doors and drawers.
3
ATTACH HINGES AND HARDWARE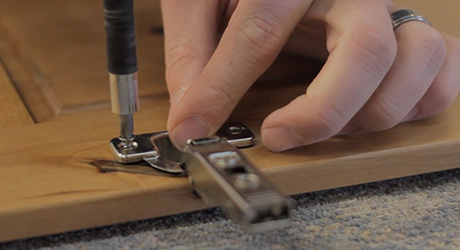 Drill pilot holes and attach the hinges with screws. Do not drill all the way through the cabinets. 
Mount the new knobs, handles and catches.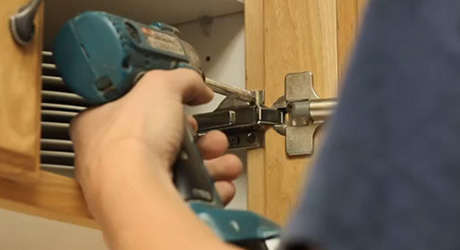 Attach the cabinet doors to the frames. 
Make sure the doors overlap the openings by an equal amount on all sides. 
Allow a 1/8-inch gap between doors that cover a single opening.
Need help identifying a tool or material such as a cabinet hinge? Find products fast with image search in The Home Depot app. Snap a picture of an item you like and we'll show you similar products.
Shop this Project
Explore More on homedepot.com