Ideas & Inspiration
Recycle and Repurpose Containers for Plants
From kitchen cast-offs to potting mix bags, if it holds dirt and has drainage holes, it can be your container garden.
You can call it rustic, vintage or shabby chic style, but when you get creative wiith containers, you create a focal (and talking) point for your garden.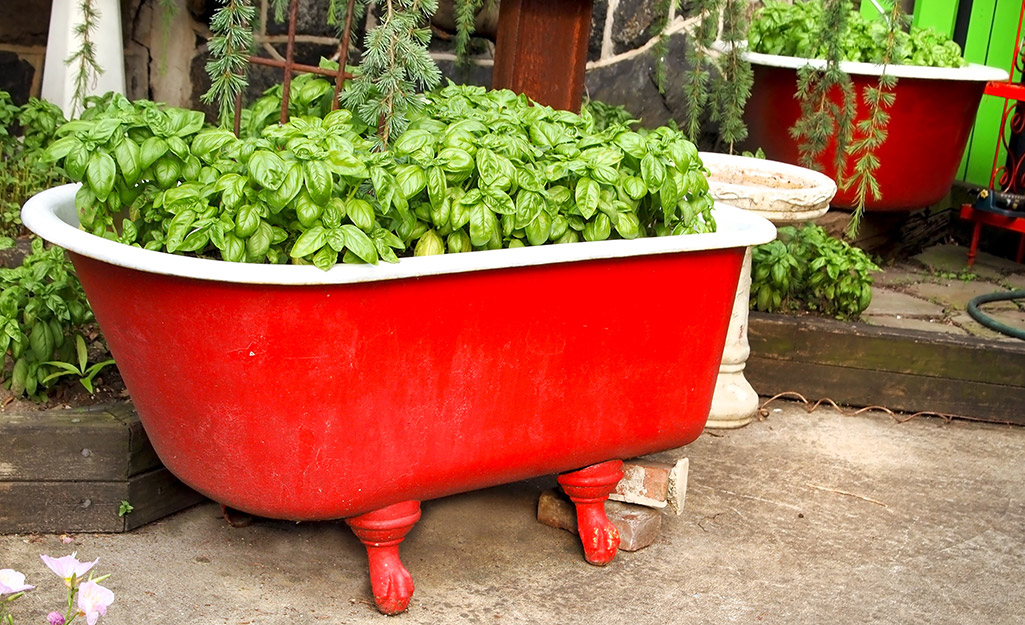 A tub garden (instead of a garden tub) adds whimsy and quite a lot of space to grow in. Layer soil and amendments just like a raised bed, with a thin layer of gravel on the bottom, followed by mulch and raised bed soil or potting mix.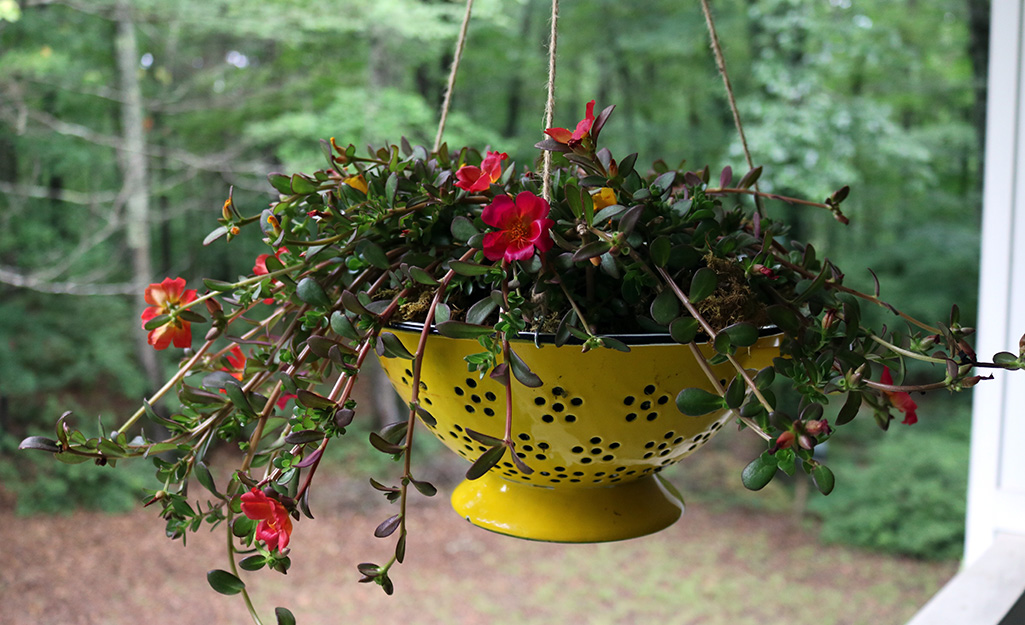 A kitchen colander comes with built-in drainage. Make a hanging basket with S-hooks and jute twine, and line with burlap or landscape fabric to hold in the potting mix.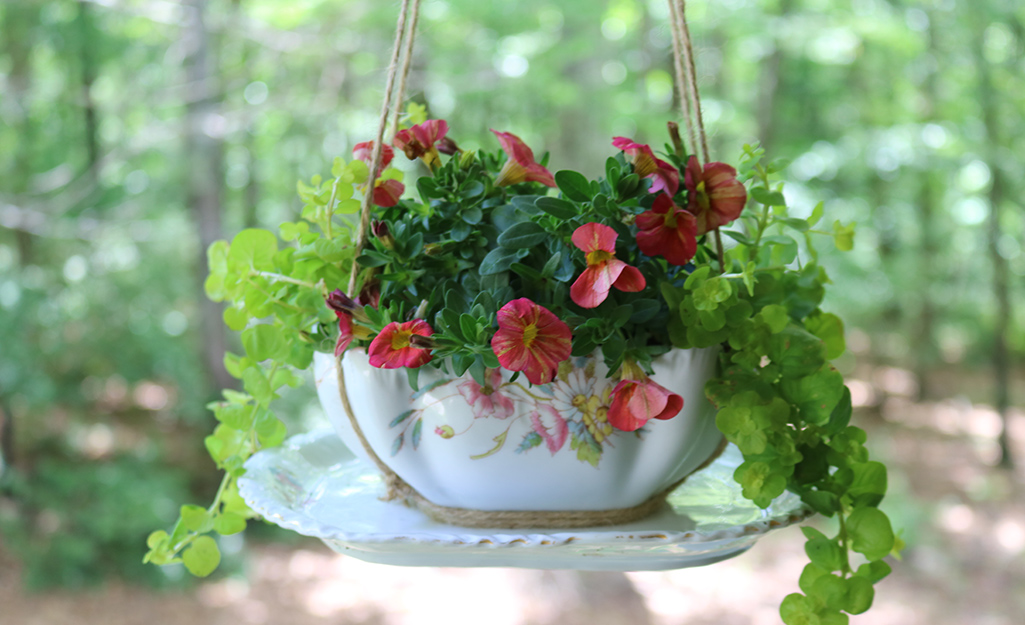 Look around with fresh eyes and think about what you can use in your garden, like the china gravy boat, above. Simply wrap securely with jute twine, knot at the top and attach to a chain with an S-hook.
I don't recommend using a family heirloom for this kind of project, but if you shop thrift stores, you will come upon plenty of old teacups, gravy boats and pitchers that will be lovely with plants in them. You can take the extra step of drilling drainage holes with a drill bit for ceramics. Or just be extra careful not to overwater.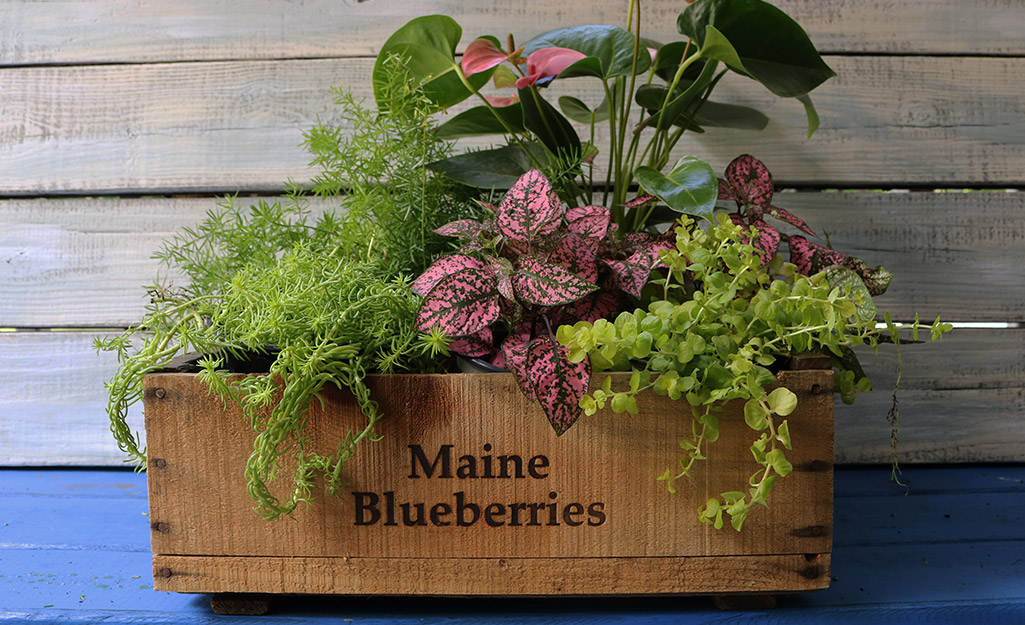 Boxes and crates of all sorts, like this blueberry box, make handy plant containers.
Seek unique boxes at antique markets and secondhand stores. Prevent damage to the container and surface below when you line the interior of the box with plastic sheeting before filling with plants.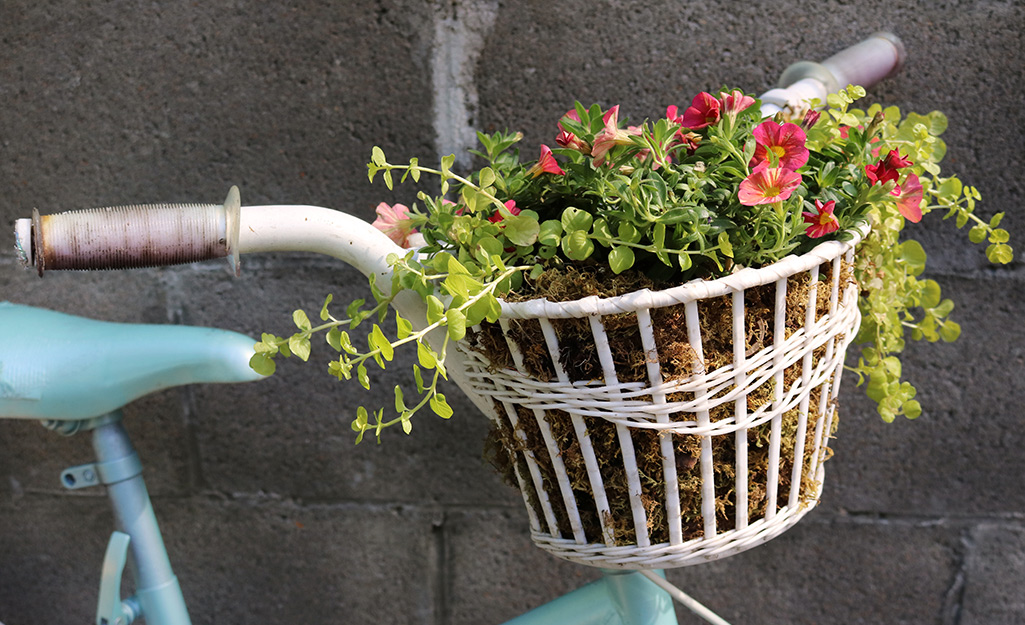 A worn-out and outgrown children's bicycle can be repurposed as a planter. Cover the pink and purple princess styling with a sleek coat of spray paint.
At well under $10, this gives you a lot of bang for your buck. Try a pastel shade like Sea Mist for the perfect backdrop for creeping Jenny and calibrachoa in a basket.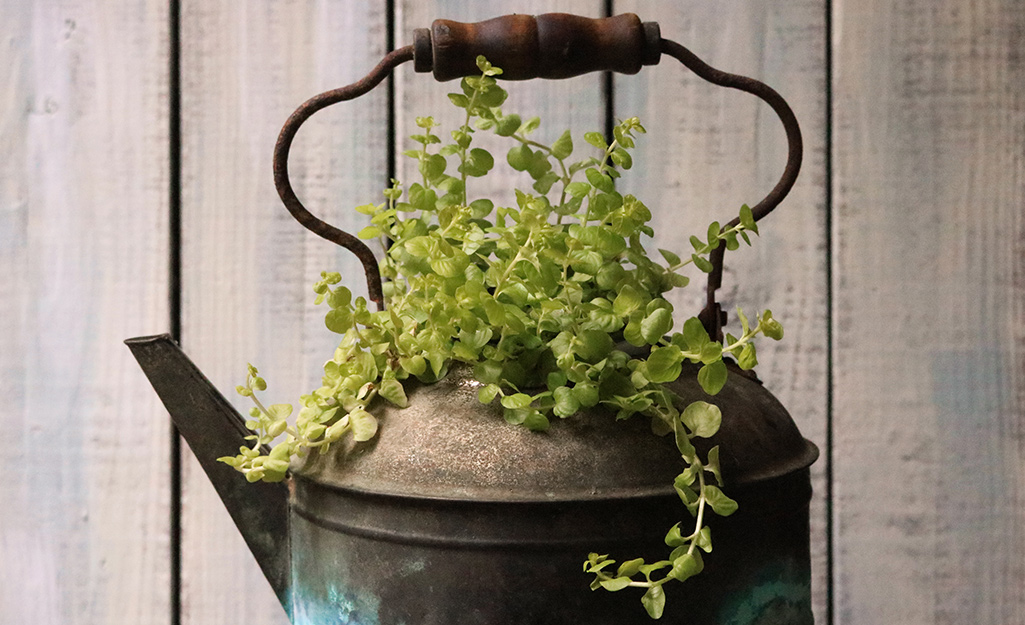 Put the rust in rustic when you scour yard sales for planter potential like this oxidized camp kettle. Accent with a twirl of creeping Jenny or with trailing succulents like donkey tails.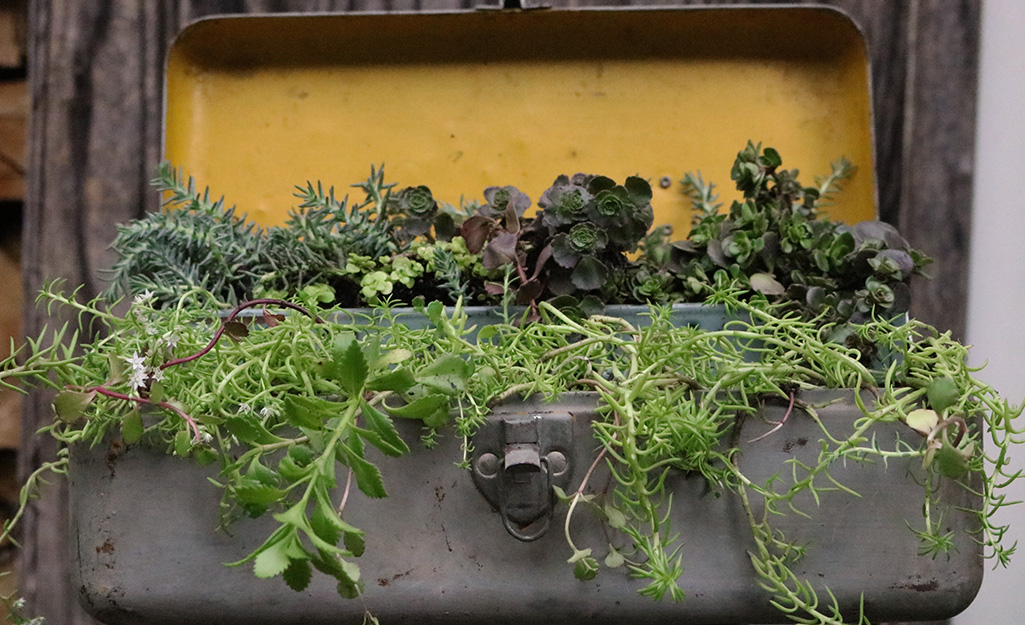 And speaking of succulents, shallow containers like this tackle box are perfect for sedums and succulents. Line the container with plastic first, then fill in with soilless potting mix designed for succulents and cacti.
Sedum tile is a dense mat that can be easily cut or pulled apart and divided into the compartments of the tackle box.
When you use a repurposed container, keep in mind:
Create drainage. Drill holes or use a nail and hammer to make the display last.
Line with plastic sheeting. Protect repurposed containers made of wood or other material that can be damaged by water.
Choose suitable plants. Check growing requirements on the plant tag for proper light conditions and watering requirements. Plants in shallow containers will dry out quickly so keep them well-watered. However, succulents require very little water.
Feed. Keep your plants happy and thriving in their vintage home. Feed them every few weeks with a liquid plant food.
Conserve water. Mix water-storing crystals with potting soil to help small containers through hot summer days.
Whether you need the right planters, seeds or potting soil, The Home Depot delivers online orders when and where you need them.