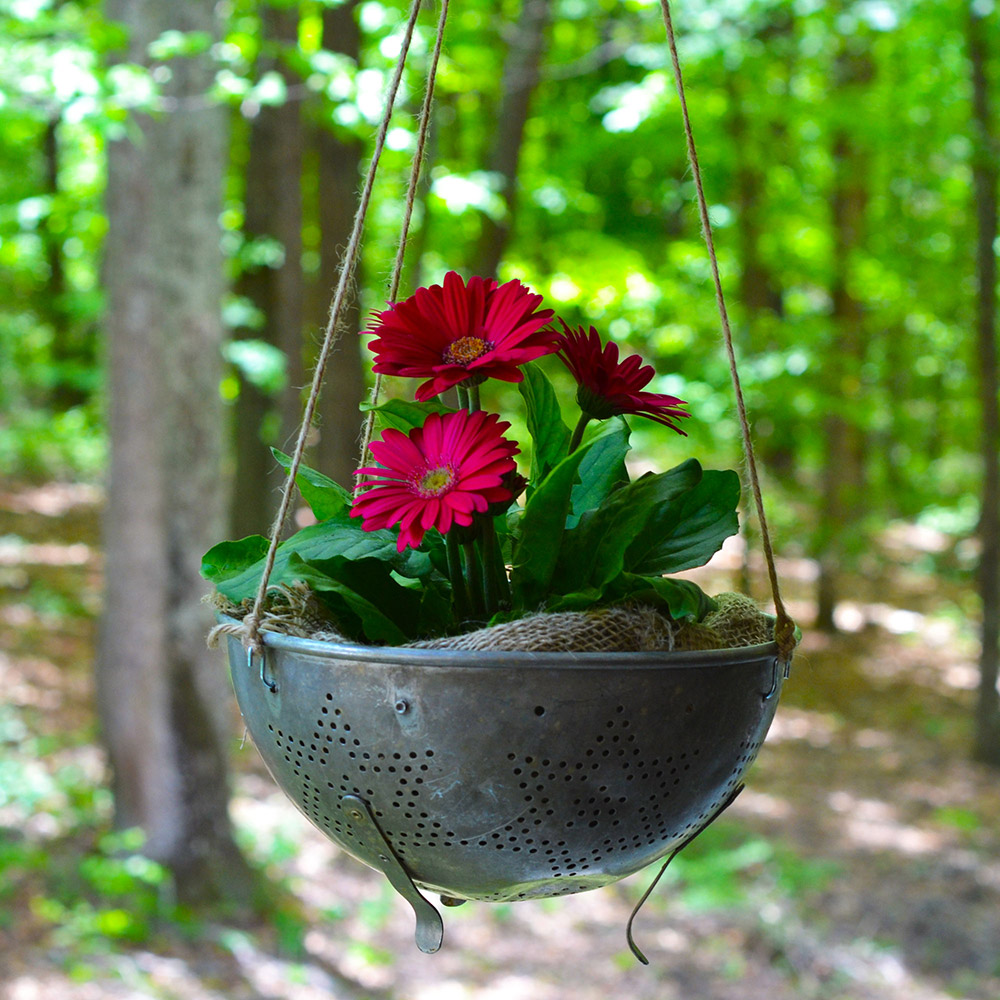 If it holds dirt and has drainage holes, it can serve as a garden container. Get creative with pots nad planters to give your garden a rustic, unique appeal. Use recycled and repurposed containers to create fun focal points. This guide teaches you how. 
Bathtubs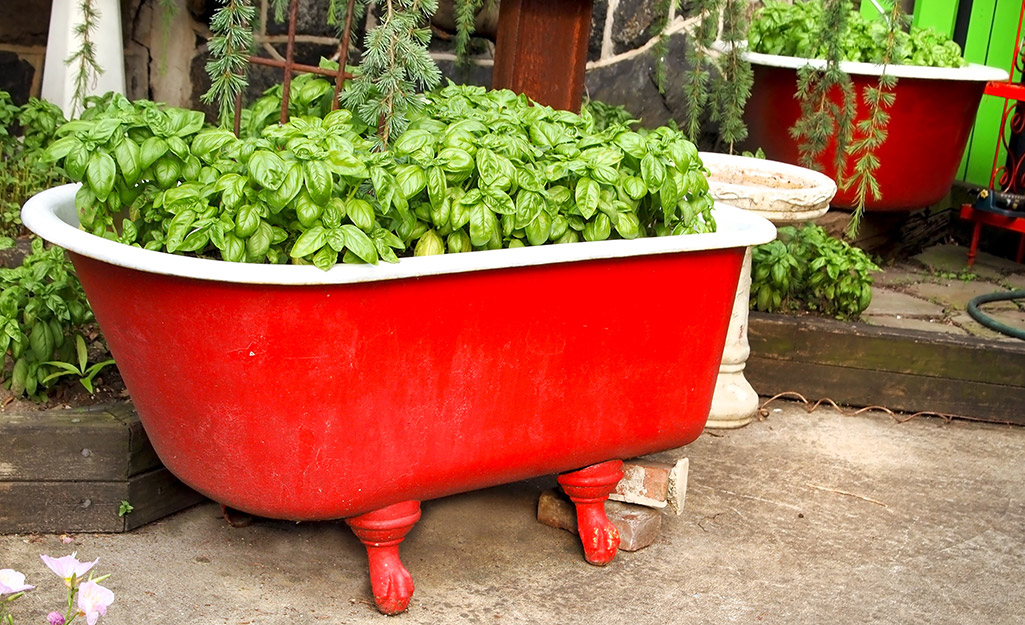 A tub garden (instead of a garden tub) adds whimsy and quite a lot of space for growing plants. Remove the drain piece and add a layer of gravel on the bottom, Next, add soil and amendments just like a raised bed followed by mulch and raised bed soil or potting mix.
Kitchen Cast-Offs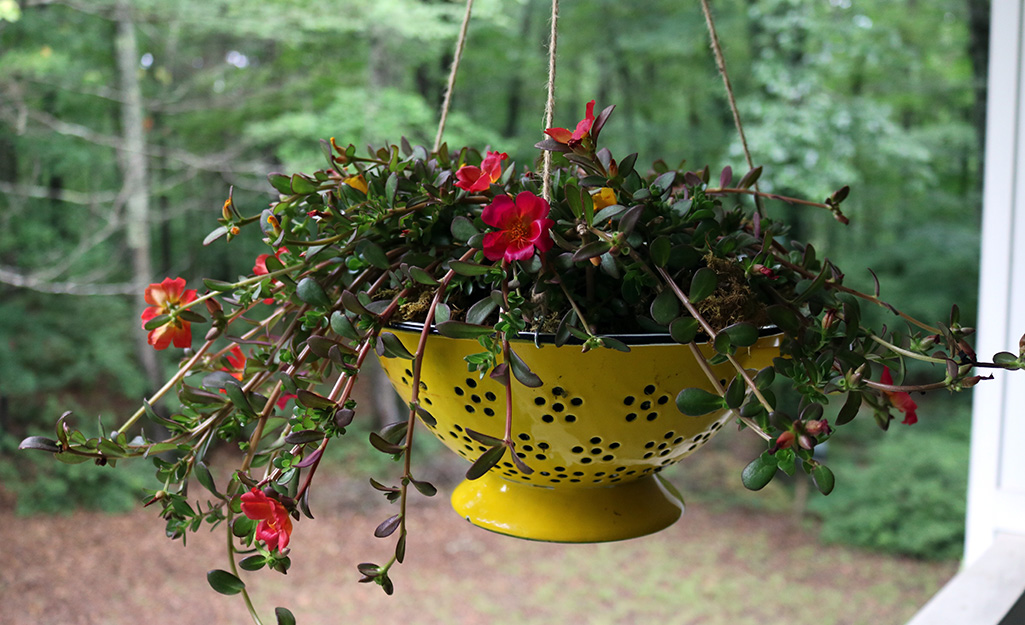 A kitchen colander comes with built-in drainage. Make a hanging basket with S-hooks and jute twine, and line with burlap or landscape fabric to hold in the potting mix. Feed plants weekly to keep them healthy.
Potting Mix Bag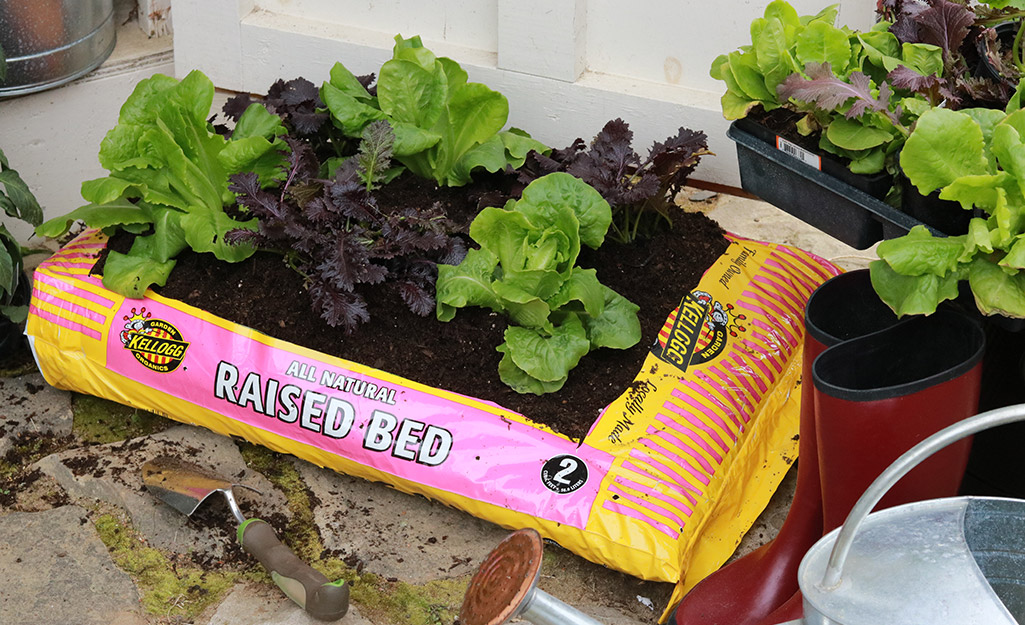 Looking for a place to start seeds without taking up valuable garden space? Plastic bags such as those that come with potting soil is one alternative. Begin by poking drainage holes in the bottom of the bag, then flip it over to plant herbs, greens or flowers.
Homer Bucket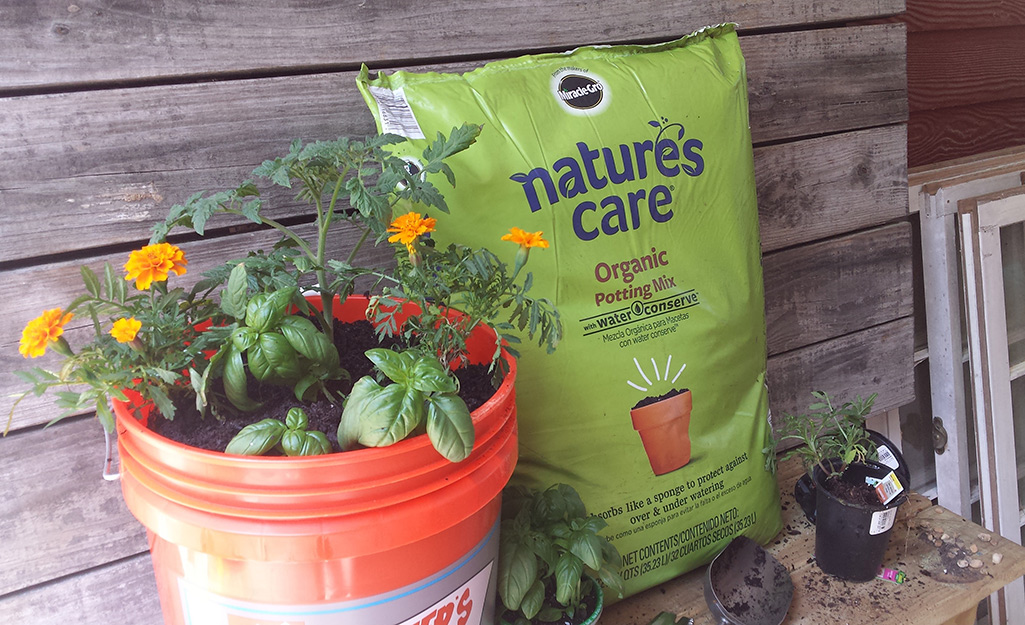 Perfect for tomatoes, this all-purpose container garden comes with a handle for portability. Drill some drainage holes in the bottom, fill with potting mix and mulch and add tomato plants and herbs. Prop on pavers or a plant caddy to allow circulation below.
Wheelbarrow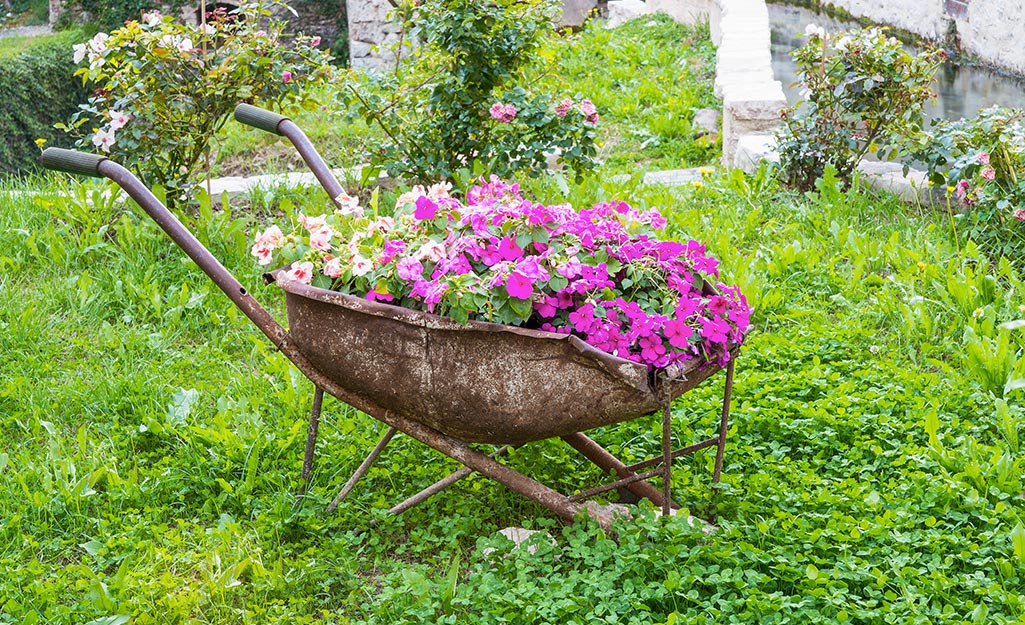 Give an old wheelbarrow new life as a container for plantings—and a focal point in your landscape. Clean out the wheelbarrow and scrape away any rush with a steel brush. Next, drill holes in the bottom for drainage. Finally, layer potting mix and mulch in the same way as with a raised garden bed.
China and Pottery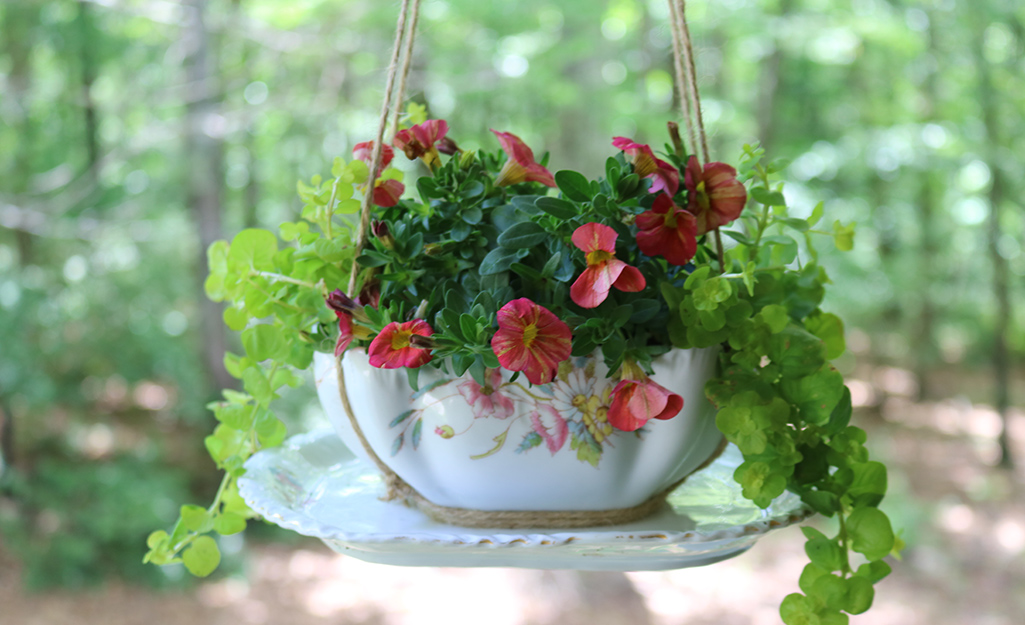 Look around with fresh eyes and think about what you can use in your garden, like the china gravy boat, above. Simply wrap securely with jute twine, knot at the top and attach to a chain with an S-hook. These planters hold limited amounts of soil and it's easy to overwater. Check the soil before watering. 
Copper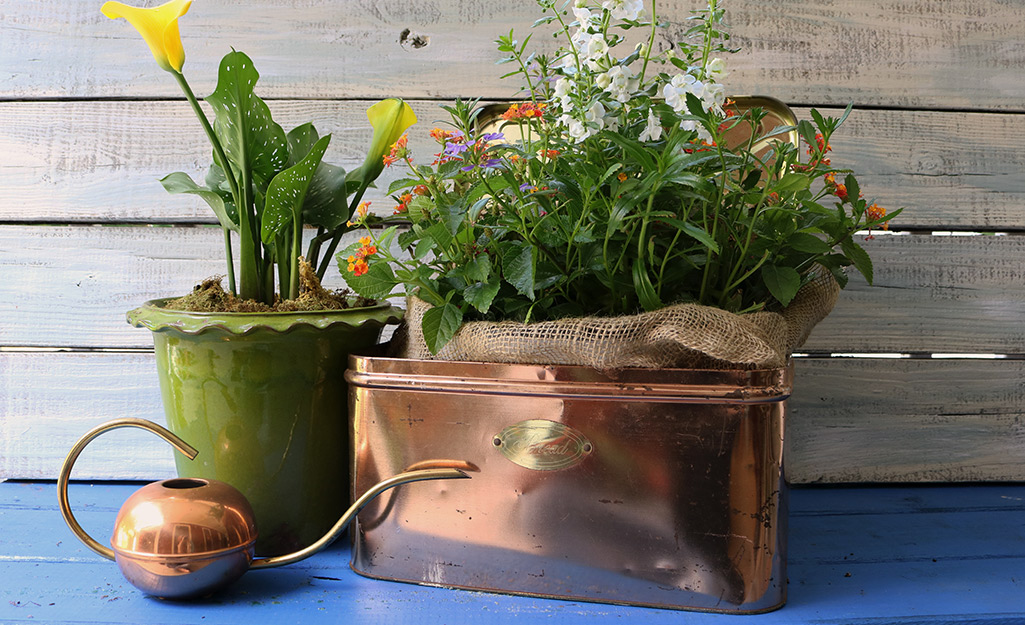 Copper is a beautiful way to showcase flowers and plants. Drop in a pot to make it easy to keep copper pots clean, or drill holes in the bottom and plant as you would a regular planter. When left to the elements, copper develops a gorgeous patina that will add to your plant's beauty.
Drop in a Pot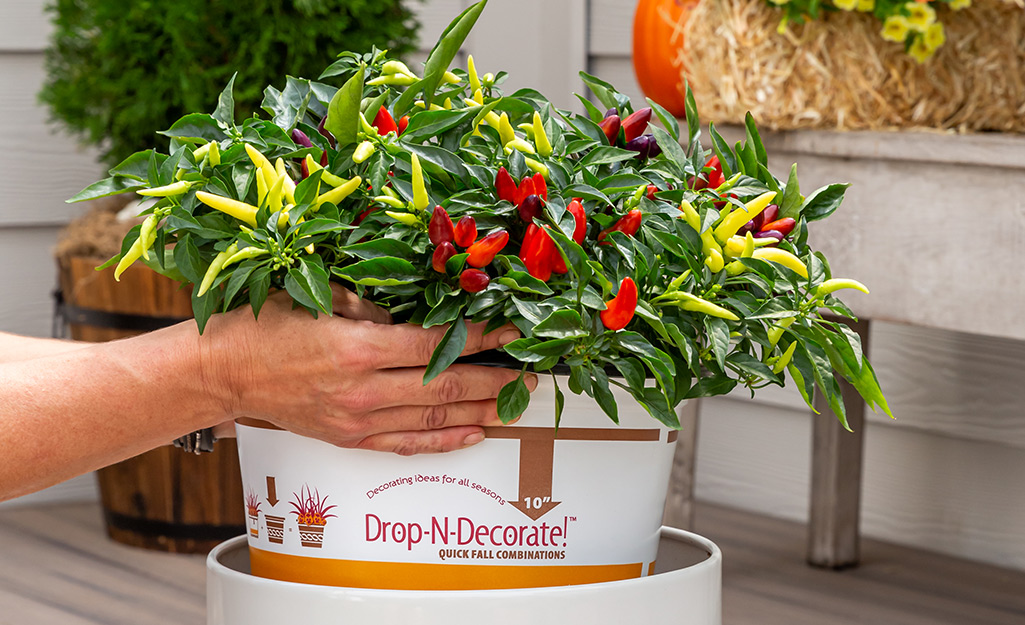 The Garden Center features preplanted arrangements of flowers in sizes that correspond with planters. They require no planting or effort—simply drop into a planter and you'll have a ready-made arrangement for your front porch in flowering combinations that are designed for season-long color and compatibility. 
Wooden Box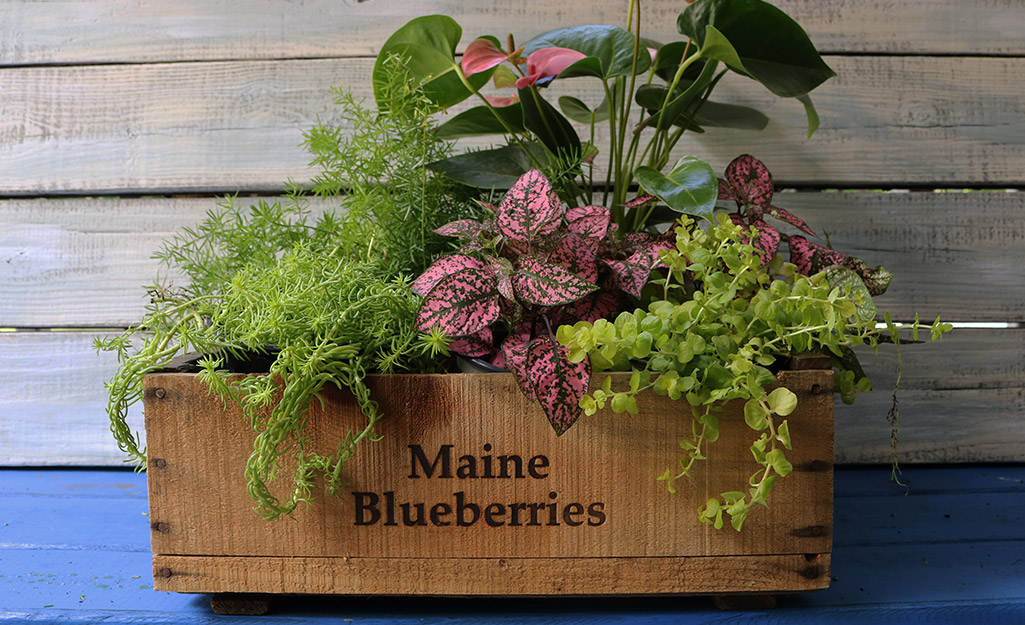 Boxes and crates of all sorts, like this blueberry box, make handy plant containers. 
Seek unique boxes at antique markets and secondhand stores. Prevent damage to the container and surface below when you line the interior of the box with plastic sheeting before filling with plants.
Bicycle Basket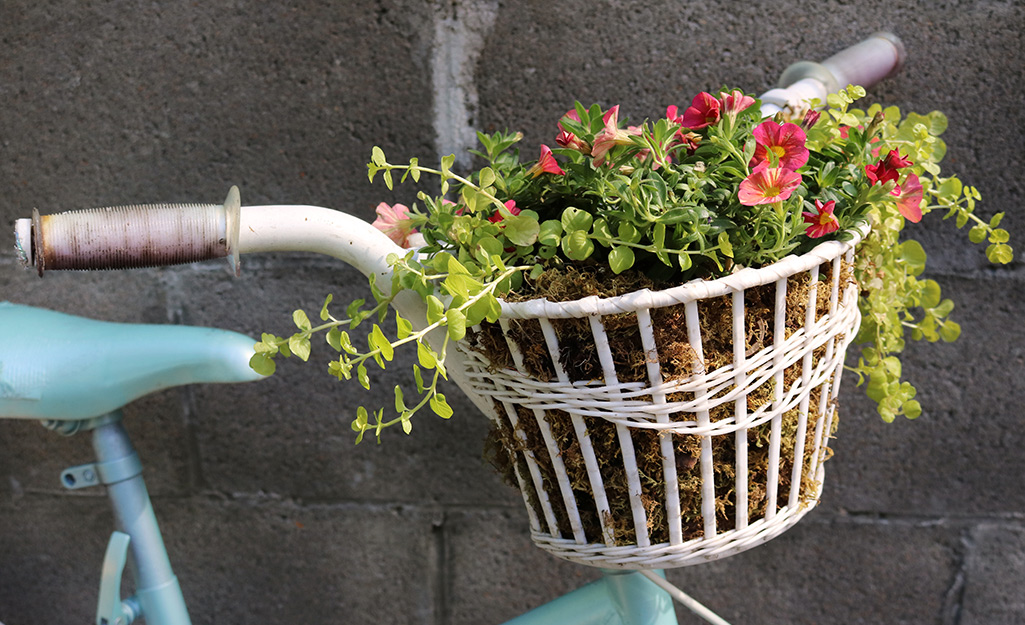 A worn-out and outgrown children's bicycle can be repurposed as a planter. Spray the entire bike and basket with spray paint, line the basket with a coil or moss liner and then add soil and plants. Try a pastel shade like Sea Mist for the perfect backdrop for creeping Jenny and calibrachoa in a basket.
At well under $10, this gives you a lot of bang for your buck. Try a pastel shade like Sea Mist for the perfect backdrop for creeping Jenny and calibrachoa in a basket.At well under $10, this gives you a lot of bang for your buck. Try a pastel shade like Sea Mist for the perfect backdrop for creeping Jenny and calibrachoa in a basket.
Tea Kettle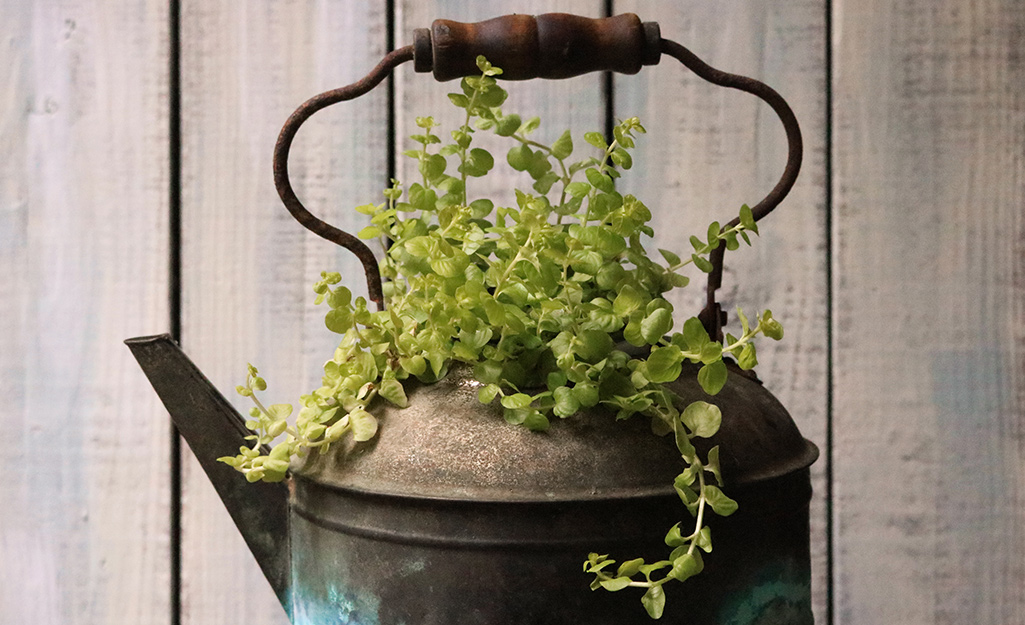 Put the rust in rustic when you scour yard sales for planter potential like this oxidized camp kettle. The easiest way to style a tea kettle is to find a small pot and drop it inside with the plant. That way you can take out plants and swap as needed for weather and look. Ivy and trailing succulents like donkey tails make nice additions.
Tackle Box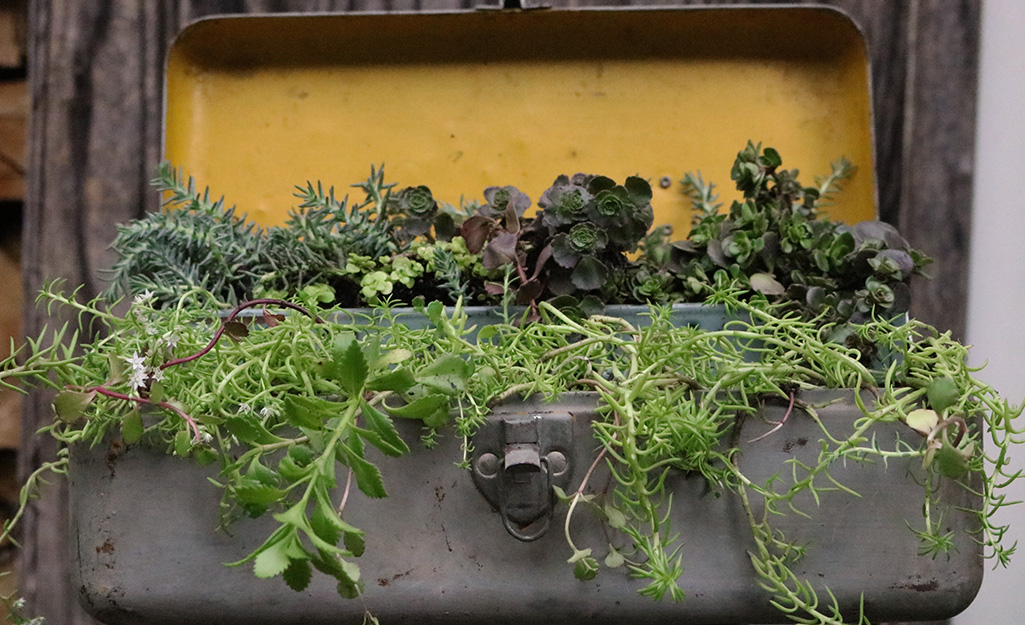 Shallow containers like this tackle box are perfect for sedums and succulents. Line the container with plastic then fill in with soilless potting mix designed for succulents and cacti. 
Sedum tile is a dense mat that can be easily cut or pulled apart and divided into the compartments of the tackle box.
Galvanized Containers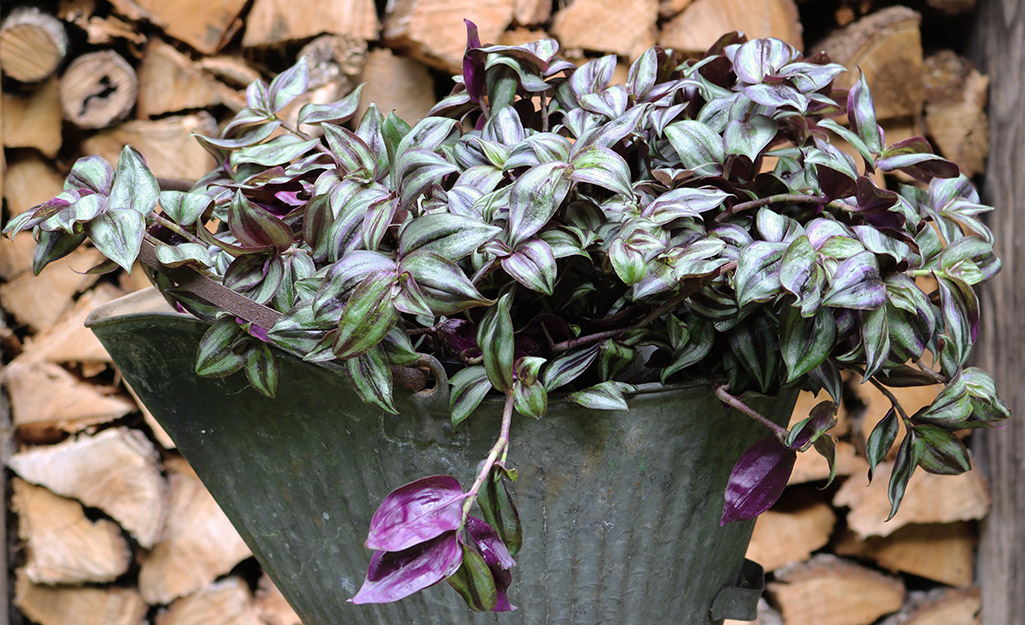 Galvanized buckets and watering cans that have worn out from use can be repurposed for a rustic planter. Fill with an easy-growing vine like Purple Heart or coleus. Find a variety of galvanized containers and group them together in your yard or own your porch for an eyecatching arrangement.
When using a repurposed container, remember to:
Create drainage. Drill holes or use a nail and hammer to make the display last.
Line with plastic sheeting. Protect repurposed containers made of wood or other material that can be damaged by water.
Choose suitable plants. Check growing requirements on the plant tag for proper light conditions and watering requirements. Plants in shallow containers will dry out quickly so keep them well-watered. However, succulents require very little water. 
Feed. Keep your plants happy and thriving in their vintage home. Feed them every few weeks with a liquid plant food. 
Conserve water. Mix water-storing crystals with potting soil to help small containers through hot summer days.
Whether you need the right planters, seeds or potting soil, The Home Depot delivers online orders when and where you need them. You can also shop The Home Depot Garden Center for the newest container designs and trends.
Explore More on homedepot.com