Bookshelves don't have to only house your favorite stories. With creativity and DIY know-how, any bookshelf, from wall-mounted to free-standing, can find a new purpose. Read this guide to unleash the home decorator within. Find bookshelf ideas to help you create shelving that fills your space with style and personality. 
Make a Gallery Wall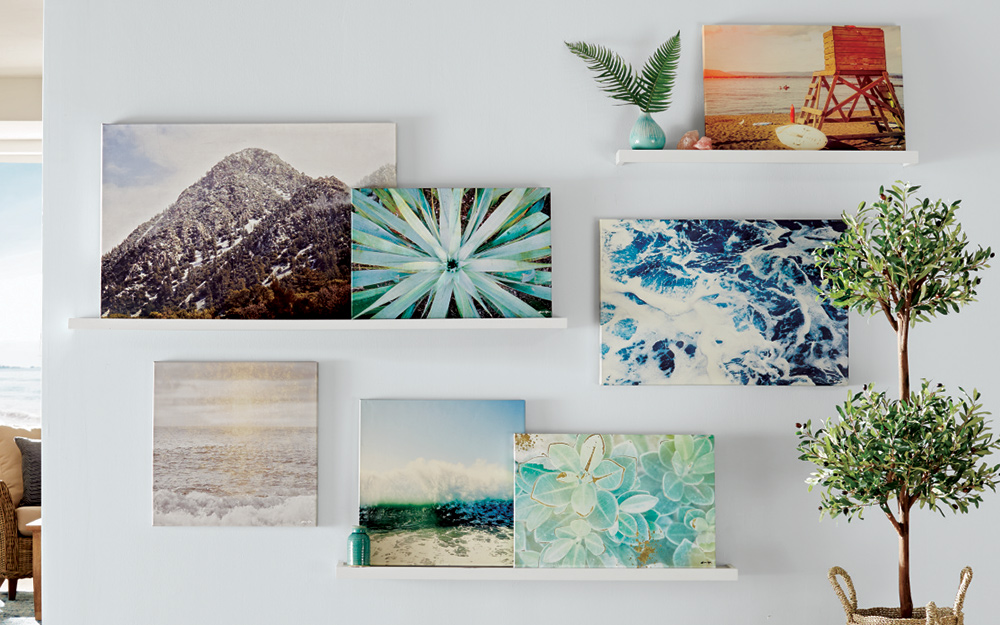 Try a new spin on the popular gallery wall trend by incorporating bookshelves, or floating shelves, to display art or family photographs. Perfect for hallways and living rooms with bare walls, this floating bookshelf idea adds dimension to an otherwise ordinary gallery wall.  
Tip: Matching artwork isn't a must. Eclectic mixes of art and photography add dimension and tell a unique story.
Update Your Home Office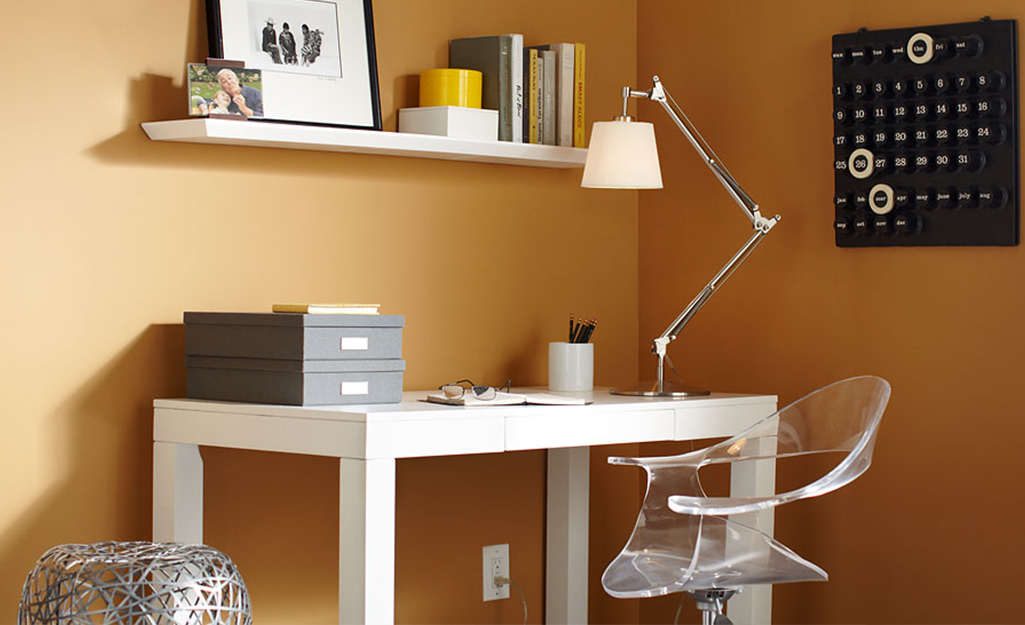 A helpful solution for home offices, floating shelves are perfect for books you need to keep organized and on-hand. A solution for smaller spaces, floating shelves are not only helpful but can serve as an artful and inspirational spot to display photos, art and other decor. Move over coffee tables and nightstands. Floating shelves are also a great way to showcase books in living rooms and bedrooms. 
Use a Ladder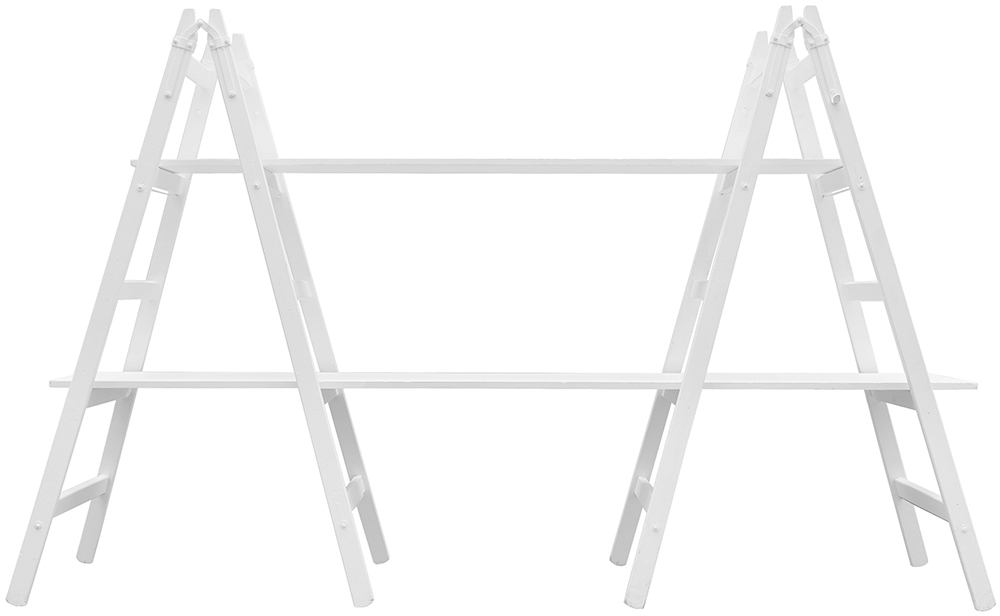 One of the more in-depth DIY shelf ideas, repurposing an old wooden stepladder creates shelving for your books and brings a conversation piece to your living area. With its legs folded, lean the ladder in an unused corner at an angle to keep the steps level and the books in place.
Show off your builder pride with boards stretched across the steps of two open stepladders or a multi-position ladder folded at its mid-point. It creates ample shelf space for various books and handmade crafts.
Add a Pop of Color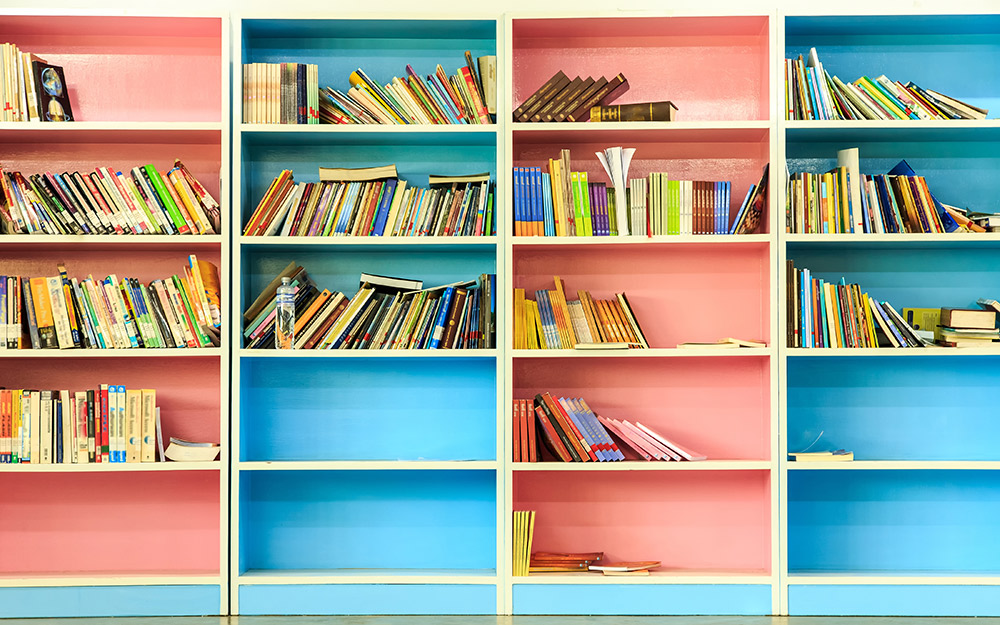 Creative bookshelves are a great addition to playrooms, kids rooms and homes with artsy vibes. Using paint, make a bold impression with DIY bookshelves. Simple, ready-to-assemble bookcases or bargain shelving from a thrift store can make a big statement after a fresh coat of paint. Painting bookshelves in a contrasting color will create a bold focal point in any room. 
Painting the bottom of a standalone bookshelf in a striking accent color or pattern is an easy way to make your space pop. If there are multiple shelves, try different colors on the bottom of each shelf to add visual interest to an otherwise bland shelving unit.
Utilize Creative Spaces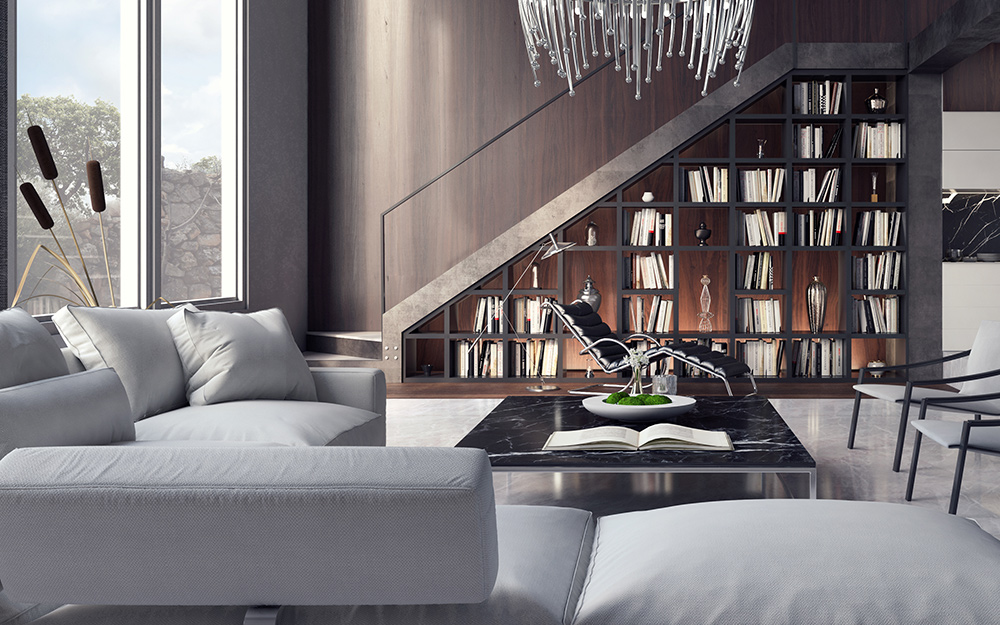 Look around your home for unused spaces that could be turned into bookshelves. Below are some common options that may be ready for an overhaul in your home:
Under stairs: If you have open space under your stairs, turn it into a custom bookcase. The space will get better use and create an eye-catching display.
Above door frames: If you're low on storage space, add floating shelves above your door frames. They can house small collections of books with knick-knacks and decorative items.
Corners: Turn an open corner into a vertical bookshelf. Using shelf brackets and books, you can make it look like a stack of books is floating against the wall. This display doubles as fascinating art.
Create a Unique Wooden Bookcase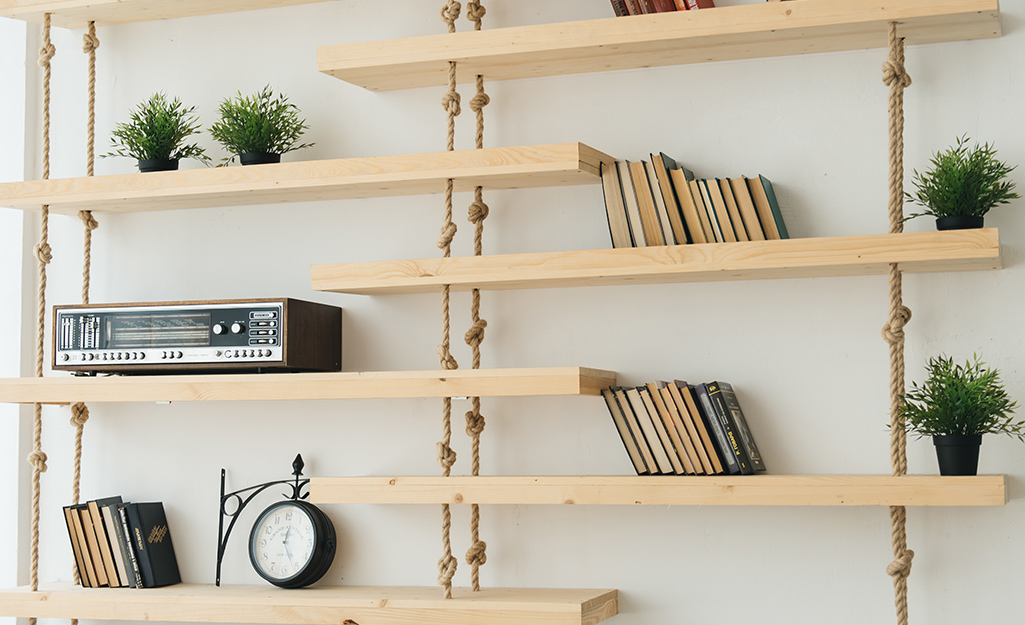 Whether you hang actual artwork from your bookcase or you choose to create DIY bookshelves out of unique products such as rope and plywood, this bookshelf will make an impact on the overall look of your room. And while bookcases are great for storing books, consider adding houseplants, clocks, radios and other pieces that fit your lifestyle. 
Repurpose Wooden Crates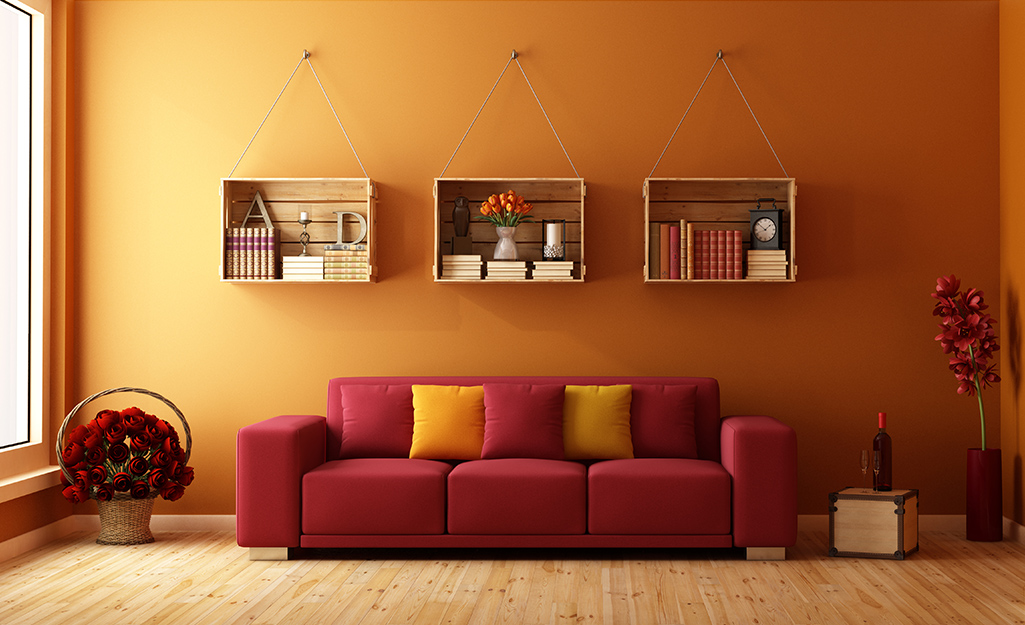 Repurposing material from wooden pallets or other reclaimed wood can bring rustic vibes to a home. Used in larger spaces, like living rooms, this DIY shelf idea involves using wooden crates or pallets. Not only are they able to take the place of ordinary artwork, they'll create visual interest while also storing books, magazines and more.
Opt for Built-In Bookcases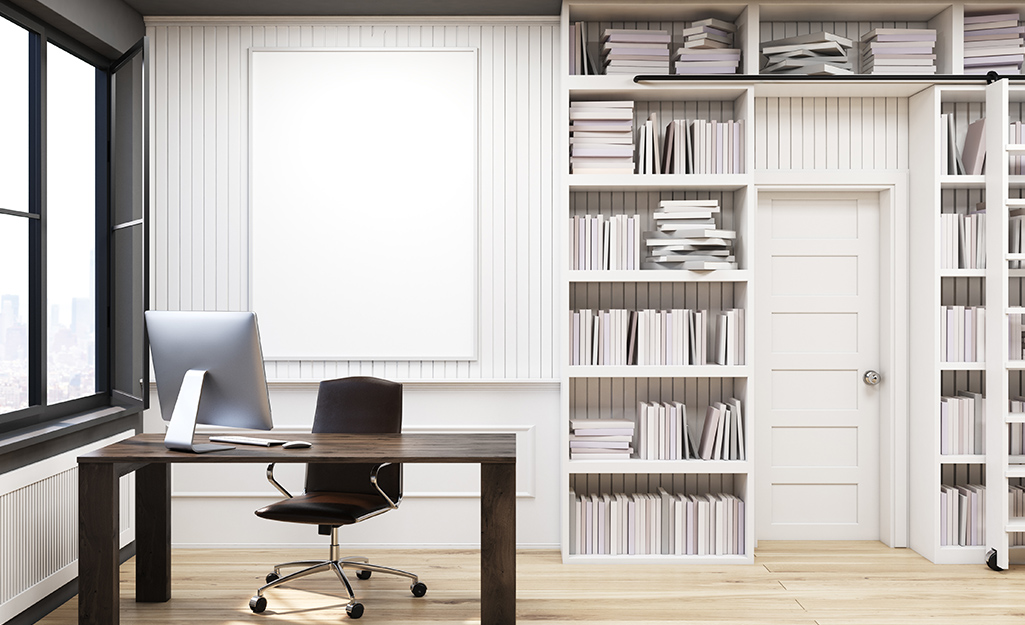 For many people, built-in bookcases are on their dream home wish list. If you are lucky enough to have built-ins in your home, consider updating the space and making it feel larger with a fresh coat of paint, like a modern, minimalist white. For homeowners that want to take on a built-in shelving project, here are a few ideas: 
When designing built-in shelves from scratch, take advantage of areas that are sometimes overlooked to maximize your storage space, such as door frames. 
Combine built-in shelving with functioning steps to access the top of a bunkbed.
Create a dramatic built-in bookcase beneath a staircase in a downstairs hallway or living space.
Wrap a door frame with built-in bookshelves to utilize the space above the door frame.
Choose a subtle tone to match your color scheme and make your built-in bookcase a showcase for interesting mementos or a backdrop for other eye-catching objects.
Consider adding crown moulding to a built-in bookcase. Even if the trim doesn't extend around the room, that little bit of flair can add an elegant touch to otherwise simple shelving.
Go with an Industrial Look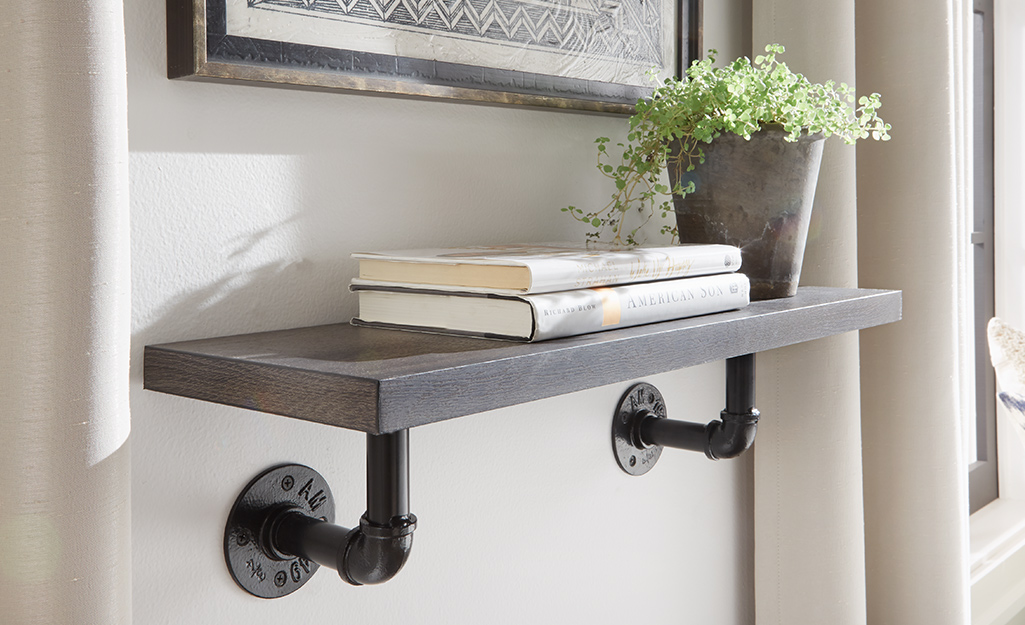 Bring industrial style to any room with wall-mounted open shelving made from steel pipes and pipe fittings. Ready-to-assemble shelf kits are available, or you can create your own bookshelf design. Pipes for small display shelves in a bathroom or an entire shelving unit in an office space can show a unique aesthetic. 
Solve Small Spaces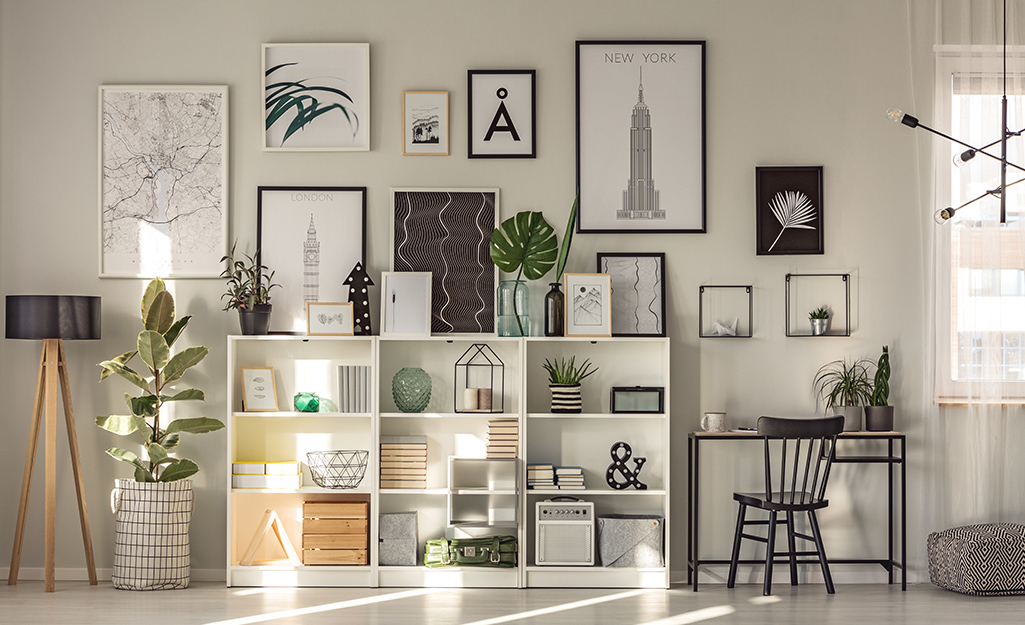 It can be tricky to show off your personality in smaller spaces. Bookcases are a helpful solution because they not only act as furniture, but can be a streamlined way to store items while showcasing your interests. When working in small area, like an apartment, dorm room or smaller room, consider using a bookcase in the same shade as your wall. A monochromatic room will give the illusion of a larger space and the bookcase will blend in while ensuring your items stand out.
Make It Kid-Friendly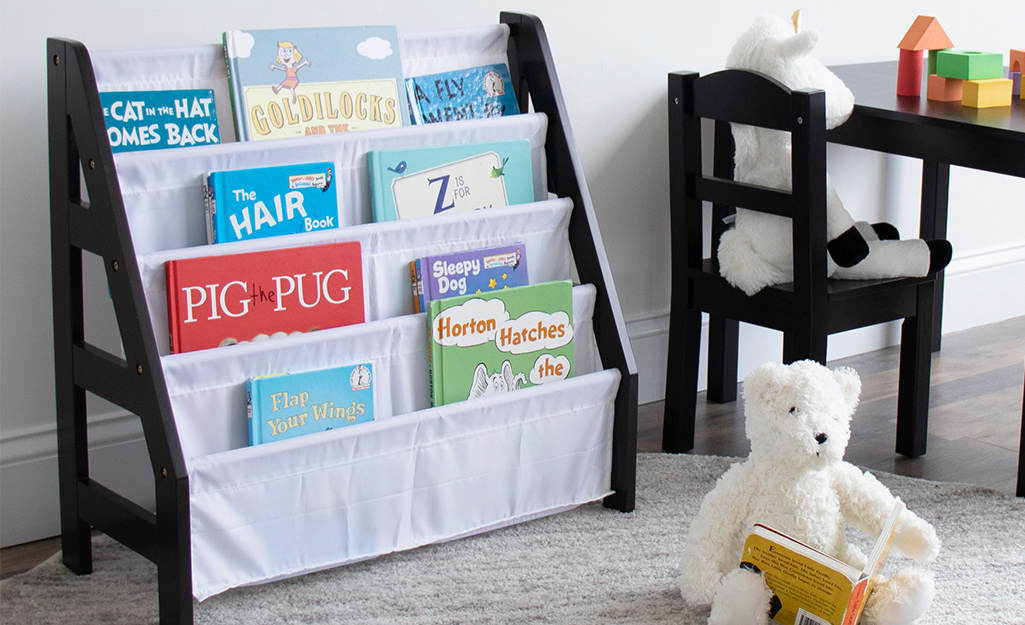 For kid's rooms and playrooms, try adding a curtain or upholstery to an older bookshelf or bookcase. Relatively easy to recreate, this DIY bookshelf idea is not only child-friendly but can be customized to the look you want simply by choosing a pattern that matches your room. While a white fabric can be washed easily, a bright, bold pattern can match the personality of the room. 
Reinvent any corner of your home easily with a new bookshelf.  The Home Depot delivers online orders when and where you need them.

Explore More on homedepot.com