A decked-out Christmas tree is a sight to behold. But once the holiday is over, take a little extra care as you put away your tree. Artificial trees can be stored with the ornaments and brought out again next year. Live trees, on the other hand, may have more life in them that will benefit wildlife and your garden.
If you decorated a living Christmas tree this year, either in a container or balled and burlapped, make plans to transition it successfully to your landscape.
Many communities recycle live Christmas trees. In some areas, you can simply remove your ornaments, tinsel and garland from the tree and leave it at the curb. Check with your local municipality for locations and requirements to recycle Christmas trees.
Many Home Depot stores recycle trees by partnering with a tree company to chip the trees into mulch. Just drop off your tree beginning the day after Christmas and look for more information in mid-January for chipping events.
You can also donate your bare trees after the holidays for any of these unique recycling opportunities. If you plan to recycle your tree, avoid materials like flocking spray during decoration, as that makes trees un-recyclable.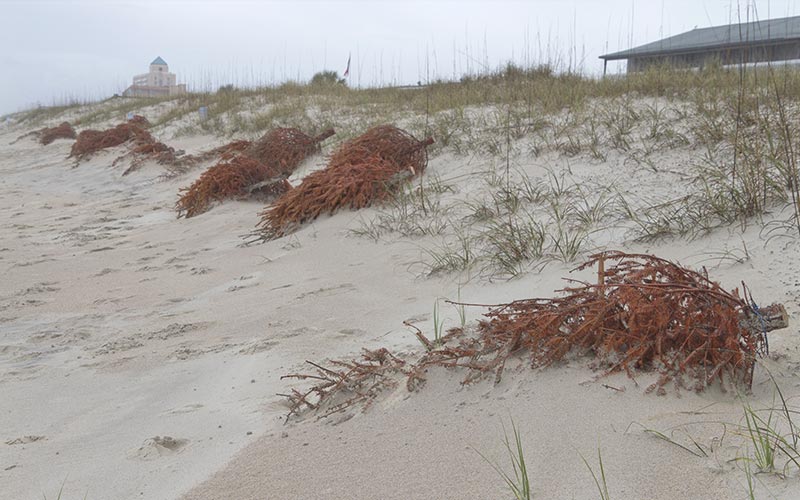 Soil and Sand Erosion Barriers. Discarded trees are kept intact and used to stabilize beaches and shoreline.
Feeding Fish. Trees are sunk into ponds to make a feeding area for fish.
Feeding Birds: Place in backyard and let the birds nest and feed from the tree.
Chip and Mulch: Rent or buy a wood chipper and make your own mulch. Age fresh mulch about a year before using.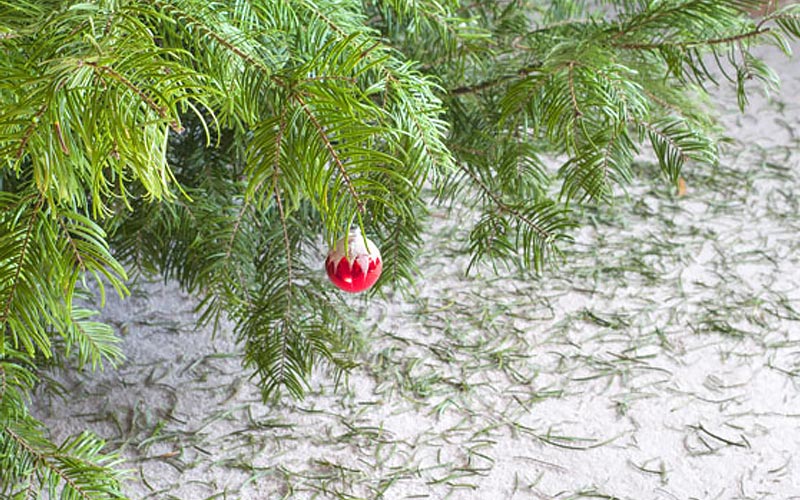 Establishing a living tree in your landscape is entirely possible when you're armed with a little know-how. Use the tips below to help make your new Christmas tradition a lasting memory.
Plan for the Landscape:
Start out by thinking about how the tree will eventually fit into your landscape. Be sure to pick a tree that grows well in your zone, preferably one that's native to your region. If you live in a northern climate, it helps to plan ahead and dig the planting hole and store the soil somewhere more temperate, like the garage. That will save you the effort of trying to dig through icy ground, and let your tree settle its roots into more tolerable soil.
Indoor Living:
A living Christmas tree should be gradually introduced to the warmer climate of your home. Start it off in a sheltered, unheated space, like your garage. Check it for any hitchhiking pests before you bring it into your home.
Be sure to keep the root ball watered while the tree is indoors. Placing it in a galvanized tub packed with straw or peat moss can help retain moisture. Placing the tree away from vents will also help keep it from drying out. Take extra precautions to protect your floor, like laying a plastic or vinyl sheet, or a washing machine pan underneath the galvanized tub.
Timing Is Everything:
A living tree will need to be taken back outside as soon after December 25th as possible. When you're ready to move it back outdoors, reverse the gradual stages you used to bring it in so that the tree will acclimate to the colder weather before you plant it. Check out more tips on planting trees.