Designing the backyard of your dreams doesn't have to cost a fortune. There are many DIY patio furniture options available. Creating your own pieces can make for a unique outdoor arrangement that speaks to your unique personality and style. This guide will provide DIY patio furniture ideas so you can build your own patio furniture pieces to arrange your outdoor space.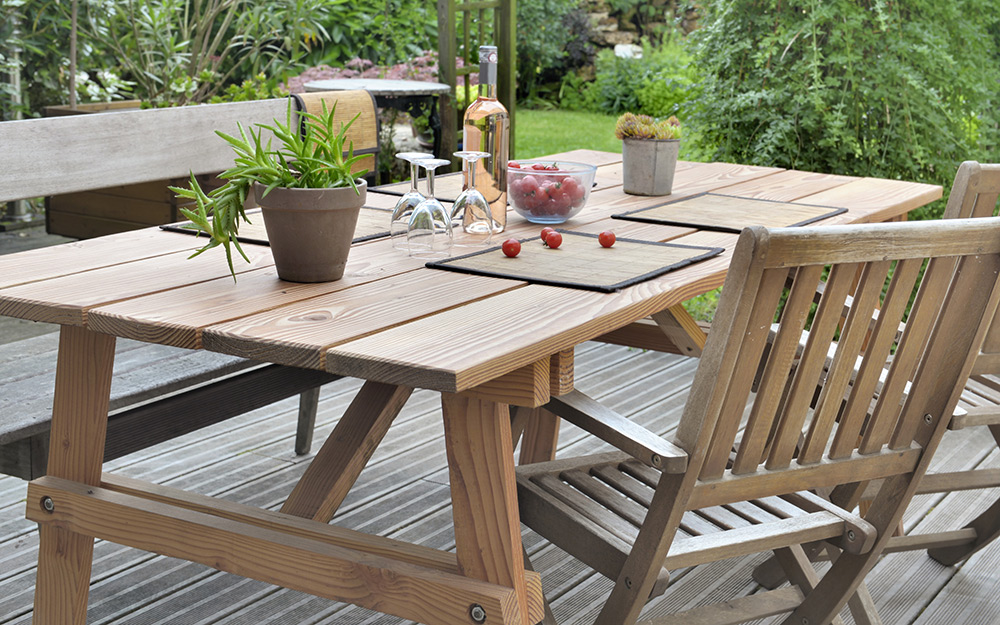 Sometimes learning how to build patio furniture doesn't require starting from scratch. Look at your existing pieces or source items from yard sales or flea markets that can easily be repurposed.
Instead of scrapping old furniture, find ways to refresh them. See our blog post on how to create a concrete table top for your patio table for a few tips and tricks.
Named for the Adirondack Mountains, the Adirondack chair is a classic staple in many patios and backyards. Uniquely designed with a flat seat and straight back, these chairs also feature wide arm rests to make lounging simple.
Adirondack chairs complement many decor styles and are easy to maintain throughout the year. Place one on the deck of your patio or directly in the backyard. Add a few outdoor pillows for a comfortable place to unwind outdoors.
Since they're usually made of wood paneling, Adirondack chairs are easy to construct. See the video above for instructions on how you build your own, including all the necessary tools and materials.
When brainstorming your DIY outdoor furniture plans, start with the sofa. A sturdy outdoor sofa is the ideal perfect place to kick back and relax when the weather is nice. If you're planning a small backyard gathering or simply need a comfortable place to sit on your patio, consider building your own.
The video above will show exactly how to construct the frame and piece everything together. Once the sofa is complete, add outdoor cushions for comfort, and consider a patio umbrella to shade the area on bright, sunny days. Outdoor rugs can also make a decorative statement in your seating area.
Tip: Remember to preserve your sofa and other outdoor furnishings with patio furniture covers.
A fire pit makes for a cozy gathering place in backyards of all sizes. While it's not technically considered patio furniture, it's a great addition to your outdoor space and installing one is an easy afternoon project.
The video above explains how to build a fire pit using pavers for a quick, simple backyard upgrade. This stone fire pit can easily be configured to accommodate your unique space. If you decide to build your fire pit in the middle of an existing patio, cement your bottom layer to the patio to keep it from shifting.
Tip: To simplify the fire pit building process, The Home Depot offers fire pit kits that contains detailed instructions and all the materials you need.