Ideas & Inspiration
Fall Plant and Flower Ideas
Mums and pansies are the traditional fall flowers, and you should absolutely plant them in your landscape this year for colorful impact. But there are more options for star power in your flower garden that bloom well into fall.
So don't stow away your trowel just yet. Decorate for fall with these end-of-season stars in window boxes, hanging baskets or containers, as well as in raised gardens and garden beds. Extend the season with showy blooms for an unforgettable fall.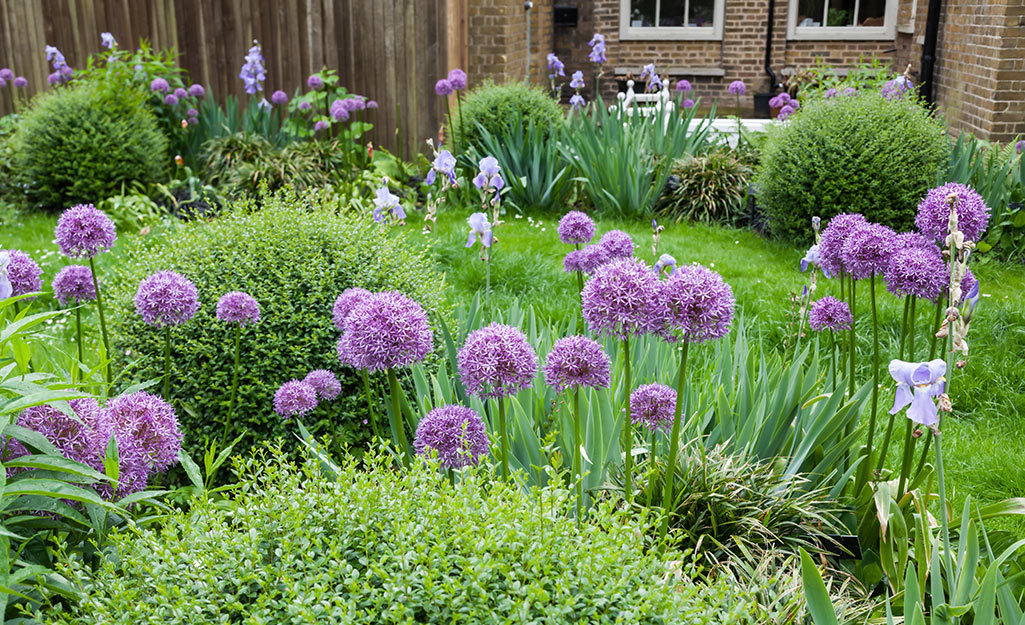 Don't let this ornamental onion fool you. Undemanding alliums bring a dazzling display of globe-shaped greenery starting in spring with an encore of sparkling flowers in midsummer until the last leaves of fall. Even pollinators can't get enough. Thankfully, allium will not attract deer, rabbits or chipmunks.
Allium can be planted as bulbs in the fall and will return as perennials for seasons to come in USDA Hardiness Zones 4 on up. Look for varieties that bloom from summer to fall.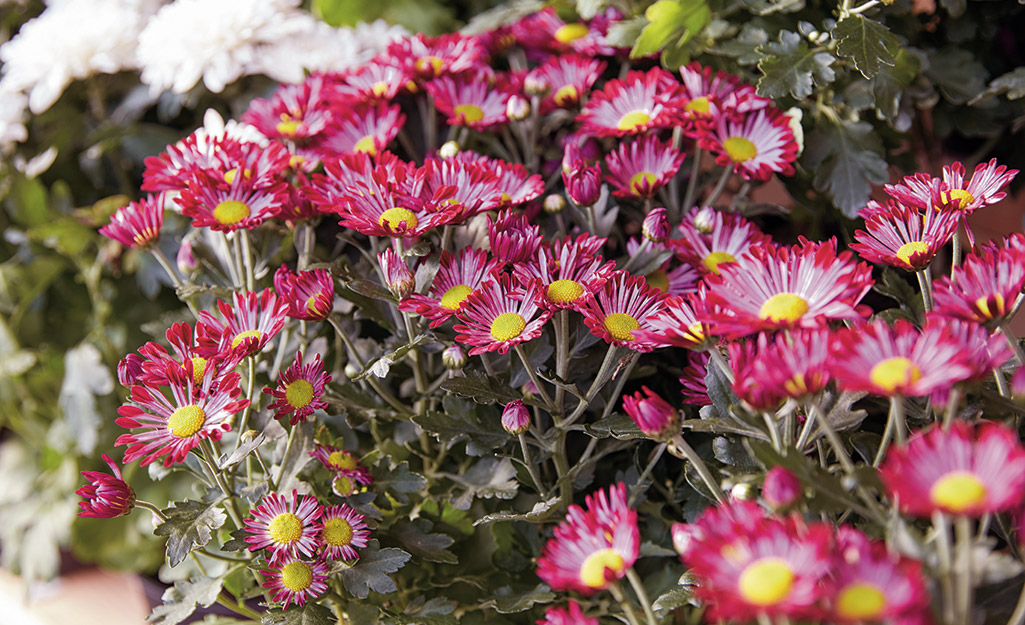 Just as other flowers in the garden begin to fade at the tail end of summer, perennial aster performs like a star into autumn, bringing a grand finale of light purple, white, pink and blue color to your garden. It's also a pleaser for pollinators. Aster, which looks like a daisy, likes full sun and most varieties are hardy in zones 4 to 8. 'Wood Skies' aster is hardy in zones 3 to 8 and offers aromatic leaves.
Because aster can be moisture sensitive, try different watering methods to get the most out of your flower garden blooms. Water more in the heat of summer and less when temperatures cool down. If you notice the flowers fading, readjust.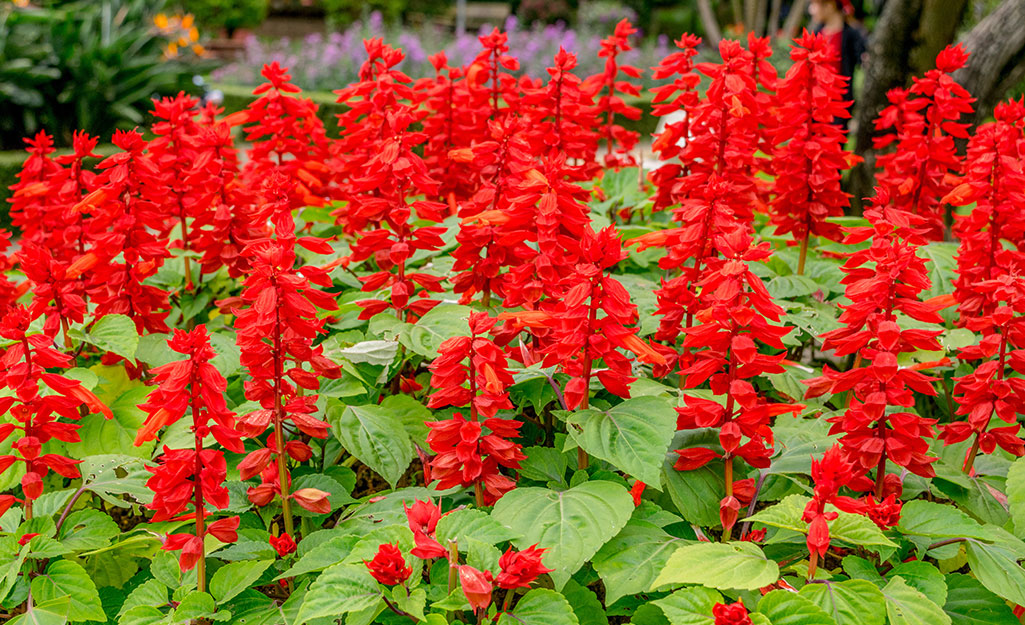 With its tall spires, salvia is a main attraction in the garden. It attracts pollinators and gardeners, but not deer or rabbits. Salvia tolerates drought and frost up to -20 degrees Fahrenheit as an annual.
You can't go wrong with salvia. Besides blooming in fire red, it comes in violet, too. It looks beautiful from summer and well into fall.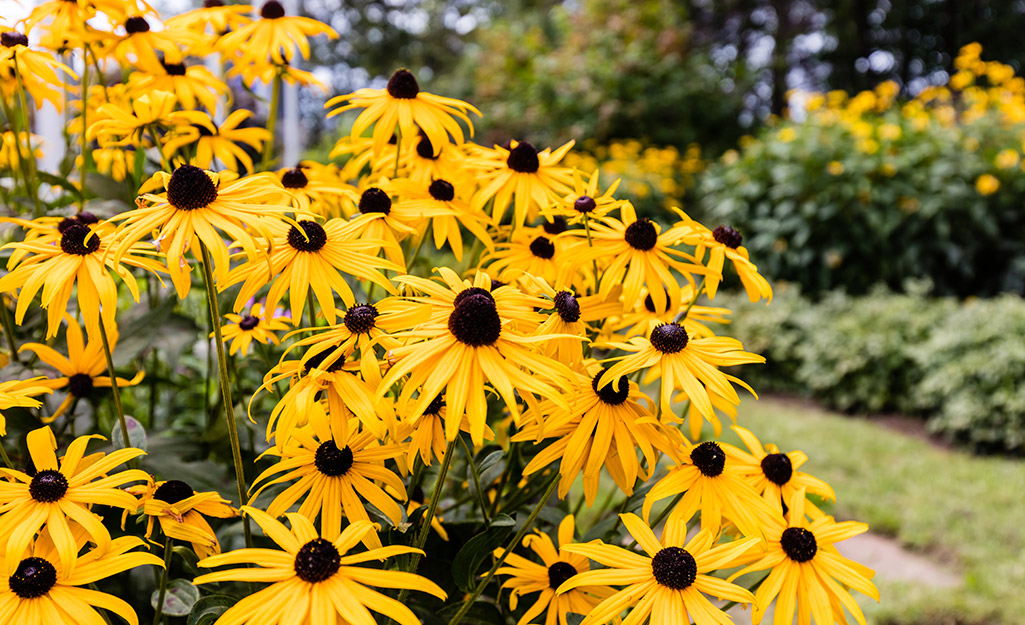 Known also as rudbeckia, this smiling daisy-like flower is popular with bees and other pollinators. Besides the signature sunny yellow, black-eyed Susans come in bronze, mahogany and red with a signature black eye in the center. These native perennials are easy to grow, performing well even in poor soil and dry conditions.
Black-eyed Susans pair well with lavender, coneflower, catmint, sedum and more in containers and in the garden. Grow in full sun in zones 4 to 9.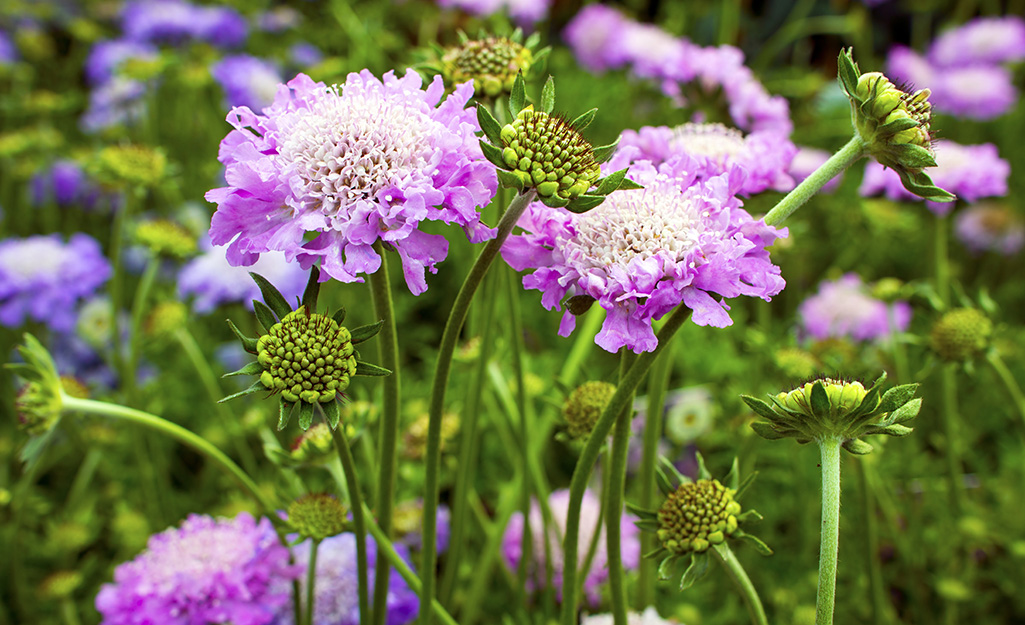 Known also as the pincushion flower, perennial scabiosa is a dramatic flower with frilly petals that arrives in spring and keeps blooming well into fall. Scabiosa works well as an accent in gardens, containers or all on its own.
Be sure to deadhead the spent flowers for continuous flowers all season long. Otherwise, it's a minimal-care type of flower. Scabiosa is hardy in zones 3 to 7.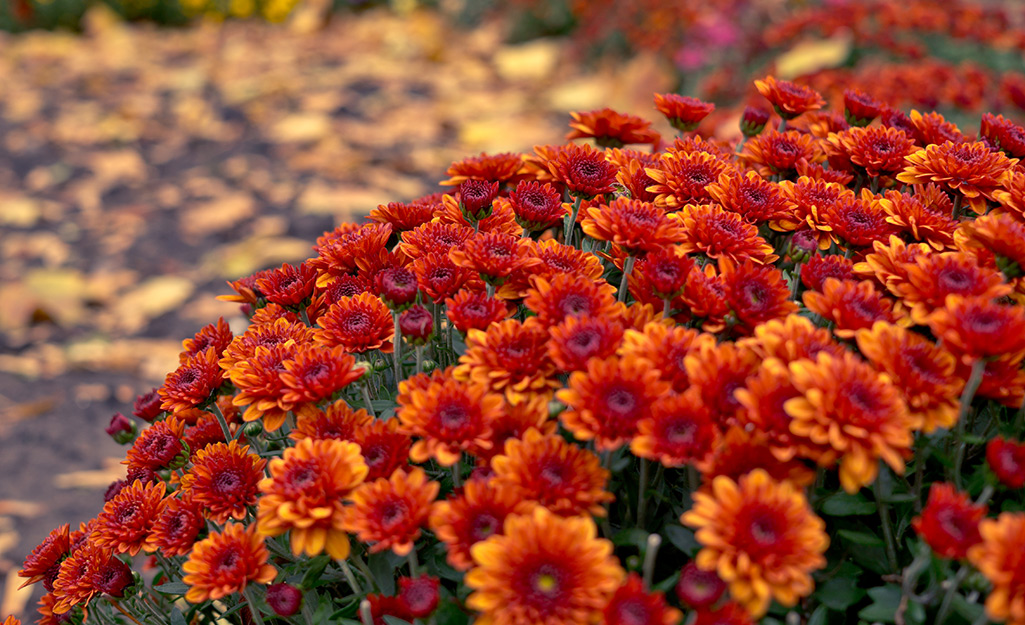 Mums come in a warm palette of colors that range from sunshine yellow all the way to pink, deep red and burgundy.
Mum is short for chrysanthemum, a cultivated plant that needs hot summer days to form foliage and cool fall days to promote flowering. Like asters, mums are popular with pollinators like bees and butterflies, a delightful bonus in the late summer garden.
Hardy chrysanthemums are perennial in zones 5 to 9, handling cold down to -30 degrees Fahrenheit. Extend the life of the potted mums you buy for fall decoration when you plant them in the garden at the end of the season.
Both mums and asters are easy to grow once established. When you give them sunny locations, well-drained soils and a little TLC, they'll bloom year after year.
Here's some advice for growing mums:
For maximum bloom, feed regularly with a balanced fertilizer. When the plant reaches the desired size, you can stop fertilizing.
Mums need ventilation to prevent mildew. Give them breathing room by spacing them several inches apart.
Overhead watering encourages foliar diseases. For best results, water near the roots with a watering wand or drip irrigation.
Use a layer of mulch to slow evaporation and keep roots cool.
Keep a consistent watering schedule. Mums can flower prematurely if they undergo drought stress.
To encourage plants to branch and produce more flowers, pinch and remove the growing tip of every stem. Pinching keeps plants from becoming leggy.
It's simple to give your potted mum or aster a new life in the garden, says expert Jennifer Webber, head grower for Rambo Nursery in Dallas, Georgia. Rambo Nursery is an exclusive grower for The Home Depot.
Webber recommends digging a planting hole one to three inches larger than the nursery pot and adding organic matter to the soil.
As temperatures chill in late fall, protect mums with several inches of mulch. Wait until spring to trim back the stems and fertilize to encourage foliage and flower growth. If your mum blooms early, pinch back the flowers to promote fall flowering.
Tip: There are florist mums and garden mums. The former are typically sold indoors, for example, in florist shops, and garden mums are usually sold outdoors. If you have questions about the type of mum you have, read the plant tag for the cultivar name, planting instructions and cold hardiness.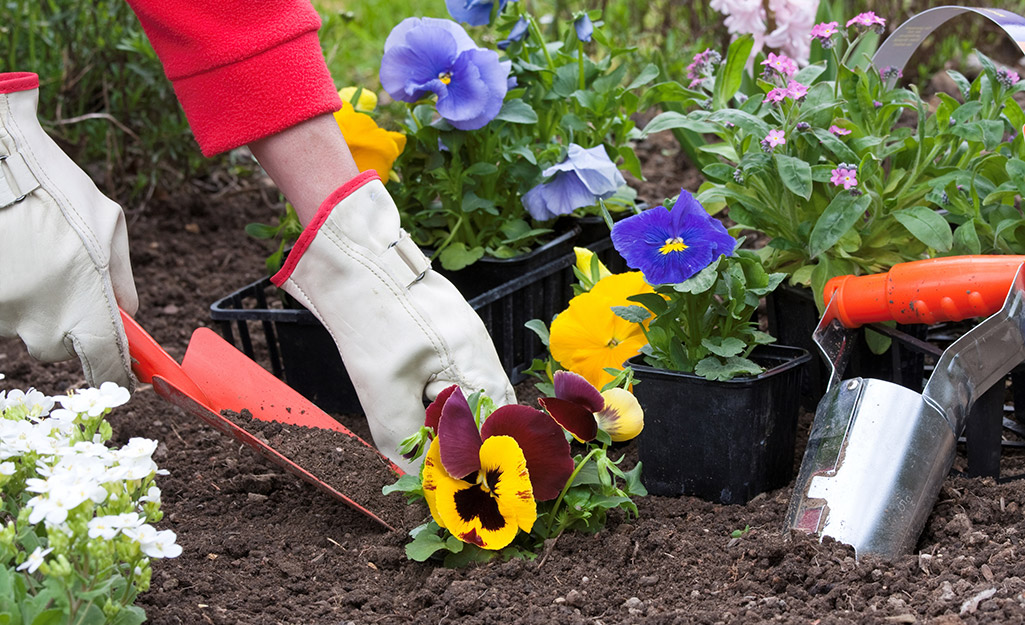 Cool-season plants are available for sun or shade; read plant tags and choose the best plants for each spot in your outdoor space.
Ease plants out of their pots and gently loosen roots.
Dig a hole wider than, but only as tall as, the plant's container. Use the empty pot as a guide.
Put plants in holes but don't plant too deep. The top of the plant should be level with soil.
Fill with soil and tamp down gently to eliminate air pockets.
Water thoroughly.
Add mulch about 2 to 3 inches deep, keeping it away from the base of the plant.
Feed weekly to produce the most flowers.
Decorate for fall with these end-of-season stars in window boxes, hanging baskets or containers as well as in raised gardens and garden beds.
Tip: Throughout the blooming season, remove spent blossoms to encourage even more flowers.
Whether you need the right plants, seeds or potting soil, The Home Depot delivers online orders when and where you need them.