A home bar takes entertaining to the next level. Whether you have an empty corner in a room or some extra space in your basement, these home bar ideas will help you add one to your home. Stock it with your favorite beverages for grown-up gatherings and replace them with soft drinks when kids come over. 
Getting Started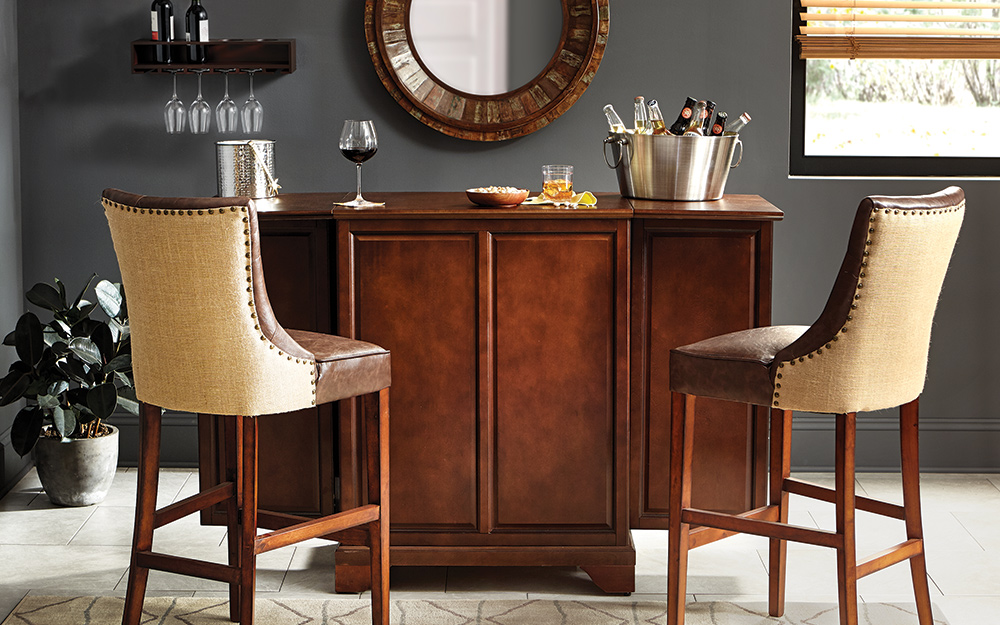 One of the first things you need to decide when planning a home bar is whether you need a wet bar. A wet bar has a sink and running water so that you can wash glasses with ease.
What you intend to serve may also influence your decision. Beer, white wines and vodka are best when chilled. A mini fridge,kegerator or wine fridge can help you keep items at just the right temperature directly at the bar. Choose a full-size refrigerator with an ice maker, and you'll always be ready for spirits on the rocks. 
Ready-made bar sets are a simple way to get your bar started. Some can work with a sink, and you can likely use a fridge next to them. with an ice maker, and you'll always be ready for spirits on the rocks.
Finally, think about where you'll sip. Do you need stools for seating at the bar, or will you make drinks and serve them elsewhere? A bar cart can allow you to easily get cocktails and more from Point A to Point B.
Tip: Some bar carts, home bars and beverage coolers  have keyed locks. If you have children or teens at home, consider one for security.
Creative Home Bar Ideas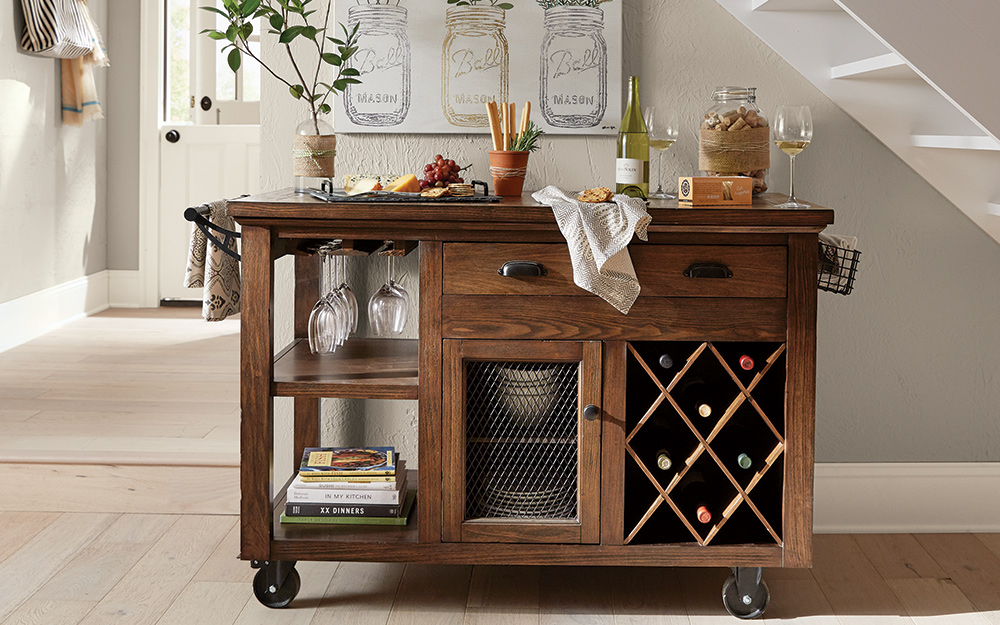 A home bar or wet bar can complement the style of your home or serve as a fun contrast. Let it express your personality, hobbies or interests. 
If you collect coins, glue shiny pennies to a board to make a coppery bar top that will add a creative backdrop for your wine glasses, beer glasses and cocktail glasses.
Another fun idea is to use atile backsplash or bottle caps to make a colorful pattern or design. 
Up the Ante with Accessories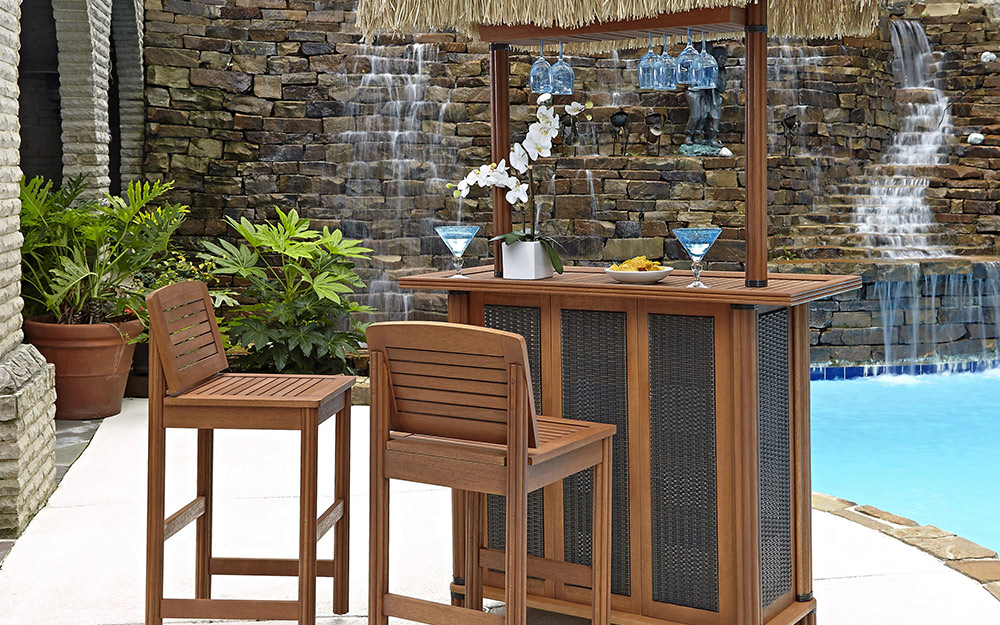 Decorative accents and lighting add flair to home bar areas. Look for pieces and fixtures that fit the overall style.
Dress up a traditional style bar with atmospheric lighting. Use pendant lamps to provide task lighting and enhance the room. 
You can also use black cabinets, shiny drawer pulls and classic bar stoolsfor a sophisticated look. Going contemporary with a stainless steel refrigerator, stainless steel counter and leather stools is also a great idea. Keep the theme going by adding a modern table lamp to the bar top.
Tip: Create your own upcycled accent lighting by dropping micro string lights into clean empty bottles.
How to Build a DIY Home Bar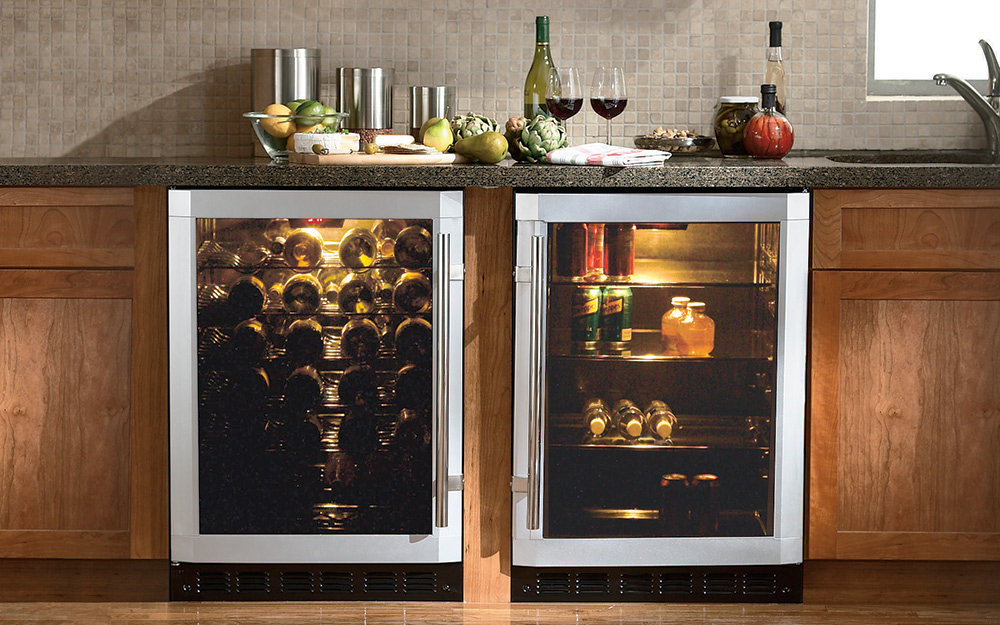 Creating a DIY bar is easier than you might think. You can build a dual-purpose cart to use in the garden or as an outdoor beverage station. Add a rod to hold bar towels and place wine bottles, glasses and an ice bucket on the shelves. Hang small bar tools and accessories from hooks.
You can also build a DIY bar with inexpensive, ready-made cabinets and a beverage cooler. Use it in a basement, man cave or another area. Choose the cabinets and cooler sizes that fit your home or wet bar.
Popular Bar Tools and Supplies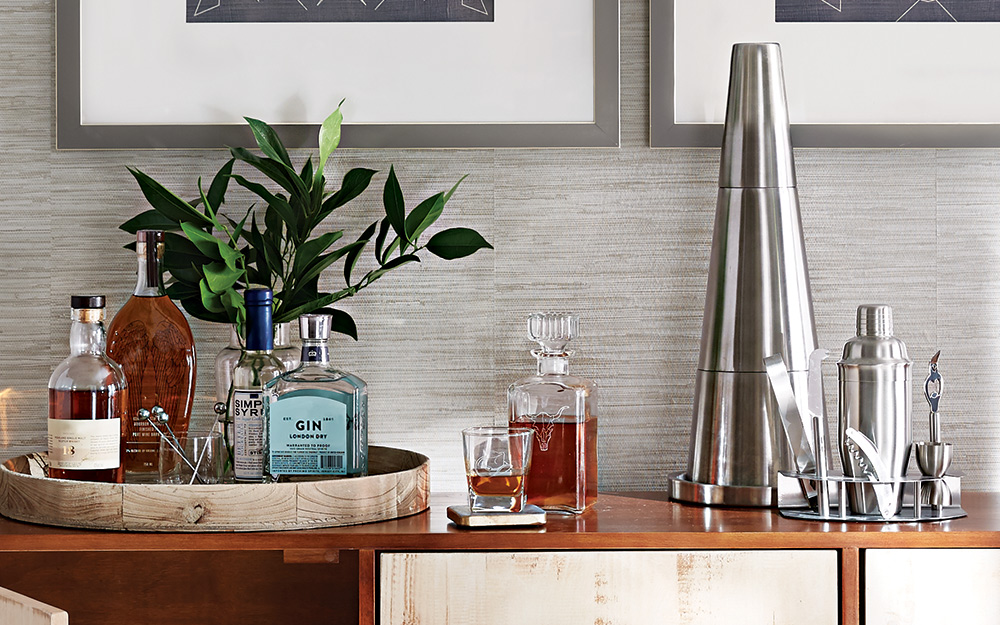 Having a well-stocked bar means more than just buying your favorite beverages. You'll also want to have some tools and accessories on hand, such as:
Foil cutters for wine
Jiggers for measuring
Tip: Get ready to tend the bar with ease by buying a bar tools set that provides the essentials for one price.
A Floating Bar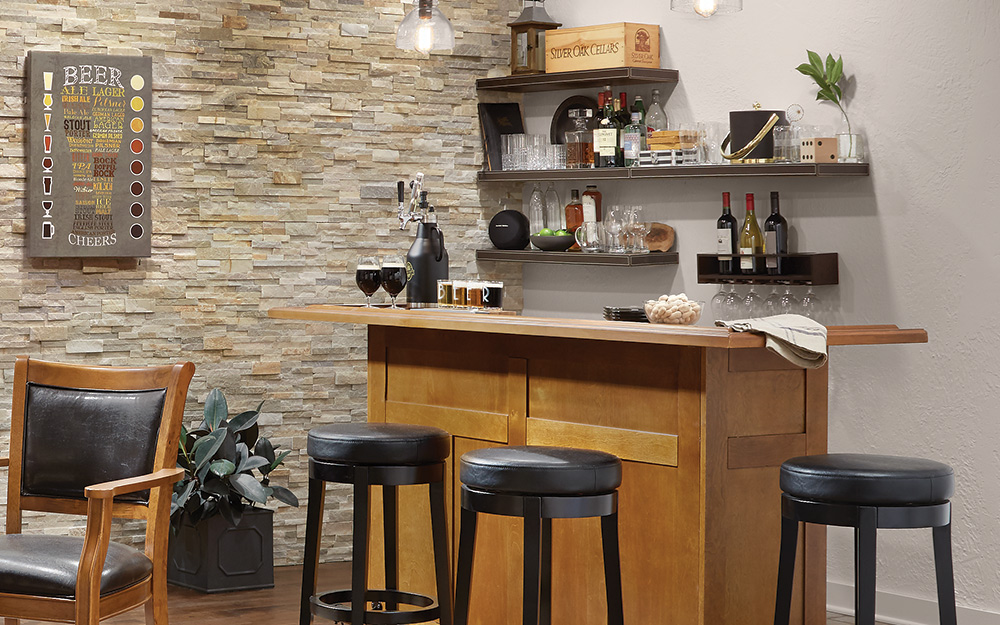 If you're short on floor space or want to add some vertical interest to your area, a floating bar is the answer. You can use a combination of floating shelves and cabinetry to make one. 
When creating your bar, remember it doesn't have to be formal. Use your imagination to create a space all your own.
Repurpose A Dresser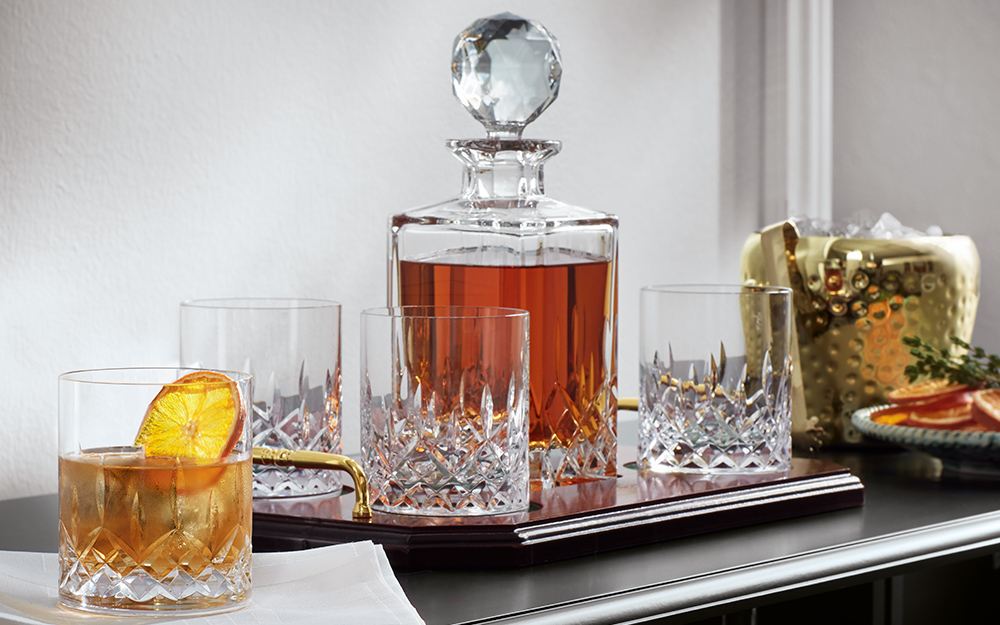 If you have an old dresser hanging out in the basement or garage, put it to work for you. 
Add floating shelves above the dresser to create extra storage space. Top off those shelves with your favorite glasses, keepsakes, plants or any other accessories that show off your personality. 
A Real In-Home Bar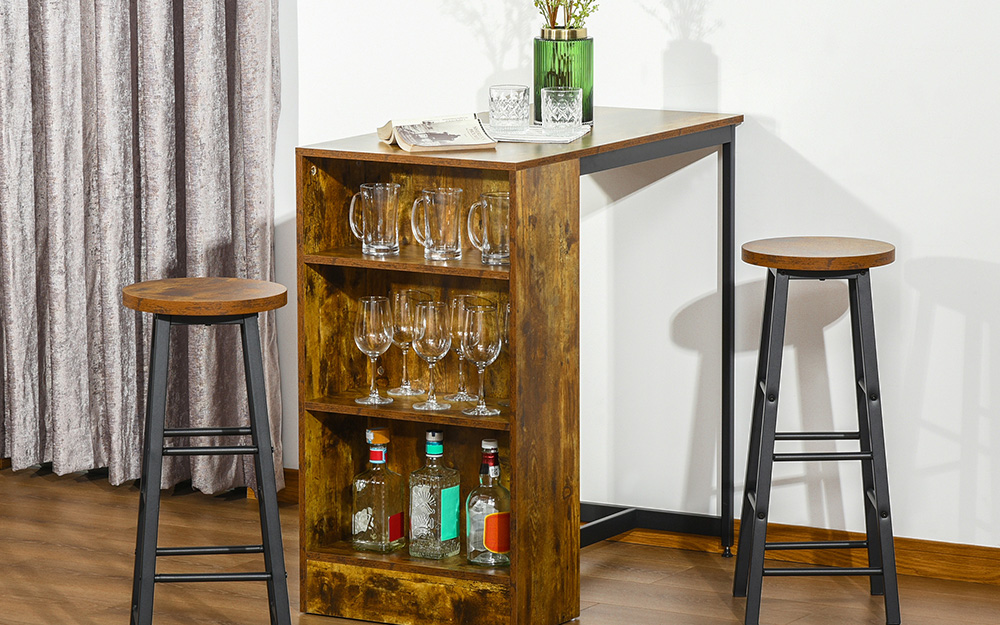 Another way to add a bar to a small space is to use a bar table. Look for one that features built-in storage for bottles and glasses.
Finish it off with two bar stools, and you have a place to chat with friends and sip your favorite drinks. Visually separate it from the rest of the room by placing an area rug under it. Choose a stain-resistant rug for easy care.
Get Creative with Paint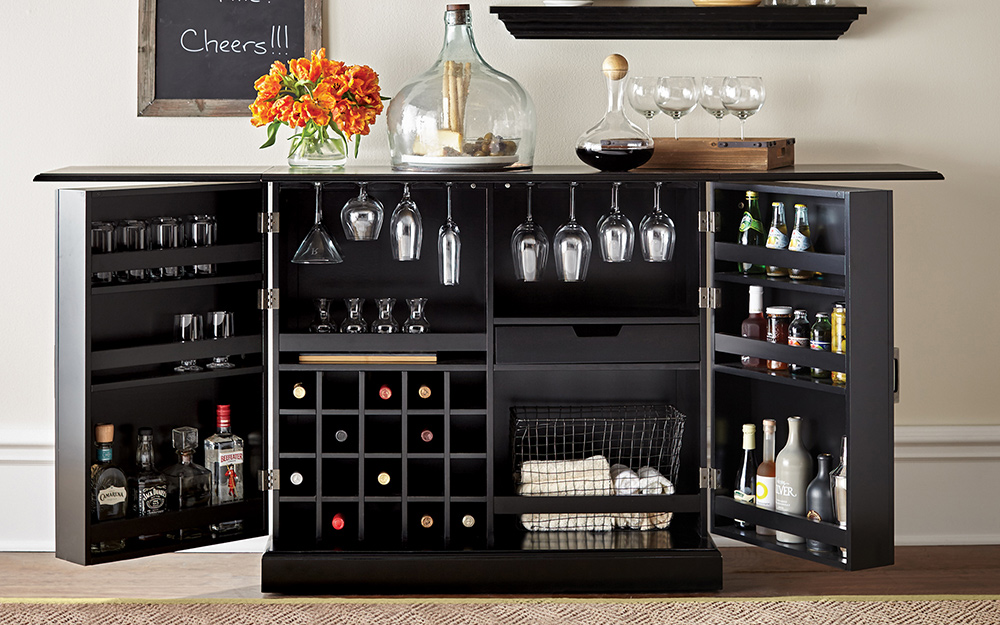 Don't forget that you can transform any dresser, cabinet or floating shelf with paint. You can go bold and moody with dark blues or black or keep the mood light and airy with white or white adjacent colors.
To refinish wood, remove the old finish with a chemical stripper or sandpaper. Apply a primer and allow it to dry completely. Then, finish with furniture paint in your favorite color.
Take a Simple Approach
A console table or sideboard can easily become a home bar. Place one or two decorative trays side by side on top.
Transfer spirits to decorative decanters and arrange them on one tray. Use the other to corral your cocktail shaker and barware. Finish off with a decorative accent like a potted plant or candle holder.
A home bar provides a place where everyone can kick back and relax. Purchase new furniture or repurpose items around your home to create one in your space. Whatever you need to bring your home bar ideas to life, you can find it at The Home Depot online and in stores.
Use The Home Depot Mobile App to locate products and check inventory. We'll take you to the exact aisle and bay.
Explore More on homedepot.com