Ideas & Inspiration
How to Create Planters with Red, White and Blue Flowers
Show your patriotic spirit by creating planters with red, white and blue flowers. You'll be the envy of your block.
Summer holidays, including July 4, will shine with dazzling flowers when you plant them red, white and blue in your outdoor space. What better than to match them to Old Glory. You'll find that the colors of the stars and stripes that unite our country unify in the garden, too.
It's hard to find true blue flowers, but there's no shortage of intensely violet blooms, such as butterfly bush, petunia and calibrachoa. Try the butterfly garden planter recipe above from Proven Winners (photo by Garden Answer) with red verbena (Tukana Scarlet Star), white calibrachoa (Superbells) and violet butterfly bush (Lo & Behold Lilac Chip).
Just imagine how they'll look on your balcony, small-space garden or by your front steps in a metal tub or bucket, such as the photo to the left.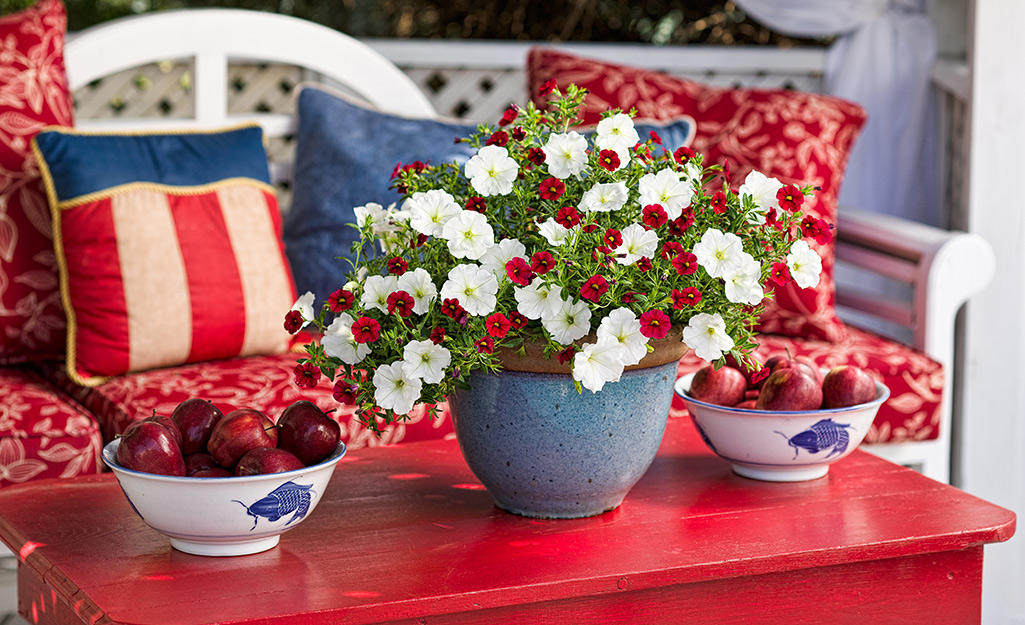 For entertaining, try something different with a blue flowerpot brimming with a red and white floral arrangement. In the photo above, red calibrachoa and white petunias are used.
Add red apples in blue and white bowls for more festive decor.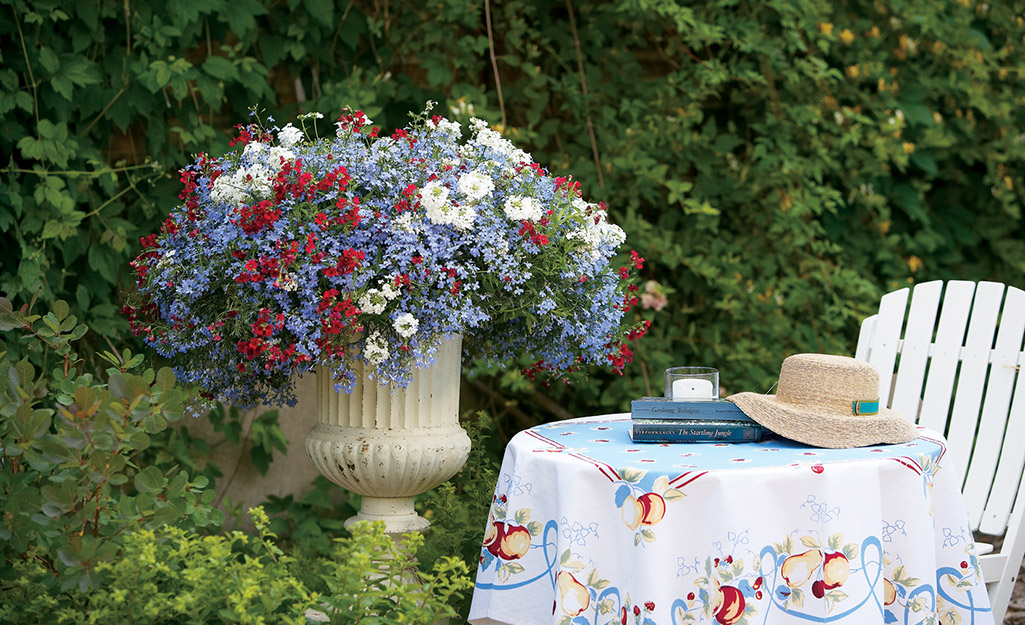 For instant impact in your garden, try flower beds filled with red salvia, white begonias and violet ageratums. They'll take you from July 4 and even past Labor Day.
Decorative urns or hanging baskets can bring some flower power thrilling and spilling with red salvia, white begonias and violet blue ageratums. Or hanging baskets filled with red impatiens, white petunias and blue lobelia.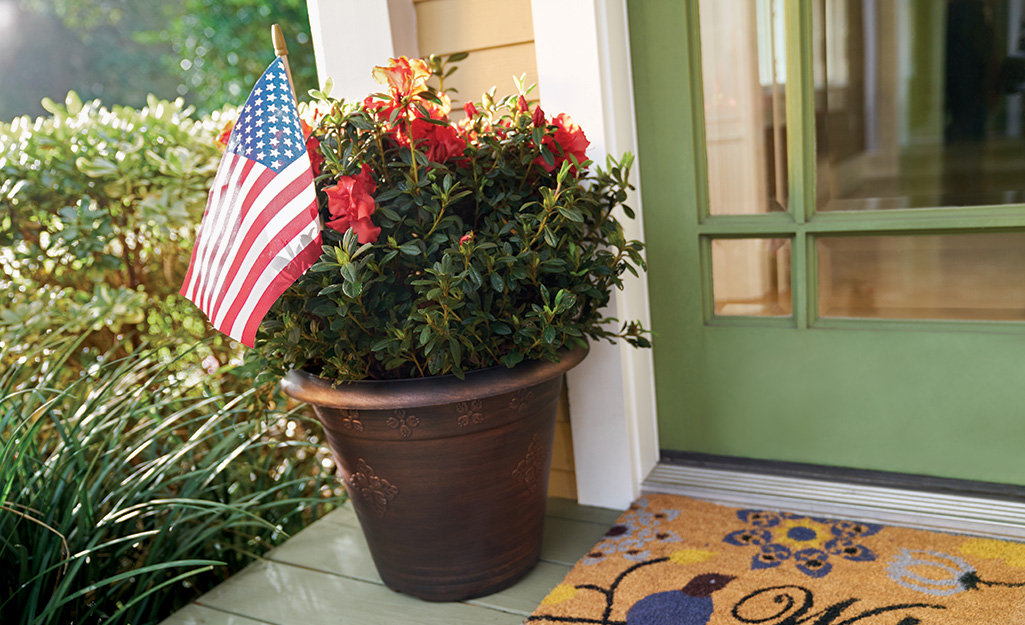 Take the guesswork and messy work out of your red, white and blue arrangement. Pick up a patriotic Drop-N-Bloom or other pre-made July 4 containers at The Home Depot Garden Center.
These combinations of flowers, such as verbena and geraniums, drop right into your own decorative containers at home.
And every arrangement, whether in a container or bed, needs a waving flag to complete the look.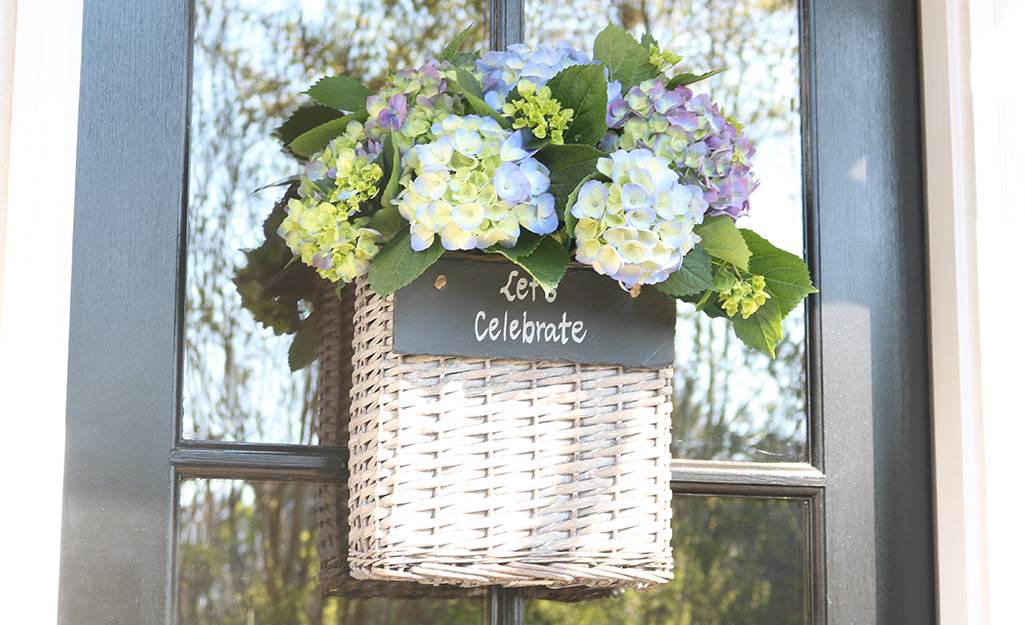 Pick out more flowers with any of the choices below to create fun and celebration-worthy planters festooned with red, white and blue.
You could also choose a monotone look that still brings the fun right to your door with the above door basket wreath.
Violet and Blue Favorites:
Ageratum
Borage
Browallia
Evolvulus (dwarf morning glory)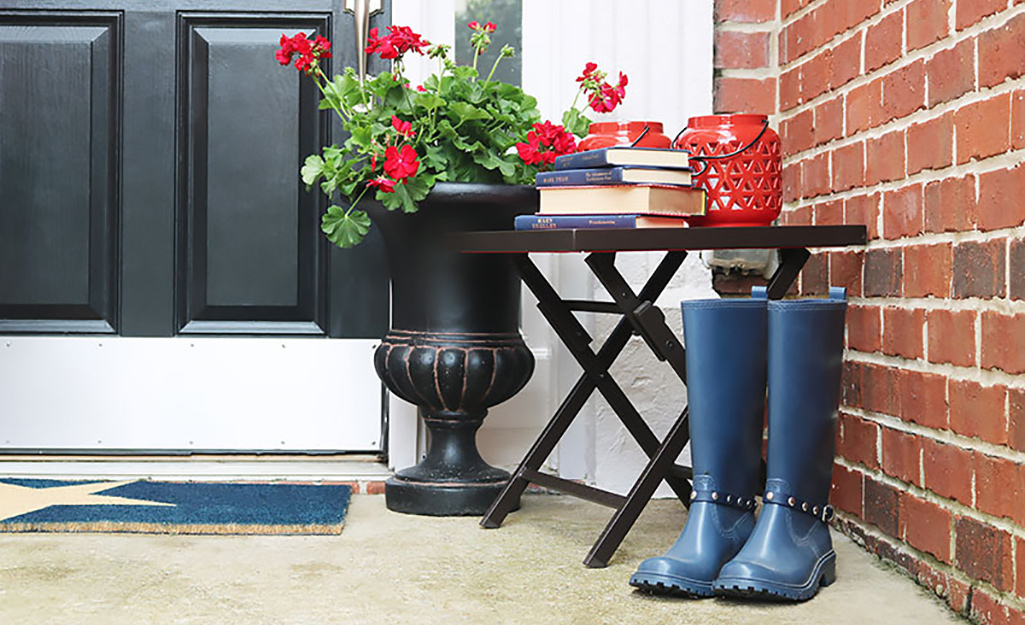 You'll get the classic patriotic annual with red geraniums. Pick up a couple of urns and pop them inside for All-American curb appeal. Another all-star player, pentas bring deep red star-shaped blooms that would look natural for a star-spangled red, white and blue container.
The Power of Red:
Celosia
Nasturtium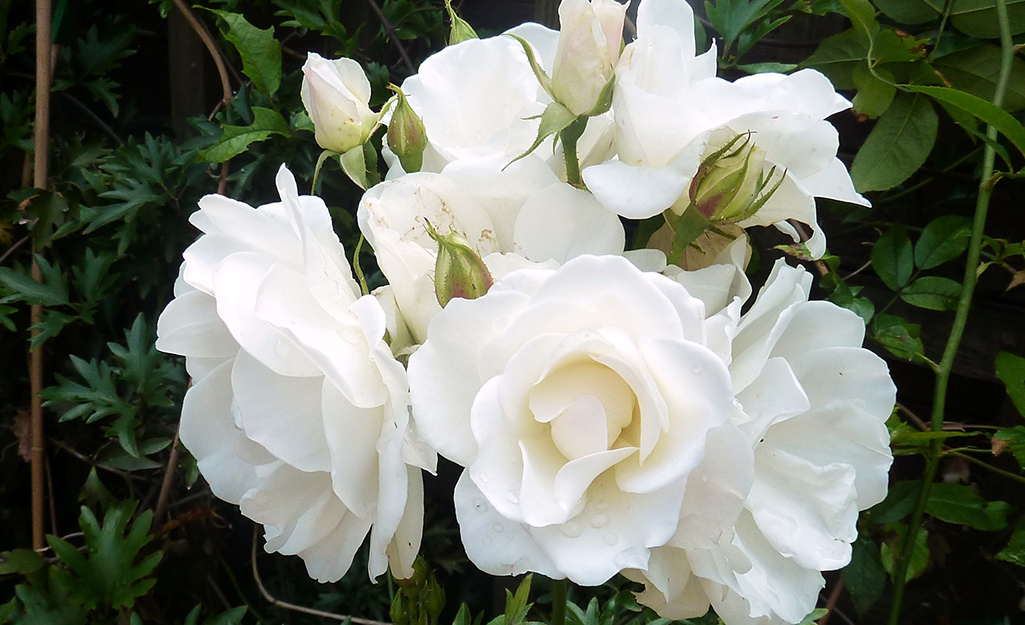 Many of the above flowers, such as begonia and rose, also come in white. Creamy magnolia, hydrangea and gardenia blossoms, and spikes of white iris and gladiolus, can become part of a red, white and blue display, too.
Soft and Dreamy White Flowers:
Browallia
Cleome
Calibrachoa
Daisy
Lily
Nicotiana
Phlox
Snapdragon
Torenia
Vinca