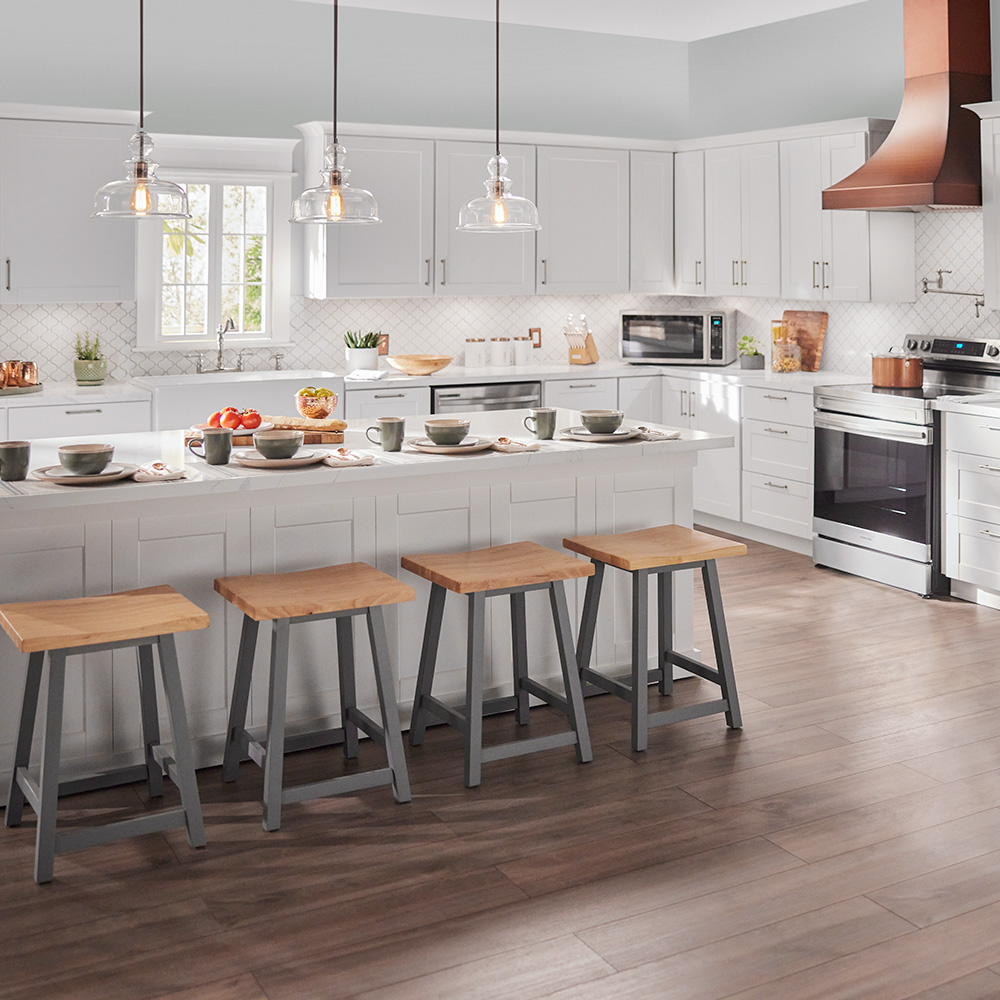 Few home improvements give the satisfaction of a full kitchen remodel. Remodeling your kitchen can greatly improve its beauty and function. It can also add value to your home. However, renovating your kitchen can take time and be a major undertaking. Learn the basic steps needed for a kitchen remodel no matter the size of your project. Find out what you need to do first, when to hire professionals, when to demolish and more. Use this guide to get a clear idea of how to do a full kitchen remodel.
Set Goals & Budget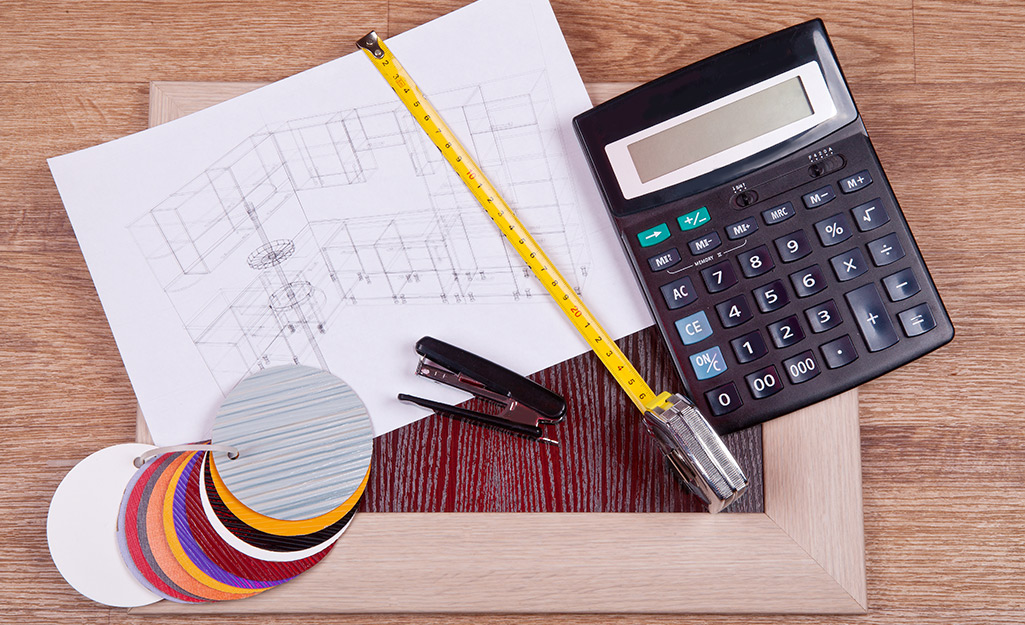 Planning your kitchen remodel is the foundation for a successful project. Figuring out all the details can take anywhere from a few weeks to a few months. Start by thinking about your dream kitchen. Do you want more function? Are you wanting more room for cooking and entertaining? Are you changing the current floor plan? Will you need new cabinets and appliances? Now's the time to think these and other questions through.
A full kitchen remodel can cost from under $10,000 to over $100,000. It's best to determine your budget in the beginning of your planning. A good rule of thumb when figuring costs for your new kitchen is to spend 5 percent to 15 percent of your home's value. Here's how to divide your budget:
Tip: Add an additional 10 percent to 15 percent to cover any unexpected costs that might come up.
Make a Plan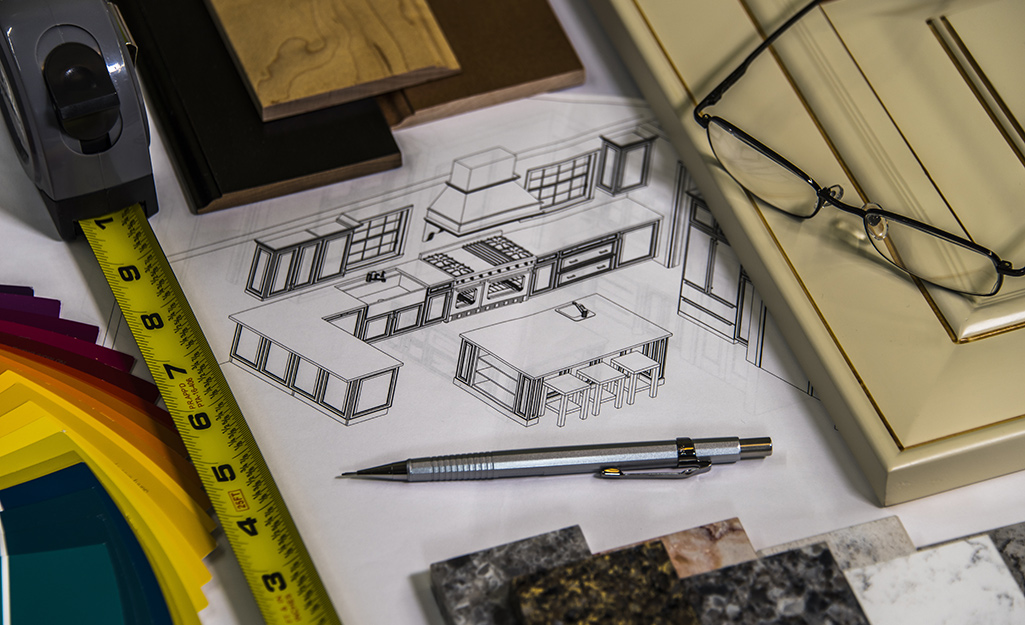 Now that you have a good idea of your kitchen remodeling goals and budget, it's time to make a plan. You can find kitchen design software online, or consider consulting with a professional kitchen designer. They know how to create a kitchen design that works as well as it looks. A kitchen designer can also suggest products, color schemes and stylish touches. Here are key things to do during your planning period:
Order your cabinets, flooring and countertop samples. Always choose a second favorite for each choice. If your first choice ends up on back order, you won't have to hold up the project waiting for it. 
Take and record measurements. These are the standard measurements for a well-designed kitchen:
Counter heights: 34 to 36 inches
Dining surface height: 30 inches
Bar counter height:  36 to 42 inches
Work surface heights: 42 to 48 inches
Storage access: 15 to 48 inches
Decide whether to modify or keep the existing kitchen layout. The right layout will improve the function and flow of your kitchen. Popular kitchen layouts include Single Wall, Galley, L-Shape and U-Shape designs. 
Apply for building permits. Municipalities and cities require building permits. These make sure that any structural changes, plumbing, electrical or mechanical changes are done correctly. Allow time for yours to be processed.
Determine when you want the project finished. This will help you create a rough timeline on when all the steps of your full kitchen remodel should occur.
Hire Professionals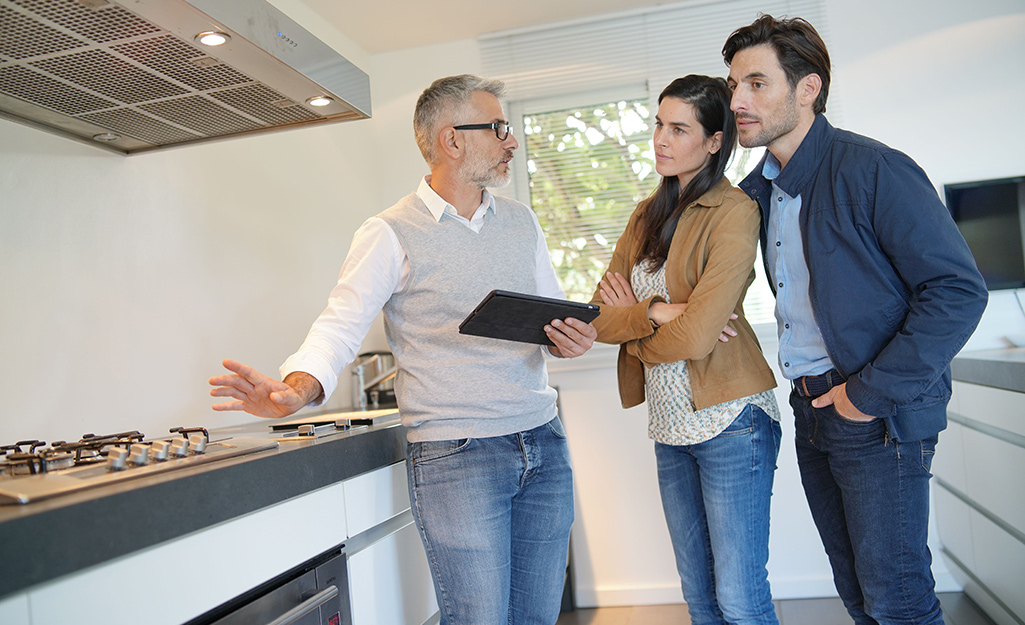 After planning, the next step of the process is identifying people and companies that can help you execute your dream kitchen. You can be your own general contractor if you have the time and DIY skill. Or you can hire a professional. The general contractor handles hiring and supervising quality subcontractors such as carpenters, plumbers and flooring installers. An experienced, professional general contractor keeps the project on budget and on track. They know how to deal with changes, unexpected delays or labor issues. Schedules of good people get booked quickly, so start interviewing and hiring your workers at least 6 to 8 months before you need them. Ask for references and think about going to  their current jobsites to see contractors in action. 
Order Materials & Appliances (1-2 months)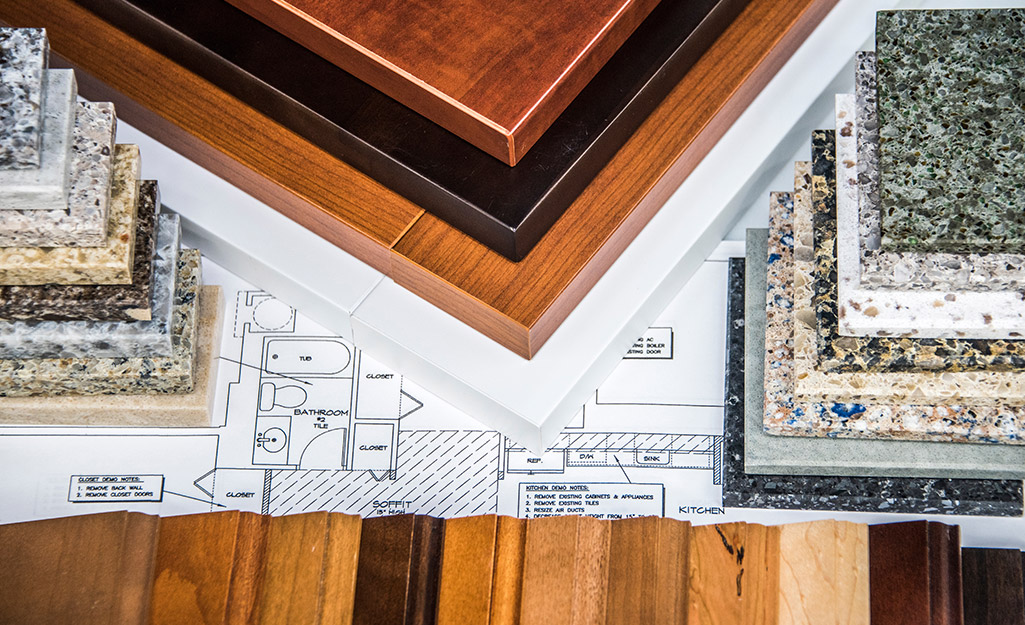 You've got your plan and have lined up your contractors. Now it's time to order your kitchen cabinets, appliances or flooring. Here's a few tips for using this time wisely:
Cabinet delivery can vary depending on which kind you want. Factor in time for special orders and delays.
Pay close attention to all measurements, especially for your appliances.
Go ahead and get lighting, hardware, sinks and other complementary materials.
Make sure you have a large, safe space to store all the materials as they arrive.
Start packing up your kitchen and storing the contents. Use this time to declutter and organize.
Decide what to do about cooking and meals during your kitchen remodel. Budget for more restaurant and takeout meals.
Tip: Don't order your countertops until your cabinets are installed. This will ensure the most accurate measurements.
Prepare for Kitchen Remodeling (1-6 weeks)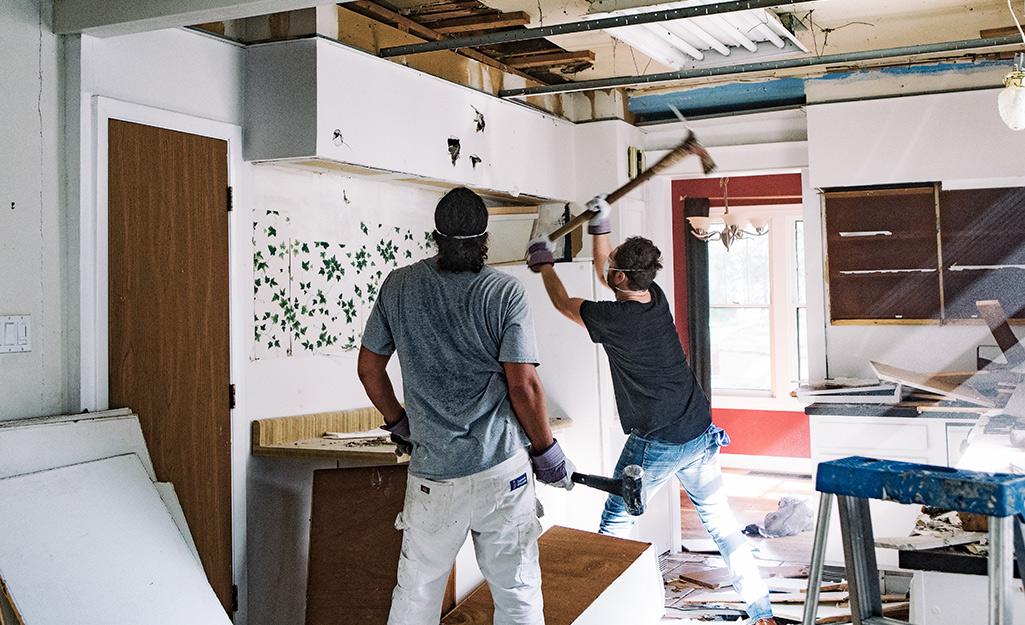 Your dream kitchen starts with demolishing your old one. The amount of demolition you need will depend on your kitchen renovation plan. It usually takes a week to complete this part of the process. If you're doing the work yourself, be safe. Turn off all electric, gas and water at the main source before you start. Wear safety equipment. 
Tip: Book a haul away or disposal service in advance to keep the project on track.
Build Out (2-4 weeks)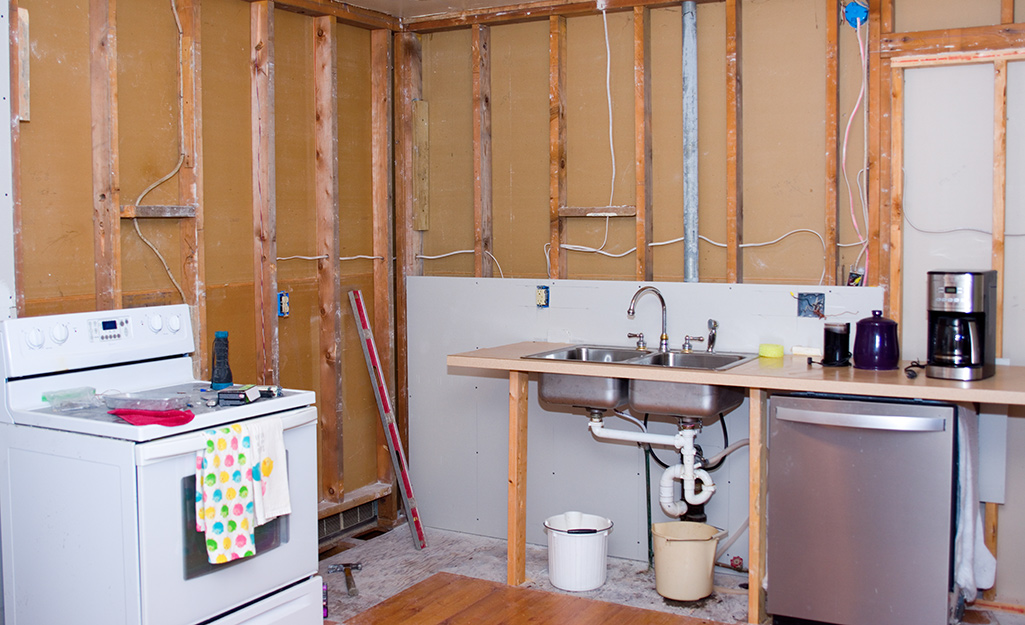 At this phase of the project, walls are built, windows are added, floors can be strengthened and other rough construction done. If you're an experienced DIY-er, you may decide to do any simple framing work yourself. But if your kitchen remodel plan calls for major construction or changes, it's best to have an experienced carpentry subcontractor.
Plumbing, Wiring & HVAC (3-5 days)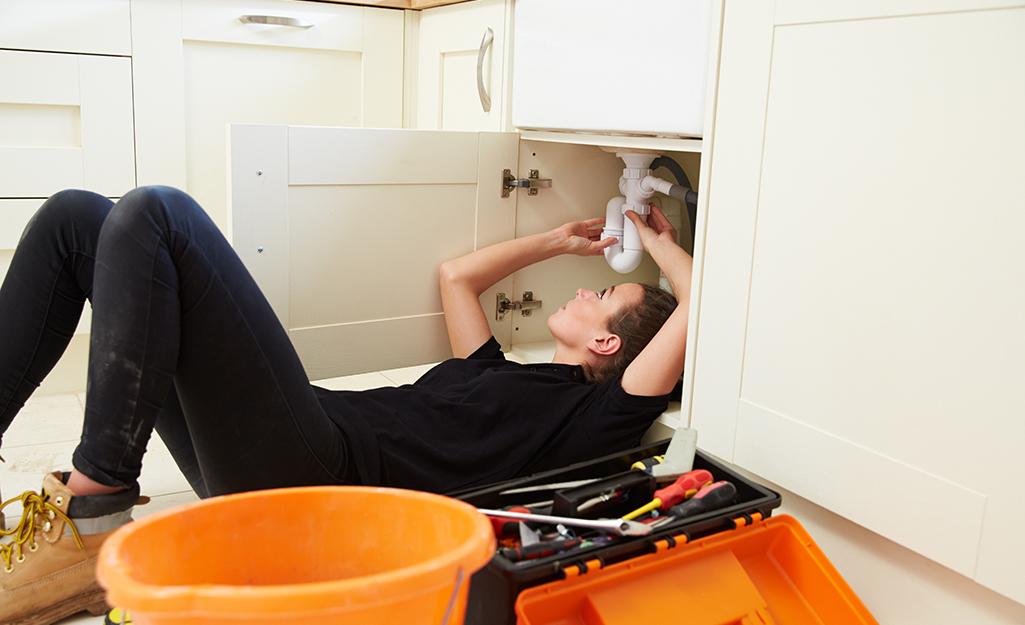 Once all the framing is done, it's time to complete any electrical, plumbing, HVAC and wiring for smart technology. Sometimes called a mechanical rough-in, it's best to have licensed professionals handle this work. Especially since all the work will have to pass final approvals by city building inspectors. 
Plumbing work can include rerouting or changing out old pipes for new. Even if everything will be in the same location, this is a good time to make sure the current work is good.
Electricians make sure the wiring and circuits are sufficient for a modern kitchen's newer and larger appliances. Based on the your renovation plan, the electrician may have to update the entire home.
Walls, Ceilings and Paint (1 week)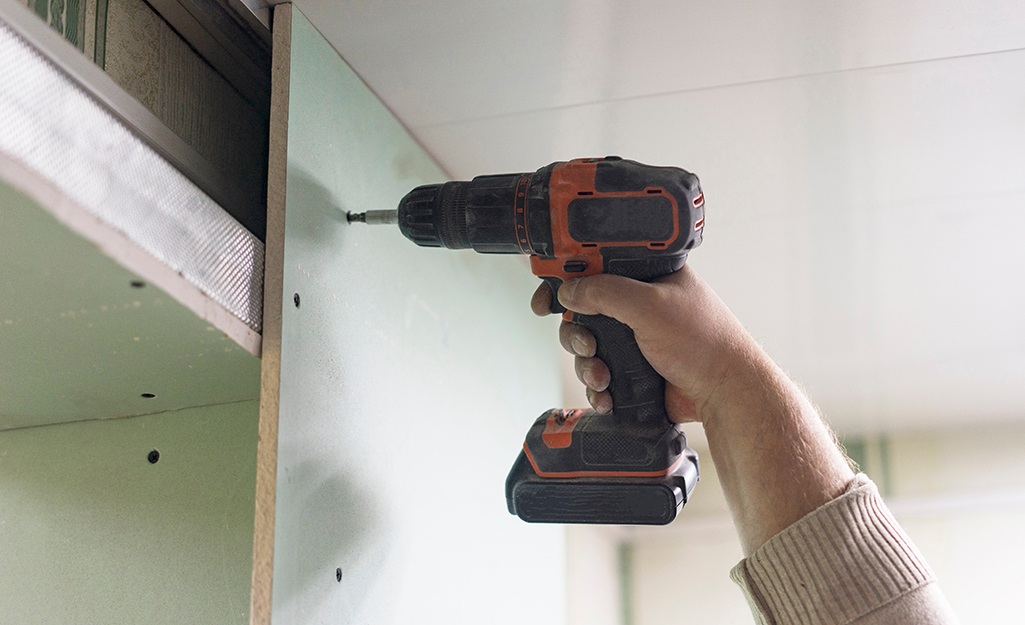 After all the mechanics of a dream kitchen are complete, the next step is preparing for upcoming installations. All the drywall will be hung and seams will be taped and finished. Walls and ceilings will be primed and painted. During this phase, consider adding any extra or better insulation. This part of the project takes about a week. Some homeowners do the drywall and painting themselves, but others find it easier and more cost-effective to use pros.
Flooring (2-3 days)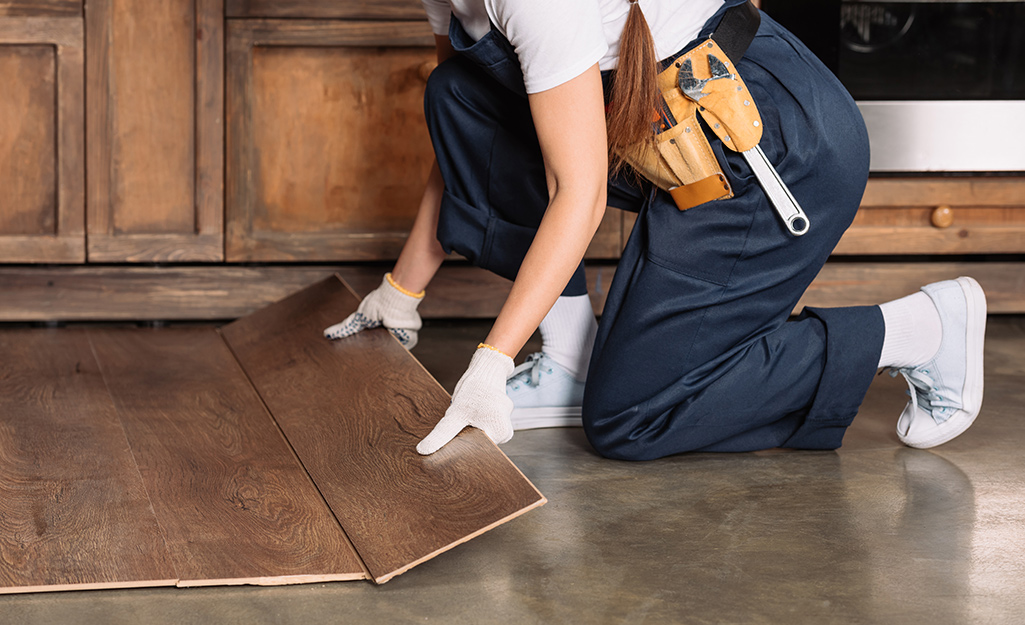 Your new kitchen is now taking shape and the flooring can be installed. The type of flooring you choose will determine exactly when you install it. Tiles and hardwoods are put in before the cabinets are installed. Certain laminate and high-end vinyl flooring is installed after the cabinets. Some flooring also takes longer to complete than others. Ceramic tile can take several days while sheet vinyl can take a day.
Installations (1-2 months)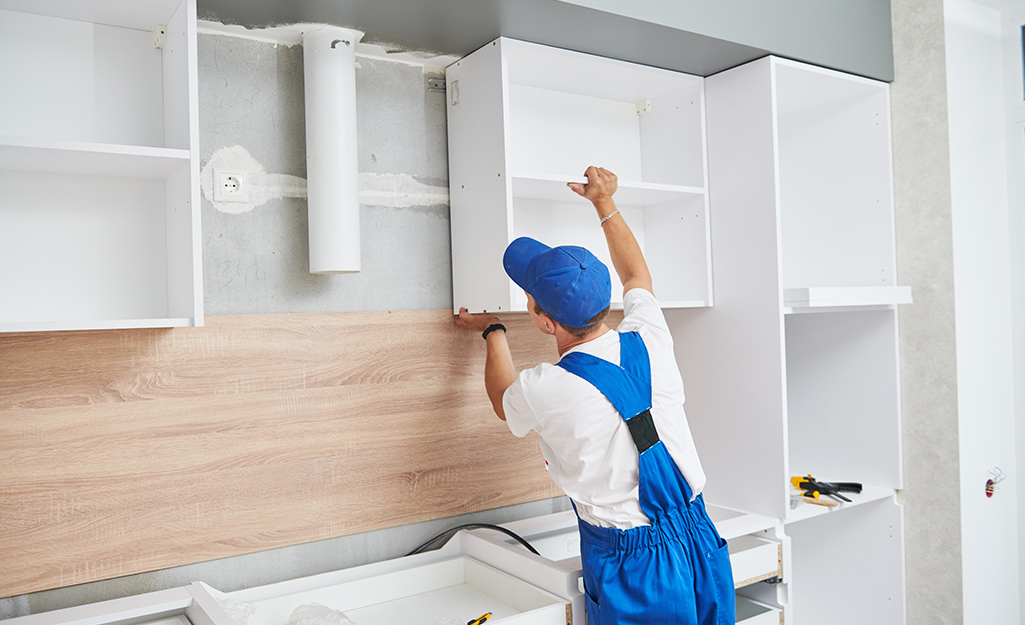 You're in the homestretch of your full kitchen remodel. A lot depends on the cabinets, so they are installed first. Hanging cabinets can be difficult and time-consuming. Cabinets must be hung level and fit perfectly in the space. Hanging them is patient and precise work. A good carpenter or your cabinet supplier can usually complete the install in 3 to 5 days. 
Countertops (2-4 weeks)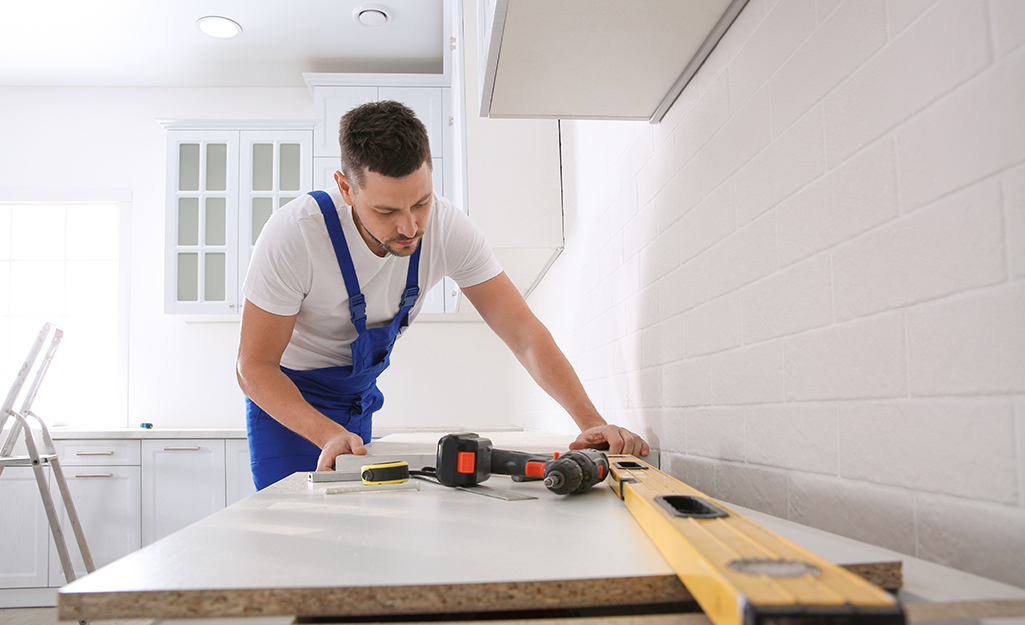 After cabinets are installed, you can now take measurements for your countertops. Some homeowners feel that they can install countertops themselves, but this project is more difficult than it seems. Granite, quartz and other stone countertops are heavy. They have to be precisely measured and cut. Synthetic solid-surface countertops must be made and installed by authorized fabricators. Tile countertops are more DIY friendly but can take time and skill.
Appliances, Fixtures and Sinks (1-5 days)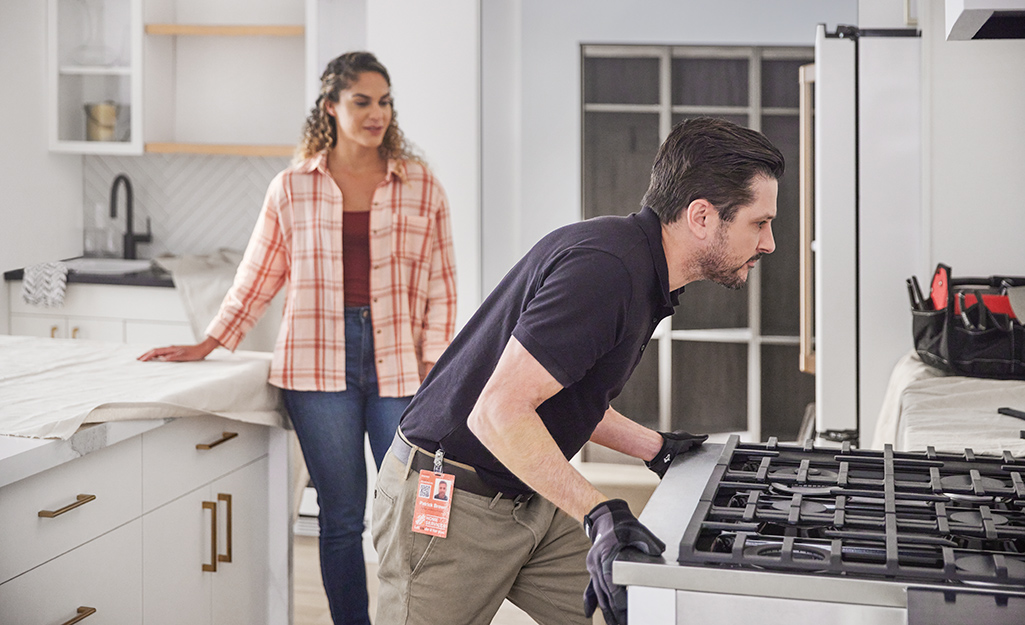 By now you can see all your hard work and planning pay off. It's time to have any appliances delivered and hooked up. Make sure delivery personnel are careful with your new floors and watch out for your cabinets. This is also the point when the plumber comes back to connect the sink and faucets. If you can, have an electrician hang any lighting or install new fixtures. 
Backsplash, Hardware and Lighting (2-3 days)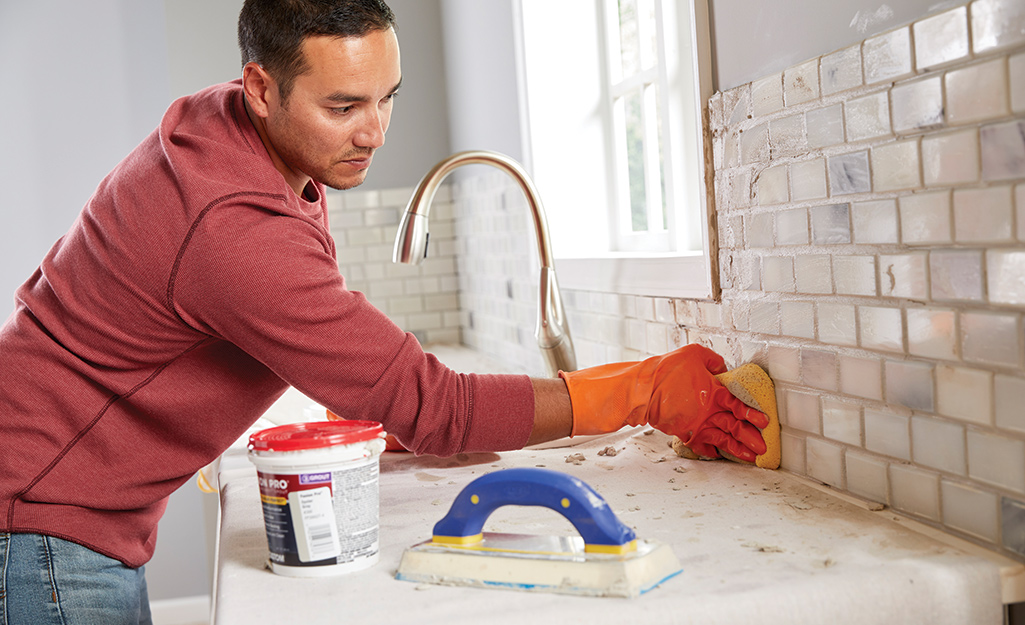 All that's left to do is the final details. Time to put up any crown moulding, double check that the appliances are level and do any paint touchups. Add the hardware to the cabinets and any special covers for outlets. The last step is to install the backsplash. This can take anywhere from a few days to a week depending on how complex your design is.  
Wrap-Up (1-3 days)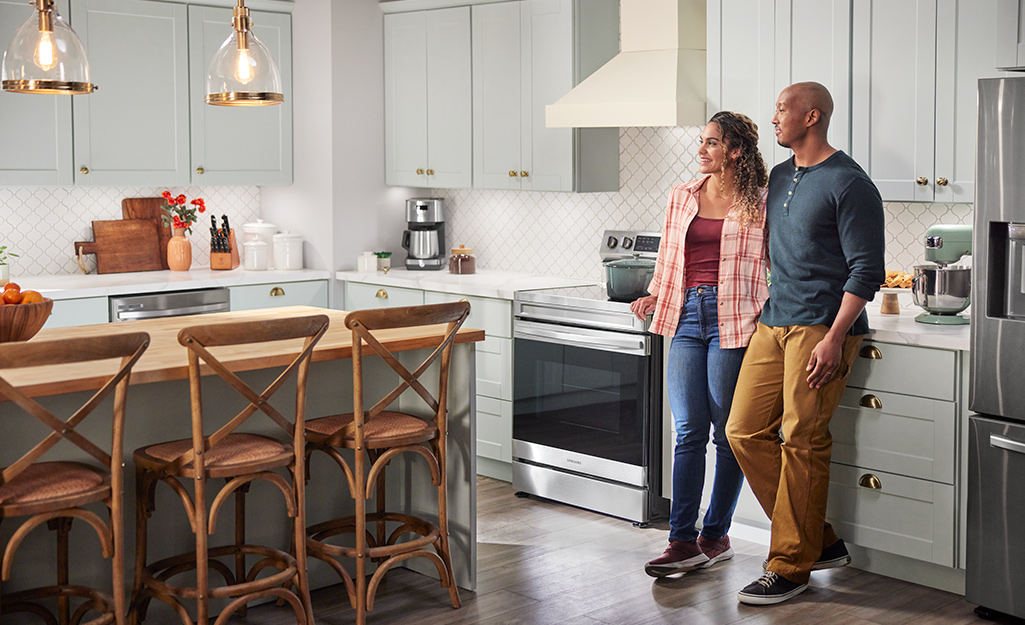 Finally, your full kitchen remodel is done. All that's left is the final cleanup and the walk-through with your general contractor. Make note of any changes and agree on a follow-up plan. Make sure you schedule your final inspection with city inspectors. Then, unpack and put away your items in your new, beautiful, better functioning kitchen. 
From detailed planning to hiring the right contractors, you now know how to do a full kitchen remodel yourself. Understanding what needs to happen when can make your kitchen renovation project easier. Plan and budget thoroughly. Decide what parts of the project you want to do yourself and what you'll hire professionals for. Order your kitchen components early. A new kitchen can dramatically improve home life and can increase your property value. Ready to get your cabinet and other samples? The Home Depot delivers online orders when and where you need them. When you're ready to remodel your kitchen, we have everything you need to make your project go smoothly – from flooring to professional kitchen remodeling services.
Explore More on homedepot.com