Cilantro is an essential herb for many recipes, especially in Mexican and Asian cuisines. Whether added to stews or braises or chopped fresh for salsas, its citrusy snap makes a dish sing. Smart cooks know that you don't need to depend on grocery store herb packets for cilantro. The fresh green herb is easy to grow in-ground or in containers, from seed or seedling, indoors or outdoors.
You can grow cilantro in a pot in a sunny window or, better yet, in a sunny patch of earth steps away from your kitchen.
Cilantro is a hardy herb that will overwinter for gardeners in zones 8 to 11. For everyone else outside those zones, cilantro grows as an annual. Learn more about your hardiness zone.
The first time you grow cilantro, try seedlings. It will give you a boost of confidence to see how quickly they grow. Just pick the right site, water and harvest.
Tip: Cilantro and coriander come from the same plant. Cilantro is the leafy green part and the seeds are called coriander.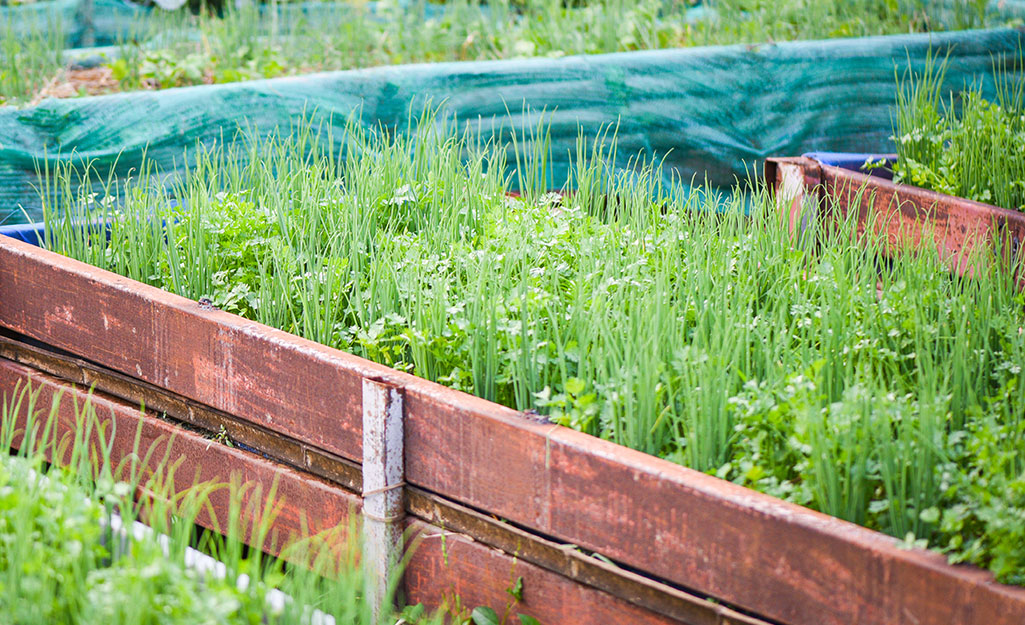 Select a full sun site for cilantro that receives 6 to 8 hours of sunlight a day. If your garden gets hot afternoon sun, try to find a protected place for cilantro to grow and shade its foliage from the heat of the day. Shade can come from a tree or house or even taller plants in the garden.
Cilantro likes well-draining garden soil. Before planting, mix organic compost into the soil to increase drainage and boost nutrients. If growing cilantro in containers, use a good quality organic potting soil.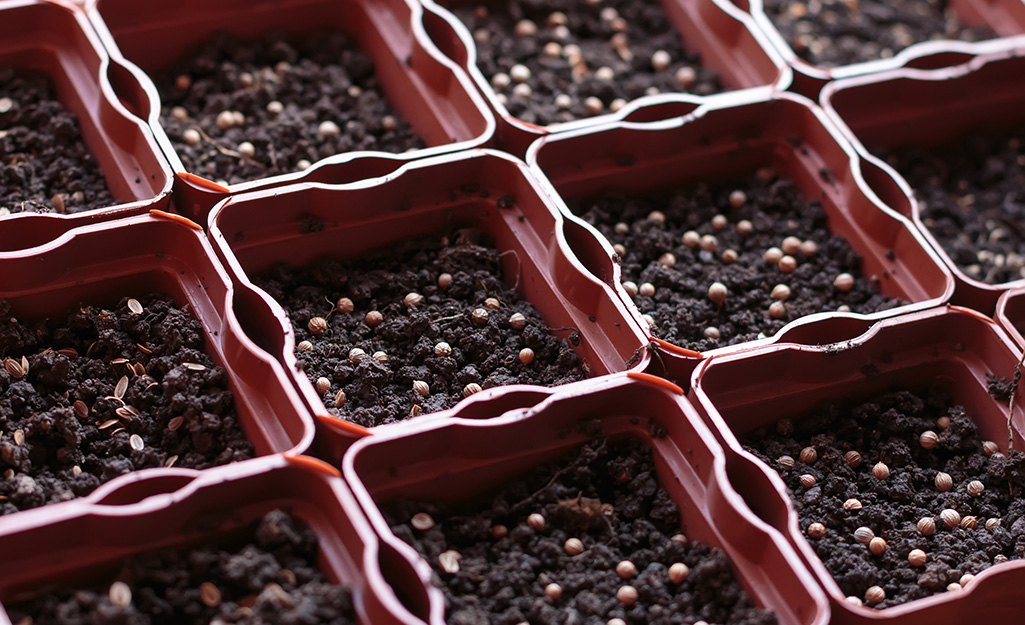 Cilantro seeds can be directly sown into rich, organic garden soil. Seeds will germinate in 14 to 21 days. Because cilantro is quick to bolt, or flower when temperatures reach. 85 degrees Fahrenheit, ensure a continual harvest of cilantro by staggering the planting over successive weeks. Start with a cadence of sowing seed every three weeks for a continual supply of cilantro.
Start cilantro indoors 6 to 8 weeks before the average date of last frost in your area. Place the seeds in seed-starting mix in trays and place in a sunny window, or for best results, under grow lights. Water often, being careful not to overdo it. When the plants are about two inches high and have their second set, or true leaves, and if the earth is at least 65 degrees Fahrenheit, you can transplant the seedlings in the garden.
Cilantro also grows well in containers. You can direct sow seeds into good quality, well-draining potting mix in a container that's at least 8 inches in diameter. Larger containers, at least 18 inches across, are ideal for growing herbs like cilantro that need consistent moisture.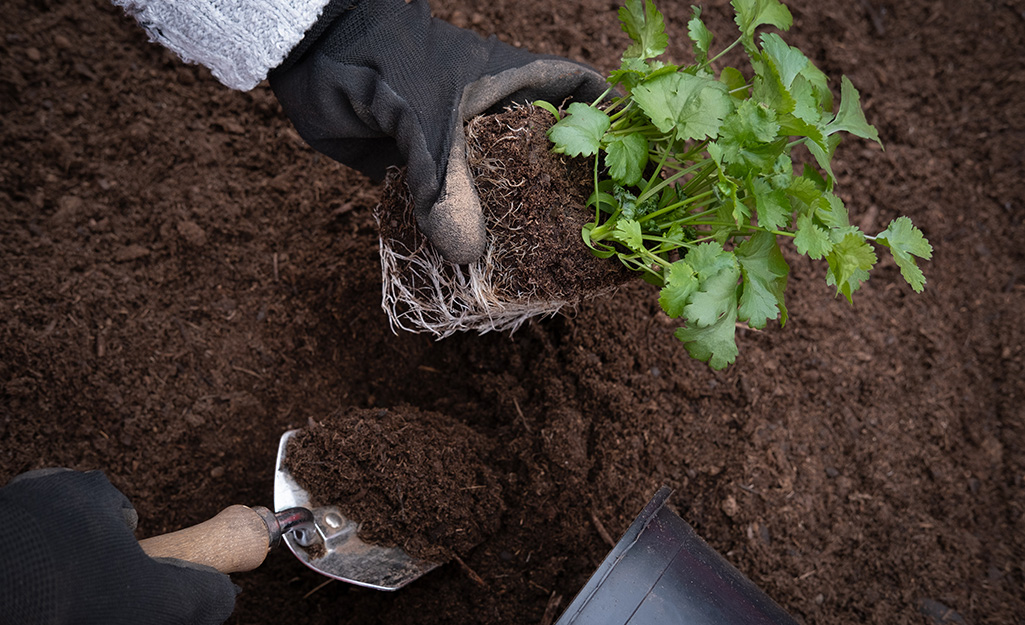 Purchase cilantro seedlings and transplant into the garden when the days warm up in spring. Plant seedlings 12 inches apart to allow room for the plants to grow to a mature size of 12 to 18 inches.
An inch-thick blanket of mulch around the plants will help retain moisture and keep down weeds.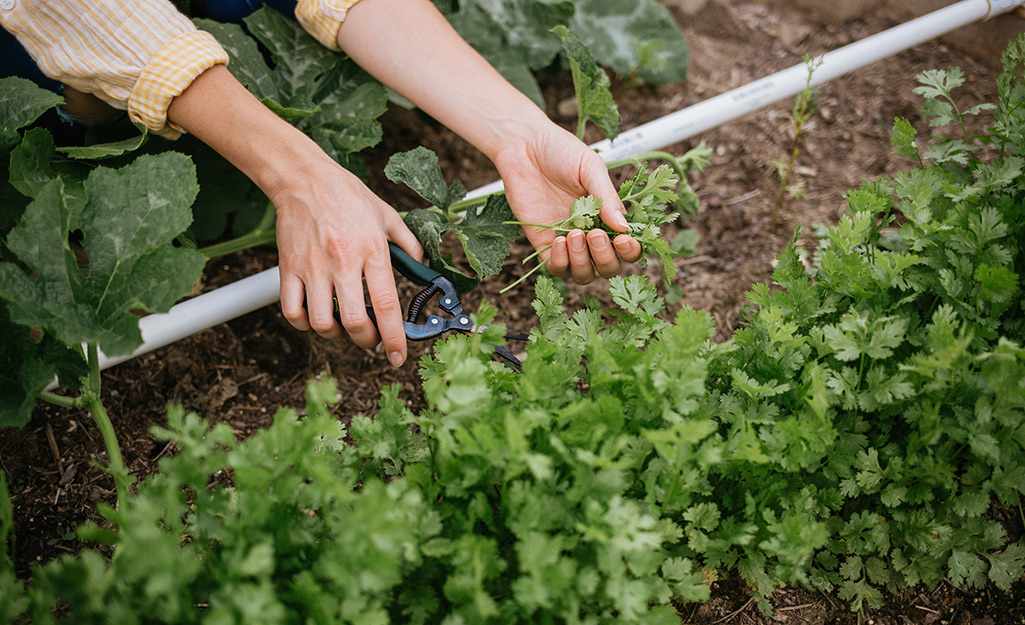 Like most herbs, cilantro needs to be harvested to be a healthy plant. Trim often and use the leaves and stems in the kitchen.
Cilantro is a cool season plant that thrives in air temperatures between 50 and 85 degrees Fahrenheit. When summer temperatures soar above 85 degrees, cilantro sends up a flower stalk. This is healthy for the plant, but changes the taste of the herb.
As days warm in late spring, keep an eye on the calendar and weather report, and frequently harvest cilantro. You can dry and freeze the leaves and stems.
Leave a few of the cilantro plants in the garden to flower and set seeds. The cilantro flowers attract beneficial insects and pollinators like butterflies. And when the seeds form and the flowers die, you can save the seeds and sow them for another crop of cilantro.
Keep cilantro fresh after harvest by storing it in the refrigerator. The best method for storing cilantro is to treat it like a bouquet of flowers: trim the stems to a uniform length and place the herb bunch in a clean glass jar filled with an inch of water. Take an open plastic bag and place it loosely over the top of the bouquet. Set the herb bouquet in your refrigerator for up to a week, changing out the water frequently. (Tender green herbs like basil, parsley and mint can be stored this way, too.)
Freezing cilantro is simple. Wash and dry the leaves, then chop, add some oil or water and freeze in ice cube trays. After they freeze, place the cubes in freezer bags labeled with the name and date. Frozen cilantro can be added to your favorite soup and salsa recipes.
You can dry herbs by many methods: air-drying or using a food dehydrator or microwave. Learn more about drying herbs like cilantro.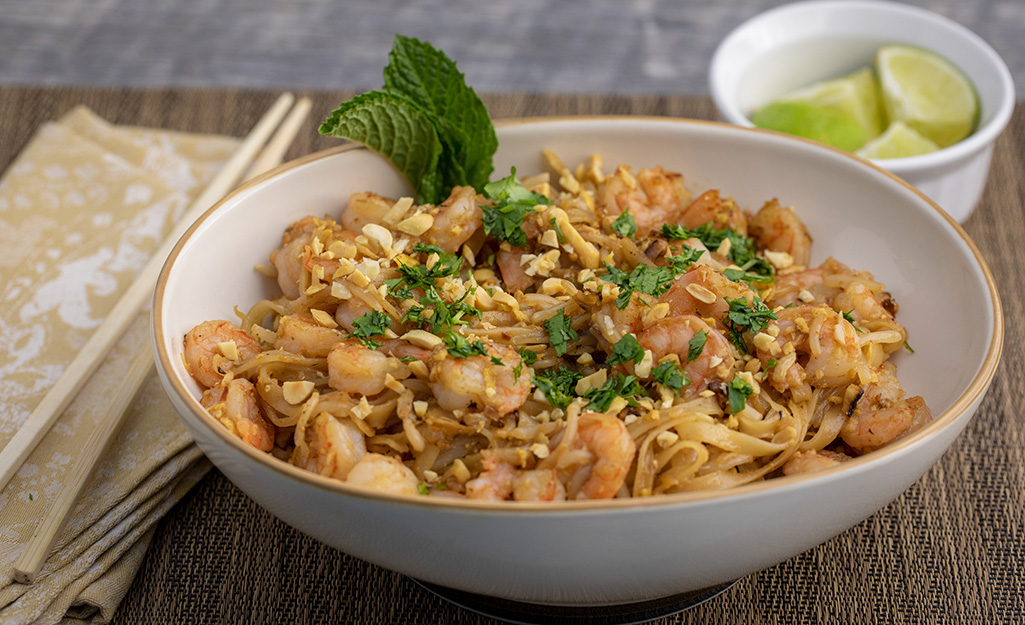 Pad Thai with Shrimp
Serves: 4
Prep time: 25 minutes
Grilling time: About 7 minutes
Special equipment: Weber Gourmet BBQ System Cooking Grate, Weber Gourmet BBQ System Wok
Ingredients:
8 ounces 1/8-inch-thick rice noodles
1/4 cup fresh lime juice
1/4 cup Thai or Vietnamese fish sauce
1/4 cup packed light brown sugar
1/4 cup chopped shallots
3 tablespoons vegetable oil, divided
3 garlic cloves, minced
1 teaspoon peeled, minced fresh ginger
1/4 teaspoon crushed red pepper flakes
1 pound large shrimp (21/30 count), peeled and deveined, tails removed
Kosher salt
Freshly ground black pepper
2 large eggs
2 cups bean sprouts, rinsed
1/4 cup finely chopped, lightly salted, dry-roasted peanuts
2 tablespoons finely chopped fresh cilantro leaves
Lime wedges
Fresh mint leaves
Hot chili-garlic sauce, such as Sriracha
Fish sauce
Instructions:
1. In a large bowl completely cover the noodles with very hot tap water. Let stand until the noodles are softened but not fully tender, 12 to 15 minutes, stirring occasionally (they will cook and soften a bit more during cooking, so do not over soak). Drain the noodles, rinse under cold running water, and drain again.
2. In a small bowl, stir the lime juice, fish sauce and brown sugar until the sugar is dissolved. In a second small bowl, combine the shallots, 1 tablespoon of the oil, the garlic, ginger and crushed pepper flakes. In a medium bowl, mix the shrimp with 1 tablespoon of the remaining oil and season with salt and pepper. In a third small bowl, beat the eggs until blended.
3. Prepare the grill for direct cooking over high heat (450 to 550 degrees Fahrenheit) using the Weber Gourmet BBQ System Cooking Grate. Set the Weber Gourmet BBQ System Wok in the grate opening and preheat for 5 minutes.
4. Have all the ingredients prepped and ready to go before you begin cooking. Bring the noodles, all the bowls with their ingredients, the bean sprouts and a clean platter to the grill and keep close by. When the wok is smoking hot, add the shrimp mixture, spreading the shrimp in a single layer. Cook over direct high heat, with the lid closed, until just barely turning opaque in the center, 1 1/2 to 2 minutes, stirring once or twice. Wearing insulated barbecue mitts and using wooden spoons or wok tools, transfer the shrimp to a platter.
5. Add the shallot mixture to the wok and stir until fragrant, 15 to 30 seconds. Add the noodles and lime juice mixture. Cook over direct high heat until the noodles have absorbed the liquid, 2 1/2 to 3 1/2 minutes, tossing often. Push the noodles to one side of the wok. Pour the remaining 1 tablespoon oil into the empty side of the wok and pour the eggs over the oil. Mix with a wooden spoon, just until they form soft curds, about 1 minute. Scrape up the scrambled eggs and mix them into the noodles. Return the shrimp to the wok. Add the bean sprouts and toss until they are heated through, about 30 seconds. Wearing insulated barbecue mitts, remove the wok from the grill.
6. Transfer the pad Thai to a platter. Top with the peanuts and cilantro. Serve hot with lime, mint, hot sauce and fish sauce to add as desired.
Whether you need the right planters, seeds or potting soil, The Home Depot delivers online orders when and where you need them.