Homegrown lettuce heralds the beginning of all things fresh from the ground to your table. Lettuce is one of the first vegetables to mature in an early garden. It goes from sprinkled seeds in soil to lively salads with a few simple steps.
Read on for tips on growing and harvesting lettuce.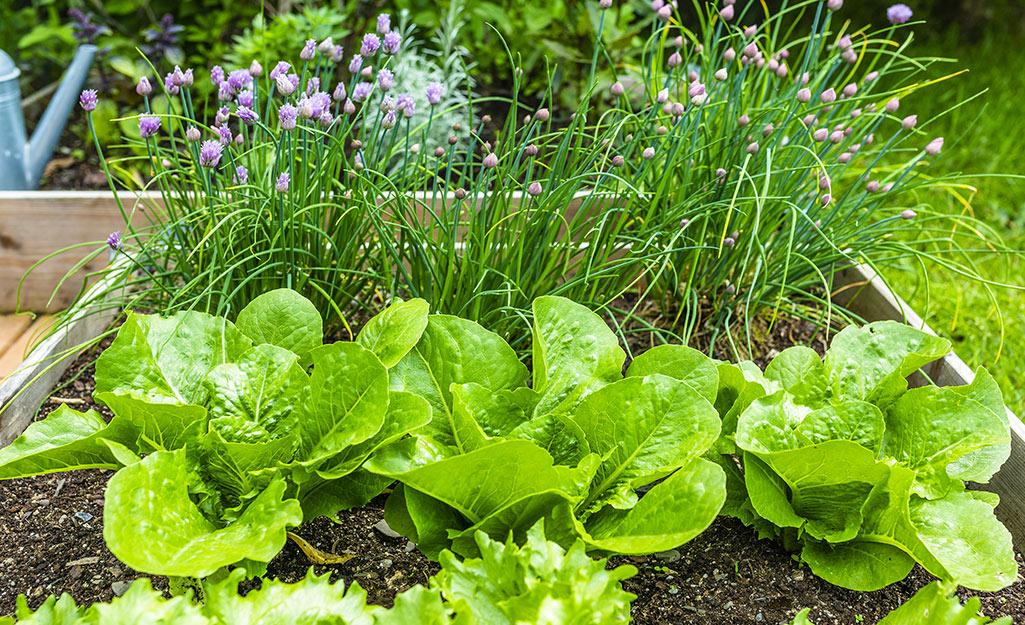 Lettuce is a cool weather crop that grows best in temperatures that range from 55 to 65 degrees Fahrenheit, although that range can stretch in a microclimate and by the variety you plant.
Look for a full sun site for lettuce, in an area that gets 6 to 8 hours of sunlight each day. Temperatures over 70 degrees Fahrenheit will cause your plants to bolt, or flower, and bolted lettuces tend to taste bitter. For this reason, you'll want to harvest leaves often.
Lettuce is the perfect crop for succession planting. This simply means staggering sowing seeds or planting seedlings so that you have a continual harvest. It's a smart way to make the most of limited garden space to ensure plenty of salads on your table. Learn more about succession planting.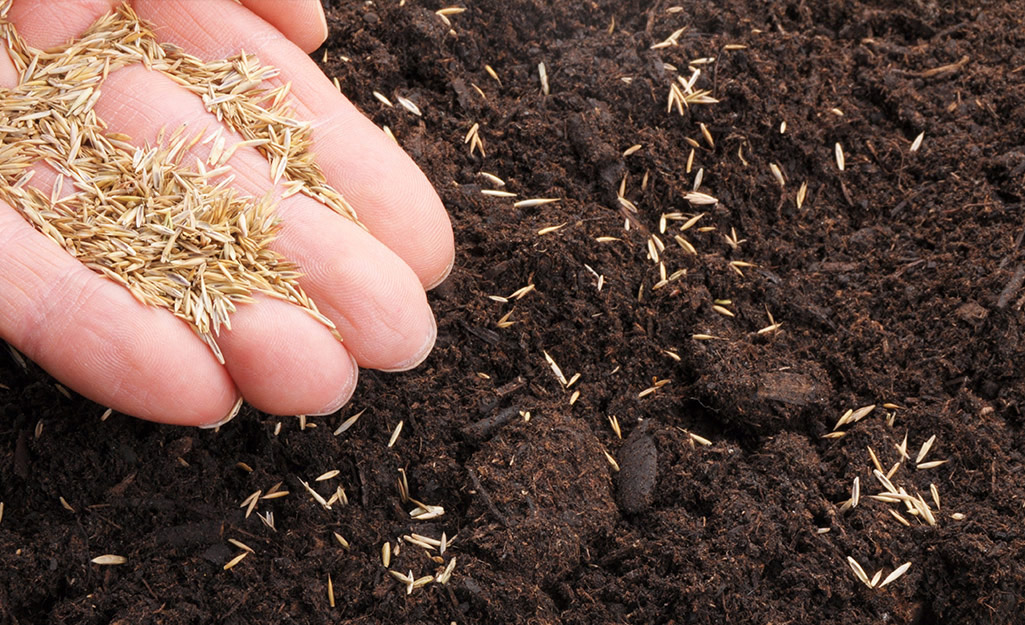 There are two categories of lettuce to choose from: leaf lettuce and head lettuce. Leaf lettuce is the easiest option for the home grower. Head lettuces like romaine and butterhead are popular choices, too.
Choose from a variety of easy-grow lettuces to plant in early spring, after the threat of frost has passed. Some lettuces that are great for beginner gardeners are:
Butter heads
Bibb
Crisp heads
Loose leafs
Endive
Romaine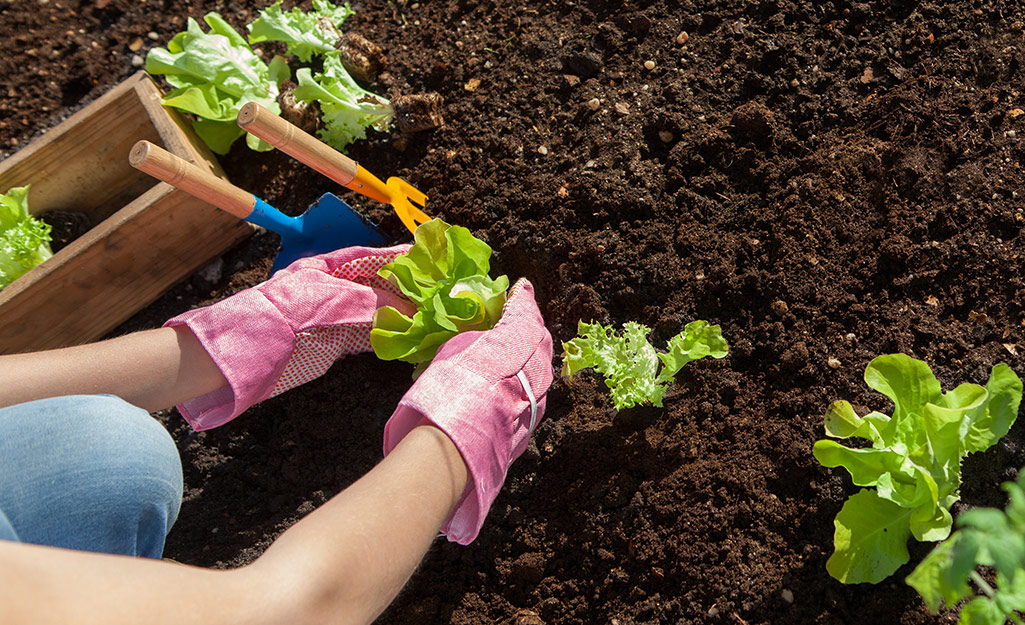 Lettuce likes loose, loamy soil full of organic matter. Start with good quality garden soil and mix in organic compost. Keep soil moist for planting and continue to monitor moisture levels. Drip irrigation systems offer consistent moisture even during dry spells.
Sow seeds according to package directions, noting the mature size of the plants while you're planting. Tight spacing between plants will keep down weeds.
Seedlings are usually spaced 8 to 12 inches apart in rows spaced 18 to 24 inches apart. Consult plant tags and seed packets for directions for the varieties you plant.
Lettuce makes a fine companion plant in the vegetable garden, filling in between rows of onions. Learn more about growing lettuce as a companion plant.
Tip: Lettuce needs frequent, light watering to support steady growth. Use a watering can with a nozzle or hose with a watering wand to shower plants.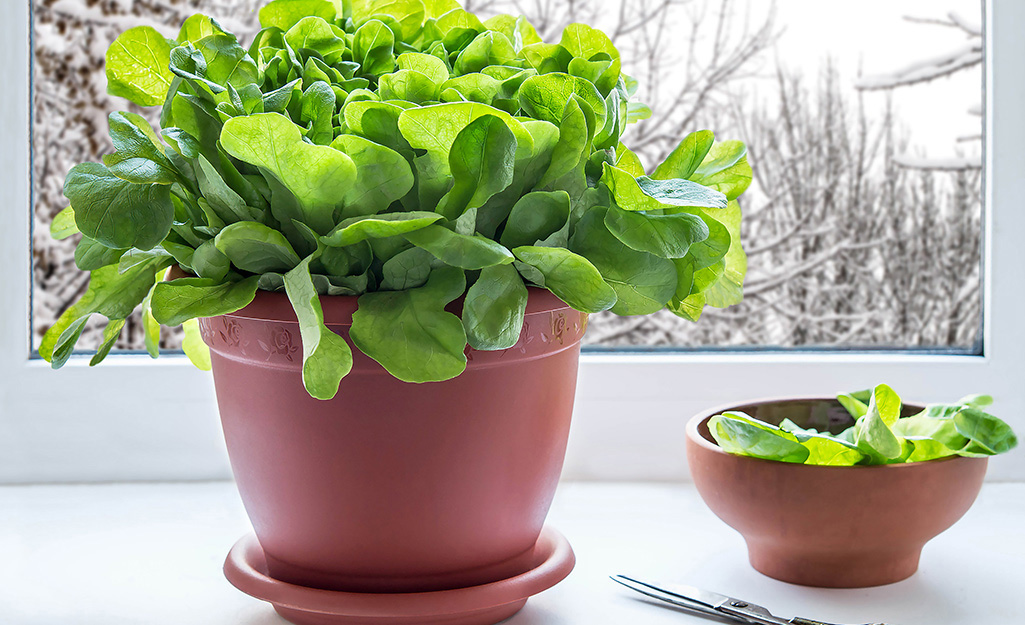 Lettuce roots are dense yet shallow, so they can adapt to life in containers. Broad lettuce leaves do a good job gathering light, so lettuce grows well in spots that get only a half day of sun. Plus, lettuce matures quickly, so it's an ideal crop to grow before you are ready to fill beds and planters with tomatoes and other vegetables that need warmer weather.
Consider these ideas for growing lettuce:
Grow lettuce in a window box or deck rail planter. Lettuce, especially rounded butterhead, looks attractive in neat, uniform rows. Add violas or pansies to the planter for ornamental color.
Plant a broad bowl with two different types of lettuce seedlings, arranged in a checkerboard pattern. Make sure your bowl has drainage holes. Place your lettuce bowl on a low table or plant stand where it can be seen from above. Water daily, and move the bowl to a shady spot during periods of very hot weather.
Experiment with stackable planters and different lettuce varieties. For example, place red-leafed varieties in the topmost pot so you can see how the sun lights up the leaves.
Repurpose a pallet to grow lettuce outdoors. Place a heat-treated wood pallet atop prepared soil, fill crevices with organic garden soil and plant seedlings in the openings. Lettuce uses the pallet's slats to shade their roots while the slats block out weeds.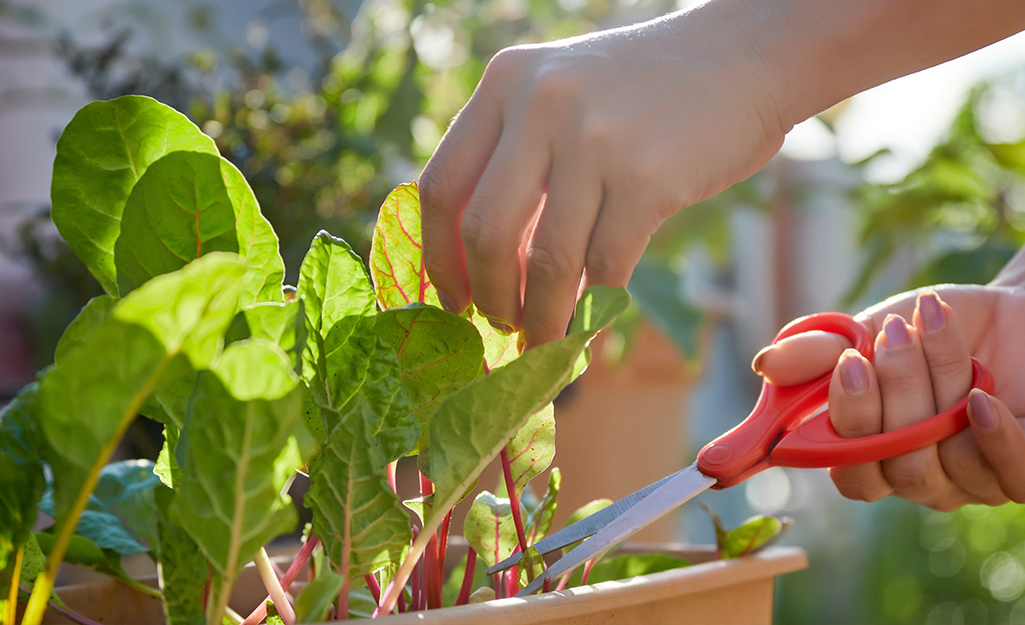 With lettuce growing and maturing in your garden, either in a raised bed or in a pot, you have two choices: You can wait until a whole head of lettuce has matured, and then harvest a full head. Or you can also clip off new lettuce leaves as they grow for salads or sandwiches whenever you want to eat them.
Lettuce leaves are ready for harvest when they have grown to about 3 to 6 inches long. More leaves will grow back before the lettuce plant "bolts," or turns to mostly bitter-tasting, tough stems and seeds.
Use a clean pair of garden scissors to carefully clip the leaves off near the stem.
Before clipping, clean the scissors with hot water and soap or rubbing alcohol. Do this again before using them to harvest your next bunch of lettuce leaves. That will prevent transferring diseases to the plants; lettuce is a delicate crop.
Clip away leaves from the center of the lettuce as it begins to grow upward to delay the bolting process.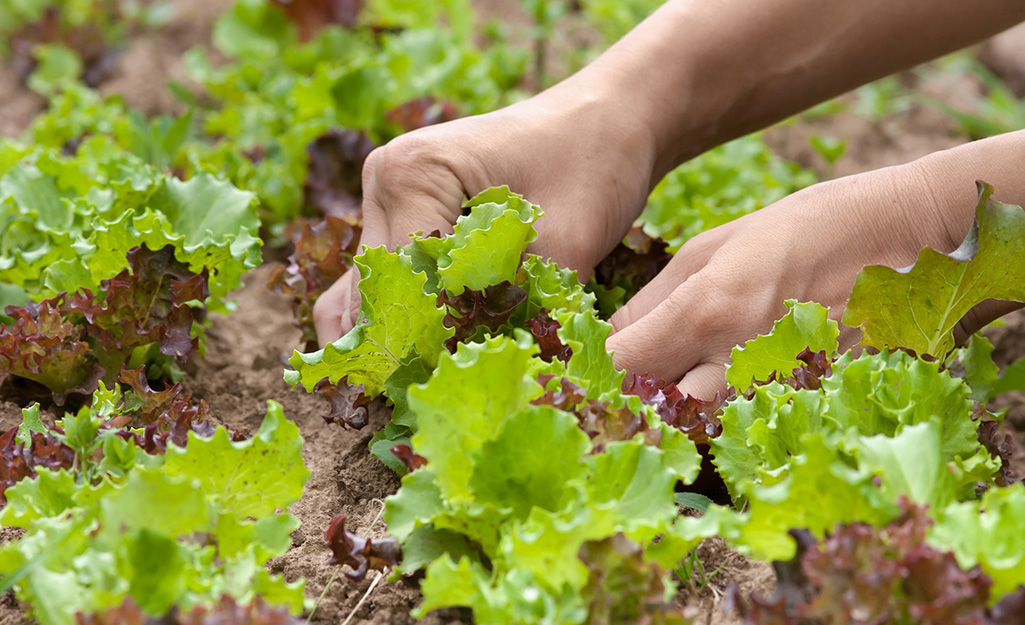 You can let a lettuce plant mature until it creates a full head of leaves. If you choose this method, cut the entire head of lettuce with scissors or garden shears toward the bottom of the plant, above the dirt.
Harvest a full head of lettuce before the bolting or seeding process begins. Doing so helps avoid harvesting lettuce that has developed a mushy consistency and a bitter taste from too much exposure to the elements and/or the maturing phase of growth.
It's best to harvest your lettuce crops in the early morning when they are in peak cool and crisp condition.
Lettuce needs to be carefully cleaned before storing. The best way to thoroughly clean salad greens is by using a salad spinner. You can also use a colander and rinse the leaves in several changes of water. Dry the leaves or head lettuce thoroughly and store in an open plastic bag with a paper towel inserted at the bottom to absorb excess moisture. Keep in the produce drawer in your refrigerator and use greens within a few days.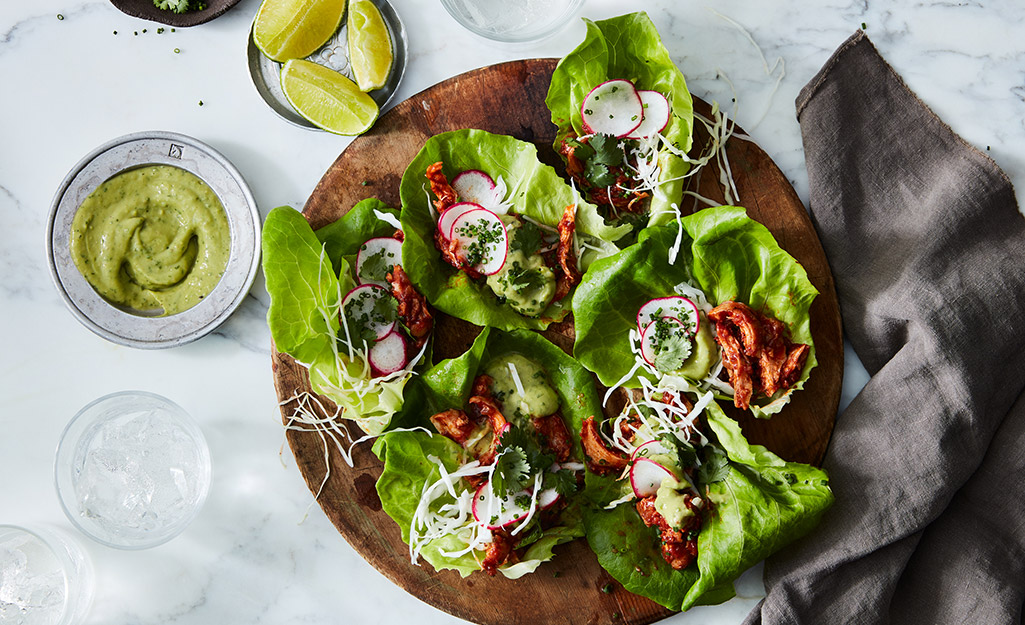 Take fresh lettuce leaves and fill them with savory skillet-braised chicken. Recipe and photo from Food52.
Spicy Braised Chicken Lettuce Wraps Recipe
Ingredients:
1 pound boneless skinless chicken thighs (about 5 thighs)
2 1/2 teaspoons kosher salt, plus more to taste
1/4 cup olive oil, divided, plus more as needed
1/2 teaspoon Hungarian hot paprika (use less if you prefer milder spice)
1/2 teaspoon cayenne pepper (use less if you prefer milder spice)
1 yellow onion, peeled and diced
2 cloves of garlic, peeled and minced
1 cup canned tomato puree
1 tablespoon plus 2 teaspoons red wine vinegar, plus more as needed
1 avocado, ripe
1 tablespoon fresh-squeezed lime juice
1/4 cup warm water, plus more as needed
2 tablespoons roughly chopped green herbs (like cilantro, chives) and green onions
Lettuce cups and toppings (feel free to sub in any favorites):
1 head Bibb or butter lettuce, rinsed and separated into lettuce cups
1 avocado, sliced into thin wedges, for garnish
1 lime, cut into wedges
2 radishes, sliced thinly on a mandoline or by hand
1/2 cup shredded cabbage
Instructions:
1. Rub the chicken thighs all over with 2 teaspoons of salt. In a non-reactive Dutch oven over a medium flame, heat the olive oil. Add the chicken thighs and sear thoroughly on both sides to brown. Make a well in the center of the pan by pushing the chicken to the edges, and add the paprika and cayenne. Let the spices toast for 30 seconds, then add the onion and garlic pieces. Stir to distribute and sauté for a few minutes, until the onions begin to turn translucent.
2. Add the tomato puree and 1 tablespoon of vinegar, and stir, scraping up any browned bits from the bottom of the pan. Turn the heat down to medium-low and cover. Let simmer for about 25 minutes, or until you can easily shred the chicken with two forks. Adjust the seasoning to taste. Shred and let cool slightly.
As the chicken cooks, prepare the other components.
Creamy Avocado Vinaigrette Recipe
Ingredients:
1 avocado
2 tablespoons olive oil
2 teaspoons red wine vinegar
1/2 teaspoon salt
1 tablespoon lime juice
1/4 cup warm water
2 tablespoons herbs
Instructions:
1. In a food processor, blend avocado, olive oil, vinegar and salt until fully smooth. Taste and adjust seasoning with additional salt, pepper and lime juice. Adjust consistency with additional warm water to thin, as needed. You should be able to drizzle (or squeeze bottle) the vinaigrette over the lettuce wraps, and have it hold its shape.
until fully smooth. Taste and adjust seasoning with additional salt, pepper, and lime juice. Adjust consistency with additional warm water to thin, as needed—you should be able to drizzle (or squeeze bottle) the vinaigrette over the lettuce wraps, and have it hold its shape.
To serve, assemble individual cups with the saucy, shredded chicken, avocado vinaigrette and toppings, using the lettuce as shells.
Whether you need the right planters, seeds or potting soil, The Home Depot delivers online orders when and where you need them.