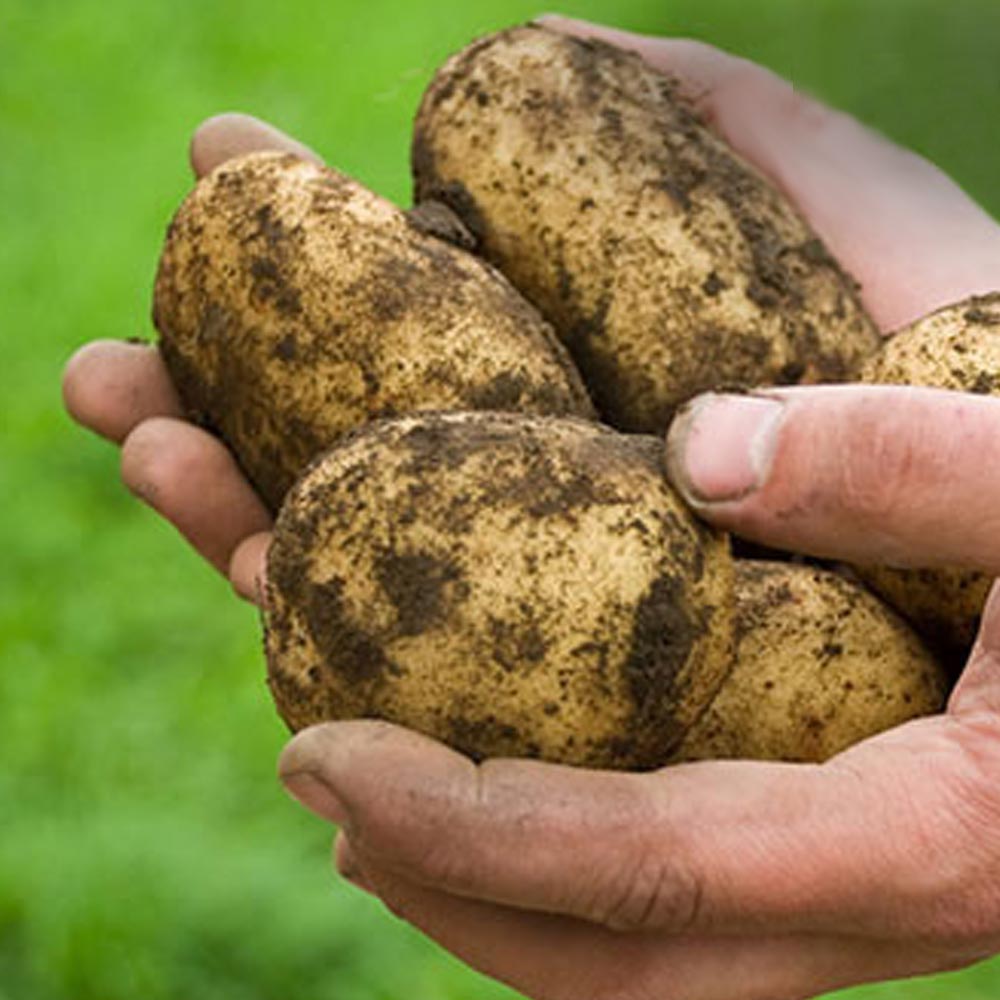 Growing potatoes in a potato barrel, a 50-gallon trash can or a whiskey barrel makes sense. Soil is easily added, potatoes are quickly planted, maintenance is simple and harvesting is a breeze. It just takes some time over several weeks to layer the potatoes in the barrel.
Potatoes take all season to fully mature so begin this project around your average last frost date. Buy seed potatoes up to a week before planting and keep refrigerated. Seed potatoes will need a few days to sprout before planting. As soon as you plant a layer of sprouts, take out a few more seed potatoes and let them sprout. They will become the next layer that you plant.
Preparing Barrels:
 If your barrel does not have drainage holes, drill ¼"-½" holes about 6" apart in the bottom and sides near the bottom of your container.

 Set the barrel in a sunny spot up on blocks or bricks so it sits a few inches above the ground, allowing air to circulate and water to drain.

 Fill the bottom of barrels with a 3" layer of peat-based potting mix and 3" of compost.
Planting the Potato Barrel:
 Buy seed potatoes and refrigerate until you are ready to start the planting process.

 Place 5 to 10 seed potatoes in an open paper bag and place in a cool room out of direct sunlight.

 When the potatoes have sprouted, lay them in the barrel soil about 6" apart, with the eyes pointing up.

 Cover the potatoes in the barrel with 6" deep layer of potting soil and compost.

 Water and keep soil moist at all times.

 Take out a few more seed potatoes and let them sprout in the open paper bag.

 When potato foliage in the barrel reaches 6" high, add another layer of soil-compost mix, covering 75 percent of the visible stems and foliage. Plant 5 to 10 more sprouted seed potatoes in the new layer.

 Repeat steps 2 to 7 until the barrel is full.
Harvesting:
Potatoes are generally harvested and eaten as "new," which are thin-skinned and small, or mature potatoes, which are older by several weeks, larger, and have slightly thicker skins.
 In 6 to 10 weeks, when the topmost layer of plants begin to flower, new potatoes can be harvested. Carefully dig down with your hands to pick new potatoes.

 The remaining layers can all be harvested now as new potatoes, or later.

 If you choose to wait, harvest when all foliage dies, about 16 weeks after planting. Simply dump the barrel out on a tarp and pluck out your potatoes. Spread the remaining soil over other vegetable beds.
PRODUCT CHECKLIST:
Seed potatoes (available in some Home Depot Garden Centers)
Paper bag
Potato barrel, whiskey barrel or 50-gallon trash can
3-cubic-foot bale peat-based potting soil
Compost