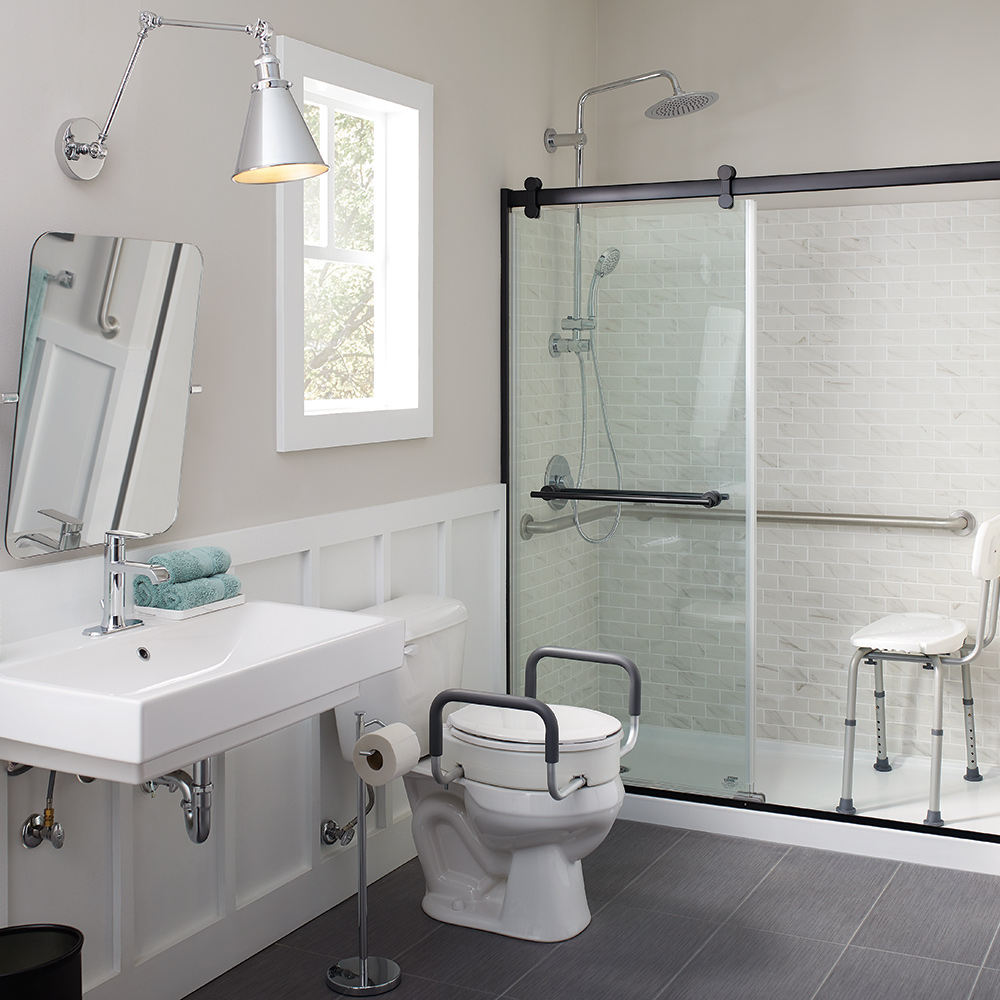 Innovative bathroom features and accessories can make your bathroom more accessible for people in wheelchairs or easier for children to use by themselves. This guide highlights bathroom accessories and features that are both accessible and attractive.
Assess the Space for Accessible Bathroom Features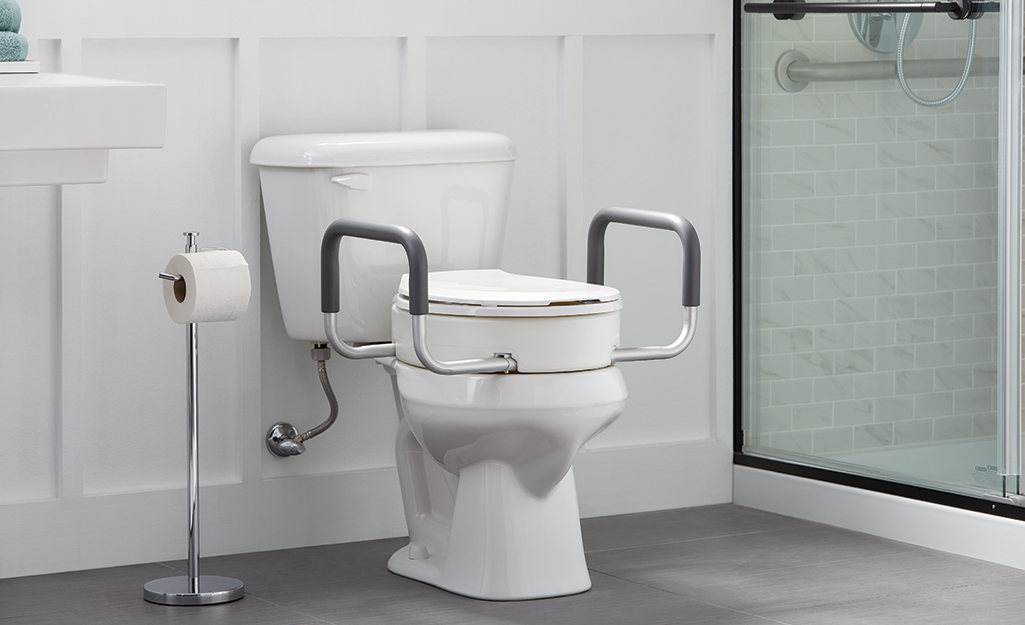 Some bathroom features and accessories may require additional space to be fully accessible. For example, the Americans with Disabilities Act (ADA) recommends that accessible bathrooms be at least 30-inches by 48-inches in dimension to provide parallel or forward access to bathroom fixtures. Additionally a 60-inch diameter is needed for a standard-size wheelchair to make a 180-degree turn. Unobstructed floor space beneath bathroom fixtures such as a wall-mounted sink or toilet with toe or knee clearance is also recommended. 
Accessible Doors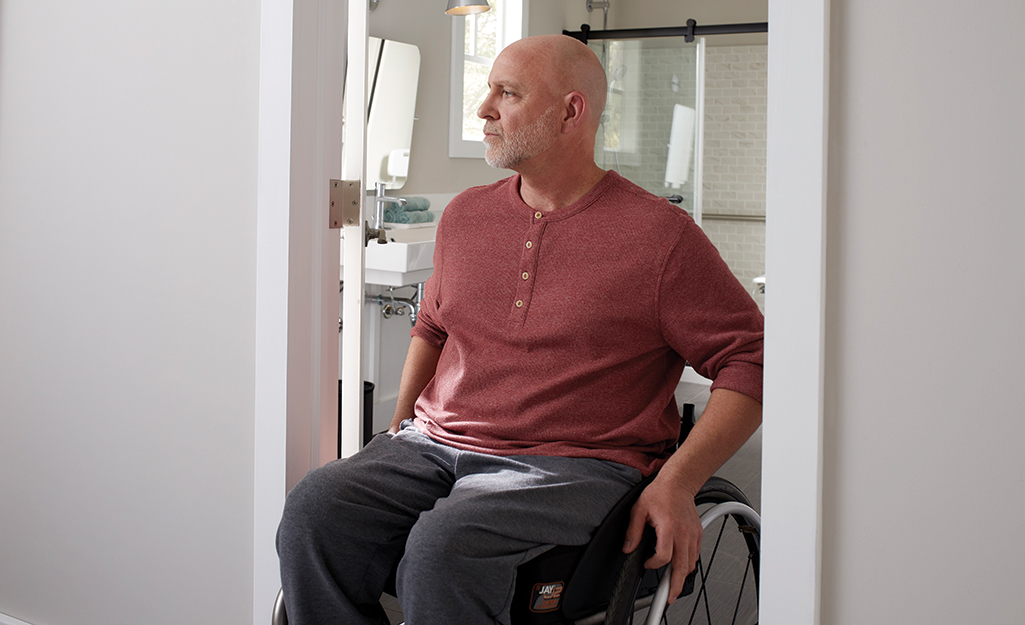 For wheelchair use, bathroom doors must be at least 32 inches wide if the door provides straight entry, such as at the end of a hallway. If the bathroom is off the side of a hallway, an accessible door width must be at least 36 inches to accommodate a turning wheelchair. A pocket door designed to fit an accessible doorway is also a good option when considering accessibility.
Other considerations to make your bathroom more accessible include a door that opens outward from the bathroom and single door lever handles that minimize the need for grasping and rotating.  
Accessibile Lighting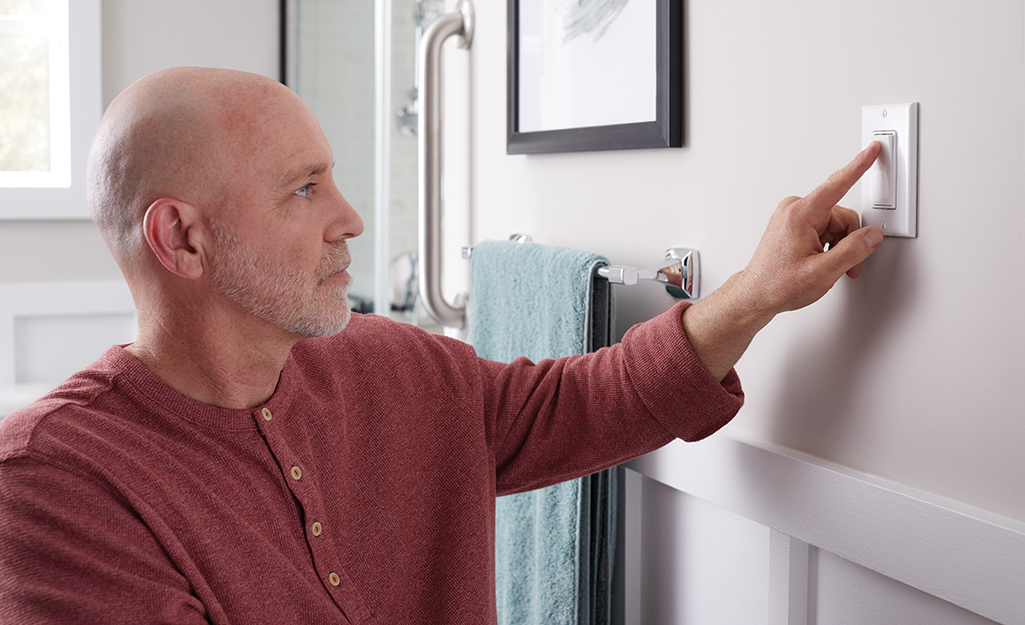 Lighting is a safe, accessible and aesthetically pleasing feature to include in a bathroom update. For optimal use, install light switches and outlets so that they are reachable from both a sitting and standing position. Large rocker light switches are easy to use and also have a sleek, modern appearance. Motion sensor lights illuminate a bathroom upon entry. Some smart lighting options are voice controlled. 
Accessibile Toilets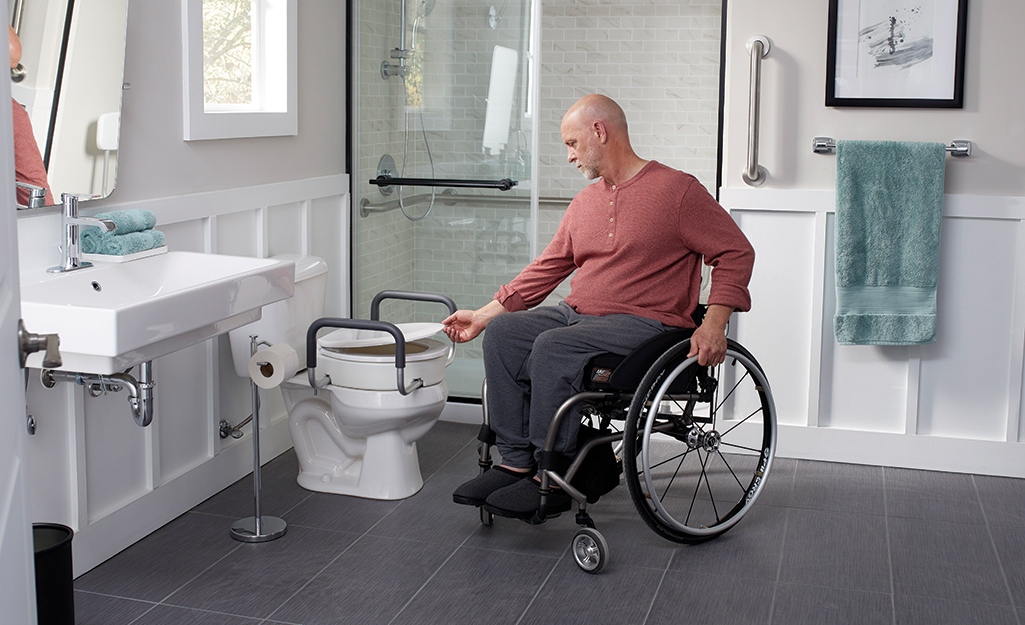 ADA requirements recommend that toilet bowl rims be 17 to 19 inches from the finished floor. Toilet seats, which can vary by thickness, add to that height. 
Chair-height toilets simplify sitting down or standing up from the toilet, or transferring to the toilet from a wheelchair. 
Toilet seat risers fit on top of the existing toilet to provide an elevated seat. Some varieties of elevated toilet seats have padded arms to boost safety and leverage.
If you're remodeling a bathroom to make it handicap accessible, consider wall-mounted toilets. This type of toilet creates the floor space necessary for turning a wheelchair. Plus, if installed as part of a renovation, a wall-mounted toilet can be positioned at a custom height.
Bidets are another accessible option to enhance personal hygiene.
Bathroom Grab Bars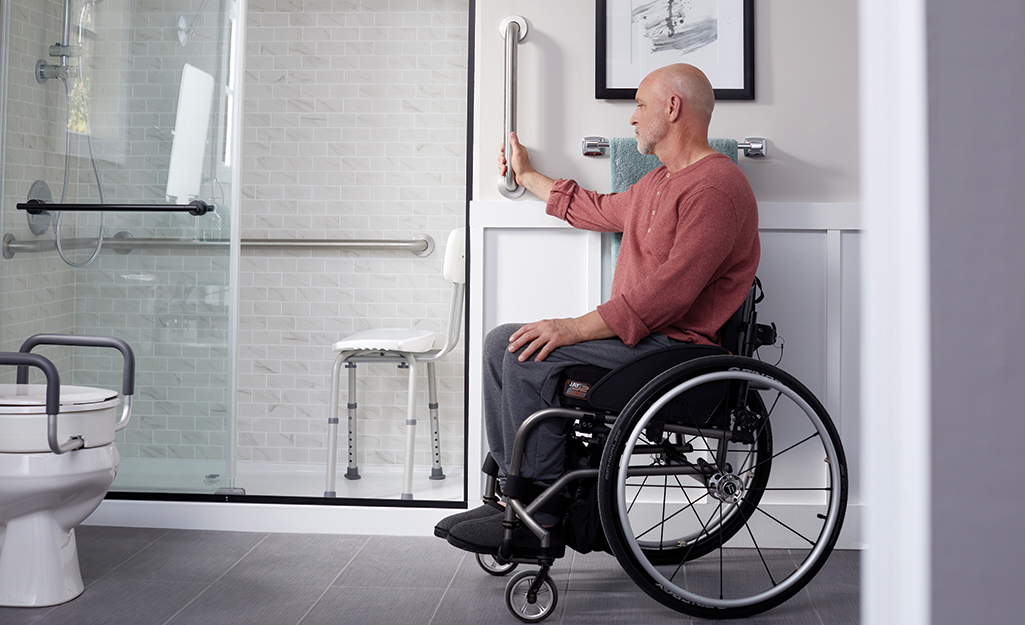 Vertical and horizontal grab bars installed next to the toilet and bathtub or shower provide leverage and stability when standing or sitting.
Follow ADA guidelines regarding placement and installation of bath safety products.  
Accessible Showers and Bathtubs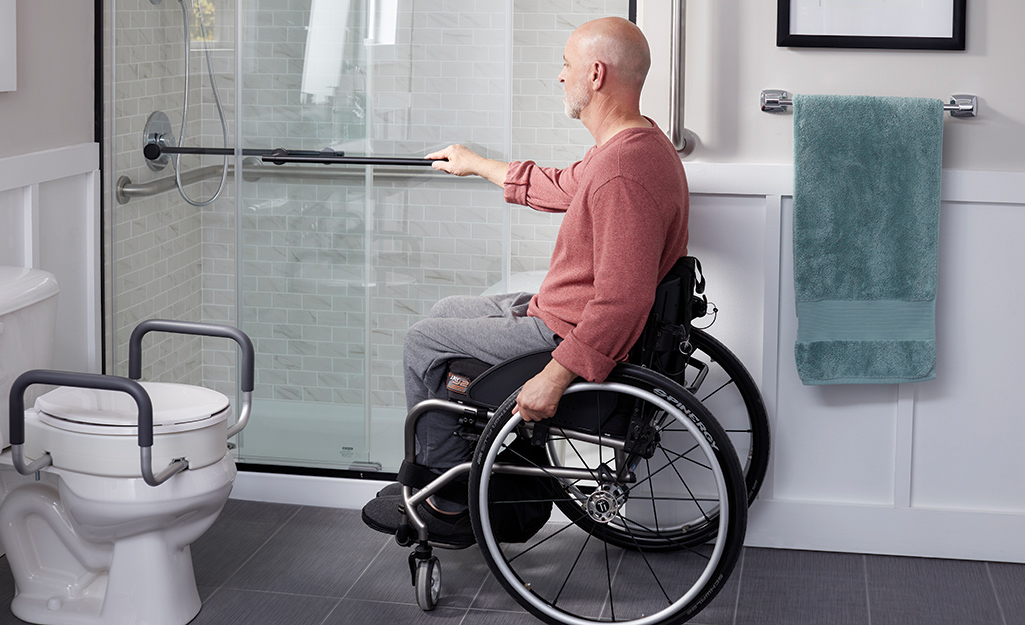 Curbless showers, or roll-in shower stalls, allow entry into the shower without having to step over a threshold. Many barrier-free shower kits fit into standard 60-inch openings for easy conversion. Some even include built-in benches.
If stepping into a standard tub isn't an issue, but balance or endurance issues prevent standing for lengthy periods, use a shower chair that can be removed for other bathers. A handheld shower head provides greater control of water when bathing. Bathtub mats add surface traction to the shower or tub floor, reducing the likelihood of falls.
Walk-in tubs accommodate those who may not be able to step over a standard bathtub apron. Many models have a door that allows for step-through over the low threshold and to the ADA-compliant built-in bench. Most have handheld shower heads and some feature a range of therapeutic massage jets.
Accessible Sinks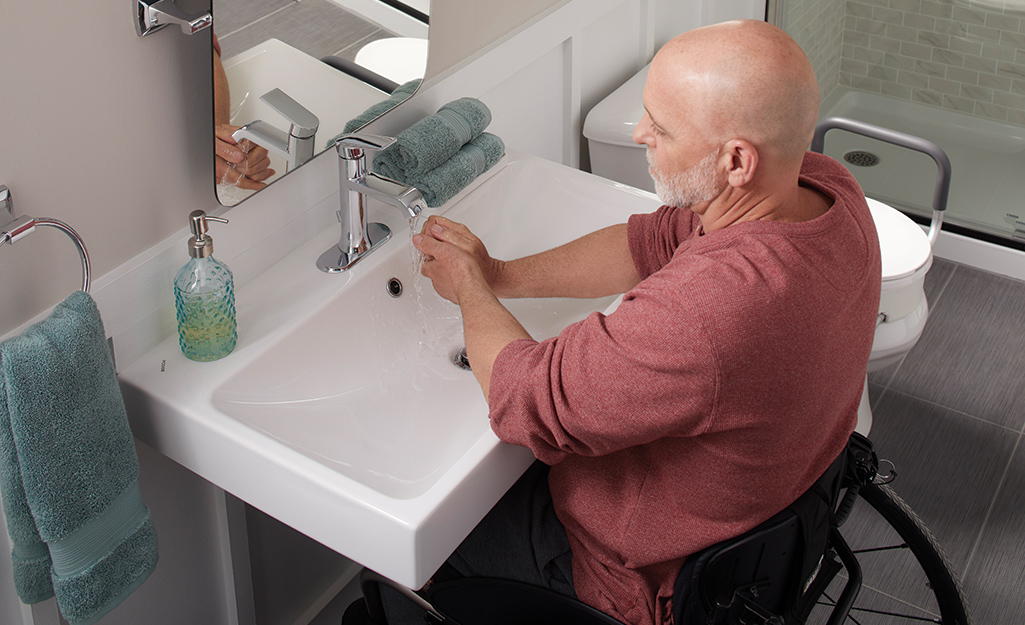 Maximum sink height for an accessible bathroom is 34 inches. Additional criteria regarding bathroom sinks include clearance for a wheelchair beneath the bowl, making wall-mounted sinks a good option. 
If someone has difficulty with bending, consider a higher sink and countertop.
Replace bathroom sink faucets that have twisting handles with easy-to-operate lever handles or select a touchless faucet.
The Home Depot has an array of features and innovative accessories to make it easy to outfit an accessible bathroom. Shop The Home Depot Mobile App for ideas, and have items shipped directly to your home. 
Explore More on homedepot.com