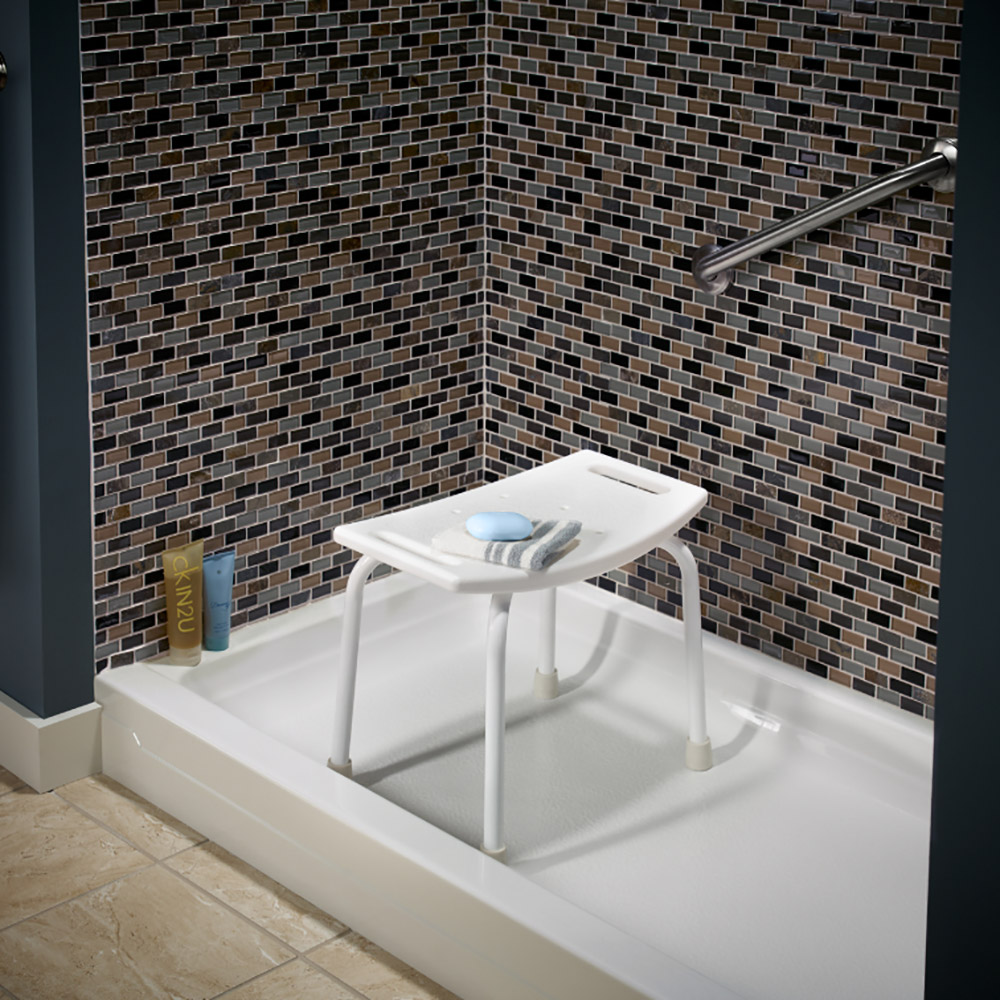 If you have young children or older relatives with physical limitations who live with you or visit often, there are a number of steps you can take to make your bathroom safer and more convenient for everyone, such as grab bars and shower chairs. 
This guide will detail bath safety accessories such as shower chairs that can improve the overall accessibility of your bathroom, making it more functional for everyone.
SHOP BATH SAFETY EQUIPMENT NOW
Tip: While designing your home to be more accessible, start by looking for products that are labeled as "universal design." This refers to products designed for easy use by everyone, no matter their physical abilities. Also look for products that meet ADA standards.
Toilets
Elevated Toilet Seats
Back or knee problems can make sitting on a toilet difficult. To reduce discomfort, install an elevated toilet seat on top of the existing seat, or add a wall-mounted model that can be hung at a comfortable height. 
Portable elevated seats can fit both standard and elongated toilets and are ideal for those who use wheelchairs.
Chair-Height Toilets
Also known as comfort-level toilets, chair-height toilets sit 3 ½ inches higher than a standard toilet, making commode access easier and safer for many. 
Open-hook toilet paper holders offer more convenience by allowing replacement rolls to slide easily on and off a hook so they can be utilized with chair-height toilets. 
You can also consider adding a bidet to make personal hygiene easier.
Tubs & Walk-In Tubs
Make tubs and walk-in showers safer with grab bars, hand-held showerheads, safety treads and bath seats.
Grab Bars
You can improve safety and convenience in slippery tub and shower areas with grab bars. Grab bars in the shower should be installed either horizontally or vertically. Tub-mounted grab bars should be used with caution, only to steady rather than support.
Hand-Held Shower Systems
Hand-held showerheads and showering systems make bathing easier for young children and those with limited mobility. They are also easier to clean and maintain.
Floor Mats
Prevent slips in the bathtub or shower with non-slip bathtub mats bathtub mats, which can provide greater traction and prevent dangerous fallsn. For additional safety, hang them over the tub when not in use to avoid tripping.
Shower Safety Treads
Adding shower safety treads on the tub surface increases traction and reduces slipping, especially when they are placed close together to minimize the tub surface that's exposed.
Bath Seats and Chairs
Bath seats and chairs allow individuals with limited mobility to shower or bathe in comfort. Chairs with backs and benches make it easier to sit upright and provide seat cutouts to allow water to drain. 
Look for suction cups on chair and bench bases to provide more stability. 
To make getting in and out easier, position one side of the bench in the tub and the other side outside of it.
Grab Bars & Accessories
Install grab bars throughout the bathroom to help with stability and support.
Grab Bars
Traditionally installed on the walls surrounding the toilet, grab bars provide extra support when sitting or getting up. 
If no nearby walls are available, free-standing safety bars provide similar support around most standard toilets. 
For greater convenience, install sheltering arm bars on both sides of the toilet.
Decorative Bars and Accessories
These days, you can make your bathroom safer without compromising style. There are a wide variety of attractive designs in multiple sizes with matching faucets and bath hardware, including toilet paper holders, towel rings, robe hooks and mirrors. 
Brightly colored grab bars are great for people with poor eyesight, and styles that attach at one end allow you to collapse or swivel the bar when not in use. 
Choose wall-mounted soap and lotion dispensers, installed onto the wall or in a corner, for easy, push-button access.
Installation Safety
Bars must be either anchored securely into wall studs, plywood blocking behind the wall, or with an approved fastener. 
Each must withstand loads of up to 250 pounds. Models with higher ratings are also available. 
Bars can be 12 to 42 inches long and 1 to 1 ½ inches in diameter and come in nonslip brushed or textured finishes that meet ADA standards.
Children's Safety
Children look at the bathroom as another place to play, so never leave them unsupervised. Designing a bathroom for children can be deceptively difficult.
Children's toilets have a lower seat height. They are easy to replace with a standard toilet as the child grows.
Locks may be used on doors, toilet seats and cabinets to prevent access to hazardous products in the cabinet, or accidental falls into the toilet bowl.
Outlet covers may be inserted or swivel shut when outlets are not in use.
Step stools help children climb into bathtubs without falling and reach the sink when washing their hands.
Vinyl or textured tiles are less slippery, providing greater traction.
Night lights, whether continuous or with motion sensors, reduce the risk of tripping during nighttime visits to the bathroom.
Safety Tips
Even with all the proper safety accessories installed, accidents can happen. There are additional precautions you can take to ensure that you've made your home as safe as possible.
Stick double-faced carpet tape on rugs or use non-staining anti-skid mats to ensure they don't slide on a wet floor.
Use slip-resistant floor tile.
Make certain grab bars are anchored to the wall framing.
Set hair dryers, curling irons and electric razors on a wide surface away from water sources.
Ensure all electric outlets are ground fault circuit interrupter- (GFCI) protected.
Use plastic glasses, soap trays and other accessories that won't shatter if they hit a hard floor or countertop.
Lower the temperature in your water heater to 120 F and install anti-scald valves in faucets, tubs and showers.
Install a cordless telephone in the bathroom in case of emergency.
Ready to find the supplies you need in your local store? Use The Home Depot app to locate products and check inventory. We'll take you to the exact aisle and bay. Need it today? We'll deliver on your schedule. Order before noon for convenient, scheduled same-day delivery.
Explore More on homedepot.com