Ideas & Inspiration
How to Make a Small Room Look Bigger
A small space doesn't have to be short on style. Whether you are in a small apartment or have a small room in your home, there are options on how to make a small room look bigger. This guide will provide practical solutions to create space in your small room without knocking down walls.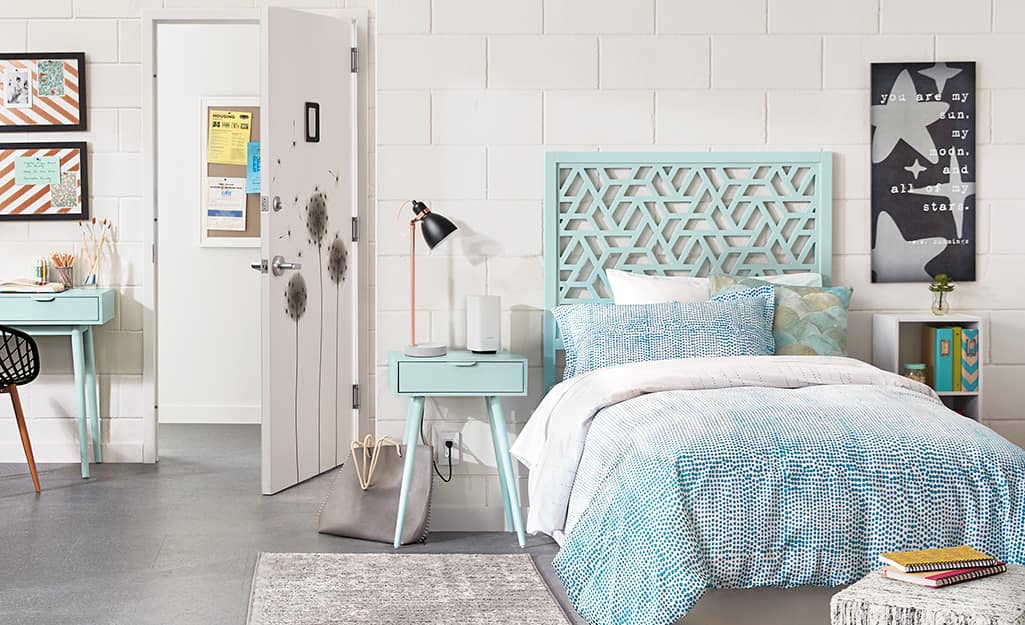 In general, colors to make a room look bigger and brighter should be light. Dark colors absorb light, making a room look smaller. Light colors reflect light, making a space feel open and airy. The best color for a small bedroom or space are any shades of light neutrals or whites.
In order for a small home to feel comfortable and not cluttered it's important to get furniture that fits the size of the space and serves multiple purposes. Look for pieces with simple lines and avoid over-stuffed designs. Select furniture with built-in storage like storage ottomans, trundle or Murphy beds, extendable tables or a sleeper sofa.
Light colors open up a space, but that doesn't mean your color choices are limited to whites and neutral colors. The best paint colors for a small bedroom or space are soft tones of off-white, blue, green, greys or any light color palette. Paint your wall trim and moldings in a lighter color than your walls. This will make your walls will appear farther back, making your living room seem bigger.
Any element that will draw the eye upwards will make a room feel bigger. Another idea for how to make a small room feel brighter with paint is to color your ceiling a contrasting color from your walls.
Scale is everything in a small space. Stick with accessories and home decor that are smaller in scale. Large pieces will make your space look unbalanced and take up valuable square footage.
Drawing the eye up makes a room look bigger. An easy way to pull this off is to hang wall shelves high to give the illusion that your ceilings are higher than they look. Another option is to install floor-to-ceiling or wall-to-wall bookcases. This is also a great way to add stylish storage to your space.
An interior designer trick to make a room look bigger is to use stripes. Vertical stripes, both wide and narrow, tend to make a wall look longer and taller; horizontal stripes going across a wall make the wall appear wider. Depending on the effect you want to achieve, try stripes in varying tones and shades of a single color family.
If leaving your windows uncovered is not an option, then try these tips on how to make a room look bigger with curtains:
Use sheer drapes or drapes of a shade similar to the wall color.
Hang floor to ceiling drapes to elongate the space.
Glass or lucite furniture isn't limited to modern home decor. They are a popular design choice and come in a variety of styles. See-through furniture and accessories take up less visual space and give an illusion of more open area in a room.
Using mirrors to open a space is a tried-and-true pro designer trick. Mirrors reflect light and reflect the view, tricking the eye into perceiving more space. Try one or more of these tricks to open up a space with mirrors:
Place a mirror across from a window to reflect light and open up a space.
Angle a mirror towards a focal point to create an illusion of depth.
Use a series of small mirrors instead of one large mirror to make a small room look bigger.
Place a mirror on the oppsite side of wall accents. It will reflect the art and make the room feel more open.
Even if you have a spacious house, you may need to know how to make a small bedroom look bigger. You can employ the same methods to create an illusion of a larger space as are used in other rooms, but the key is to focus on the bed. The bed is the biggest obstacle when decorating a small bedroom because it's the largest piece of furniture. Here are some tips to try:
Avoid excessive furniture in the bedroom, and keep it to the essentials: dresser, night stand or desk and a bed.
Use built-in shelving around the bed to allow more storage space without taking up more floor space.
Opt for bedding and accessories that are simple in design and color, keeping the visual weight light.
In every home there's at least one small bathroom. The good news is that you can use all the same small room tips and tricks to visually increase a bathroom's small space. The biggest obstacle in a bathroom are the fixtures. Here's some tips on how to make a small bathroom look bigger:
If you can, swap out a large vanity for a pedestal sink or other smaller fixtures.
Remove excessive items from the wall, like wall shelves, hanging racks, or decorative accessories. Excessive decor on walls cuts into the room and make the bathroom look smaller.
If your bathroom lacks a window, use daylight or LED bulbs to brighten up the space.
Making your small space look bigger isn't hard or complicated. Shop the Home Depot for paint, wall decor, home decor and everything you need to make your small space look larger.