Your primary bedroom is your personal retreat. Make it a comfortable place to unwind or energize it with a bright color palette. Go glam with a faux-fur throw and upholstered headboard, rustic with a chest and nightstands in a distressed finish or modern with brushed nickel lamps and a dresser with clean, contemporary lines. 
There's no right or wrong way to design a primary bedroom. If you're on a budget, you can decorate or redecorate with small changes. For a big makeover, consider new bedroom furniture or upgrade your mattress to one that is larger and more luxurious.
Primary Bedroom Design Ideas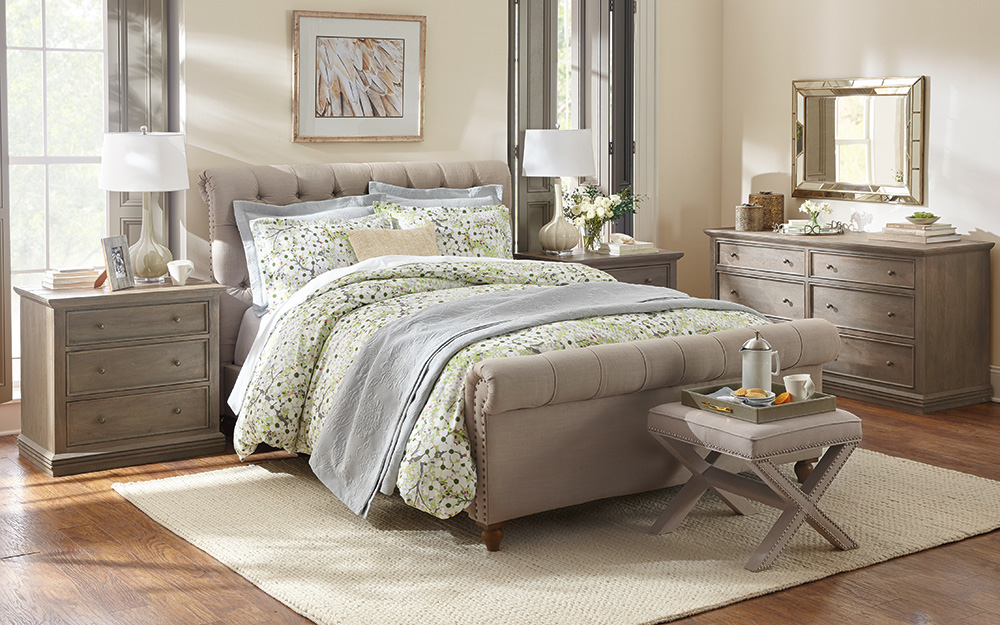 Need some primary bedroom design ideas?  Pramary bedrooms sometimes double as living spaces, especially when space in your home is tight, so if you've got an exercise bike or desk in a corner, banish it to another room. Aim for primary bedroom decor that feels restful and makes you happy.
Before you go shopping, decide what to keep and what should go. Check your window treatments, carpet or area rugs, blankets and pillow cases and sheets. If they're worn out or stained, it's time to replace them. 
Measure your room and make a sketch of doors and windows. Show the position of furniture you're keeping. Take the sketch and a tape measure when you shop, so you'll know if new items will fit. 
When you're ready to arrange or rearrange your furniture, pay attention to symmetry. Using a bedside or accent table and lamp on each side of the bed, or matching artwork, makes your primary bedroom look balanced. Include your primary bath when you're ready to decorate or redecorate your primary bedroom. Many attractive bed and bath coordinates are available.
Tips for Revitalizing Your Primary Bedroom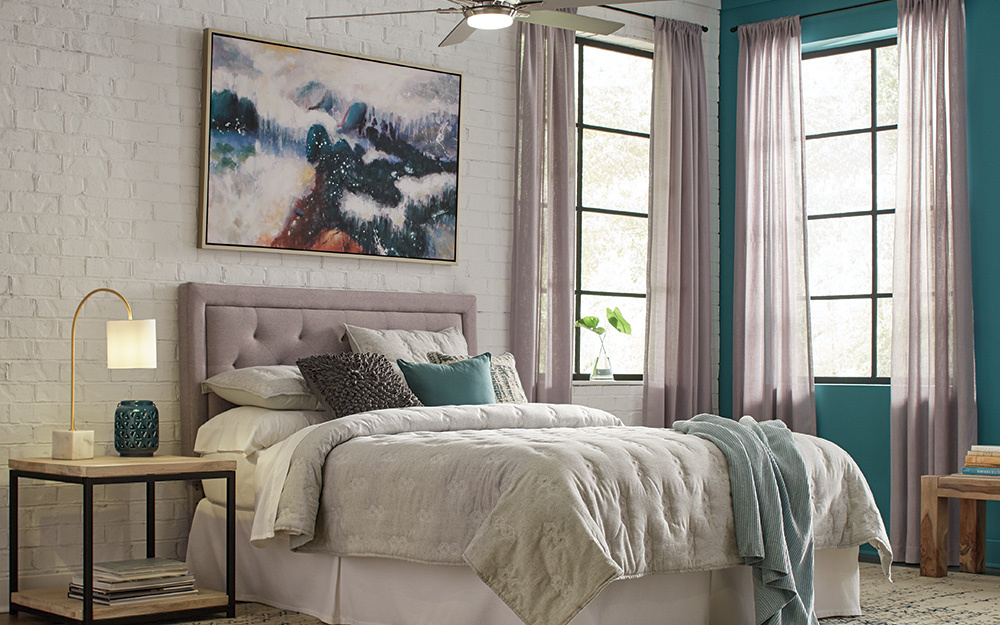 If you're redecorating your primary bedroom and watching your budget, start by changing just one or two pieces of furniture, such as a nightstand or armoire. Matching bedroom suites are popular, but mixing styles, colors and textures is trendy, so combine what you already have with new items. Replace old hardware with stylish new knobs and drawer pulls. 
Also, "shop" other rooms in your home for items to use as primary bedroom decor. A woven throw from the living room can dress up an accent chair. A vintage trunk can be a nightstand. Coordinate your new interior design with less expensive items that have similar finishes or details, such as an accent chair and bedside table with the same leg shape. 
Small Primary Bedroom Ideas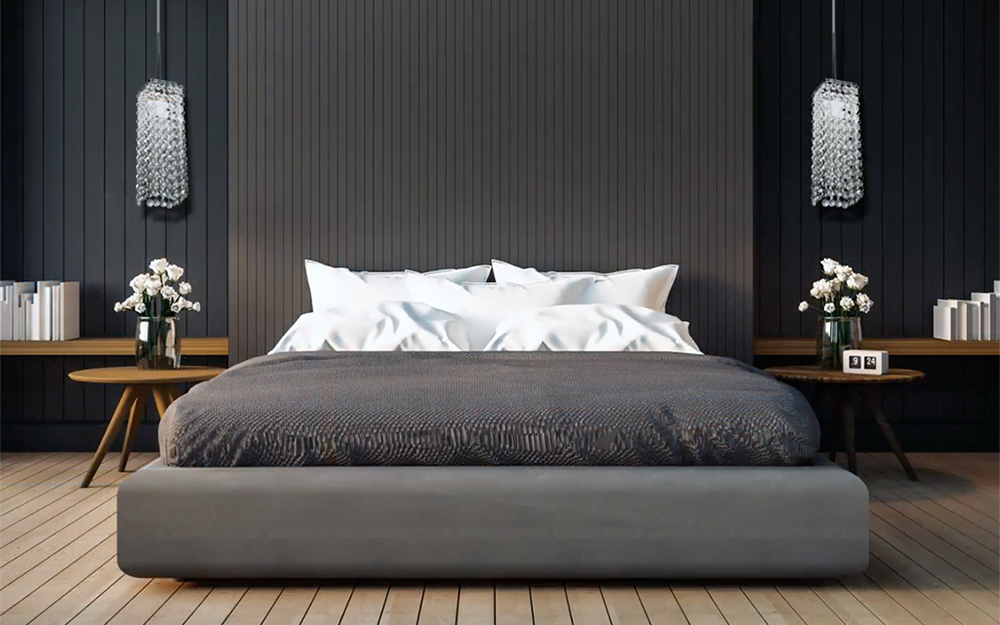 Don't let size limit your imagination just because you have a small primary bedroom. Furniture placement is important when space is tight. Keep your pieces in scale, so a massive headboard doesn't overwhelm everything else. Start by putting your bed where you want it. It's usually the largest piece of furniture, so work other pieces around it. Use a bed frame without a footboard. 
To make your room feel bigger and draw the eye upward, hang drapes higher than your window frames. If possible, keep window treatments open or pulled back. A beautiful view draws your attention outside.
Let furniture do double-duty. A nightstand can hold more than a lamp if it's actually a small chest with shelves. Choose a bed with built-in drawers for storage, or tuck extra clothes and accessories into an under-the-bed storage box.
Install a sliding closet door or sliding interior door instead of one that opens into the primary bedroom. If you're designing or remodeling a small primary bedroom, add a walk-in closet system so you won't need a big dresser or chest.
Let in more light and make a room feel spacious with skylights. Use space-saving wall sconces instead of lamps on bedside tables or nightstands. You can also make a small bedroom feel bigger by limiting your color scheme to two or three colors or a monochromatic look.
Inspiring Primary Bedroom Ideas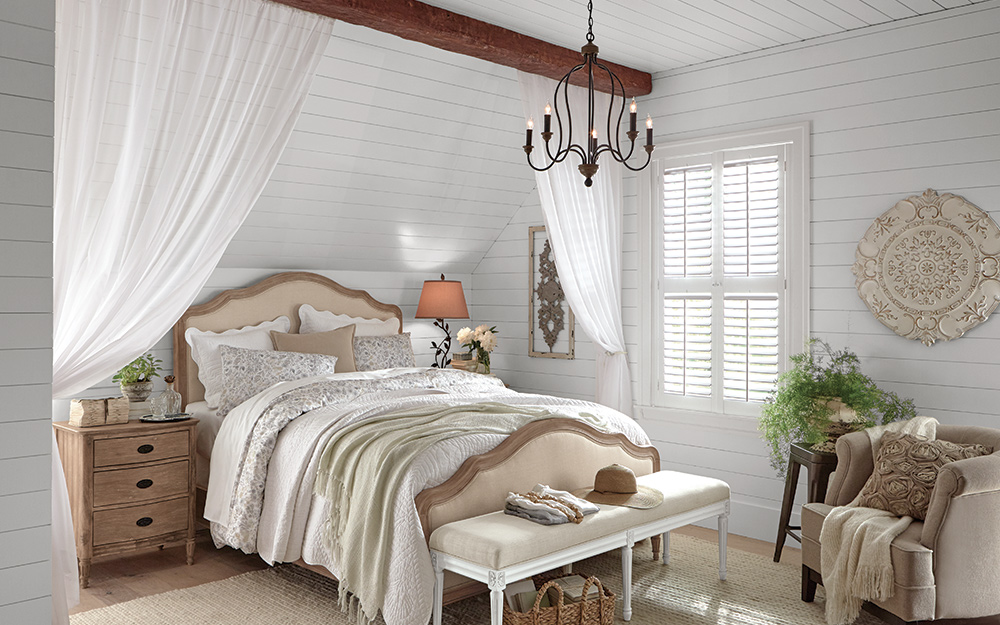 Think outside the box for attractive, useful primary bedroom decor. Electronic devices in the bedroom may keep you up, but watching TV can lull you to sleep. Mount a flat screen TV on a wall, hide it in a cabinet or put it on a dresser. Choose a model with a remote control and timer so it goes off when you drift off.
Install an electric fireplace for ambience. Some models let you turn the heat on or off and adjust the brightness of the flames. 
If you have room, use an elegant canopy bed or luxurious, oversized headboard. Go romantic with battery-powered candles and dark, ornate furniture with an opulent Old World look. Hang a sparkling crystal chandelier or go minimalistic with contemporary pendant lights.
Change boring closet doors to mirrored doors, which add a dramatic look and help reflect light. Add beautiful overhead lighting for getting dressed and doing tasks in your primary bedroom. 
How to Redecorate A Primary Bedroom Without Changing Furniture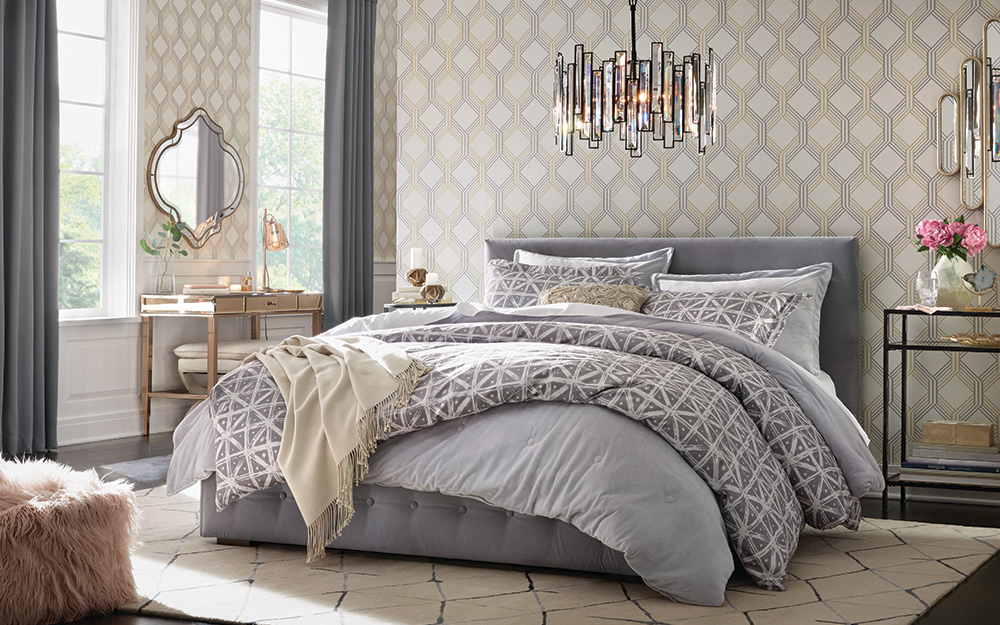 Not ready for a complete makeover? Redecorate your primary bedroom with fresh, new accessories. For an easy upgrade, add wall decor, such as art prints, wallpaper or wall decals to your primary bedroom. Accent a ceiling with crown molding or a decorative medallion. 
Bring in different textures with items like bamboo shades, a sheepskin rug or faux silk curtains. Add textures with bedding, too. Refreshing sheets is an easy upgrade, so layer blankets and a cozy comforter, bedspread duvet or quilt. Toss a throw onto the bed and pile on pillows in different sizes and shapes. Look for fabrics that range from cottons to linens. 
Remove clutter. Too many accessories and decorations can be distracting and make the bedroom look crowded.
Primary Bedroom Design Styles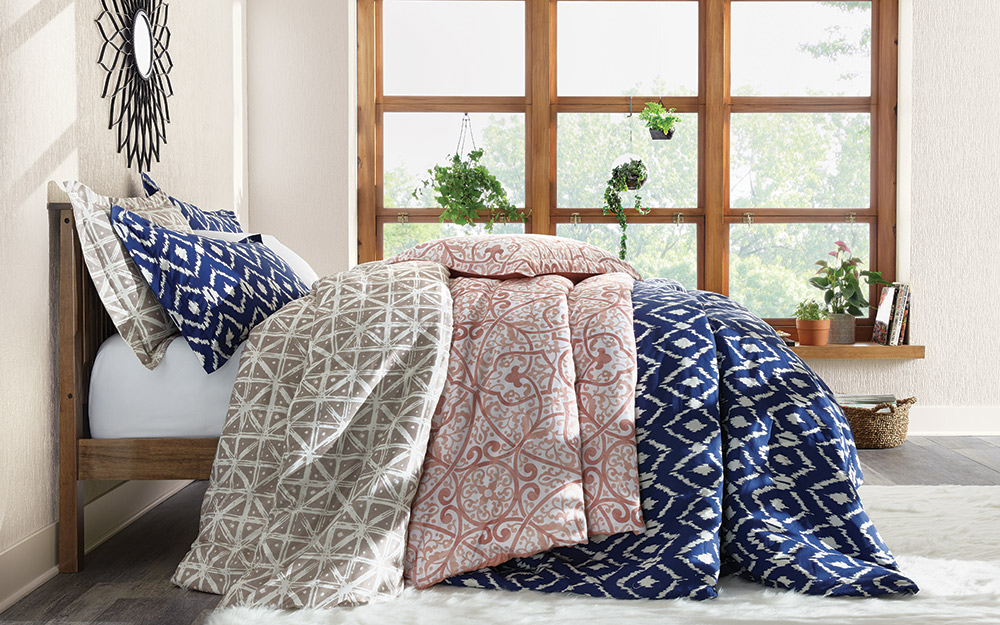 You'll find nightstands, headboards and sets of primary bedroom furniture in styles that range from classic to cottage to modern, industrial, traditional and more. There's something for every taste.
If your style preferences or design ideas overlap, go eclectic. Bohemian style is an unexpected mix of bright colors with different patterns, textures and fabrics. Bohemian primary bedrooms add visual interest with woven baskets, exotic-looking cushions and art prints that look as if they've been collected from all over the world.
For a beachy, coastal style, paint your walls in a color scheme of blues, greens and whites and dress your bed with bedding and throw pillows in complementary colors. Hang sheer curtains to let breezes blow through and bring in natural materials with a wicker ottoman or sisal rug. 
Go Southwestern with oak, cherry or walnut nightstands with clean lines, a metal bedframe and a leather bench you can sit on to pull off your boots. Use a color palette and area rugs in shades of blue, yellow, red, orange and gold. Add a Western art print as a focal point. 
Traditional primary bedroom furnishings are always in style. For pieces that match, opt for a primary bedroom set or suite. All the pieces will have the same style, color or finish, which takes the guesswork out of shopping.
Color Palettes For Your Primary Bedroom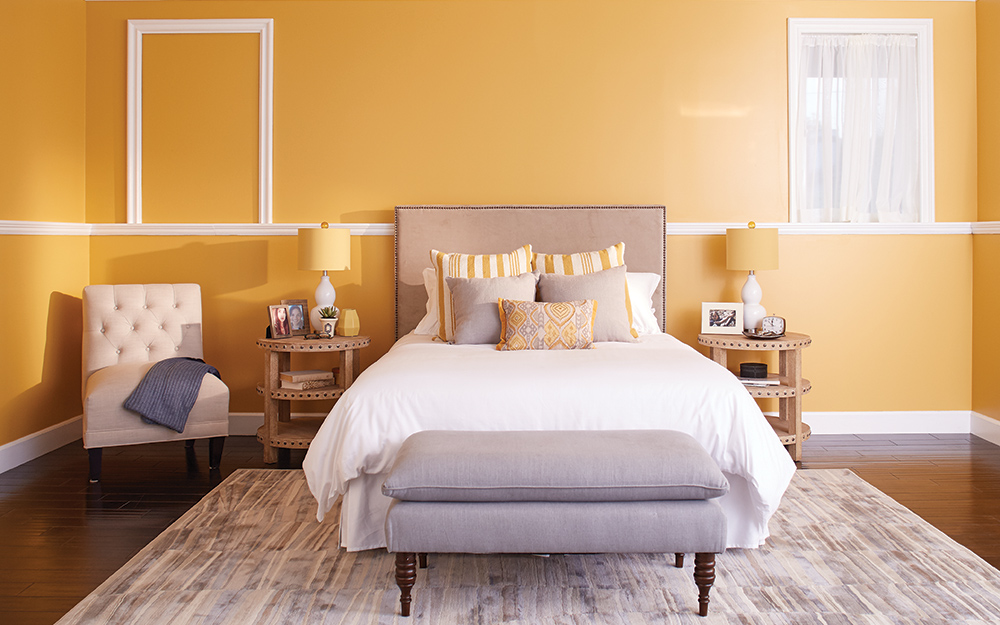 Paint is an inexpensive way to decorate or revitalize your primary bedroom. Freshen up your room with a new coat of paint or a different color scheme. If you like to update other bedroom colors from time to time, use a neutral color scheme and make quick changes with new bedding or throw pillows. Paint the bedroom ceiling in an accent color to add interest and a sense of depth. 
Use fabrics with different patterns when you choose bedding, floor coverings, pillows and drapes, but stick to a few colors rather than a broad color palette. Soften bold, bright colors with a white or ivory-colored headboard, dresser or table. Warm up pale, cool colors with primary bedroom furniture in a dark pecan, dark walnut or cherry finish.
Who says you need carpet? Paint a wood floor in a pattern or a geometric design. Toss an area rug by the bed so your feet won't be cold when you get up every morning.
Primary Bedroom Ideas for Bedding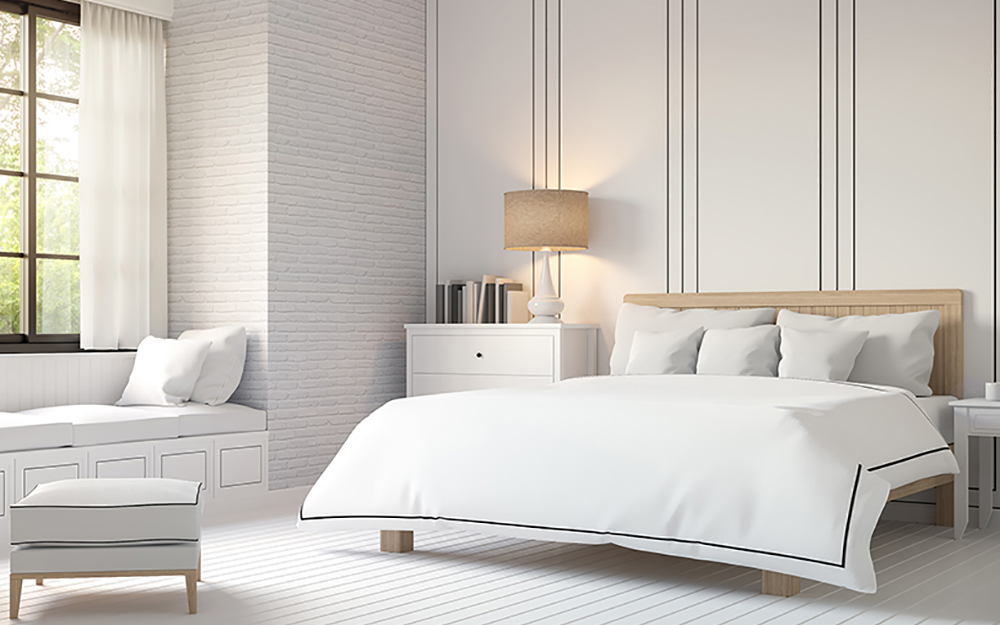 Dress your bed in layers for luxury and comfort. 
For a crisp, fresh look, switch to a white duvet cover and white sheets, blankets and pillow cases or pillow shams. Use satin or sateen sheets for elegant primary bedroom decor.
Layer coordinated sheets and blankets to add color, patterns and visual interest. Use pillow shams instead of cases for a finished look. Avoid large fabric patterns that compete with each other.
Tip: Upgrade to a high-quality and comfortable mattress. Invest in one that makes you feel equally pampered and rested. If you have the room, consider going up a size to get more space to spread out and relax.
Tips and Ideas for Primary Bedroom Walls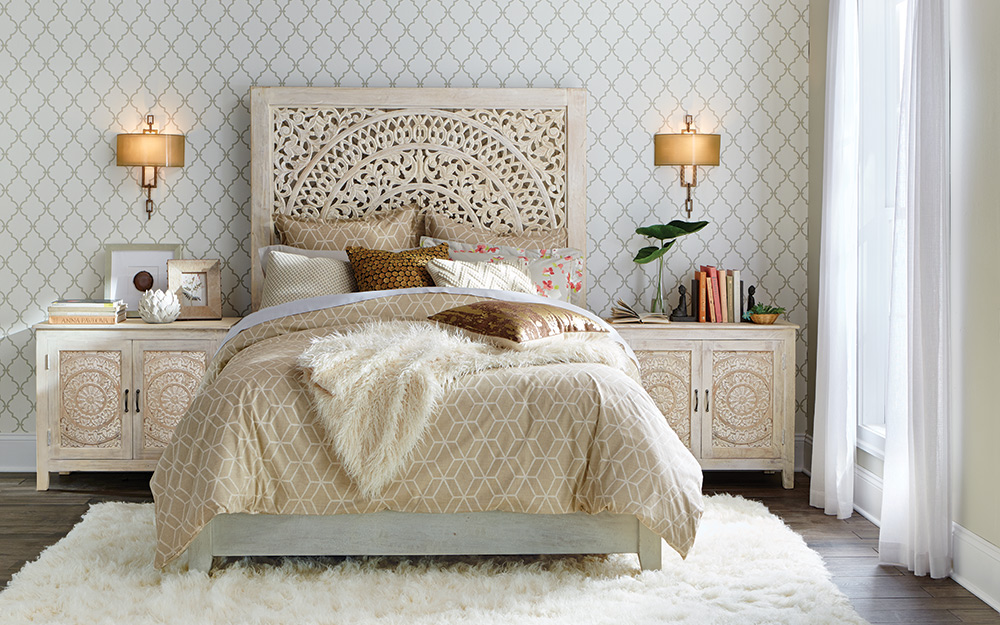 Change your walls to update and revitalize your primary bedroom. 
For a quick change, apply peel-and-stick wallpaper or decals to just one wall.
Use a mirror or group several mirrors on a wall to give the illusion of more space. Make sure you like what they reflect before you put them up.
Turn a wall with a television, fireplace or other focal point into an accent wall with a different paint color or wallpaper pattern.
Use decorative tape to make a lattice design or other pattern on the wall behind your bed or hang a rug with an eye-catching pattern above the bed.
Center a mirror or painting horizontally over your bed. For best results, use one that is two to twelve inches shorter than the width of the bed.
Creating your primary bedroom retreat is a project that you can enjoy before, during and after it's done. From inspiration to the perfect paint to the right furniture, we can make your dream primary bedroom come to life. The Home Depot delivers online orders when and where you need them.
Explore More on homedepot.com