Ideas & Inspiration
How to Plan a Sensational 4-Season Garden
Gardening doesn't have to be a one-and-done proposition. You can plant tomato seedlings on Good Friday, put out hanging baskets of annuals on Mother's Day, finish with pansies on Labor Day, and have a pretty good gardening year. But that only fills your garden for half of the year.
This year, embrace the larger landscape and plan a garden filled with interesting flowers, foliage and structure in winter, spring, summer and autumn. With thoughtful planning and smart plant selections, you can create a garden that offers beauty across seasons.
This four-season approach can guide your gardening choices no matter where you garden. To learn more, I consulted expert horticulturists for lessons and tips in four-season gardening.
When you garden for the seasons, you discover unexpected music and movement in your backyard, says Tovah Martin, author of "The Garden in Every Sense and Season," (Timber Press). Martin gardens on seven acres in the Berkshire foothills of Connecticut.
Like the title of her book, Martin experiences her zone 5 garden via her senses in winter, spring, summer and fall. "Each garden has a Braille," she says. "You feel your way through the garden."
Planning her garden for wildlife led Martin to assign herself "touch days," "smell days," and "sound days" to focus on the plants. "When I started, I began to notice insects and birds, and it opened up this portal in my garden that I hadn't experienced before." A four-season garden puts you in sync with the local ecology.
It's not only what you plant, but how you take care of it that matters, Martin says. When pruning in fall, she makes sure that tree and shrub branches are strong enough to support birds while they snack on berries.
"You learn all kinds of things about gardening by really plugging in. Your garden will be so much more rewarding when you're in tune with your garden," she says.
Birds come to Martin's garden to visit ornamental grasses like Little Bluestem. It emerges blue in spring and turns red in autumn. Other favorite plants include native honeysuckle, sempervivums (hens and chicks), columbines, heuchera and pansies.
Be a generous host, Martin advises, and mass plant pollinator favorites like Joe Pye Weed, asclepias (milkweeds), echinacea, salvia, agastache and sedum 'Autumn Joy.'
Erica Glasener, horticulturist and author of "Proven Plants: Southern Gardens" (Cool Springs Press) relies on "dynamic combinations of shrubs, trees, perennials, annuals and bulbs" for appeal across the seasons.
"By combining plants that complement one another and making sure that you have the right plant in the right place, your garden is bound to inspire throughout the year," she says. The lively combination pictured above, nandina, Japanese maple and bluestar (amsonia), delights year-round in a zone 7 garden.
Glasener recommends the following plants for Southern gardens:
Plants for Shade
Agarista populifolia (Florida leucothoe)
Callicarpa americana (beautyberry)
Hydrangea arborescens 'Annabelle' (Annabelle hydrangea)
Hydrangea quercifolia (oakleaf hydrangea)
Illicium parviflorum (anise)
Osmanthus fragrans (tea olive)
Ferns (native ferns like Christmas fern and cinnamon fern)
Non-native ferns like Autumn fern
Polygonatum odoratum 'Variegatum' (Solomon's Seal)
Plants for Sun
Trees like maples, oaks, hickories, dogwoods and fringetree
Edgeworthia (rice paper plant)
Asclepias tuberosa (milkweed)
Hemerocallis 'Autumn Minaret' (daylily)
Lagerstroemia 'Pocomoke' (crape myrtle)
Iris ensata (Japanese iris)
Kalimeris pinnatifida
Phlox paniculata
Rudbeckia laciniata 'Herbstonne' (cut-leaf coneflower)
Rudbeckia subtomentosa 'Henry Eilers' (sweet coneflower)
Straddling both sun and shade are native azaleas. Glasener likes Rhododendron austrinum (Florida flame azalea), Rhododendron arborescens (sweet azalea) and Rhododendron prunifolium (plum leaf azalea).
In the Garden Center, read plant tags for specific care and planting instructions.
Edward Lyon, author of "Growing the Midwest Garden" (Timber Press) recommends finding ideas for your four-season garden in nearby public gardens and tried and true sources like Cooperative Extension and gardening books.
Lyon's criteria for plant selection: First, choose plants that thrive in the Midwest extremes of hot, humid summers and cold, low-humidity winters.
Shop for plants in spring, and throughout the year. "If you shop only in the spring, you will be attracted to those plants in bloom at that time, and you will miss buying for all four seasons," he says. The best gardens are a mix of plants that shine spring, summer, fall and winter.
For illustration, Lyon contrasts forsythia and viburnum. Forsythia (left) bursts on the scene in early spring with a blaze of yellow blooms, before fading into 50 weeks of gangly branches. On the other hand, viburnum (right) blooms in spring, grows glossy green foliage in summer and bears red fruit in fall.
The garden year doesn't end when leaves fall. In the bleak and brown winter landscape, Lyon looks for trees and shrubs with interesting bark and winter fruit. This is when conifers come into their own, after deciduous trees have long dropped their leaves. The bones of some perennials and ornamental grasses stand through the winter and offer architectural interest, and habitat for the birds.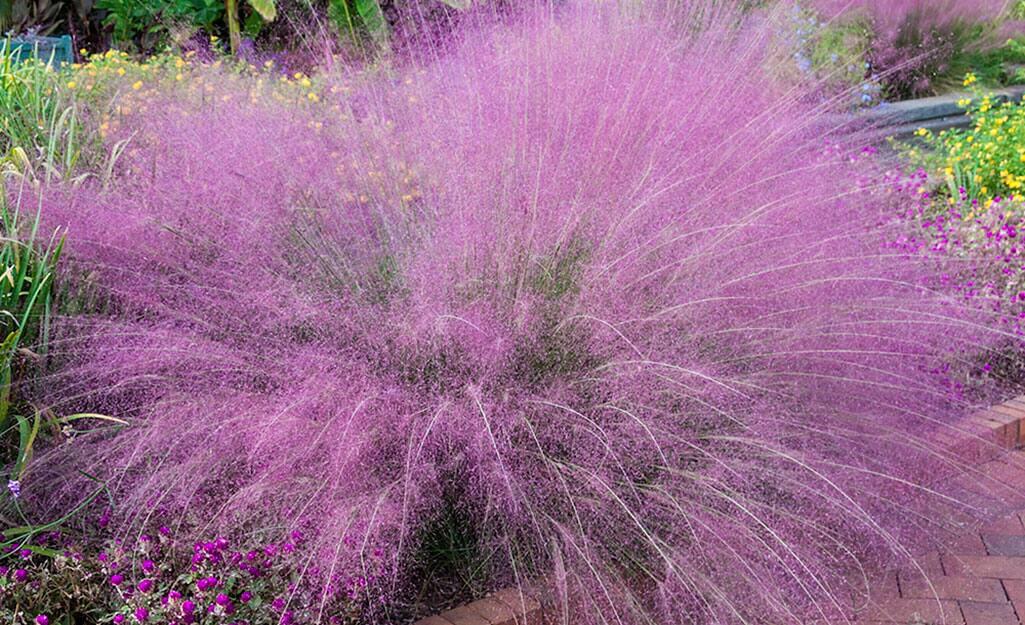 Support wildlife by putting out feeders and bird baths.
Grow groundcovers like ilex verticillata (winterberry).
In the right kind of garden, moss can be spectacular. Martin leaves patches of moss in lieu of lawns.
Plan ahead for the next season. Choose spring flowering plants that return in fall with spectacular color.
Grow self-sowing annuals like foxgloves, larkspurs, columbine, poppies and love-in-a-mist.
Remember taste in your four-season garden. Martin sows lettuce much of the year, especially early spring and late fall.
Extend the growing season for edibles with cold frames and row covers.
Try growing microgreens in winter, like Martin. She grows pea sprouts and peashoots in south-facing windows. In the darkest days of winter, she'll use a LED grow light in a task lamp attached to a work table. Learn more about growing microgreens in this guide.