Ideas & Inspiration
Curb Appeal Landscaping Ideas
Well-placed plants and flowers enhance your home's curb appeal. If you really want to dazzle the neighbors, make the walk from your mailbox to the front door more appealing with these ideas.
Use color to unite the mailbox and front porch since "curb appeal" refers to the overall view. Begin with colorful summer annuals to bring punch to the landscape. Plant a flat of bright red, purple and white petunias by the mailbox and repeat the blooms with hanging baskets on the front porch.
In the middle of summer, this combination looks especially grand with an American flag display. If a water source isn't close to the mailbox, plant drought-tolerant selections like lantana, geraniums and verbena.
Remember the container gardener's motto — "thriller, filler and spiller" — for gorgeous combinations on the front steps. Thrillers offer height (for example, caladiums), fillers provide mass color (think impatiens or petunias), and spillers trail over the edges of the containers (ivy or creeping Jenny or lobelia).
Caladiums
Geraniums
Gerbera daisies
Impatiens
Marigolds
New Guinea impatiens
Petunias
When you visit the Garden Center, you'll find that The Home Depot's Trend and Design Team has done the heavy lifting for you. Check out the hanging baskets and containers — many are color coordinated for you. Just hang the baskets, or in the case of Vigoro Drop-n-Blooms, pop into a container, water regularly and enjoy.
The walk from street to porch can be enhanced with hardscape materials, too, like a paver path interspersed with creeping perennials or groundcovers that can handle a little bit of foot traffic.
The cooler months are best for planting groundcovers. Give them a few months to get established before allowing foot traffic.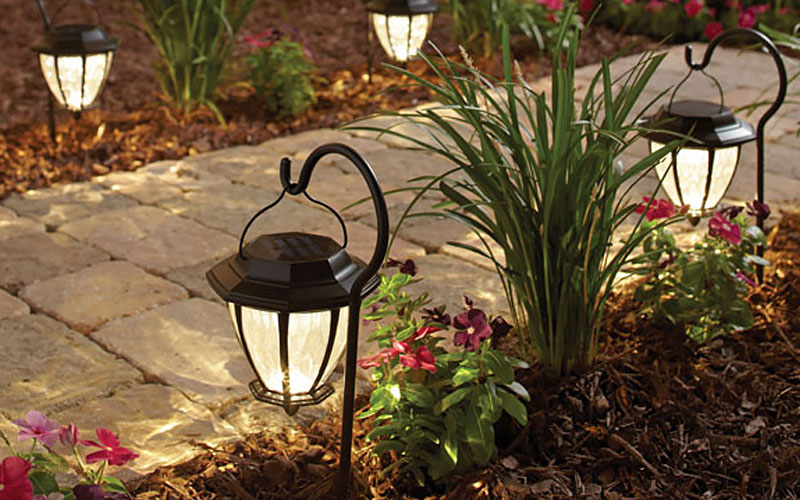 At night, landscape lights will illuminate the path from street to porch. See our project guide to learn more about installing landscape lighting.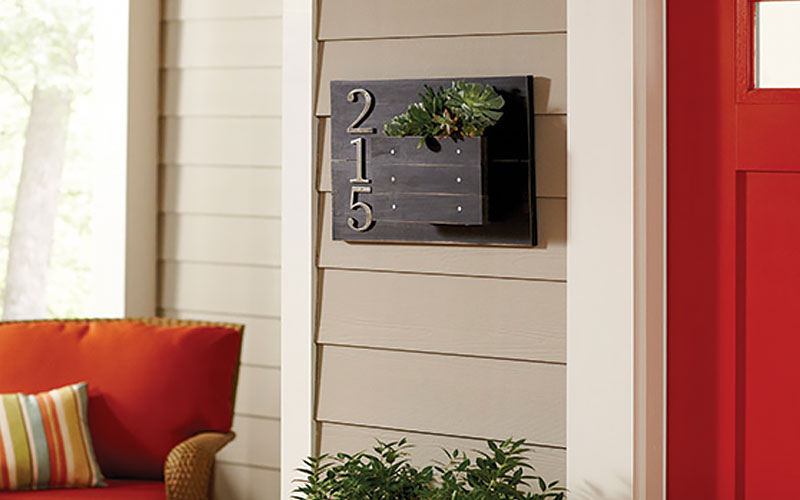 A cheerful sign by the front door, such as this house number wall planter makes for a welcoming entrance to your home.
Adding a pair of chairs, or a porch swing if you have the space, gives your front porch instant appeal. To follow the trend of outdoor living rooms, pick out a few pillows in shades coordinating with containers and flowers. The weather-resistant fabrics will look fresh all season long.
Just like indoor rooms need sweeping and dusting, outdoor living rooms will benefit from light housekeeping as well. Find a decorative box and tuck in a dusting cloth to wipe down furniture. Place a few packs of fertilizer inside, and keep an attractive watering can nearby so there's no excuse for not taking care of the plants.