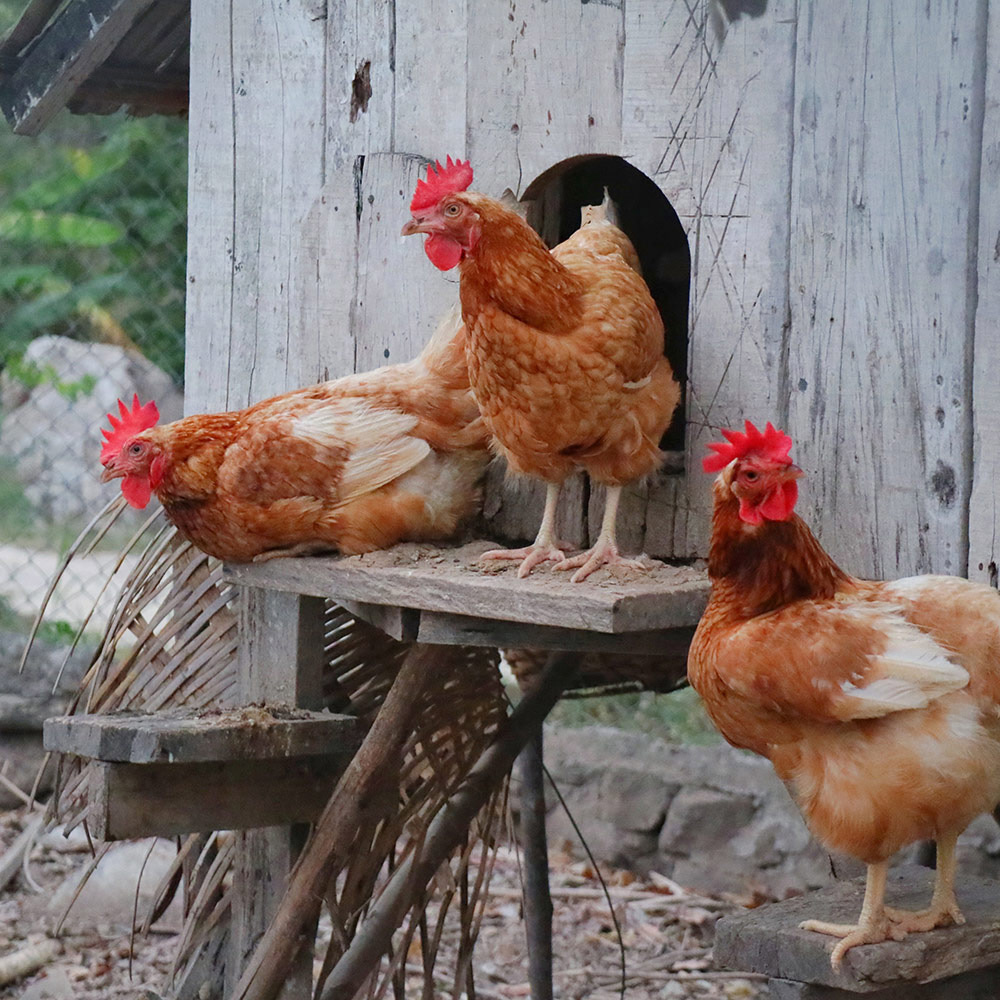 Chickens are showing up in many suburban backyards. They're relatively easy to raise and don't take up a lot of space. Having a source of farm-fresh eggs right outside your door may tempt you to give chicken keeping a try. Before you rush out and buy a coop, it's important to consider a few details. This guide will teach you the basics of how to raise chickens and which chicken supplies you need to keep them healthy and happy. We'll also answer common questions, such as: "How much do chickens cost?" and "At what age do chickens start laying eggs?"
Check Local Ordinances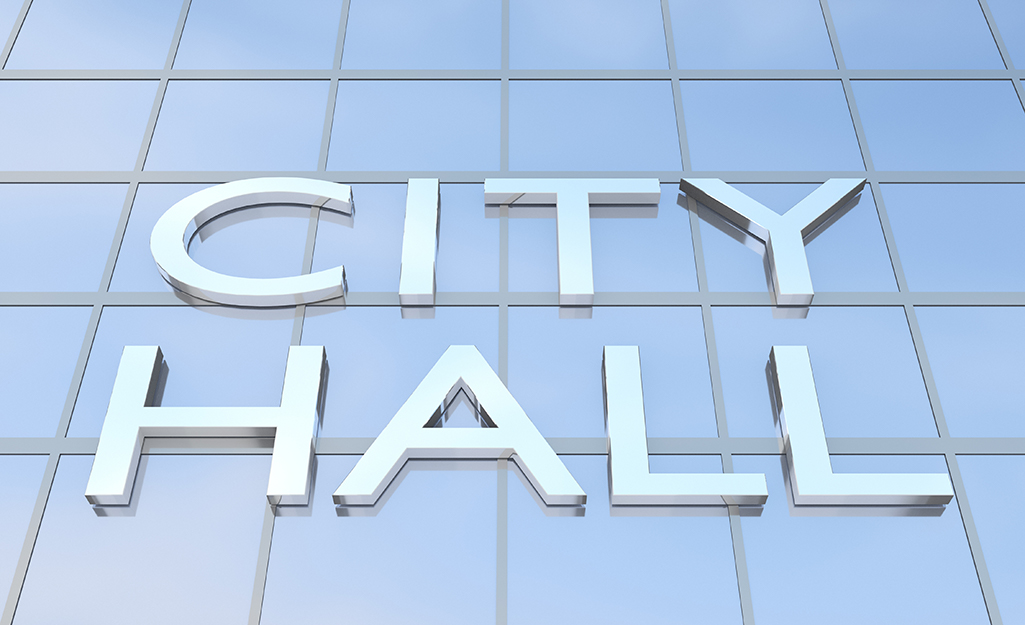 Not all municipalities and counties will allow you to raise chickens on your property. Before you look at chicken breeds or coops, you need to find out if you're allowed to have chickens. Most of the time, there are restrictions on flock size, roosters and distance the coop can be from your property line. Also, there may be a permit you have to purchase in order to have chickens. Thankfully, many urban and suburban areas are loosening restrictions when it comes to chicken raising, but it's best to check with your municipality or county first.
Tip: HOAs may also have restrictions against raising chickens. 
How Much Do Chickens Cost?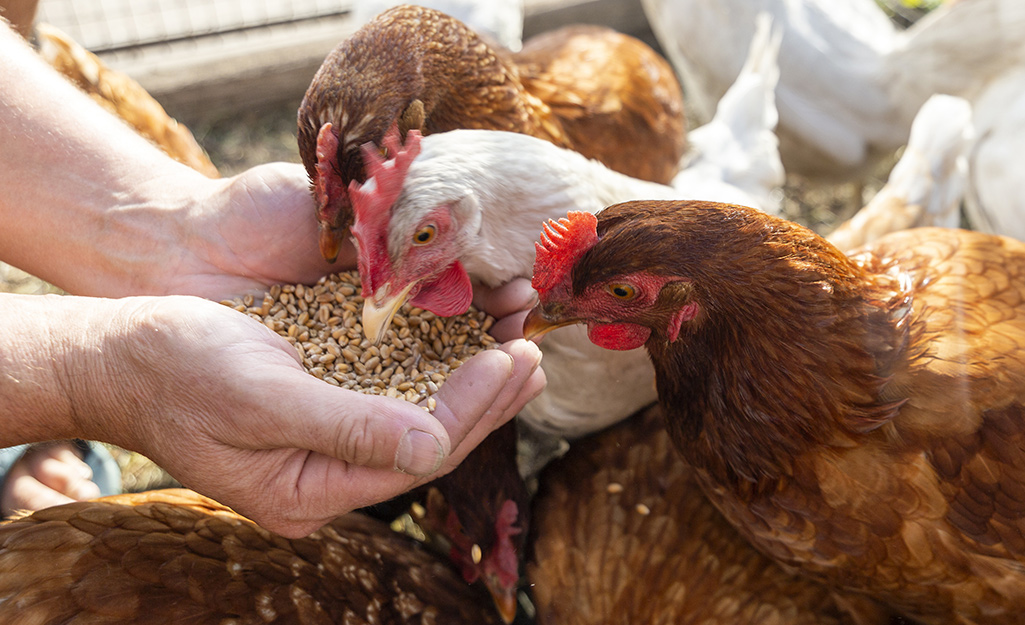 When asking how much do chickens cost, consider both the initial investment and the ongoing cost of raising chickens. To start raising chickens, you'll have the cost of the chickens themselves, the coop, a feeder and waterer, feed storage and fencing for protecting chickens from predators. For the ongoing care, you'll need to pay for bedding, feed and nutritional supplements. Fortunately, the monthly cost of caring for chickens is relatively low.
Price of Chickens: The price of individual chickens can vary based on their breed and age. Chicks or "day-olds" are less expensive than pullets (adolescents) or adult chickens. For common breeds, day-old chicks cost about $2 to $5 each, while rarer breeds can be upwards of $30 each. Pullets that have already been partially reared usually cost $10 to $20 more than they would as chicks. Adult egg-laying chickens will cost only slightly more than pullets, but they're not typically sold by hatcheries. 
Price of Coop: Your largest initial cost will be for the chicken coop and run. Either purchase a premade coop or build one yourself. Depending on its size and features, a premade coop can cost anywhere from $200 to $2000. A DIY chicken coop will usually be cheaper, depending on the materials you use, but will require time and expertise for it to be a safe and durable structure. The best chicken coops for a healthy flock will also need an attached and fully enclosed outdoor run. If you purchase day-old chicks, you'll also need a brooder with a heat lamp until they're at least 10 weeks old.
Price of Feed: Chicken feed will be the largest portion of your ongoing care costs. For the first 10 weeks, one chick will eat approximately 1 pound of feed per week. An older chicken will eat approximately 1 1/2 pounds of feed per week. That means a group of three adult hens will eat around 234 pounds of feed in a year. With layer pellets for adult chickens costing anywhere from $0.25 per pound to $1.50 per pound, you could be spending just over $58 and up to $351 per year to feed three chickens. This equates to about $5 to $30 per month, depending on the quality of feed. You can spend less on feed by allowing your chickens to be fully or partially free-range, feeding them safe kitchen scraps and buying feed in bulk.
How Many Chickens Do You Need?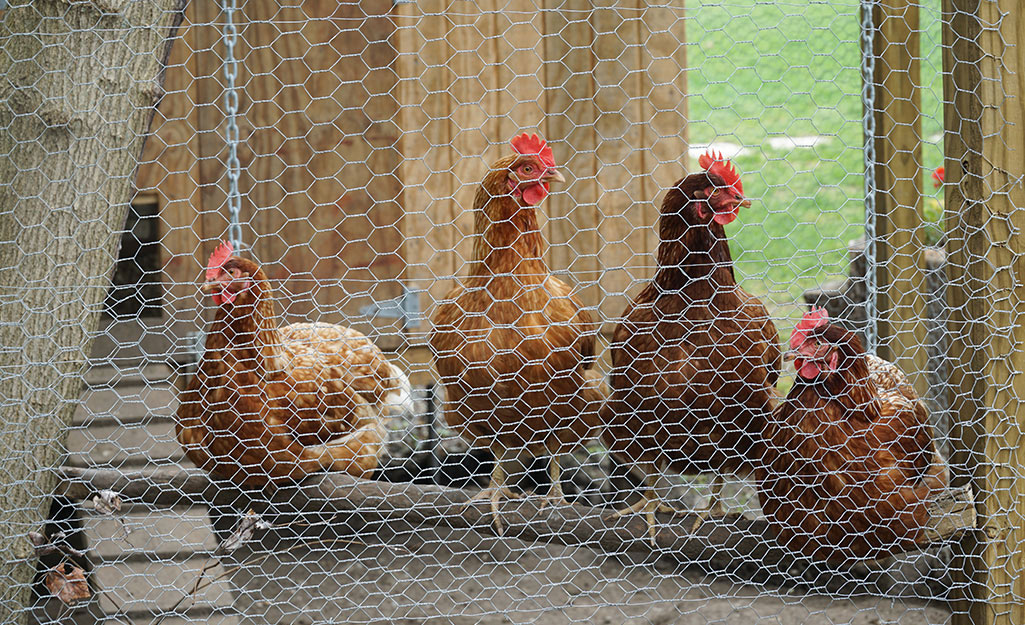 Since chickens are social animals, flocks should have a minimum of three chickens. The total number of chickens you add to your yard will be determined by the amount of space you have and the number of chickens allowed by your local ordinances. In general, one medium-size chicken needs at least 3 square feet of floor space inside the coop and at least 8  to 10 square feet of outdoor space.
Pick the Right Breed for Your Needs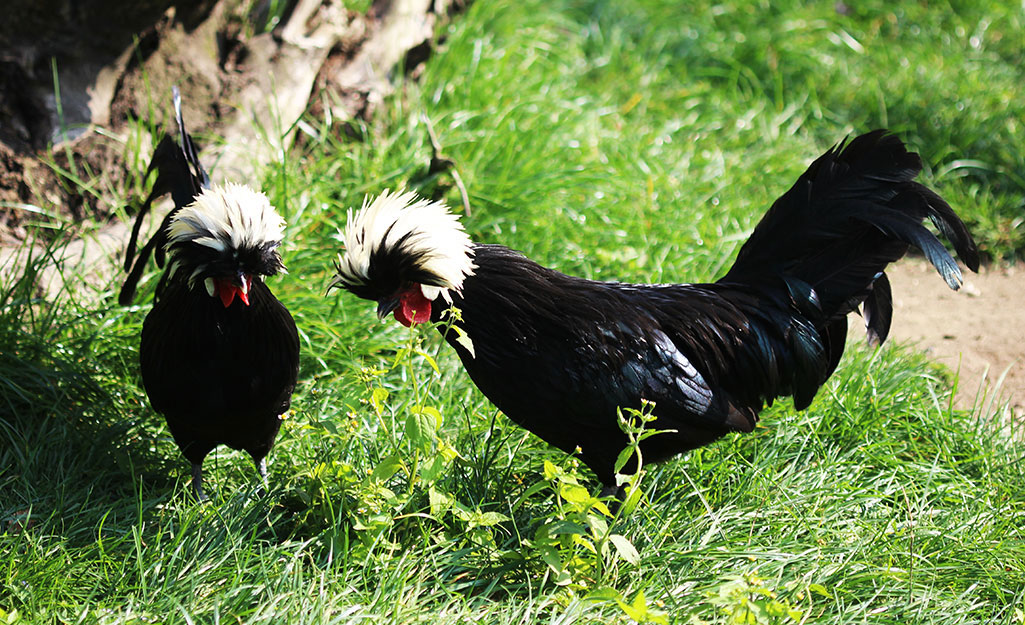 When learning how to raise a chicken for eggs, the first step is choosing the right chicken breed. There are hundreds of domesticated chicken breeds in existence, and some produce eggs more frequently than others. Additionally, some breeds are better suited to urban areas, while others do better in colder climates. Picking the right breed that matches your climate, living area and personal preference is important. Here are some things to consider when choosing a chicken breed:
Temperament
Adaptability to confinement
Noise level
Egg production
Color of eggs 
When researching chicken breeds, look at chicken hatchery websites. They will have vital information about the chickens that will help you with your decision. Hatchery sites have photos of what the egg, baby chicks and adult chicken will look like. Also, there's basic information about the breed and whether it's a heat-tolerant or cold-hardy breed.
If you're a beginner learning how to raise a chicken for eggs, consider these hardy and friendly breeds:
Rhode Island Red hens: Comfortable in both hot and cold climates, this robust breed is easy to take care of and can lay 250 to 300 brown eggs a year. Rhode Island Red hens are considered "dual purpose" birds, so they can be raised for eggs or meat. 
Australorp hens: These hens prefer cool climates and don't fare well in the heat. They're also dual purpose and can lay upwards of 250 light brown eggs a year. Their docile personalities make them a great choice for mixed flocks and backyard flocks.
Buff Orpington hens: This friendly breed is perfect for homes with children and those who want chickens as both pets and a source of eggs. They do well in cold climates and can lay up to 280 eggs in a year, although they're known to be broody.
Plymouth Rock hens: Known for their beautiful black and white striped feathers, these chickens are both striking in appearance and personality. They're great with children and will bond with their caretakers, often following them around the yard. They lay about 200 light to medium-brown eggs a year.
Easter Egger hens: As their name suggests, Easter Egger hens lay 4 large eggs a week (a little over 200 a year) in a variety of pastel Easter egg colors, from baby blues to olive greens. One hen will only lay a single color of egg for the entirety of her life, so if you want a rainbow assortment, have several Easter Eggers in your flock. 
Jersey Giant hens: These gentle giants require a little more food than the other breeds in this list and can take some time to grow large enough for meat. However, they have a calm temperament and get along well with both humans and other breeds of chickens. Plus, their size repels some predators, such as hawks and outdoor pets. They lay around 150 to 200 extra-large eggs a year. 
What Age Chicken Should You Get?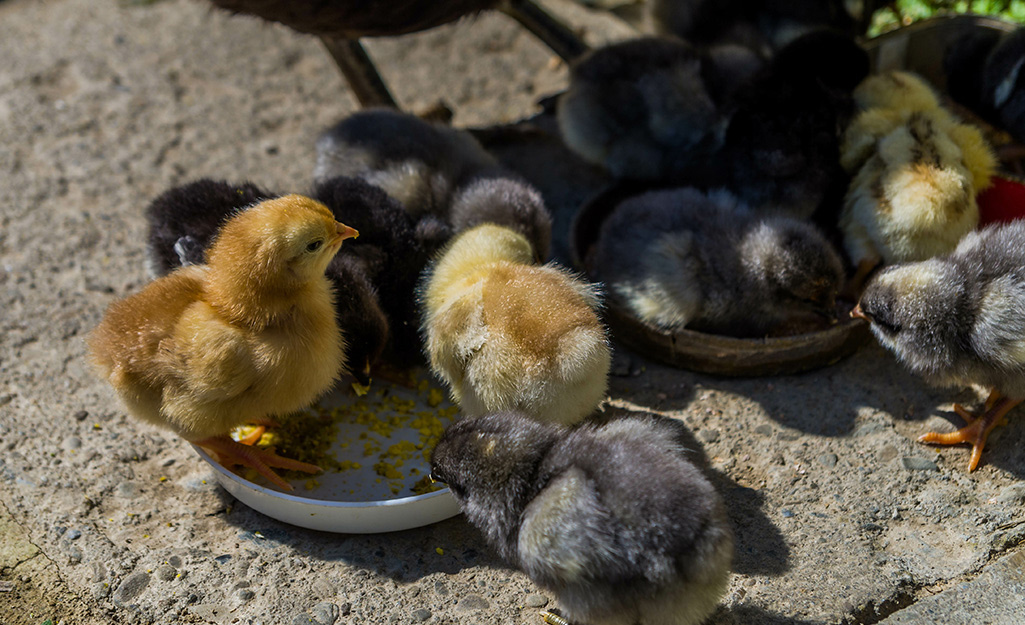 Most people start out with chicks versus pullets. Chicks are also known as "day-olds" and pullets are young hens (usually less than a year old) that haven't started laying eggs yet. Some farms may have adult egg-laying chickens available for purchase, or you can adopt an adult hen from a rescue.
Day-Old Chicks
Pros:
Less expensive: Day-olds are a fraction of the cost of an adult chicken.
Cute: They're fuzzy and small, which will delight both children and adults.
Flock harmony: Raising several chicks together allows them to naturally bond as a flock.
Variety: There's usually a better selection of day-olds available for purchase.
Cons:
Need more equipment: Day-olds need a brooding area and to be kept warm under a special heat lamp for 10 weeks or so.
Fragile: You will need to carefully maintain the brooding area because day-olds are delicate and susceptible to a number of different health conditions and ailments. There's a good chance that not all your chicks will live to adulthood. 
Gender: Most people want hens so they can eventually have eggs. Although day-olds are sorted by gender at the hatchery, there's a chance you may end up with a rooster (male chicken). This may not be a big deal for some, but some municipalities will not allow roosters. Also, it's recommended that you only have one rooster for every 10 hens, but this can vary depending on the breed of chicken. 
Longer wait for eggs: Chicks won't be ready to start laying for 20 to 24 weeks.
Pullets:
Pros:
Gender: It's easier to determine the gender of an older chicken.
Eggs: Pullets are ready to lay eggs, so there's no waiting for maturity.
Lower risk: Pullets are not as fragile as chicks and easier to care for on day one. You likely won't have to worry about one of them dying unexpectedly from disease or congenital problems.
Cons:
More expensive: Pullets cost about three times the price of a chick, on average.
Flock harmony: The term "pecking order" refers to the dominance order with chickens (mostly hens). Unless pullets were raised together as chicks, bringing them into a new location can prove to be difficult. Chickens will naturally sort themselves out (usually through fighting), but it can result in an injured chicken or two. 
There are also options for adopting a chicken through a poultry rescue. Depending on what your plans are for your chickens (to have eggs or as a pet) you generally have the same pros and cons as you would with a pullet. Be sure to ask plenty of questions about the chicken's background before you add it to your flock.
Picking a Chicken Coop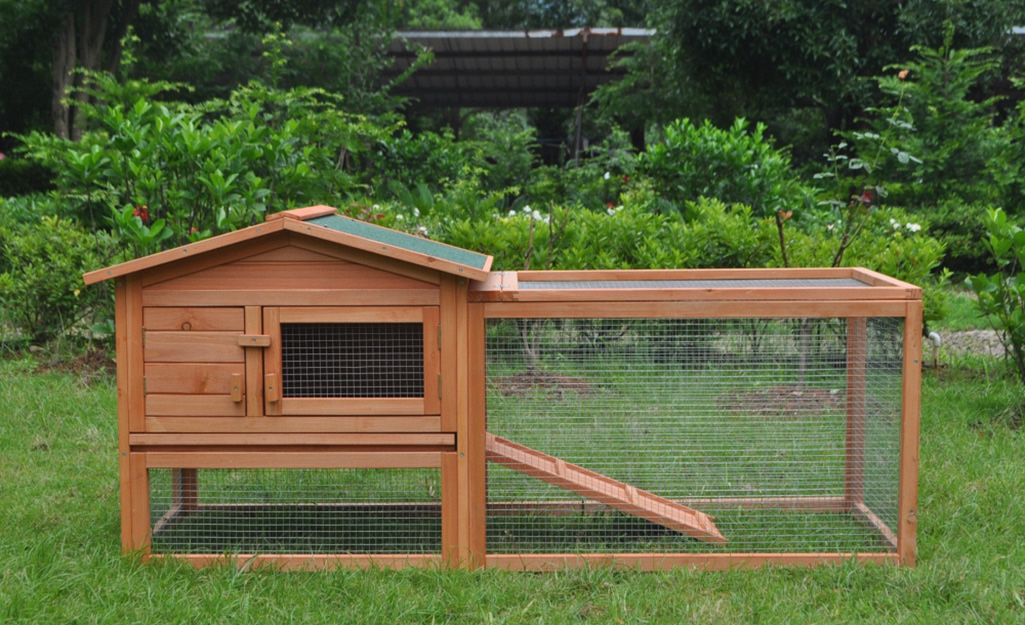 The chicken coop is where your chickens will sleep and lay eggs. It needs to be a secure structure that you can close and lock at night to keep the chickens safe. Coops are available in many different sizes and styles. Make sure the coop is large enough to accommodate the flock you eventually plan on having. It's much easier to build or purchase a coop that's big enough the first time around, rather than adding onto the coop to fit more birds later. It's recommended that one medium-sized chicken needs 3-square feet of floor space inside the coop. Extra space is always a benefit, since chickens that are living too closely together may get stressed and pick fights with one another.
Coops have all kinds of designs, but it's important that the one you choose has all the basic necessities:
Four walls fully covered by a roof.
Proper ventilation that is screened to prevent entrance to pests and predators.
Nesting boxes for the chickens to lay eggs (one box for two hens).
Elevated roosts and perches for the chickens to sleep on at night. 
A door with a latch.
Heater and light for cold climates, when raising chickens in the winter or when raising day-olds.
How Much Yard and Run Do Chickens Need?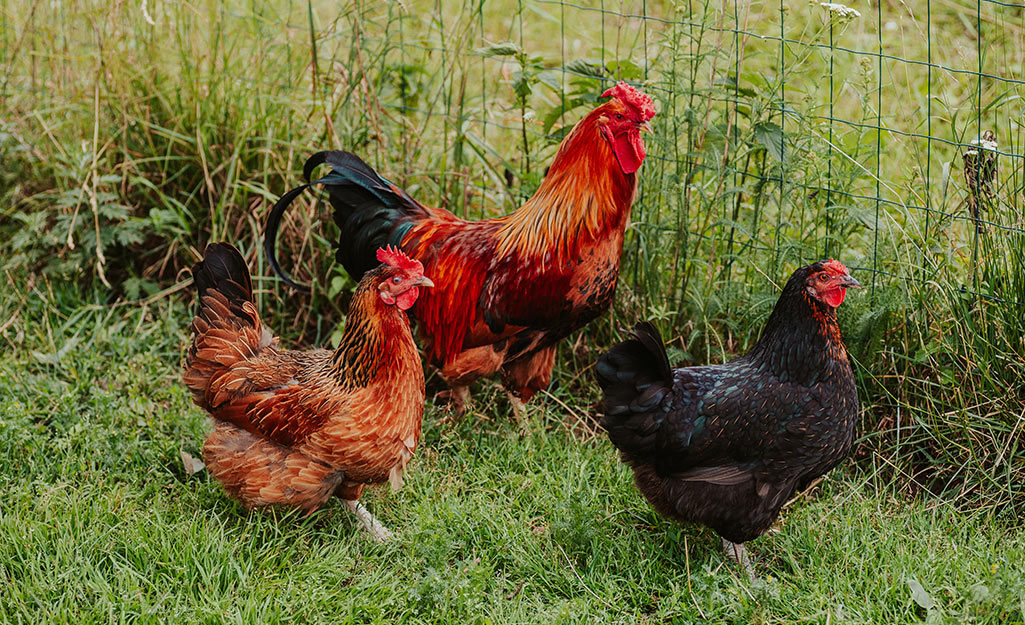 Each chicken will need 8 to 10 square feet of outdoor space at a minimum. If your flock has three chickens, you will need at least 24 to 30 square feet of run or free-range yard space. The more space your chickens have, the healthier they'll be. Overcrowding can lead to feather picking (when one bird pecks or pulls at the feathers of another) and disease. 
Chickens are also susceptible to wild predators and even other pets. It's best to have an enclosed run or chicken cage to keep them safe from hawks, foxes, snakes, stray cats and outdoor pets, among other common predators. Run fencing should be buried at least 6 inches below the ground to protect against digging predators. If you let them free range in your yard, they need to be supervised. 
Within the run, they will need a place for a dust bath. Chickens use fine sand or dirt to help keep their feathers free of mites and other parasites.
Chicken Roosting and Nesting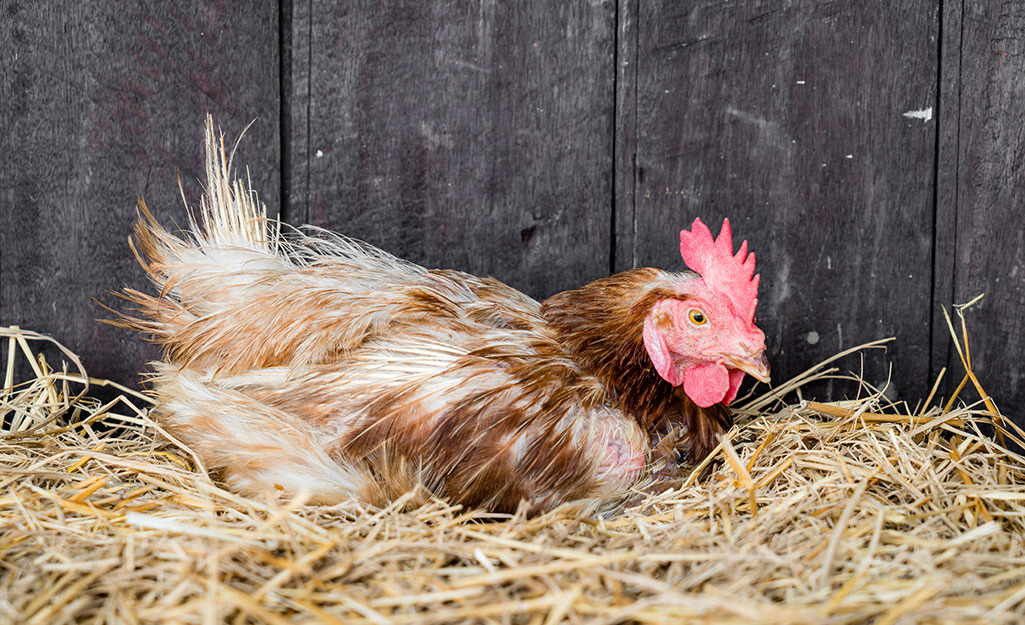 Chickens do not sleep on their nests. Instead, they roost on bars or boards. Wood is the best material for roosting bars versus plastic or metal. Wood won't get cold in the winter or slippery when it's wet. Old branches or even 2 x 4 boards will work as roosting bars. Place roosting bars at least 2 feet above the floor, 18 inches from the nearest parallel wall and 18 inches apart from one another. The dominant chicken will roost on the highest bar.
Chickens will lay eggs in a dark, secluded space. A nesting box will provide hens a place to lay and keep your hens from laying eggs in the corners of the coop or in a random place in your yard or run. Wood boxes or repurposed plastic buckets can be used as a nesting box as long as they are no larger than 12 square feet. The goal is to allow enough space for only one chicken, so they don't share nests.
Line the nesting boxes with soft bedding materials such as pine shavings, hay and straw litter blends or even manufactured nesting pads.
What to Feed Chickens?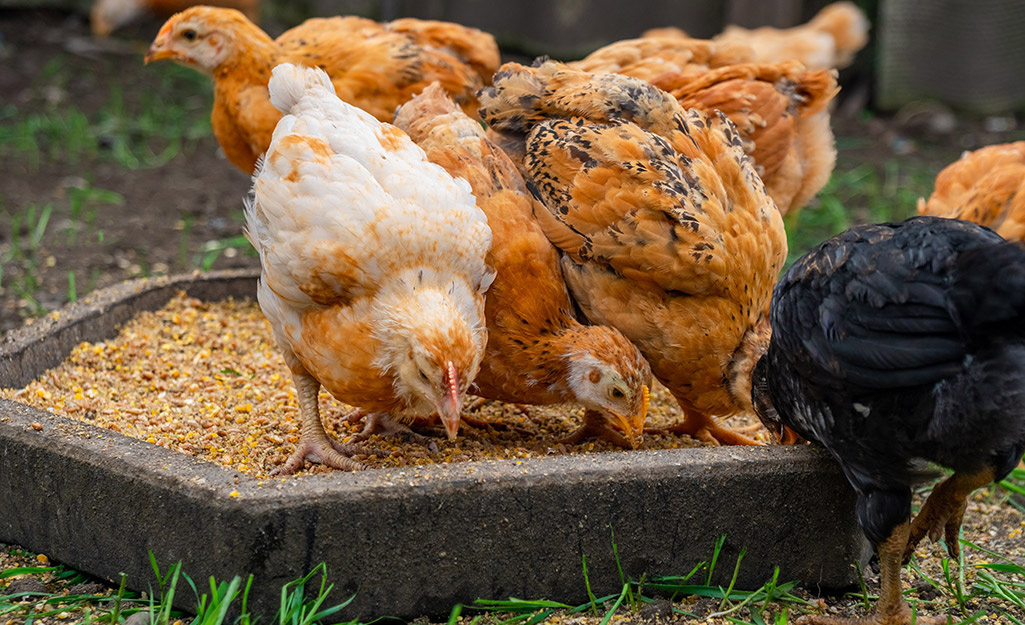 Most backyard chickens eat a balanced poultry feed. There are different feed types depending on the age of the chicken. They're labeled as chick, grower and layer. They come in a pelleted or crumble form. The type you use will depend on your flock's personal preference. 
Chickens also need supplemental grit and calcium. Grit consists of small stones and rocks. Chickens consume the grit and store it in their gizzards to help them digest what they eat. Chickens that free-range will usually find enough grit for their needs. If your chickens are in a run, you will need to provide commercially manufactured grit for them. 
Hens also need supplemental calcium to lay eggs with strong eggshells. You can purchase crushed oyster shells to feed them at first, then save the eggshells your flock produces. Crush the eggshells after you use them and feed them back to your hens. 
Other kitchen scraps you can feed chickens as treats include:
Corn, cooked or raw.
Most vegetables, cooked or raw; a head of cabbage can be both a snack and fun enrichment toy. 
Most fruits, including grapes, berries, apples and watermelon rinds.
Cooked meats cut into small pieces.
Make sure your chickens have access to cool fresh water all day long. During warm weather, you may need to provide water several times a day.
Tip: If you run out of chicken feed, you can feed your chickens chopped up hardboiled eggs for a day or two until you get your regular feed again.
Raising Chickens for Eggs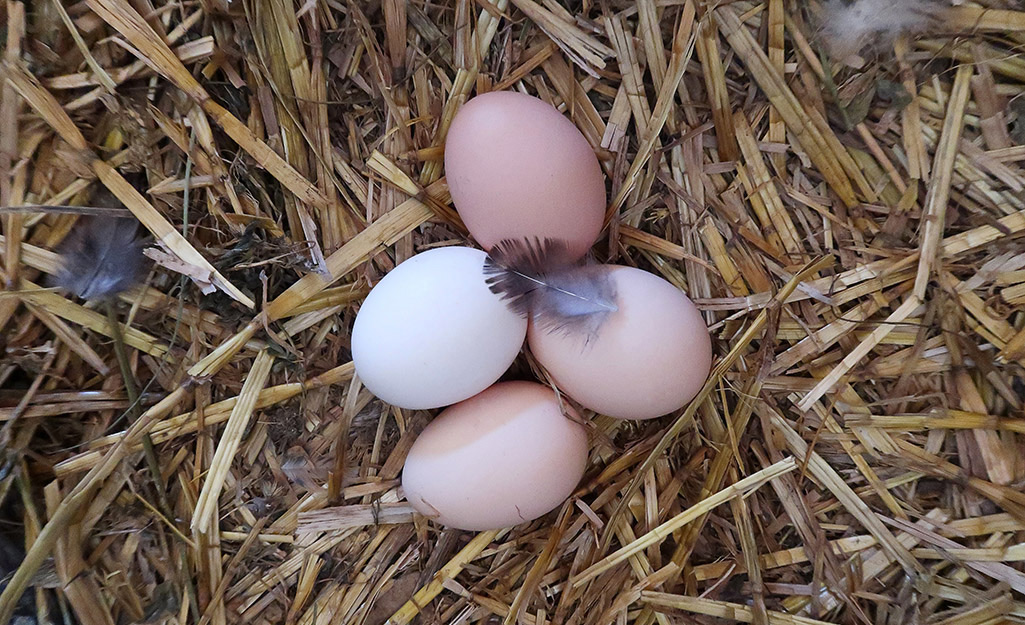 Now that you know the basics of how to raise chickens, encouraging your chickens to lay eggs regularly should come easily. Once your hens have plenty of food, water and a place to nest, they are ready to lay eggs. Egg laying is dependent on the length of daylight. Most hens will lay one egg per day as long as they receive 12 hours of daylight. As the days grow shorter in the fall and winter months, egg production will naturally decrease. 
When the hens start laying eggs, collect the eggs daily. In the spring and summer, when they lay the most eggs, you may need to check and collect eggs twice a day. Wipe the gathered eggs with a soft cloth, but do not wash them unless you need to, such as if they have feces on them. Chicken eggs have a protective "bloom" on the outside of the shell that protects them from external bacteria. When you leave the bloom on the egg, you won't have to refrigerate them for a week or longer. Many chicken owners enjoy displaying their eggs in decorative bowls or in an egg skelter before eating them. 
If you choose to wash the eggs, they must be refrigerated afterward. When washing them, rinse the eggs in 90-degree Fahrenheit water. Dry them with a soft cloth, then store them in the refrigerator. If the eggs are very dirty or have chicken feces on them, use a sanitizer made from a ratio of 1/2 ounce of chlorine to 1 gallon of warm water. Rinse the eggs with the solution by rolling them in a colander. Allow the eggs to air dry before refrigeration. 
At what age do chickens start laying eggs? When chickens start laying eggs depends on the breed, but most will start laying eggs by around 6 months old. If they mature in winter, though, they may not start laying eggs until spring. Patience is key when raising chickens for eggs, so don't be discouraged if your young chickens aren't laying yet. 
If your chickens are of age and it's the right time of year, but still aren't laying, they may be molting, need more calcium in their diet or are acting broody. They may also be too stressed or have internal parasites. When in doubt, find and speak with a poultry veterinarian. 
Tip: Encourage your hens to lay eggs in the nesting boxes by placing a fake egg in them. Don't use a real egg, or you may accidentally encourage them to eat their own eggs.
Raising Chickens in the Winter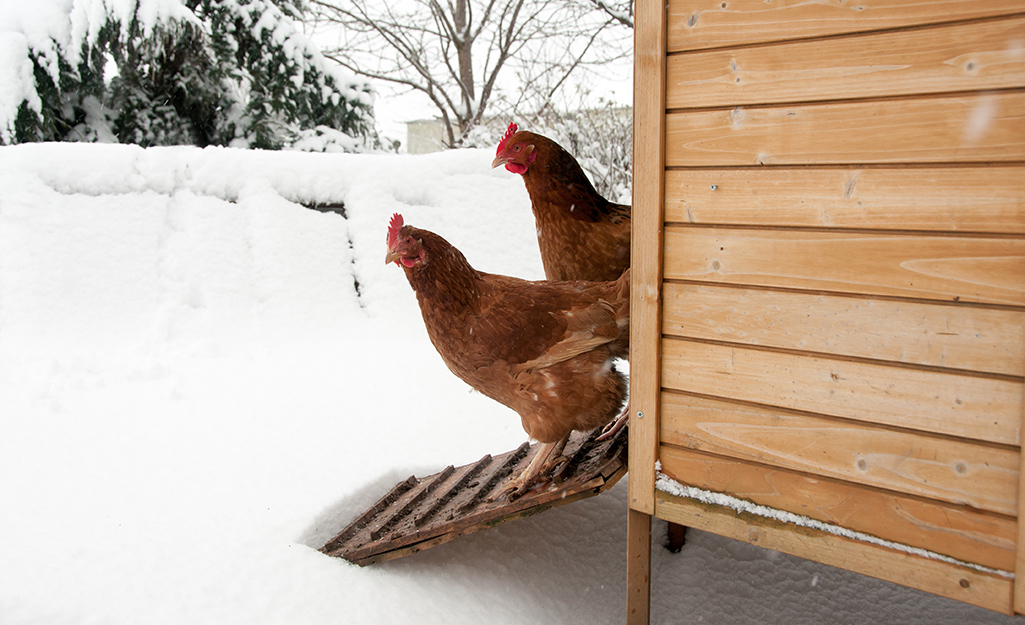 Your birds will need just a little extra care during the winter months. Here are tips for raising chickens in the winter:
Unless you're raising chicks, don't add heat lamps to your coop. If you picked an appropriate breed for your area's climate, adult chickens have enough plumage to stay warm on their own.
Make sure the coop isn't drafty, without blocking important ventilation.
Keep the coop dry by cleaning up any wet spots and replacing wet bedding frequently.
Collect eggs more frequently to prevent them from freezing and cracking.
Give your chickens more feed. They don't need a special type of feed, but they will need to eat more. Since they're spending more time in their coop, they may need more supplemental grit as well.
Make sure their water and feed doesn't freeze. Consider a heated waterer if needed. 
Give the chickens outdoor time. They can tolerate snow and cold well and will enjoy the exercise and enrichment from getting to explore. 
Add more things for the chickens to enjoy in the coop, such as new roosting spots, logs and branches for scratching or special treats.
Protecting Chickens from Predators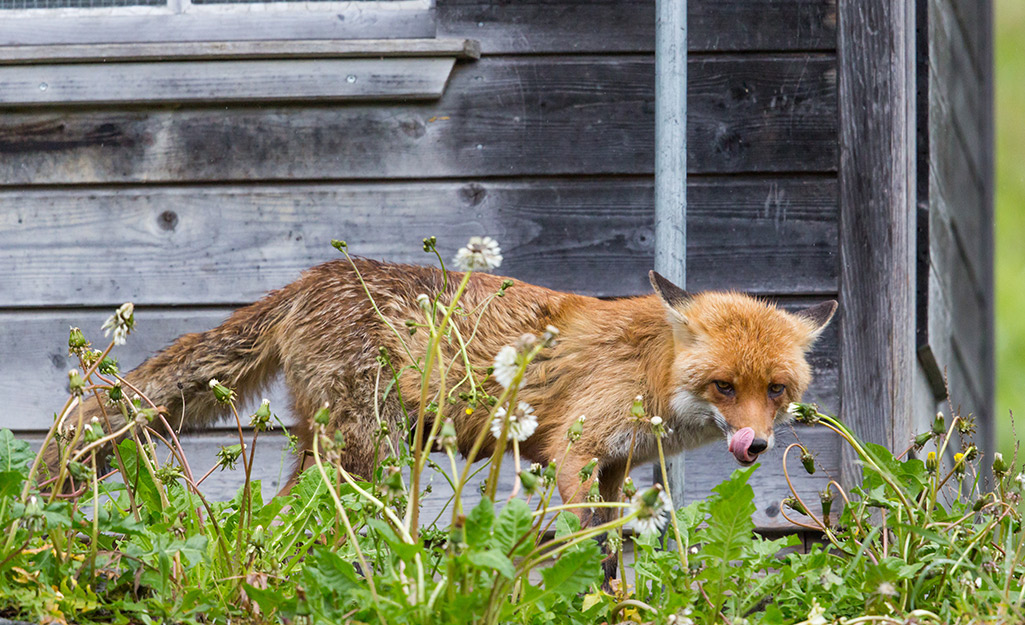 Chickens are healthiest and happiest when they have plenty of outdoor space to roam. However, letting them get good outdoor time means you'll have to take measures to protect them. Having a fully enclosed run is the first step, but here are some other tips for protecting chickens from predators:
Learn about the natural predators in your area, so you know whether they need protection from flying predators like hawks and owls or from digging predators like foxes and coyotes. You should also be familiar with your neighbor's pets, since free-roaming pet dogs and cats can also be a threat to your flock.
Use a fine hardware mesh for your run to keep predators out. Chicken wire is designed to keep chickens in but not to keep predators out.
Bury the bottom of the run's fencing at least 6 inches underground. Burying it several feet underground is even better protection. You can also choose a run that has both an enclosed bottom and top.
Raise the chicken coop off the ground to keep out rats, skunks and snakes that will try to steal eggs.
Cut down and remove as much brush and natural cover as possible around the coop and run. More visibility means you have a better view of your flock and predators are less likely to stalk around the coop.
Train your chickens to return to the coop at night. Then lock the door behind them until you can supervise them again in the morning.
If you deal with night-roaming predators like raccoons, consider installing motion-activated lights in your yard.
If you can have one as part of your flock, roosters make great bodyguards for the rest of the flock.
Learning how to raise chickens is a wonderful way to get fresh eggs and get into animal husbandry. They also make a great addition to your family of pets. Keep them safe and well-cared for and you'll enjoy your flock for many years to come. Looking for chicken accessories and supplies to help you get started? The Home Depot delivers online orders when and where you need them.
Explore More on homedepot.com