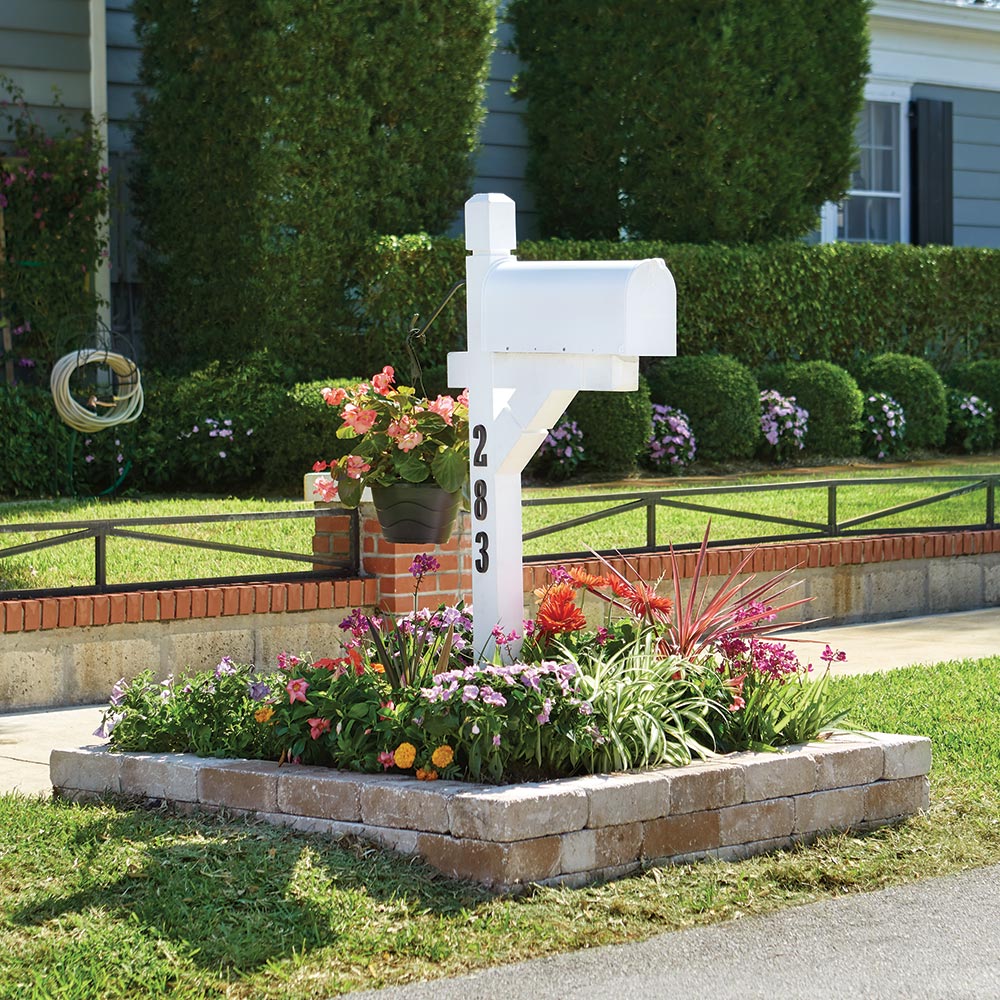 Even if you don't have space for a garden, your mailbox is a great place to add flowers, shrubs or vines.
Beginners can't go wrong. With a mailbox bed, it's easy to remove weeds and improve the soil, and many plants are nearly carefree. Seasoned green thumbs can plant old favorites or experiment with something new. If you prefer, plant a large mailbox garden to increase your curb appeal and cut down on lawn maintenance.
Start by picking the right plants. If your spot isn't close to a hose or sprinklers, consider drought-tolerant plants. Then define the area by removing the grass and adding a border of pavers, rocks or bricks to help retain the soil.
Now comes the fun part: selecting the plants. For best results, let your garden complement the style of your home.
Formal Style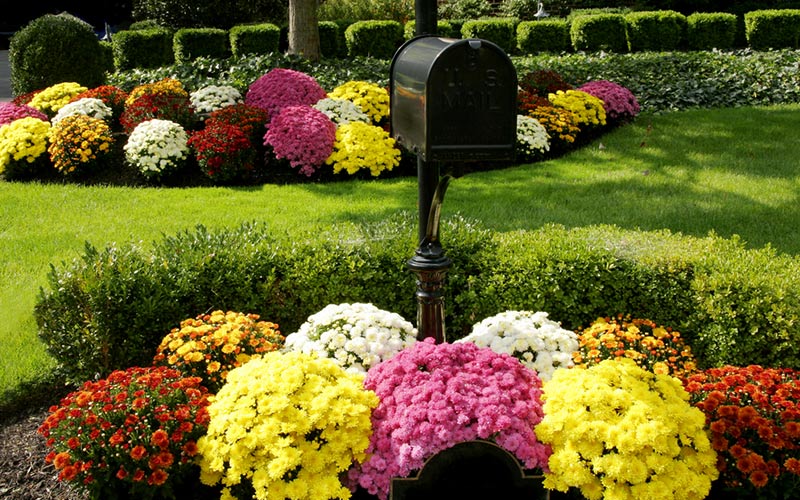 A formal mailbox garden is a good choice for a formal or traditional home with symmetrical windows, columns and other architectural elements. Echo the symmetry by repeating plant colors, shapes, and sizes. These mounded mums, backed by neatly clipped evergreen shrubs, provide bright color through the fall and can be replaced in the spring with Knock Out roses or masses of annuals in similar colors. The boxwoods are easy to prune into curved or straight hedges and borders.
This garden was made by removing the turf in a semi-circular shape. A thick layer of mulch helps keep the soil in place when you water.
Informal Style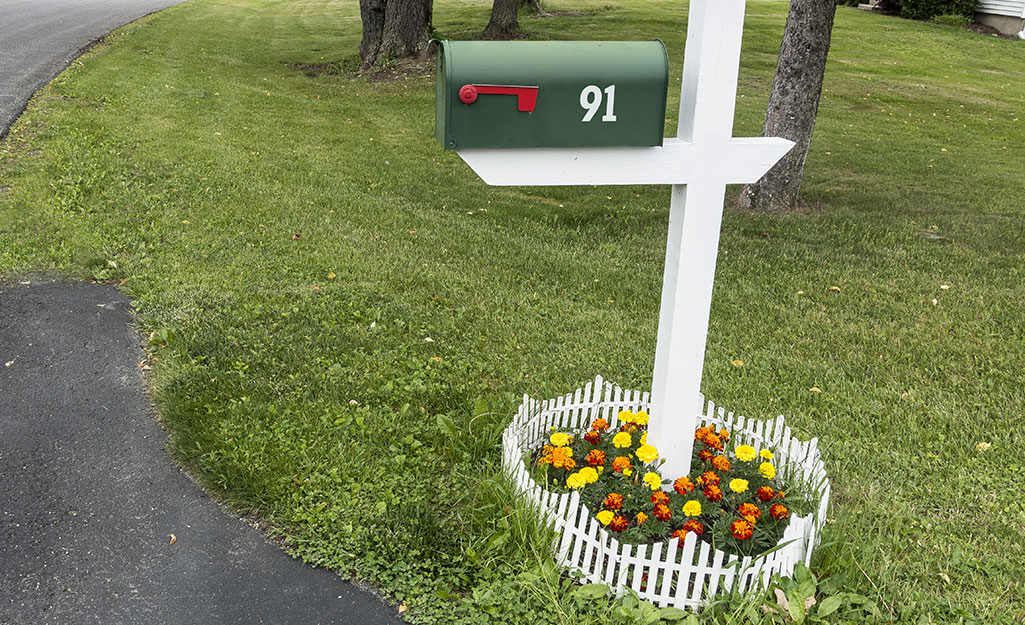 For an informal mailbox garden, go with plants that pack a punch of color and personality, like this combination of orange and yellow kalanchoes, hot pink petunias and sunny marigolds. All you need to care for this small area is a watering can and some slow-release fertilizer.
The taller plants are used near the mailbox post, and the shorter ones are planted in front, so they're not overshadowed.
Vincas, celosia, dwarf zinnias and begonias would also suit a sunny spot. For shade, try coleus, impatiens, balsam and lobelia, or use hostas for their handsome foliage. In the fall, replace the summer annuals with pansies and ornamental kales.
Cottage Style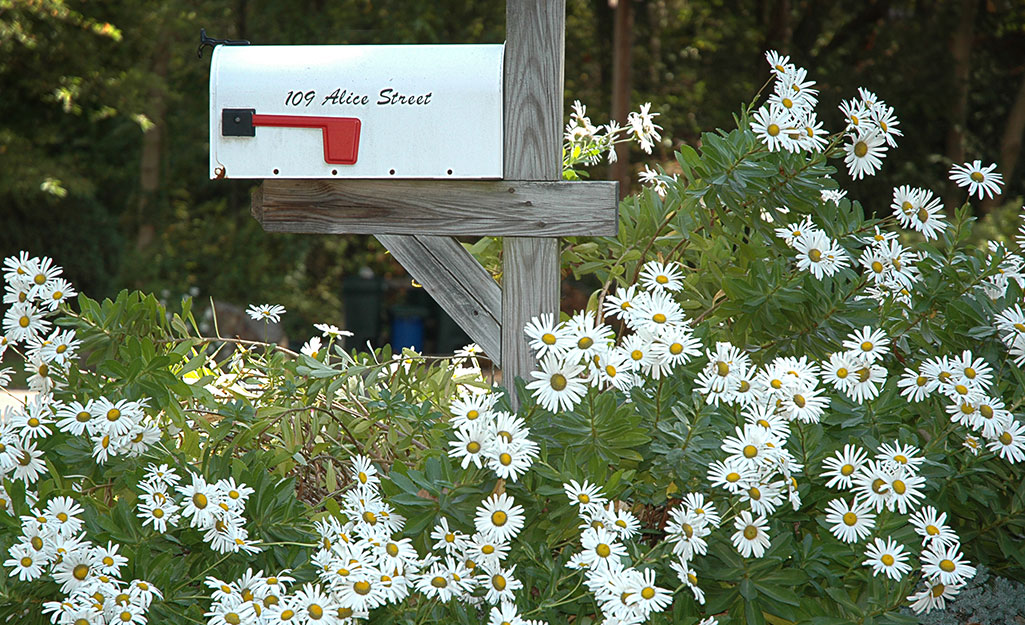 A combination of annuals and perennials makes a lovely cottage-style mailbox garden. This bed uses silvery-gray Lamb's-ears, which produce spikes of lavender blooms, along with gold daylilies, pink Torenia and low-growing purple petunias and calibrachoa. A deep purple clematis climbs the mailbox post.
Get a similar look by mixing plants of different heights, colors and textures. You can also use natives like California poppies; ornamental grasses; basil, sage, and other herbs and edibles; and fragrant flowers like roses, heliotropes, lavender, phlox, dianthus and sweet peas. For a fresh take on a colorful climber, switch out the spring or summer-blooming clematis for a Carolina jessamine, autumn clematis, morning glory, moonflower vine or Lonicera species (honeysuckle).
While you're at it, take a look at your mailbox to see if it needs it a fresh coat of paint, a new post or a set of numbers to identify your house.
Annuals for a Mailbox Garden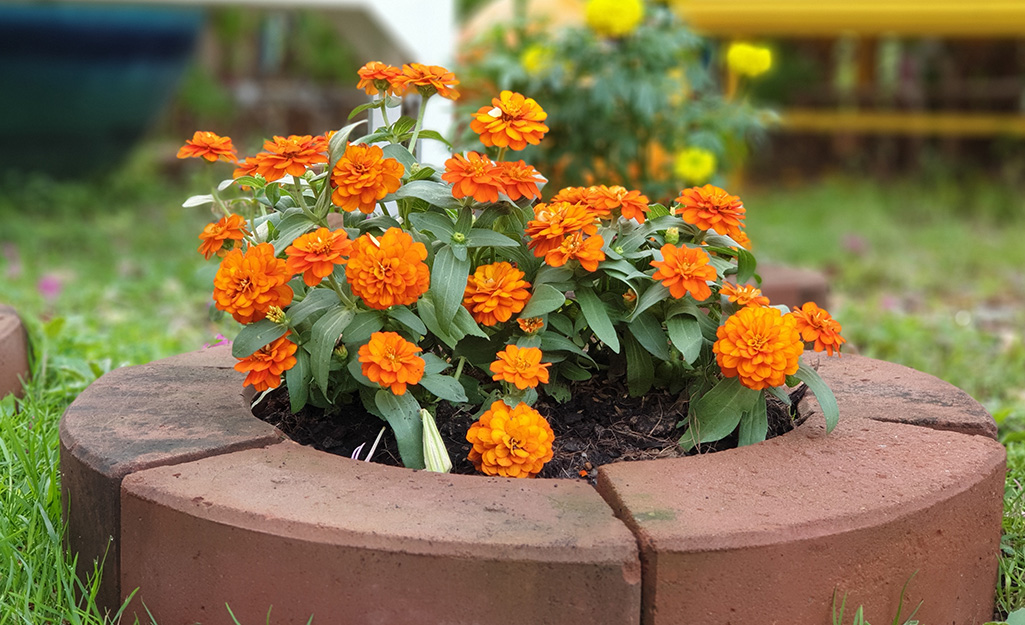 Switch out annuals for seasonal interest and color. If your mailbox garden is in a shady area, read plant tags and choose annuals that do well in partial or full shade. In full sun, you can choose hardy petunias and marigolds in spring and summer, then switch them out for mums and pansies in fall.  
Pansies
Petunias
Calibrachoa
Marigolds
Mums
Perennials for a Mailbox Garden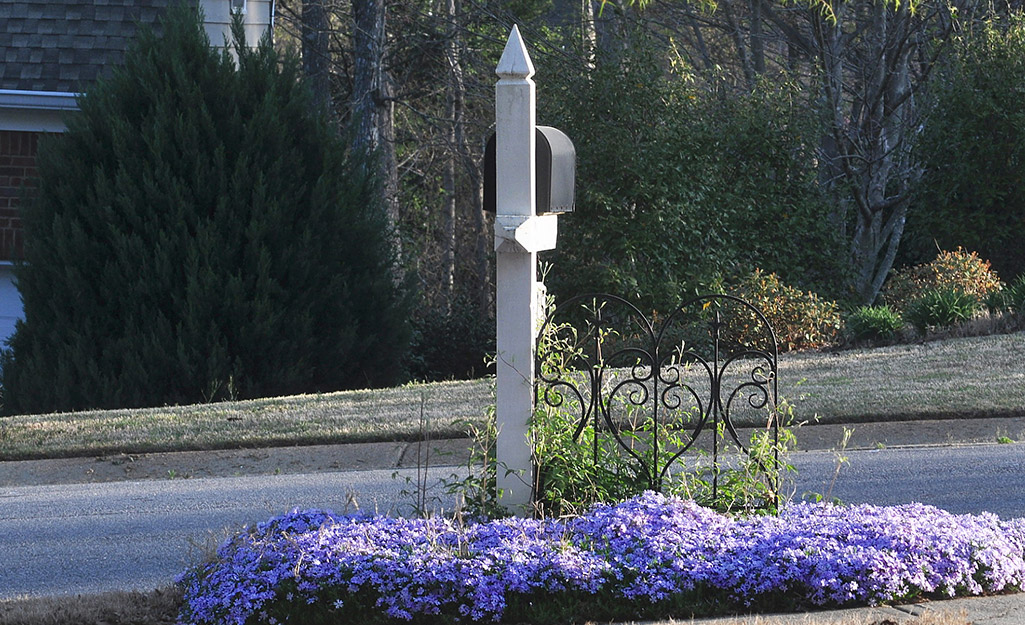 For a mailbox garden with pizzazz, plant these low-maintenance perennials. They're heat-tolerant and resist drought.
Clematis 
Sedum
Coreopsis (Tickseed) 
Coneflower
Black-Eyed Susan
Rosemary
Ornamental grasses
Daylily
Dress up your front yard with a mailbox garden. With some hardy plants and mulch, your mailbox garden will deliver colorful blooms, perhaps even some flowers you can cut and bring inside.
Creating a mailbox garden can be as elaborate or as simple as your creativity allows. Shop The Home Depot for craft supplies and flowers to create one-of-a-kind gifts for mom. Buy what you need online and pick them up at your local store. 
Explore More on homedepot.com