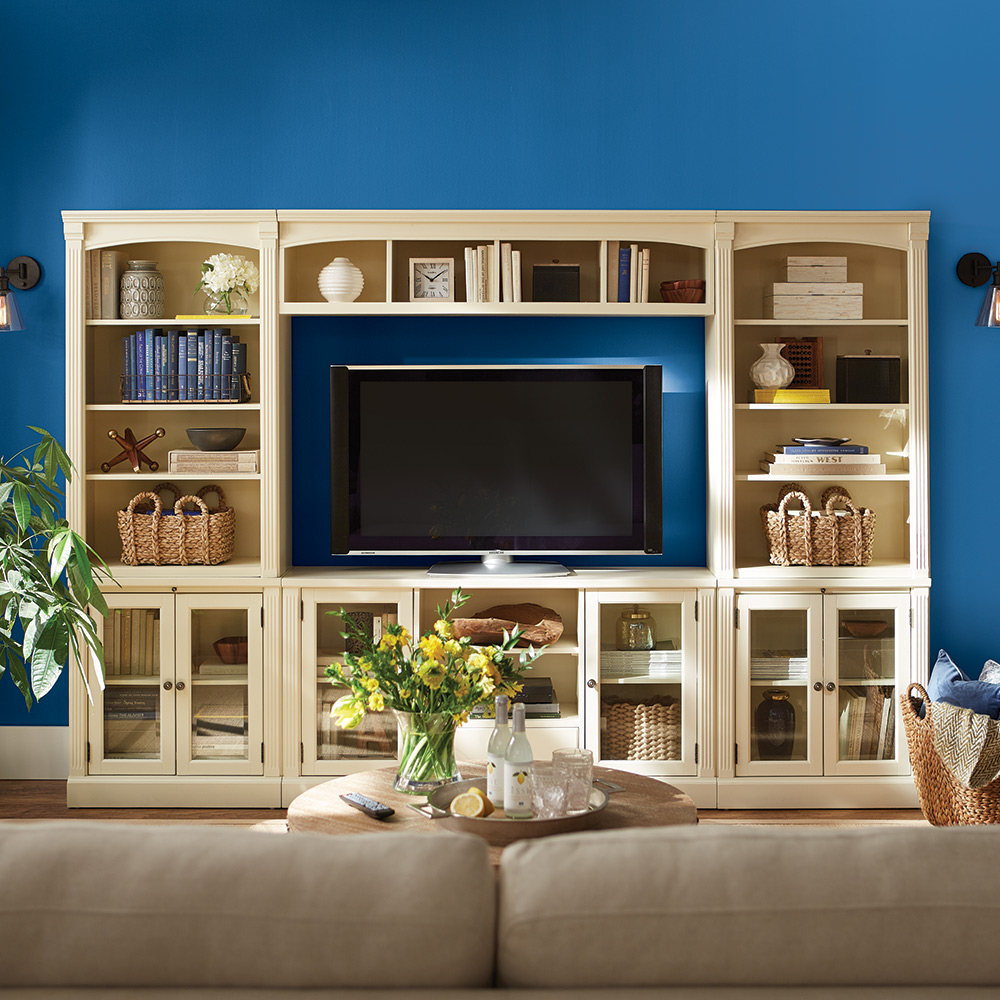 Combining beauty and storage, modern media cabinets are now being used in decor for more than simply a television stand. Here are three ways to use a media center as a stylish standout, with or without a TV.
Media Center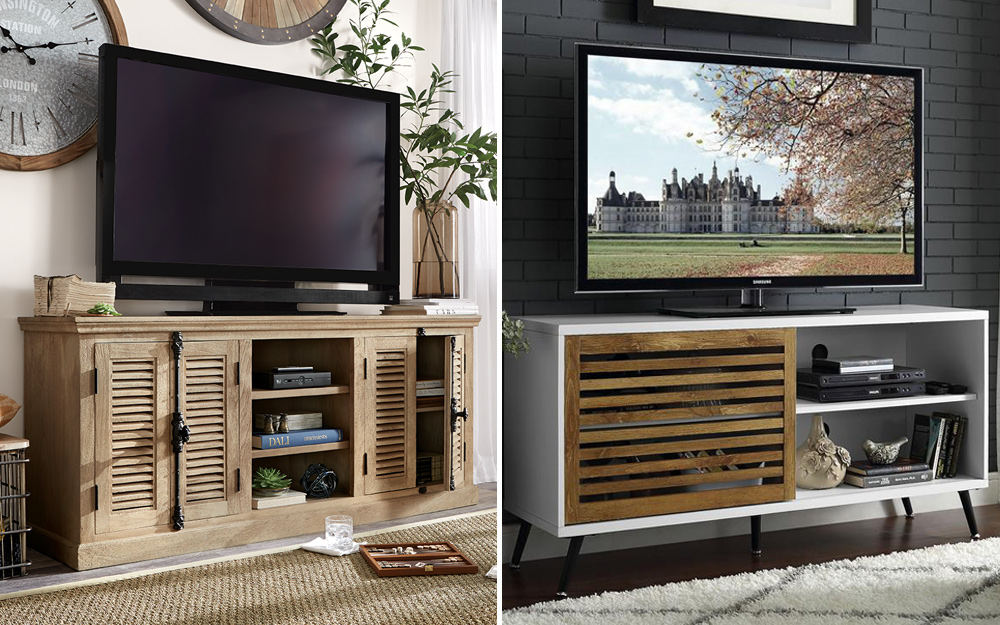 Used to house your entertainment collection, a media center should place the focus on the TV. Test your TV placement for optimal viewing at points around the room and adjust to minimize glare. To keep the look from being too stark, you can add a couple of decorative items to the top surface, but try not to crowd it, so you can keep the sight lines clear and prevent interference with the remote beam. 
Solid doors, especially barn doors, are a great alternative to open shelves in a media center. Doors can be left open for access, then quickly and neatly hide the tangle of electronic components, DVDs and controllers when they aren't in use. 
Exposed shelves can still be kept uncluttered by using decorative boxes to organize remotes, games, movies, batteries and other small items that typically collect around the media center.
Library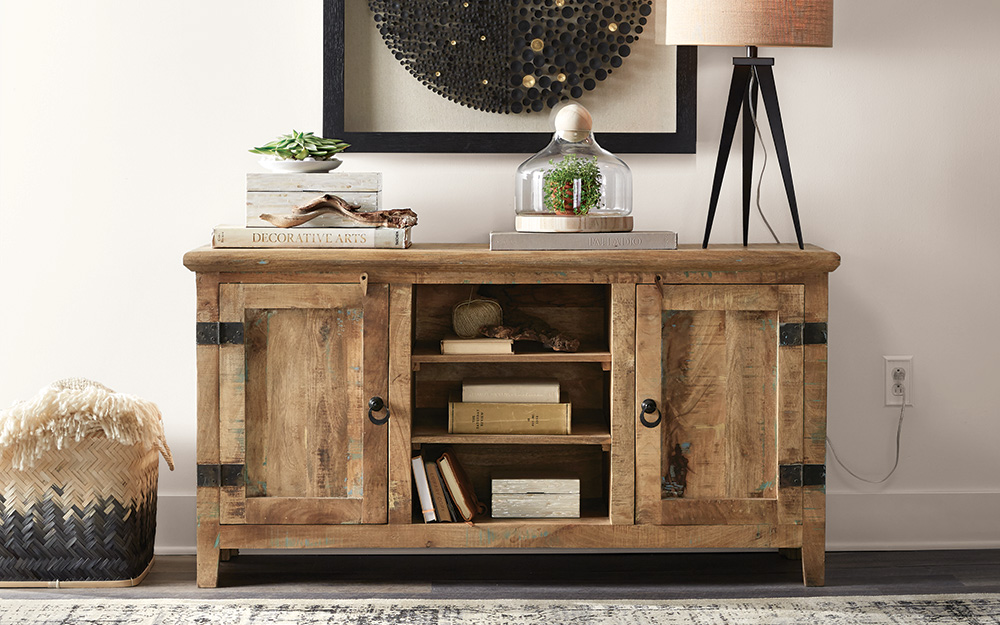 If you prefer binge-reading over binge-watching, a media cabinet functions as an elegant library. Doors with glass insets or completely open shelves make excellent showcases for your book collection. 
While most book-lovers instinctively organize alphabetically, some alternative organization schemes can add visual interest. For example, try grouping books of similar colors together to create a color-blocked library. You can also experiment with placement; rather than arrange all the books vertically, try some horizontal stacks to break up the pattern and possibly save space. Hard covers with display-worthy spines create a striking appearance, but your well-worn paperbacks and much-loved children's books do not need to be left out of the decor. Simply place them in attractive baskets along lower shelves where they are in easy reach, but not in the most prominent sight line.
Gallery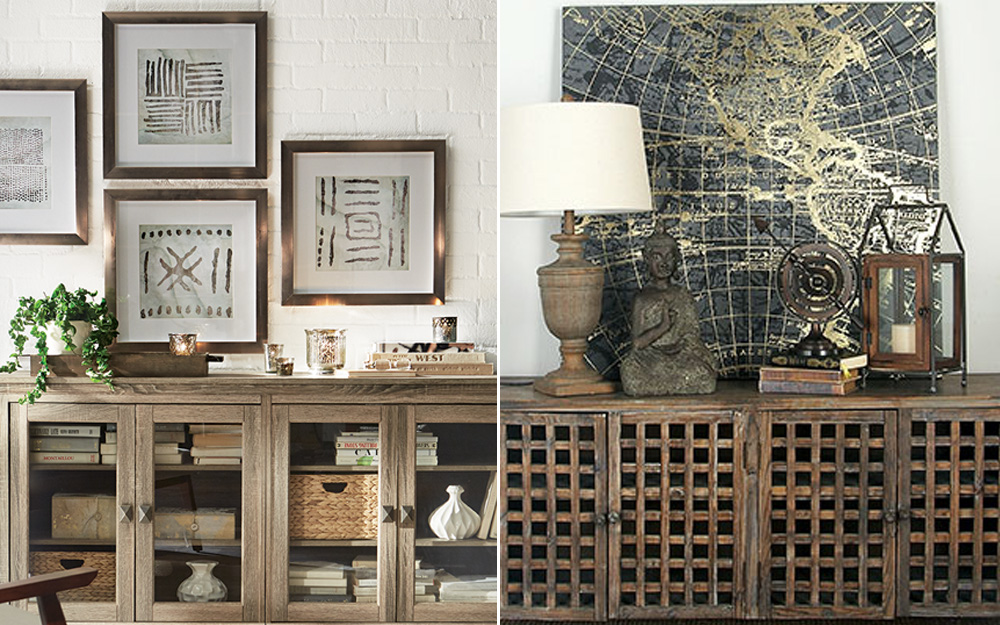 If your interest in art expands beyond what can be hung on the wall, curate your own personal art gallery and use a media center to display your collection. Use the top surface for larger pieces of art, sculptures or collectibles, but be sure to leave a little space around the display to give items breathing room and allow them to be appreciated individually. Smaller pieces can be arranged on lower shelves. 
The wall space above and around the main display can be used to expand your art collection. Installing floating shelves provides more space for collectibles or to lean paintings or prints. Using the space exclusively to hang wall art is also an option. Frame choices for wall art can match wall color to make the artwork stand out; alternatively, select frames that pick up colors from the media center or other elements of the art collection to tie the decor together.
Explore More on homedepot.com