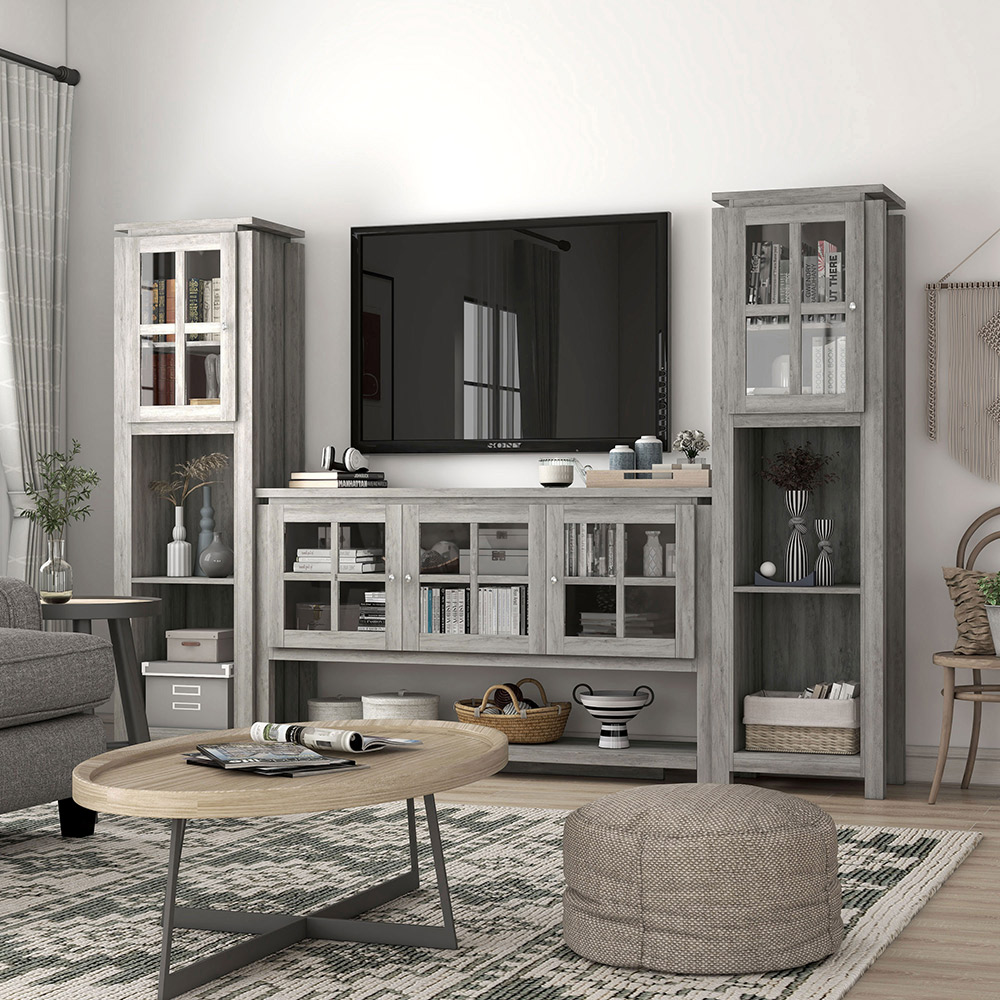 A useful combination of storage and decoration, modern media centers are the center of your living spaces. Place focus on your TV or keep your living room multi-functional. Add new, vibrant colors or keep a natural, organic vibe. No matter your preferences, you'll find media center ideas and the inspiration you need to revamp your entertainment area in this comprehensive guide.
Create a Built-In Unit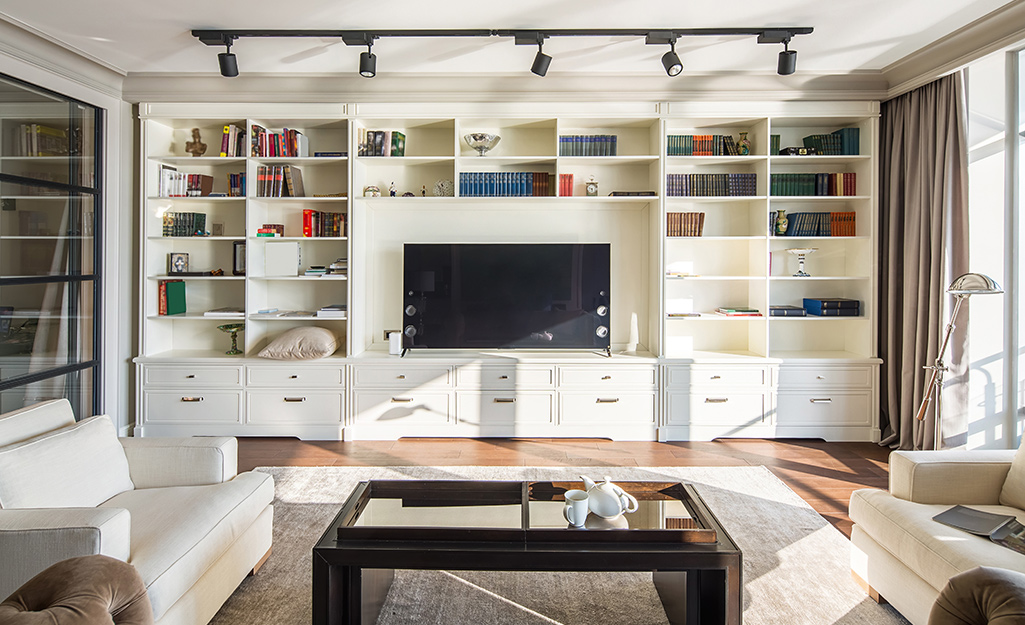 Built-in cabinets are a great way to add a bunch of storage to your family room while keeping the overall design pretty and clean. A built-in unit can feature a mix of open shelvings and cabinets that close. This lets you display the items you want while keeping things like cords, remotes and devices tucked out of sight. 
Measure your space and use custom-cut lumber or premade wall-mounted shelving units to install your built-in unit. Built-in media centers give your living space a custom feel. You can incorporate the amount of storage you need while perfectly fitting your existing space.
Mount Floating Shelves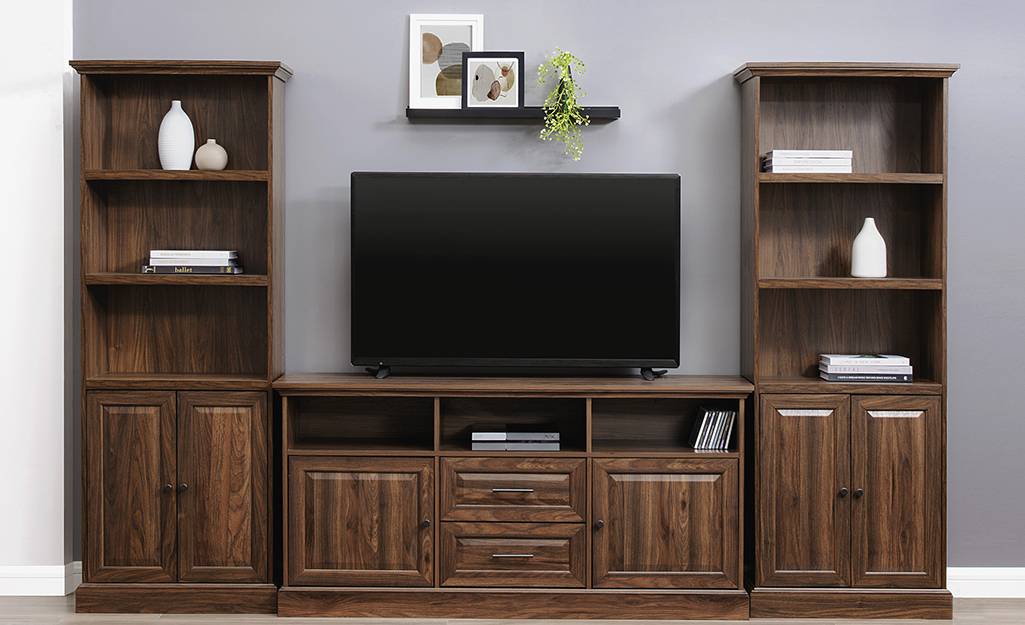 If you're low on space, like a minimal look, or just want to add a touch of deocr, mount floating shelves above your wall-mounted TV. The floating shelves can be configured in any way you like. They're perfect for holding everything from DVDs and board games to family photos and art. Floating shelves take up less space and provide a cleaner look. They're extra eye-catching in apartments, open floor plans, or narrow living spaces. Wall-mounted shelves are also wonderful for bedrooms, playrooms and offices.
Make a Gallery Wall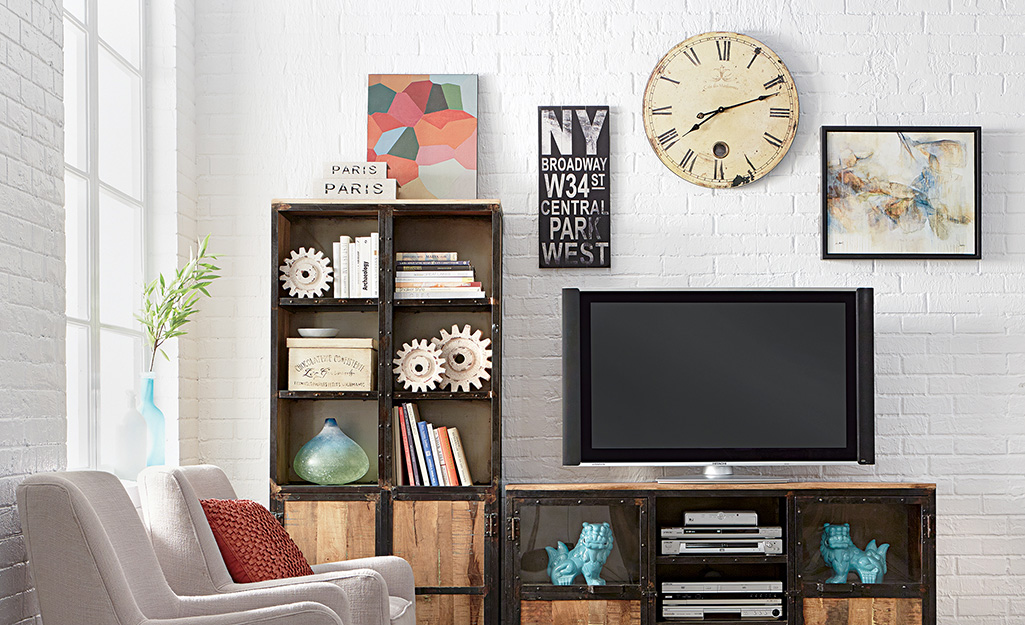 If you like a less cluttered look, surround your TV with art instead of shelves. Skips the stacks of books, photos and decor while creating visual interest. Wall art with a similar color theme in various sizes creates a matching look. Art with varying concepts, colors and shapes makes a room eclectic. Use wall-mounted shelves to lean canvases against the wall instead of hanging them to create depth. A TV surrounded by art makes your unit stick out less when it's not in use.
Tip: When planning a gallery layout, lay your art pieces on the ground in front of the wall you're designing. This allows you to map out where you'll hang each piece before you start hammering.
Make a Statement with Wallpaper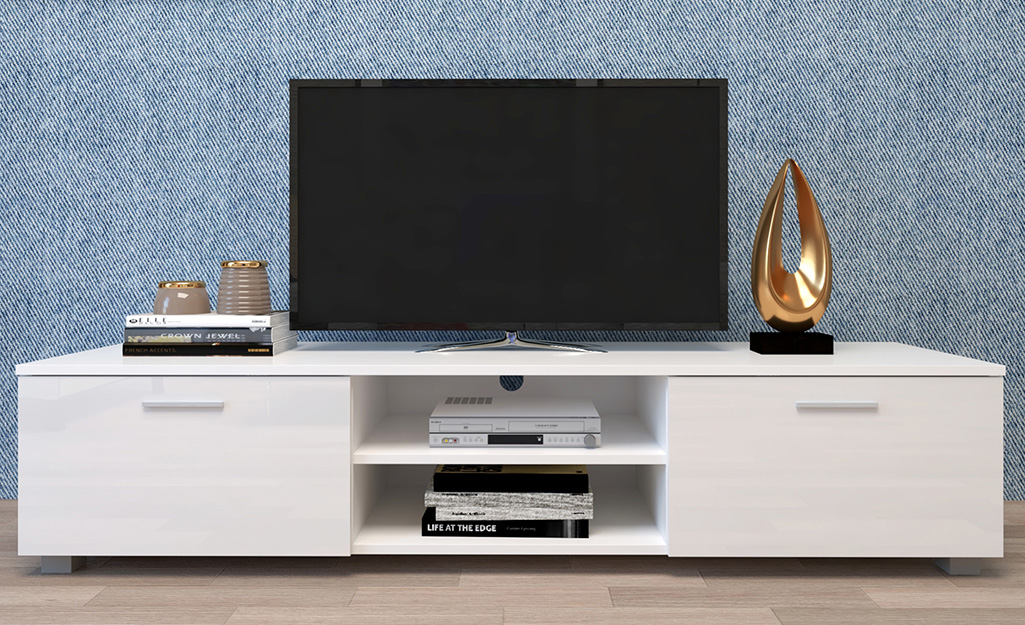 If you love your current entertainment console but want to switch things up, give it a little lift. For a bold look that keeps the media cabinet as-is, opt for wallpaper on an accent wall. Or, get creative! Adding fun wallpaper to the back panel of your media center gives it a modern update without a lot of difficult work. Have fun  with your wallpaper choice and turn your console into a work of art. For busy wallpapers with intricate patterns, use neutral home decor. The colors in the wallpaper will make the shape of each item pop.
Turn it Into a Library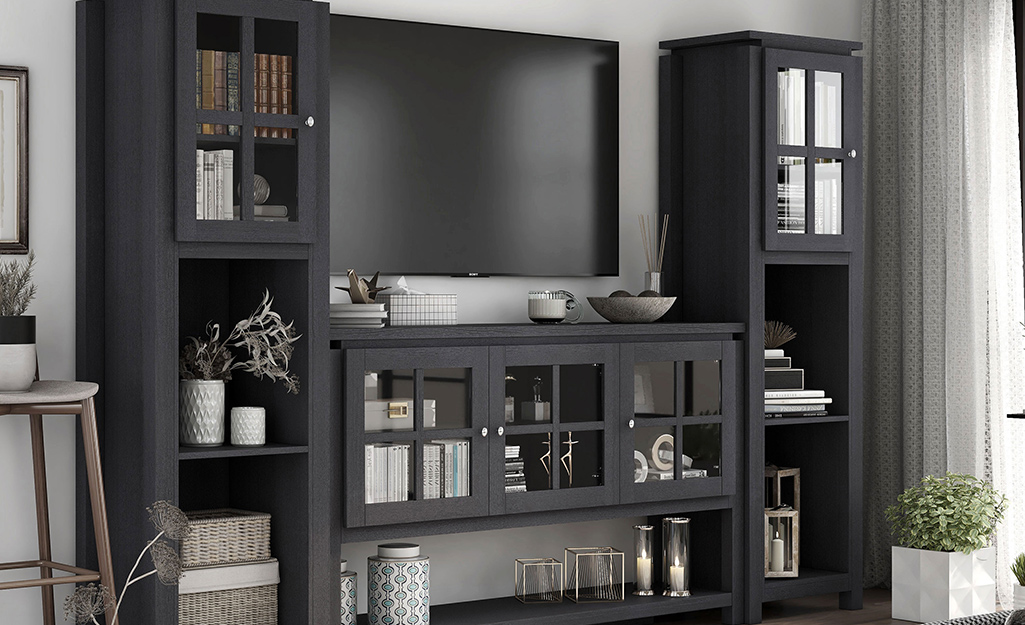 If you prefer binge-reading over binge-watching, a media cabinet functions as an elegant library. Doors with glass insets or completely open shelves make excellent showcases for your book collection. 
While most book-lovers instinctively organize alphabetically, some alternative organization schemes can add visual interest. For example, try grouping books of similar colors together to create a color-blocked library. You can also experiment with placement; rather than arrange all the books vertically, try some horizontal stacks to break up the pattern and possibly save space. Hard covers with display-worthy spines create a striking appearance, but your well-worn paperbacks and much-loved children's books do not need to be left out of the decor. Simply place them in attractive baskets along lower shelves where they are in easy reach, but not in the most prominent sight line.
RePurpose Furniture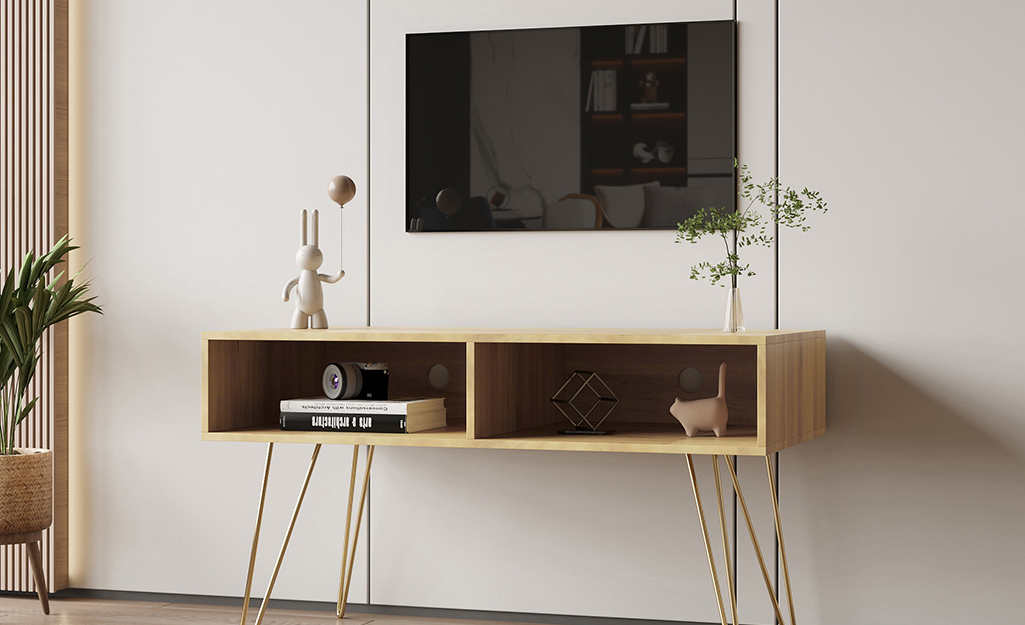 Think outside the box when creating a media center. Instead of a traditional entertainment console, use old furniture items you love or repurpose items for a one-of-a-kind look. A vintage chest of drawers or dresser sits at the perfect level for catching up on your favorite shows in bed. Stack and secure wood crates to create storage for everything from albums to cozy blankets. Mount an old door onto a table base for a totally unique look.
Add a Pop of Color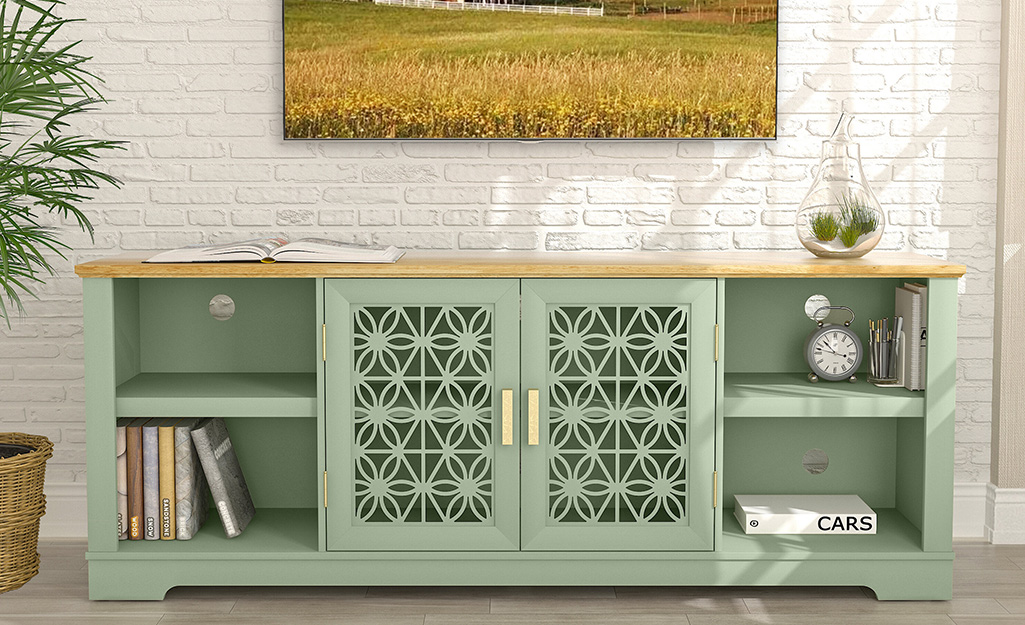 There's nothing a fresh pop of color can't fix. Whether you give your existing media console a fresh coat or create an accent wall behind it. To add new paint to your console, sand down the surface, wipe it down to remove debris and add as many coats as you'd like. To create an accent wall, paint supplies, like primer, painter's tape and the right brushes and rollers get the job done quickly.
Tip: For an ultra-modern, monochrome look, paint your console and wall the same color.
Bring in Baskets and Bins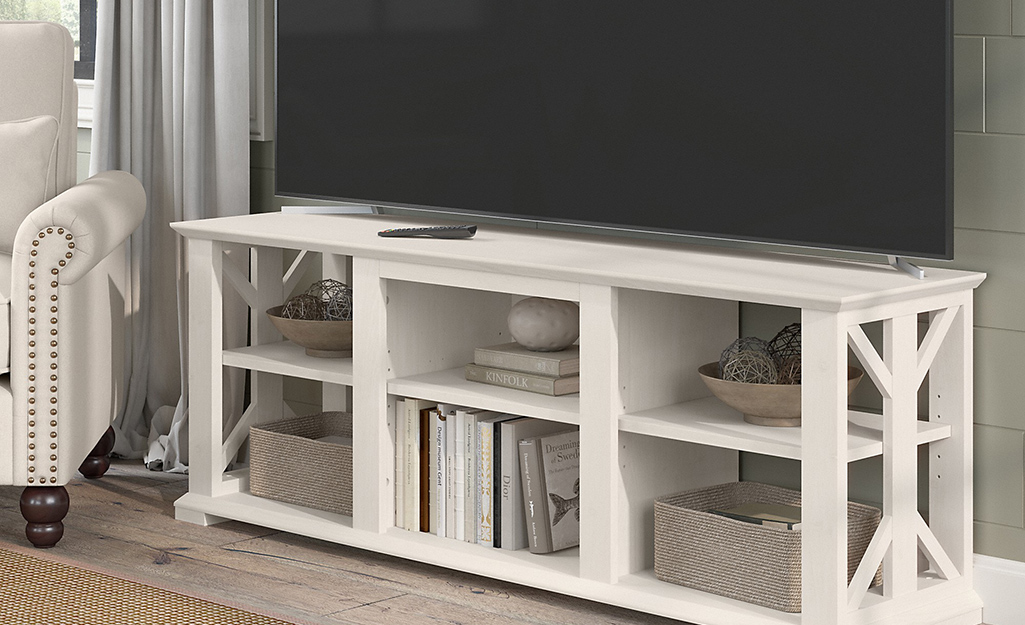 No matter what media center is in your living room, the right storage is a must-have. Grab a mix of decorative baskets and bins for organization that looks like decoration. Woven baskets create a natural, neutral feeling. Canvas or plastic boxes are portable and durable and come in an amazing range of styles, patterns and colors. Keep your cords, games, controls, remotes and other odds and ends tidy and out of sight. When you need something, it's as simple as pulling out one bin. Organized bins make clean-up time with kids a breeze, too.
Tip: If hiding the toys, games and other items within the bins is important, think of adding sliding doors to your cabinet to keep the room looking sleek and clean. 
Go for a Low Profile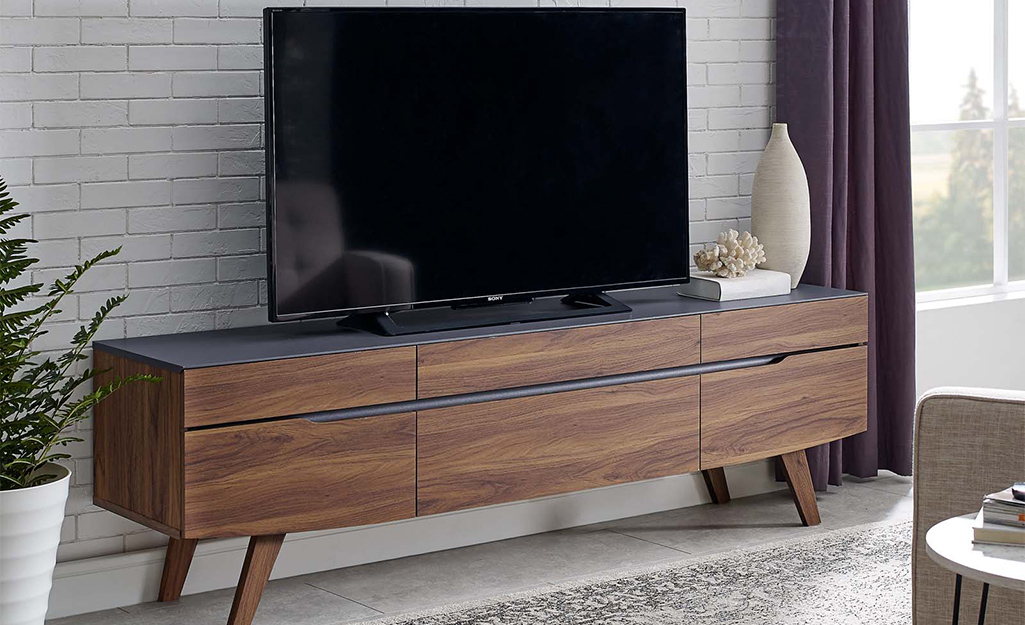 Instead of making use of vertical space, create a low-level design that stretches the length of your wall. Low-level TV stands create a cozy, intimate feeling. They also free up more wall space so you can get creative with artwork and wall decor. 
Pair clean lines with rich textures and calming colors for a charming, lived-in look. Fill the additional surface space with houseplants, picture frames and accessories you love.
The living room is often the heart of a home. The place where family comes together to share fun moments and make new memories. If you're looking for a way to redecorate your most-used space with these media center ideas, The Home Depot has everything you need. Use The Home Depot Mobile App and find products fast with image search. Snap a picture of an item you like and we'll show you similar products.
Explore More on homedepot.com